Turkey. Not only is it my favourite meal, but now it has become one of my favourite countries. After our long ferry ride from Greece to the port town of Marmaris in Turkey, we walked with our heavy bags about 4kms to our hotel. Again, thanks to booking.com, we had an apartment with wi-fi, breakfast and a huge pool for $11.
We were so tired from the long journey that we settled down for a 3 hour nap, woke up for some dinner and then back home to bed! Marmaris was a nice port town, but basically it was just a place for all of the UK to gather. Everything was set up for them: footie games playing at all the restaurants, full English breakfasts – including back bacon (even though this is a Muslim country!), fish and chips on special, actual HP sauce, baked beans, Scottish breakfasts complete with black pudding…etc. It was a total tourist trap.
Every store that lined the waterfront was either an internet cafe, souvenir shop, tourist agency, western type restaurant, bar or clothing store. We walked around and went to the bazaar during the day and that was basically it. Not our kind of town.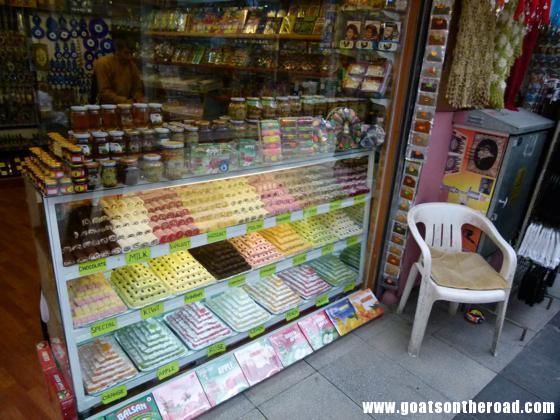 After 2 nights we moved on to find somewhere more secluded, tranquil and local. We decided on a town along the Mediterranean called Kabak. If you're looking for somewhere off the beaten path in Western Turkey, this is the place.  We took a bus from Marmaris to Fethiye, to Oludeniz, to Kabak and then walked down a 2km rocky path to where our 'camp' was. The whole area was stunning, absolutely breathtaking.
We're so glad we decided to go through all the effort to get to that spot. The place was called Shambala and was a camp set completely in nature, in a totally undeveloped area, surrounded by trees, set on the side of a sheer cliff with amazing views of the Mediterranean down below, and massive cliffs on either side.
It had a hippy, chilled out vibe and was so amazing we ended up spending 5 nights there.  This place is perfect for budget backpackers.  The camp was complete with huts, bungalows, tents, an on site restaurant, pool, chillout area and bar. We opted for a hut at the very back of the camp, furthest up on the cliff with the best views of the Sea. We even had a bathroom inside our hut and a mosquito net to cover the bed…which I loved because there wasn't a window or a cover on the front side of the hut, anything could (and did) get in!
We had a spider incident. A big, black, spotted, monstrous beast of an arachnid…well the size of the palm of my hand anyways. I couldn't sleep with that thing on the wall above our heads, it wasn't in a web so it was definitely a hunter. We had to get one of the workers to come and remove it from the premises. We had no further issues, thank God.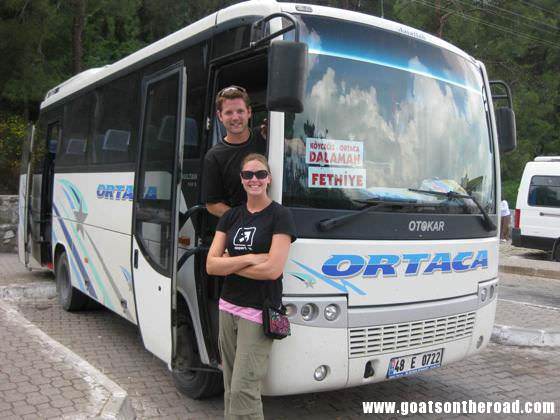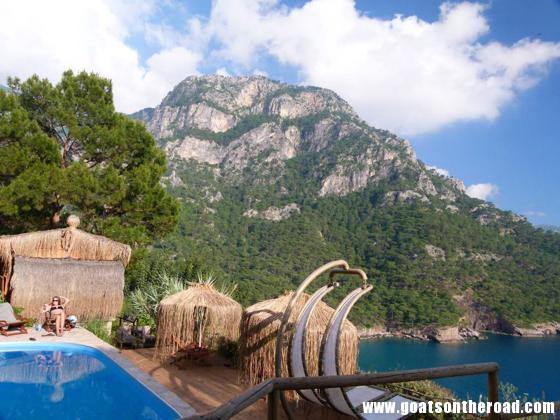 Every morning and night a huge buffet of food was served and was included with the price of the room. The meals were so delicious and cooked by a local chef so we were able to try different Turkish dishes. For breakfast we would have local cheeses, cucumbers, yogurt, fresh bread, hard boiled eggs, cereal (are Cornflakes considered local?) Gozleme (Turkish pancake) baked with spinach and cheese, and a tea.
Dinner was a different selection each night. Our favourite meal was the very first one; when we were the only people staying at the camp. We were served freshly caught tuna cooked with spices, slices of eggplant rolled and grilled with cheese inside, sauteed mushrooms, rice, green salad, local fruit (kind of like an apricot), cream of broccoli soup, bread and for dessert…the most chocolatey of chocolate pudding with coconut shavings on top! Which actually is Turkish, they are known for their puddings. Every night the meals were fabulous and we tried many different dishes.
We spent a lot of time reading and suntanning by the pool. A couple of days we walked 20 minutes down a path to the most beautiful bay for swimming. The only problem was there wasn't any shade so we couldn't spend all day there. The Sea was the perfect temperature, the clearest, most turquoise water and was surrounded by sheer cliffs all around.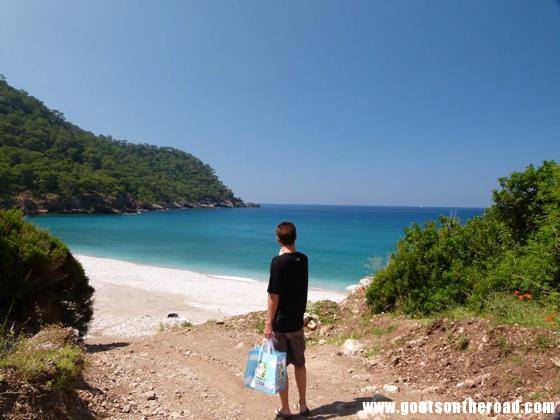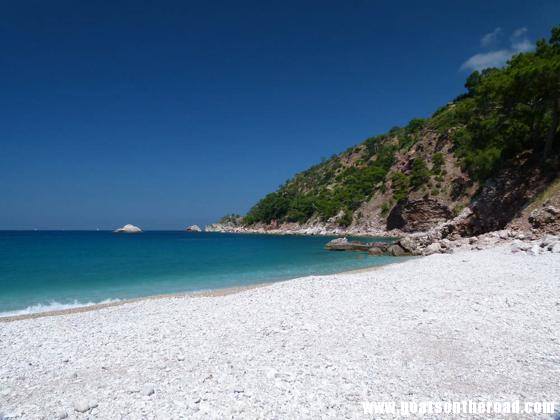 Another day we decided to go to Butterfly Valley. It's very touristy and is supposed to be the nicest beach ever. So, we set off…2kms up the hill from our camp to the main road, hitch-hiked with an English guy from Liverpool to the top of the Butterfly Valley and then started our decent down to the beach. It wasn't easy, nor was it very safe, but it was the most exhilarating hike yet. The descent was on a narrow, rocky path, which zigged and zagged straight down the sheer 400m high cliffside. In the steepest and most dangerous parts, there were ropes fixed to the rocks to help the climb down. We didn't find it all that hard descending from the top, it took about 30 minutes.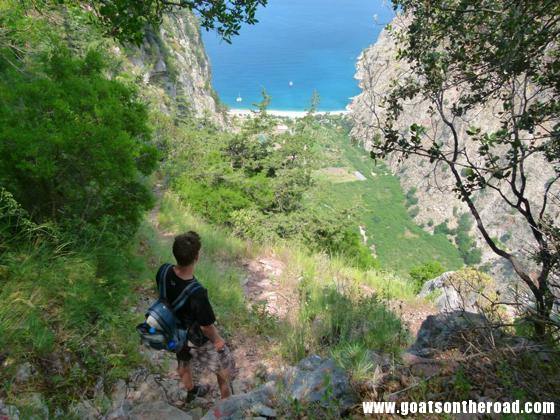 Literally once we were off the cliff and making our way to the beach, 5 massive tour boats pulled up, blaring music, bbq'ing on board, the tour guide yelling from a megaphone, perfect. They poured onto the beach in hoards, English, French, German, Spanish, Asian, you name it, they were on the boat! Even so, we didn't think the Butterfly Valley was NEARLY as nice as our beach back at Kabak. So, we went for a swim to cool off from the hike and headed back to face the daunting trek back UP the cliff. It was difficult going up, we took many breaks and it took us about an hour. I don't think we've sweat that much in a long time!
Once at the top we waited for a bus, none came. We tried to hitch-hike, no one would stop. So, we started walking back in the heat of the day (over 30 degrees). So far in Turkey it's been over 30 degrees every day.  We walked for about 4kms and then finally someone picked us up and took us to the turn-off to our camp, where we walked the 2kms down.
Along the way we saw a sign for "free spring water" so we stopped in to fill up our water bottles. We ended up having great conversations with the owner and his friend who was visiting from Istanbul, her English was perfect. They were both so kind and hospitable. They offered us fruits from his garden and then just as we were thinking we'd say goodbye and carry on, lunch showed up!
They shared their meal with us saying "things are more beautiful when shared". We had Turkish pizza, green salad made from fresh organic ingredients from his garden and a cold soup made from yogurt, cucumbers and mint. So good! We thanked them and took our heavy, exhausted legs back to our place and immediately into the pool. A great day.
After a few days there, we met up with another Canadian, Kyle from Vancouver. Nick and I were able to download the hockey game and the three of us watched it on the laptop one night with some beers. The peaceful yoga retreat area was occasionally disturbed by us yelling at the screen! All the locals were interested in what we were watching. However, when they realized it wasn't soccer, they carried on.
After a fabulous 5 nights there, we decided it was time to move on. We were eastbound for the town of Olympos, known for its treehouses and bungalows in the forest! Sounds like another great place to relax.
Like this Post? Pin it!