In this complete guide, you'll learn what it's like living in Bariloche, Argentina as a digital nomad.
Located in the Lake District of Patagonia on the shores of Lake Nahuel Huapi, Bariloche (full name, San Carlos de Bariloche) has always been a popular destination for domestic travellers, South American visitors, and those coming from further afield.
These days, however, more people are considering putting down some temporary roots in Bariloche — myself included. When searching for somewhere to live and work online in Argentina, the obvious choice is the bustling city of Buenos Aires.
But, for Nick and I, we were looking for somewhere that combined nature with amenities and while there are some pros and cons to Bariloche, for the most part, this lakeside town offered everything we needed.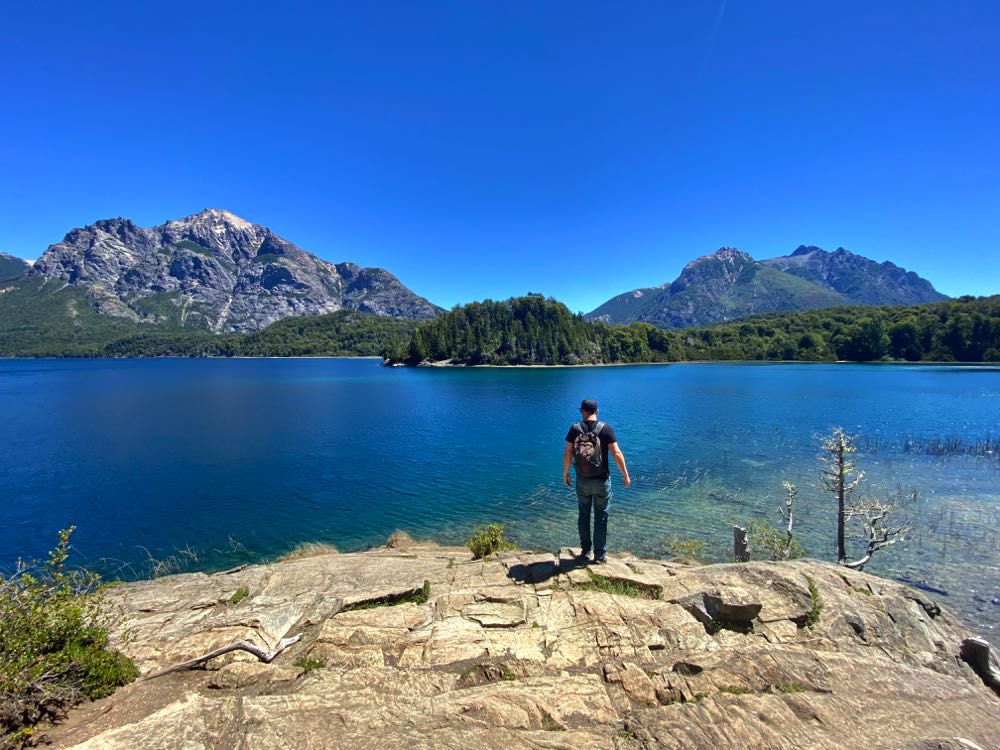 After temporarily living in Bariloche as a digital nomad for 5 weeks, I'm going to share with you everything I've learned.
Here's my guide to being a digital nomad in Bariloche, Patagonia.
About Bariloche, Argentina
Bariloche is located in the Rio Negro province, which is about a two-and-a-half-hour flight from Buenos Aires. Once you land at the international airport, it's a 25-30-minute drive into the city center.
When you first arrive in the Lake District, you'll notice some similarities between mountain towns in Europe and here. With alpine style buildings made of wood and stone, chocolate shops, and fondue on some menus, it's no surprise that Bariloche is dubbed the "mini Switzerland of South America".
Having said that, it's really only the one main area in the center of Bariloche that has that feel (and the surrounding towns to some extent).
In 1895, German-Chilean Carlos Wiederhold established the shop La Alemana in Bariloche – and as the popularity of that shop grew, so did the city of Bariloche.
Because of its German-speaking roots, many immigrants from Austria, Slovenia and Germany crossed the ocean and made their way to Bariloche in the 1800s.
Taking it a step further with the German ties and history, it's common knowledge that Argentina was a safe haven for Nazis fleeing criminal charges after World War II.
The president at the time (Juan Peron), was a sympathizer of the Nazis and provided them with safe passage to Argentina, many of whom eventually received residency. To learn more about the Nazi presence and German history in Bariloche, have a look at this interesting walking tour.
These days, as a visitor to Bariloche, you'll appreciate the stunning Nahual Huapi Lake, the towering Andes Mountains, the friendly people, the burgeoning craft beer scene, and the outdoor activities nearby.
Bariloche for Digital Nomads
Patagonia isn't known for being a digital nomad hotspot. Maybe it's due to the fact that there's not a lot of nightlife in the area, or that this region isn't all that well connected — it's considered "the end of the world" for a reason!
Most likely, however, it's due to the fact that the WiFi can be hit and miss depending on where you stay. We experienced 20Mbps download speed, 7Mbps, and 1Mbps during our 5-week stay.
But, once you find that 20Mbps, you're good to go and will have no problem streaming Netflix, YouTube, doing video calls, and working online.
As a digital nomad, this is the place to spend some time if you want to enjoy an active lifestyle, have fun day trips nearby, and experience a more off-track place to live.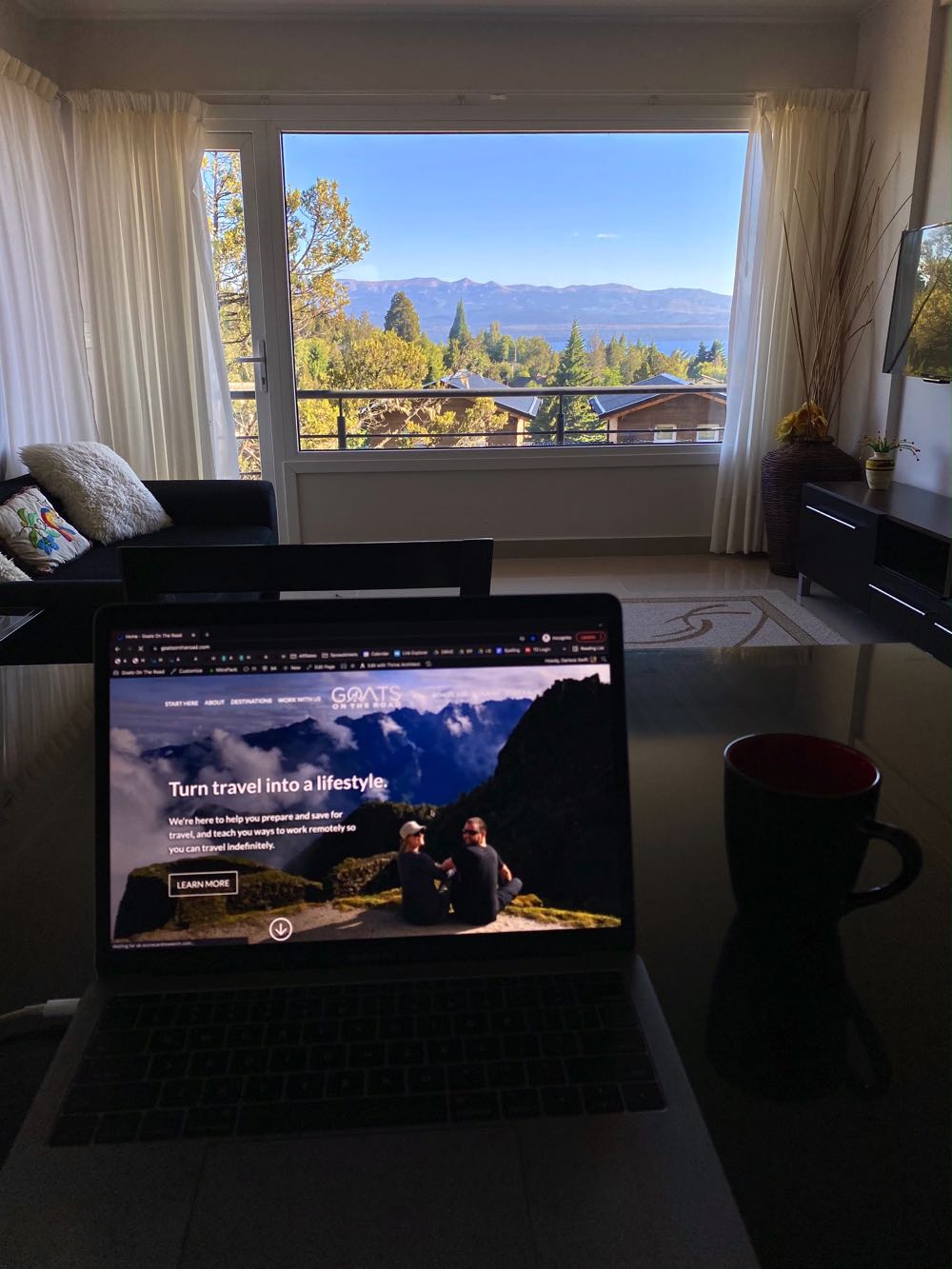 We loved our routine here in Bariloche which looked something like this: work a bit in the morning, then go out for a hike. Come back to our apartment for some downtime and then head out to the river for a late afternoon fishing session.
To round off the day, a fantastic bottle of red wine and steak at our favourite restaurant, Alto el Fuego.
Bariloche has numerous outdoor clothing stores, lots of pubs, many parilla (grill) restaurants, co-working spaces, gyms and wellness centers, wine shops, health food stores, and many supermarkets.
Basically, it has everything you would need, it just doesn't have many of the "frills" that a larger city can offer.
Activities and Things To Do in Bariloche
There are many things to do in Bariloche to keep you busy — no matter how long you plan on staying. Here's a list of just a few of my favourite things to see, do and experience.
1. Drive the Circuito Chico
We drove this loop many times during our stay! Heading west of Bariloche, you'll find the Circuito Chico (small circuit), which is filled with beaches, hikes, shops, and lookout points.
The drive is busy in the summer, especially on the weekend, with people looking to get out of the city, so plan your trip accordingly to avoid sitting in traffic.
A few must-sees on the loop are the historic Llao Llao hotel, Municipal Llao Llao Park, the Capilla san Eduardo (church), the Swiss Colony, and all of the beaches!
2. Check out Piedras Blancas and Cerro Otto
Many people drive up here to check out the beautiful lookout points around Cerro Otto. Or, you can walk up (but it's quite hot and dusty in the summer).
In this area, you can go hiking, mountain biking, paragliding, and more. The Piedras Blancas area is home to ziplines, aerial activities, a big swing, and a chair lift as well.
We drove up and wandered around just enjoying the stunning viewpoints!
3. Go Hiking and Swimming at Parque Nacional Nahuel Huapi
Located along the pretty Gutierrez Lake, you'll find some great hiking opportunities, including Cascada de los Duendes, Mirador Lago Gutierrez, Playa Munoz, and a longer hike to Refugio Frey.
We opted to hike up to the Mirador Lago Gutierrez (Lake Gutierrez Viewpoint), which has quite a steep incline and incredible views from the top! The hike up was gorgeous as well, and we loved how the path felt lush and natural, surrounded by dense forest. That hike was about 1-hour return.
We also tacked on the Duendes Waterfall (Cascada de los Duendes), which is an easy and enjoyable walk to a small waterfall (about 10 minutes each way). At the end of hiking, you can take a dip in Gutierrez Lake.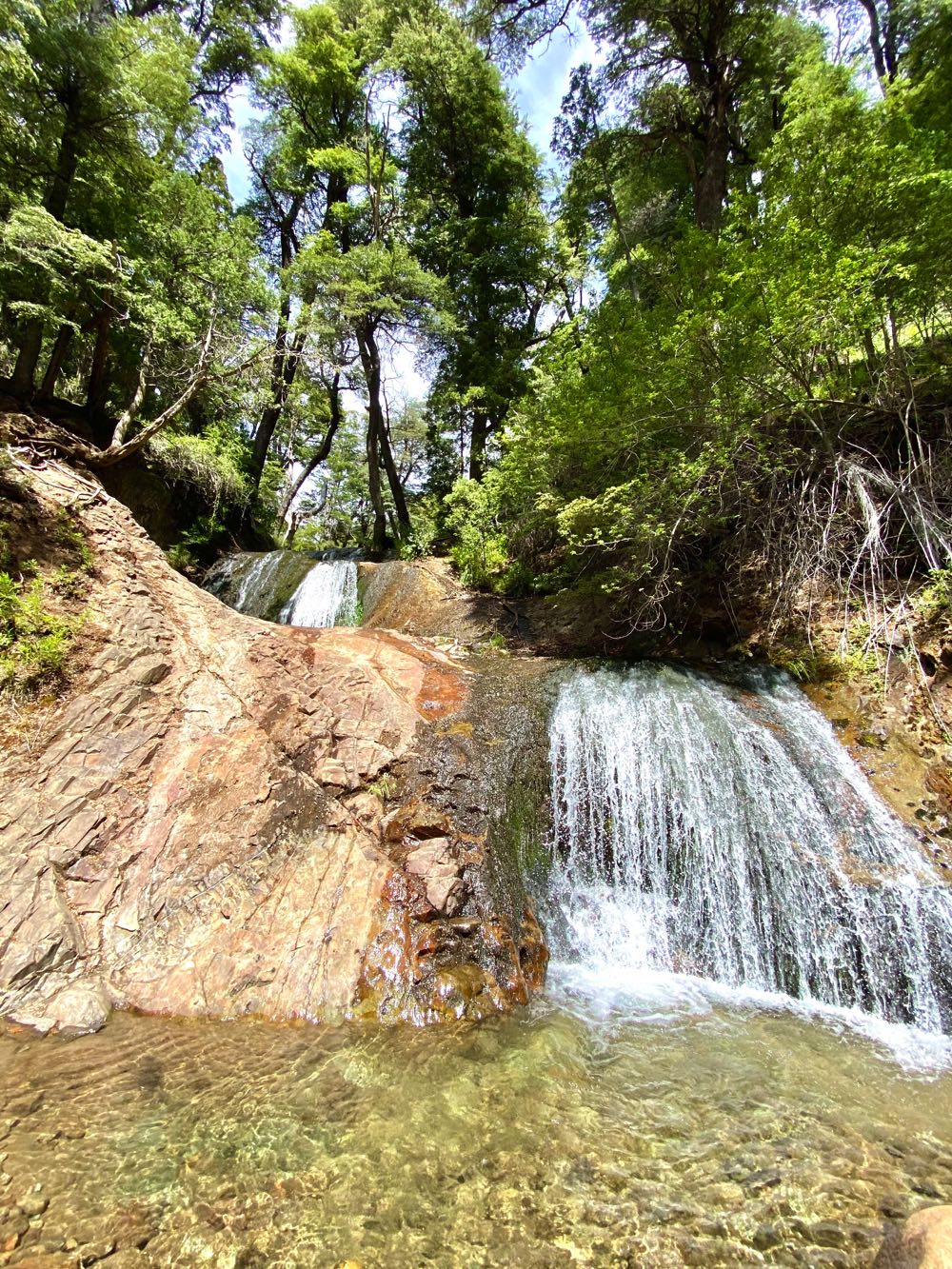 4. Go On a Day Trip
Living in Bariloche means that you're close to many day trips and fun excursions. The city is a great place to base yourself.
While living here, we went on numerous day trips to nearby rivers, viewpoints, mountains, and to other nearby towns. The best way to get around is by car, but there are buses that plow the main routes. Hitchhiking is also popular in this region.
Located on the famous Route 40, the towns of Villa La Angostura (1 hour) and San Martin de los Andes (3 hours) are great options. They're both located along the Route of the Seven Lakes, which is a very picturesque drive in the area.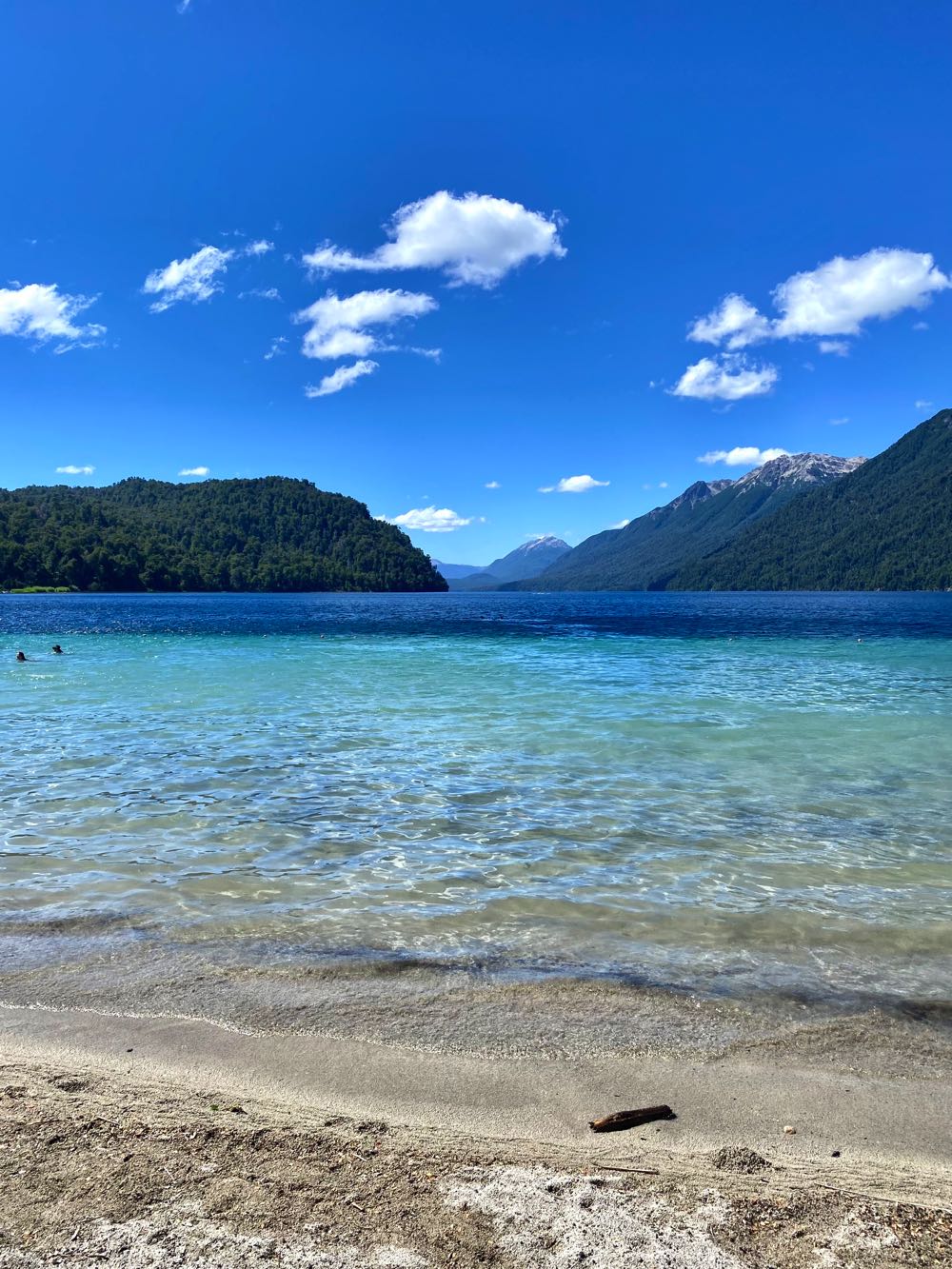 You can drive the route in a day, but it would be better if you gave yourself some time and spent a couple of nights in some of the picturesque towns along the way.
5. Enjoy a Craft Beer
It was a pleasant surprise to find out that there are quite a few craft beer bars here in Bariloche!
Most of the artisanal beers (craft beers) in Bariloche are small boutique companies, produced with crystal-clear mountain water, and all-natural, local ingredients.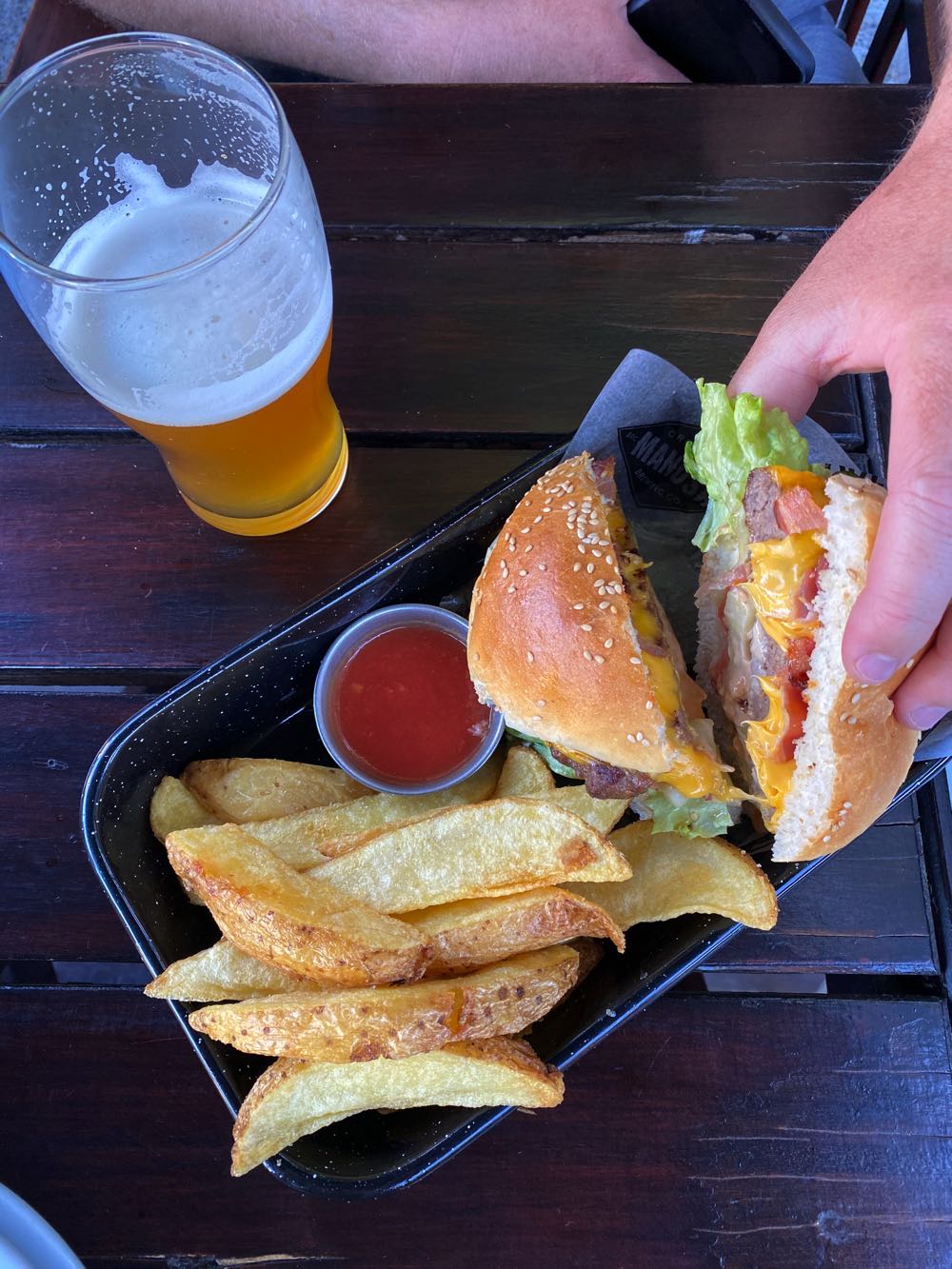 As a bonus, many of the cervecerias (breweries) offer Happy Hour from around 6pm – 8pm, where pints or ½ pints are typically 2-for-1.
I recommend visiting Manush (the New England IPA and Session are great beers and the food here is really good) and Wesley (the New England IPA was good and the outdoor setting was great). Both of these brewpubs are downtown but also have locations just outside of Bariloche.
Is Bariloche Safe?
In short, yes, Bariloche is a safe city. The crime rate is low, and there's a police presence on the streets in the downtown core and on the surrounding highways outside of town.
One thing to keep in mind is the weather. Patagonia is known for its wild, unpredictable weather with storms seeming to come out of nowhere, at any time of the year.
Always prepare for every weather situation when heading out on the trail, check local advice, and bring appropriate clothing. Also, the sun is very intense here so make sure to wear a hat and sunscreen when outside.
Something else to consider is the traffic. Honestly, the driving in Bariloche (and surrounding areas) was horrendous! Drivers just pull out into oncoming traffic when they feel like it — we were cut off so many times and constantly had to slam on the brakes.
As a pedestrian, you don't have the right of way, so always look both ways before crossing…even when you're at the crosswalk.
While walking around in remote areas, or in the city center, we never felt uneasy whatsoever. Everyone was friendly and welcoming. As with anywhere, however, always watch out for pickpockets and it's never recommended to visit remote areas alone.
What are the Best Areas to Live in Bariloche?
If you want to be able to walk everywhere, be close to restaurants and bars, and experience solid wifi and cellular signal, you'll want to stay in the city center.
However, if you have your own vehicle (highly recommended), you could find an apartment just outside of Bariloche and enjoy a quieter stay.
One thing to keep in mind is that the city is quite hilly. Bariloche is set at the base of a mountain, so while it's flat down by the lake, the city climbs up the hillside quite quickly after leaving the main road on the coast.
Keep that in mind when choosing where to stay.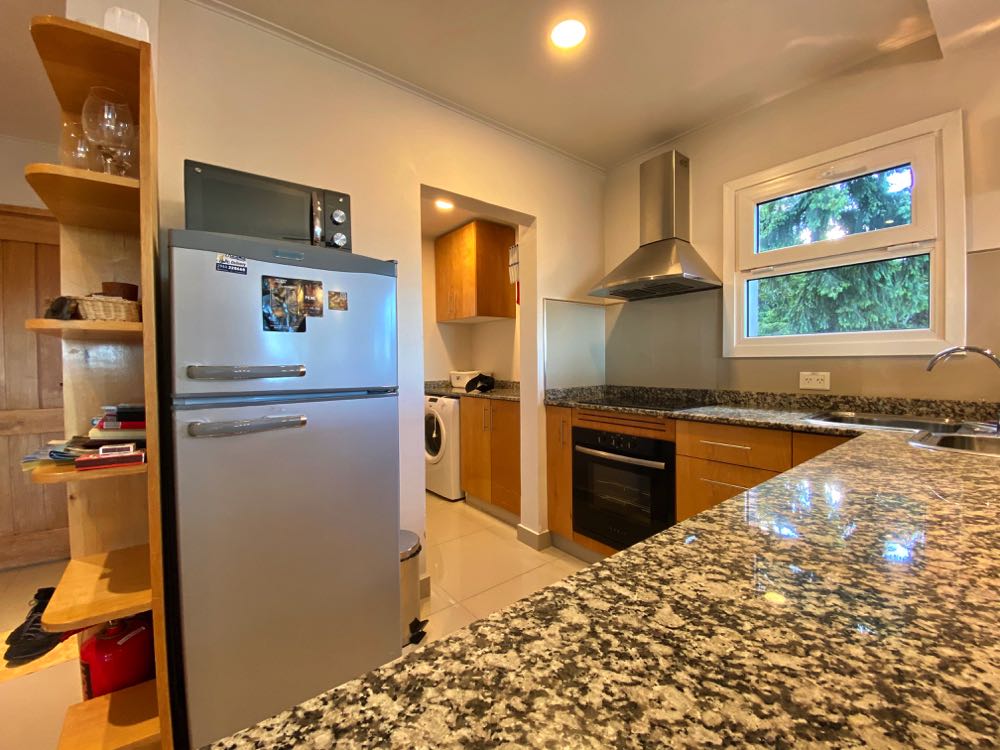 We stayed in 3 different apartments while living in Bariloche (not by choice, but everything was booked up over the holiday season!). All three of those accommodations were in the Belgrano neighbourhood — which I highly recommend.
We thought Belgrano was perfect. On one side of us was the busy city filled with all sorts of shops (outdoor stores, pharmacies, cafes, restaurants, supermarkets), while on the other side offered easy access out to the Circuito Chico, hiking opportunities, and smaller grocery stores and fruit vendors.
A little farther west from Belgrano is Melipal, which comes recommended as well. We passed through quite often and it looks like a nice area.
Here you'll find nice accommodations, grocery stores, and restaurants. Plus, the wifi connection is said to be stable here.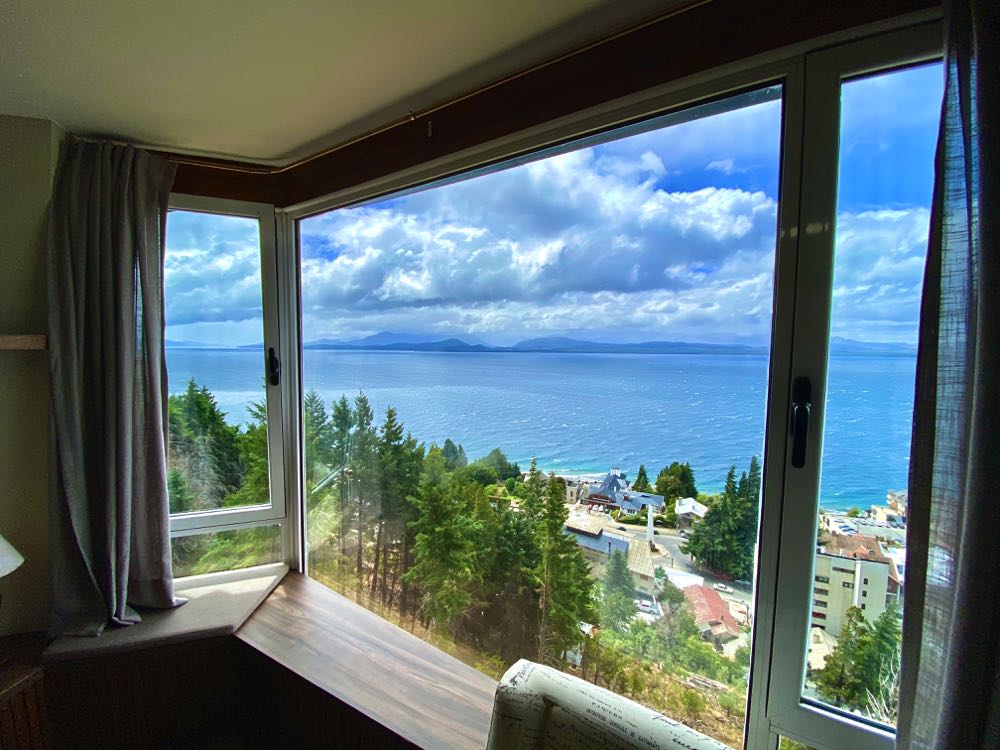 Two of our apartments were located up on the hill, which offered incredible views of the mountains and lake. The neighbourhoods were quiet, yet there were restaurants and shops nearby.
The third apartment was located directly on the lakeshore, still in Belgrano.
Of course, having easy access to the lake was fantastic, however, it meant that we were right on the highway which was hectic when we were trying to leave the apartment each day.
Luckily the apartment faced the lake and there was no traffic in front of us, so it was perfectly quiet.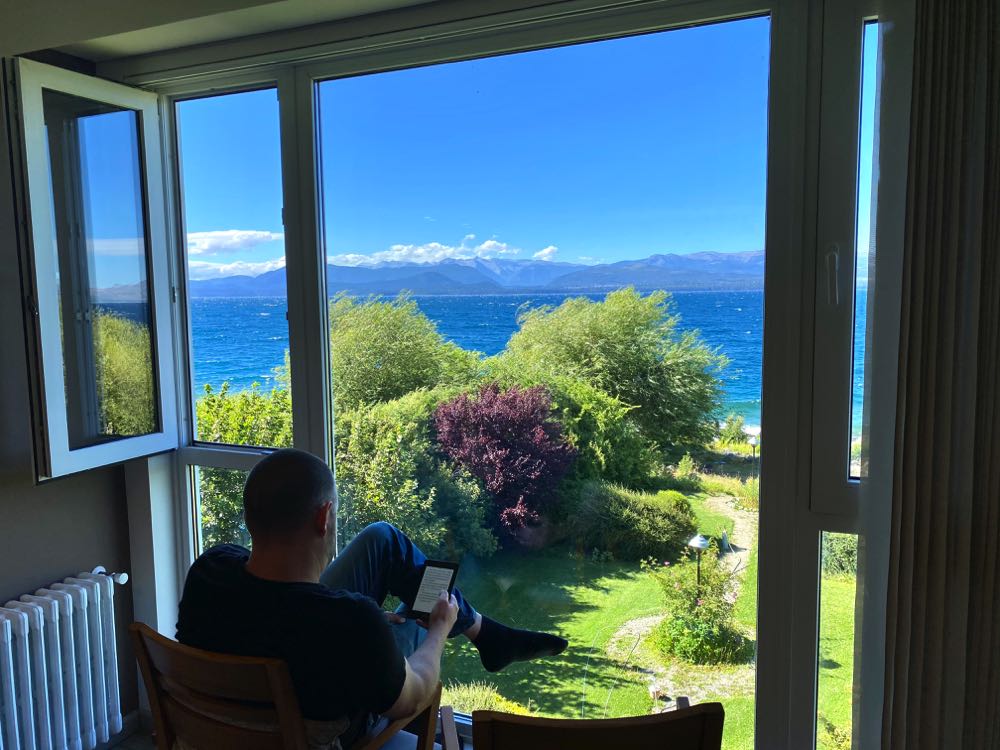 How To Find Apartments in Bariloche
You can find places to stay in Bariloche by searching on Booking.com (this is what we do) or on Facebook groups. Another option is to arrive here and stay in a hotel while looking for an area you would like to stay in.
Just know that in the peak season (December – February) things can get VERY booked up so you may have a hard time finding a decent place to stay if you don't book in advance.
WiFi Speed and Co-Working Spaces in Bariloche
As I mentioned above, we experienced all sorts of wifi speeds while living the digital nomad life in Bariloche — it kept things interesting!
The best we found was 20Mbps download speed at our first apartment. However, even at our third apartment which offered 7Mbps, we were able to stream Netflix, Youtube and download videos from the cloud.
If you plan on working from home, it's important to ask your landlord/host to do a speed test for you and send you the results before booking.
We have Movistar SIM cards that worked all throughout Bariloche. On some of the hikes, we lost signal, but while in the main city, we had 4G usually, sometimes 3G (around 40Mbps max download speed).
Coworking Spaces in Bariloche
You've probably heard of Selina, a popular coliving and coworking space with locations around the world. Well, there's one here in Bariloche.
Located in the Belgrano neighbourhood, Selina offers rooms, coworking spaces, and events. They claim to have 25-50Mbps wifi speeds which is pretty amazing.
You can get daily hot desks from $8 USD, weekly from $30, and monthly from $100. Find out more here. A couple of other coworking options are La Compañía and FabLab
Inflation and Devaluated Currency in Argentina
The money situation is in Argentina is confusing for foreigners. Due to inflation and recession in the country, there are multiple exchange rates — the main ones being the official rate and the "blue dollar".
As of the time of writing, the official rate is $1 USD = 104 pesos. However, if you send yourself money using Western Union, or exchange US dollars, you'll receive around 200 pesos for every $1 USD — which is double what the official exchange rate is. This rate is known as the "blue dollar".
Check rates here as this will have changed by the time you read this.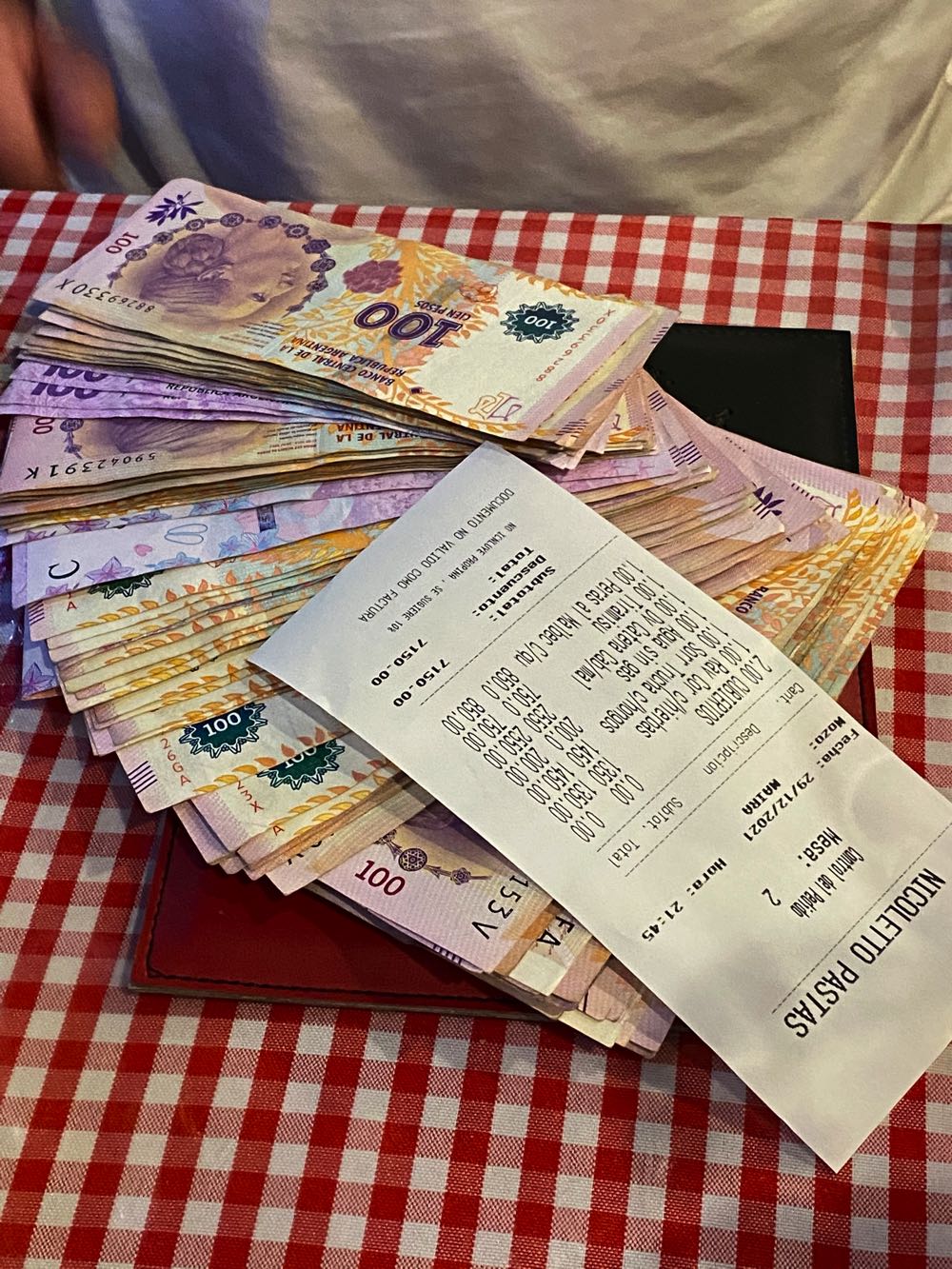 Right now, for foreigners, it's very much a cash economy.
If you visit here, bring USD and exchange for pesos at the blue dollar rate at a Pago Facil (check Google maps for locations).
Or, send yourself money through Western Union using the app and go and pick up cash (pesos) at one of the many Western Unions in the country.
As long as you send money for "Cash Pickup" to Argentina, you can pick your pesos up at any Western Union location in the country (as long as they have enough cash to give you).
As a foreigner, if you use your credit card to purchase items or take out cash at the ATM using your debit card, you will essentially pay double for everything.
Sound confusing? It is. But, it starts to make sense once you are in-country.
Currency Tips
If you're going to bring USD cash, make sure to bring $100 bills. We made the mistake of bringing a mix of bills, and our $20's and $10's were useless, while our $50's were sometimes accepted (but usually at a lower rate).
When using the Western Union app, it's best to send yourself money using your debit card, rather than your credit card. If you use your credit card, it's considered an "advance" on your card and interest starts accruing right away.
Choose "cash pickup" when sending money. You are literally going to Western Union to pick up cash pesos. While there are fees that need to be paid with Western Union, after fees we still received close to 200 pesos for every $1 USD.
Do not send yourself large sums of money.
We made the mistake of sending $750 the first time and had to run all around Buenos Aires trying to find a Western Union with that much cash on hand. After that error, we started sending between $200 – $400 per transaction.
In Bariloche, the best Western Union that I found which had consistent cash and friendly service was at Carrefour, just outside the exit doors.
Always bring your passport when picking up cash, and make sure that the name you put as the receiver in the app is exactly the same as your passport.
When exchanging USD cash, look for Pago Facil booths. Or, ask the shop or restaurant you're at what exchange rate they will give you, and perhaps you can just simply pay with USD.
Cost of Living in Bariloche
Due to the currency crisis, everything is quite affordable for those who have foreign money. Essentially, everything (aside from Airbnb rentals because you have to pay on the platform only) cost us half when using cash, as opposed to card.
Here are some examples of items we've purchased in Bariloche to give you a rough idea:
Groceries and Restaurant
A nice dinner for two with a (very good) bottle of wine and 3 courses: $50 USD (10,000 pesos).
Empanadas: around $0.75/each (150 pesos).
Pint of craft beer: $2 (400 pesos) sometimes half price at happy hour
High-end bottle of wine from a wine shop $25 (5,000 pesos) and mid-level bottle $15 (3,000 pesos). Grocery store wine starts at $1, seriously.
Lamb burger: $4.50 (900 pesos), bacon and cheeseburger with fries $6.70 (1,340 pesos).
Butter: $1.50 (300 pesos)
High quality cheese: $3.75 (750 pesos).
Water: free, drink from the tap!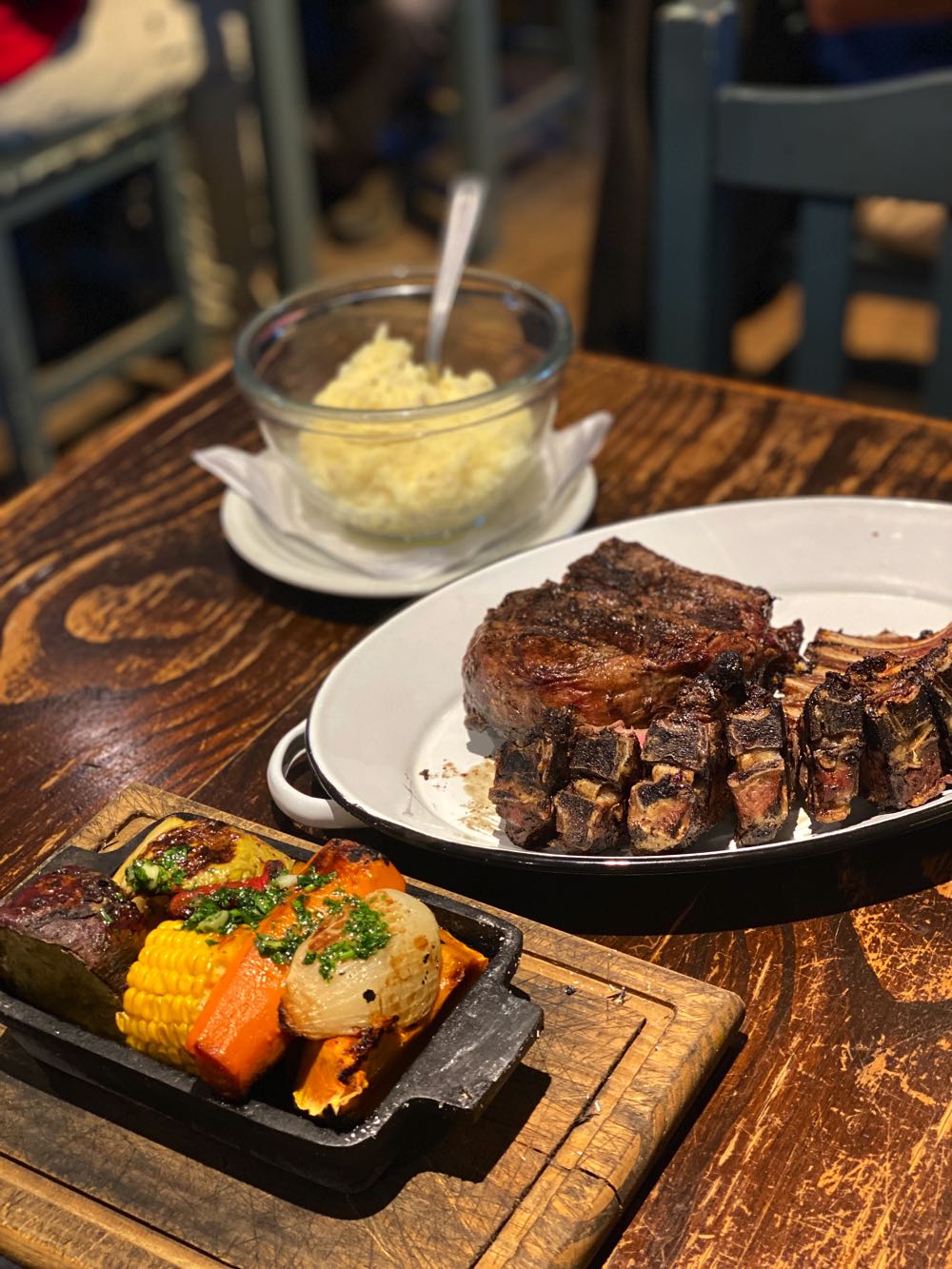 Apartment Rental
We rented during Christmas / New Year season, and we booked last minute. So, our options were limited and of course, the prices were high.
Our first apartment was $92/night for a two-week stay. The apartment was 2 bedrooms, had a full kitchen, a small patio, private parking, and laundry. The wifi speed was 20Mbps down.
The second apartment was a large two bedroom with a full kitchen, spectacular lake and mountain views, private parking, and laundry for $175/night. Sadly, the wifi here was awful, at around 2Mbps down.
Our third apartment was right on the lake, with a nice yard to sit in. The apartment had a huge jacuzzi with lake and mountain views, a full kitchen, and modern appliances. There was parking out front but no laundry. The wifi clocked at 7Mbps. The cost was $200/night.
When renting an apartment, if you can rent for a month or longer, you'll receive much better discounts than we did just renting weekly. Also, if you book outside of the high season, you can find much better deals.
Finally, we prefer to book on Booking.com and owners also prefer that.
We spent 4 nights at a hotel in Villa La Angostura and the hotel let us reserve our stay with our credit card, but pay in cash when we arrived. This allowed us to essentially pay half price for our stay. Sometimes booking sites like Booking.com and Expedia allow you to pay on arrival as well.
Car Rental
I highly recommend having a car when living in Bariloche. Unless you're staying in the absolute center of the city, with everything around you, you'll need a vehicle.
You'll especially want one if you plan to do lots of outdoor activities. We rented a car for our entire 5-week stay in Bariloche and if we didn't have one, our time spent here would've looked a lot different. Having your own wheels gives you the freedom to explore this magical area.
Again, book your car in advance. We reserved with Alamo through Expedia.com and (because Expedia allows you to pay in cash at pick-up) we paid the "blue dollar" rate of $30/day (6,000 pesos) including insurance.
We paid cash for the vehicle, rather than using our credit card. If we used our credit card, it would have been $60/day. The cost of petrol is unbelievably low compared to most of the world. It's 78 pesos ($0.38) per liter.
There are numerous car rentals around Bariloche to choose from, but I recommend going with a reputable company. I also recommend booking your car well in advance if you're coming during the high season.
With Expedia, you pay for your car when you pick it up. So you could literally book it, cancel it an hour before the scheduled pick-up if you needed to, and not pay anything. Making a reservation ahead of time with Expedia is a no-brainer.
Hospital and Doctor Visits
Visiting the doctor is a right of citizens of Argentina and therefore it is free. What surprised us was when we found out that hospital visits are also free for foreigners.
SIM Cards and Data
There are three main companies — Claro, Movistar and Personal.
Claro and Movistar are the most popular. As a foreigner, you'll need to go into the main Claro or Movistar shops in order to get your SIM card activated (bring your passport).
Movistar gave us SIM cards for free, and then we added credit to our accounts. The cost of topping up depends on what offers the companies have at the time.
As an example, with Movistar, for one month it's $3.45 (690 pesos) which includes 2GB of data, free WhatsApp, unlimited SMS and 100 minutes of calling.
To top up your credit, just visit any small kiosks in town (small convenience stores) and you can either top up with cash at the machine or ask the teller to top up for you.
Weather in Bariloche
Bariloche sees all four seasons with the summer and winter being the high season. The summer season runs from December – March and the winter season is from June – September.
Keep in mind that as Argentina is in the southern hemisphere, winter and summer are opposite of the northern hemisphere!
With an average temperature of around 25 °Celcius (77 °Farenheit), summer is the best time to experience sunny days and hot weather and to enjoy the beautiful lakes.
Bariloche is also a popular skiing and winter sports destination, so the winter season is quite busy here as well. Average high temperatures are around 8 °Celcius (46 °Farenheit) and lows are around -1 °Celcius (30 °Farenheit).
Spring is from September – December and autumn is March – June. If you're looking for a more affordable stay in Bariloche, consider visiting during these offseasons.
Pros and Cons of Living in Bariloche as a Digital Nomad
As you can probably tell, there are many pros of living in Bariloche! If you're looking for a different digital nomad stay, consider this Patagonian city.
Pros of Living in Bariloche
Nature at your doorstep
Friendly people
It's not too big of a city
Has beaches and mountains — a perfect combo
Great grill restaurants
Lots of craft beer bars
Some coworking spaces
Great value for money
Cons of Living in Bariloche
It's a bit "out there"
There are large grocery stores, but you won't find as many international foods as you would in a big city
It's a hilly city, which is a pro or a con depending on how you look at it
The wifi can be hit or miss (make sure to check before committing to a place)
If you're into nightlife, there's not a lot of that
The main road by the beach is a 4-lane highway and feels quite busy
What is The Visa Situation?
Citizens of Canada, the USA, the UK, Australia, South Africa, and citizens of many EU countries can enter Argentina without a visa and are permitted to stay for 90 days.
Currently, as of the time of writing, you must be vaccinated to enter Argentina. You must also have proof of a negative PCR test no more than 72 hours old.
You also need to fill out a declaration and have health insurance that shows specific coverage for COVID (we use Safety Wing).
Conclusion
With so many people choosing to work remotely these days, it's not a matter of why it's a good idea to become a digital nomad, but where you should put down some temporary roots.
Cities are amazing for all of the amenities that you could ever want or need, but there's something to be said for quieter towns that are surrounded by nature.
I hope this guide to living in Bariloche answered some of the questions you may have had, or inspired you to visit.
Like This Article? Pin it!