This article lists the best cities for digital nomads from around the globe. All of these destinations offer great amenities, a community of like-minded people, fun things to see and do, fast wifi speeds, some of the best co-working spaces, great apartments and more!
I've been working remotely as a digital nomad since 2012. During that time, I've really figured out what I want and need when it comes to choosing a city to live in.
Even though I've been living the laptop lifestyle for quite a while, I haven't lived in many of the common digital nomad cities. I've personally lived in four of the places below for more than two months in each destination.
For the rest of the best cities for digital nomads that I'm listing in this article, I've reached out to experts who have lived there themselves for an extended period of time. If you're looking to spend a year or more, have a look at these countries with digital nomad visas.
Here are the top 15 best digital nomad cities this year, arranged by areas of the world: Latin America, Europe, the Caribbean, and Asia. Click the city name to jump down the page:
What to Look For in a Digital Nomad City
There are a few things you'll want to consider when choosing your digital nomad destination.
Internet – you'll be working online, so having a reliable (and fast) wifi connection is a must. Not only that, but you'll want to pick somewhere that has a good data plan available for when you're working away from home, or outside of a co-working space.
Community – most digital nomads either work for themselves or work remotely for a company. While some people are in a relationship, others are working abroad solo. Regardless, having a community around you is a must. Whether it's just someone to go and grab a drink with or people you can collaborate on a project with — don't underestimate community.
Nature – when working inside and staring at a computer screen, there's no better way to take a break than by getting out in Mother Nature. A lot of the best European cities for digital nomads, and the ones in Mexico offer mountains and hiking trails nearby, or sandy stretches of sand. Find somewhere with a place to walk, swim and breathe fresh air.
Things To Do – obviously, you don't want to live somewhere boring. It's best to choose a destination that offers history, culture, arts, nightlife, events, and activities you can partake in.
Co-Working – while I personally choose to work at home from the comfort of my Airbnb apartment, depending on your digital nomad workspace setup, many people opt to get on their laptops at co-working spaces. There's a monthly fee, but usually, the wifi is very fast and reliable, and there are ergonomic working spaces.
Fitness Options – unless you're working out online, or are running, walking or hiking, most digital nomads try to find a destination that offers gyms, yoga studios, pilates, or Crossfit.
Costs – finally, the cost of living. This will vary from person to person as how much you want to spend really depends on how much you're earning. Just because a destination is cheap doesn't mean that the amenities are up to par. Similarly, if a destination is expensive, it doesn't mean it's great value for money.
☞ READ MORE: Digital Nomad Packing List: Best Gear, Equipment and Clothes
1. Playa Del Carmen, Mexico
WiFi up to 100 Mbps
Average 1 bedroom apartments from $400/month
6 month stay for most nationalities
Written by Dariece Swift
The seaside town of Playa del Carmen is a bit of an anomaly in Mexico. You won't find much Mexican culture here, and only a handful of people are actually from here.
In general, this is a popular holiday destination for snowbirds from Canada and the USA, and domestic travellers (mostly from Mexico City). Plus, there's a growing population of South Americans.
With the Caribbean Sea at your doorstep, a younger crowd, and many day trips just a quick drive away, there are many things to see and do in Playa. It's popular, for good reason.
Nick and I have been living here for 8 months. And while I was apprehensive about coming to Playa due to it being a popular tourist destination, I'm very happy with our decision to move here — it's definitely one of the best cities for digital nomads in Mexico
Why is Playa del Carmen One of The Best Cities for Digital Nomads?
Playa is one of the best places for digital nomads due to the fact that it offers all the comforts of home, in a beautiful destination, without the high price tag.
As I said in the beginning, while Playa doesn't have the charm or tradition of most Mexican cities, it makes up for it with the amenities on offer.
The activities here are endless — kayaking, kite surfing, scuba diving, SUP'ing, or swimming. Outside of watersports, there are numerous gyms, yoga studios, CrossFit, pilates, dance classes and more. Not to mention, it's a great place for day trips around the Yucatan Peninsula.
You'll find lots of other remote workers and digital nomads here as well and can immerse yourself in the community by volunteering or joining meet-ups and other events.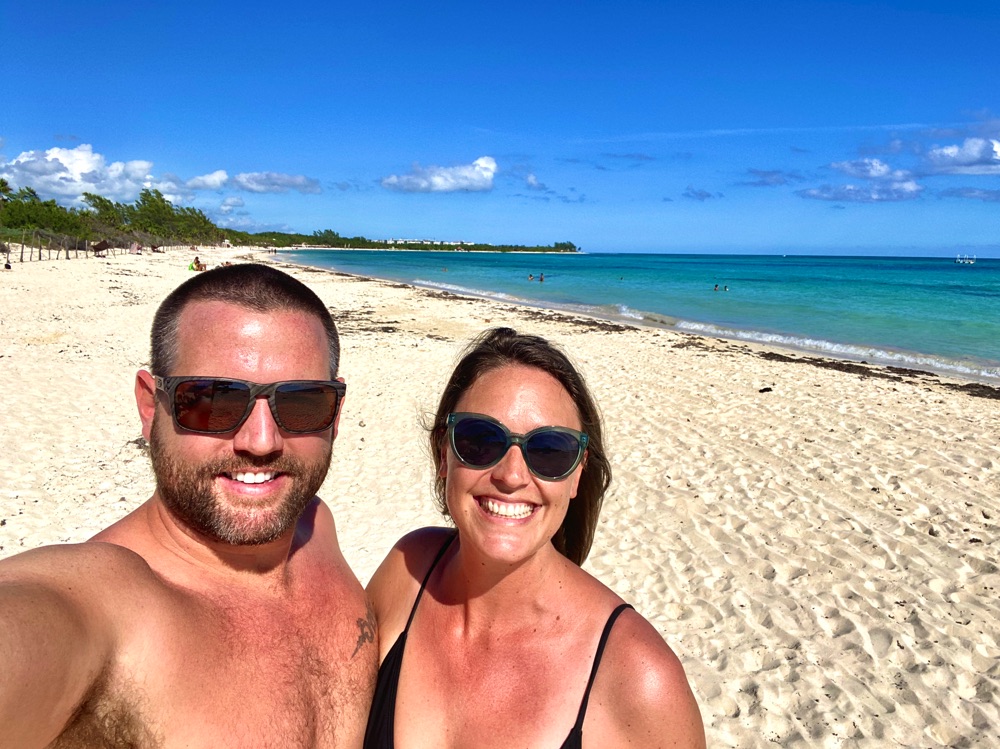 How to Find Apartments in Playa del Carmen
You're spoiled for choice when it comes to finding a place to stay in Playa del Carmen. I always recommend booking a place on Airbnb first. Stay for a few days and get a feel for the different neighbourhoods before choosing your long-term apartment.
You can find places to stay on Airbnb, Booking.com, or Facebook groups.
For digital nomads, the best neighbourhoods in Playa del Carmen are Tohoku, Zazil-Ha, the northern end of Gonzalo Guerro or the southern end of Colosio. These areas are basically from Calle 24 Nte. to Calle 70 Nte., between Avenida 30 and the beach.
Unless you're looking to be right in the action, I don't recommend Centro area as it's way too touristy and loud.
WiFi Speed in Playa del Carmen
At 91 Mbps download speed and 29 Mbps upload speed, the wifi in Playa del Carmen is some of the fastest we've ever had at an apartment.
Not all places are created equal, however, so it's important to speak with your landlord before renting. I even recommend doing a speed test yourself. Finally, if the wifi isn't up to par, you can always ask the landlord to upgrade it for you (for a fee).
Data is readily available as well, so if your wifi drops out you can tether to your phone. Packages are around 200 pesos ($10) for 4 GBS, valid for 30 days.
Co-working Spaces in Playa del Carmen
There are quite a few co-working spaces in Playa del Carmen. Find one that suits your vibe, and is in your area. A couple of great options are The Nest ($13/day or $180/month), and Bunker (from $5/day or $165/month).
If working from home or from a coworking space isn't your thing, try Inti restaurant on the beach which has a great area at the back for working, or one of the cafes (Choux Choux is a good option).
Cost of Living in Playa del Carmen
Playa del Carmen is great value for money. It's not as cheap as other parts of Mexico, but it does have a lot of accommodation options, international fare, great beach clubs, and bars and restaurants. Even if some things are a bit pricey, the quality is high.
Apartment costs vary here. You can find a 1 bedroom apartment for around $400/month, all the way up to $5,000+. A good average would be around $1,000 – $1,500/month for a 2-bedroom place with a shared pool.
If you eat tacos and local food, expect to spend just a couple of dollars per meal. If you'd rather go out for sushi, steak or pasta, your meal will be closer to $10-$15 per plate. Groceries are very affordable with Walmart, Mega and Chedraui on offer.
Taxis are 50 pesos ($2.50) pretty much everywhere around Playa, or you can walk or rent a shared bike.
We live quite comfortably here in a top-floor, 2-bedroom apartment, and spend around $4,000 per month, including day trips, nights out, etc. Although, it's definitely possible to spend much less.
Pros of Living in Playa del Carmen
Location right on the Caribbean Sea
It's flat, so walking is easy
Delivery services are available (Rappi, Uber Eats, Amazon, etc.)
Comforts of home and western amenities (Walmart, Costco, etc.)
Great weather, except for the hurricane season
Large digital nomad population and like-minded expats
Cons of Living in Playa del Carmen
A lack of Mexican culture
The seaweed (sargassum) that shows up on the beach, which happens often
Lots of construction
It's very touristed
Tourist pricing – if you don't speak Spanish (or, even if you do), you'll usually pay more if you're not Mexican
What's the Visa Situation in Playa del Carmen?
Citizens of 69 countries (including all of the EU, Canada and the USA) are able to stay 6 months in Mexico, visa-free, making Playa del Carmen a great digital nomad city.
☞ READ MORE: Digital Nomad Guide to Living in Playa del Carmen
2. Puerto Vallarta, Mexico
WiFi around 70 Mbps
1 bedroom apartments from $500/month
6 month stay for most nationalities
Written by Sasha Savinov
Puerto Vallarta is a coastal city in Mexico's Banderas Bay. My wife and I moved here in February 2017 when we started teaching English online and we've spent 6-7 months out of every year here since then.
It's a beautiful place with the Pacific Ocean on one side and the Sierra Madre mountains on the other. While there are plenty of luxury condos and shopping malls being built, you can still very easily find the traditional side of PV by walking the cobblestone streets, eating at the taco trucks, and perusing the local markets.
Why is Puerto Vallarta a Great City for Digital Nomads?
There are plenty of reasons why digital nomads are choosing to live in Puerto Vallarta. The community has been growing consistently over the past few years.
The Puerto Vallarta Digital Nomads Facebook group currently has over 800 people, for example. There are big meet-ups once a month as well as co-working days and other smaller events from time to time.
It's possible to get fiber optic internet at home here now, and there are a few excellent co-working spaces if you prefer that.
We find that Puerto Vallarta gives you all the comforts of a big city and the excitement of a popular tourist destination. At the same time, it retains much of its charm and tradition — something we find lacking in places like Cancun and Playa del Carmen.
When you're not working here, you can go surfing, SUPing, hiking, scuba diving… the list of activities in Puerto Vallarta goes on and on. There's a vibrant culture here as well as an exciting nightlife scene. Best of all, living here is quite affordable!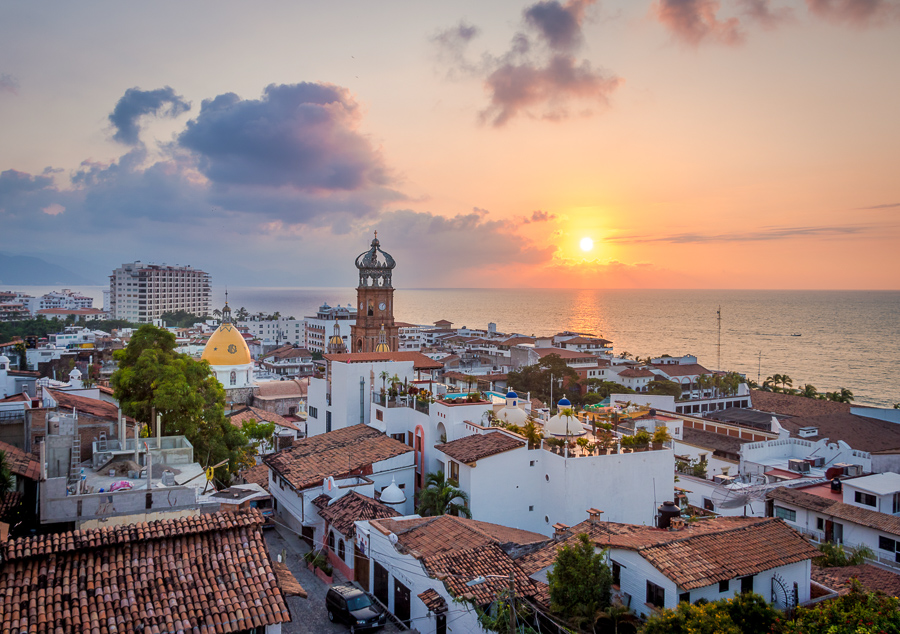 How to Find Apartments in Puerto Vallarta
These days, your best bet for finding accommodation in Puerto Vallarta is through various Facebook groups. People are posting places for rent every day, so you can start to browse listings well before you even land.
A good idea is to rent an Airbnb for a week or more so you can do a proper apartment hunt.
Most digital nomads look to the Romantic Zone (heart of the nightlife), Centro (home to the church, main plaza, shopping), 5 de Diciembre (local neighborhood with great restaurants and cafes), or Versalles (up-and-coming residential area with a booming culinary scene) neighborhoods.
I recommend checking all of them out to figure out which one you like the best, then posting in a FB group with your requirements. You'll have dozens of offers before you know it and can then go look at places in person to find what's best for you.
Most places will want at least a 6-month commitment, though. If you're only staying for a few months, you can just stick with Airbnb, Booking.com or VRBO.
WiFi Speed in Puerto Vallarta
There's fiber optic internet available in most of the central areas of PV these days, which is great. Our home internet connection just gave results of 65 mbps down and 20 up when I ran a speed test.
We work at home and rarely have any issues. It drops out for a few minutes from time to time, so we make sure to have data on our phones to use as a hot spot when that does happen.
Co-working Spaces in Puerto Vallarta
Vallarta Co-Work is a great option as it's located in Centro right near the Romantic Zone. They have a variety of options, from hot desks to private office space. It costs 1,160 pesos ($58) for a week or 2,900 ($145) for a month for a hot desk. The price is 3,100 ($155) if you want your own dedicated desk.
It's a good community of remote workers and they often have events. If you end up living in Versalles, Natureza is a good option. We've never used their co-working space but have taken our computers there for lunch and coffee to work for a few hours and quite enjoyed it.
Their options are a bit cheaper, as you can get a monthly membership for just 1,900 pesos ($95). There are also dozens of nice cafes where you can plop down with your laptop for a few hours to get some work done.
Cost of Living in Puerto Vallarta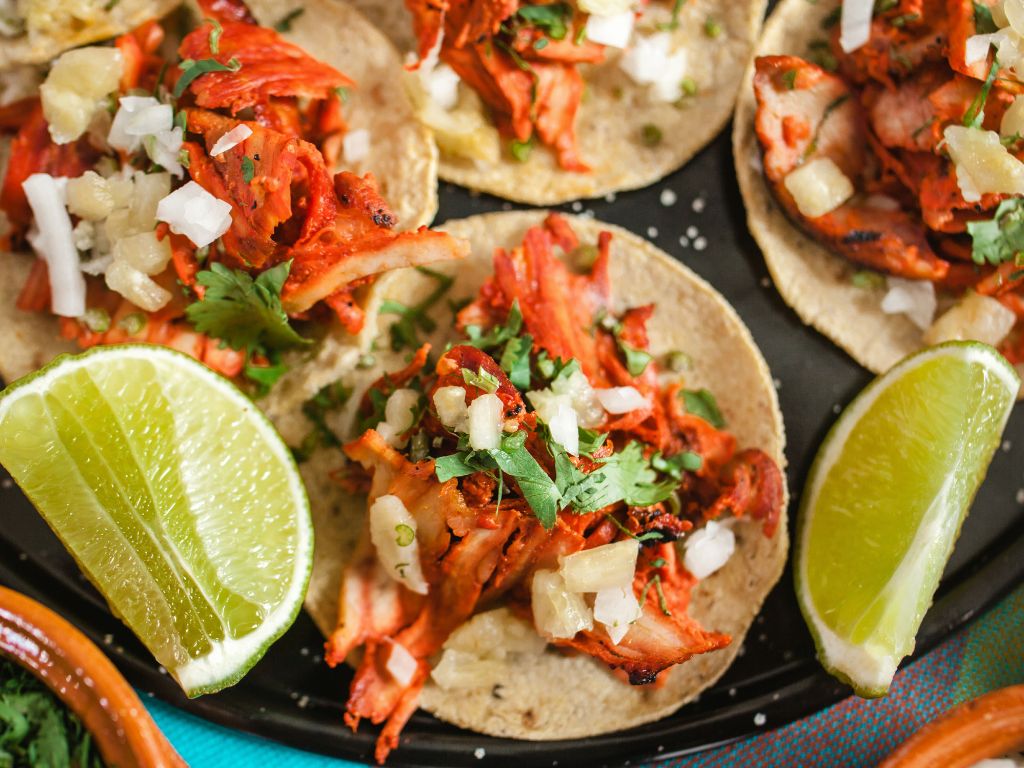 When it comes to the cost of living in Puerto Vallarta, it really depends on you and your tastes.
It's possible to find a decent studio apartment for as little as 5,000 pesos ($250) a month. You could also pay upwards of 30,000 ($1,500) if you want to live in a fancy condo with rooftop infinity pools.
It only costs 10 pesos to ride the bus anywhere in town, while taxis cost between 50-100 ($2.50 – $5) for short trips. You can eat some of the best tacos ever on the streets for just a few bucks, or you can sit down to a 9-course tasting menu in a fancy restaurant for closer to $100.
A domestic beer in a bar usually only costs 30-40 pesos ($2), but cocktails will set you back closer to 200 ($10). This year we're splurging a bit on one of those fancy condos. We've also been going out quite a lot and doing big tours that have been on our bucket list for a while.
Even with all that, we're spending between $2,400 – $3,000 a month. It's definitely easy to get by on $1,000 a month or less here, though.
Pros of Living in Puerto Vallarta as a Digital Nomad
Beach and mountain access
International airport with good options
High-speed internet is readily available
Amazing selection of restaurants, cafes, and bars
Tight-knit community of young expats and digital nomads
Cons of Living in Puerto Vallarta as a Digital Nomad
"Gringo pricing" (i.e. always being treated like a tourist)
Lots of construction these days
Can be very crowded in the winter months
Getting more expensive
Bus system is confusing and always changes
What's the Visa Situation in Puerto Vallarta?
Most people can stay in Mexico for up to 180 days as a tourist. This is enough for most digital nomads, who travel home or to another country at least once a year.
They rarely even ask how long you're staying upon arrival at the PV airport. You can apply for a temporary residence permit at a Mexican embassy or consulate in your home country if you think you might want to stay longer and potentially become a resident.
You extend the temporary one for four years until you can become a permanent resident. We've always just taken the 180-day stamp and made PV our base for half of the year.
☞ READ MORE: Digital Nomad Guide to Living in Puerto Vallarta
3. Medellin, Colombia
WiFi up to 100 Mbps
1 bedroom apartments from $350/month
90 day stay for most nationalities
Written by Sasha Savinov
When it comes to digital nomad hubs in Latin America, it's hard to beat Medellin. Colombia's Spring City is an innovative, forward-thinking city.
With an ideal climate, low cost of living, and an abundance of coworking spaces, it's no wonder nomads flock here. We've spent 6-8 weeks in Medellin on a few occasions and plan to keep returning to this amazing city.
Why is Medellin a Great City for Digital Nomads?
Medellin is a great choice for nomads for a variety of reasons. It's got the amenities of a big city but is way more relaxed than others.
The weather is great (it's called the City of Eternal Spring), and there's super-fast WiFi and a ton of co-working spaces and cafes. Plus there are numerous things to do here, and the nomad community is huge. It's probably the DN capital of Latin America.
How to Find Apartments in Medellin
There are plenty of apartments available. I recommend staying at a place like Selina for a few days, jumping on the FB groups, and scheduling visits.
Poblado and Laureles are the most popular neighborhoods for nomads and expats. There are tons of places on Airbnb and Booking.com if you prefer to use that to start, with solid discounts for monthly stays.
WiFi Speed in Medellin
Generally speaking, the WiFi in Medellin is excellent, especially in the neighborhoods where nomads are. You can get a super-fast home connection at around 100 Mbps/second.
The speeds are great at most of the co-working spaces and even many cafes, which are quite used to DNs by now. You can also get a local SIM card and load it with data for $10 or so to have a backup.
Co-working Spaces in Medellin
There are so many co-working spaces and cafes it's kind of overwhelming!
We enjoyed working at La Casa Redonda in Laureles and Selina's space in Poblado is great. As for cafes – Pergamino, Cafe Zeppelin, and Hija Mia are some of our favorites. See more top co-working spaces in Medellin here.
Cost of Living in Medellin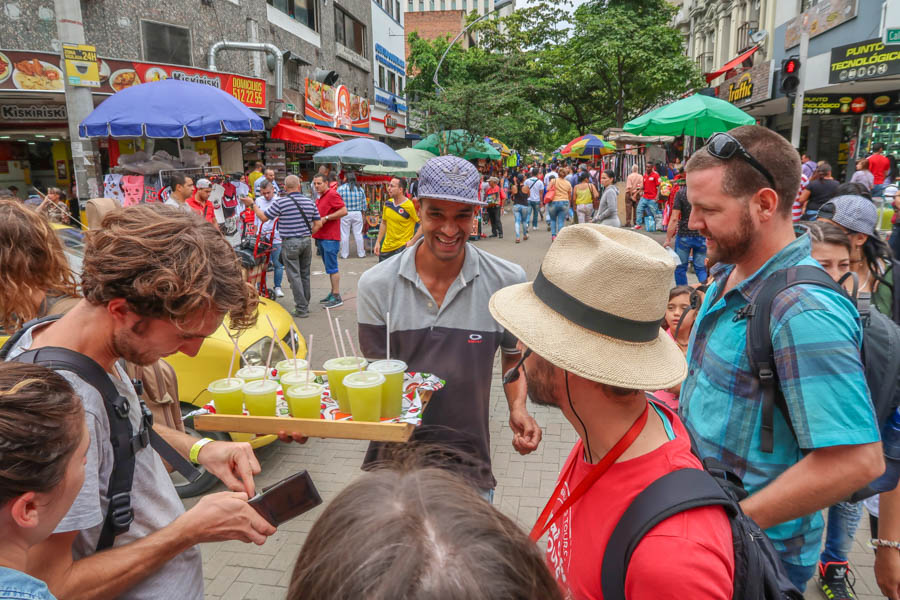 If you're willing to stay in a studio or shared space, your rent can be as little as a couple hundred bucks. We've paid closer to $750-800 both times we've rented on Airbnb for a month, and then negotiated a lower price for extending our stay.
You can spend over $1,000 if you want a luxury place with a rooftop pool, gym, and all that good stuff. Getting around is very affordable with the metro, bus, scooters, and bikes.
It's easy to find a cheap meal and going out won't break the bank if you stick to beers. We spent about $3,000 total for a month, which included going out a lot and several tours/activities.
Pros of Living in Medellin as a Digital Nomad
Spring-like weather year-round
Super nice locals
Choice of co-working/cafes
Excellent public transport
Lots of free activities
Cons of Living in Medellin as a Digital Nomad
"Gringo pricing" — especially for apartments
Still a bit dangerous
Sleazy vibe in Poblado
Repetitive nightlife
Food is mediocre
What is the Visa Situation in Medellin?
For nomads from about 100 countries, you can get 90 days in Colombia on arrival. This can be extended for another 90, but you can't exceed 180 days in a calendar year.
Some nomads move there in July, extend their visa in October, make a visa run in January, and start over again to get a full year.
☞ READ MORE: Digital Nomad Guide to Living in Medellin, Colombia
4. Merida, Mexico
WiFi around100 Mbps
1 bedroom apartments from $250/month
6 month stay for most nationalities
Written by Nathan Aguilera
Merida, Mexico has been my on and off base for more than three years now. Merida is located in the Mexican state of Yucatan in the north part of the Yucatan Peninsula — famous for cenotes, beaches, and Mayan ruins.
Why is Merida One of The Best Places for Digital Nomads?
Merida is a great digital nomad city because of the low cost of living, how safe the city is (safest city in all of Mexico), the well-connected international airport, fast wifi, and the plethora of things to see and do located nearby.
There is also a growing digital nomad scene in Merida, with many nomads coming for weeks or months at a time.
Combine the low cost of living and impressive internet speeds with some of the friendliest locals in the world in a gorgeous city full of unique culture, and you can see why so many digital nomads have taken notice of Merida.
How to Find Apartments in Merida
Most nomads tend to book Airbnbs for shorter stays but for those wanting to stay longer, you can find reasonably priced accommodation on Facebook Marketplace, and in Facebook groups such as Merida Casitas for Rent.
I've had the best luck finding the neighborhood I want to rent in and hitting the streets looking for "Se Renta" signs. My favorite neighborhoods for living are Santa Ana, Santiago, Santa Lucia, or Garcia Gineres if you want a bit of a more local experience.
Many traveling as a family or with children choose to live in the north side as it feels a bit more like home to them — large malls, Sam's Club, Costco, chain restaurants, etc. I prefer to stay in the Centro area as it has more of a local feel.
Co-working Spaces in Merida
Coworking spaces in Merida are available but are not as prevalent as in other nomad cities. You can however work from most cafes with no problems.
My favorite coworking space is Conexion 60, located in the trendy Paseo 60 shopping area. Some of my favorite cafes to work from are Latte Quatro Sette, Te Extrano Extrano, and Kadus Cafe.
WiFi Speed in Merida
WiFi in Merida is fast and stable. The cafe I'm working from now has speeds of 117 down and 100 up, which is not uncommon.
Cost of Living in Merida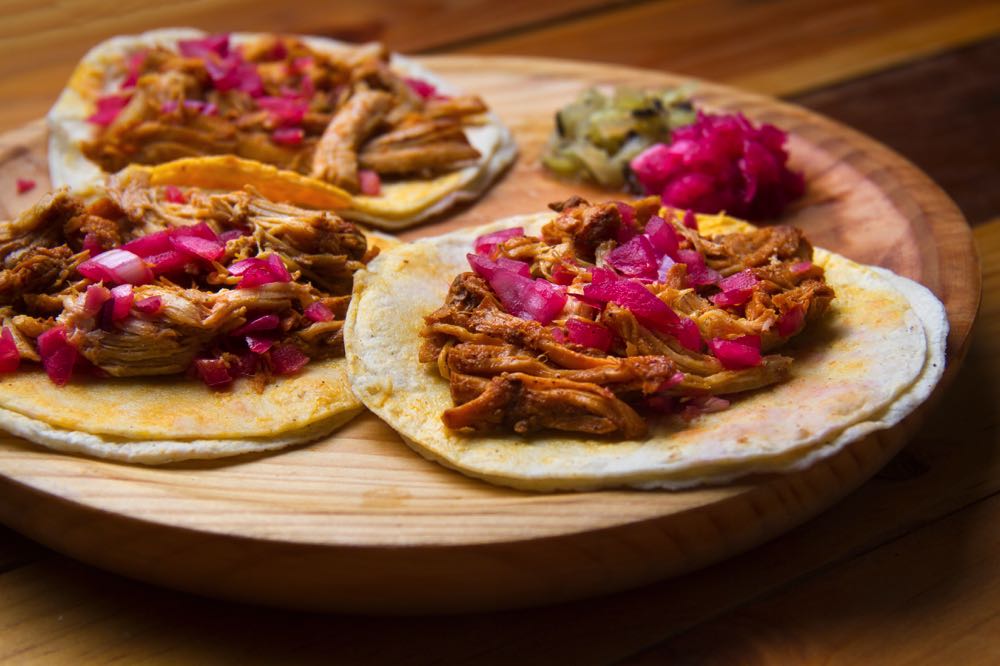 The cost of living in Merida is one of the main reasons nomads are flocking to the city. I have previously rented a 1 bed 2 bath house in a great neighborhood for as little as 5000 pesos or about $250 USD.
Prices can be even less if you look outside of Centro. I'm currently renting a 2 bedroom, 2 bath house with a private swimming pool with all bills included (even electricity, which is rare to find) for $10,500 pesos or about $530 USD.
I have friends renting large houses with bigger pools and detached guest houses for about $750 USD per month. I don't know many people paying more than $1000 USD a month and that is for a large family house in a gated neighborhood.
Food costs can vary depending on your tastes.
Street tacos will set you back about 10 pesos or $0.50 cents each, simple but delicious lunches in a cocina economica cost about $2.75 for a large serving of meat, beans, rice, and tortillas or you can splurge on a 10-course tasting menu for $150 USD.
Local beers cost about $0.50 USD each and there are craft cocktail bars that will set you back $10-12 USD per drink. Have a look at this post about the best restaurants in Merida.
Pros of Living in Merida as a Digital Nomad
Cost of living — you get so much for your money here. If you are earning an American wage it goes so much further.
The weather — most of the year is better than back home. It's January and I'm currently sitting outdoors in a cafe writing this up in shorts and a t-shirt.
Incredibly friendly locals who are very proud of their city. This likely has a lot to do with why Merida is continually voted the safest city in all of Mexico and the second safest city in all of North America.
The growing expat and digital nomad scene. When I first arrived in Merida nearly four years ago the DN scene was a fraction of what it is now. The nomad scene is steadily increasing with interesting people from around the world who are usually happy to network and collaborate.
The international airport is one of the busiest in all of Mexico which makes it affordable to explore other parts of Mexico or even to get back to the USA or Canada.
Cons of Living in Merida as a Digital Nomad
The same weather that I usually love can get unbearably hot from April to late June or July with temperatures regularly topping 100° (37 C).
The beach is about 45 minutes from downtown Merida and while they're nice enough if you want a beach day they are not the stunning beaches found on the Caribbean side.
For many that are not used to it, Merida can be very noisy, especially for those of us living downtown. Neighbors whose party doesn't start until midnight, buses, firecrackers — it can take some getting used to.
The rainy season here can cause streets to flood and all the moisture can bring huge mold problems. This year was the first year I had mold issues in my house and it was a huge pain.
It's easy to get "trapped" here. I, like many of my friends, came years ago just passing through and ended up staying for much longer than we intended. The city is just so easy to live in and modern conveniences like Uber and Rappi make leaving a challenge!
What is the Visa Situation for Living in Merida?
Many countries are granted a 6-month visa on arrival which makes staying long term easier than in many places where you need to constantly worry about visa runs.
5. Oaxaca, Mexico
WiFi speeds vary, average 20 Mbps
1 bedroom apartments from $150/month
6 month stay for most nationalities
Written by Ian Ord
Oaxaca City, located in the state of the same name, is a UNESCO World Heritage Site, surrounded by endless mezcal farms and mountains.
Oaxaca has some of the best food in Mexico, and varied indigenous groups — this is one of the more traditional and authentic areas of the country.
I've been basing myself in Oaxaca since 2016. Due to the city's vibrancy, colourful buildings, and welcoming locals and expat community, it's one of my favourite cities in the world!
Why is Oaxaca a Top City for Digital Nomads?
There are many reasons why Oaxaca is one of the best cities for digital nomads.
The main reasons are the tight community of remote workers, how affordable the city is when compared to other Mexican destinations, the many amenities on offer and things to do, and the easy access to nature and historical sites in the area.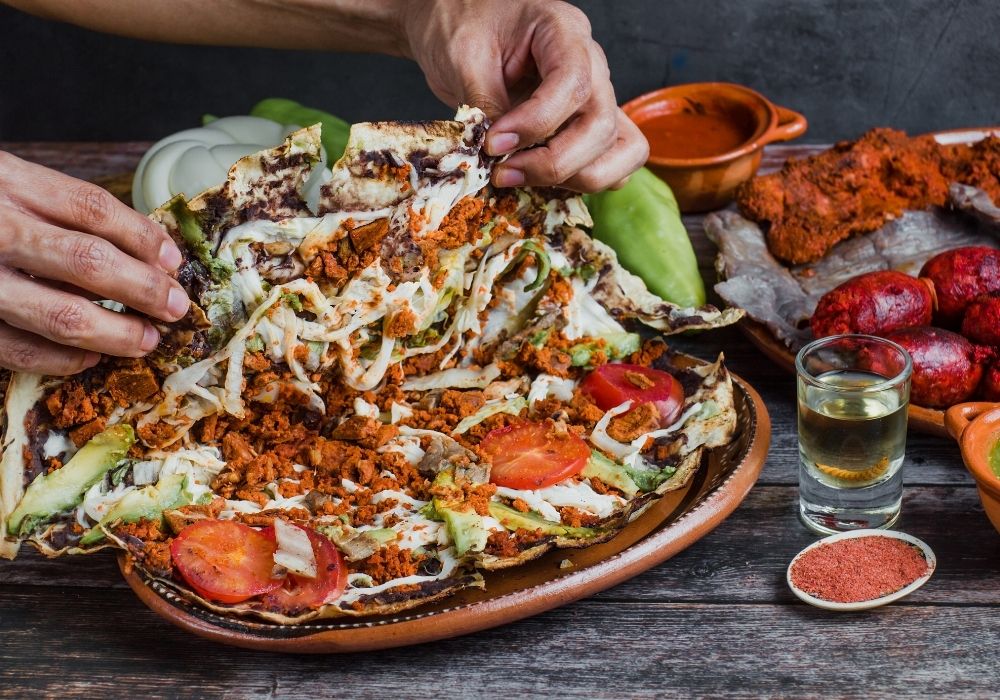 How to Find Apartments in Oaxaca
There are many amazing places to rent in Oaxaca, ranging from long-term co-living spaces and basic studios, to deluxe private colonial houses, and even a few modern condos. Have a look at Airbnb, Booking.com or this Facebook group to find a place to stay in Oaxaca.
The best neighbourhoods to look at for digital nomads are Jatalaco and Xochimilco, which are close to the historic center, numerous cafes, parks and restaurants as well.
WiFi Speed in Oaxaca
The wifi in Oaxaca isn't the greatest, which makes it a bit of a challenge for digital nomads. Fast wifi does exist, it's just difficult to find!
I've experienced everything from 0.8 Mbps – 150 Mbps download speeds. Make sure to speak with your landlord about the wifi before renting an apartment. Or, work from one of the co-working spaces.
Co-working Spaces in Oaxaca
Here are three great co-working options in Oaxaca:
Convivio Oaxaca – the longest-running co-working space in Oaxaca and with the fastest wifi as well. Costs range from $10/day to $90/month. See this article for a full review of the Convivio co-working space.
Work Coffe Inc. – their internet ranges from 50-100 MBS depending on the package you buy. Costs start at $5 USD per day – $45 USD per month
Selina – while this is a popular co-working chain in Mexico, for some reason the wifi here is pretty slow. But, the attraction is the community of people, the rooftop bar, and location. Day passes are $10.
Cost of Living in Oaxaca
Oaxaca is a great budget city for digital nomads. You can find tacos for $0.50, sandwiches for $1, and a plate of food for around $5. If you want to splurge, you can also find fine dining for $100 a meal.
Accommodation is half the cost of other places in Mexico (such as Playa del Carmen or Puerto Vallarta). Rentals range from 3000 pesos ($150 USD) to 20,000 pesos+ ($1000 USD+) per month,.
The average cost of a private, centrally located furnished apartment is around 8,000-10,000 pesos ($400-500/month).
You could easily get by in Oaxaca for between $1,200 – 1,400 USD per month, including everything, and live VERY comfortably.
Pros of Living in Oaxaca as a Digital Nomad
Oaxaca is a foodie paradise, with some of the most delicious and diverse cuisine in Mexico!
One of the prettiest and safest towns in the world
Walkable and packed with places to go and things to do
It's got an amazing expat and remote working community
The locals are kind, humble and welcoming
Cons of Living in Oaxaca as a Digital Nomad
It's not uncommon to see protests or disruptive street blockades. They are usually always peaceful
Though very safe, and free from cartel and mafia activity, Oaxaca is a poor state, so petty crime such as pickpocketing does exist
Oaxaca is far from the beach
Due to rapid growth in exposure and popularity, Oaxaca it runs a high risk of growing without solid infrastructure. Visit responsibly, and try to shop and support locally, and keep things sustainable.
What is the Visa Situation for Oaxaca?
While it depends on your nationality, most visas (either applied for in advance, or a Visa on Arrival) are for 6 months, and are free. This makes for one of the best visas in the world.
☞ READ FULL GUIDE: Digital Nomad Guide to Living in Oaxaca
6. Lisbon, Portugal
WiFi speeds vary, average 20 Mbps
1 bedroom apartments from $845/month
90 day stay for most nationalities
Written by Dariece Swift
Set on the Tagus River, the picturesque city of Lisbon has become a hotspot with digital nomads over the years. With an open-minded attitude, an electrifying vibe, an abundance of things to see and do, and numerous events and meet-ups, Lisbon is a true gem.
Nick and I spent 4 months living in Lisbon and really got to know the city well during that time. The city boasts a plethora of coworking spaces to choose from too.
Why is Lisbon One of The Best Cities For Digital Nomads?
Lisbon truly has everything a digital nomad could want or need. Numerous co-working spaces, an abundance of apartments, an entrepreneurial atmosphere, numerous cafes, gyms, yoga…the list goes on.
Not to mention, Lisbon is a great hub for going on day trips nearby.
As Portugal is such a small country, you can be in the stunning Algarve region within 2 hours, the National Park in the north within 4 hours, or just a quick 30-minute drive brings you to the oceanside town of Cascais.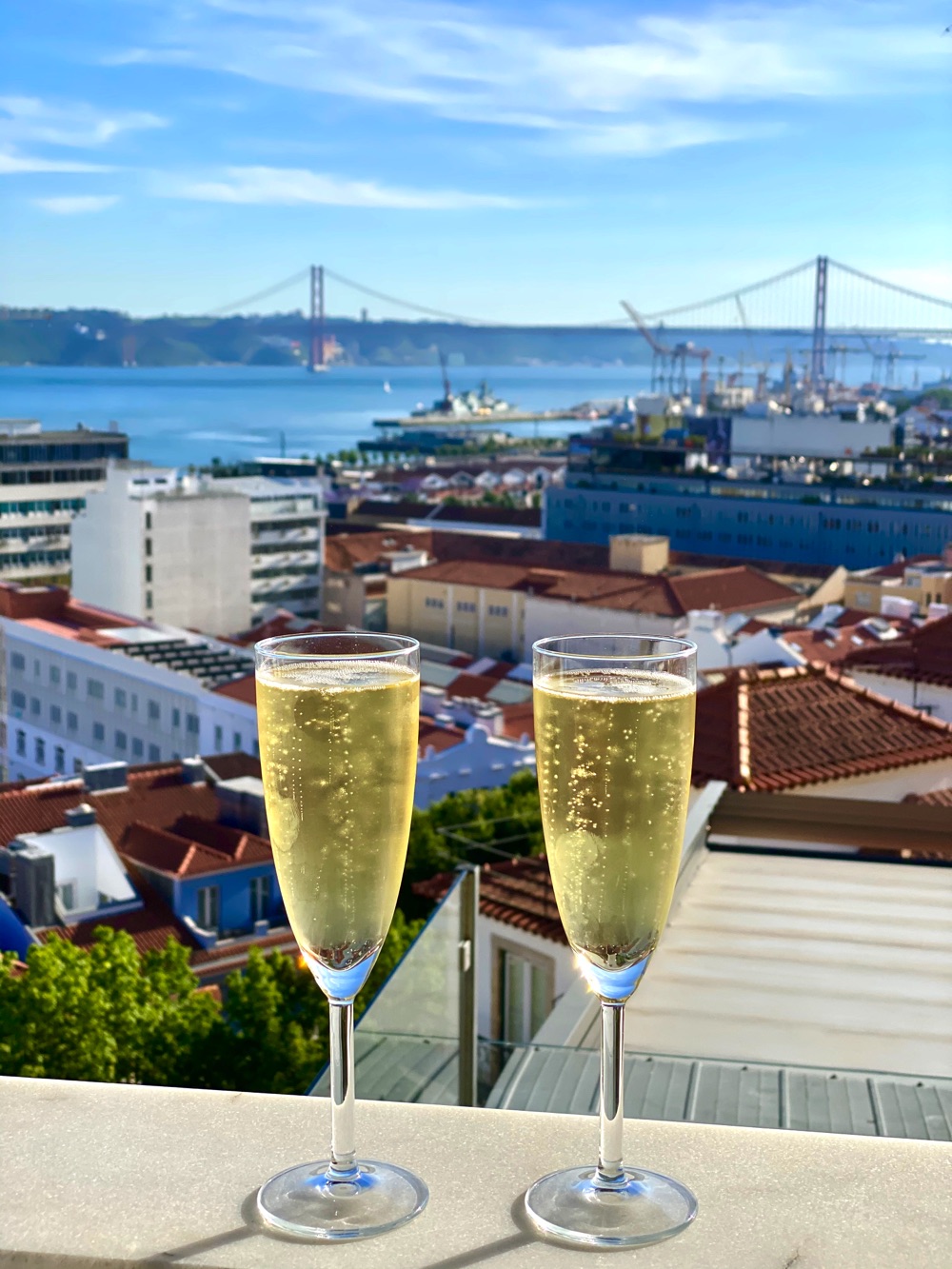 How to Find Apartments in Lisbon
Lisbon's accommodation scene has exploded in recent years. There are numerous ways to find a place to stay, with Airbnb always being my choice. Being able to read reviews and have something booked when we land is what Nick and I prefer.
There are also Facebook groups for digital nomads in Lisbon where you can find apartments listed. Just be aware of scams, and if you're going this route, always wait to see the apartment in person when you arrive rather than booking ahead.
In my opinion, the best place to stay for digital nomads are the Bairro Alto or Principe Real neighbourhoods. Many nomads live in Estrela, which is another good option.
It's best to be close to everything, including the water, yet far enough away from the crowds.
WiFi Speed in Lisbon
Wifi in Lisbon is fast and readily available. We did experience some times when our wifi would drop out, but it was only down for a second or two. On average, download speeds are 20 Mbps, but we experienced faster than that at our Airbnb.
Co-working Spaces in Lisbon
There are numerous coworking spaces in Lisbon — which offer fast and reliable wifi, comfortable chairs and tables, and digital nomad events as well.
Check out Heden which has 3 locations around Lisbon. This company also hosts numerous events and workshops. It's €250 per month for a flex desk. The best option is to search for a coworking place near where you're staying.
Or, you can always pack up your laptop and head to one of the many cafes.
Cost of Living
According to Nomadlist, on average, studio apartments are around €1,200 ($1,300) per month, while an Airbnb will go for $145 per night on average (less if renting for a month). Meals out range from €10 – €20 ($12 – $25).
Wine is very cheap with a good bottle costing only €2.50 ($3). Groceries are also very affordable. You can walk to most places, which is free, or take the metro or an Uber.
For two people, we spent around €2,900 ($3,500) per month while living in Lisbon. We lucked out with a discounted stay in a large, 2-bedroom place, and ate and drank quite well.
Pros of Living as a Digital Nomad in Lisbon
Large entrepreneurial scene
Lots of things to see and do (including day trips)
Great restaurants, bars and nightlife
Very safe city
Lots of amenities for DNs (apartment options, coliving, coworking, etc.)
Great weather almost year-round (it can get cool and damp in December/January)
Cons of Living as a Digital Nomad in Lisbon
Lisbon is in the Schengen Zone (90-day allowance for many passport holders)
It's more expensive than other cities for digital nomads
Beaurocracy can be a challenge and difficult to understand (when dealing with the government, banks, immigration, etc.)
The city is very hilly — which could be a pro or a con
What's the Visa Situation in Lisbon?
Portugal is in the Schengen Zone, meaning many passport holders are only granted 90 days in Lisbon. If you're from a country in the EU, Lisbon is a great option for you. It also offers visas for digital nomads.
☞ READ FULL GUIDE: Digital Nomad Guide to Living in Lisbon
7. Budapest, Hungary
WiFi around 175 Mbps
1 bedroom apartments from $530/month
90 day stay for most nationalities
Written by Sarah Hughes
Budapest, the capital city of Hungary, has seen a huge increase in popularity and tourism in recent years. The mix of gorgeous architecture, historic sites, dynamic nightlife, and a tasty food scene make it a great tourist destination.
But, as we found out, after calling Budapest home for several months, it's also a very liveable city and a decent location for digital nomads.
Why is Budapest a Top City for Digital Nomads?
Aside from the appealing attributes listed above, Budapest also has a pretty laid-back lifestyle, good public transportation, lots of fun things to see and do, plus numerous cafes and co-work spaces.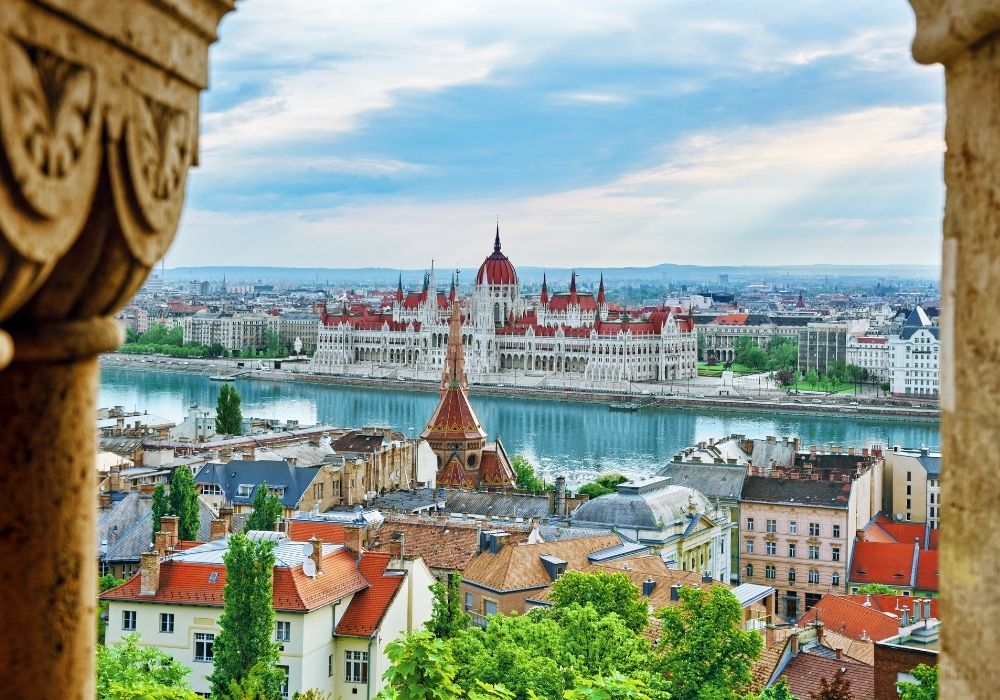 How to Find Apartments in Budapest
We've always used Airbnb for our stays of 3 months or less and have usually been able to negotiate a reasonable monthly rate.
But, if you're not limited to the 90 days Schengen stay you'll no doubt find much better long-term rental rates on the ground. I would advise going through an agent when looking for longer rentals in Budapest.
As far as where to stay in Budapest it really depends on your budget and priorities. The first thing to decide is whether to live in Buda or Pest. This is a pretty easy decision since the two areas are quite different.
The Pest side is home to the city center and is, therefore, busier and noisier but is more convenient, vibrant, and interesting.
The hilly Buda side is quieter, classier, and more residential with lots of green space. Cost-wise, Pest tends to be more budget-friendly than Buda.
Of the 23 districts of Budapest, the most popular districts are V, VI, and VII on the Pest side and District I on the Buda side.
WiFi Speed in Budapest
For the most part, Budapest ranks quite well with an average fixed broadband download speed of 175 Mbps and upload of 83 Mbps. However, as with anywhere, this can vary so it's always good to check your rental's speed — especially if you plan to work from home.
Co-working Spaces in Budapest
There are more co-working spaces on the Buda side. Kaptar Coworking often tops the list with its central location, energized atmosphere, and variety of seating and workspaces.
Impact Hub Budapest is part of a massive worldwide chain that offers a "coworking passport". It's easy to reach by public transit, is reasonably priced, and has a great community for events and networking.
If beautiful decor gets your creative juices flowing then the appropriately named Muse is a good choice. A gorgeous parquet floor, a spiral wrought iron staircase, and a great balcony for a people-watching break are just a few of the unique features of Muse.
Cost of Living in Budapest
The city is relatively easy on the budget, at least in comparison with most of Western Europe. As a couple, we were able to live quite comfortably for less than $2,000 USD per month. This included a basic but nice apartment in the city center and dining out a couple of times a week.
Pros of Living in Budapest as a Digital Nomad
Good WiFi
Lots of coworking spaces
Reasonable cost of living
Budapest has lots to see and do
Central location for touring Europe
Cons of Living in Budapest as a Digital Nomad
90 day limit for non-Schengen passport holders
The Hungarian language is very difficult but luckily most young people in the city center will speak some English
There are 4 distinct seasons in Hungary, including a fairly cold winter
Budapest is landlocked and far from any ocean which may be a negative for some
Smoking is still very prevalent in Budapest and is still allowed in some bars and restaurants
☞ READ FULL GUIDE: Digital Nomad Guide to Living in Budapest, Hungary
8. Tbilisi, Georgia
WiFi around 20 Mbps (can be upgraded to 100 Mbps)
1 bedroom apartments from $350/month
365 day stay for most nationalities
Written by Tom Williams
Tbilisi is the capital of the Republic of Georgia. Sitting on the eastern fringe of Europe it offers a rapidly developing environment with a government actively promoting the country to digital nomads.
Georgia is the birthplace of wine (8000-year-old archaeological evidence), and in Tbilisi, founded in the 6th century, ancient architecture and the former intersection of the silk road sit close to inner-city suburbs with all mod cons.
Within 45 minutes drive of the city, you can be in wine country, or halfway to the mountains and ski resorts. But Tbilisi itself, on the same latitude as Rome, experiences hot summers, and mild winters with very little snow.
Why is Tbilisi a Great City for Digital Nomads?
The 24-hour lifestyle gives you huge flexibility for those who want to have dinner at 3 am, or party in the park until 6 am. And the fast-growing reputation of Tbilisi as a new digital nomad hub means you'll always have plenty of new friends to experience everything the city has to offer.
To recover from the partying, gyms and health clubs are scattered across the city.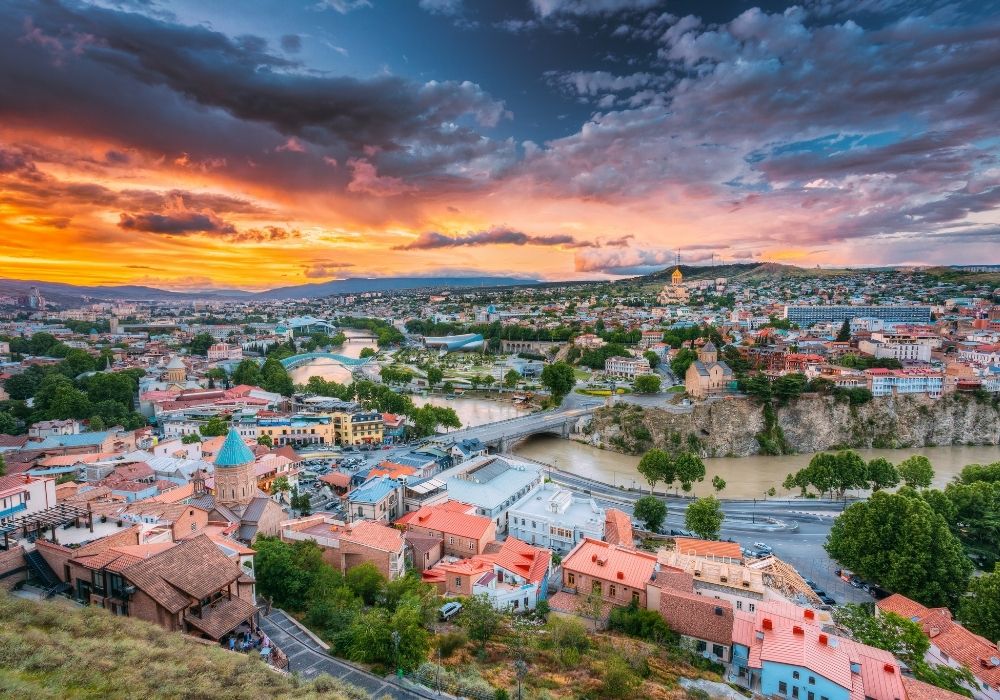 How to Find Apartments in Tbilisi
For short to mid-term rentals (less than 6 months) Airbnb normally has a lot of options. Always message the host to discuss pricing for longer stays. For a rental over 6 months, My Home has a huge selection at local prices.
The best areas to stay in Tbilisi are:
Vake: Leafy suburb, popular with expats.
Old Town / Rustaveli / Vera: Historic area with older architecture.
Saburtalo: Modern apartment blocks. Lower cost of living.
WiFi Speed in Tbilisi
Most apartments in the city have fiber optic. Standard is 20Mbps Up/Down. This can be upgraded month by month to 100Mbps. So, ask your landlord and pay the difference.
Co-working Spaces in Tbilisi
Options for coworking spaces in Tbilisi vary from professional office-style co-working to libraries for those on a budget. Here are some good options:
Terminal (multiple locations) focuses on higher-end coworkers, featuring hot-desking as well as dedicated office space, with pro services.
ImpactHub (Marjanishivili) is a more casual environment for those passing through.
Lokal (Vera/Vake) is an expat operated co-working/co-living space with an emphasis on community spirit.
Cost of Living in Tbilisi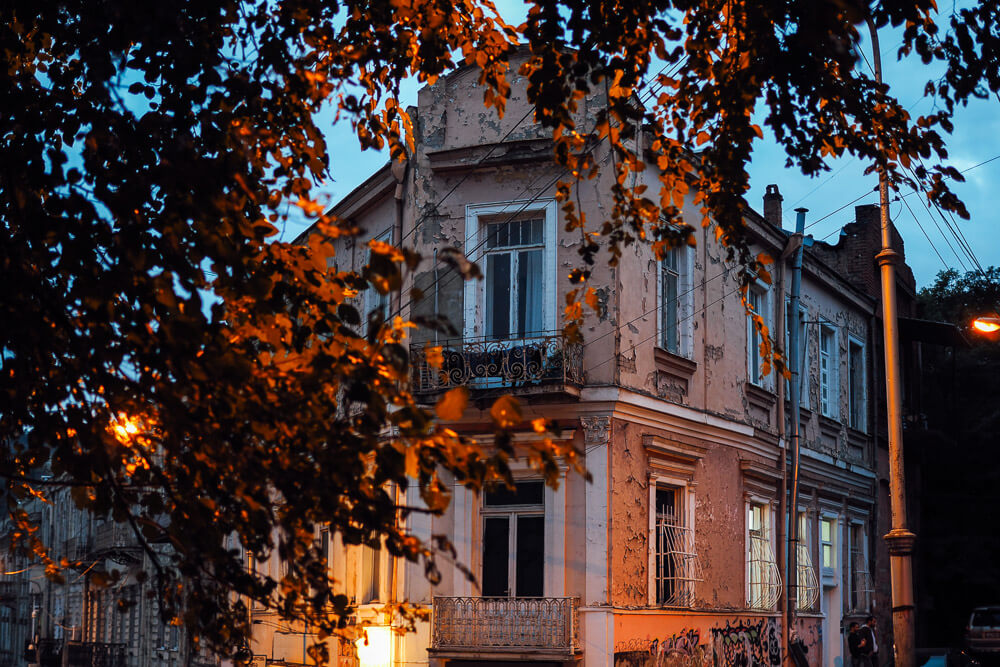 Overall, the cost of living in Tbilisi is very low. With a nice meal out for 2, with a litre of wine, costing about $30, studio apartments in a decent location starting around $200, and taxi rides rarely costing more than $1 to $3, your wallet will be very happy.
Example Budget: 2 people, sharing a 2-bedroom apartment
Rent: $500 Per month (2-bedroom modern apartment, 75m squared, furnished, decent area of town)
Utilities: $50 (Water, Gas, Electric, Garbage)
Fibre Internet & 4G network: $20 (Home internet 20MB + 2 sim cards for 4G)
Transport: $60 (~40 taxi rides per month)
Food Shopping: $280
Eating Out: $300 (Dinner out twice per week, as well as some light lunches)
Entertainment: $150
Other: $140
Total: $1,200 USD for two people. Comfortable, mid-level budget.
You could significantly reduce this by living in a 1 bedroom apartment or studio ($200 to $300 per month) and eating out/going out less. You could also live in relative luxury without spending a huge amount more.
Pros of Living in Tbilisi as a Digital Nomad
Bang for your buck.
Active food, wine & nightlife culture.
Benefits of a capital city while only having 1 million population. You can be in the countryside within 30 to 45 minutes drive and community spirit is high compared to megacities.
Well travelled expat/nomad community. This is not Chiang Mai. Most who decided to settle for a while in Tbilisi have already tried out a lot of other destinations.
Up and coming attitude. The difference in the last 5 years is incredible. Things are changing (improving) fast. For those staying longer, the 1% tax rates are a huge reason to move your digital nomad business to Georgia.
Cons of Living in Tbilisi as a Digital Nomad
Traffic. Avoid travel between 6pm & 8pm Monday to Friday.
Pollution. Tbilisi is in a valley. This can lead to haze. It's not terrible but it's enough to have some concerns.
Infrastructure. Public transport is improving but taxis are still the primary choice given their low cost and convenience. Intercity transport is often in very cramped minibuses. Though some modern trains are now available.
Health & Safety. Potholes, broken sidewalks and insane driving all lead to a riskier lifestyle.
What is the Visa Situation in Tbilisi?
365 days on arrival (For the 95 countries that qualify, including EU, UK, US, etc) with the ability to travel, live and work legally without restriction. Cross the border and return immediately to get another 365 days in perpetuity. Due to this, Tbilisi is a top choice for digital nomad cities.
If you intend to stay more than 183 days in any 12-month period, you will trigger tax residency. If you qualify for the 1% tax rate, this can actually be a very good thing, but you must apply for this in advance, not retroactively. Information for remote workers can be found here.
☞ READ FULL GUIDE: Digital Nomad Guide to Living in Tbilisi
9. Bansko, Bulgaria
WiFi around 100 Mbps
1 bedroom apartments from $275/month
90 day stay for most nationalities
Written by Alice Nettleingham
Looking for the most friendly, affordable mountain ski town in Europe? Bansko in the southwest of Bulgaria is where it's at! With an easy 90-day stay available, this is my second time here and I've been living in Bansko for 4 months so far. Here's why.
Why is Bansko a Great City for Digital Nomads?
Bansko is a top choice for digital nomads. It's incredibly safe and the community is strong. You'll never grow tired of the amazing variety of professions, ideas, and initiatives that materialize from the entrepreneurs who come here.
Socially, my life has never been so busy. There are hiking events, group dinners, hot spring nights, board game get-togethers, masterminds, workshops, and yoga mornings.
You have mountains to hike and ski down. Forests to explore. Plenty of bars to cheers a beer or two in and gyms to get buff in.
Oh, and if you really want the Bulgarian experience, don't miss trying the local delicacies. Ayran (a salty yogurt drink), wedges of Banitsa (a cheesy pastry) and local Bansko sausages are all good.
You can walk from one end of Bansko to the other in about 30 minutes. In the Old Town, you'll find all of the locals and the traditional buildings. But many nomads are also drawn to the Gondola location because it's right next to the ski lift and the nightclubs.
How to Find Apartments in Bansko
Airbnb is here, but my best advice is to look on the ground yourself when you arrive. I highly recommend Four Leaf Clover, Avalon and Bansko Royal Towers.
WiFi Speed in Bansko
In Bansko, you can find 100 Mbps, and 4G data. The WiFi hits all of your top-speed needs. It's fast, solid and consistent.
Co-working Spaces in Bansko
Bansko has 3 coworking options. Current membership prices start from €129 for Coworking Bansko (minus VAT), €129 for Altspace (inc. VAT) and €75 for Four Leaf Clover Coworking.
These prices reflect joining up as a member for 1 month at a time, but there are deals for signing on for longer and different prices for weekly memberships!
Cost of Living in Bansko
Accommodation costs start from €150 per month for a very basic place, but be aware that you're going to have to pay for heating in winter – and that adds up. Expect around €80 a month if you're turning it on in the evenings. For a meal, it costs around €7. The cost of living in Bansko is incredibly affordable.
Pros of Living in Bansko
Incredibly safe
Mountain and ski town
3 coworking spaces
It's affordable
Awesome food
Cons of Living in Bansko
Heating bills in winter can be high
Apartments are not the most soundproof – which is why they are hard to keep warm in the winter
Small town (which is a pro or a con)
What is The Visa Situation For Bansko?
Bulgaria is part of the EU, which is great for EU citizens who can therefore stay as long as they want. Many other nationalities receive a 90-day visa-free stay.
10. Barbados
WiFi around 100 Mbps
1 bedroom apartment average $990/month
6 month stay for most nationalities
Written by Dariece Swift
The island nation of Barbados sits in the Atlantic Ocean and is the easternmost island in the Caribbean. This stunning atoll is different from its neighbours in that it's a flat, coral island, rather than a volcanic one.
Due to this, Barbados is home to some of the most beautiful beaches in the Caribbean! Nick and I spent 2 months living in Barbados in the parish of St. George while house and pet sitting.
With English as the first language, a slow-paced vibe, and a more progressive mindset than some of its neighbors in the region, Barbados is a top choice when it comes to places to live in the Caribbean.
Why is Barbados a Great Place for Digital Nomads?
Barbados as a whole is a great choice for digital nomads due to the recent Welcome Stamp that the country implemented in 2020.
With this visa, DNs can stay for 1 year on the island, while enjoying blazing-fast wifi (up to 600 Mbps download speed is available!), and stunning weather.
There are lots of things to see and do, and while you can't take a boat to the neighbouring islands, you can find flights. Plus, there are direct flights to Barbados from Canada, the USA, the UK, and other parts of Europe.
There are numerous activities to keep you busy in Barbados, including scuba diving, SUP'ing, kayaking and surfing. For food and drinks, you'll find everything from beach bars and fish fry-ups to fine dining on the island.
This isn't a popular digital nomad destination (yet), but if you're looking for somewhere a little more off-track, Barbados could be a good spot for you.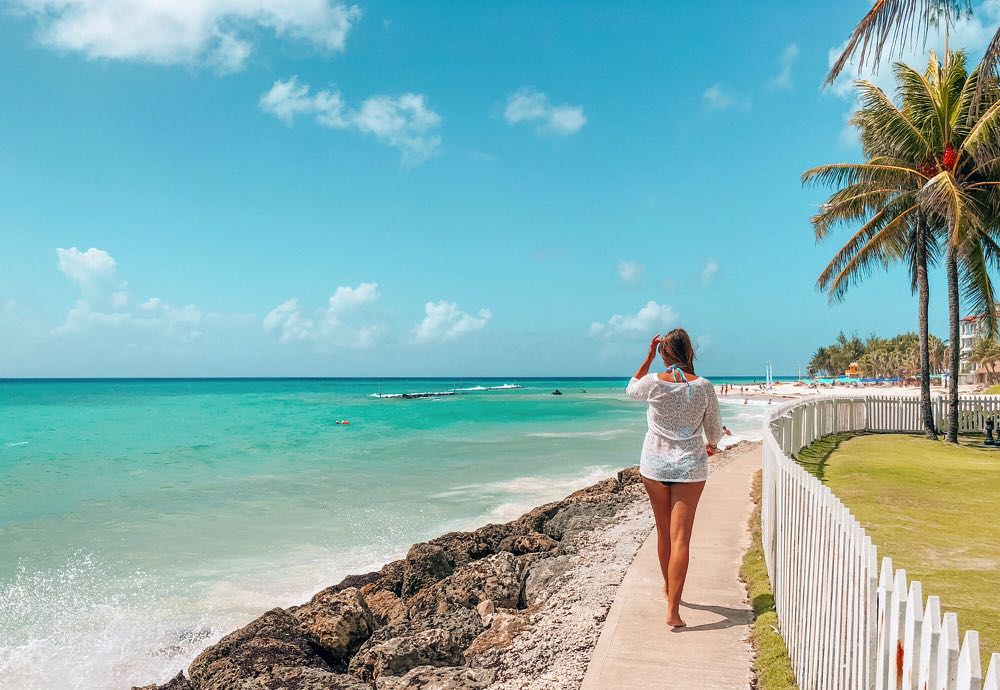 How to Find Apartments in Barbados
You can easily find a place to stay in Barbados on Airbnb. Another option is to check out VRBO, or one of the real estate companies when you arrive on the island. There's a newly created digital nomad group on Facebook that you can have a look at also.
Barbados is small, so no matter where you stay on the island, you'll be able to easily get around.
The best area to stay in for digital nomads is the southern/western part of Barbados. This is where you'll find the best beaches for swimming, most of the restaurants, the coworking space, and all the action as well.
WiFi Speed in Barbados
Barbados has super-fast wifi: 60 – 120 Mbps download, and 20 – 60 Mbps upload speed.
Co-working Spaces in Barbados
Since Barbados is new to the remote working scene, there's really just one official coworking space on the island — One Welches. The cost is 850 BBD ($420) per month. I always worked from our home in Barbados or at a cafe.
There are some great cafes and restaurants you can work at as well: Senses Marche, Artsplash Cafe, or Planet Juice…to name a few. Just make sure you always purchase a meal and drink if you are going to be working at one of these places.
Cost of Living in Barbados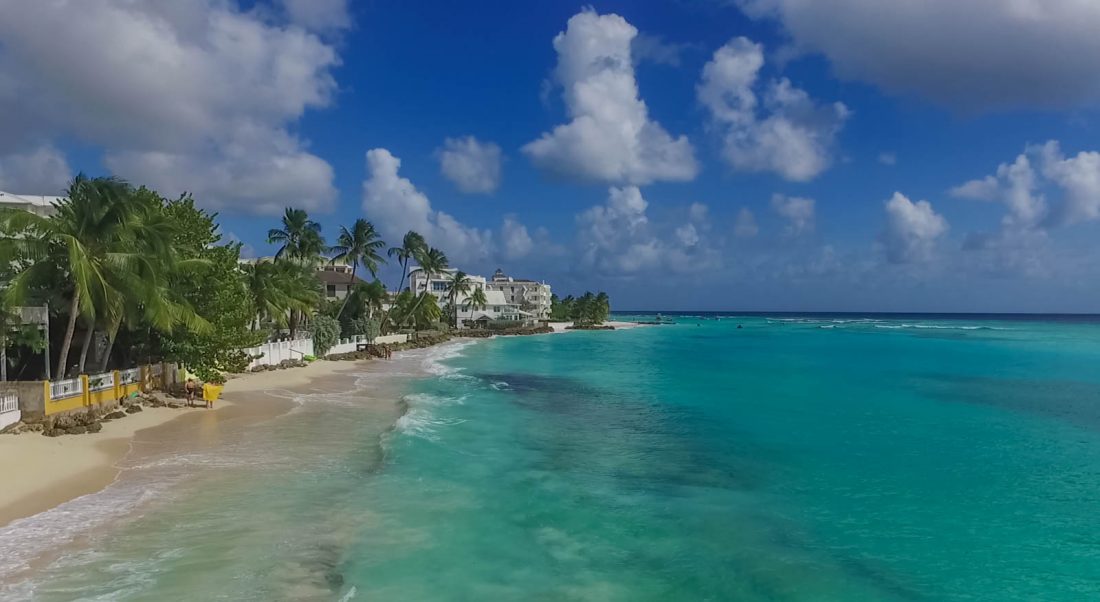 If you're looking for a budget destination for digital nomads, Barbados isn't it. However, if you're looking to live on a Caribbean island, and you have some cash to spend, it's a good option.
A basic one-bedroom apartment will vary from $650 – $1,830 USD per month. Transportation is affordable at around $1.75 for a bus ride
While the accommodation and transport aren't expensive, it's dining out, groceries, and entertainment that will add to your cost of living.
Most items need to be imported to Barbados, which drives up the costs of groceries and other household items. If you stick to local foods, your costs will be reduced, but if you want any international food, it'll cost a lot more.
Pros of Living in Barbados
Beautiful beaches
Fast wifi
Very friendly people
Lots of dining options
Digital nomad visa is available
Great rum!
Cons of Living in Barbados
Very expensive
The weather is nice, but it can be very hot and humid
The island is densely populated and the traffic is horrendous
You're on "island time", meaning things move slowly (which is good, but frustrating if you need to get important things done)
Since Barbados is a coral island, it's flat, meaning there aren't a lot of hikes available
What's the Visa Situation in Barbados?
With the new Welcome Stamp, if you qualify, you can stay for 1 year in Barbados. Otherwise, you are granted 6 months in the country.
11. Chiang Mai, Thailand
WiFi around 20 Mbps
1 bedroom apartment average $435/month
90 day stay for most nationalities (after extending)
Written by Anna Faustino
Located in Central Thailand, Chiang Mai is known as a digital nomad hotspot due to its warm year-round climate, cheap cost of living, and abundance of great food and cafes. My partner Tom and I have lived in Chiang Mai on and off over the last three years and absolutely love it there.
Why is Chiang Mai a Great City for Digital Nomads?
For me, one of the biggest reasons why we love living in Chiang Mai is the abundance of good (and insanely cheap) street food! Although it is a city, there are also tons of fun things to do like the Monks Trail up Doi Suthep as well as camping in some of the National Parks.
Chiang Mai is known for its cafe culture and has an abundance of beautiful cafes (most with great wifi) where you can work for a couple of hours.
Because we are constantly surrounded by other digital nomads, there are always a ton of meetups where we've learned a lot of productivity tips that helped us grow our blog.
The Old Town has an abundance of temples which you can visit during your time there if you want to know more about the local culture.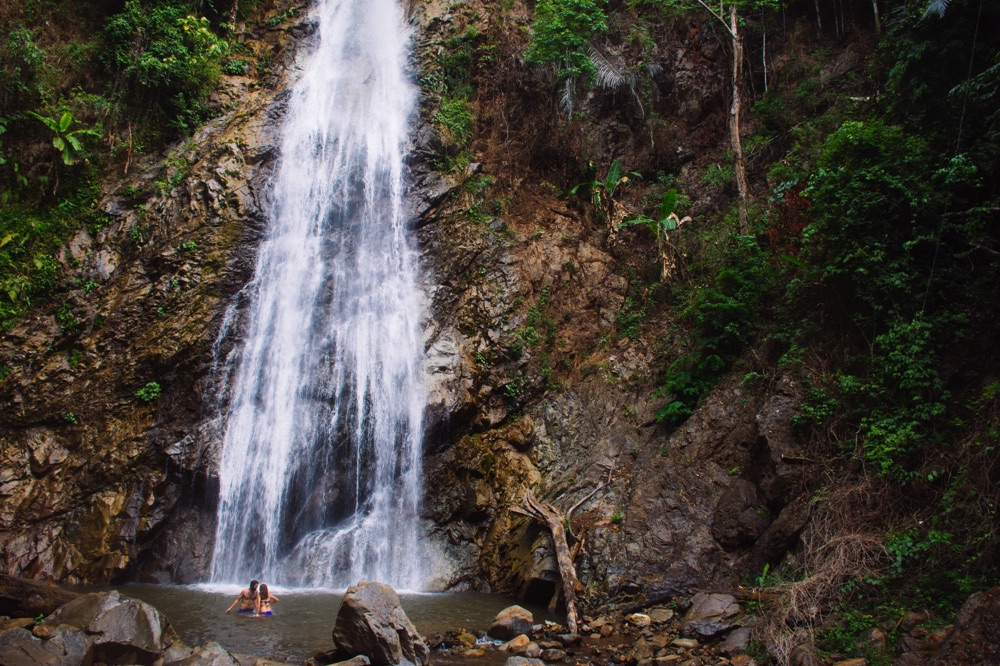 How to Find Apartments in Chiang Mai
Most digital nomads stay in Nimmanhaemin Neighborhood (Nimman for short) as it has the most number of cafes, co-working spaces, and shops. Most tourists tend to stick to the Old Town but if you have a motorbike you can easily get from one place to the other.
As in most digital nomad hotspots, you can easily find places to stay on Airbnb or through Facebook groups. There are dedicated Facebook groups around Chiang Mai just for housing and rental.
WiFi Speed in Chiang Mai
Chiang Mai has some of the fastest internet speeds that we've encountered in Asia! 20-40 Mbps download is the standard internet speed in cafes while co-working spaces can go up to 100mbps.
Generally speaking though, you can get blazing fast internet installed in your home for $25 a month.
Co-working Spaces in Chiang Mai
Apart from fun cafes, there are a ton of co-working spaces in Chiang Mai. A few of our favorites are Pun Space, Heartwork, and Buristro (this one has a pool!).
You can also check out the co-working space in Maya Mall called CAMP. This is a free co-working space where a lot of local students hang out.
Cost of Living in Chiang Mai
The cost of living in Chiang Mai is relatively cheap, but naturally, this depends on your lifestyle. On average you can get a studio for $350-400.
A good budget would be around $1200-1500 for accommodation, food, weekend trips, etc. But there are tons of people who live on $750-1000 per month.
Pros of Living in Chiang Mai:
Amazing street food
Lots of culture
Very safe (you can leave your laptop lying around and it will still be there!)
Lots of digital nomad events
Fast Internet
Cons of Living in Chiang Mai
Landlocked (far away from the beach)
Air quality can get bad during burning season (January – March)
Road Safety
Freedom of speech (monitored by the Thai government)
Animal tours (elephants and tigers) are still prevalent.
What's the Visa Situation in Thailand?
The visa situation in Thailand can be a little tricky but with advance planning, you can easily apply for tourist visas, allowing you to stay in the country for longer.
If you opt to get a visa on arrival, you get 30 days when landing but if you apply for a tourist visa in the Thai consulate, you can get 60 days with the option to extend for another 30 days when your visa runs out, giving you a total of 90 days or 3 months.
If you intend to stay in Thailand for longer, make sure you apply for the double or triple entry for your tourist visa, allowing you to do border runs to nearby countries like Laos or the Philippines.
☞ READ FULL GUIDE: Digital Nomad Guide to Living in Chiang Mai
12. Canggu, Indonesia
WiFi around 25 Mbps (up to 100Mbps)
1 bedroom villa average $500/month
60 day stay for most nationalities (after extending)
Written by Dariece Swift
Canggu has a little something for everyone. Whether you're a digital nomad, surfer, vegan, hipster, or animal lover, you'll find your place in this beach town on the island of Bali.
While it has become much more developed over the years, it's still a great place to connect with like-minded people and unwind for a while. Together with Nick, I spent 3 months living in Canggu and really enjoyed my stay.
Why is Canggu a Good Choice for Digital Nomads?
Canggu checks all the boxes when it comes to digital nomad destinations. Not only are there co-working spaces available, but it's the norm to work from your laptop at cafes (of course, you should buy something), and you'll find people living the laptop lifestyle at all times of the day.
You'll find numerous restaurants serving up international cuisine and Balinese specialties, loads of events and workshops geared towards earning money remotely, and a plethora of things to see and do in your downtime. Work hard, play hard!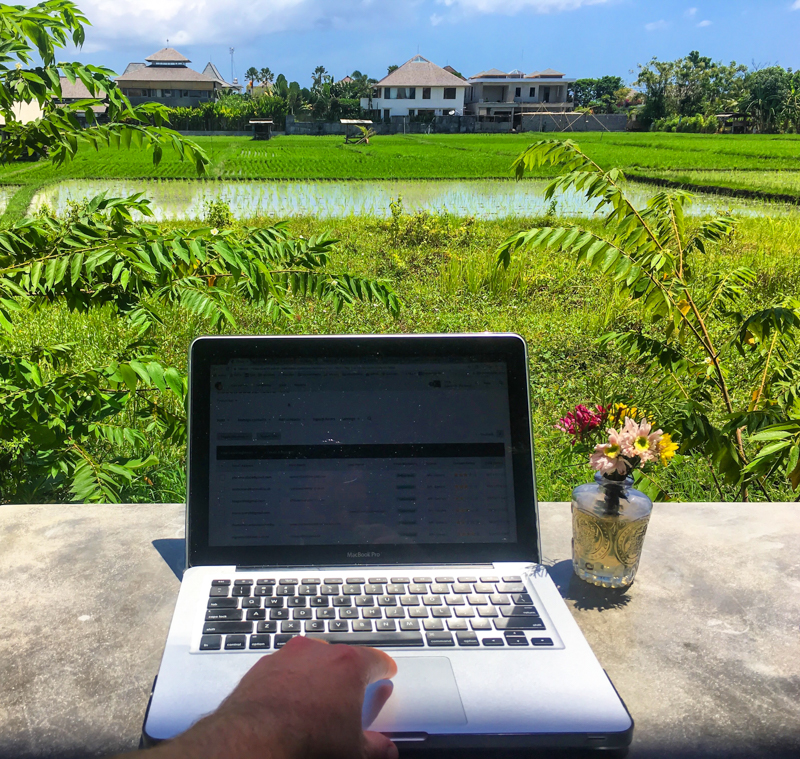 How to Find Apartments in Canggu
Canggu isn't like the other digital nomad cities on this list as rather than apartments, most people rent gorgeous pool villas!
I recommend staying in a guesthouse or an Airbnb and then look for a villa when you arrive. Sadly, in many cases, what you see online isn't the reality (unless you book a Superhost with lots of reviews on Airbnb). Have a look at the many Facebook groups geared toward rentals.
Some of the best neighbourhoods are Batu Bolong (the busiest and most central), Echo Beach (co-working and surfing), Pererenan (quieter, more local), Berawa (expat area, cafes), Uluwatu, and Umalas (expensive, exclusive).
We stayed in Berawa and found it to be a great location among the rice paddies, just a short scooter ride to the beach, and filled with cafes and restaurants.
WiFi Speed in Canggu
Indonesia is a developing country. So, you can expect power cuts and dropped wifi from time to time. Having said that, we had no problems working as DNs for 3 months in Canggu — while getting up to 100Mbsp. It's not uncommon to get around 25 Mbps.
Indonesia has great data plans where you can get 30GB for around $10.
Co-Working Spaces in Canggu
We prefer to work from home, but Canggu has lots of co-working spaces, with DoJo being the most popular. It's around $15 for a day pass and $200 per month for unlimited usage. There are numerous coworking spaces in Bali to choose from.
Cost of Living in Canggu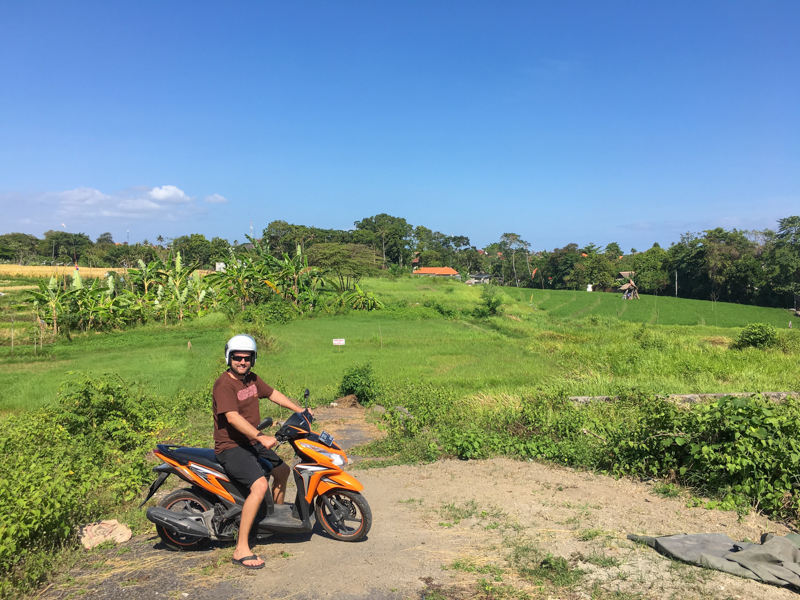 One of the best things about living in Canggu is affordability. Luxury, 2 bedroom pool villas for $50/night or less, a scooter rental is around $50/month, Indonesian food is just a few dollars, and international or health-focused meals cost around $5 each.
Dining out in Canggu costs less than purchasing groceries, which is why most people opt to go to restaurants or cafes. We spent about $2,500 per month, which is at the high end. You could spend much less in Canggu and live quite comfortably.
Pros of Living in Canggu
Surrounded by like-minded remote workers and entrepreneurs
Excellent value for money
Quality of life is great
Lots of restaurants, cafes and bars
Numerous workshops and seminars
Friendly locals who you can befriend
Cons of Living in Canggu
Traffic is a problem
Overdevelopment – which means the loss of rice paddies and nature
The non-swimmable beach at times (it's a great place for surfing, but can be too rough for swimming)
Garbage, which is an issue in all of Indonesia
What is the Visa Situation for Canggu?
For many nationalities, you will be granted 30 days visa-free in Indonesia. However, if you want to stay longer than that, you will need to pay for a visa on arrival when you land in Bali (around $35), which can then be extended for another 30 days.
After that 60 days, you will need to do a border run – ie: fly out and fly back. Recently, Bali has issued a Business Visa for digital nomads. Learn more here.
☞ READ FULL GUIDE: Digital Nomad Guide to Canggu, Indonesia
13. Penang, Malaysia
WiFi around 75 Mbps
1 bedroom apartment average $300/month
90 day stay for most nationalities
Written by Kirsten Raccuia
Penang, a little island off the west coast of Malaysia, has been my home since 2013. After a three-week vacation, we fell in love, went back to Chicago, sold everything, and moved across the world. It's that good.
Why is Penang a Top City for Digital Nomads?
Penang is a bustling island that has loads to do. There are Buddhist temples, Hindu temples, and mosques to visit–sometimes all on one street.
The food is celebrated as some of the best street food in Asia. And it is super cheap, so you can eat dinner for a few dollars.
There is a flourishing digital nomad community here, and more and more coworking spaces are popping up. Penang offers a very modern lifestyle at very affordable prices.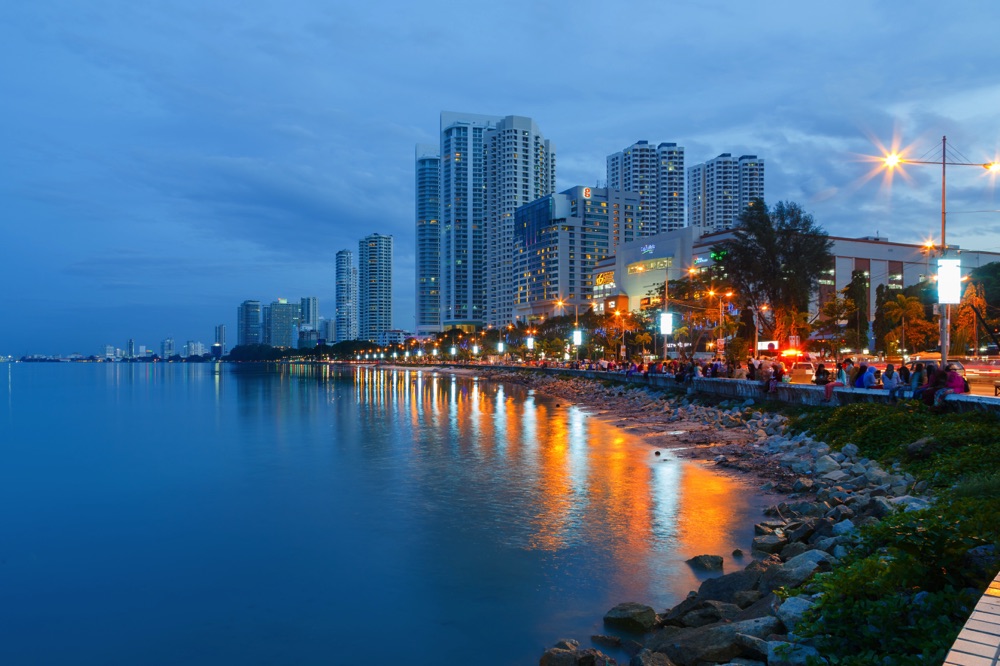 How to Find Apartments in Penang
The best neighborhoods for digital nomads are George Town, Gurney Drive, and Tanjung Tokong. Short-term rentals are a little more expensive and challenging to find, so looking at Airbnb or Booking.com is a good option.
If you are here for a year, there are tons of options at different prices. I suggest getting involved with the Penang Facebook groups and asking for housing. Tons of people will help out. In fact, those groups are the best way to find anything in Penang.
WiFi Speed in Penang
The WiFi in Penang is cheaper and faster than we had in Chicago because our building has fiber optics. However, not every area has that, so when looking for apartments, ask the agent or owner if it is available. You can expect around 50Mbps down and 13Mbps up.
Co-working Spaces in Penang
@CAT is geared toward start-ups and tech entrepreneurs. A one-day pass is $6 and a monthly fixed desk is $74.
MSOGO is a bright and colorful co-working space in the heart of George Town. Monthly hot desks are $74 and daily desk is $7.
Cost of Living in Penang
One of the reasons we love Penang, and Malaysia as a whole, is the cost of living is very low for what you get. We live in a 2300-square-foot condo overlooking the Straits of Malacca for $692.
Our unit has three bedrooms, four bathrooms, a modern kitchen, and views for days. The building has full-time security guards. Although Penang is extremely safe, all condos are required to have them. We also have a lovely pool and a small gym.
It is possible to find places that are even more affordable; it just depends on your standard of living.
Street food is so cheap that it costs more to cook at home than to eat out. There are plenty of restaurants and cafes, but they are more expensive, although not compared to the US.
We spend about $2000 a month all in and could spend even less if we watched our budget. My cost of living in Penang blog breaks down the affordability factor even more.
Pros of Living in Penang as a Digital Nomad
Low cost of living
Almost everyone speaks English
It's very safe
The healthcare is excellent
Locals are super friendly
Cons of Living in Penang as a Digital Nomad
Most locals don't care about the environment — people litter, assuming someone else will pick it up.
The public toilets are pretty gross. Bring your own toilet paper
Customer service in Penang is a lost art
For me, it's very far away from family in the USA, the time difference makes connecting with loved ones challenging
What is The Visa Situation for Penang, Malaysia?
There are a lot of countries that get a 3-month visa on arrival. If you plan to stay longer, you can leave for a few weeks and come back in, but they frown upon visa runs, so I don't suggest doing that for the long term.
☞ READ FULL GUIDE: Digital Nomad Guide to Living in Penang, Malaysia
14. Taipei, Taiwan
WiFi around 100 Mbps
1 bedroom apartment average $660/month
90 day stay for most nationalities
Written by Nick Kembel
The Taiwanese capital, Taipei, is an enticing metropolis known for its night markets, convenience stores, and amazing MRT system.
I first came to Taiwan as a backpacker. My intention was to stay for a year tops, but I fell in love with the culture, and before I knew it, 10 years had passed!
Why is Taipei a Top Choice for Digital Nomads?
Firstly, Taipei is incredibly safe. It is easy to get around by public transportation or bike-sharing programs. The locals are welcoming and the country is super LGBTQ-friendly.
When not working, digital nomads can feast in the city's night markets, climb a dormant volcano, head to the beach, or soak in hot springs. Finally, Taipei has a relatively small but tight expat community that organizes a vast array of activities and events.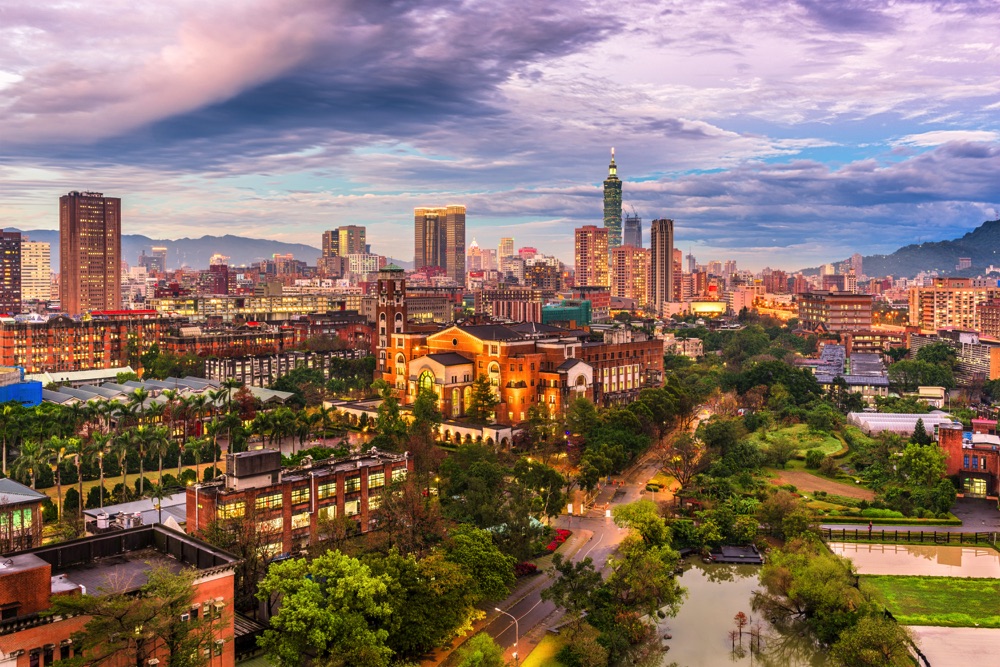 How to Find Apartments in Taipei
The most cost-effective way to find an apartment in Taipei is by sharing one with expats. Try TEALIT, Pop-Rooms, or Facebook groups like this one.
Here is a detailed guide to the best neighborhoods, hostels, and hotels in Taipei.
WiFi Speed in Taipei
Taiwan has some of the world's fastest Internet at around 100+ Mbps download speeds. All cafés and most restaurants offer free WiFi. The city also has free WiFi services with hotspots everywhere.
Co-working Spaces in Taipei
Besides cafés, which are in abundance, digital nomads may also consider renting a working space at The Hive Taipei. A desk is $125 per month, while a private office is $325.
Cost of Living in Taipei
Taiwan isn't dirt-cheap, nor is it as pricey as Hong Kong or Japan. A reasonable budget would be $1,200 to $2,000 per month, depending on lifestyle.
For example, you can eat on the street for $2, while you can spend $20-40 in a mid-range restaurant. If you live in New Taipei City, also MRT accessible, you can cut your costs significantly.
Pros of Living in Taipei as a Digital Nomad
Safe and convenient
Welcoming locals
Fast Wifi and many cafés
Tight expat community
Lots to do in your free time
Cons of Living in Taipei as a Digital Nomad
Not the cheapest destination
What is the Visa Situation for Taipei
You can enter as a tourist and do visa runs every 3 – 6 months. Many countries (including Canada, the USA, UK and EU) receive 90 days on arrival.
Taiwan now has a Gold Card, granting visas to entrepreneurs who make at least TWD160,000 (approx. $5700) per month. Always check the current regulations before travelling.
15. Kuala Lumpur, Malaysia
WiFi around 100 Mbps
1 bedroom apartment average $500/month
90 day stay for most nationalities
Written by Jennifer Ryder Joslin
Kuala Lumpur (KL) is the capital of Malaysia and one of our favorite cities in Southeast Asia. We've spent a lot of time in KL over the past seven years, coming here first as travelers and now as digital nomads for a year.
Kuala Lumpur is a beautiful tapestry of Malay, Indian, and Chinese culture, with a mix of other international cultures woven in (namely Dutch, British, Portuguese, and Japanese colonialism) as well as the many foreign workers who call the city their home.
You can see this diversity in the food, architecture, arts, and religions throughout the city.
Why is Kuala Lumpur a Top City for Digital Nomads?
Kuala Lumpur has so much to offer digital nomads. We primarily work from home as online English teachers so our work requires fast and consistent internet. Our apartment's wifi speed is 110/105 Mbps. These high speeds are pretty typical of the Airbnbs and house-sits we've stayed in and worked from.
Most cafes and restaurants offer free wifi and you'll often find people working on their laptops from cafes. In our experience, it's pretty easy to strike up conversations and meet new people, both locals and foreigners. Most people in Malaysia can speak English.
There are many fitness facilities around town: gyms, Crossfit boxes, yoga studios, boxing gyms, and dance studios. Many apartment buildings have gyms and pools as well.
It's easy to get out into nature in Kuala Lumpur. The city is surrounded by hills and mountains, and there are many forest trails to hike on. In my opinion, KL is one of the best cities for digital nomads and is very underrated.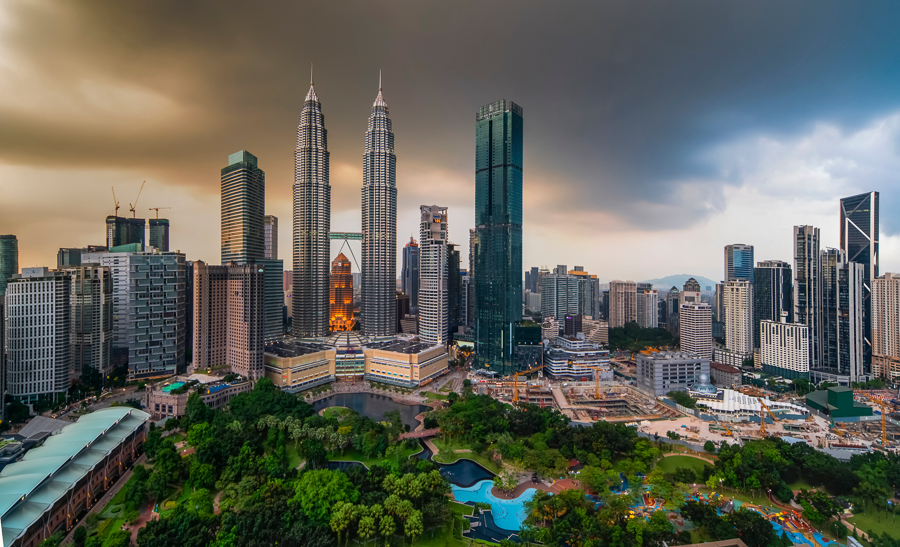 How to Find Apartments in Kuala Lumpur
The easiest way to find short-term housing in Kuala Lumpur is through Airbnb or Booking.com. Bukit Bintang is one of the most popular neighborhoods with easy access to transportation, nightlife, restaurants, and activities.
There are many hostels and hotels around the city, especially in China Town.
Co-working Spaces in Kuala Lumpur
Some popular co-working spaces are Komune Coworking and Common Ground which cost about $5-15 per day.
Cost of Living in Kuala Lumpur
Kuala Lumpur is a good value for money. You can find apartments on Airbnb costing $50+ per night.
Local meals and street food like Nasi Lemak cost about $1.50, while a meal at a restaurant goes for around $5-30+. I'd estimate that a couple can get by on $1,000-$2000 per month, depending on how you decide to spend your money. On average, we spend around $1600 per month.
Pros of Living in Kuala Lumpur as a Digital Nomad
Variety of food
Diverse culture, art, and history
Fast Wifi
Friendly locals
Easy to get into nature
Cons of Living in Kuala Lumpur as a Digital Nomad
Alcohol is pretty expensive
Not as safe for women as in some other countries in Southeast Asia (I don't walk alone at night here)
Lots of construction happening around the city so it can be noisy
What is The Visa Situation for Malaysia?
Many nationalities get a free 90-day Social Visit Pass on arrival. Be sure to check your country's requirements.
16. Bangkok, Thailand
WiFi around 20 Mbps average
1 bedroom apartment average $700/month
3 months after extension
Written by Darren Griffiths
Bangkok needs no introduction. It's the capital of Thailand and a central SE Asian city for exploring other parts of the continent.
It's exciting, busy, and buzzy but stay awhile and you'll find the calmer side of the city which has a reputation for being anything but calm. I've been living in Bangkok for 18 months with no plans to leave anytime soon.
Why is Bangkok a Top City for Digital Nomads?
Bangkok is one of the most exciting cities in the world so combined with a cheaper cost of living when compared to Europe and the U.S., it makes it a top choice for Digital Nomads.
When it comes to getting your head down to work, the city is home to many co-working spaces, fast wifi/4G, and plenty of fellow digital nomads for networking and fun.
Once the laptop is closed there is no shortage of things to do in Bangkok.
Thai food is some of the best in the world and Bangkok is obviously the best place in the country to find it. Whether it be street food, markets, restaurants or rooftop bars, there's no shortage of Thai food. But with Bangkok's huge international community, you can find food from all corners of the world.
Nightlife is in abundance and you can find a night out no matter what your style. From chilled cocktail lounges to banging nightclubs, Bangkok has it all.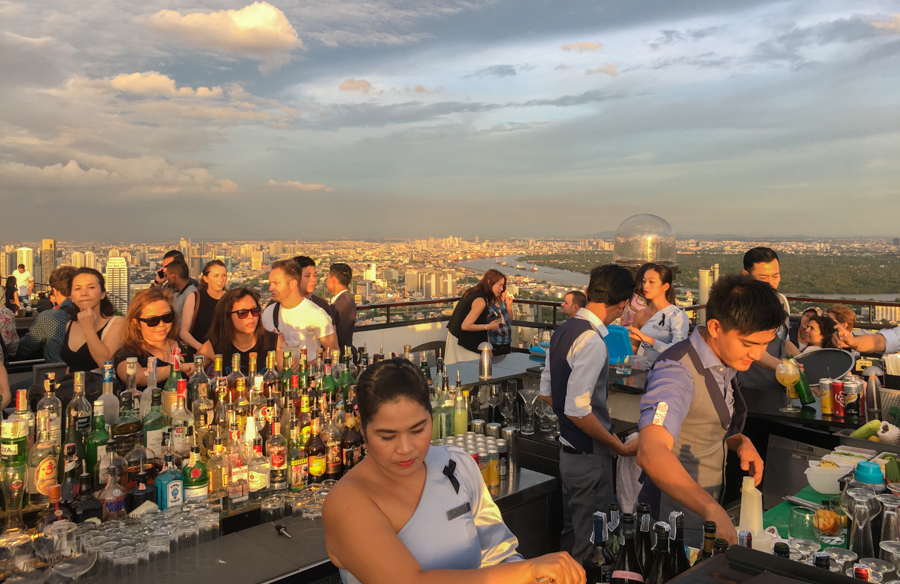 How to Find Apartments in Bangkok
Finding short-term apartments in Bangkok is not as easy as in cities like Chiang Mai as most apartment owners are looking for tenants who can commit to a one year contract.
The way around this is to use Airbnb. It's a more expensive way to pay rent but it gives you the flexibility to rent short-term.
The most popular areas for Digital Nomads are Asok, Phrom Phong, Thonglor, Ekamai, Prakanong and On Nut. This is in order of price too with Asok being the most expensive (due to the most central) and On Nut being the cheapest.
WiFi Speed in Bangkok
The wifi speed in Bangkok is fast and reliable. Whether it be in your apartment, coffee shop or tethering to your mobile's 4G. You can expect around 40Mbps down and 15Mbps up.
Co-working Spaces in Bangkok
Bangkok has many co-working spaces but I have tried only a couple. I use The Hive which has two sites in Thonglor and Prakanong.
I pay $120 per month for full-time access across both sites. The Hive put on regular events for members so it's a great space for meeting people.
To mix it up, I also use the AIS Design Centre inside the Emporium shopping mall in Prong Phong. It's a huge library/working space that offers a 1 year membership for just $40!
Other co-working spaces I've tried are We Work in Thonglor and Monstar in Asok but I found We Work to be too expensive and Monstar to be too quiet.
Cost of Living in Bangkok
How you find the cost of living in Bangkok will depend on where you are from. Bangkok is not a cheap place to live but neither is it overly expensive.
While apartment rentals in popular spots are more expensive ($500+), you can always save money by eating at the many cheap eateries such as street food, markets and local restaurants where you can pick up a meal for between $2-$3.
Coffee shops vary in price from the cheaper Amazon chain where coffee costs less than $2 right up to more expensive brands where I can often pay the same for a cup of coffee as I do back home in London ($4).
Nightlife costs can also vary depending on where you go but anywhere decent will be charging almost western prices for beer, cocktails etc.
But saying that, you can enjoy a night out at a high-end rooftop bar but pay the same prices as you would at an average bar back home. So while prices are similar, you get better value for money in terms of setting/experience.
Overall, expect to pay between $1500 and $2000 per month as a minimum in Bangkok.
Pros of Living in Bangkok as a Digital Nomad
Fast wifi
Never-ending list of things to do
Best location for exploring other parts of Asia
Cheaper cost of living when compared to Europe/U.S.
Heaps of co-working spaces and coffee shops for working
Cons of Living in Bangkok as a Digital Nomad
Apartment rentals are on the higher end
You have to make an effort to find fellow digital nomads. They're not all on your doorstep like in Chiang Mai
Coffee and alcohol can be similar prices to back home
Vehicle traffic can cause noise/air pollution
Any national parks or beaches are at least 2 hours drive away
What Is The Visa Situation in Bangkok, Thailand?
There are no visa options for digital nomads so the easiest option is to get a 2-month tourist visa in advance from a Thai embassy and then extend that for 1 month once in the country to give you 3 months.
I did that on and off for 1 year with no issues until I sought an agency to help me secure a 1-year visa. 1-year visas include education, volunteer, and business. Find out more about the visas for Thailand here.
☞ READ MORE: 7 Best Places to Live in Thailand for Digital Nomads
Honourable Mentions
There are a few more digital nomad cities that you should consider:
Antigua, Guatemala
Cuenca, Ecuador
San Jose, Costa Rica
Prague, Czech Republic
Canary Islands, Spain
Dominican Republic
Curacao
Antigua and Barbuda (due to the new Digital Residence Program)
Anguilla (due to the Digital Nomad Visa)
Martinique
The Bahamas (they offer a program called Bahamas Extended Access Travel Stay)
Ubud, Indonesia
Hoi An, Vietnam
Da Nang, Vietnam
Review This Post
Where Will You Go?
With remote work on the rise and more countries adopting digital nomad visas, these days there are more options than ever!
When it comes to choosing the best places for digital nomads, there are a few things to consider — and, that'll really depend on your personal wants and needs, and your profession.
If you're making money as an Instagrammer or YouTuber, you'll most likely need a picturesque place with lots going on so you can get inspired. Whereas if you're working as a virtual assistant, graphic designer, social media manager, blogger, in tech, etc., you'll basically just need reliable wifi and good quality of life.
I hope this list of the best cities to live as a digital nomad gave you some ideas for your next temporary base.
See Also:
Like This Article? Pin it!