As the weather starts to turn in the northern hemisphere, those desktop wallpapers of the best beaches in the Caribbean really start to look tempting.
As you're sitting at work, you may be daydreaming about a vacation in the Caribbean and as someone who has lived down here for the past 4 years, I can honestly say that the beaches we've been to (and want to share with you) are stunning.
While there are many beautiful beaches in the Caribbean, some truly stand out as exceptional.
In this article, I'm not only going to list the best beaches in the Caribbean, but I'll also list the best hotels on those beaches so that you can easily plan a winter vacation to the tropical sun and turquoise waters of this breathtaking area on the globe.
If you're looking for the best places to visit in January (when it's really cold up north), or if you'd rather a spring holiday, there's a beach for you in the Caribbean.
Of course, the top beaches in the Caribbean is a totally subjective topic, so if you think you know some other amazing Caribbean beaches that aren't on this list, feel free to share in the comments at the end of this article!
How Did We Pick The Best Beaches in The Caribbean?
As you're reading this list, you may be thinking that you know of softer sand, clearer water and better places for snorkelling or scuba diving in the Caribbean. But we took much more into consideration when making this list.
We also considered the best beaches in the Caribbean by their proximity to cool cities and fun landmarks, how good the nearby hotels are and their overall vibe.
While there are numerous stretches of sand that could have made this list, we feel that these beaches really have a little something for everyone.
We'll be updating this list again in the future, but for now, we believe that these are the best!
Here is our pick of the 10 best beaches in the Caribbean:
1. Carlisle Bay, Barbados
Without a doubt, one of the best beaches in the Caribbean, Carlisle Bay is actually split into multiple beaches including Browns Beach, Pebbles Beach and Bayshore.
This powdery white coastline has some excellent restaurants, and there's also a funky little fish sandwich stand called "Cuz's" which is likely the most popular on the island. Make sure you check it out and sample the local "cutters", for around $4.
The bay itself is a crescent-shaped, white sand stretch of perfection that creates a natural harbour on the west coast of Barbados. It acts as the main harbour for sailboats, yachts and cruise ships for the capital city of Bridgetown.
Here you can relax on the beach under an umbrella while sipping on a delicious rum punch, or head out on snorkel and dive trips to the many nearby reefs and shipwrecks.
Every time we return to Barbados we make sure to visit Carlisle Bay at least once, hanging out here is one of our favourite things to do in Barbados.
Hotels On Carlisle Bay
There are a few stunning hotels on Carlisle Bay and the surrounding areas. A few of the highest-rated and most recommended include:
The Hilton Barbados Resort: Located at the southernmost tip of the bay near the Needham's Point Lighthouse, the stunning Hilton Barbados is a 5-star resort that actually has access to two beaches. Rooms here start at around $180 USD / night.
Sugar Bay Barbados: This all-inclusive resort is one of the most popular on the island and it's actually located a few minutes walk south of Carlisle Bay. Each room comes with a TV and elegant decor. All-inclusive room rates start at around $467 USD / night.
Sandals Royal Barbados: You'll actually have to take a taxi to get to Carlisle Bay from Sandals Royal Barbados, but we recently stayed here on a vacation and we loved it so much that we had to include it. If you're looking for a luxurious, young, fun, couples-only all-inclusive in Barbados (with amazing restaurants) then this is probably your best bet. Prices start at around $300 USD per night / per person.
Looking For More Of The Best Beaches in The Caribbean? Check These Out:
2. Morne Rouge, Grenada
Even though the larger Grand Anse Beach in Grenada gets a lot more attention, we find that Morne Rouge (BBC Beach) offers a more relaxed Caribbean experience.
With a few funky bars and hotels nearby, as well as some luxury eating options with stunning views over the bay, Morne Rouge is close enough to the action while still being secluded.
Here you can laze at The Plywood Bar and enjoy delicious lambie bites (breaded and fried conch meat) while sipping on a tasty piña colada and gazing out at the sun as it sets into the Caribbean Sea.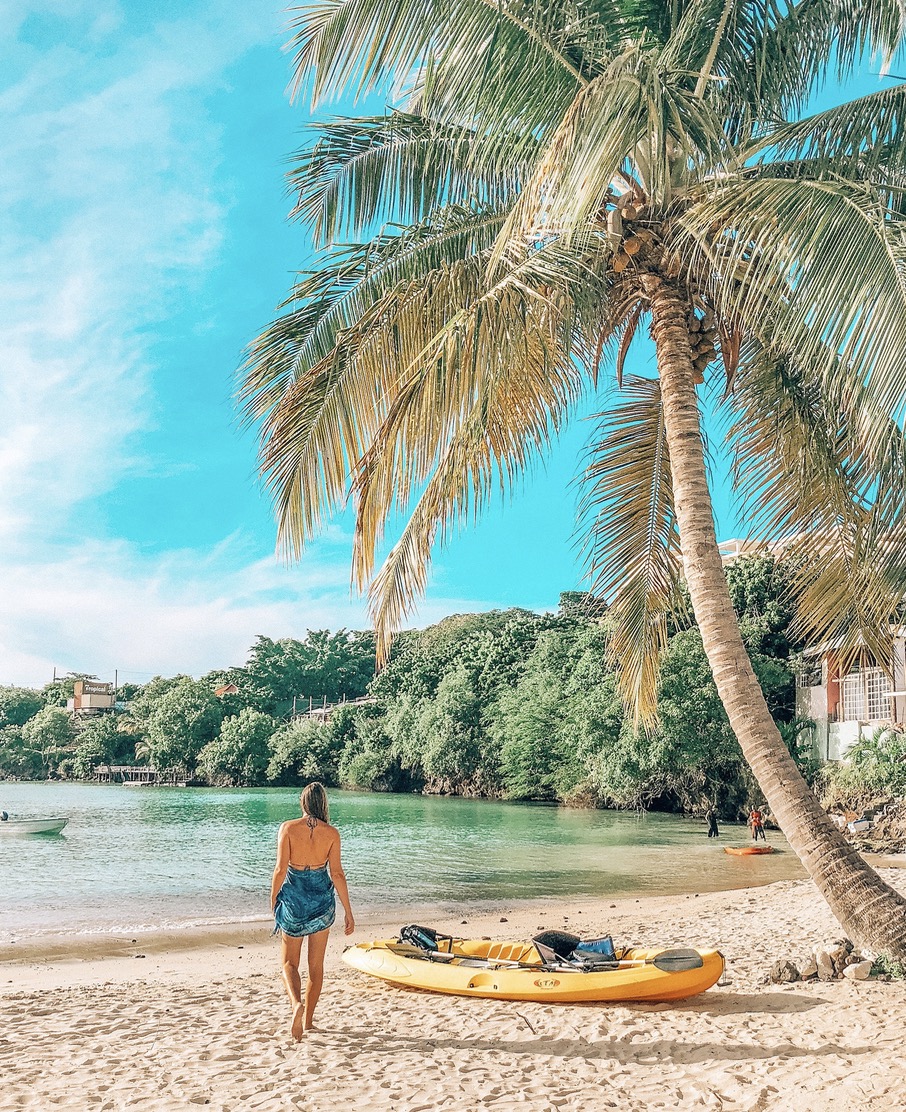 The main reason that Morne Rouge makes it onto this list of the best beaches in the Caribbean is because of its calm waters, local vibe and the fact that it's so underrated. Having been to dozens of beaches in the region, Morne Rouge is still one of our favourites. Click here to read about the top 7 beaches in Grenada.
Hotels Near Morne Rouge Beach
LaLuna Resort: Set on yet another one of the island's nicest beaches, LaLuna is about a 15-minute walk to Morne Rouge Beach. There's also a great restaurant, yoga studio and pool here, plus each of the private bungalows have stunning views and their own kitchens.
Mount Cinnamon: Technically Mount Cinnamon overlooks Grand Anse Beach, but it's directly on the road leading to Morne Rouge so it's only about a 10-minute walk. The private suites and villas here are gorgeous and the staff is exceptional. Click Here to read our review of Mount Cinnamon Grenada.
3. Palm Island, St. Vincent & The Grenadines
This idyllic private island personifies the beauty of the best beaches in the Caribbean. Pulling up on a sailboat or by a fisherman's boat from the nearby Union Island, you'll likely feel like you've found the most beautiful place on Earth.
Even if you don't stay in the expensive all-inclusive luxury resort here, you can visit the island on day trips and sailing tours.
We booked a day-trip of sailing through the resort. Setting off aboard a catamaran, we stopped off at numerous Grenadine Islands and had an amazing trip, which included lunch and drinks for $100 USD per person.
This trip was amazing and gave us the opportunity to swim on one of the best beaches in the Caribbean, the sandbar of the southern tip of Palm Island.
From here you can sail or take ferries to other nearby islands that also have beaches that rival Palm Island (more on the Tobago Cays below).
Note: if you're looking to sail up the stunning Grenadine island chain from Grenada, check out Savvy Sailing or Jambalaya for great opportunities.
☞ See Also: Rugged, Unpretentious and Real – This is Union Island
Best Hotels Near Palm Island
The Palm Island Resort: If you can manage to fork out the $750 USD + per person, per night to stay at this all-inclusive resort on the private Palm Island, then I say go for it. We stopped by here for an hour before our sailing trip and the rooms, pool area and amenities were next level.
King's Landing Hotel: We stayed in one of the bungalows during our time on Union Island as we weren't able to afford the nearby Palm Island Resort. The rooms were in the middle of a much-needed renovation, but today they are looking a lot better. At $45+ / night, a short boat ride away from one of the best beaches in the Caribbean, you really can't ask for a better deal. Click Here to read our review of this hotel.
4. Tobago Cays, St. Vincent & The Grenadines
Yes, we've landed in St. Vincent & The Grenadines again, but that's only because this paradise archipelago boasts some of the very best beaches in the Caribbean.
The only other water in the world we've seen that's as crystal clear as here is the water around Pig Beach while we were swimming with pigs in the Bahamas!
You won't be alone in the Tobago Cays and you'll likely have to join a full-day or half-day sailing tour to get here, but it's worth every penny.
This marine protected area is home to 5 breathtaking islands, rich coral reefs and hundreds of grass-munching turtles. A trip to the Cays always includes snorkelling and a stop on at least one or two of these idyllic atolls.
If you're sailing around and you notice that the waters and islands look familiar, that's likely because this was the spot where they filmed some of The Pirates of the Caribbean movie.
When Jack Sparrow was abandoned on an island in the famous Disney film, he was actually on Petit Tabac.
It's rumoured that Johnny Depp actually carved his name into one of the palm trees on the island, though the tree has mysteriously never been found…
Best Hotels Near Tobago Cays
Because the Tobago Cays are a marine protected area, there are no hotels on any of the Islands, so your best bet is to stay at one of the hotels listed above near Palm Island, either Union Island or Mayreau.
Salt Whistle Bay: This is without a doubt the most popular hotel on Mayreau island. It's set along a jaw-dropping sandbar with perfect turquoise waters on either side. We came here for a quick lunch and couldn't peel ourselves away from the sand.
5. Ambergris Caye, Belize
Without a doubt one of the best beaches in the Caribbean Sea and likely the most relaxed – aside from perhaps nearby Caye Caulker, whose motto is literally "go slow" – Ambergris Caye screams Caribbean perfection.
Powdery white sand, relaxed locals and plenty of excellent snorkelling and scuba diving thanks to the Belize Barrier Reef, this still remains one of our favourite Caribbean Islands.
Take the time to ride a bike along the meandering beach path, wade in the crystal clear waters or take a day trip to the nearby 124 meter deep Blue Hole. Ambergris Caye will likely be a place that you plan to return to time and time again, because it's not just one of the best beaches in the Caribbean, it's also one of the region's funkiest islands.
Click Here to read about my amazing experiences diving around Ambergris Caye.
Hotels On Ambergris Caye
Victoria House Resort: This still remains one of our favourite boutique hotels we've ever stayed in. This place is simply breathtaking and the staff here are amazing. We spent five nights with half board and while we did leave to explore the island many times, it was hard to peel ourselves away from the stunning stretch of sand in front of Victoria House. Click Here to read our review.
Portofino Beach Resort: Another one of the most popular hotels on Ambergris Caye, Portofino is in a great location and comes highly recommended by those who stay there.
Xanadu Island Resort: Located just a couple of kilometers from San Pedro, Xanadu is close enough to the action, while still being in a relaxed paradise. The resort's luxury 2 and 3 bedroom suites feature full kitchens, ensuite bathrooms, TVs, air conditioning, wardrobes and lovely tiled floors. Each suite has a private terrace with a table, chairs and hammock with views of the pool and garden.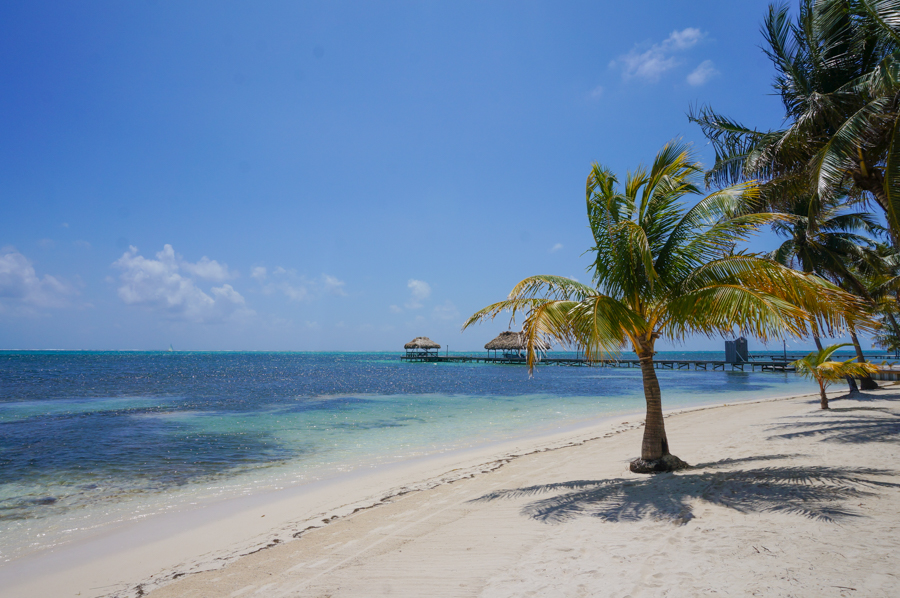 6. Playas del Este, Cuba
Located just outside of Havana, this is one of the best beaches in the Caribbean and it's a short drive from one of the most energetic and exciting cities in the world. If you're looking for white sand, blue water and a wonderful local feel, then this is the place to come.
Cuba still remains one of our favourite places to travel. The culture, the music, the dance and the food (yes the food is very good) all make this one of the hottest Caribbean destinations for 2019 and beyond.
We weren't expecting that much when we took the short taxi ride out to Playas del Este. We figured that because it was so close to the capital, it wouldn't likely be all that nice.
To our amazement, when we showed up at this long stretch of beaches, the powdery sand and rolling aquamarine waters seemed to go on forever.
We swam, hung out with locals and had a blast. This is definitely one of the best beaches in the Caribbean, simply for the vibe alone. Don't miss the cheap peso food stands that are nearby, where you can get pork with rice and salad for around $3.
Best Hotels Near Playas del Este
While there are some resorts on the beach here, I still recommend staying in Havana and simply taking a bus or taxi to Playas del Este. Being this close to the vibrant capital, it would be a waste to not stay there!
Casa Daniel y Fina: Cuba is all about the Casa Particulars and this is still one of our favourites. Staying in a family home like this allows you to try real Cuban food and really get to know the culture. Daniel and Fina were gracious hosts and we'd definitely recommend staying with them. Ask them to cook you a lobster meal one night for just $10 USD!
B&B Central Havana: This is one of the most popular places in Havana thanks to its excellent location and beautiful rooms. With prices starting at around $80, it's a bit more expensive than the average casa particular, but it's still a good value.
7. Playa Ancon, Cuba
We are staying in Cuba for one more round because Cuba is one of the cheapest countries to visit, plus many of the best beaches in the Caribbean can be found on this island. Playa Ancon is located just a short bus or motorbike ride away from the city of Trinidad.
We came here for a short visit on our last trip to Cuba and were amazed at how beautiful it was. Having one of the best beaches in the Caribbean, right next to the Unesco World Heritage city of Trinidad makes this a place that you really can't miss.
There are chairs for rent on the sand and waiters will bring you drinks while you lounge or wade in the water. The hotels on Playa Ancon are great, but we still recommend staying in a casa particular in Trinidad and day-tripping to the beach, because there is so much more to do in the Spanish Colonial town.
Best Hotels Near Playa Ancon
Casa Bernardo: We stayed in this simple, but clean and comfortable casa particular during one of our stays in Trinidad and we loved it. Bernardo is a wonderful host and his wife can cook you a fantastic meal on the rooftop terrace. Plus you really can't beat the location!
Casa Merelis: This is the other casa that we stayed in while in Trinidad and again, we loved it. If you're looking for an inexpensive and simple casa, this one may be for you.
8. Ocean Park Beach, Puerto Rico
In our opinion, this is one of the best beaches in the Caribbean because of the water, the activities going on, and its excellent location between the airport and San Juan. We loved our time in Puerto Rico and would love to return one day.
Ocean Park Beach is a popular spot for both locals and travellers and there are lots of tasty local restaurants within walking distance of the water, or you can opt for a meal with your toes in the sand.
The beach has a really low-key vibe and even in the high season it will likely be relaxed and relatively empty. The golden sand here may not be as white as some of the other best beaches in the Caribbean, but it arches towards the beautiful Unesco World Heritage city of San Juan.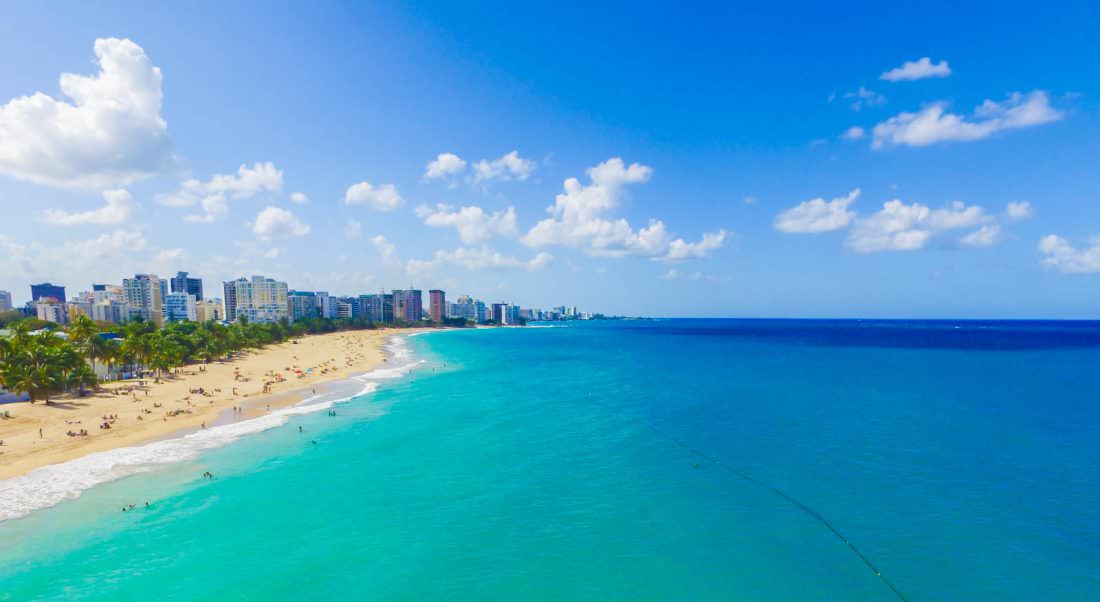 Puerto Rico has been struggling since Hurricane Maria devastated the island in 2017, so a visit here could help pump some much-needed tourism dollars back into the struggling island. Come experience the friendly locals, tasty food and wonderful culture of the island and stay along Ocean Park Beach!
Best Hotels on Ocean Park Beach
Numero 1 Guest House: This is one of our favourite guesthouses that we ever stayed in. It's casual and simple but with a great vibe and it's set right on the sand. The price of $100 per night is decent, and it included breakfast, but you really can't beat the location.
Nomada Urban Beach Hostel: Just one kilometer from Ocean Park beach, this modern and clean hostel is one of the best in Puerto Rico. There is a wide range of accommodation here including dorms, tents, hammocks and lovely double rooms.
9. White River Entrance / Kaz Kreol Beach, Jamaica
This is one of the best beaches in the Caribbean and yet, not that many people come here. The river has a blueish white hue with a white sandy bottom and it flows directly into the sea here.
You can join a tour and tube down the river, visit the nearby town of Orcho Rios, or just wade in the crystalline waters. There's a sand flat where the river meets the sea, creating an awesome sandbar. The nearby blue hole is also worth a visit. Don't miss our post of the best beaches in Jamaica!
Hotels Near White River Entrance
Kaz Creol Beach Lodge: Located right on a private beach, Kaz Creol is a funky beach lodge with a laid-back vibe. If you don't want to stay here, you can also pay for a day pass for around $75 USD.
10. Sugar Beach, St.Lucia
Sugar Beach is definitely the best of the St Lucia beaches, and it could also top this list of the best beaches in the Caribbean. The powdery white sand strip is wedged between The Pitons, which are two conical peaks jutting out of the island right along the coastline. These are St Lucia's national symbol and the island's most iconic national landmarks.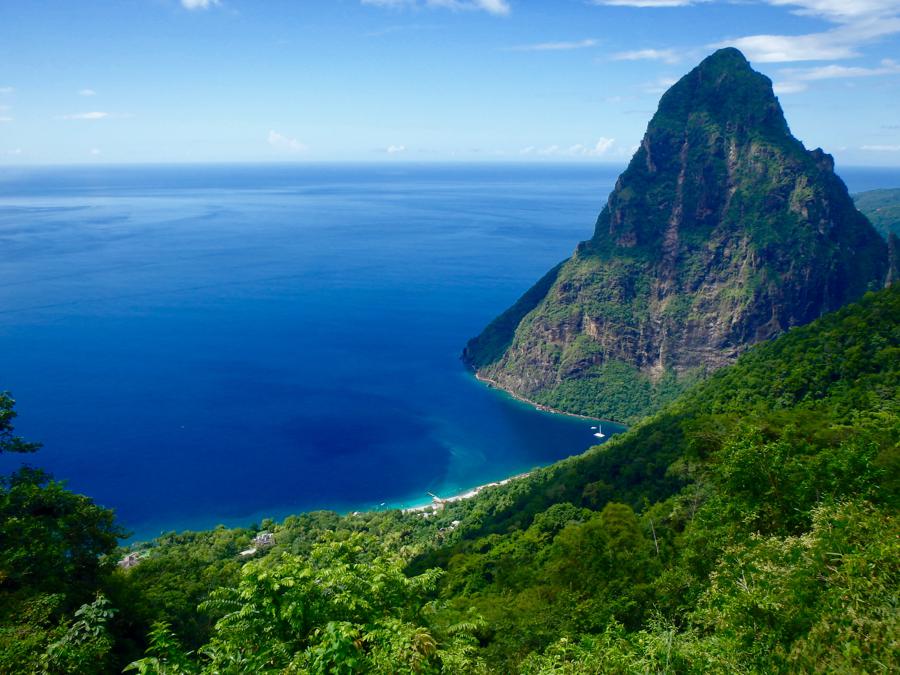 Sugar Beach is a few kilometres south of Soufriere on the West Coast of the island. Part of the beach is dominated by the Sugar Beach Resort, a high-end hotel. But for the rest of us, the northern part of the beach is open to the public and can be accessed through the Viceroy Resort.
Best Hotels Near Sugar Beach
Sugar Beach Viceroy Resort: This breathtaking luxury resort sits right on one of the best beaches in the Caribbean, Sugar Beach, and boasts stunning luxury rooms and villas all with fantastic views over the bay and The Pitons. If you have the budget, book one of the villas with a private plunge pool!
Jade Mountain Resort: Another luxury hotel near Sugar Beach, Jade Mountain boasts organic architecture by the hands of Nick Troubetzkoy, and the ultimate harmony with Caribbean nature. Individual bridges lead to infinity pools that sit like island sanctuaries overlooking the beach.
Samfi Gardens: Dariece and I still have to visit this lovely little guest house. Every time we see it on Booking.com we're tempted to take the short flight over from Grenada to spend a few nights here. Overlooking the Pitons and Soufriere below, and at around $100 / night for a small private bungalow, it's much more affordable than the other two properties listed above.
Do You Agree With This List of The Best Beaches in The Caribbean?!
There's no doubt that the Caribbean is home to some of the best beaches in the world. We love it so much here that we've made it our home for the past few years. The vibe, the tropical weather, the friendly people and of course, the best beaches in the Caribbean, all make this a wonderful region to live and travel.
Like This Article? Pin it!