The rolling wake rippled the otherwise glass-calm waters as our boat cruised between two paradises. Making our way from Caye Caulker to Ambergris Caye was a breeze, and we pulled ashore just as Dariece's stomach began to churn. We stepped off of the boat with the same, slow saunter that we had acquired from our previous island oasis: Caye Caulker.
Our sea-weary feet planted onto the sun-heated dock which seemed to soften our synthetic flip-flops like we were standing on a stove. The sun's intensity had been increasing ever since we left Mexico, but we weren't complaining, this is the kind of weather we love.
There were two things that I was excited for when we arrived on Ambergris Caye in Belize: to stay at the stunning Victoria House Resort and to dive the Belize Barrier Reef which lies just a few hundred meters offshore!
Ambergris & The Belize Barrier Reef
Ambergris Caye is a small coral Island off of the north-eastern coast of mainland Belize. Famous for its stunning beaches, 5 star resorts and fantastic diving, the island has been a tourist hotspot since the 1970's, when serious development began around the main settlement, San Pedro.
Nowadays, the main draw to come to Ambergris is the opportunity to dive around the Belize Barrier reef, which sits just off of the island's eastern coast.
Stretching from Southern Mexico to Honduras, the Mesoamerican Barrier Reef is the second largest reef system in the world (next to Australia's Great Barrier Reef). The Belize Barrier Reef is just a 300 km long section of the total 900 km long shelf.
Boasting more than 100 species of coral and 500 types of fish, this is one of the richest marine habitats on Earth. In fact, Charles Darwin described it as "the most remarkable reef in the West Indies" in 1842.
I knew that this was somewhere I had to check out and I was again thankful for my dive certification, which I like to call "my underwater passport". Ever since the best dive of my life, I try to go scuba diving whenever possible. 
Choosing My Dive Shop
I've gotten into the habit of searching on TripAdvisor.com for the most reputable dive shops in a given area. If there's one thing I've learned from my diving career, it's that you don't want to go with an unprofessional dive center and you want to be sure that the gear is high-quality before even considering a dive.
After a quick scan on TripAdvisor, I had made my decision.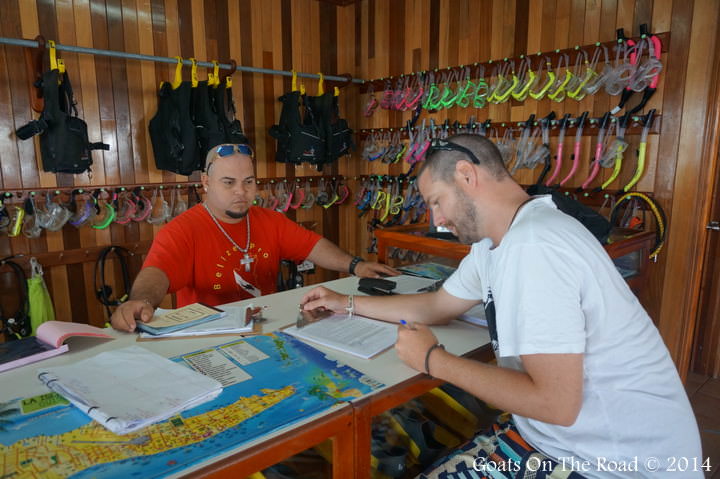 Belize Pro Dive Center is the most popular dive shop on the island and for good reason. The staff are extremely friendly and professional and the gear is brand new and well-maintained. After speaking to the staff and browsing the shop, I knew I had made the right choice.
The Dives
With the world's second largest reef at its doorstep, it's no surprise that the diving around Ambergris Caye is amazing. Most people come here to dive the Great Blue Hole, a world-famous dive site about 72 km east of the island.
After hearing mixed reviews about the dive and learning that it makes for a 12 hour day at sea, I decided to wait until next time to do the Blue Hole dive. Instead, I planned to visit some of the lesser known dive sites around the Island.
1st Dive Site: Christ Of The Abyss
My first dive near Ambergris Caye was fantastic. We went down 25 meters and almost immediately we were surrounded by nurse sharks as we hugged a massive coral cliff just 600 meters from Ambgergris Island.
The sharks circled us for a couple of minutes and just as we were about to leave the cliff, a huge moray eel came out of its hole to see what all of the commotion was about. When the sharks saw the eel, they charged at it and scared it back into its little cave.
It's moments like these that make diving so amazing. 75 feet under the surface we were able to witness the marine life asserting their ancient hierarchy and displaying their aggressive, primitive behavior right before our eyes. This is why I dive.
2nd Dive Site: D & B Canyons
My second dive wasn't nearly as exciting as the first, but that's the way it goes sometimes. We spotted a huge ray and a few trumpet fish, but aside from that we were just admiring the dark, ominous depths of the canyons below us, which sunk to about 100 meters.
3rd Dive Site: Esmerelda
Before starting this dive we had an extra long briefing session with the dive instructors. This is one of the few dive sites in Belize where they chum the waters to attract sea life. This is a practice that I'm strongly against but I didn't realize that this was the plan until I was already suited up on the boat.
We were warned that there are lots of sharks and eels that come around, and it was important that we keep our hands clenched into fists to avoid loosing a finger to one of the frenzied fish.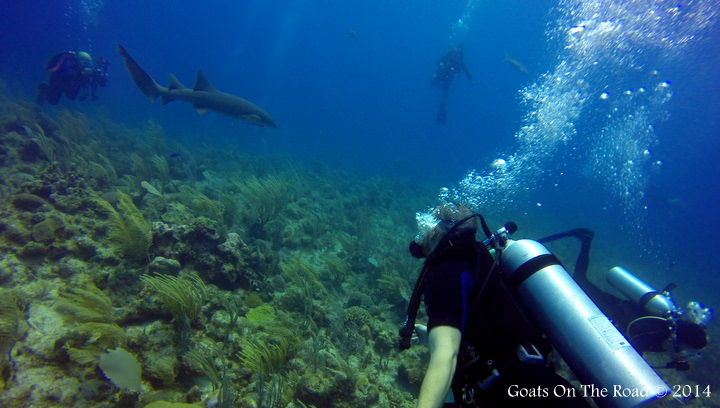 "No problem" I thought, but once I got down to the site, and the eels and sharks were all around us, I got a bit caught up in the moment. I was photographing a passing shark and, not thinking, I left my spare hand dangling behind me.
Suddenly a felt a mass of soft flesh engulf my left pinky finder and when I looked down I saw a moray eel had my entire finger in its mouth. I quickly pulled away just as he closed his jaw and luckily, retained my finger!

When we got back to the boat, my near dismemberment was the main topic of conversation. My dive master, Ian, explained that if I had left my hand there a moment longer I would've lost my precious pinky! Check out the video below because I caught this near disaster on camera!
4th Dive Site: Paradise Canyon
When we fell back into the sea on this dive I could've sworn I heard dolphins. Their beeping and clicking conversations seemed to be just out of sight for the entire dive. When we reached our max depth of 18 meters, we were again greeted by a group of nurse sharks.
I've only ever seen a few nurse sharks in my life as a diver, so I was mesmerized by them and I followed them everywhere. We also saw a few moray eels and this time I remembered to keep my fingers hidden! The coral at Paradise Canyon was healthy and colourful and the dive itself was a lot of fun.
When we got back to the boat, the captain explained that there were dolphins circling the area, so my underwater assumptions were correct… I just wish I could've seen them!
Back On Dry Land
After four dives around Ambergris Caye in Belize, I was dying for more. I loved every minute spent under the crystal-clear Caribbean sea and I definitely want to make my way back there some day soon.
There are times when a dive crew can make the experience that much better and I have to say that I would definitely go back to Belize Pro Dive Center. The crew was fun, energetic and professional and there were delicious snacks waiting for us after every dive (a definite plus).
Aside from the one dive when they chummed the waters to attract fish, the crew was extremely respectful of the marine life and knew a lot about the dive sites in the area. The dive boat was brand new and very spacious and the instructors took great care of the divers and the gear. I didn't even have to prep my own tank!
Looking back at the dives in Ambergris, my only regret is not having more time. Definitely when we return to Belize, I'll head back to the Belize Barrier Reef for some more incredible dives.
Check Out This Dive Video Which Includes The Hungry Eel Almost Lunching On My Finger!
Have you ever had a close encounter like mine while diving?! Share with us below.
Thanks to Belize Pro Dive Center for hosting me on these amazing dives! As always, all thoughts, reviews and opinions remain my own. 
Like it? Pin it!