Scuba diving in Puerto Vallarta is surprisingly good. This famous beach town is the perfect base for exploring some amazing dive sites in the area.
I've been diving all over Mexico, and Puerto Vallarta is one of my favorites, not only for its amazing dive sites, but also for the town itself. I've lived in PV off and on since 2017 and love diving here.
We'll take a closer look at scuba diving in Puerto Vallarta in this detailed guide.
For more on travelling to PV, make sure to have a look at our complete guide to visiting Puerto Vallarta, where to stay in Puerto Vallarta, the best beaches, where to eat, the nightlife, and the top tours!
Here we go, my Scuba Diving Guide to Puerto Vallarta.
Guide to Scuba Diving in Puerto Vallarta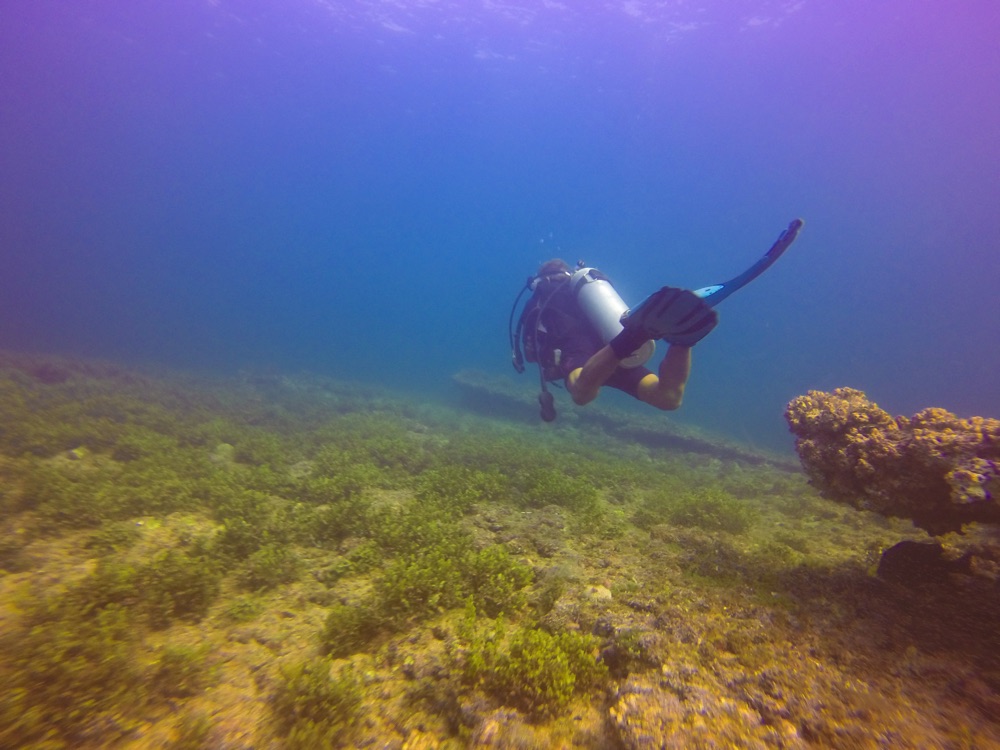 You might be familiar with Puerto Vallarta as a vacation destination, but did you know it's also a great place for a bit of scuba diving in Mexico?
From Puerto Vallarta it's a short and scenic boat ride to many dive sites in Banderas Bay, most of which are fine for beginners and advanced divers alike. The best dive sites in Puerto Vallarta are shipwrecks, caves, underwater mountain ranges, and much more.
There's lots of amazing marine life to see when diving around Puerto Vallarta. You can spot all kinds of rays and turtles as well as moray eels, dolphins, and even humpback whales.
Scuba diving really is an incredible experience and is one of the best activities in Puerto Vallarta.
While destinations like Cozumel and Playa del Carmen on the Caribbean may be better known, Puerto Vallarta is a great diving destination in its own right.
In my humble opinion, it's also just a nicer place to visit. I may be a bit biased, having spent the better part of the last three years living there, but there's a reason I chose this beach town on the west coast of Mexico!
Although it takes a little while from town to reach the best dive sites in Puerto Vallarta, that's half the fun. On these boat trips around Banderas Bay, you'll be able to enjoy some postcard-worthy scenery en route to your dive site. It truly is a stunning place to visit.
Best of all, there's so much to see and do in Puerto Vallarta when you're not in the water.
This is the perfect destination if you're hoping to do a bit of diving in addition to other adventure and cultural activities. Of course, you can always just kick back and relax on the beach with a margarita in hand as well!
If you're planning a trip to do some scuba diving in Puerto Vallarta, read on for a closer look at the best time to visit, the top dive sites, and some highly-rated dive shops to go with.
When to Go Scuba Diving in Puerto Vallarta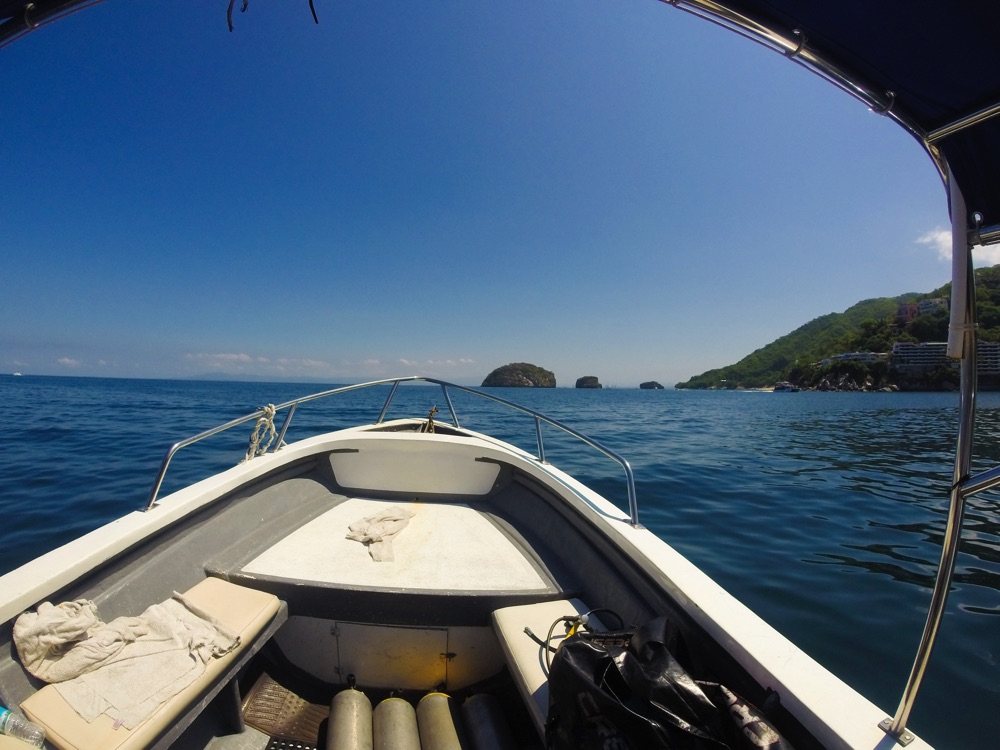 The best time to go scuba diving in Puerto Vallarta depends on what you're hoping to do. Some would say the best time is between November and May when the seas are calmest.
It's typically sunny, warm, and dry during these months, so you can enjoy your time on land as well.
However, the winter months have limited visibility and the water can get quite chilly. In February the water can get down to 72°F (26°C). Plankton blooms at this time affect the visibility, but that also attracts manta rays and sharks that you'll hopefully be able to spot.
On the website of one popular dive shop, they mention how the winter months bring very unpredictable conditions at many of the best dive sites.
Strong currents and winds at this time of year can limit or totally block off access to some of them, so it's best to plan at least a week in advance.
Peak travel season to Puerto Vallarta is between December and March, with things getting especially crazy around Christmas and New Year's. Be sure to book your accommodation well in advance if traveling at this very busy time!
There's another mini-peak season when Semana Santa (Holy Week) rolls around. This is one of the best times to travel Mexico if you're into culture, but not if you aren't a fan of crowds.
Summer means the rainy season in Puerto Vallarta, which has its pros and cons.
On the one hand, it's very hot and humid with frequent downpours. Dealing with inclement weather means smaller crowds and lower prices, though.
The exception to this is weekends in the summer when Mexican families turn up in droves to enjoy la playa.
The water is also warmest at this time (around 85°F/30°C in August-September) and visibility is at its best, so it's not a bad time to go scuba diving in Puerto Vallarta.
Best Dive Sites in Puerto Vallarta
While there aren't many dive sites offshore or right around town, the boat ride to reach them is half the fun. Cruising around Banderas Bay on a beautiful day on your way out to a 2-tank dive isn't such a bad commute.
Here are some of the best sites to go scuba diving in Puerto Vallarta:
Los Arcos
Water Temp: 65-89°F (18-31°C)
Average Visibility: 20-50 ft (6-15 m)
Depth: 29.5-130 ft (9-40 m)
Los Arcos is perhaps the most popular spot to go scuba diving in Puerto Vallarta.
This epic marine park features arches (hence the name) as well as caves, tunnels, and a reef full of marine life like lobsters, octopuses, moray eels, rays, and all kinds of colorful fish.
There are a few different trails that divers can follow at Los Arcos. These are suitable for divers of all levels as they range greatly in depth.
Beginners can enjoy El Acuario (the Aquarium) while more advanced divers can check out La Quijada del Diablo (the Devil's Jaw).
Chimo
Water Temp: 65-86°F (18-30°C)
Visibility: 20-60 ft/ (7-18 m)
Depth: 40-80 ft (12-25 mt)
Chimo, a secluded fishing village in the bay, is a great site for more advanced divers and one of the best dive sites in Puerto Vallarta.
On a 2-tank trip here, you can enjoy spotting tropical fish and large pelagic species. This includes manta rays, sea turtles, and even humpback whales between December and April.
In addition, you can admire Las Iglesias, rock formations that resemble the pillars of a cathedral, and Las Torrecillas, which is an impressive series of pinnacles rising up from the ocean floor.
Marieta Islands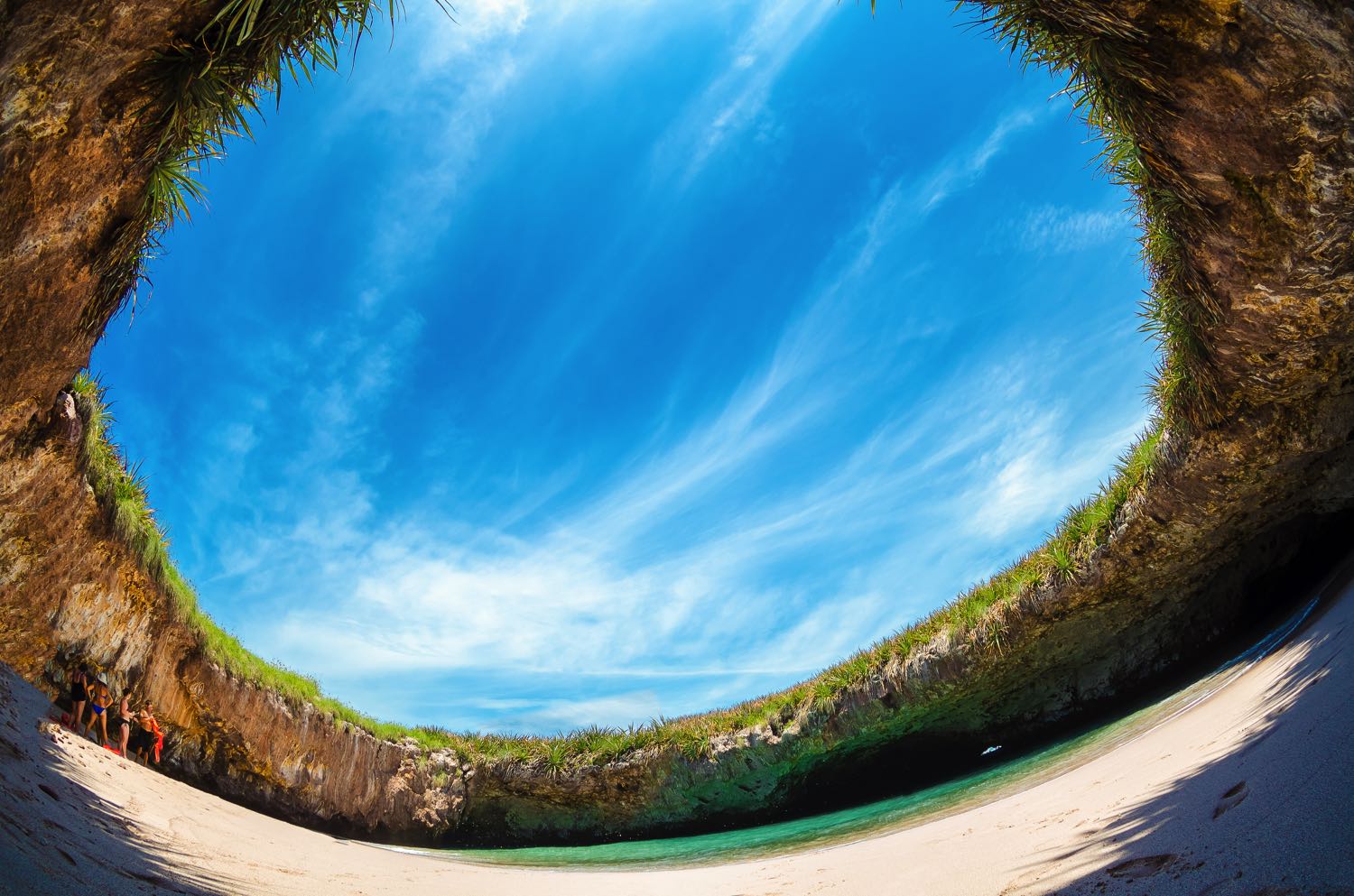 Water Temp: 62-86°F (17-30°C)
Average Visibility: 40 ft (12 m)
Depth: 25-60 ft (7.5-18 m)
The Marieta Islands are a national park located about an hour-long boat ride from Puerto Vallarta. This is considered the top place to go scuba diving in Puerto Vallarta.
Since it's protected from hunting and fishing, there's an abundance of marine life here. On a diving trip, you might see giant manta rays, sea turtles, dolphins, eels, and possibly whales in the winter months.
It takes about an hour to reach the Marieta Islands by boat.
As you get closer to the islands, you can also spot several different species of birds, including the blue-footed booby. Best of all, divers of all levels can enjoy a trip to the Marieta Islands.
Cost of Scuba Diving in Puerto Vallarta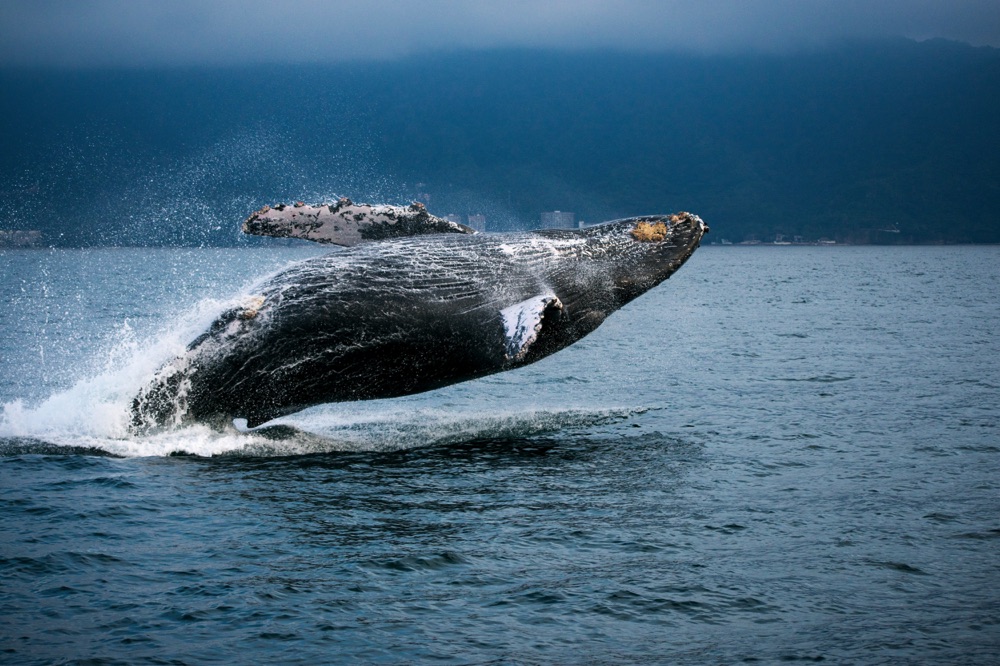 The cost of scuba diving in Puerto Vallarta varies depending on which sites you visit. As I mentioned, many of them are quite a long distance away from the center of town.
For example, diving at Los Arcos costs between $90-110. Meanwhile, trips out to the Marieta Islands cost a bit more ($120-150). It's a longer distance to travel plus most operators include lunch and drinks as well.
Two-tank tours to Chimo average around $150.
Never been diving before? Puerto Vallarta is a great place to learn and start exploring the other 70% of the planet.
To give it a shot, you can sign up for a Discover Scuba Diving course for just $50. This gives you the chance to see if scuba diving is right for you.
Those who want to go all-in can sign up for a PADI Open Water course instead.
These typically take 2-3 days to complete. You can sign up for Open Water courses at Puerto Vallarta dive shops for around $450 total after the cost of learning materials. Once you're finished, you'll be certified and ready to rock!
Another option is to do a referral course for as little as $240.
This is when you complete the bookwork portion at a local dive shop back home before traveling to Mexico. Doing that allows you to take care of the studying part at home and spend more time in the water in Puerto Vallarta.
If you're looking to take your scuba diving to the next level, you can also sign up for Advanced Open Water, Rescue Diver, Deep Diver, and several other courses. Prices for these typically range from $350-500 and take a few days to complete.
Dive Shops in Puerto Vallarta
The quality of dive shops can change as the years pass by. Always make sure that the company you're going with is PADI recognized, professional and follows proper safety guidelines. Also, always make sure to check recent reviews online, and your diving equipment before heading out.
Banderas Scuba Republic
Banderas Scuba Republic has been in the scuba diving in PV business for many years and has earned rave reviews from divers the entire time. This is a professional operation through and through, from the equipment to the dive instructors.
Vallarta Adventures
The biggest and best tour operator in Puerto Vallarta also does scuba diving courses and trips. You always know that the quality will be top-notch when booking with these guys.
PV Ocean Tours
Run by a father and son team from the UK, PV Ocean Tours started just a few years ago and is already one of the top dive shops in Banderas Bay. They are known for being very professional and personable.
Hyperbaric Chambers in Puerto Vallarta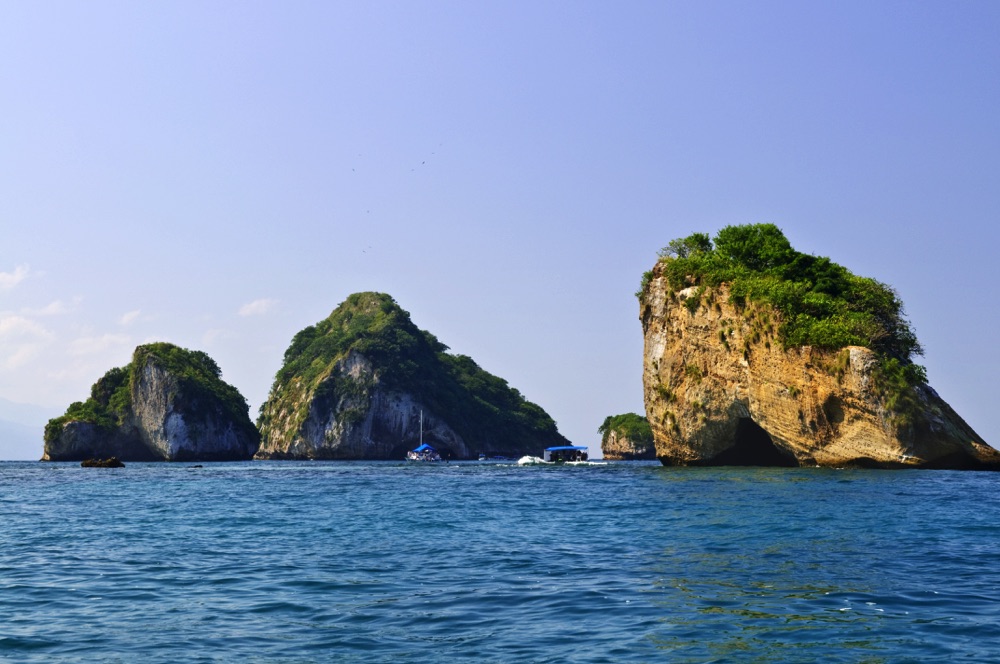 While scuba diving is generally a safe activity, accidents do happen. That's why you always want to know where the nearest hyperbaric chamber is.
Unfortunately, there is no SSS Network hyper chamber in Puerto Vallarta. The nearest one is over in Cabo San Lucas in Baja California Sur. You can click here to check out their site and get more information.
Before you go scuba diving in Puerto Vallarta (or anywhere, for that matter), make sure you have solid travel insurance. The DAN (Divers Alert Network) comes highly recommended for divers. Click here to learn more about their policies.
How to Get to Puerto Vallarta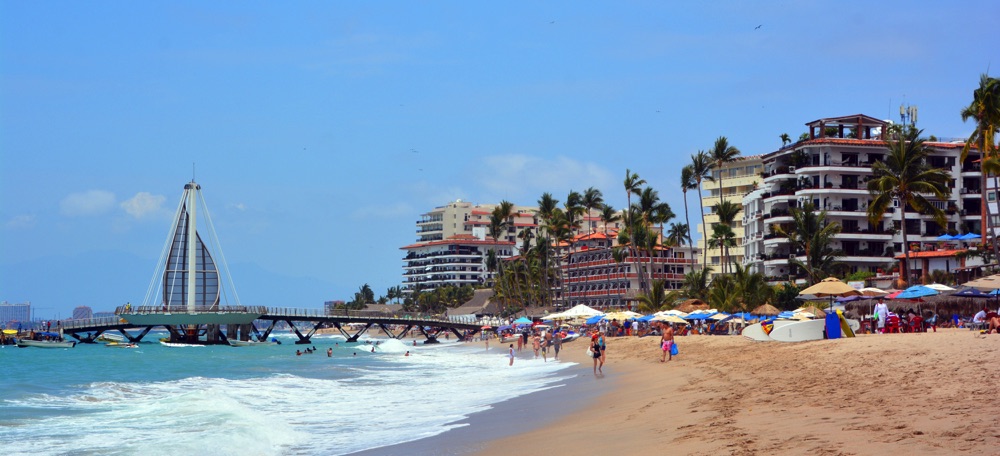 Most visitors will arrive at the Puerto Vallarta International Airport (PVR). It's always possible to find direct flights to PV from the US and Canada, with the most options during the high season (December-March).
There aren't a lot of other international options for arriving in Puerto Vallarta. You can get direct flights to and from Panama City as well as both London and Manchester, but that's about it.
If you can't find a good deal on a flight to PV, I recommend checking out options into either Mexico City or Guadalajara. Both cities are lots of fun to visit and you'll then be a very short and cheap domestic flight away from the beach!
Puerto Vallarta is also a major cruise ship destination. Those arriving for a quick excursion from a ship can still squeeze in a scuba dive (or two) in Puerto Vallarta.
The thing about traveling to Puerto Vallarta is that you have many options other than staying in town. By flying into PVR, you can also easily base yourself in places like Sayulita, Bucerias, Punta de Mita, Mismaloya, or Yelapa.
All of these places are easily reached by local bus or water taxis and will put you closer to some of the best dive sites in the bay.
Places to Stay for Scuba Diving in Puerto Vallarta
Puerto Vallarta has a wide range of accommodation for all budgets. From big resorts on the beach to small family-run hotels in town, you have many options for places to stay while scuba diving in PV. Here are a few I recommend.
FAQs About Scuba Diving in Puerto Vallarta
Still have a question about scuba diving in PV? Check out these FAQs.
Does Puerto Vallarta have good scuba diving?
I think so. It may not have the crystal-clear water and extensive reefs of the Mayan Riviera, but there are many good dive sites in PV with caves, shipwrecks, underwater mountain ranges, and more.
What is the best time of year to scuba dive in Puerto Vallarta?
In my experience, winter is the best time for scuba diving in PV. The water is a little cold, but the visibility is best.
What is the best place to dive in Puerto Vallarta?
In my opinion, the Marieta Islands have the best dive sites in Puerto Vallarta. You can see a lot of marine life there because the area is a protected national park.
How much does it cost to scuba dive in Puerto Vallarta?
Scuba diving in PV is quite affordable, with two-tank dives to a nearby site like Los Arcos costing $90-110. Trips to places farther away like the Marieta Islands cost a little more, from about $120 to 150.
When is whale season in Puerto Vallarta?
Whale season in Puerto Vallarta is from November to March. Sometimes you can see a whale from the boat on your way to go scuba diving in PV.
Ready to Go Scuba Diving in Puerto Vallarta?
While it may not make many lists of the best places to go scuba diving in the world (or in Mexico), Puerto Vallarta is still a fantastic choice if you want to include a bit of diving during your beach holiday.
Even if you only visit one of the epic sites like the Marieta Islands or Los Arcos, it's well worth it to try out scuba diving in Puerto Vallarta.
More advanced divers will definitely want to tack on a few extra days to visit some of the more difficult sites in the area such as Chimo — where you'll hopefully spot humpback whales from the boat!
When you're back on land from a big day of diving, you can enjoy all the amenities of this beautiful town. Puerto Vallarta has some incredible restaurants and bars to choose from, making for the perfect way to unwind after a big day out in the water.
Images in this post were sourced on Shutterstock.
Like This Article? Pin It!