As far as travel destinations go, it's really hard to top Mexico — a destination that can be visited year-round. Whether you're into big cities, historic landmarks, natural wonders, colonial towns, or just chilling on the beach, there's a place for you here. Playa del Carmen Mexico is one of the most popular places to visit in the country, and that's exactly where we're headed in this guide.
Located just an hour south of the Cancun airport, Playa del Carmen is a popular choice for travelers in the region known as the Riviera Maya. It's smaller than Cancun but still has all the amenities to make for a comfortable stay. Plus, it's in a very convenient location for visiting places like Cozumel and Tulum.
Your days in Playa del Carmen Mexico can be filled with lounging on the beach or taking part in a variety of water sports. Just a short drive away, you can find yourself wandering around Mayan ruins or swimming in the amazing underground cenotes.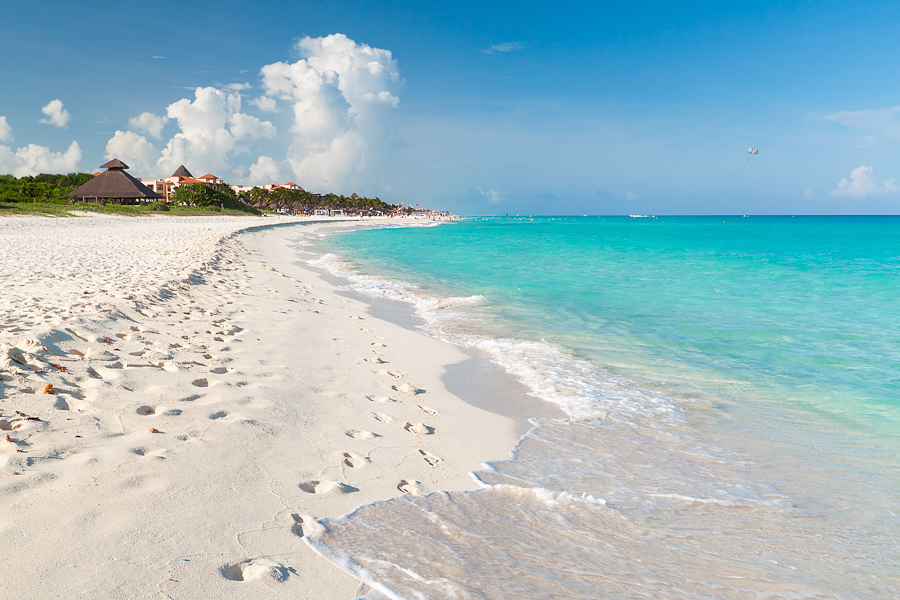 After a day of exploring, you can dive into the top-notch culinary and nightlife scenes here. There are tons of amazing restaurants in Playa del Carmen, as well as countless bars and clubs where you can dance the night away.
While I usually spend most of my time on the other side of Mexico living in Puerto Vallarta, I recently gave Playa del Carmen a try for around two months. In that time, I scouted out some of the best places to stay and eat, as well as some of the top tours and beaches.
If you're ready to plan a trip to Playa del Carmen, read on for a comprehensive guide to this popular beach town in Mexico!
How to Get From The Cancun Airport to Playa Del Carmen
You have different options for getting from Cancun to Playa del Carmen. You can either take the bus, rent a car, take a taxi, or hop in private transportation booked prior to your arrival.
The fastest, safest and most comfortable option is to take private transportation to Playa del Carmen. You don't want to waste precious holiday time waiting around for buses or being ripped off by taxis. Check out Cancun Airport Transportation, which offers a variety of vehicle options — for solo travellers, couples and groups.
Jump To:
Best Beaches in Playa del Carmen Mexico
Playa del Carmen is famous for its beaches. After all, "playa" is right there in the name! You can hit the beach right in town or head to some of the more laid-back ones just down the road.
Playa del Carmen beaches are generally fine white sand with clear blue water, although during certain times of the year, they have been experiencing an issue with a type of seaweed known as sargassum (the whole Caribbean is experiencing this issue). There's not much they can do about it here other than try to clean it up, and wait for the tide to come and wash it away.
Seaweed aside, lounging on the beach is still one of the most popular things to do here — and there's a beach to suit everyone's needs. Let's take a look at some of the best beaches in Playa del Carmen:
Playa Mamitas
A great Playa del Carmen beach that's right in town is Mamitas. It's home to a trendy beach club by the same name, as well as another one called Kool. Both places have a cover charge, but most of it is applied to food and beverages. If you're going to spend the whole day hanging out on the beach, it's actually a pretty good deal.
You don't have to cough up the pesos for the beach clubs to enjoy Mamitas, however. Many people bring their own chairs, umbrellas, and coolers down here, while others just plop down a towel.
There are plenty of activities on the beach to keep you entertained. You can rent jet skis, go out on a banana boat, try some parasailing, or jump in a game of beach volleyball. Mamitas Beach is located at the end of Calle 28 in Centro. You can find it on the map here.
Playacar
For those who prefer a quieter beach, Playacar is a great choice. It's just a quick walk from the center of town but barely any people make it over here. This is the perfect spot to lay down with a good book for a while, taking breaks here and there to jump in the water.
One thing to note about the beach in Playacar is that there really aren't any tourist facilities here. If you want to do things the local way, make a pit stop at OXXO on your way here and grab a cooler to fill with your own drinks and snacks. Be sure to bring sunscreen as well, as shade is at a premium at this Playa del Carmen beach.
To get here, just walk south from the ferry pier. The beach is in front of a private development, but all beaches are public here. You can find the Playacar beach on the map and get directions here.
Punta Esmerelda
One of the best beaches in Playa del Carmen is Punta Esmerelda. This remote beach takes a bit of work to reach, but it's well worth the effort. It's a very chilled out beach that's especially popular with local families on the weekends.
There's a swimming hole here that's shallow and calm, so this is a great spot for families with small children. You'll find a restaurant or two here as well as a simple beach club with chairs and umbrellas for rent, but most people just bring their own coolers. Thankfully there are also public bathrooms and showers at this beach.
To get to Punta Esmerelda, you need to travel north along 5th Avenue until you pass Calle 110. There's a road on the right-hand side that goes down to the beach and there's parking for both cars and bikes here. You can find it on the map and get directions here.
Where To Stay In Playa del Carmen
This is just a brief rundown on the neighbourhoods and accommodation options in Playa del Carmen. For a full breakdown of where to stay in Playa del Carmen, including the top areas and accommodation options, read our guide here.
For a relatively small city, Playa del Carmen Mexico has a ton of options when it comes to accommodation. Here you can find everything from backpacker hostels up to luxury all-inclusive resorts. There's something for all tastes and budgets in this popular beach destination.
It can be a bit overwhelming deciding where to base yourself in Playa del Carmen since there are so many choices. The first thing you'll want to do is figure out which neighborhood you want to stay in. Thankfully that's actually pretty easy to do!
Before you even look at your options for accommodation, you should decide if you want to be in town or secluded at one of the nearby resorts. Some people love the all-inclusive resorts while others hate them, so figure out if you want to go that route before you start your search.
Keep in mind that the all-inclusive resorts are designed to get you to stay there. You spend a lot of money to stay and it includes all your food and drink, so it can be hard to justify going into town to go out. Plus, you'll end up spending quite a bit of time and money getting around.
On the plus side, the all-inclusive resorts are great for a bit of R&R. You've got everything you need right there – beach, pool, gym, spa, etc. – plus several restaurants and bars. Resort staff can also help you arrange tours and transportation to the Cancun Airport, although they charge a higher price than most.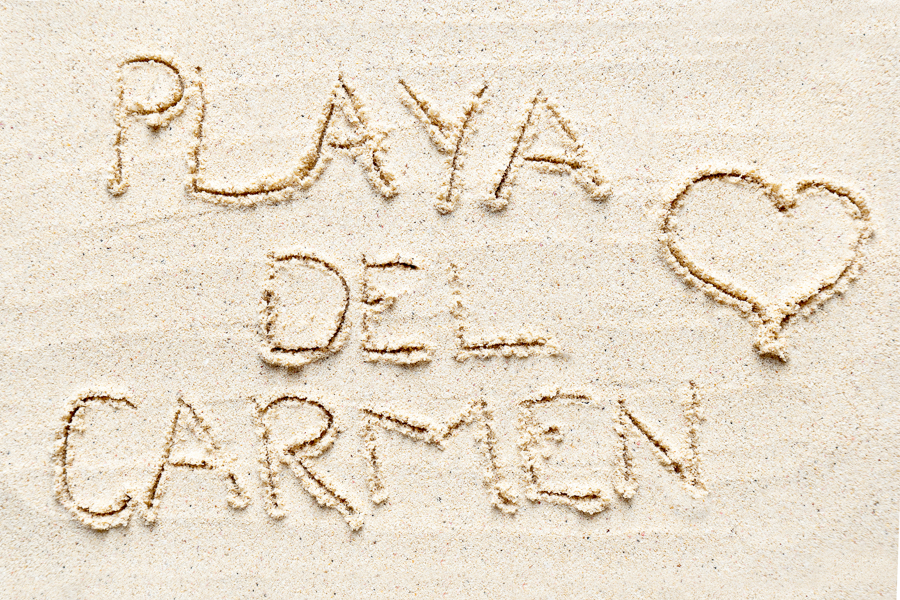 Staying in town puts you close to all the action. Thanks to 5th Avenue, Playa del Carmen is a very walkable city. This long pedestrian-only street is full of hotels, shops, travel agents, restaurants, bars, and more. Everything you need for a great vacation can easily be found here.
Of course, there are some cons to staying in town as well. It can get a bit chaotic and noisy here, especially around the night clubs. If thumping music at 2AM isn't your scene, you'll want to make sure to stay away from this part of town!
Most tourists in Playa del Carmen stay between the beach and the freeway, which is only about 10 city blocks. The most popular neighborhoods to stay in from north to south are:
Zazil-Ha
Gonzalo Guerrero
Centro
Playacar
Here's a brief rundown of each neighbourhood, along with a recommendation for a good hotel in that area:
Zazil-Ha
This is a tiny area of Playa del Carmen that's basically at the very end of what I like to call the "tourist bubble." It only stretches a few blocks from Calle 38 to CTM Avenue.
Zazil-Ha is a great place to stay if you want to be close to the action but far enough away from it to not have to deal with the crowds and noise. This is where 5th Avenue Playa del Carmen thins out a bit. Heading north on 5th from CTM Avenue, it actually becomes a cycling path that leads to some quiet beaches.
This is actually where we stayed for our six-week digital nomad stint in Playa del Carmen, and we really enjoyed our time there. You can be at the beach in a few minutes and there are also plenty of excellent restaurants here.
A great choice for accommodation in Zazil-Ha is Newport House Playa. It's actually the top-ranked place on TripAdvisor at the moment, so they're obviously doing something right here! It's not a resort, but rather a boutique apartment hotel. Guests rave about the friendly staff here and the beautiful rooftop pool area. Click here to see the latest price from Booking.com.
Gonzalo Guerrero
Heading south, the next neighborhood is Gonzalo Guerrero. This is a much larger area of Playa del Carmen than Zazil-Ha, as it runs from Calle 38 to Constituyentes Avenue.
In this area, you'll find the popular Mamitas Beach. Some of the best restaurants in Playa del Carmen are located in Gonzalo Guerrero as well, so it's a great choice for foodies.
The action starts to pick up quite a bit on 5th Avenue in this part of town, but it's not too busy. As this is a very central part of Playa del Carmen Mexico, there's an abundance of hotels here.
Quinta Margarita is a "boho chic hotel" that's just off 5th Avenue and a quick walk to the beach. It's a beautiful place complete with a nice pool area full of loungers and hammocks. Click here to see the latest price from Booking.com.
Centro
As the name would suggest, this is the center of Playa del Carmen. It reaches from Constituyentes Avenue down to the airport road. This is where you'll find the main ADO bus station as well as the ferry piers that go to Cozumel.
If you really want to feel the pulse of Playa del Carmen, this is the place to stay. The oceanfront Fundadores Park is home to the colorful Playa del Carmen sign and the Portal Maya sculpture, and there are performances going on throughout the day here.
Centro has it all — shopping, dining, culture, and nightlife are all at your fingertips here. When you want to head out to enjoy some of the best Playa del Carmen activities, it's really easy to arrange transportation from Centro.
La Pasion is a lovely colonial boutique hotel in Centro. They've got a few pools and a jacuzzi here, and a delicious breakfast is included. Click here to see the latest price from Booking.com.
Playacar
This is basically the main suburb of Playa del Carmen Mexico. It's a very secure, upscale neighborhood that's mostly residential.
Playacar is a popular choice for those who prefer a quieter area. The bustling 5th Avenue doesn't stretch into Playacar, and there's not much going on here after dark. People like to stay here for the world-class golf course and the peaceful beaches.
Luxury House B&B comes highly recommended in Playacar. Guests here have nothing but nice things to say about the friendly owners. Click here to see the latest price from Booking.com.
What To Do In Playa del Carmen Mexico
There are numerous fun things to do in Playa del Carmen, you'll never be bored here. Here's a list of the most popular:
1. Stroll Along 5th Avenue
5th Avenue Playa del Carmen, known locally as "La Quinta," is the main drag in town. This long pedestrian street stretches from the ferry pier in the south all the way to the end of the small Nicte-Ha neighborhood.
In Centro and Gonzalo Guerrero, La Quinta is bustling with activity night and day. This is a one-stop-shop for travelers, as you can find just about everything here. Souvenir shops, travel agents, massage parlors, cafes, restaurants, and bars — with the owners all vying for your attention (and your pesos).
Personally, I have a love-hate relationship with this street. There are definitely some great places to eat and drink here, but the endless stream of touts and hustlers gets a bit annoying. It's still one of the best places to visit, at least once.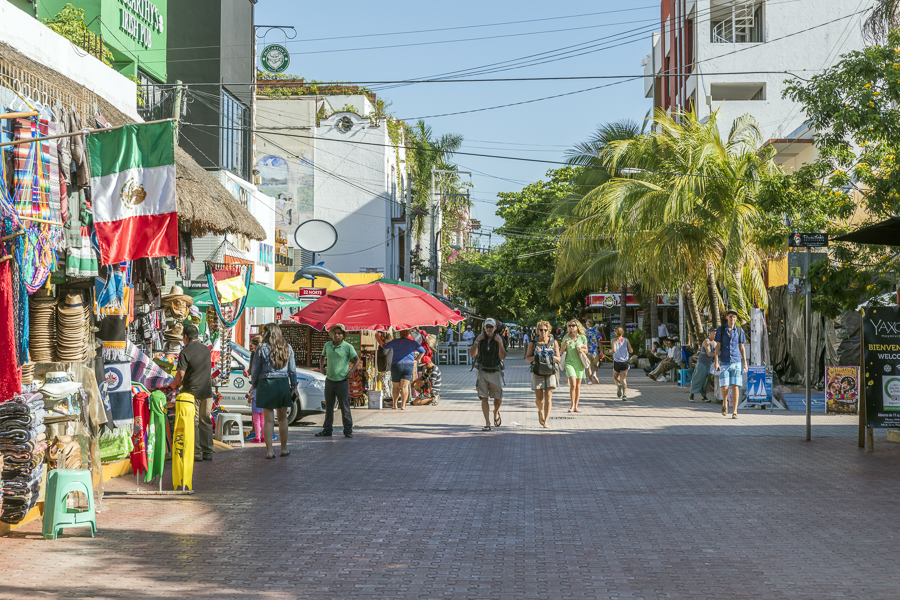 2. Hit the Beach
In a town called Playa del Carmen, it should come as no surprise that going to la playa is one of the best things to do. There are beaches up and down the coast here, giving you plenty of choices.
Some of the beaches in Centro can get a bit crowded, especially on weekends and holidays. If it's a quiet Playa del Carmen beach you seek, you just need to head south or north a bit (see my list of best beaches in Playa del Carmen above).
There are many restaurants on the beach that will let you use their loungers and umbrellas, as long as you order something. Playa del Carmen Mexico is also home to several beach clubs, most of which charge cover or have a minimum consumption.
3. Go Scuba Diving/Snorkeling
Walking around Playa del Carmen, you're sure to notice the abundance of dive shops. Scuba diving is huge here, especially at the dive sites closer to Cozumel. It's just a short boat ride from town out to the island, so you don't even need to stay in Cozumel to enjoy the world-class diving.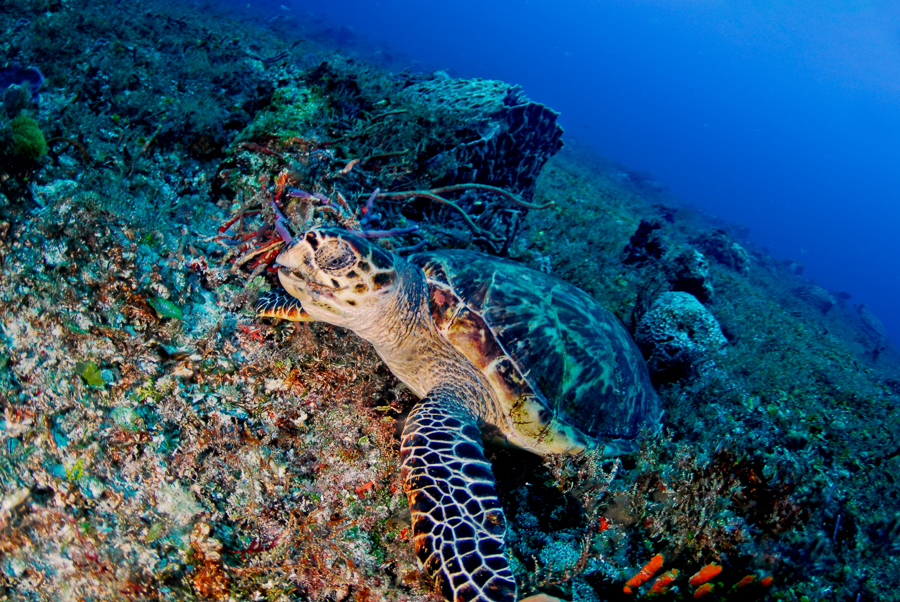 If you've never gone diving before, this is a great place to get certified. Once you have your open water certificate, you might just want to come back and get some more advanced credentials. Who knows, you could end up teaching scuba diving in Playa del Carmen. How cool would that be?!
Even if you're not interested in scuba diving, you can enjoy some excellent snorkeling here. Many dive shops also welcome snorkelers on board, which is great for groups where some are divers and others aren't.
4. Day Trips Galore
While you really do have everything you need in town, you've got to get out on some day trips. There are so many awesome Playa del Carmen tours available that you'll definitely want to do some research before you go.
I'll try to keep it short and sweet here to give you an idea of your options. Within an hour or two, you can explore Mayan ruins, swim in cenotes, visit a tropical island, check out a nature park, or stroll through a colorful colonial town.
There are travel agents all over this town who can set you up on a tour. Many of them are pretty easy to DIY as well, thanks to the abundance of cab drivers and the shared colectivo vans.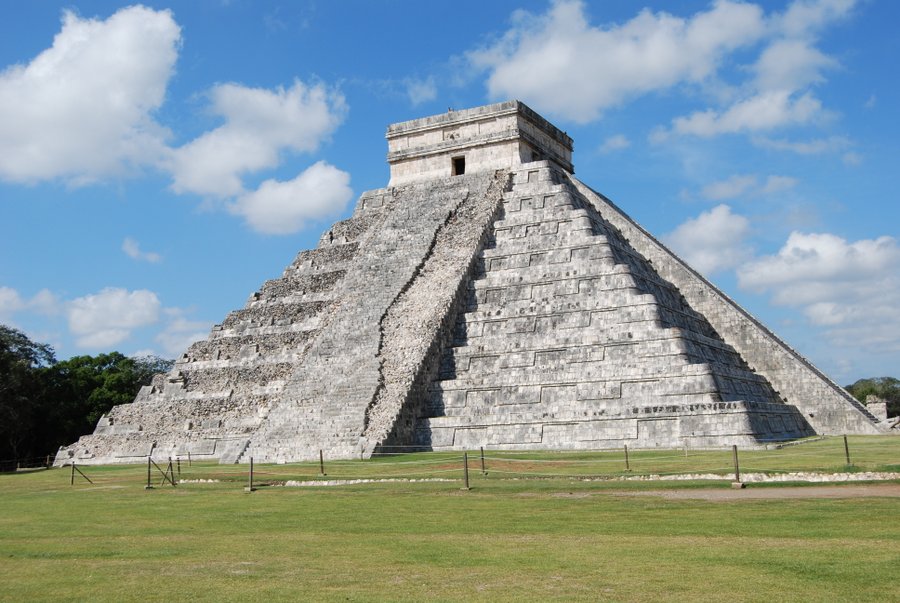 5. Eat, Drink & Be Merry
Some people come to Playa del Carmen just to enjoy going out to eat and drink, and there's nothing wrong with that! There are so many excellent restaurants in Playa del Carmen that you can try a new place for every meal and barely scratch the surface.
This is a town that likes to party, and there are tons of bars and clubs to choose from. Whether you fancy a craft cocktail at a rooftop pool or slamming down tequila shots in a packed night club, you can find it here!
Trying new places to eat and drink is definitely one of my favorite pastimes in Playa del Carmen Mexico. I did some quality research for this guide, so let's get on to some of the best spots…

Where to Eat in Playa del Carmen
The options are endless when it comes to Playa del Carmen restaurants. From taco trucks to fine dining and everything in between, foodies will be in paradise here.
This is a beach town in Mexico, so there are tons of places cooking up local classics with seafood-heavy menus. Fish tacos, ceviche, and aguachile are some of the best things to eat here. Of course, classics such as tacos al pastor are also easy to track down.
Vegetarians don't have to go far to find something to eat in Playa del Carmen Mexico. There are lots of excellent vegetarian and vegan-friendly places here, so you definitely won't go hungry!
You'll find cuisines from all over the world in Playa del Carmen. Whether you're craving Japanese, Italian, Brazilian, or Mediterranean, you can find it in Playa.
It was tough to narrow it down, but here are three of the best restaurants in Playa del Carmen:
La Cueva del Chango
Hours: Monday-Saturday 8AM-10:30PM, Sunday 8AM-2PM
Phone #: 01 984 147 0271
Location: Calle 38 between 5th Avenue & the sea, Zazil-Ha (click here for directions)
Rating on TripAdvisor: 4.5/5
Set in a beautiful garden, La Cueva del Chango is definitely one of the most scenic restaurants. It's a really popular spot to come for brunch, especially on the weekend. You can expect a line here, and they'll take your drink order while you wait for a table.
They've got a huge menu here, but my go-to is the chilaquiles. If you've never had them, they're basically nachos for breakfast. I eat chilaquiles all the time and this place makes the best I've ever had! They also have an extensive drink menu with a bunch of juices and coffees, along with a full bar.
El Fogon
Hours: Monday-Sunday 1-11PM
Phone #: 01 984 803 0885
Location: Constituyentes Avenue & 30th Avenue (click here for directions)
Rating on TripAdvisor: 4.5/5
There's usually a line at this place full of both tourists and locals, so you know they're doing something right here! This place is famous for their tacos al pastor, but there are plenty of other Mexican classics on the menu as well.
This is a standard local restaurant that doesn't require reservations or a dress code. It's the type of place you rock up to in shorts and sandals and have a few beers with your lunch. The staff are friendly and attentive but don't expect much English to be spoken. Best of all, you can get a good meal for less than $10 here!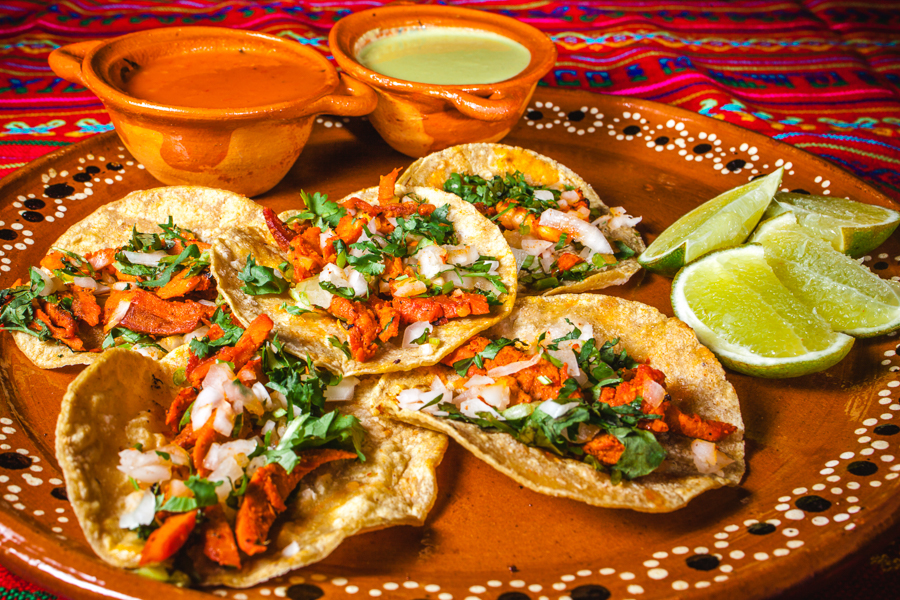 La Perla Pixan
Hours: Monday-Sunday 8:30AM-12AM
Phone #: 044 984 120 2616
Location: Calle 34 & 5th Avenue (click here for directions)
Rating on TripAdvisor: 4.5/5
If you want to sample the traditional cuisine from different regions of Mexico, La Perla Pixan is an excellent choice. They take an innovative spin on recipes here, making it one of the most unique Playa del Carmen restaurants.
Although it's located right off of 5th Avenue, this remains somewhat of a hidden gem. It's a bit pricier than other restaurants in the area, but it's well worth it. It's also a mezcal store, so they have plenty of different options for trying this famous Mexican liquor.
Top Playa del Carmen Tours
While most people come here for sun & sand, there's much more to this town than lazing on the beach. As I mentioned above, there are also tons of awesome day trips available from Playa del Carmen Mexico. You don't even have to go that far out of town for many of them.
Here are 5 of the best options for Playa del Carmen tours:
Mayan Ruins
One of the top excursions from Playa del Carmen is visiting the Mayan ruins in the area. This is the Riviera Maya, after all. Within reach on a day trip are the ruins of Chichen Itza, Tulum, Coba, and Ek Balam.
Checking out at least one of the Mayan ruins should be high atop your list. You can get yourself to any of the ruins as long as you have a little patience waiting for the bus or colectivo. Tulum is the closest option, as it only takes about an hour from Playa to get there.
If you'd rather go with a group and a guide, there are plenty of tours to the ruins. You can sign up for a day trip to Chichen Itza plus a sacred cenote, or choose another tour that hits both Tulum and Coba.
Cenotes
Without a doubt, one of the coolest things about traveling in the Riviera Maya is the abundance of cenotes here. These are underground swimming holes, and there are thousands of them across the region. Each one is unique, so you'll never get bored visiting cenotes.
There are so many cenotes in the area that you really don't have to travel far from Playa del Carmen to visit one (or several). About a half-hour from town, there's a cluster of cenotes right across the street from the Barcelo Maya resort. You can easily reach these by colectivo or taxi and spend a few hours checking them out.
Many Playa del Carmen tours include a stop at a cenote, make sure yours does! If you're able to, one of the best activities from Playa del Carmen is a visit to Rio Secreto — don't miss it.

Scuba Diving
Why just swim in a cenote when you can go scuba diving in one? Diving in a cenote is a very unique experience and is much different from diving in the ocean. It's definitely one of the coolest Playa del Carmen activities.
Of course, there's plenty of great diving to be had out at sea here as well. There are tons of dive shops in Playa del Carmen that can get you set up. One that comes highly recommended is Blue Life. They have several options for cenote and reef dives, and you can even dive with bull sharks in season!
Nature Parks
The Riviera Maya is home to several amazing nature parks, many of which are just a short drive away from Playa del Carmen. These are fun for the whole family, with a variety of natural and cultural activities.
Xcaret is the original nature park in the area. Here you can swim in underground rivers, see an incredible cultural performance, and much more. You can easily spend the whole day here and still not do it all at Xcaret.
Other nature parks in the area include Xel-Ha for snorkeling, Xplor for riding buggies and zip-lining, and Xavage for rafting. They're all under the same umbrella and thus there are many options for combo tours if you want to visit more than one.
*Note: while there are numerous fun tours to be had with these companies, Goats On The Road doesn't condone any activities that include cruelty towards animals — captivity, shows, riding, etc. Consider where you want your tourism dollars to go, and what you want to support when visiting Playa del Carmen Mexico.
Food Tours
There are so many great places to eat in Playa del Carmen that it can be a bit intimidating choosing where to go. With so much delicious food all around, the last thing you want is to end up disappointed with your meal. Eating is definitely one of my favourite best Playa del Carmen activities!
One way to guarantee that you try the best in town is by signing up for a food tour. Eating With Carmen has several options, including the Authentic Local Experience and the Gourmet Trail. Be sure to come hungry as you'll try several different dishes on each tour.

Shopping in Playa del Carmen
If you're the kind of person who likes to shop til they drop on vacation, then you're going to love Playa del Carmen Mexico. Whether you're looking for simple souvenirs, handicrafts, artwork, clothing, jewelry, or just some high-quality tequila, you can easily find it here.
The main tourist drag of 5th Avenue is home to a wide variety of shops. These range from knickknack shops full of kitschy things (rubber chickens wearing sombreros) up to luxury brands from around the world.
For the most part, the price is what it is here. You can't haggle for goods in most of the stores along 5th Avenue, but there is one stretch of it that's basically an outdoor market with local vendors. It's definitely OK to test your bargaining skills here, especially in Spanish!
Much of what you can buy in the shops and from vendors along 5th Avenue is mass-produced and of a rather low quality. That being said, there are definitely some shops that sell locally produced, high-quality items. You just have to poke around and do a bit of research.
For handcrafted, locally made items, check out the pottery and clay store on 30th Avenue between 2nd and 4th, and the Hamacamarte Store which makes beautiful, handmade hammocks.
Playa del Carmen is also home to chain stores like Wal-Mart, Mega, and Sam's Club. You can find just about everything you need at any of these stores, and they're all conveniently located in the central part of town.
Ready To Visit Playa del Carmen?!
Alright, amigos, now you're ready to plan an amazing trip to Playa del Carmen Mexico. While it's definitely touristy and one of the most-visited places in the country, it's still a great travel destination. Plus, it's really not that hard to find a secluded beach or a local taco joint when you need to escape the crowds.
With so many excellent options for accommodation, shopping, dining, excursions, and nightlife, it's no wonder people continue to flock to Playa del Carmen.
I personally really enjoyed our 6-week stay there, especially because of all the awesome nearby activities. It's so much fun being able to hop in a colectivo and go take an afternoon to swim in a cenote or wander around some ancient ruins. Enjoy your trip to Playa del Carmen!
Like This Article? Pin it!