With a coastline that stretches for over 9,000 km and several islands, it should come as no surprise that there's some awesome diving in Mexico. We'll take a closer look at scuba diving in Mexico in this detailed guide.
On the west coast, you can dive in the Sea of Cortez and reach amazing destinations like the Socorro Islands. This is where all of the liveaboards in Mexico are located, allowing you to swim with giant manta rays or go cage diving with great white sharks.
Meanwhile, over on the other coast, you'll find the crystal clear waters of the Caribbean. Here, you can enjoy world-class diving destinations such as Isla Mujeres and Cozumel. Some of the best diving in Mexico can be found in this area, including the amazing Banco Chincorro.
There are hundreds of different dive sites in Mexico. Your options for exploring them range from standard half-day fun dives to epic liveaboard trips — experience cage diving, an underwater museum, night diving, the list goes on and on.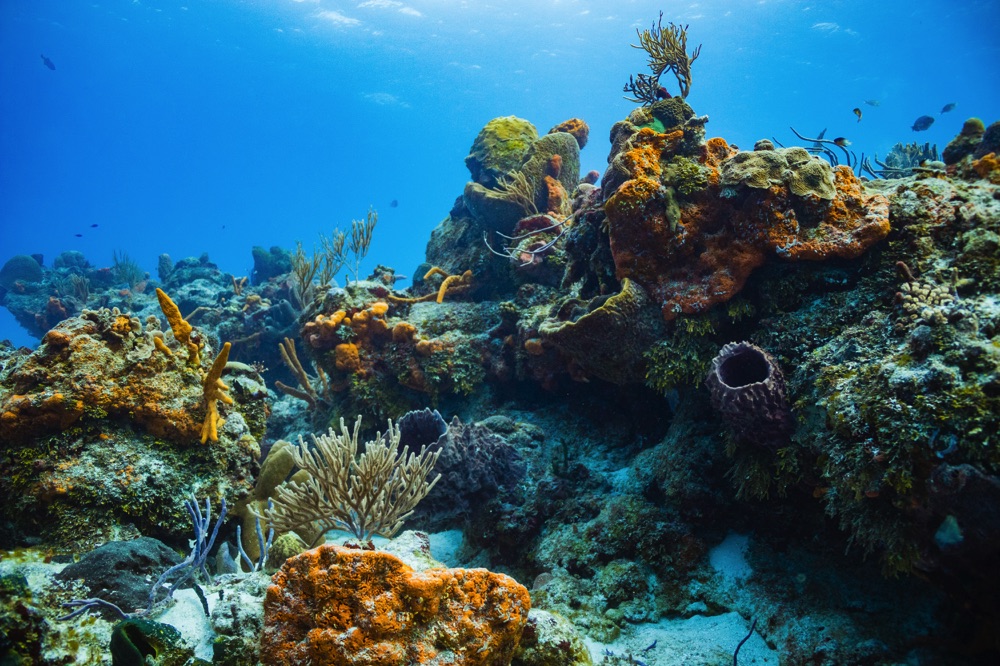 One thing unique about scuba diving in Mexico is that you can explore the country's fascinating cenotes. These natural, freshwater sinkholes can be found all over the Yucatan Peninsula and they're even more incredible if you go diving in them.
The possibilities for marine life-spotting are nearly endless. On dive tours in Mexico, you could spot great white sharks, humpback whales, manta rays, sea lions, dolphins, and much more. Not to mention, the coral is healthy and vibrant.
You can find plenty of excellent dive shops in Mexico where you can get certified to start exploring the other 70% of the planet. Scuba diving is very popular in Mexico, especially in coastal cities and on the islands. Best of all, you can go diving year-round!
If you're planning a trip to Mexico and hoping to do some scuba diving, this is the guide for you. Read on for practical information and tips on the best time to go diving, average costs, some of the best dive sites, and more.
Here it goes! The best diving in Mexico…
When to Go Diving in Mexico
The good news is that you can go diving in Mexico year-round. No matter what time of year you travel to Mexico, you can find a place with ideal conditions for diving.
That being said, conditions vary from coast to coast and month to month. Deciding when to go depends on what kind of diving you want to do and what marine life you hope to see.
Generally speaking, the best time to go diving in Mexico is between November and March. Of course, this also coincides with the country's peak tourism season. You'll definitely want to book in advance, especially for liveaboard trips that have limited space.
Plankton blooms occur between April-May and again in September-October, which affects visibility. The summer and fall months also mean high temperatures, frequent rain, and the chance of hurricanes.
On the plus side, it's the low season which means better deals and smaller crowds! The summer months are also the best time for cenote diving as you'll get the best light, plus it's whale shark season. Summer is actually a fantastic time for some Mexico diving.
I'll go into more detail about the best time to go diving in Mexico for each specific location so you can plan your trip at an ideal time.
☞ SEE ALSO: Scuba Diving With Sharks and Eels on The Belize Barrier Reef
Cost of Diving in Mexico
If you're new to the world of scuba diving, then Mexico is a great place to begin. Beginners can do a Discover Scuba Diving course for around $50 just to try out breathing underwater in a pool. Up that to $125 and you can add two ocean dives as well.
For more in-depth training, you can take a 2-day scuba diver course for around $250. This certification will allow you to dive up to 40 feet (12 meters). This is a good option if you want to quickly get a basic certification and do some simple dives to try it out.
Perhaps the most popular option is just going for the PADI Open Water course. This is the world's most recognized diving license and allows you to dive up to 60 feet (18 meters). These courses take 3-4 days and cost anywhere from $400-480.
Once you've received your certification, you can sign up for "fun dives" and put your new skills to work. Some shops offer 1-tank dives for $65-70. Typically, 2-tank dives that include equipment cost $80-85 per person if booked in advance.
Most shops include rental equipment, although some charge extra for gear (BCD, wetsuit, fins, mask, etc.)
If you'll be doing a lot of diving, it's worth investing in some of your own gear. I highly recommend purchasing your own mask and snorkel. Diving is so much more enjoyable when you always have a mask and snorkel that fits and works properly — there's nothing worse than a leaking mask. Even if a dive shop has dozens to choose from, you may not find one that works for you.
Specialty trips like diving at night or in the cenotes obviously cost a bit more. Night dives usually run about $95 for one tank, while cenote diving depends on the location, but in general, they cost around $120-180.
Most dive shops in Mexico will offer a discount if you book multiple dive trips with them, and it's always worth it to ask.
In Mexico, there are also plenty of resorts with an onsite dive shop. These places typically have package deals that include accommodation and diving.
☞ SEE ALSO: Guide to Scuba Diving in Raja Ampat, Indonesia
Top 3 Dive Sites in Mexico
There are so many amazing dive sites to choose from in Mexico that it's pretty hard to narrow the list down to three. It really depends on your skill level and what kind of experience you want to have.
That being said, here are three of the top dive sites in Mexico that showcase the incredible diversity on offer here:
Socorro Island
Located 240 miles off the coast of the Baja Peninsula are the Revillagigedo Islands. Of these small, remote islands, the most famous is Socorro.
The island takes a lot of effort to get to and therefore, is only reachable by liveaboard. Here you can enjoy some of the best diving in Mexico, spotting humpback whales, hammerhead sharks, manta rays, and more. Note: The quality of liveaboards varies, make sure you do your research and choose a safe and reputable company.
Cenote Dos Ojos
Seeing as Mexico is the only place where you can go diving in a cenote, you know we had to include one in the Top 3! While there are thousands of cenotes in the Yucatan, the one best-known as a dive site is Dos Ojos (Two Eyes).
The name comes from the fact that these two nearby cenotes resemble a pair of turquoise eyes from above. They're connected by a long passageway, which makes this one of the largest underwater cave systems in the world. The water here is crystal clear, don't miss it.
Banco Chinchorro
This is the largest coral atoll in the Northern Hemisphere and one of the best dive sites in Mexico. It's home to numerous shipwrecks, incredibly colorful reefs, and fun drift dives. Although, the 9 shallow wrecks are actually better on snorkel.
I should note that Banco Chinchorro is quite difficult to reach from hubs like Cancun or Playa del Carmen. You'll need to head to either Xcalak or Majahual and sign up with a dive shop in one of those towns. It's a lot of effort but well worth it!
Best Diving On The Caribbean Coast
When to Go: Diving possible year-round, May-September for cenote diving, June-September for whale sharks
Must-See Marine Life: whale sharks, bull sharks, sea turtles, manatees, eagle rays, sea turtles, moray eels
Average Cost/Dive: 2-tank dives for $80-85
Cozumel
This small island is one of the most accessible locations for excellent diving in Mexico. It's home to an international airport and cruise ship port and is easily reached by ferry or speed boat from Playa del Carmen. Diving in Cozumel is one of the top things to do on the island for good reason.
Since Cozumel is surrounded by a protected part of the Mesoamerican reef system, it's one of the best places to visit in Mexico for divers. Teeming with marine life such as turtles, rays, nurse sharks, and the endemic splendid toadfish, this is a beautiful place to go diving.
Playa del Carmen
Speaking of Playa del Carmen, it's also an excellent base for divers. From Playa, you can experience colorful reefs, shipwreck diving, and swimming with majestic bull sharks.
Those hoping to dive some cenotes should consider basing in Playa instead of Cozumel, as you'll spend less time and money in transit. The dive sites of Cozumel are still easily reached and most shops run daily trips to them. Plus you have more options for accommodation, shopping, dining, and nightlife here. Check out our complete guide to Playa del Carmen for more.
Cancun/Isla Mujeres
The famous beach resort of Cancun isn't just for Spring Breakers and honeymooners. It's also an awesome destination for scuba diving in Mexico! You don't have to go far from your beach chair here to enjoy some world-class diving in the crystal clear water of the Caribbean.
In addition to the standard reef dives, you can also check out a few shipwrecks and an incredible underwater museum here (in fact, that same artist completed underwater sculptures in Grenada as well). The nearby island of Isla Mujeres is also a hotspot for diving, as whale sharks flock here in the summer months — there's actually a whale shark festival held on the island.
☞ SEE ALSO: Diving in Isla Mujeres with Squalo Adventures
Mahahual/Xcalak
If you're really serious about diving in Mexico, consider putting forth the effort to get down to either Mahahual or Xcalak. It takes a while to get there from the Cancun Airport, but it's worth it to be able to go diving at Banco Chinchorro.
This Biosphere Reserve is one of the best places to go diving in the Northern Hemisphere. Here you might spot nurse sharks, angelfish, stingrays, loggerhead turtles and so much more.
Best Diving On The Pacific Coast
When to Go: November-May for Socorro, August-October for Guadalupe, August-November for Sea of Cortez
Must-See Marine Life: great white sharks, hammerhead sharks, manta rays, humpback whales, sea lions
Average Cost/Dive: 2-tank dives for $90
Baja California
California's Mexican cousin just south of the border is the place to go if you're interested in cage diving with great white sharks. Sail from Ensenada on a 6-day liveaboard trip to the tiny Guadalupe Island. This is the place to go diving in Mexico if you want to get up close and personal with Jaws!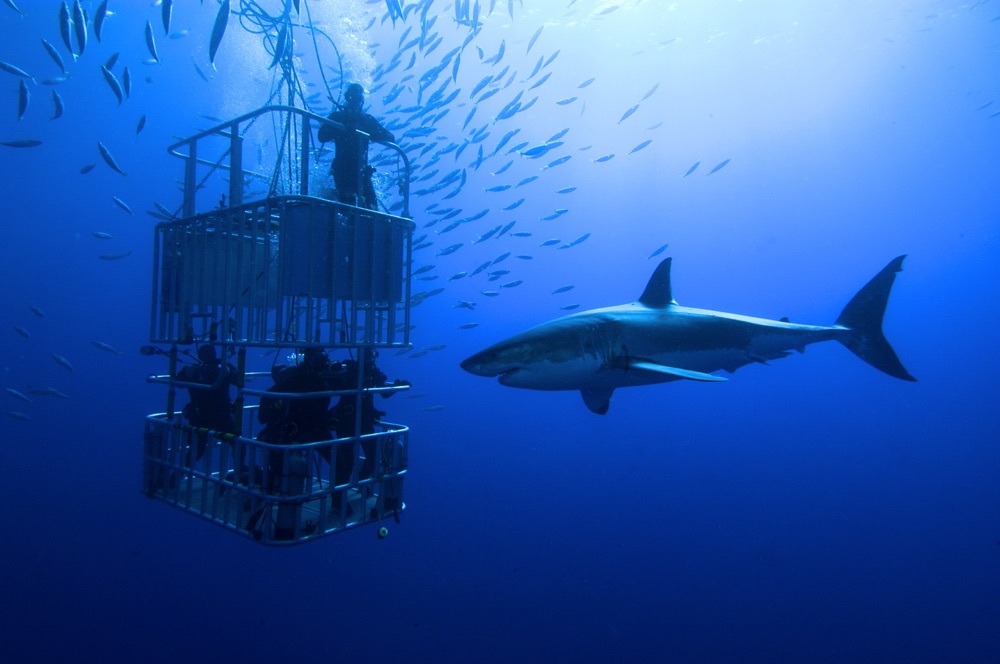 You don't have to get on a liveaboard and come face to face with a great white shark to enjoy diving in Baja California. The small fishing town of Bahía de los Ángeles is a good place to base yourself for diving in the Sea of Cortez, where you can swim with dolphins, sea lions, and even whales.
Baja California Sur
Moving down to the southern part of the peninsula, there's lots of excellent diving to be had. The popular resort towns of Los Cabos (Cabo San Lucas and San Jose del Cabo) both have plenty of dive shops and fantastic sites nearby. Here you can go diving with hammerhead sharks at the famous Gordo Banks dive site or schools of manta rays at Santa Maria.
This is also the jump-off point for other liveaboards in Mexico to the amazing Socorro Islands. Swim with giant manta rays, ten species of sharks, bottlenose dolphins, and even humpback whales on one of these epic trips. This is definitely some of the best scuba diving in Mexico.
Puerto Vallarta
Liveaboard trips are awesome, but they're definitely not for everyone. If you prefer to spend your days diving and your evenings on land, then look no further than Puerto Vallarta. Scuba diving is one of the best things to do in Puerto Vallarta for the adventurous traveller.
This famous city in the Banderas Bay is surrounded by some world-class dive sites, such as Los Arcos and the Marietas Islands. You can enjoy diving with dolphins and whales by day and hitting some of the town's fantastic restaurants and bars by night.
Learn more in our complete guide to travelling Puerto Vallarta, and figure out where to stay in the city in our accommodation and neighbourhood guide.
Ready for Diving in Mexico?
As you can see, the options are practically endless when it comes to diving in Mexico! Whether it's your very first time or your 100th, there's something for you.
It's really hard to top scuba diving in Mexico when it comes to the range of experiences you can have. Where else in the world can you go cage diving with great white sharks, explore an underwater museum, swim alongside humpback whales, and go diving in an underground sinkhole? Seriously, you can do all of these and more on a Mexico diving trip!
While I've listed some of the best places to base yourself for diving and some of the must-visit sites, I barely scratched the surface. If you have experience diving in Mexico, please feel free to drop a comment below and share some tips and recommendations.
Images in this post are courtesy of Shutterstock, a website for finding royalty-free videos and images.
Like This Article? Pin it!