Cabo San Lucas and San José del Cabo are two cities that make up the area of Los Cabos. Although they might share a coastline, they are very different places. For such a small city, there are numerous fun things to do in Cabo San Lucas to keep you busy.
Found at the tip of Baja California, Cabo San Lucas is where the desert meets the ocean. It's a place where no matter where you are, you're only a block away from the water.
This is where you can experience numerous outdoor activities, shop 'til you drop, and drink, dance and party all night long!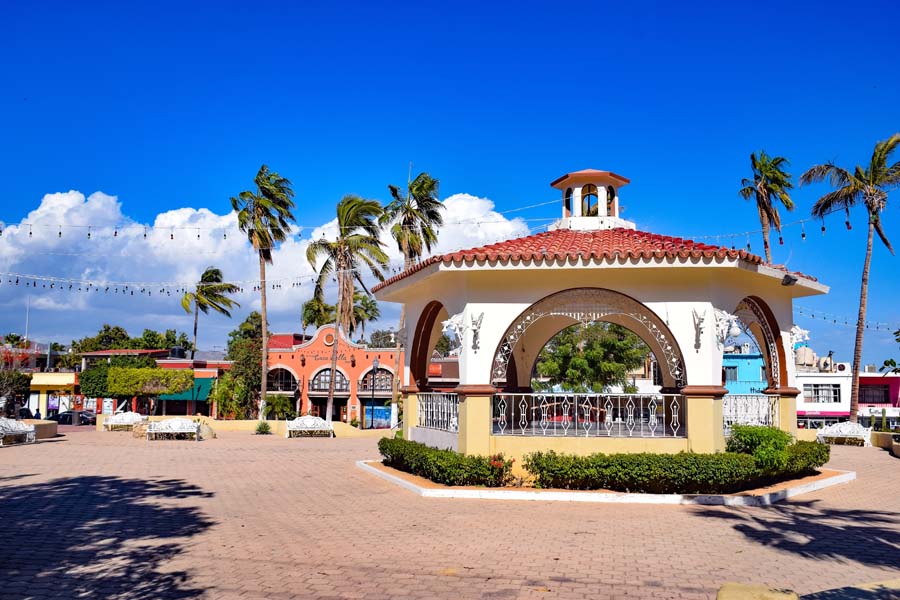 I visited Cabo San Lucas as one of the first stops on my honeymoon. It was somewhere I added into our plans at the last minute, but this sleepy little town sure blew my mind. We didn't want to leave, this is one of the best places to visit in Mexico.
Here are the top 21 things to do in Cabo San Lucas that you won't want to miss during your holiday.
(Don't forget to check out the traveller's resources at the end of this post!)
Note: This article has been updated to reflect the best attractions and things to do in Cabo San Lucas in 2022, including updated costs, excursions and activities. Enjoy your trip to Cabo!
1. Take a Whale Watching Cruise (one of the most exciting things to do in Cabo San Lucas!)
The Sea of Cortez is one of the best places in this part of the world to get up close and personal with a mighty humpback whale, and you can jump on a whale watching tour straight out of Cabo San Lucas.
The best time to go to Mexico for whale watching is as early as November, but generally runs from December to April each year.
The waters the surround Cabo are known to be a hotspot for breeding and are also a migratory stop for humpback whales, so your chances of spotting one of these majestic animals are very high.
We were lucky enough to spot a pod of 4 whales playing with each other and jumping in and out of the water several times. Seeing these whales in the wild is one of the most incredible things to do in Cabo San Lucas.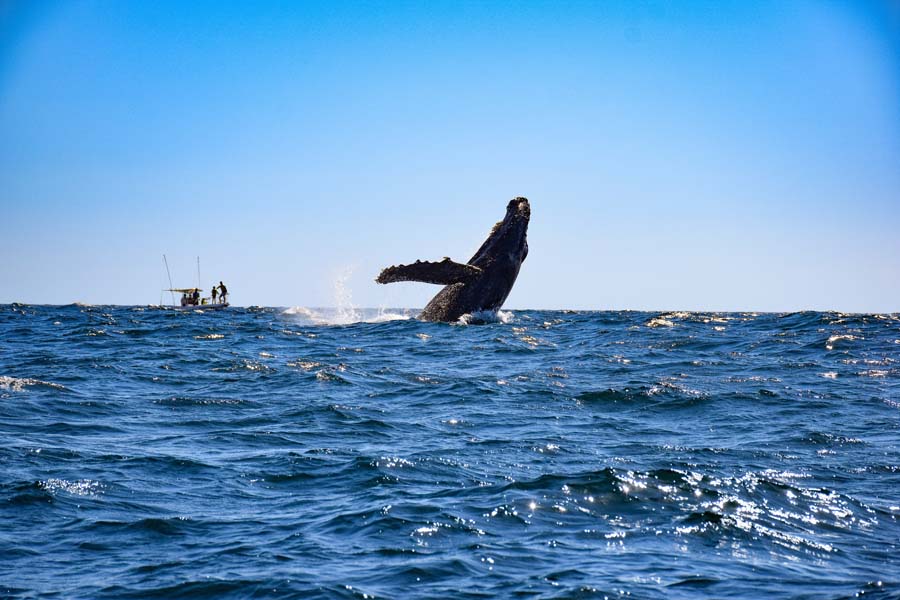 Book yourself a spot on one of Cabo Adventure's Whale Watching Cabo Safaris. Starting from $89 USD for an adult, these guys know how to find the whales from the sounds and vibrations of the ocean.
Not for the faint of heart, the boats are tiny to ensure minimal disruption to the whales, so you will get wet! The day also includes round trip transportation from your hotel, light snacks and bottled water throughout the day. This is a Cabo San Lucas excursion you won't want to miss.
If your budget is higher, or if you're looking for a more luxurious experience, you can book a catamaran trip to see the whales instead. Learn more here.
2. Take a Swim On Lover's Beach (Playa del Amor)
Lover's Beach and Divorce Beach are connected on their own little island along Land's End.
Lover's Beach looks into the bay, and is a beautifully calm piece of water — perfect for swimming and trying out water sports.
On the other side of the island, Divorce Beach has hectic turbulent waves and you are advised against swimming on this side due to the unsafe conditions.
Two beaches that couldn't be more aptly named.
Lover's Beach is the perfect place to take a dip and enjoy the warm water of the Sea of Cortez. It's a good idea to get there early, as the beach can get incredibly busy and crowded during the middle of the day.
Many fishermen and boat operators will offer you a return ride across to Lover's Beach for a small fee (around $10 return). Make sure to negotiate a time for them to come and pick you up.
If you're looking for another place to cool off, check out Santa Maria Beach, which is an easy Cabo San Lucas excursion. Just 20 minutes up the east coast by bus or rental car and you'll arrive at the beach.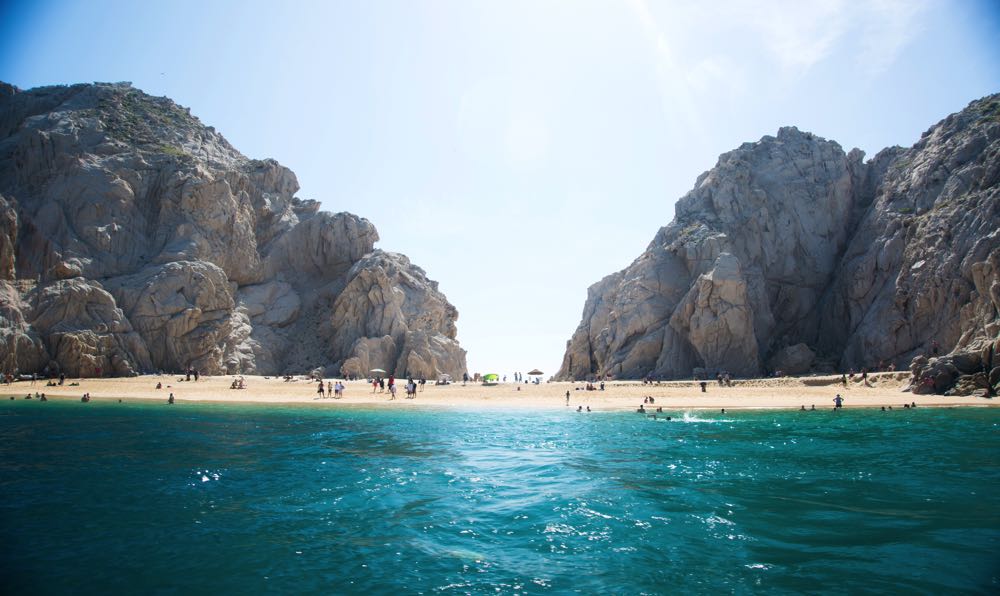 ☞ SEE ALSO: Things To Do in Puerto Vallarta – A List of The Top 20 and for more beaches in Mexico, don't miss our list of the Top 10 Puerto Vallarta Beaches
3. Grab a Cocktail & Watch The Sunset
There's nothing better than enjoying a sunset with a cocktail in hand and your bare feet in the sand. I especially love beachfront bars, where the floor is made of sand and there's no dress code.
There are many different bars and restaurants in Cabo San Lucas that line the beach and offer you a beautiful view of the sunset. To get away from the crowds, choose one of the smaller restaurants for friendly staff and super fast service.
Mangos On The Beach is one of the most popular places to eat on the beach, well-known for its craziness and party atmosphere. We decided instead to skip the party and grab a blue cocktail at Omega Sports Bar next door where everyone sits outside.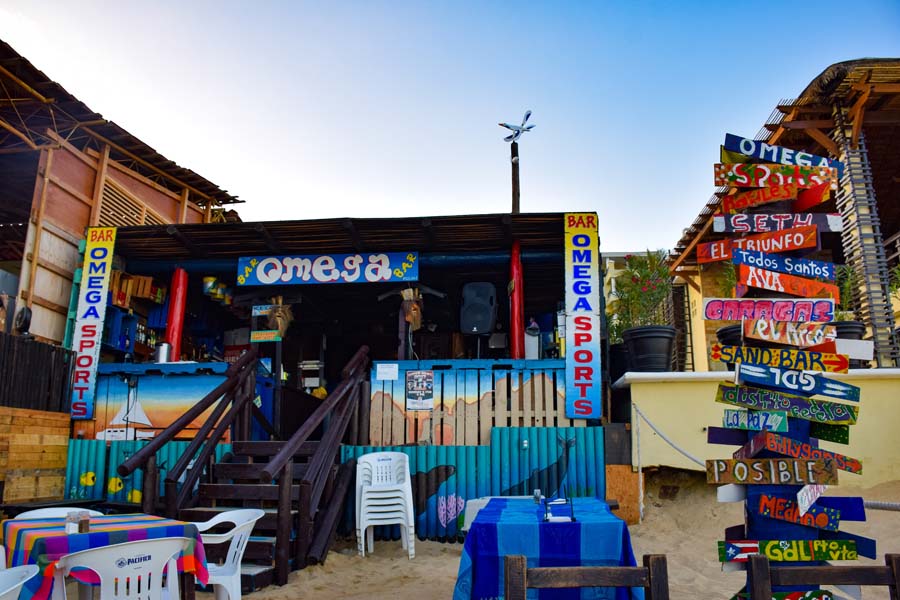 This place has a sandy floor and cheerful staff who were kind enough to offer us colourful blankets to keep warm when the sunset and the air got a little cooler.
Our dinner for two, including cocktails, cost us just 500 pesos at Omega (less than $25USD). Watching sunset with a cocktail is definitely one of the best things to do in Cabo San Lucas.
4. Jet Skiing, Parasailing & Kayaking at Medano Beach
Medano Beach is the main beach in Cabo San Lucas. It's within easy walking distance of the centre of town or the marina, and it also offers just about every water sport you could imagine.
Always wanted to try jet skiing? Want to fly high above the land on a parasail? Feel like taking a leisurely kayak to the archway? These adventurous things to do in Cabo can all be done at Medano Beach.
The beach is also home to many beachfront bars and restaurants, where you can kick back and relax with a drink after a long day of adrenaline-pumping activities.
Prices for watersports differ along the beach, so it's always a good idea to see if you're able to haggle the prices down a little bit! Kayak and paddleboard rental start from between $25-$30USD for the hour, while jet ski hire and parasailing start from around $70USD.
☞ SEE ALSO: Things To Do in Playa del Carmen – A List of The Top 21
5. Eat Your Weight in Tacos & Guacamole
Eating tacos is definitely on this list of best things to do in Cabo San Lucas…but it's also one of the top things to do in Mexico as a whole!
You won't find tacos or guacamole more fresh or delicious than those in Mexico, and I'll be honest — Cabo San Lucas is where my love of Mexican food really took off. There are numerous taco fillings, but since Cabo is on the sea, it's best to choose the fresh seafood tacos. They are tasty!
Just about every place in Cabo San Lucas serves tacos and guacamole, so you're never far away from your next snack. Pair your tacos with tequila, and you'll feel like a local.
We found the best guacamole at Omega Sports Bar on the beach, I definitely think that is where my guacamole addiction began. If you're around the main town, head straight for Las Guacamayas for some delicious tacos (pictured below). Tacos in Cabo are often around the $1.50-$2USD price mark, so cheap and so delicious.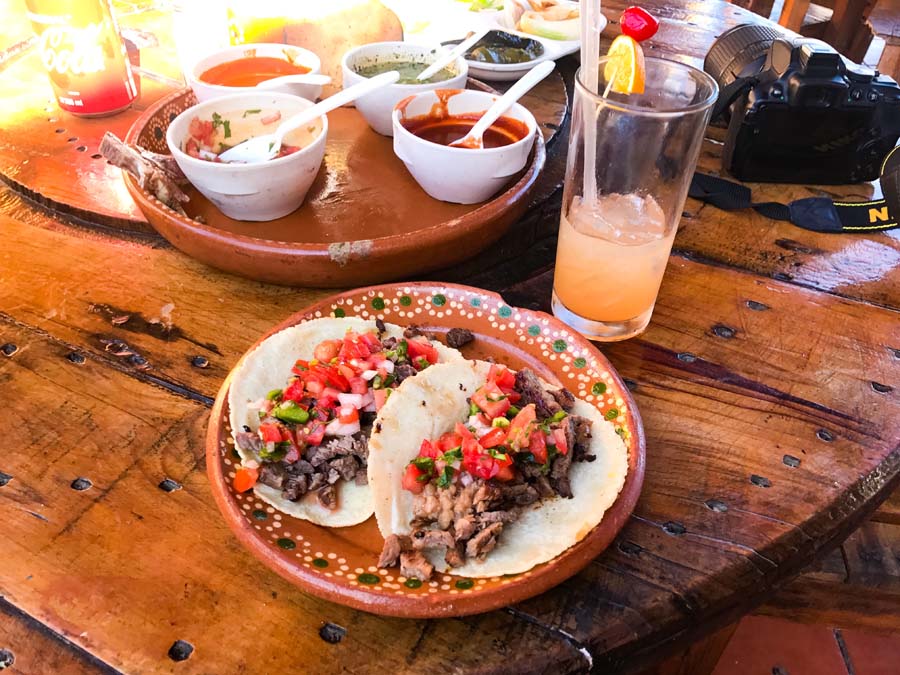 ☞ SEE ALSO: If you're planning a trip to the other side of Mexico, you won't want to miss our complete guide to Playa del Carmen, our information on how to get from Cancun to Playa del Carmen, and our complete guide on where to eat and where to stay in Playa del Carmen.
6. Dance The Night Away at El Squid Roe
Get out of your comfort zone and grab dinner and a drink at El Squid Roe. It's a crazy combination of a restaurant, bar and live entertainment venue.
With cocktails in glasses that reach a metre off the table, throwback music and a sparkly disco ball, this eclectic bar keeps everyone smiling and dancing all night long (even if you're just dancing in your seat).
El Squid Roe can be found on Lázaro Cárdenas in downtown Cabo San Lucas. They're open every night, serving dinner from about 6pm, with regular live entertainment and themed nights.
Meal prices are probably a little bit more than you would expect in Mexico – around $9 – $20USD for a main meal, depending on your order, and around $4USD for a cocktail – but the portions are very large and the atmosphere can't be beat.
☞ SEE ALSO: Things To Do in San Pancho – A List of The Top 15
7. Take a Cruise Around Land's End
Visiting Land's End is one of the most popular things to do in Cabo San Lucas. Land's End (El Arco de Cabo San Lucas) is a famous landmark in Cabo.
There are no cenotes in Cabo (like there are in the Yucatan), but there are still some amazing rock formations to see and water adventures to have.
These natural formations are located at the tip of the Baja Peninsula, where the Pacific Ocean becomes the Gulf of California. This is one of the top attractions in Cabo San Lucas, and for good reason.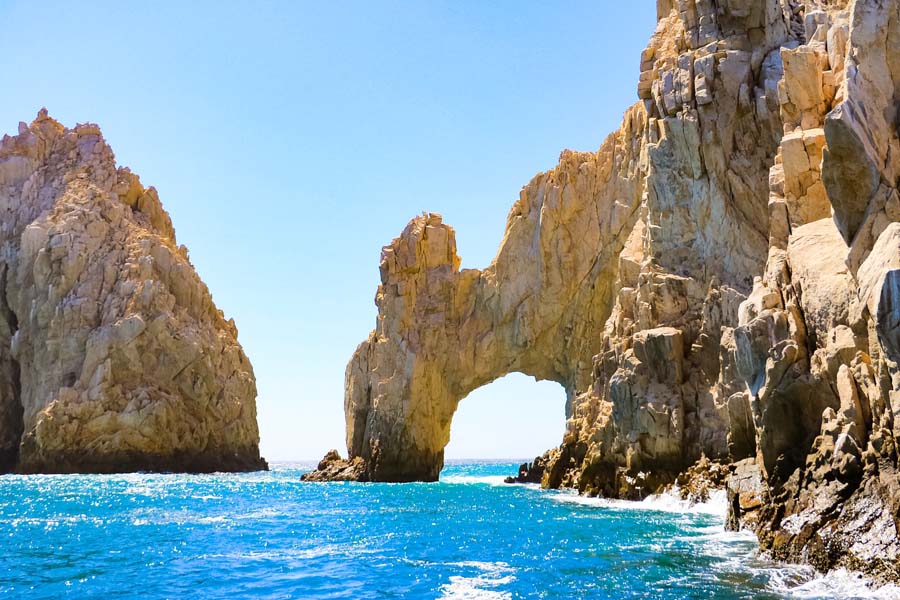 Take a leisurely cruise around Lands End to check out some of the incredible rock forms, including El Arco and Scooby Do Rock.
You will find many companies in the marina selling their tours. They are all around the same price, but some of them will be open to some negotiations.
One thing to be aware of though – while you might be chatting and negotiating with someone on the docks who speaks English, they will put you onto a cruise with a helper that does not.
If you're looking for more of a guided tour and want someone who speaks English make sure you're clear about this in your negotiations.
We paid around $25USD for our tour which cruised us around the bay for about an hour and a half. Each boat operator offers something a little bit different though, so it's a good idea to compare prices and tour options. For a longer day tour around Los Cabos, click here.
☞ If you're planning on visiting more areas in the Baja, don't miss the wineries of the Valle de Guadalupe!
8. Watch Fishermen In The Marina
One of the most interesting ways to spend the evening is by watching the fishermen come back to the marina after a long day of fishing in the ocean.
It actually kind of made me feel like I was a local, and if you're looking for relaxing things to do in Cabo San Lucas, watching the fishermen is a good start.
At the end of each day, just before the sun sets, the fishermen return to the marina from their day on the water. They then clean and gut their fish on one of the metal benches around the docks. It's not the easiest task due to the thieving pelicans from above, and the sneaky seals next to them!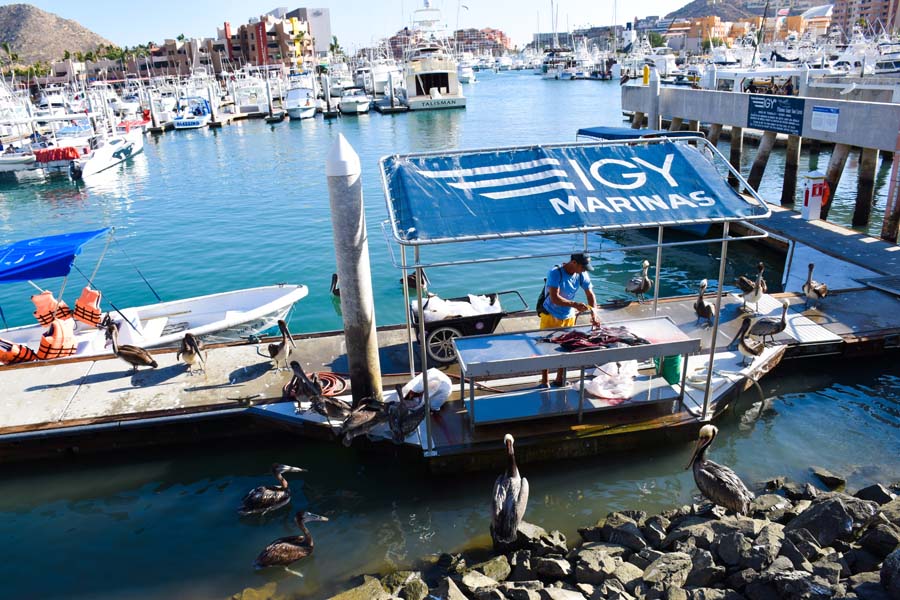 9. Take a Day Trip to San Jose del Cabo (a quintessential Cabo San Lucas excursion)
The quiet sister to Cabo San Lucas, San Jose del Cabo offers a more laid back, authentic vibe to its wild neighbour. This cute little town is about half an hour from Cabo San Lucas, halfway back towards the airport.
As well as its own stunning white sand beaches, San Jose del Cabo offers more of a quiet shopping strip, a beautiful church, delicious restaurant and dining options, and an excellent historic centre.
Take a day trip to experience a little more of the Baja Peninsula and the local way of life. To embark on this day trip you have a couple of options:
Rent a car from the town centre (or online with Expedia) for a day (approx. $25USD for a one day car rental) and then drive down the Transpeninsular Highway (Hwy 1) which connects Cabo San Lucas and San Jose del Cabo. Consider renting a car as one of the things to do in Cabo San Lucas, the freedom to explore at your own pace is incredible.
Catch the Subur Cabos bus service that runs between Cabo San Lucas and San Jose del Cabo along the Tourist Corridor. The bus runs every 20 minutes all day, starting at 5:20am in Cabo San Lucas until about 9:30pm, and costs around $2.50 – $3 a ticket.
☞ SEE ALSO: Things To Do in La Paz, Mexico – A List of The Top 21
10. Take a Sunset Sailing Cruise
For an even more incredible sunset experience, take a luxury 50-foot sailboat from the marina. These cruises take you out to the sea, where you can enjoy sparkling wine, speciality cocktails, ice-cold beer and canapés while you watch the sun sink into the horizon.
These cruises last for around two and a half hours, and also offer you a beautiful sunset view of Land's End – The Los Cabos Arch and Lover's Beach.
Tours start from around $89 USD depending on the company and can be booked either in advance or down by the marina in Cabo San Lucas. This is one of the most luxurious things to do in Cabo San Lucas.
Click here to learn about the highly-rated sunset sail in Cabo San Lucas, complete with dinner and an open bar!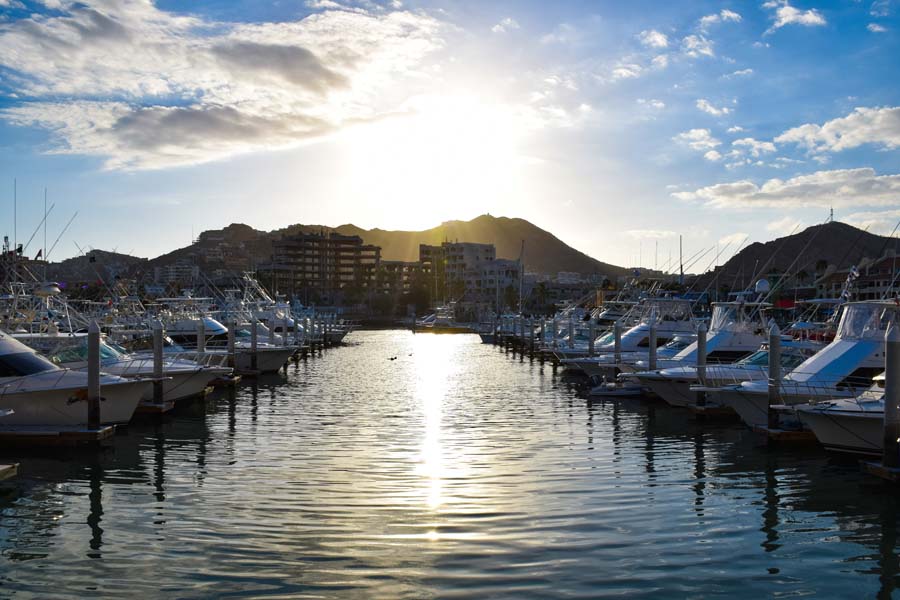 11. Swim With Whale Sharks (one of the most memorable things to do in Cabo San Lucas)
There are few things as incredible as swimming with whale sharks! Although these sharks are humongous (18-33 feet or 5.5-10m), these gentle giants are herbivores and will calmly swim around you, before continuing on their journey.
In Cabo San Lucas, whale shark season is between September and April as they make their way through the Sea of Cortez.
Swimming with whale sharks is an experience you'll never forget. It does come at a price though — day trips to La Paz to snorkel with whale sharks start from about $190USD but it's worth every penny if you ask me. Click here to learn more about ethical whale shark experiences, and click here to book a whale shark tour.
12. Head Out On a Fishing Charter
Cabo San Lucas is one of the most famous places for fishing charters, and if you're into fishing, this is one of the things to do in Cabo that you won't want to miss. You can catch many big game fish – marlin, sailfish, tuna, swordfish – just a short way out of the marina.
You'll need to beat the sun and be up as early as the local fishermen, but they know all the best spots and have no trouble locating the deep-sea fish you're looking for.
In the marina, each of the boats displays different flags with colours and fish pictures, and from these images, you can figure out what fish each particular boat fishes for.
If you're hoping to catch a specific species make sure you chat to the fisherman about which types of fish he searches for each day.
Deep-sea fishing is one of the best things to do in Cabo, so you'll want to make sure you reserve in advance.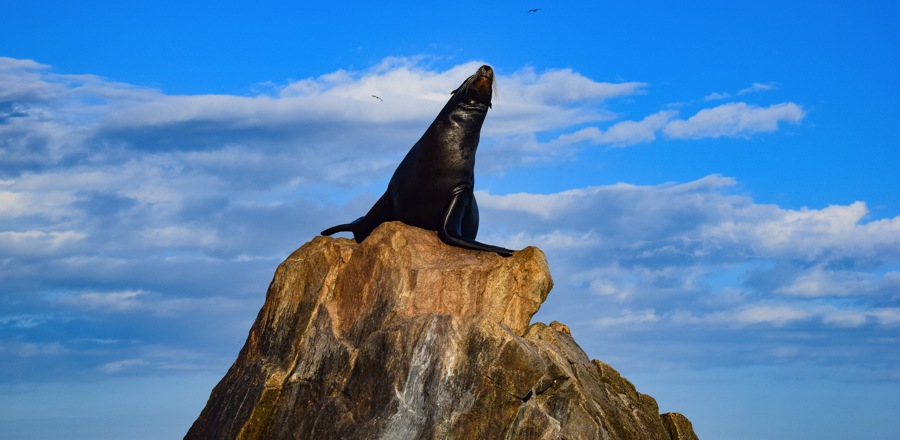 13. Take an Outback Camel Safari (& Get a Free Tequila Tasting)
For a completely different experience, away from the ocean and sea adventures, explore the Baja Desert from the back of a camel!
It's a side of Cabo San Lucas that not many people think to experience, but an epic voyage nonetheless. Expert guides on your safari will show you the best of the unique Baja Californian culture and the beautiful natural wonders of the Baja desert.
To make it even more of an experience to remember, when you book with Cabo Adventures your day also includes a tequila tasting lesson and a tortilla-making lesson — what more could you ask for?!
Tours start from $109USD per person and include tequila and beer. The tour is very popular so make sure you reserve in advance. Click here to book this Cabo Adventures tour.
14. Take a Shopping Trip to Luxury Avenue
Although Cabo is a sleepy desert town, there's an epic luxury shopping centre, presumably for their regular celebrity visitors.
The main mall is Puerto Paraiso Mall, where you can find souvenirs, trinkets, gifts, beach fashion, and accessories. This mall leads right into Luxury Avenue, where you can find high-end designer brands like Chanel, Louis Vuitton, and YSL.
We're not big shoppers when we're travelling, but Cabo San Lucas definitely had the best shopping of anywhere we visited in Mexico and is one of the best things to do in Cabo if you're into that sort of thing. If you find yourself in the Yucatan, shopping is one of the top things to do in Cancun as well.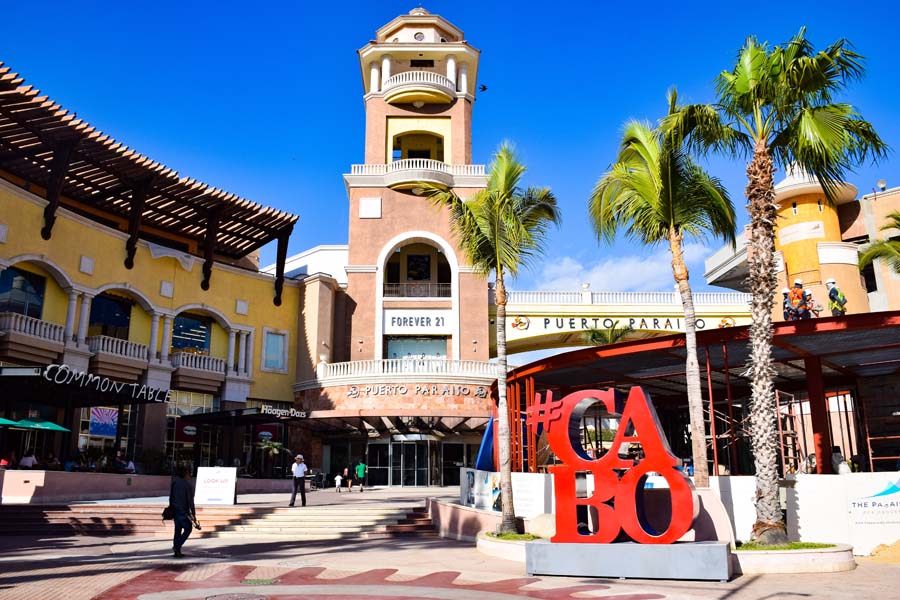 15. Go Scuba Diving or Snorkelling at Cabo Pulmo
If you prefer to live life a little more under the sea than on land, head to Cabo Pulmo for the ultimate scuba diving or snorkelling experience.
Nicknamed the Aquarium of the World, Cabo Pulmo is home to over 300 different species of fish, and is an incredible place to try your hand at playing mermaid for a day and exploring the beautiful sea life.
Getting under the water is one of the best things to do in Cabo San Lucas for sure.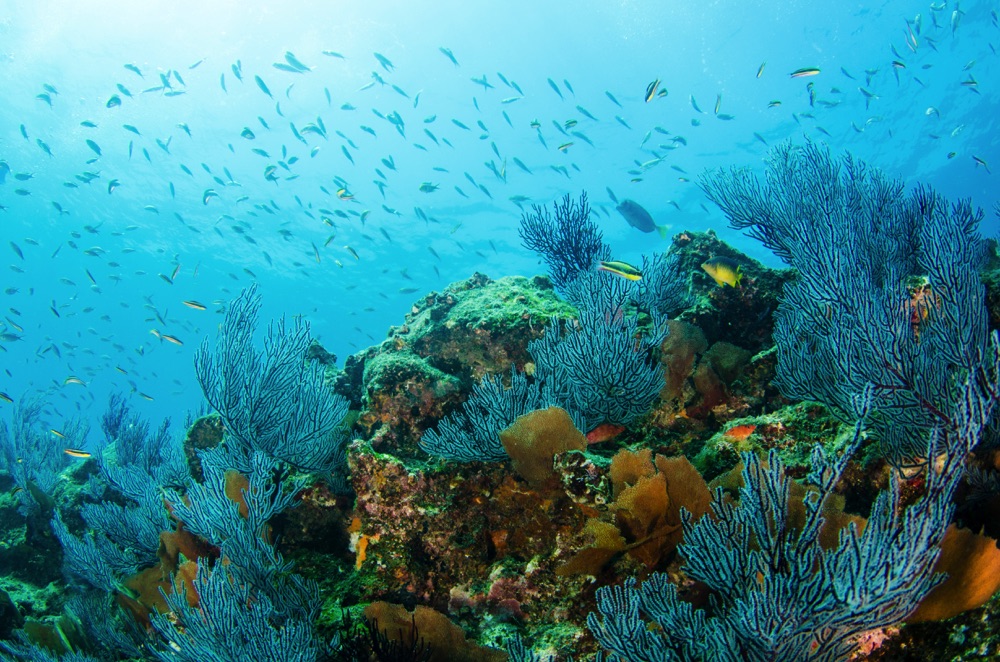 For a personalized, 3-hour snorkelling trip (4 people maximum), check out this snorkelling trip with a local scuba and snorkel guide.
At just $34 per person including equipment, guide, transportation, and a drink, it's a great deal. Click here to learn more about this experience.
☞ SEE ALSO: Manzanillo Colima – The Ultimate Travel Guide
16. See The Ocean While Helmet Diving
This new trend is sweeping the world, and if you haven't tried it yet you definitely need to add it to your to-do list.
For those of you who aren't scuba certified, you can still experience the underwater world by walking on the ocean floor. It's called sea trekking or helmet diving and is a great experience for non-divers. Click here to learn more.
17. Watch the Seals Jump Around The Marina
There are seals all over Marina Cabo San Lucas. They spend the whole day swimming amongst the parked boats and playing with the birds that are sitting on the water.
The best time to see them at their liveliest is at the end of the day when the sun is setting and the fishing boats are returning to the marina. They follow close behind the boats, hoping to grab some easy dinner.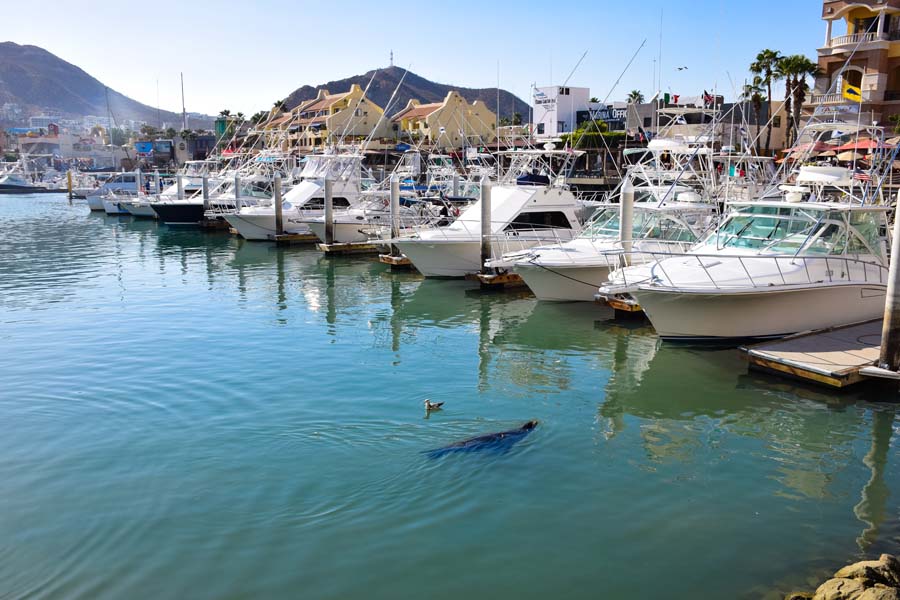 18. Experience The Night Life
Apart from El Squid Roe, we didn't have heaps of time to explore the nightlife of Cabo and to be honest, we were on our honeymoon so we weren't that interested in partying.
However, no matter who you chat with they all say the same thing — you can find the best nightlife at Cabo Wabo Cantina, El Squid Roe, Nowhere Bar and the Giggling Marlin.
If you find yourself travelling Puerto Vallarta, don't miss the awesome nightlife there. Check out our post on Puerto Vallarta nightlife and get ready to party!
☞ SEE ALSO: Backpacking Mexico – 8 Reasons To Travel Here Now
19. Learn to Stand Up Paddle Board
Find your strength and learn how to stand up paddleboard on a one-hour paddleboard rental. It's the ideal activity for a beach holiday, and one you can easily learn with little training — although you do need some upper body strength to get going!
If you're looking to get some exercise, this is one of the best things to do in Cabo.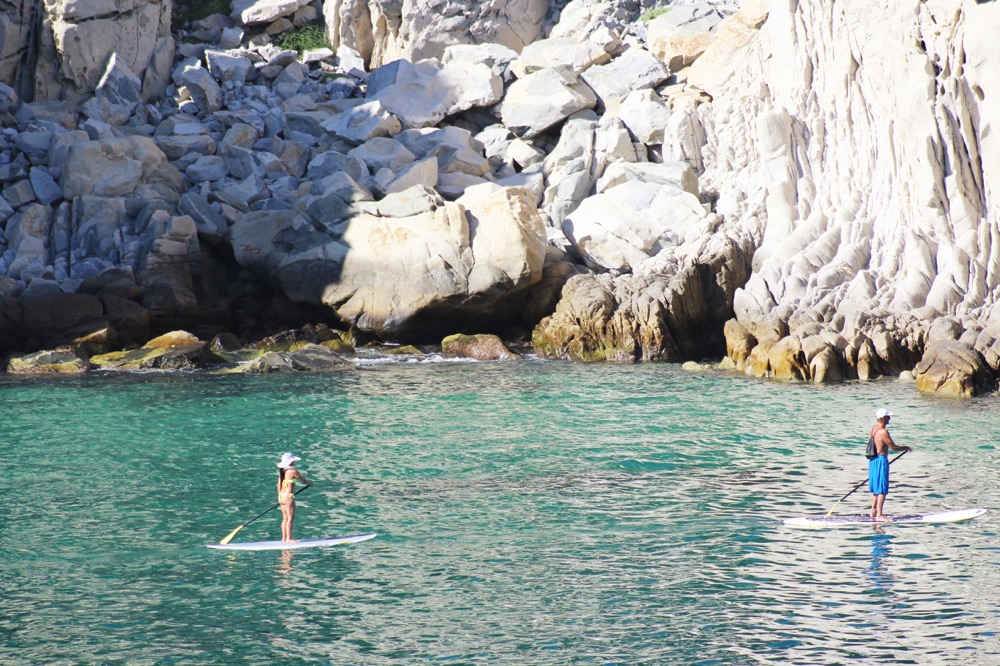 If you're new to SUP and would like to join a tour with a knowledgable guide to tell you about the area (and keep you safe!), check out this experience.
The trip includes a guide, equipment, snorkelling, fruits and juice. Groups are small at a maximum of 6 people, and the duration is around 1.5 – 2 hours. Click here for details.
☞ SEE ALSO: Puerto Vallarta Tours – 10 Best Excursions, Activities and Adventures
20. Join a Tasty Food and Walking Tour
For foodies, you won't want to miss one of the yummy food tours on offer in Cabo San Lucas!
Taco lovers rejoice! There's a food tour dedicated strictly to this popular Mexican food. These Mexican chefs know tacos and the best spots to sample them in Cabo — from shrimp and marlin to pork and beef, there's a type of taco for everyone!
The popular tour is $44 per person and is around 2.5 hours. It includes drinks, a knowledgeable and enthusiastic guide and tasty tacos from some offtrack spots. Click here for details.
Another fantastic food tour option is run by the same chefs who operate the taco tour. But, with this foodie adventure, you'll sample different Mexican cuisine.
With a focus on typical street food, you'll sample various seafood dishes, tamales, esquites, and more (some dishes are a surprise!). The tour is $51 per person including food, drinks and knowledgeable guide. It's around 2.5 hours long. Click here for details.
If you're wondering what to do in Cabo San Lucas as a foodie, joining one of the above tours is a good start.
21. Join a Booze and Food Tour (Tequila!)
You've probably been drinking tequila during your trip to Cabo, but why not learn more about tequila, mezcal, damiana liquor, Sotol, Raicilla, and other typical Mexican alcohol?
Join a fun tour that includes pairings of food with booze. You'll try 10 different types of alcohol, all of which will be paired with unique food (dark chocolate, meat, agave, candy, shrimp, etc.).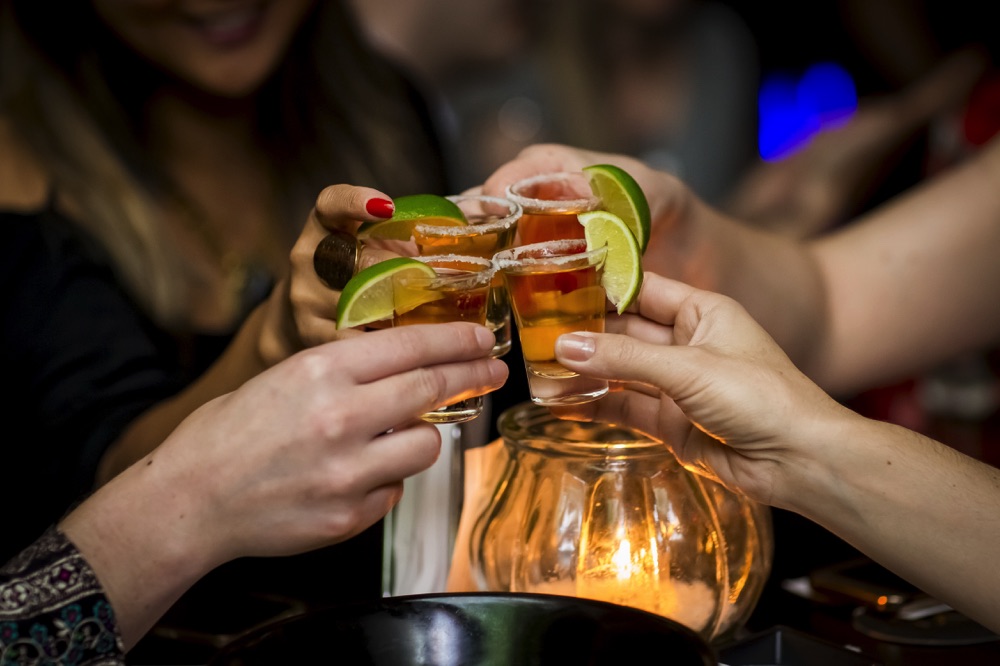 The 1.5-hour tour is just $26 per person including all drinks, food, and a local guide. Click here for details.
After that, stock up on some tequila to take back home with you — which you can find absolutely everywhere in Cabo San Lucas. Enjoy the drinks while you're in Cabo, and take a bottle of tequila home with you.
Bonus! Volunteer With Dogs
For animal lovers, one of the best things to do in Cabo is to volunteer at the Humane Society. If you have some time to spare on your trip, why not spend it with a furry friend?!
You can walk dogs between 8am and 5pm in January and February, and different times the rest of the year (due to hotter weather). Or, help out with events and fundraising opportunities at the shelter. Click here for details.
Now You Know What to Do in Cabo San Lucas
I loved Cabo San Lucas because it was a world away from everywhere else I've visited in Mexico. Where else does the desert lead you right to an ocean with such an abundance of wildlife?
If you're planning to travel Cabo, you won't be disappointed. And the best part is — so many things to do in Cabo San Lucas are FREE! I hope you enjoy it as much as I did.
Note: Some images in this article are courtesy of Shutterstock, a website for sourcing royalty-free images. Click here to learn more.
---
Cabo San Lucas:

Resources

&

Recommendations
There are a lot of adventure activities in this city! Make sure you're protected with a good travel insurance policy. We use and recommend WorldNomads for travel insurance.
This is a great place to rent a car! We always book with Expedia because they allow you to cancel for free on most bookings and you're never charged until you actually pick up your ride.
WE Recommend get-your-guide
There are some really cool tours available here. We always like to check on Get-Your-Guide because they have so many tours and you can choose the best ones based on the best reviews.
---
Check out booking.com deals
For the best deals on short-term hotels, guest houses and hostels, we always use Booking.com. Watch out for last-minute deals!
Do your part for the environment while you're travelling! Check out cool eco-friendly travel products on Amazon like LifeStraw.
credit off your first booking
Goats On The Road readers get a special $55 discount off their first booking with Airbnb. Click the button below to find out more.
---
Top Hotels, Hostels & B&B's in Cabo San Lucas
Budget
Seven Crown Express & Suites – rated "Very Good" 8.5/10. This property is in an excellent location – a 5 minute walk to the center of Cabo and 1 km from Playa del Amor beach. The rooms here are clean and stylish, plus there's an outdoor pool and an indoor fitness center. Guests can enjoy free continental breakfast as well. Double rooms go for around $45 in the high season. Click here to learn more and book this hotel.
Midrange
San Angel Suites – rated "Superb" 9.2/10. The suites here offer incredible value! Each unit is equipped with its own kitchen, which can save you some money on food during your trip to Cabo. Rooms are beautifully designed and beds are comfortable – they're euro top mattresses. There's a common area with loungers and a rooftop hot tub. Double occupancy in a studio suite starts at $70 in the high season. Click here to learn more and book this suite.
Cabo Vista Hotel – rated "Superb" 9.3/10. These tastefully decorated suites are another great option in Cabo San Lucas. Suites offer guests a kitchen with fridge and electric hob, air-conditioning and more. Breakfast is included in the room rate. The suites are located in a quieter area, a 20 minute walk to the beach and 5 minute drive to downtown Cabo. The architecture of the building is lovely, and the vines climbing up the building are a nice touch. Suites start at around $70 in the high season. Click here to learn more and book this accommodation.
Top End
Breathless Cabo San Lucas All-Inclusive (Adults Only) – rated "Superb" 9.1/10. The location of this place can't be beat! Set in front of El Medano beach, this adults-only resort has a stunning infinity pool and modern, luxury suites. Here you're just steps from downtown Cabo, including the nightlife and numerous restaurants. One person all-inclusive is around $200/night, while 2 people costs $400. Click here to learn more and book this resort.
Like This Article? Pin it!