Wine, gastronomy, boutique accommodations and a low-key vibe. Valle de Guadalupe offers this and much more making it an ideal travel destination for foodies and wine aficionados.
Located in Baja California, Mexico, this underrated area of the country is a great place for a fun weekend with friends, a romantic getaway, or for those who are simply wanting to eat good food and drink excellent wine.
The accommodations and restaurants blend almost seamlessly into the desert landscape, and you'll almost always have dogs, cats and livestock nearby.
While it has quite a rustic, farm feel to it, visitors here seem to dress to impress.
You'll spot tourists, photographers and "Instagrammers" dressed for the destination — wearing a desert-inspired colour palette that suits the scene.
We recently ate and drank our way through the Valle de Guadalupe (Guadalupe Valley) on a week-long trip and are already missing the region!
In this post, I'll list the best things to do in Valle de Guadalupe, the top wineries, where to eat, where to stay, and my top tips for a great trip to Baja California.
About Valle de Guadalupe
Most travellers to Mexico have heard about Cabo San Lucas, Cancun, Mexico City, and Oaxaca, but surprisingly, Valle de Guadalupe remains somewhat hidden. For oenophiles, this is one of the best places to visit in Mexico.
Of the 14 wine regions in the country, this is Mexico's best. The quality of wine in the Valle completely surprised us!
If you're into big, bold, juicy, oaked reds, you will not be disappointed. But don't worry if you're not, there are some excellent white and rose wines as well.
The Valle de Guadalupe (Valle) has been producing wine for around 200 years, with this region contributing to 90% of the wine produced in the country. And while wine consumption may not be as popular in Mexico as beer and tequila, it's getting there.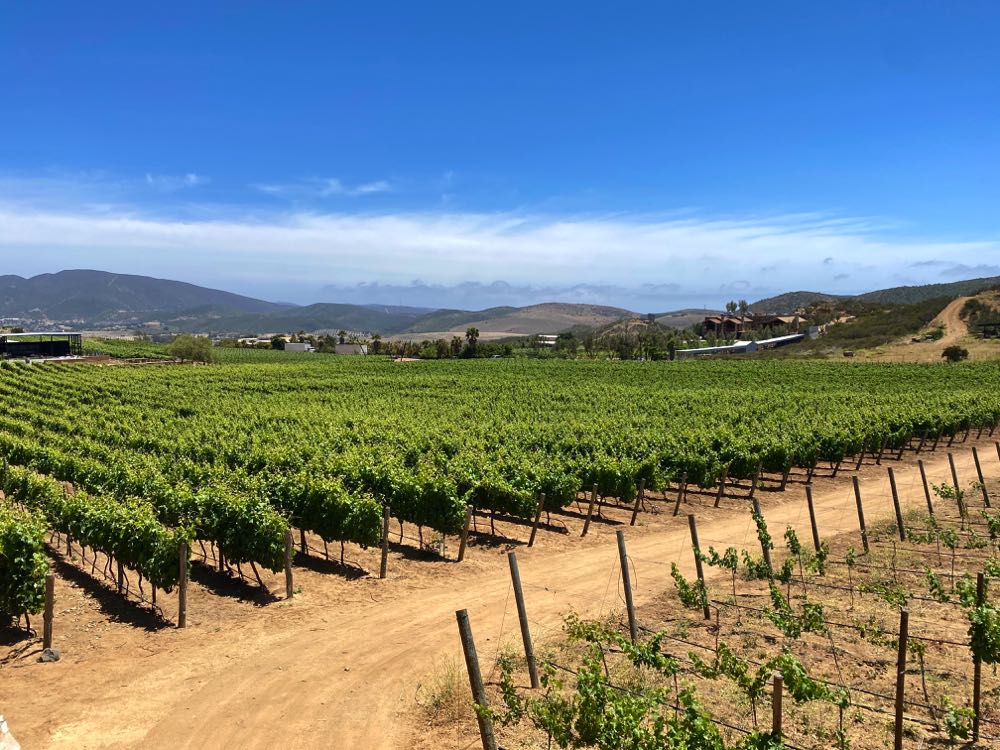 The area is also known for its stylish accommodations, sophisticated atmosphere, and awarded gastronomy — most of which are reached by driving down dusty, dirt roads.
With the Pacific Ocean nearby, the area creates a microclimate of its own, which is similar to the Mediterranean. Grapes and other fruits and vegetables are easily grown here, while the seafood is pulled fresh from the ocean just 30 minutes away.
5 Best Wineries in the Valley
Unlike other places in the world where we've travelled for wine, all of the wineries in the Valle de Guadalupe charge for tastings — anywhere from $10 – $50, usually for 4 small glasses.
It's recommended to make a reservation for tastings, not only to ensure you get a spot, but to make sure they are open. Weekends are busy, as are the summer months and holidays.
There are numerous wineries to explore and wines to sample, here's a quick list of our favourites.
1. Baron Balch'e
If you're into aged red wines, Baron Balch'e is your place. This well-known winery offers 18 different labels — 14 reds, 3 whites and 1 Clarette.
Included in the tasting is a tour of the cellar, which is a nice addition. There's also a restaurant on-site. Baron Balch'e offers 5 different packages at different prices and levels of wine quality: A – E.
If you're a red wine drinker, I recommend the premium tour "D" for 600 pesos ($30), or at the very least, tasting "C" for 330 pesos ($16.50). We lucked out and were given the tour by Norman who is an expert Sommelier. Ask for him if you can!
Reservations aren't necessary, as you will just join the tour to the cellar as one becomes available in your language (Spanish & English). Click here to find Baron Balch'e on the map, or call them here: +526466881032
2. Retorno
This super small, unassuming place is where to go for a chilled-out setting (ie: non-Instagram), but with a cool winemaker and fantastic reds. This is a great family-owned place.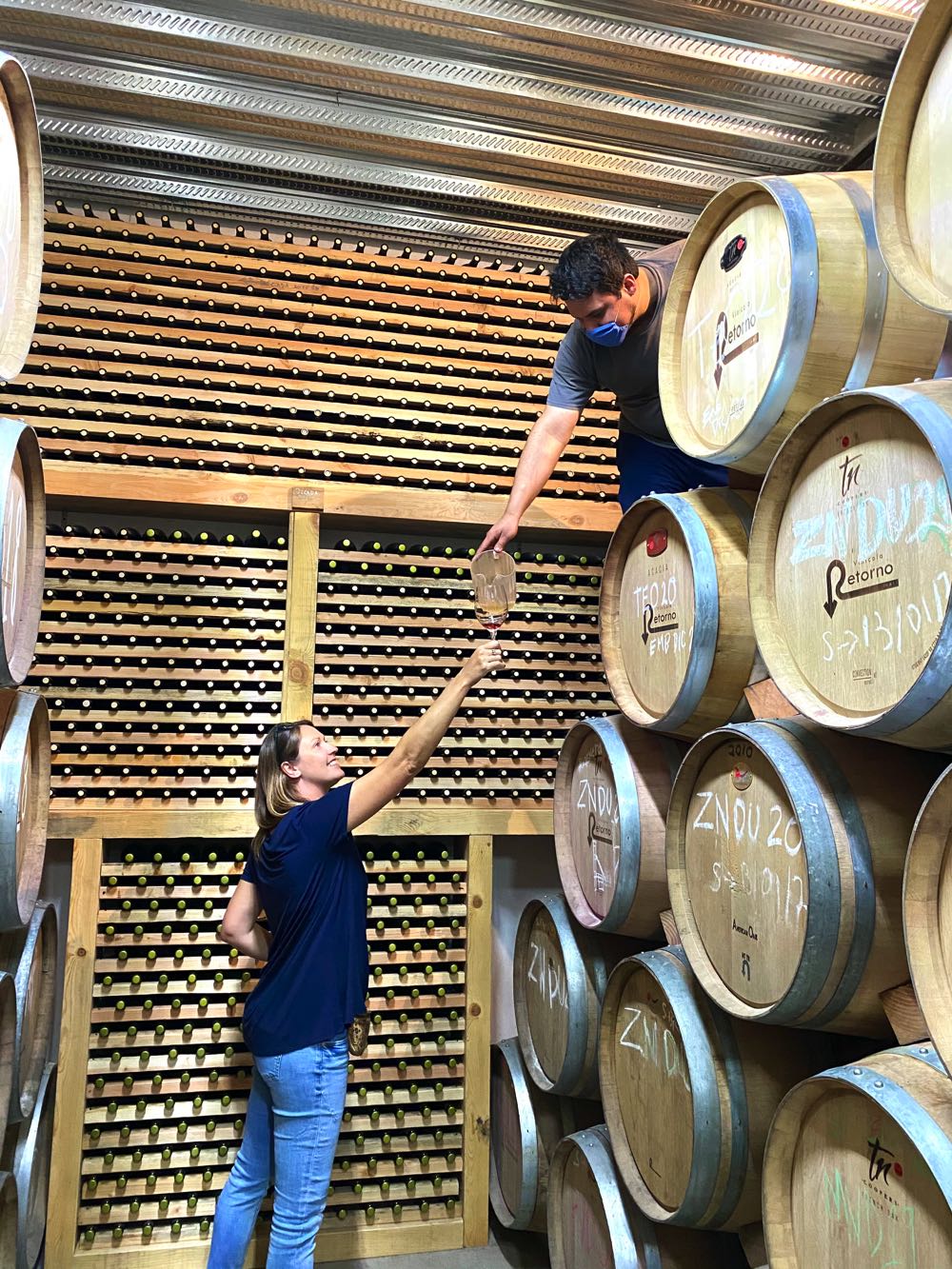 The winemaker gave us barrel tastings, we sampled some newer wine out of the metal vat and enjoyed the conversation. Plus, Carlota the labrador dog was so sweet!
Tastings here are affordable at 140 pesos ($7) for the basic or $200 ($12) for the complete. For whites, the Teo is oaky on the nose and slightly fruity to taste.
For reds, don't miss sampling the Palabra, Retorno, and the Década (which celebrated the winery's tenth anniversary) — all are oaked, dry, bold, and complex.
Reservations are necessary, call them here: +526461519247 or send an email to info@vinicolaretorno.com. Find Retorno on the map, here.
3. Relieve
Relieve is completely different from the two wineries above. This stylish, modern winery and vineyard is surrounded by rows of vines and has a nice patio available for a drink.
We had been enjoying wines by Relieve while living in Playa del Carmen, so it was nice to be at the source!
The tastings here are 650 pesos and again, I recommend doing the premium tasting. The Tempranillo and Merlot are fantastic with lots of oak, deep red fruits, and a long finish. The Nebbiolo isn't on the tasting menu but is a great bottle as well.
Reservations are recommended. Call Relieve here: +526462475285 and find them on the map here.
4. Don Tomás
The setting here is stunning. You can drink wine and have lunch at the tables that are completely surrounded by vines, or on one of the other decks.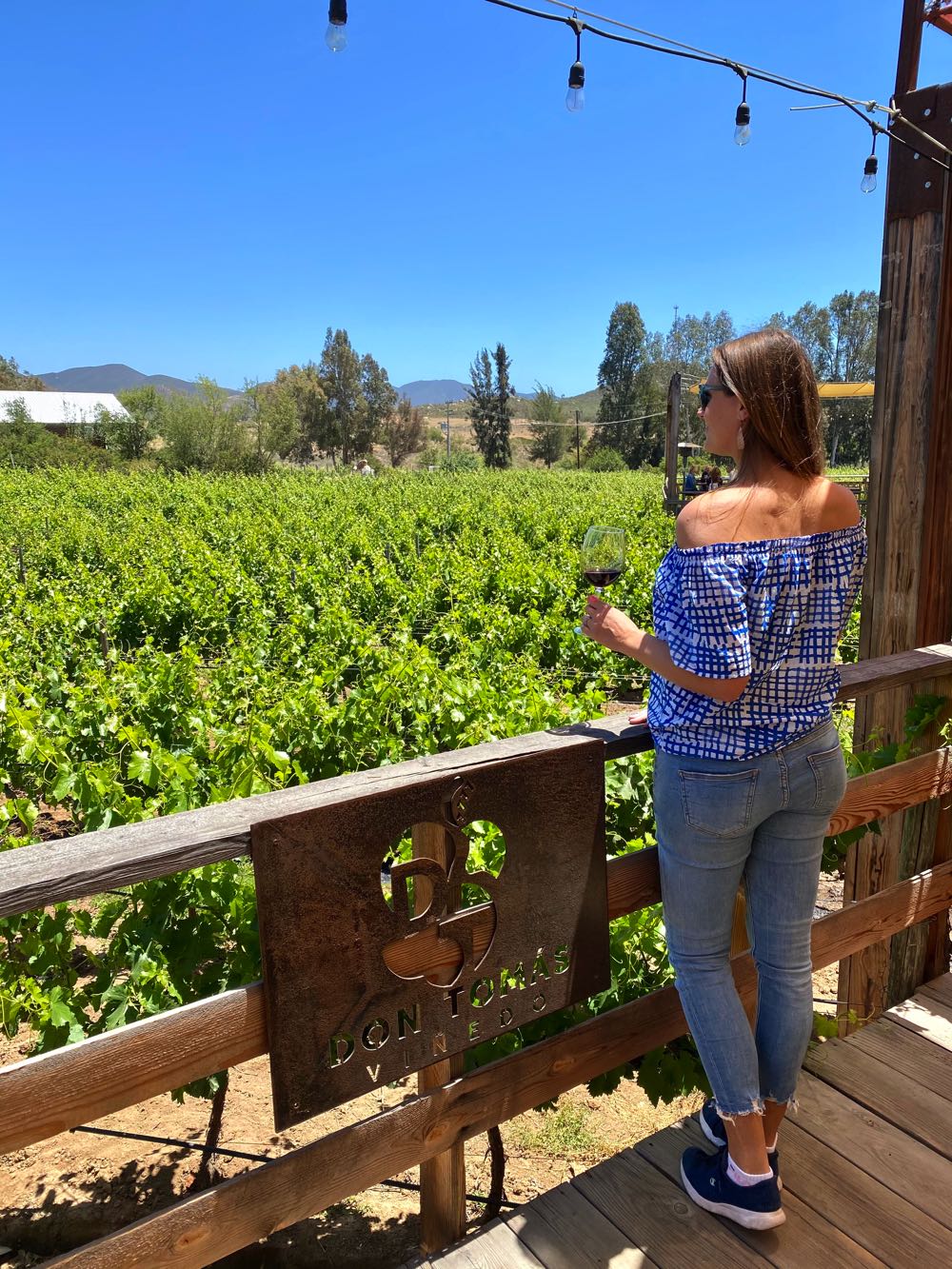 We weren't impressed with the lack of information provided with the tastings here, but the quality of wine made up for that. Also, a small cheese and bread board is included with the tastings — which is the only place in the Valley we found that.
The premium tasting is 400 pesos ($20) and included all red wines, while the basic is 250 pesos ($12.50).
5. Vena Cava
The hillside here was dug out to create a natural cooling system for the barrels. The tastings are held here as well.
A really cool feature of Vena Cava is the fishing boat which has been flipped upside down and acts as the roof. Vena Cava is all about recycling and reusing.
Sadly, when we visited they weren't offering the premium tasting. We did enjoy the regular tasting and learned a lot about the winery from the guide.
After you're done with the tastings, make sure to eat at the onsite food truck, Troika. Order the oysters, cabbage, and mushroom risotto — you can thank me later.
The basic tasting is $18, two natural wines and two regular wines is $20, four natural wines is $35. If you want to do a premium tasting, you have to reserve in advance.
Call them here to reserve: +52 (646) 156 8053 or make a reservation through their website here. Find Vena Cava on the map here.
Other Must-Visit Wineries:
Montefiori (Vinos Paolini) – Mexican wines with an Italian heart is the slogan here. Italian winemaker who has been in Mexico since 1985. This is a classy setting with a nice view. 450 pesos ($22) for a premium tasting. Find it on the map, here.
Emevé – Modern winery, nice vineyard views. The explanation of the wines was informative and the wines are good as well. 250 pesos ($12) for 3 tastings, or 400 pesos ($19) for 4 tastings with a souvenir glass. Click here to see it on the map.
Cava Maciel – A small, more off-track winery that is definitely worth the visit. The explanation of the wines here is top-notch. The winemakers here are passionate, fun, and informative. We really enjoyed the wines. It's 350 pesos ($17) for a basic tasting and 500 pesos ($24) for a premium one. Find it here.
Viña de Frannes – One of the most gorgeous lunch and tasting settings! Viña de Frannes is one of the only places doing a Cabernet Franc with 12 months in French oak — it was fantastic. Try the rib eye pizza and ceviche, all was so good. Find it here.
Casta – Another place that includes a cellar tour in the tasting. In fact, we actually did the tasting down in the cellar! Pretty cool. The staff here were great and many details and information were given about the wines we were sampling. The wines here were quite nice as well. Tastings are between 200 – 400 pesos ($10 – $20). Find it on the map here.
Magoni – Lovely area under a huge oak tree. The Nebbiolos are good and they also offer a balsamic vinegar tasting. Regular four tasting costs 220 pesos ($11), six tastings cost 280 ($14) and the reserva tasting with 4 wines and snacks costs 650 ($33).
Vinos Dubacano – our driver and his family actually own this tasting room, which is surrounded by vines. Inside has sort of a bar feel to it, and while we sat at the counter, our driver explained their wine and we sampled many! They offer 5 different types of tastings, with the premium tasting coming in at 350 pesos ($17.50) – for 5 glasses. Find them here.
Vinicola Kruger – this is a funky place with a few tables and chairs and an elevated, converted shipping container for a rooftop sitting area. This place was part of the tour we booked with our driver. We didn't have a chance to sample the premium wines, but the basics were good. There are four gorgeous dogs here too! Find it on the map.
Xecué – This is a relaxed place with an amazing view across the valley. When we visited, they were really busy and didn't really give us much explanation on the wines, and the pours were pretty tiny. Tastings are 300 pesos ($15), premium tastings are 400 pesos ($20) and are offered Friday – Sunday. Find it here.
We didn't visit the more commercial wineries: El Cielo, Monte X'anic and LA Cetto, although they are popular.
One winery we did visit and don't recommend is Lechuza. Each tasting glass was the same price as a full-sized, regular glass of wine. Their reasoning for that was that we paid more due to the information that we received during the tasting.
No information was given about the wines that we couldn't have found on the back of the bottle, and we were ignored most of the time. Plus, the setting here is just off the highway. Personally, it wasn't our favourite place.
Where to Eat in Valle de Guadalupe
Foodies rejoice! This destination offers tasty menus and incredible dining settings.
Whether you want to do a tasting menu with wine pairing, dine on cuisine cooked by a Michelin-starred chef, or eat more traditional Mexican food, you'll find it in the Valle de Guadalupe.
Many of the restaurants are available for reservations on the OpenTable app. If not, you'll need to call them directly. Something to note is that dinner times aren't late in the Valle with many restaurants closing around 8:30pm.
There are numerous restaurants to eat at, but these are my recommended spots.
1. Deckman's
Michelin-starred chef Drew Deckman heads the open-air kitchen here. If you only eat at one restaurant, make it this one, and make sure you are there to enjoy the sunset!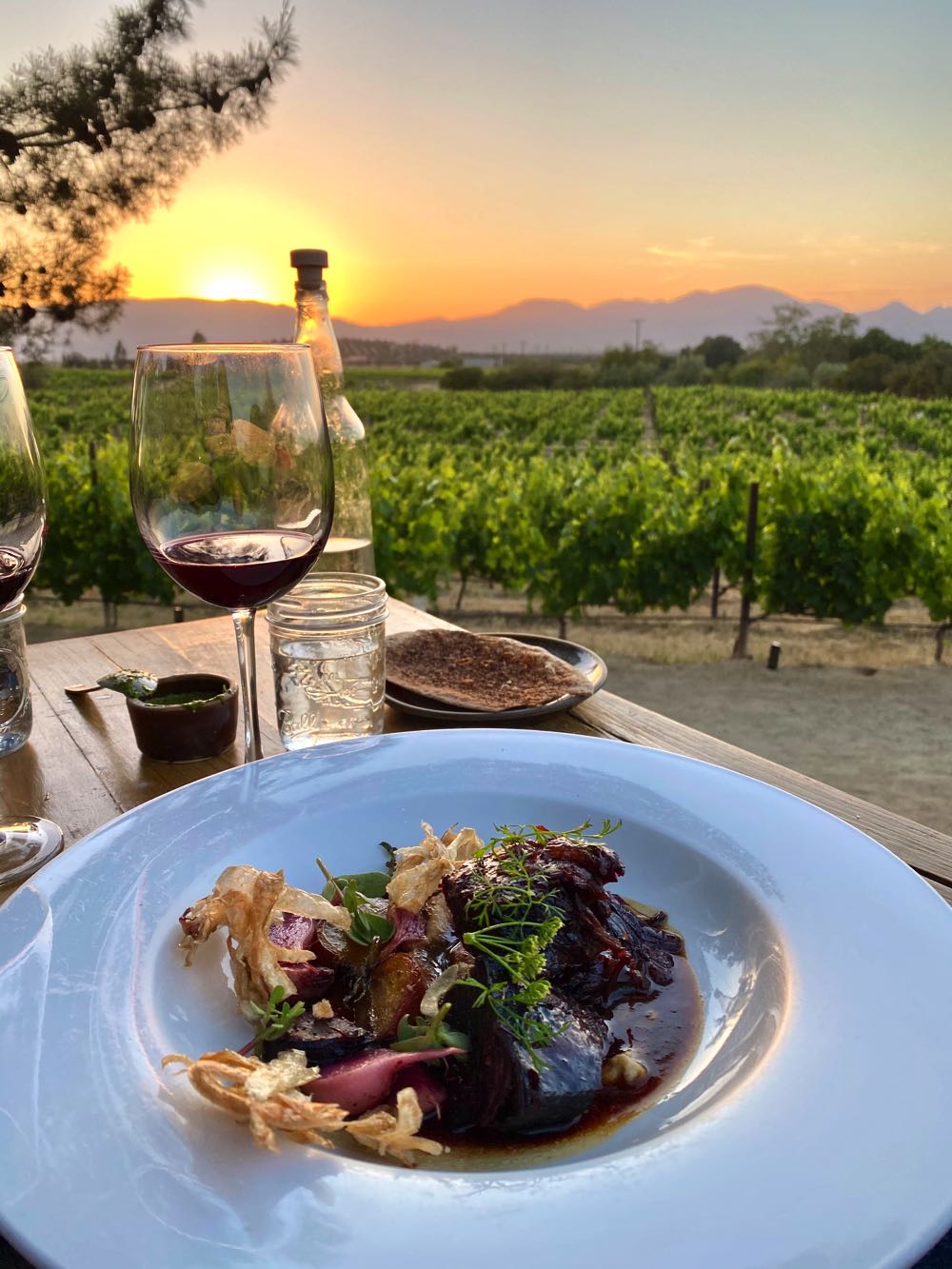 The concept here is locally sourced, farm-to-table, slow food. It's casual, yet elegant.
We watched the sunset over the vineyard and mountains in the distance while sitting under a towering pine tree. As the sun went down, fairy lights twinkled above the diners and the kitchen — creating a magical scene.
I recommend the sea bass, and short rib for mains, and the beets for a starter. The food and location are top-notch.
We saved Deckman's for our last meal in the Valle and it didn't disappoint. Learn more here and find the restaurant on the map here.
2. Finca Altozano
Another popular spot for lunch or dinner. The setting here is incredible and it's a great place to take photos and enjoy the sunset over the valley.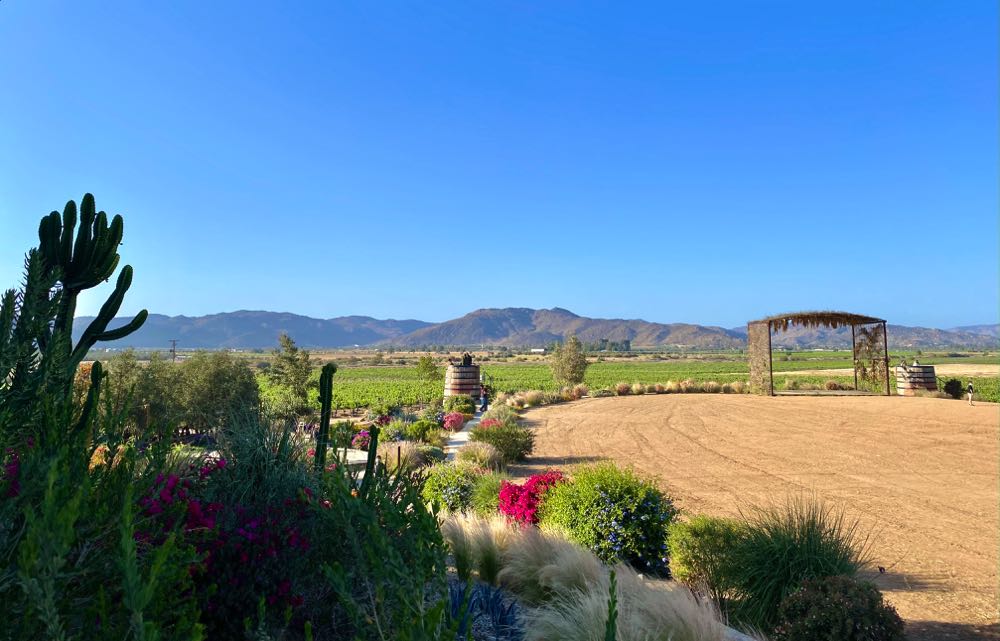 We only had a light meal here of risotto and burrata salad to share, but the food was good, the restaurant was really busy and the open-air kitchen was great.
Call +52 646 156 8045 for reservations and find Finca Altozano on the map here.
3. Fauna
This is part of Bruma which offers a very unique dining setting. Choose between out front under umbrellas, inside, or in the back under a "roof" of intertwined sticks.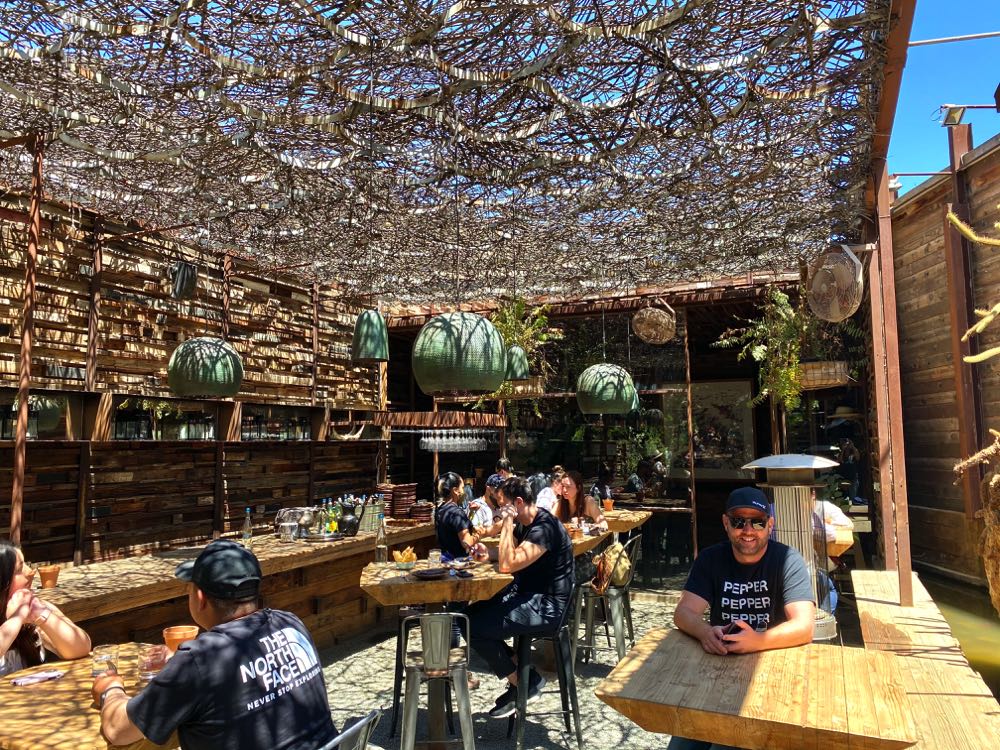 Warning, don't choose to sit at the back when the sun is out as it doesn't provide enough shade! The food here is fantastic and David Castro Hussong's menu is constantly changing.
One thing that annoyed us is we found the menu to be unnecessarily pretentious, with the food available listed as: "cabbage", "oysters", "lettuce", "scallops"… I mean, where's the description of the dish?!
If available, try the grilled cabbage, oysters and chicken sopes (sometimes they do duck sopes). All of these were incredibly flavourful. Call to reserve: +52 646 103 6403 or use Open Table to book and find it here on the map.
4. Troika
This is a food truck that's on the Vena Cava winery property. We did a tasting at the winery followed by lunch here. For a food truck, the cuisine is superb!
Dine at picnic tables next to a small pond with ducks and geese paddling by. Don't miss the mushroom risotto, oysters and grilled cabbage — they were perfectly seasoned, well-balanced, and delicious. Phone: +52 646 246 4123 and find Troika on the map here.
5. La Cocina de Doña Esthela
This family-run place has almost 6,000 reviews on Google Maps!
It started as just a simple stand serving the local community breakfast. It has since expanded, but the quality and authenticity have remained the same (we talked to numerous locals who confirmed this).
The typical meals here are borrega which is lamb that has been roasted in a clay oven for 48 hours and elote (corn) pancakes.
Expect huge lineups, but it's worth the wait. We went mid-week around noon and it was packed, but weekends are even busier. Gordon Ramsay was actually here in February 2021! Find it on the map here.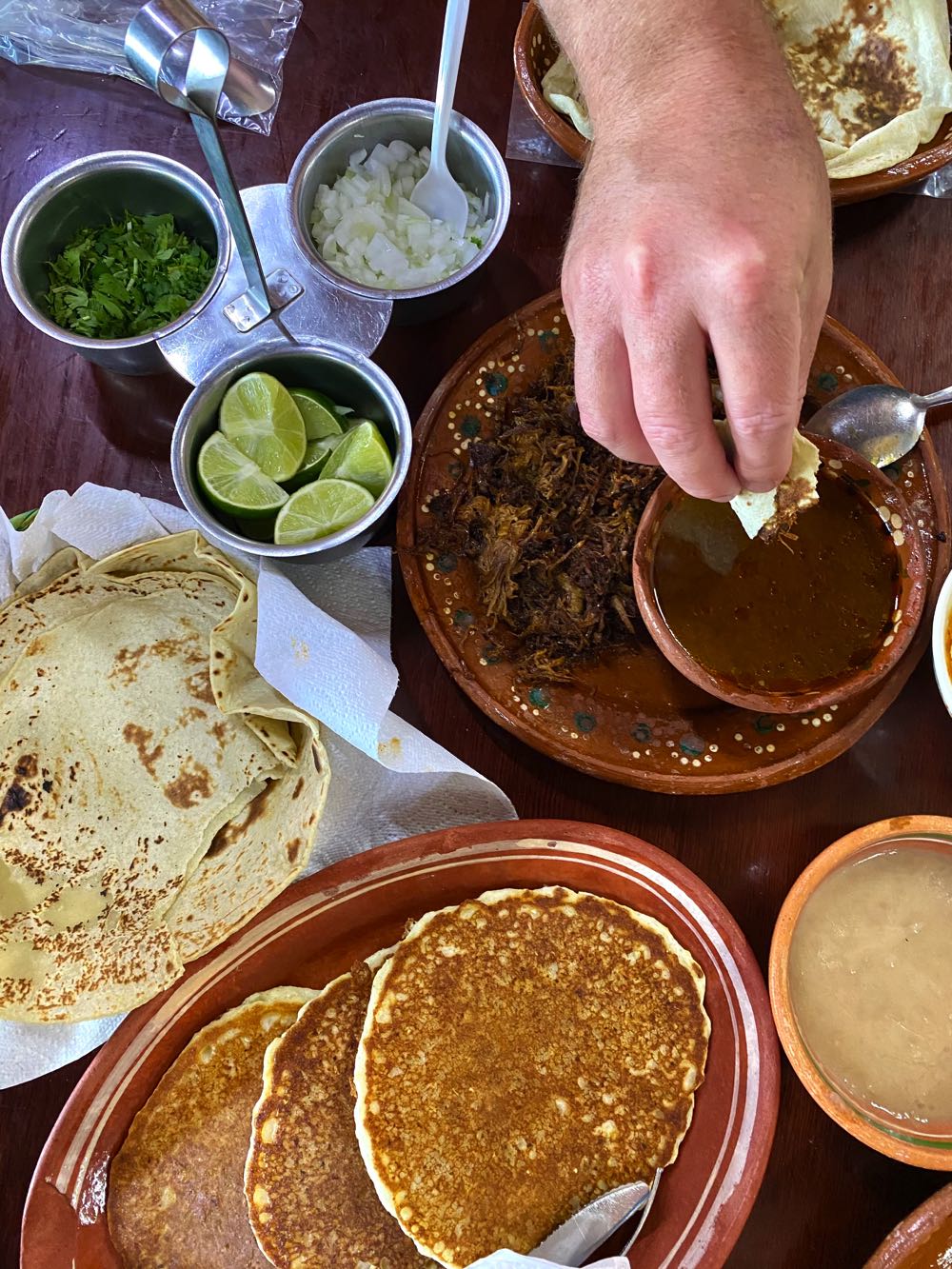 Other Food Options: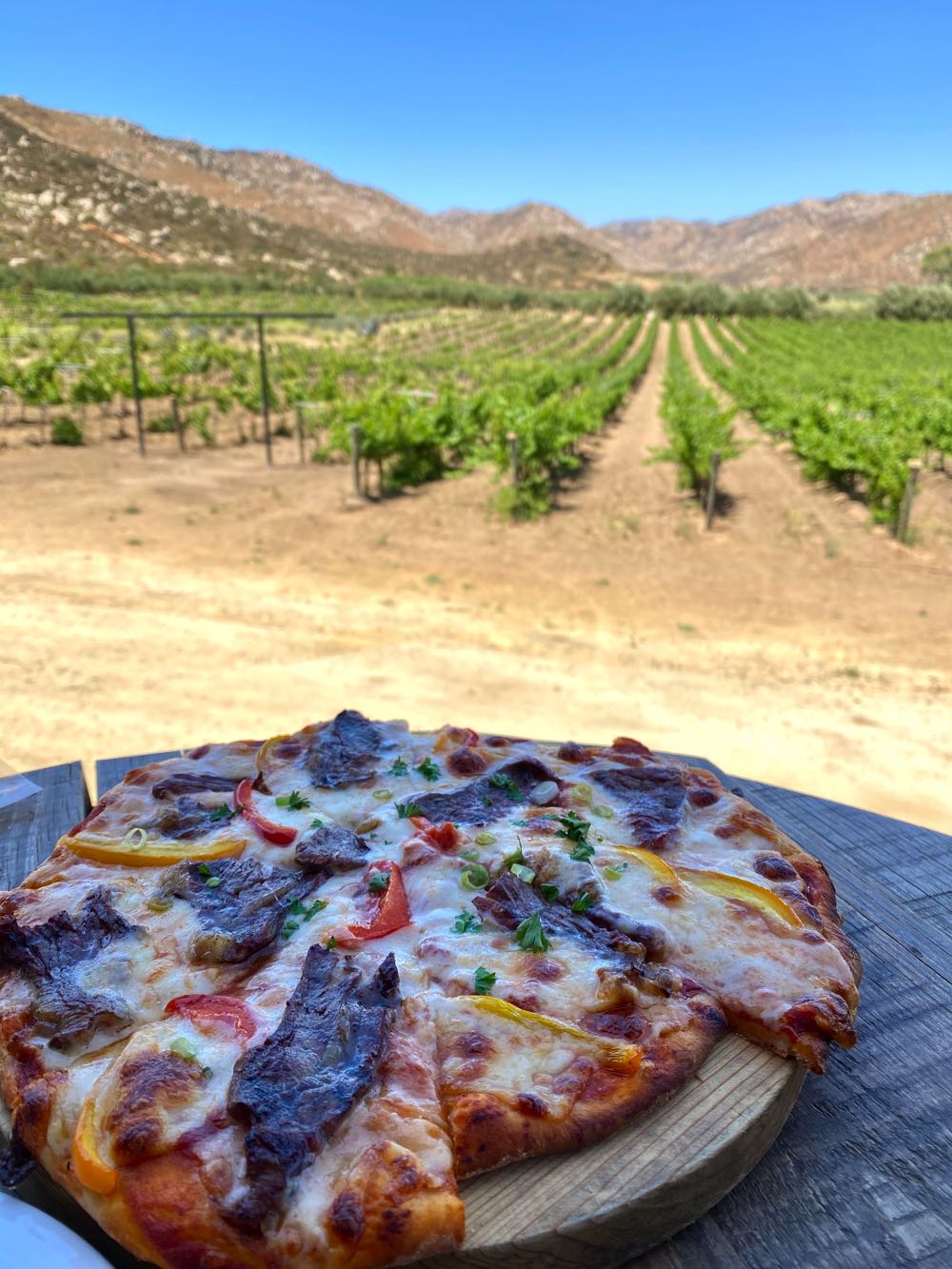 Things To Do in Valle de Guadalupe
As you can probably tell by now, the top things to do in Valle de Guadalupe are eating and drinking!
I listed the best restaurants and wineries above, but, here's a quick rundown of a few other top things to do in and around the Valle (including Ensenada).
1. Visit a Museum
Learn about the history of wine in the region at the Museo del Vino. You'll also find an art gallery, amphitheater and garden here. Russian Molokans settled in the Valle in the early 1900s and the Museo Ruso showcases a typical adobe house and you can also learn more about the history of these immigrants.
2. Watch Sunset
Grab a drink at Bura Cuatro Cuatros and watch the sun touch the ocean. Two other great spots are Deckman's restaurant and Latitud 32 where the sun dips behind the mountains with the vineyards in the forefront.
3. Take a Helicopter Ride
Feel like splurging? Join a helicopter tour of the vineyards! Some of the trips even include flying over the ocean. Have a look at this tour or this one.
4. Yoga and Day Spa
One of the top activities in the Valle de Guadalupe is to join a yoga class, or simply relax at the spa. Luna de Sol is just the place to combine both.
5. Go Hiking
You can either do some walking around the dirt roads in the valley or if you're up for a bit of a trek, head to El Salto Waterfall Trail, which is about a 30-minute drive from the Valle. The fairly easy trail is 3.5 kilometers in and out.
6. Get a Massage
There's actually a mobile massage service that will come to your accommodation in the Valle! The therapists bring everything needed and can set up wherever you would like them to. Learn more here.
How To Get to Valle de Guadalupe
Getting to the Valley is relatively easy.
By Land From The United States
Many Americans simply cross the Californian border at San Ysidro or Otay Mesa and head south to reach the Valle de Guadalupe.
From San Diego to the Valle it's just a two-and-a-half-hour drive. Check the live wait times at the border crossings here.
By Air
The closest airport to the Valle is Tijuana International Airport.
We flew into Tijuana Airport and rented a car to drive to the Valle. From the Tijuana airport to the Valle, it's around a 2-hour drive. Give yourself extra time for traffic, or any issues on the highway.
By Rental Car
After you've arrived at the airport, I recommend renting a car to drive to Valle. You'll want to have your own wheels as there's no Uber or buses and while there are taxis, they are pricey and need to be arranged in advance.
Which Rental Company?
In Mexico, when you look online at websites like Expedia, the cost of renting a car is incredibly cheap. But in Mexico, the price is too good to be true!
There is mandatory insurance coverage that you must have in the country, which tacks on a LOT to the rental price that you see on booking engines.
We rented our car with Enterprise directly and paid $30 per day including full insurance coverage.
There's an Enterprise booth at arrivals at the airport where you go to tell them you've arrived. Then, a van will pick you up and take you to the rental car, which is just a 2-minute drive away.
Mark the pick-up spot on your map…we didn't and couldn't find it when it came time to drop the car off! The customer service at Enterprise was amazing and I recommend them.
Unless you're visiting during the wet/muddy season, don't listen to people when they say you need an SUV for this part of Mexico. We had a 4-door, compact car and it was fine.
Which Route from Tijuana Airport to the Valle?
There are a few routes to take out of Tijuana, with highway 1D being the newer scenic route (with tolls). Highway 1 is the older highway, which is a bit slow going when you leave Tijuana due to the streetlights before getting out onto the highway.
Highway 1D is a tolled (cuota) road. It's 4 lanes wide and winds its way along the coastline, which is why it's called the scenic highway.
If you choose to drive 1D from Tijuana to the Valle, you will hit 3 toll booths which charge 40 pesos ($2) each.
This was our route driving to and from the Valle (we hit a lot of traffic on Highway 1 when returning back to the airport): Highway 1 to 1D, and up Highway 3 to the Valle.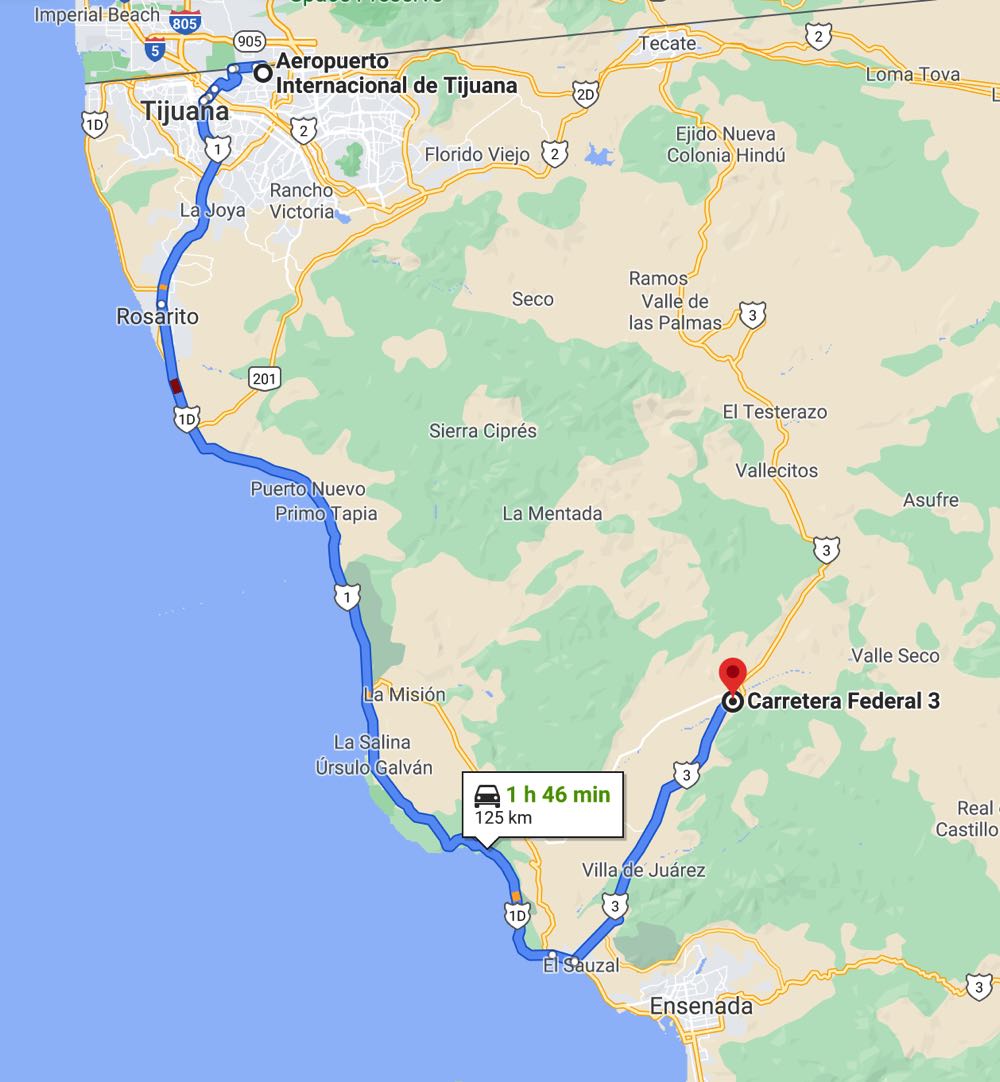 Notes on driving from Tijuana to the Valle de Guadalupe:
We had no intention of driving at night.
But, our plane was delayed and we arrived at 8:30 pm at Tijuana airport. After speaking with our hotel in the Valle and the rental car company, both said that many of their guests and clients drive this route at night with no issues.
We didn't have any problems, but it can be intimidating driving in a foreign country while trying to navigate a new destination in the dark.
The 1D highway is strange in that there are no lights along it. So, if you were to turn off your headlights, it would be pitch black. We had our high beams on the whole time just to be able to see!
Be mindful at night due to animals on the road, broken-down cars without lights, and potholes when you're off the highway.
During the mornings, there might be fog as well due to the proximity to the ocean.
Top Tips For Visiting Valle de Guadalupe
Here are a few things to note during your trip.
US Dollars and Pesos are used interchangeably. If coming from the USA, you could just use dollars if you wanted.
You need reservations for restaurants and hotels, especially on weekends when SO many Americans come across the border from California!
You can make reservations for most restaurants on Open Table which makes things really easy as many places don't answer their phones or emails.
You also need reservations for tastings – just a day before or even the same day is ok, but you have to call and book.
It's best to hire a designated driver when you plan to do a full day of tasting. Drivers go for around $25/hour, or you can book a tasting tour. We booked this tour with Ivan and enjoyed it. We also hired him again a couple of days later as our driver. This is another option for a wine tour.
Plan your wine tasting and food route. You don't want to visit a winery at the north of the Valle, followed by one in the south. Plan accordingly and do a few that are next to each other. This saves time and backtracking.
The main roads are Ruta 3 and Calle Principal. Outside of those, it's pretty much just dirt!
People eat early and restaurants close early in the Valle. Sunset is around 7:00 and since it's a desert, it's cold at night (at least in May it was).
Wear closed shoes — for dust and dirt, for comfort, and for when it's cold.
Where to Stay in the Valley
There are numerous options for accommodation — small Airbnbs, luxury hotels, and boutique villas. We stayed at 4 different properties (due to not booking ahead on Memorial Day weekend…) and based ourselves around different parts of the Valley.
It ended up working out really well! Here's where we stayed:
Contemplacion Boutique
The villas here are amazing. Each individual villa offers floor-to-ceiling windows, a huge bathroom, air-conditioning, coffee machine and a small fridge.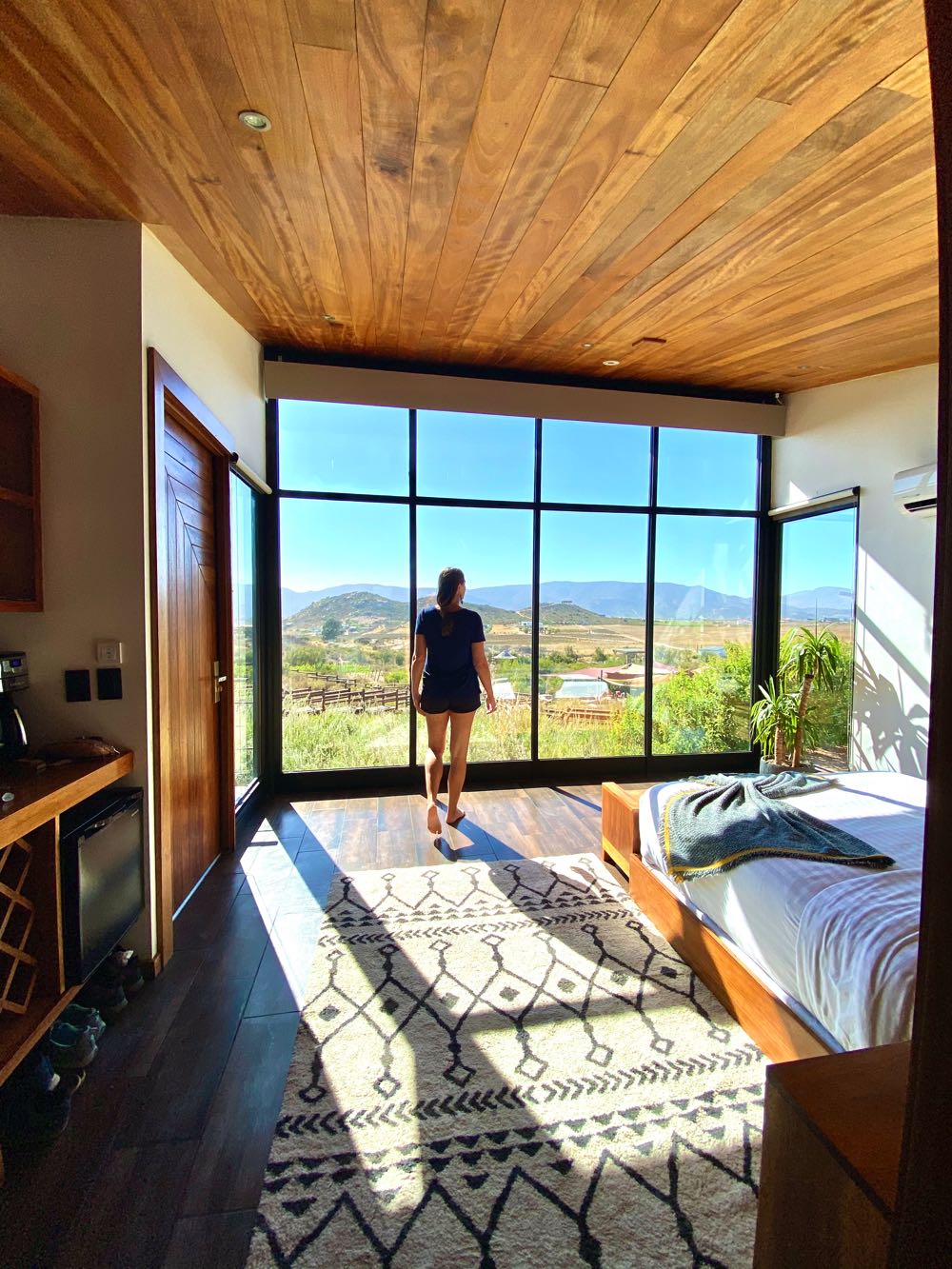 Not only are the accommodations comfortable, but the property is gorgeous and the staff are friendly as well.
We booked the "Superior Cabin with panoramic mountain view" and were very happy with our booking, which also included a good breakfast. The only downside is that because it's floor-to-ceiling windows, it doesn't offer a lot of privacy.
We really enjoyed our stay at Contemplacion and would return in a heartbeat. The location was great as well. Find the location on the map here and read reviews and see the latest price on Booking.com.
Campera Hotel Burbuja
Have you stayed in a bubble before? This glamping experience can be had here in the Valley!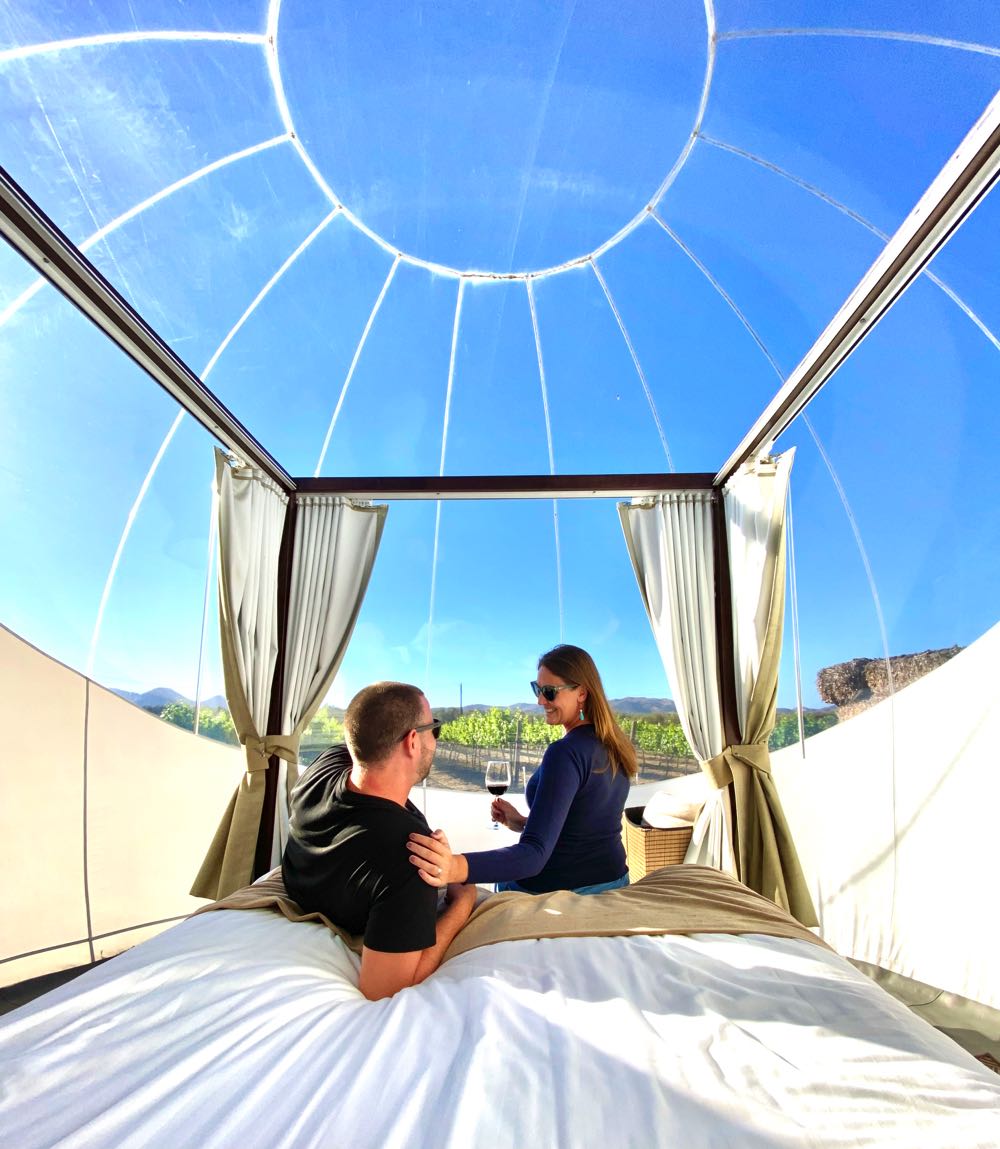 There's no frame in these bubbles and air is continuously pumped into the bubble to keep it inflated. There's a private bathroom inside and the clear front and top of the bubble allow for views of the vineyard and stars at night.
It's an adults-only property and you're not allowed to walk in front of the bubbles, which is great for privacy. The onsite restaurant, Doce, serves up tasty food and the staff are very friendly.
We stayed 1 night in the bubble and in my opinion, that is enough time. It's a novelty stay and a unique experience, but there's not a lot of space and it's not practical for a longer stay. Find it on the map here and learn more here.
Rancho Los Retoños
We loved it here! These villas are in an excellent location on the western bank of the Valley, surrounded by vineyards and with easy access to wineries nearby. Ours was Villa Napoli and we enjoyed our stay.
Each villa has a little walk-out deck with a seating area and a fire pit that the staff will light for you on request.
There are walking trails around the property, the sweetest dog named Chavo, the staff are so friendly and the beds are really comfortable as well. Plus, a huge breakfast is included in the price.
All in all, this was probably our favourite place to stay in the Valle de Guadalupe. Note that there isn't an onsite restaurant, but there is a small bar for buying drinks. You can learn more on their Facebook page, or on Airbnb. Find it on the map, here.
Challet Tur
This place offers a one-off bungalow. This is how Airbnb stays used to be — a helpful, friendly host who lives on the property and gives you all sorts of information and advice.
The bungalow we booked had 2 bedrooms, a small kitchen (no stove), a bathroom and living area. There was a fire pit outside and chairs and a table. We did some great morning walks here and even spotted a coyote one morning!
The property was in a great location near many vineyards and restaurants. We enjoyed our stay here. Find it on Airbnb here and on Google Maps.
Frequently Asked Questions
You probably still have questions, I know we did when figuring out how to visit the Valle de Guadalupe.
When is the best time to visit the Valle de Guadalupe?
April – May, and October – November are the best times to visit the Valle de Guadalupe.
The desert heat isn't as intense as the summer months and the light breeze is nice. Plus, it's not as cold as it would be in the winter. August has the Harvest Festival, which means high crowds but lots of parties and festivals (plus grape-filled vines).
Is Valle de Guadalupe safe?
Yes, it's safe for tourists to visit the Valle de Guadalupe. As with many places in Mexico, most crime is related to drug cartel activity, and won't affect tourists. Stay away from all things related to drugs and stick to the wine!
There are police patrolling the Valle de Guadalupe but we were told there are little to no check stops. Either way, it's always best to join a wine tour with a guide, or hire a local driver if you plan on drinking wine.
What should I wear to the Valle de Guadalupe?
In my opinion, you should wear comfortable shoes and clothing. There are full articles for "inspirational Valle de Guadalupe" outfits online, which are basically for those who want to do Instagram shoots. So, it depends on what you're looking for.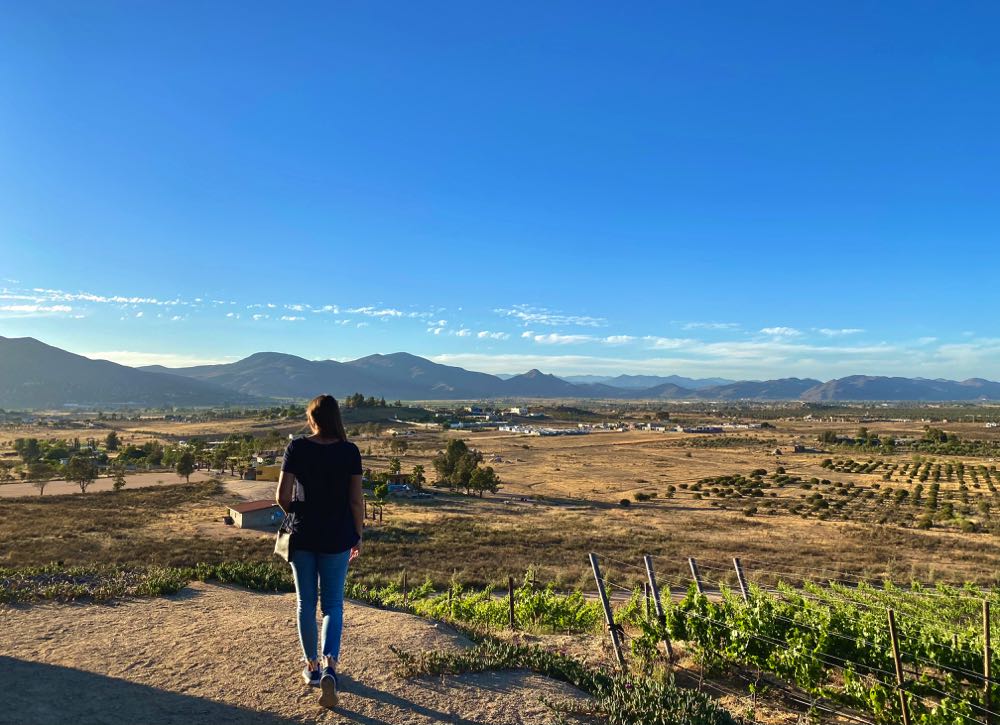 I chose to wear jeans and a nice top, and I always had a black cardigan with me for when it was windy or chilly at night. In the evenings in May, it was actually quite cold so Nick and I both had our down jackets.
Nick wore shorts some days, or jeans. A short-sleeved collared shirt at nice dinners and a t-shirt otherwise.
For shoes, you'll want sneakers or if you're looking to be more stylish, then flat boots are a good idea. Regardless, you'll see all sorts of attire, so just wear what you feel comfortable in. Due to the sun (and for style) a hat is another smart option.
Is the Valle de Guadalupe Expensive?
Short answer, yes. Especially when compared to other rural destinations in Mexico.
However, if you're coming from the United States, you'll find this wine region much more affordable than Napa and actually, it's on par with expensive Mexican destinations like Tulum, Playa del Carmen, and Puerto Vallarta.
Accommodation can range from $60 – $250+ per night depending on what you book. Tastings are around $10 – $50 for four small glasses. Meals range depending on where you eat, but for two people at a nice restaurant with wine, expect to spend around $100.
Have Fun in the Valle!
Mexico has so much to offer travellers, and now with wine tourism on the rise, it's just one more reason to visit this incredible country. I hope you found this guide useful, if so, please share it on social media. Happy winery touring!
Like This Article? Pin it!