If you're looking for the perfect beach holiday complete with swaying palm trees, glistening turquoise waters, and blindingly white sand, look no further than the Caribbean. There are numerous islands to visit in the region, but The Dominican Republic is especially popular with North American travellers looking for a luxurious all-inclusive vacation in Punta Cana.
The DR is home to numerous sandy stretches, with the area of Punta Cana being the most popular with tourists – and for good reason. Here you'll find 35 kilometers of sand, with 8 main beaches, many of which have been given blue flag status. In fact, the DR has more blue flag beaches than any of the Caribbean islands!
When I first travelled to the Dominican Republic back in 2005, I was there on a holiday with my friend. Unfortunately, we stayed in Puerto Plata and weren't able to enjoy the all inclusive resorts in Punta Cana, or the gorgeous beaches. Next time around, I'll be on the lookout for these top 5 beautiful Punta Cana beaches!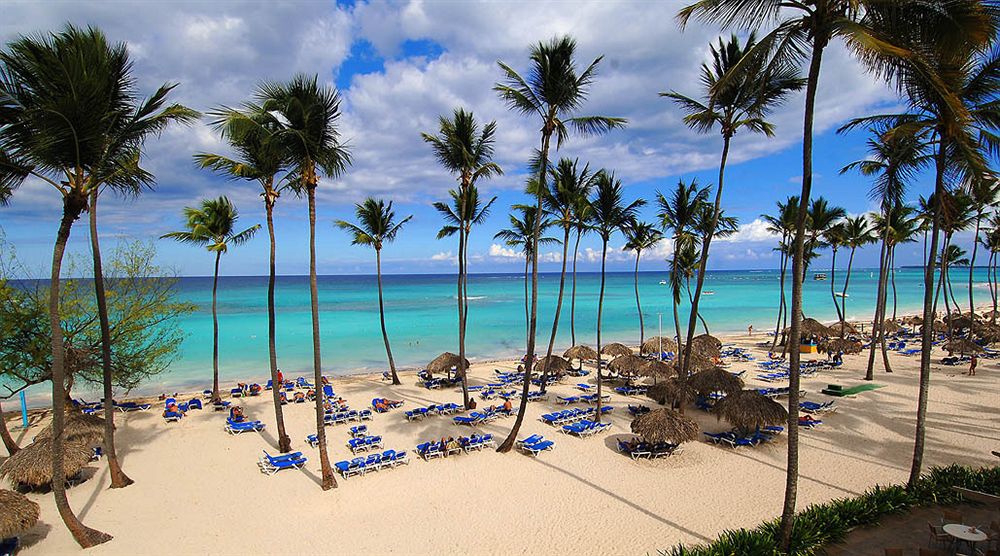 1. Bavaro Beach
This stunning stretch of sand is the epitome of what you would expect to find on a tropical getaway. Wander along the powdery white sand, sit in the shade under a palm tree (watch out for falling coconuts!), or simply relax by the water with a book in hand. Postcard perfect Bavaro is definitely one of the best Punta Cana beaches.
If you don't feel like sitting on a beach all day, there are numerous activities available: ATVing, scuba diving, snorkelling, sailing, caving, shopping…and so much more.
If you're looking for a romantic, all inclusive vacation in Punta Cana on this gorgeous beach, the Barceló group of hotels offers a luxurious 5 star adults-only resort, complete with superior rooms, a wide variety of cuisine at the all-inclusive restaurants (Caribe, Mediterranean & International), and numerous activities. Laze by the pool, play tennis, join a volleyball game, or play 18 holes of golf. You'll never be bored.
If you feel like heading out on the town for a meal one evening, don't miss the fresh seafood options at Ceviche 301, Citrus Restaurant and Toc Beach Bar & Restaurant.
☞ READ MORE: Top 9 St. Lucia Beaches
2. Playa Blanca (White Beach)
Exactly as the name suggests, the sand here is incredibly white. Unlike some Punta Cana beaches (and many in the Caribbean) which are only open to guests of the hotels, Playa Blanca is open to both locals and tourists. During the weekends it can be a little bit busy, but on the weekdays, you'll have the beach virtually to yourself.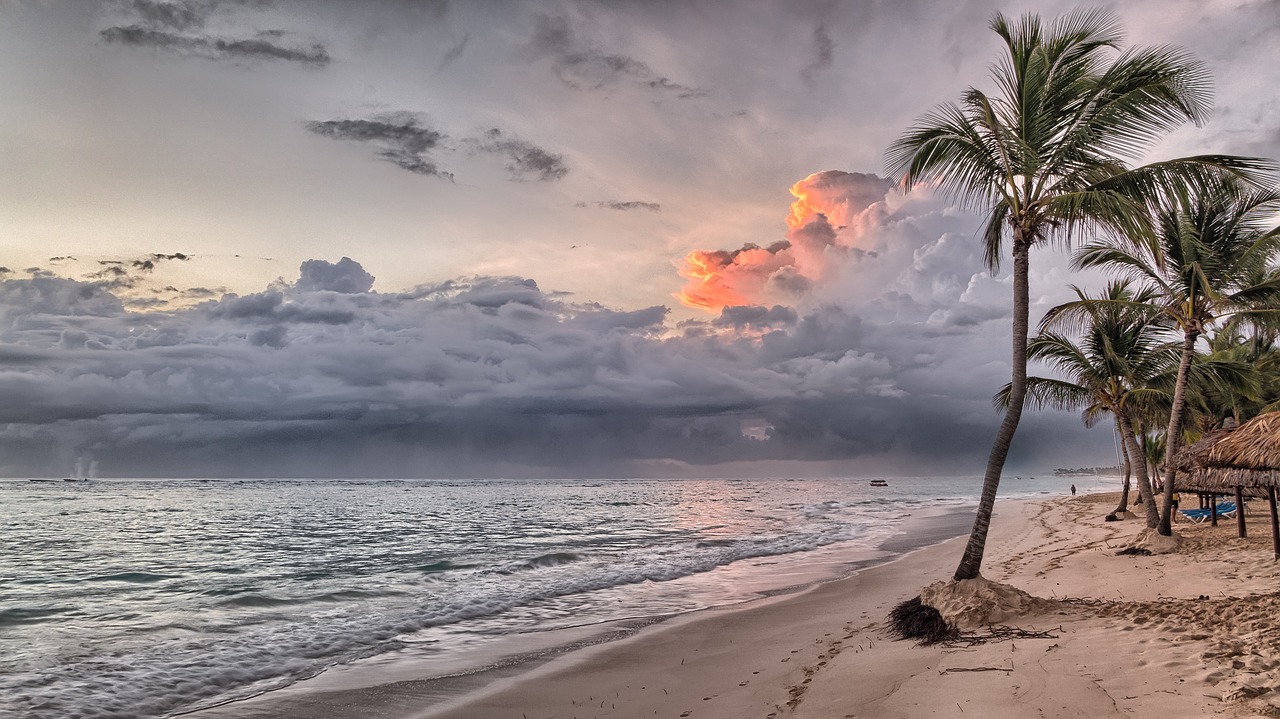 This pristine stretch of sand is a great place to spend the day. If you're looking for a quiet, chilled out place, then White Beach is it. The water here is fairly shallow and incredibly calm, making it a great place for swimming, snorkelling and scuba diving. If you're feeling a bit more adventurous, give kitesurfing a try.
For food, there's the funky Playa Blanca restaurant serving up international and tropical delights…and of course, blended cocktails!
3. Macao Beach (Best of The Punta Cana Beaches For Surfing)
Not only is Macao Beach a good spot to try surfing, but it's also been listed by UNESCO as one of the Caribbean's best beaches due to its pretty palm trees and fine sand. Macao Beach is located just a 30 minute drive north of the more popular Bavaro Beach, but unlike Bavaro, there are no all inclusive resorts here meaning that this beach is completely open to the public.
When you're finished surfing or playing in the waves, make sure to sample some of the fresh seafood on offer from one of the beachside restaurants.
☞ READ MORE: The Best Beaches in Jamaica – An Insider's Guide
4. Playa Juanillo
This is definitely one of the best Punta Cana beaches. As with many pretty beach areas, up until a few years ago this was just a quiet fishing village. These days, you'll still find the same serenity, but it's more built up with some Punta Cana all inclusive resorts. Having said that, there's only 1 restaurant here called Juanillo Beach Food & Drinks. Dine on delicious food while chilling out on the sunbeds. Perfection.
Although this beach is open to the public, you might have to leave your passport or driver's licence with the security guard before entering through the security gate. It really depends on the mood of the officer that day – he may just wave you through.
☞ READ MORE: The Ultimate Guide to Travelling in Grenada
5. Playa Arena Gorda
Directly translated, this is "Fat Sand" Beach. The name was given due to the width of this gorgeous white sand stretch. Like many of the Punta Cana beaches, Playa Arena Gorda has been given blue flag status. Although this beach is picturesque and is a great place for families, it's not as quiet as the beaches listed above.
If you want access to the beach, you'll need to enter through the KUKUA Restaurant Beach Club and you'll need to leave your ID with the security guards. This is the only option, otherwise you won't be granted access to Playa Arena Gorda.
With wheelchair access to the beach and lifeguards on duty from 9:00am – 6:00pm, this beach is for every type of traveller.
Ready For Punta Cana?!
The Dominican Republic is the ultimate tropical holiday destination. With direct flights to Punta Cana from the United States (Miami, Chicago, New York, Washington & more) and Canada (Toronto, Montreal, Ottawa & more), getting to this Caribbean island is a breeze. Book your holiday, pack your bags and enjoy the pristine beaches of the Dominican Republic.
Like This Article? Pin it!