Grenada is blessed with beautiful beaches, many of which are blissfully devoid of people. You can literally have the best beaches in Grenada all to yourself! All of the beaches are public, and with over 45 of them dotting the coastline, you'll definitely find a beach to suit your style. There are numerous things to do in Grenada, but naturally, visiting a beach is a highlight of any trip to the Island of Spice.
In this guide we'll share some of the best beaches in Grenada, in no particular order.
Grand Anse Beach (definitely one of the best beaches in Grenada!)
Location: Southwest, St. George's Parish, Grand Anse Area
Water: Clear, Calm, Safe, Caribbean Sea
Sand: White, Soft
Activities: Snorkelling, Kayaking, SUP, Sailing, Swimming, Eating, Drinking, Chilling
Let's start with the star of Grenada's sandy stretches. This is the main beach on the island, and the most popular. At over 3 kilometers long and lined with almond trees, this is a hotspot for both locals and foreigners.
The water here is safe for swimming and it gets deep fairly fast, meaning you don't have to go out too far before you're submerged in cool water. For activities, you can go scuba diving or snorkelling (check out Dive Grenada), rent a kayak, drink rum at one of the beach bars, or just chill out on your towel.
After enjoying the day at one of the best beaches in Grenada, grab yourself a drink and some food at one of the many restaurants and bars lining the beach. Check out Umbrellas Beach Bar, Savvy Beach Cabana (which is a part of Mount Cinnamon Grenada), Esther's Bar and Coconut Beach Restaurant.
Looking for a hotel on Grand Anse Beach?
La Sagesse Beach
Location: Southeast, St. David's Parish
Water: Clear, Safe, Usually Calm, Atlantic Ocean
Sand: Very Fine, Soft, Golden
Activities: Relaxing, Swimming, Kayaking and Boogie Boarding (depending on waves)
La Sagesse Beach is located in a beautiful, protected cove. The water here is very clear and the sand is impossibly soft! There is only one hotel with attached restaurant on this beach, so you will find lots of peace and quiet here.
When you think of what the best beaches in Grenada would look like, palm trees and sandy shores probably comes to mind. While many of the beaches in Grenada lost their palm trees during Hurricane Ivan, La Sagesse was able to retain many of them.
The beach is backed by palm trees, and there is a freshwater river connecting to the sea. On the weekends, there are many Grenadians here enjoying the beach with their friends and families. Beach chairs and kayaks are available to rent and the food at the restaurant is very good.
Looking for a hotel on La Sagesse Beach? There is 1 option!
Magazine Beach
Location: South, St. George's Parish
Water: Clear, Turquoise, Safe
Sand: White, Soft
Activities: Swimming, Snorkelling, Dining, Relaxing
Magazine Beach is one of the best beaches in Grenada for Snorkelling! This beach is located close to the airport and is not only good for snorkelling, but swimming as well. There are boulders at the far end of the bay near the Aquarium Restaurant to the south, and to the north of the beach is the Grenadian by Rex Resorts.
This beach is always quiet. Bring a picnic lunch unless you're wanting to splurge – the Aquarium Restaurant is a bit expensive (except for the Sunday afternoon BBQ!). Magazine Beach is a great place to spend the afternoon…or longer.
Looking for a hotel Magazine Beach? There are two options:
Morne Rouge Beach (BBC Beach)
Location: South / Southwest, St. George's Parish
Water: Glass-Calm, Clear, Safe
Sand: Soft, White
Activities: Drink at Plywood Bar, Kayak, Swim, SUP
This beach is arguably as nice as Grand Anse Beach, which is its neighbour to the north. Morne Rouge is called BBC Beach by the locals, so if you're asking for directions, ask for BBC! You can easily walk here from the Grand Anse area.
This bay offers very calm, shallow water in a protected cove. We've only seen waves here once in 3 years, and that was during a storm surge.
There are lounge chairs available for rent, and three bars / small restaurants. This is one of the best beaches in Grenada if you want to enjoy a relaxed day at the beach.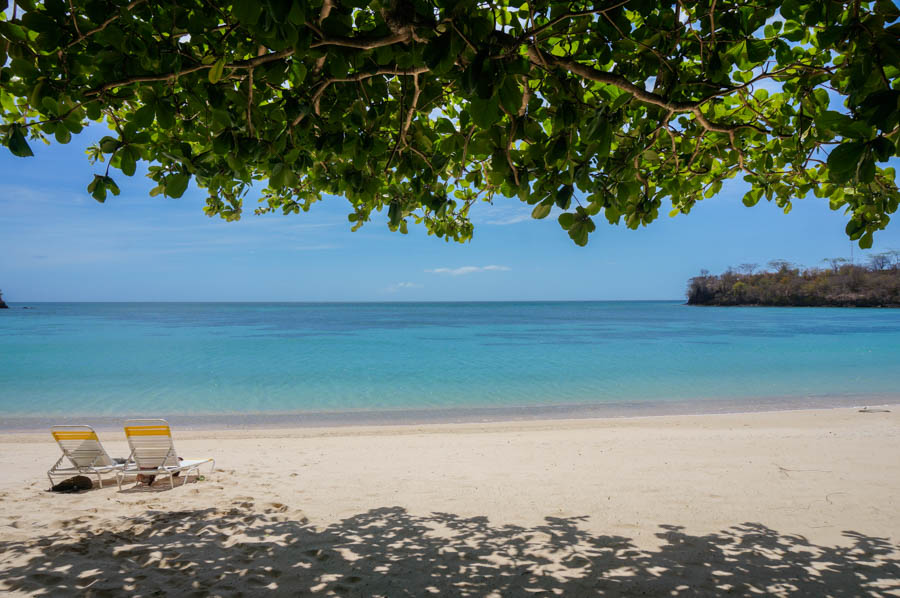 Looking for a hotel on Morne Rouge Beach?
Petit Bacolet Bay (Driftwood Beach)
Location: South / Southeast, St. David's, Westerhall
Water: Clear, Sometimes Wavy, Safe
Sand: Black, Soft, Fine
Activities: Swim, Fish, Suntan, Walk
This beach is basically unknown. We've been here about seven times and have only ever seen two fishermen. The property backing the beach has recently been bought up and the jungle access has now been declared "Private Property".
So, the way to get to this beach is from neighbouring Grenada Marine! There is a walk that will take you over the point from the bay at the marina / restaurant, which will bring you to the beach. We've dubbed it "Driftwood Beach" because there are loads of incredible pieces of washed-up wood on the sand.
There is literally nothing on the beach so make sure to bring plenty of water, sunscreen and food. Depending on which time of day you arrive, there will be some shade as well. Due to its black colour, the sand (and sea) here can get quite warm.
The water is usually wavy, but we have never seen or experienced any currents or riptides, just safe waves. Still, don't venture out farther than you can stand.
At the far northern end of the beach, there is some sort of ruin built into the cliff – check it out!
Hog Island
Location: Offshore, South, Lower Woburn Area
Water: Shallow, Clear, Safe
Sand: White, Soft
Activities: Swimming, BBQ, Hiking
Hog Island is an excellent place to spend the day. There is no development on the island except for a small rum shack / bar owned by Roger, called Roger's Barefoot Beach Bar. On the weekends, there is a BBQ here, and after 5:00pm on weekdays, beers and other drinks are for sale.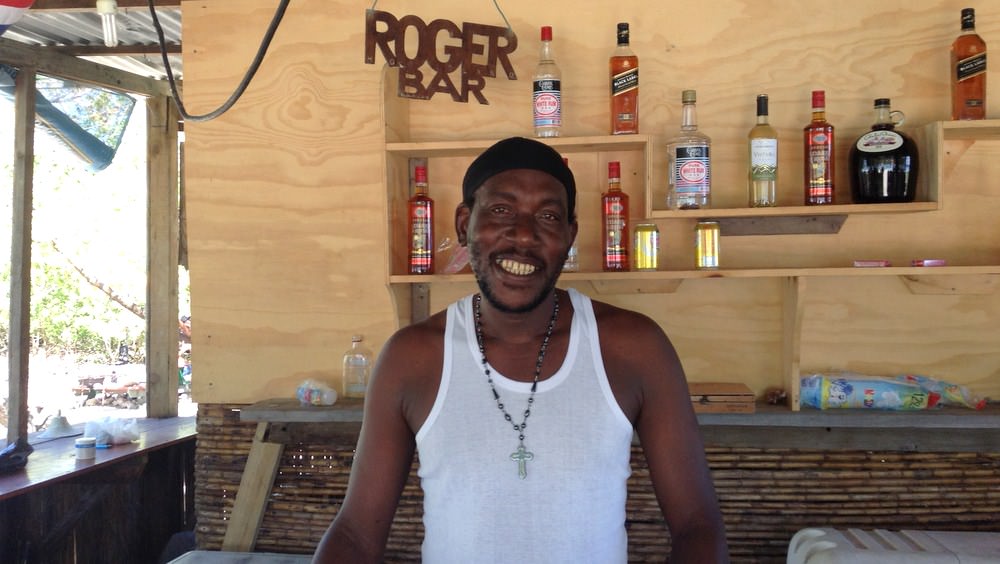 The island is a popular mooring area for sailboats, so naturally the beach will typically have yachties hanging out on it. Weekends are the busiest because some of the boat tours stop off at Hog Island around 1:30 and stay for a couple of hours. Best to visit on a weekday if you have the option.
To get here, take a boat from around the Whisper Cove area, or ask around at Nimrod's bar in Lower Woburn. If you would rather arrive by vehicle, you can drive a very bumpy dirt road from the Grand Anse Valley area (which has a Mt. Hartman Dove billboard at the entrance) until you arrive at the bridge connecting the island to the mainland. From here, you must walk in.
Our two favourite options are to sail here from Port Louis Marina with Savvy Sailing, or to walk here along the path from Secret Harbour Marina (which is quite hot during the day so make sure you leave early).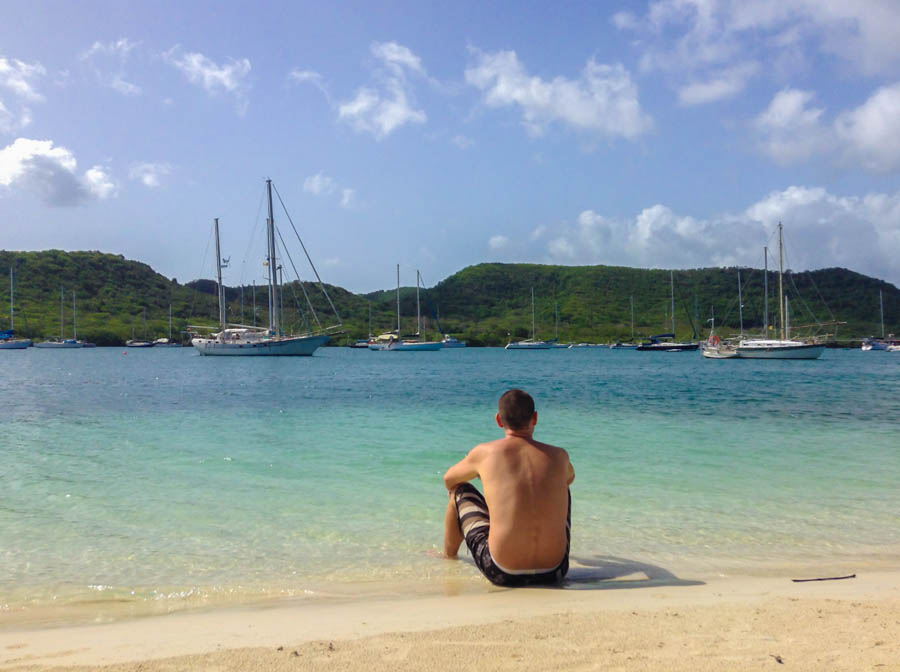 Hiking up and over the island offers fantastic views of Calivingy Island and of the sea…make sure to go for a walk, the interior of the island is beautiful, and the shoreline offers mangroves and bird sightings. Hog Island offers one of the best beaches in Grenada for "liming".
Levera Beach
Location: North
Water: Clear, Wavy, No Swimming
Sand: Golden
Activities: Picnic, Turtle Watching, Walking
Levera Beach is located at the Northern part of the island. This is beautiful, natural spot which is great for stopping off for a picnic on the beach. There is usually a security guard here, so although the beach may be secluded, it's a safe place. Regardless, never leave any valuables in your car, and lock the doors.
From April 1st – June 30th, Leatherback Turtles can been seen coming up on shore to lay their eggs in the sand! This is a spectacle you won't want to miss. The best time to see the turtles nesting is at night and with a local guide. Or, if you can volunteer with the Leatherback Turtles!
Just nearby is the Levera National Park where you can go for a nice walk through the mangroves, spot some birds, and check out the Levera Pond as well. Offshore are the islands of Sugarloaf, Green and Sandy, and on a clear day you can spot Carriacou Island. Swimming is not recommended here due to undertow and currents.
☞ See Also: 7 Must-Visit Places in Bermuda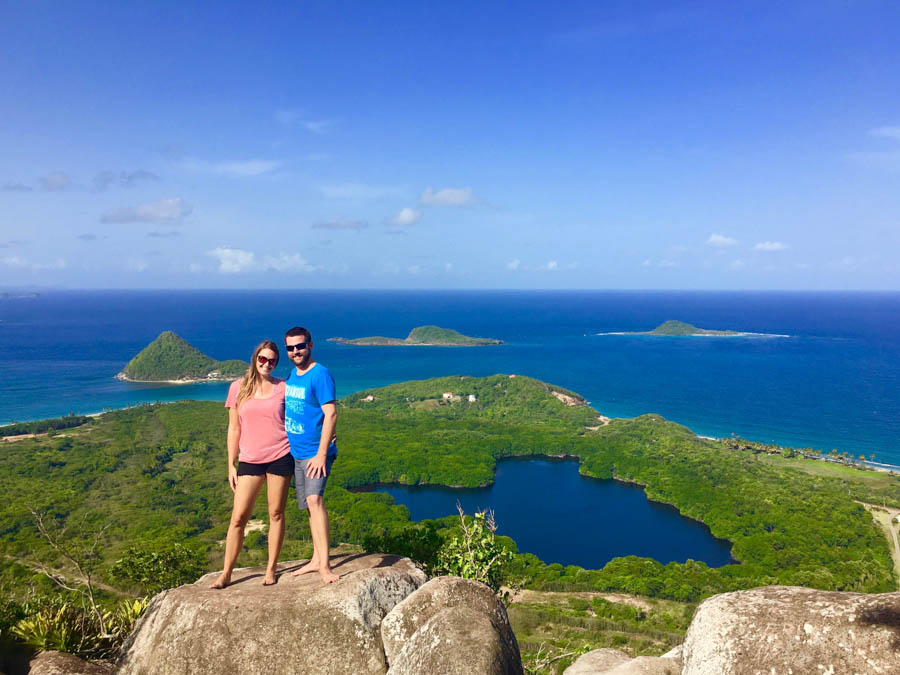 Looking for a hotel near Levera Beach?
Pack Your Bathing Suit!
Grenada's beaches are unlike anywhere else in the world. The island's jagged coastline offers wonderfully secluded stretches of sand. Many of the beaches here are backed by lush greenery and are surrounded by rocky points. Some of the beaches are easily accessible, while others you need to go on a bit of an adventure to find.
This list was in no way an extensive breakdown of the best beaches in Grenada…I had to keep some of my favourite spots a secret 😉 Come to the Isle of Spice and discover your own private plot of sand, there are many coves and beaches just waiting to be found.
Looking for more Grenada posts? Check out these:
Travel to Grenada: The Ultimate Budget Guide
61 Awesome Things To Do in Grenada
The Ultimate Guide to Travelling in Grenada
Like it? Pin it! 🙂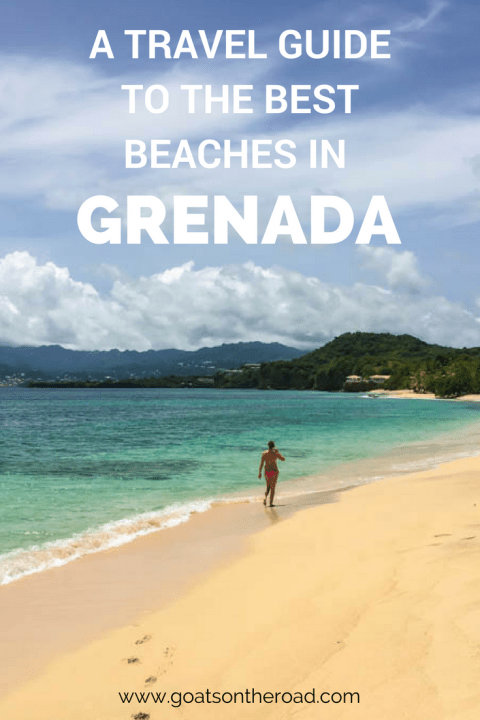 Disclaimer: Some links in this article are affiliate links, which means that if you purchase through them, we receive a small commission. This will never cost you extra and in many cases you receive a special discount. We appreciate your support!