"Hey guys, welcome to the Savvy, would you like a rum punch?" This was the greeting we received from Danny, the owner of the locally crafted Savvy sloop. We gladly accepted the refreshing beverage and settled in for a late afternoon sail on the Caribbean Sea, which is most certainly one of the best things to do in Grenada.
Boatbuilding is an art form that goes back many generations here in Grenada, and in particular on the sister islands of Carriacou and Petit Martinique. In the 1800's, these traditionally built vessels (sloops) would sail up and down the Caribbean chain from St. Barts to Trinidad, in order to trade spices and cigarettes… and they were sometimes involved in the smuggling of rum!
Boatbuilding plays a huge role in the lives and history of the people of Carriacou and Petit Martinique. So much so that there is even an annual Regatta in August for these locally built boats – which are slim, light and fast.
Sadly, like many places around the world, the traditional way of doing things started to fade, and modernization crept in. Traders no longer wanted the handmade wooden sloops; they were more interested in steel cargo ships.
The beautiful boats weren't being built as often as they used to, and this form of Grenadian culture was on the verge of dying.
Thankfully, over the past few years, many tourists have started wanting a more authentic experience during their trips to Grenada and the Grenadines, and foreigners have become interested in purchasing these unique boats for themselves.
Sloop building is making a comeback!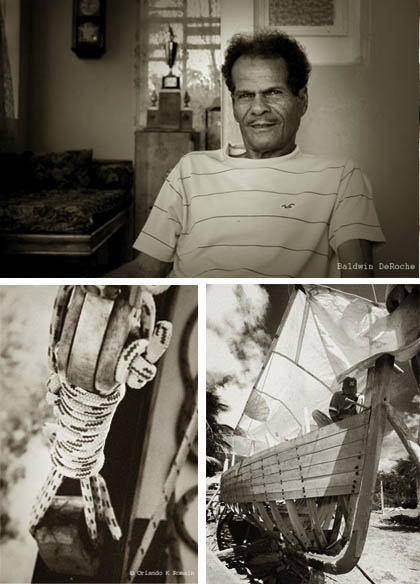 For the people of the Grenadines, this traditional skill is something to be proud of and there's even a new documentary to make people aware of this art form and why it's so important. The film is called Vanishing Sail: The Story of a Caribbean Tradition.
---
This is the gist of the interesting information we received from Danny, who is Grenadian through and through. The captain, Walter, has over 30 years experience at sea and is from Carriacou. Not only are the crew from the islands, but so are the snacks, the fruit juice, the artwork, the rum and of course, the boat.
We always try to support local businesses, so the Savvy was a perfect fit for us. They work closely with Mount Cinnamon Grenada which is a stunning boutique resort on the island.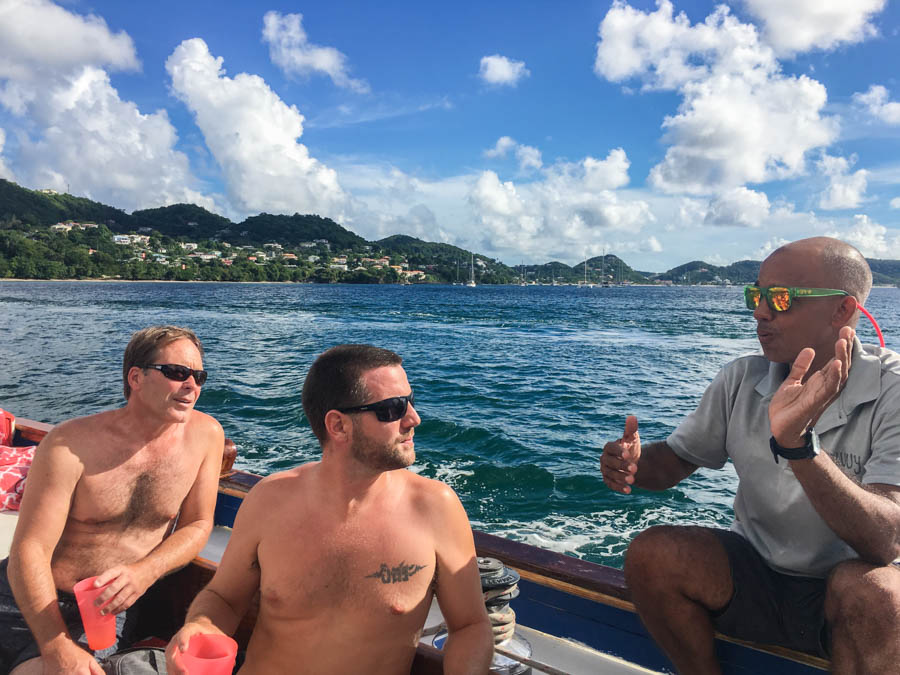 With two capable Grenadians on board, and rum in our hands, we were ready to go.
After a quick safety briefing (you don't want to get hit by the boom!), we headed out from Port Louis Marina with the gorgeous colourful capital of St. George's on our starboard side. We slowly made our way up the west coast to Dragon Bay, which is protected by Moliniere Point – also known as the ideal spot for snorkelling and swimming.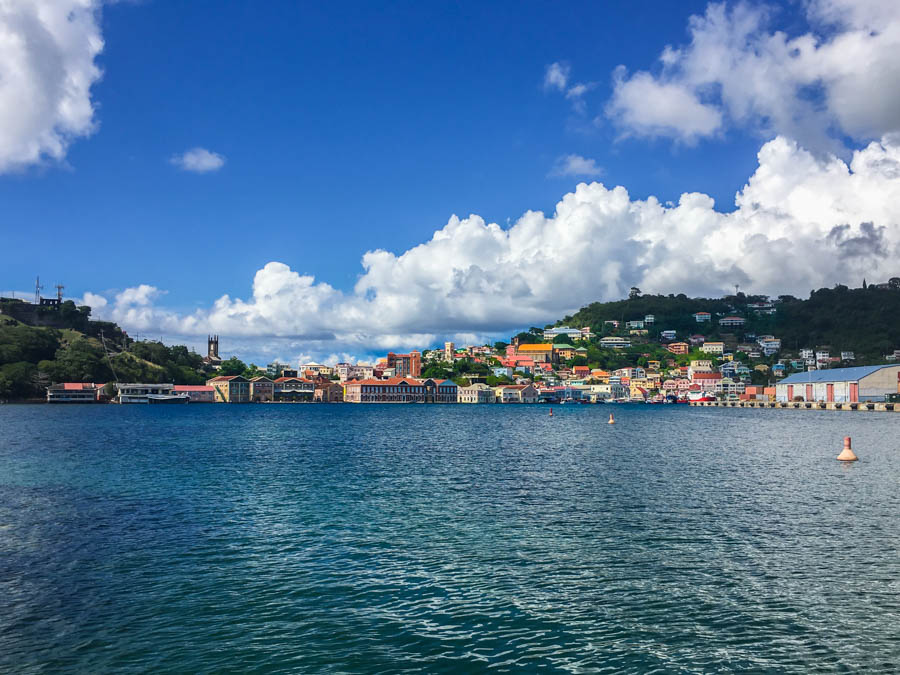 We know that Grenada is lush, green and gorgeous, but seeing the island from the water really reminded us of just how pristine this place is.
We moored up at Dragon Bay and before we knew it, Danny had thrown pool noodles and other floatation devices into the sea, and dove in after them. That was our signal! We gladly jumped in for a refreshing swim.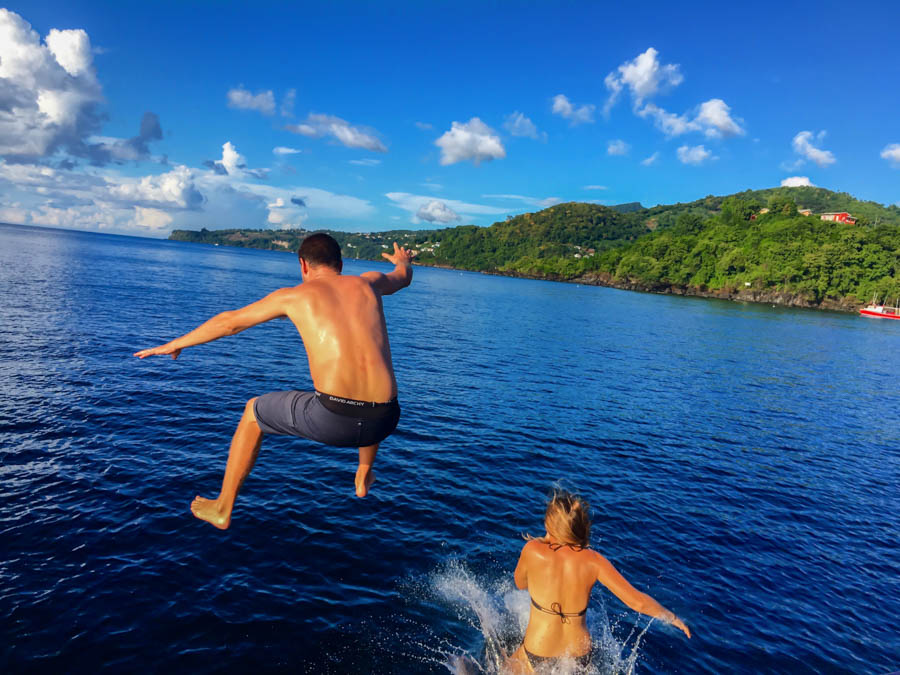 The group of us grabbed a noodle and bobbed around in the water with our beers in hand.
When we were ready, we hopped back on the boat, put on some music and made our way down south towards the marina. The sun was beginning its descent into the sea and all that was left to do was sit back and enjoy the spectacular show.
What I really loved about this sunset trip was the fact that it was so chilled out. It wasn't one of those tours where we were told when to get back on the boat (we did so when we felt like it), or that we have to wear a life jacket when swimming (if we needed one, we'd use one). It didn't feel like there were a lot of rules, yet we felt completely safe and taken care of.
This was a relaxed affair, which is fitting for our style, and that of the Caribbean.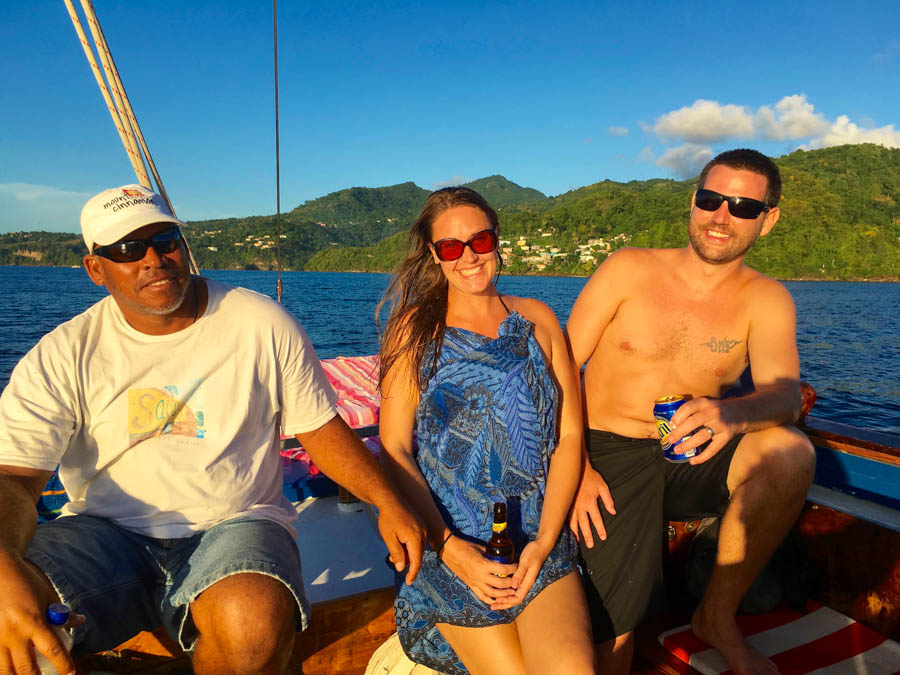 (Don't miss our Facebook Live Video at the end of this post!)
Practical Information:
If you're interested in sailing aboard the Savvy, all you need is a group of friends – or strangers who will soon become friends. Danny rents the boat out privately, for a minimum of 6 people (or if there are 5 of you, you pay for 6 people), and he doesn't mix groups. If you're a single traveller or a couple, he'll put up a message on Facebook to see if anyone is interested in joining you. Or, you could meet some friends at the bar and invite them!
Full Day Sail: This trip departs at 10:00am, and returns at 4:00pm. During the day, you'll snorkel at Mollinaire Underwater Sculpture Park and swim at Dragon Bay or Flamingo Bay. Lunch on board followed by sailing for the afternoon. The trip includes freshly squeezed local juices, fruit, water, beers, rum punch, snacks, lunch and dessert.
The cost is $100 USD / person, for 6 – 16 people. If you have less than 6 people, the minimum cost of the boat is still $600.
Half Day Sail: This trip runs from 9:00am – 12:30pm, or 12:30 – 4:00pm. You'll leave St. George's Harbour and set sail up the West Coast to the famous Mollinaire Underwater Sculpture Park for snorkelling and sailing. The trip includes: freshly squeezed local juices, water, beers, rum punch and snacks.
The cost is $65 USD / person, for 6 – 16 people. If you have less than 6 people, the minimum cost of the boat is still $390 USD.
Sunset Sail: This trip departs at 4:00pm, and returns at 6:00pm in the winter. For the summer it's 4:30pm – 6:30pm. Enjoy sailing and a beautiful sunset.
The cost is $45 USD / person for 6 – 16 people. If you have less than 6 people, the minimum cost of the boat is still $270 USD.
2 Day Sail: If you're feeling really adventurous, you could also go on a 2 day trip up the Grenadine island chain. We did this a couple of years ago, but we went with the ferry boats and a cargo ship – had we known we could have sailed, we definitely would have!
It costs $150 USD / person (plus $45 for customs in SVG) for 10 – 12 people to sail. The trip starts in Carriacou (you must get here yourself on the Osprey Ferry, or by flight), then continues on to Anse le Roche, Union Island, Happy Island, Mayreau Island, Salt Whistle Bay, Saline Island and a visit the Tobago Cays to snorkel with turtles.
You get to sleep on the boat underneath the stars for 1 night as well.
To give you an idea of the difference in cost, just our Tobago Cays day trip was $100 per person!
For more information, check out the Savyy Sailing Adventure website, or contact them at (473) 409 – 3255.
Check Out Our Live Video From The Trip
#Sunset sail with Savvy Grenada Sailing Charters in Grenada!! Fabulous day, great views and of course, an awesome group of people!

#puregrenada Pure Grenada Discover Grenada

Posted by Goats On The Road on Tuesday, October 25, 2016
Please note that we were not paid for this trip and are in no way obligated to write about it in a positive way. We also don't get any commission if you decide to book a tour with Savvy. Danny invited us on the boat, we had a great time and decided to publish this article. That's it 🙂
Like this Post? Pin it!