The city of Medellín is still undergoing a major transformation. It's desperately trying to shed its rough skin as one of the most notoriously dangerous cities on earth, but today many parts of the city are safe, and travellers who have their wits about them need not worry too much about crime or violence.
There are still areas in Medellín where you simply don't go, but these places are quite easy to avoid.
For us, we felt safe the entire week that we spent in the city and this feeling of security was just one of the many ways that we were surprised by the "City of Eternal Spring". Not to mention, the fact that there are so many things to do in Medellin!
Travellers and digital nomads alike had told us how fantastic the city of Medellín is and while we did enjoy our time there, we didn't feel that it had the immediate charm that we have felt in some other places (particularly other cities and towns around Colombia).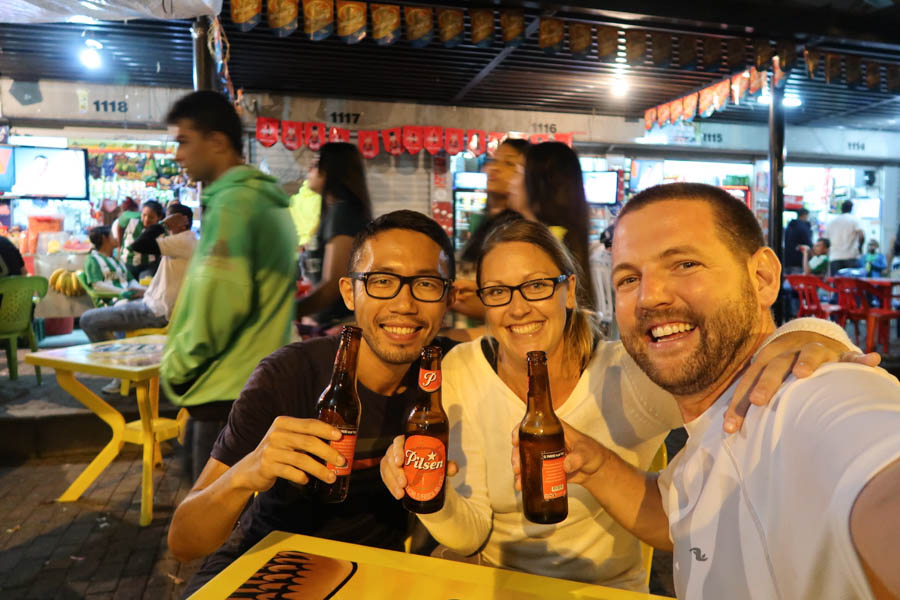 The only "central" area for tourists is El Poblado. Sure it's packed with cafes, vegetarian restaurants, yoga studios and other amenities which are great for the weary traveller, but it's also packed with gringos, backpackers and all-night partiers.
If you're into that, great! If you want a more authentic Medellín experience, most locals and expats would tell you to venture elsewhere, or at least find the cool bars in Poblado (like Social Bar) that are frequented by Paisas (people from the Antioquia region of Colombia).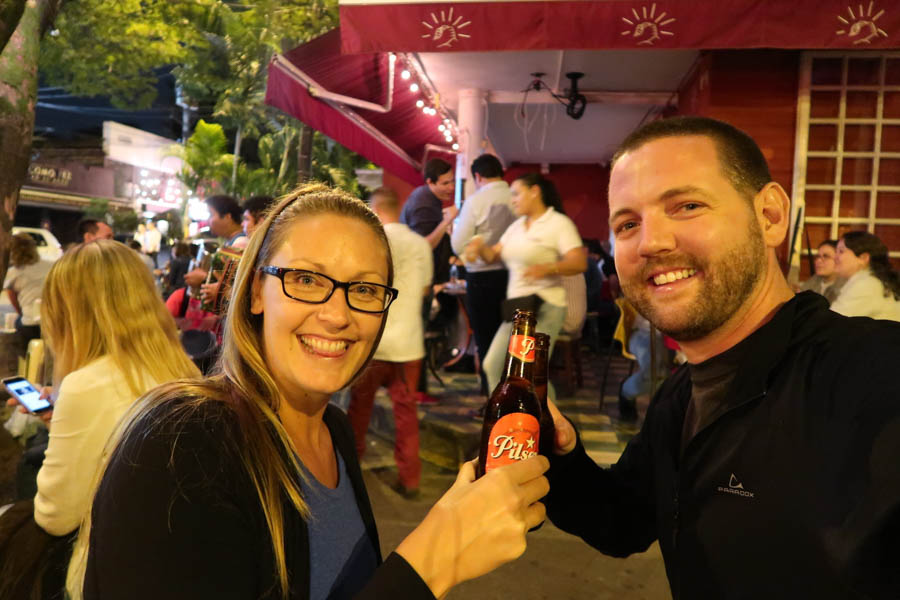 Still, the city does have a particular vibe and it's inhabited by some of the friendliest people, not just in Colombia, but possibly the world. There are wonderful day trips from the city and there are some charming barrios (neighbourhoods) to explore.
Just don't go to Medellín with the vision of wide leafy boulevards, Spanish colonial architecture and quiet green plazas. This is a congested city and while you can find some respite in the Botanical Gardens and up at Parque Arvi, for the most part, Medellín is a bustling, noisy and chaotic South American city.
There is definitely enough to keep you busy here for 5 – 10 days. We've created this list of 10 things to do in Medellín for travellers, but if you plan to live in the city, you will find countless events, concerts and festivals that you can take part in nearly every day.
So here it goes, 10 things to do in Medellín…
1. Parque Arvi
This was probably the highlight of our entire stay and is one of the best things to do in Medellin. Perhaps it was the fact that we were so used to living in the Caribbean that we simply weren't prepared for the chaos of city life, but this quiet, lush park was a real relief.
The best part about Parque Arvi is the fact that you get to take one of the city's famous metrocables to get there. These gondolas climb the mountains on the northern and western ends of Medellín and they not only help residents cut their commute time in half, they've also successfully connected some of the poorer barrios with Medellín's economic core.
This means that more of the money from the middle-class of downtown has been able to funnel up towards the hillside neighbourhoods and this has helped with jobs and with the distribution of wealth in the city. The people are very proud of the entire metro system and so they should be.
For travellers, riding the metrocable is a cheap and fun way to see more of the outlying areas of the city and the ride to Parque Arvi is the most beautiful one you can do.
Once at the park, you can enjoy a quaint little farmer's market just as you step off at the last station, and then you can go for a hike in the cloud forest. There are a couple of well-marked trails that loop back to the starting point, where you can end your visit at one of the best vegetarian restaurants in Colombia (Cable a Tierra).
Getting There:
Get on at Poblado Metro Station and ride the A-Line all the way to Acevedo station. From there you can hop on the K-Line metrocable on the same ticket, go to the Santo Domingo station and change to the L-Line Metrocable. Here you'll have to pay again. Take the 'L' all the way to the end at Parque Arvi and get off (Total for metroline & metrocable: 2,150 pesos or $0.68).
Update 2019: New fares for the metro and metrocable can be found here.
For the hike, get off at Parque Arvi and follow the only road you see up and around a rocky bend to the right. In about 5 minutes you'll meet the main road where you'll find a group of restaurants (including Cable a Tierra Vegetarian).
Turn right up the hill following the main road. Once you get to the police station you'll see a sign for the Flora Trail on the left. This path is very well signed and eventually loops back to the main road where you can get back to the restaurants and metrocable station.
2. Comuna 13
This is one of the few comunas in Medellín which has undergone a famously successful transformation. After the construction of escalators and a series of street art paintings around the neighbourhood, crime levels in Comuna 13 dropped and it is now a safe(ish) and interesting part of the city to explore.
Some crime still happens here, so while you're probably ok to head to Comuna 13 independently and ride the escalators yourself, it's still recommended to go on a tour and avoid nighttime visits.
One such tour is the Comuna 13 Graffiti Tour which doesn't just explain all of the best street art, but also about the history of the neighbourhood and how the transformation was so successful.
Getting There:
If you want to do the tour, check out Comuna13Tours.com, otherwise you can take the metro. Hop on at Poblado Station and ride the A-Line north. Then change at San Antonio station and head west on the 'B' line getting off at the final station called San Javier.
From San Javier you can walk to the escalators in about a half hour, or hop on one of the public buses that say "Escalas Electricas" in the window (1,000 COP, $0.33).
3. El Poblado
This is most likely where you'll stay and while it's commonly referred to as "Gringolandia" it's not a bad place to hang out! We were actually pleasantly surprised by El Poblado. For one, it's safe to walk around here day and night.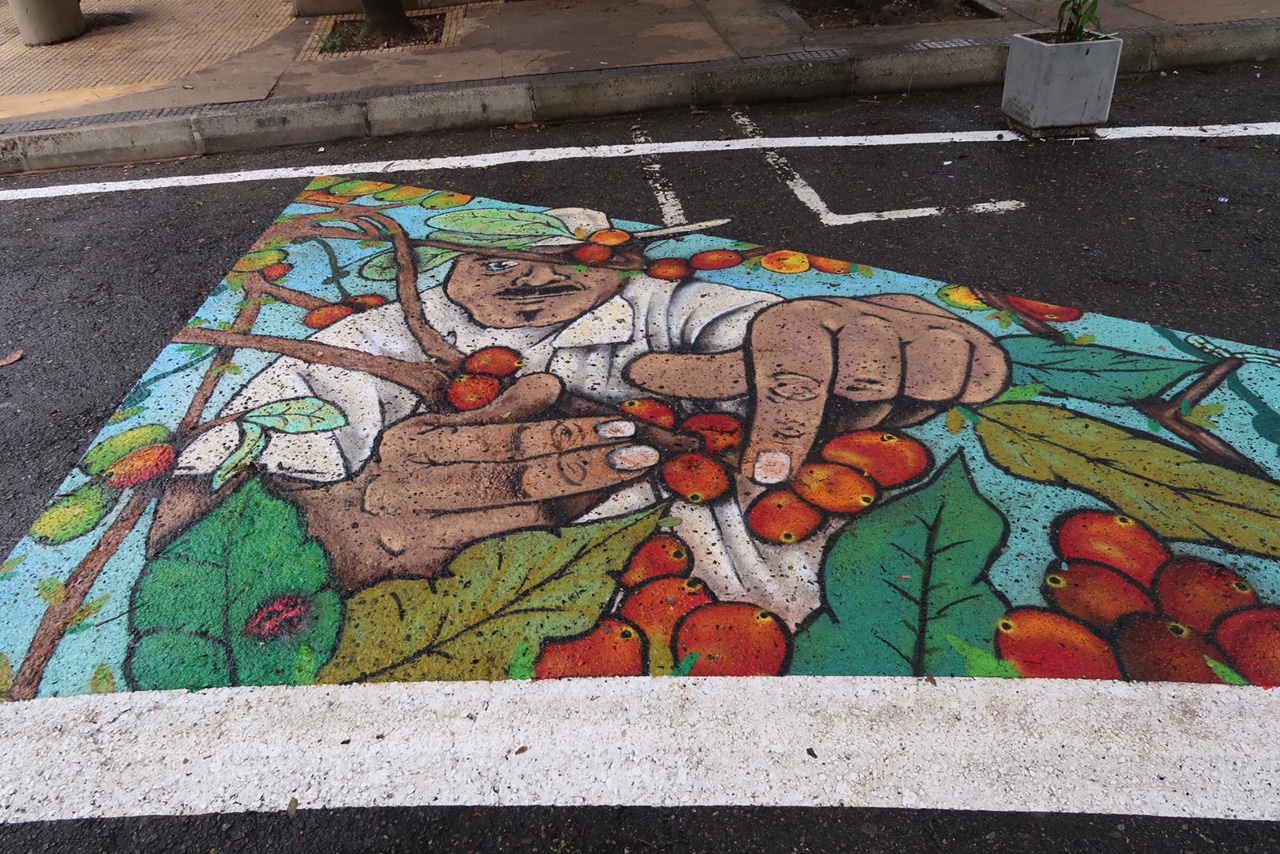 Another thing that really surprised us was that while most of the vegetarian restaurants and hostel bars were packed with backpackers, some of the funkier local joints were frequented by mostly Paisa people. This made it easy to meet local friends over a couple of cold beers.
Social Bar was our favourite place for sure, but also 37 Park was a funky bar with lots of local people and tourists all drinking and having a good time together.
Just walking around El Poblado was a lot of fun. There are some parks where people meet for pre-drinking (although legally you can't actually sit down and drink in a park and you may get kicked out by police).
There were also free outdoor gyms, one of which was aptly named "The Prison" because it looked like a jailhouse gym with cement barbels and a few scary looking characters hoisting them.
Our favourite Cafe in Medellín and all of Colombia was Cafe Juan Valdez, which is like the Colombian version of Starbucks. We hate to make that comparison because Starbucks sucks, but this is Colombia's biggest coffee chain. The main difference is that it actually serves great, Colombian grown coffee! There are also numerous other boutique cafes in the area.
Getting There:
You're probably going to stay in Poblado, so you will really be "getting back there" after exploring other parts of the city, rather than "getting there". But taxis are cheap in Medellín so you can always get back to central Poblado for very little (under $7), otherwise get off at the metro station "Poblado" and walk 15 minutes up the hill the central El Poblado.
4. Free Walking Tour (one of the best things to do in Medellin)
In my opinion, this is one of the best things to do in Medellin. Everyone who visits the city should definitely take part in this tour and preferably on the first day or two of arriving. The tour gives travellers a much better understanding of not just Medellin and Paisa people, but of Colombia as a whole.
For more information on the tour, check out my recent post: Why You Shouldn't Miss The Medellin Walking Tour. The meeting place is on the pedestrian bridge at Alpujarra Station.
5. Parque Botero
This park is a cool place to hang out and spend a couple of hours in the afternoon. There are dozens of sculptures by Fernando Botero, as well as the Museo de Antioquia and a really nice cafe that serves delicious cold brew coffee.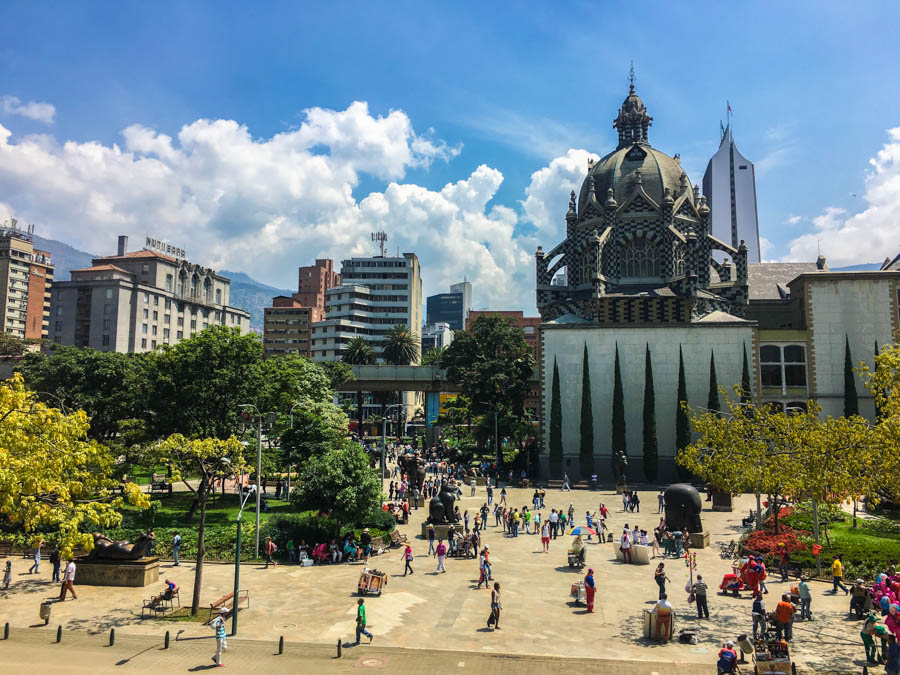 The park is also very close to one of the dodgier parts of Medellín, but it is well-policed. The combination of armed officers and shady characters makes for a safe, but fun place to people watch.
Getting There:
Ride the A-Line north from Poblado Station and get off at Parque Berrio. Parque Botero is just around the corner of the unmissable, checkered Palacio de la Cultura Rafael Uribe Uribe.
6. Parque Berrio
Not to be confused with Parque Botero, Parque Berrio is the first park you'll see when you get off of the metro at Parque Berrio Station. The cool thing about this park is that in the afternoon, groups of people congregate here to play games and music.
Nobody is really looking for money. In the late afternoon there will be a few musicians that just randomly start playing and they always form crowds around them. People buy beers from the local tiendas (shops) and before you know it, there's a few mini-concerts going on in the park.
The Paisas here are friendly and having a good time so it's the perfect place to meet some new friends and have a couple of beers. While you're not technically supposed to stop and drink in Medellín parks, no police officers seem to mind here and they'll often be enjoying the music with the groups.
You'll also find some street performers and people playing chess and dominos here on some nights.
Getting There:
Hop on the A Line metro at Poblado station and ride it north, getting off at Parque Berrio Station. Walk down the stairs and you're in Parque Berrio. There's a nice landmark church on the far end that you can check out as well.
7. Ride The Metrocable
While we've already listed 2 sights that require you to take the metrocable (Parque Arvi and Comuna 13 / San Javier), the ride itself is one of the best things to do in Medellín. Even if you don't have time to explore Parque Arvi or Comuna 13, you should at least hop on one of these metrocables to enjoy the ride and the views.
Both the K-Line (Arvi) and the J-Line (San Javier) climb over some lively and fascinating barrios. While you're cruising above the neighbourhoods you'll hear live music and see people going about their day-to-day lives. These gondolas are fantastic.
Getting There:
We've already covered this in this article. Go back to Parque Arvi and Comuna 13 in this post to learn how to get to both metrocable lines.
8. See a Football (Soccer) Match
If you're lucky enough to be in Medellín for a football match, don't miss it! The energy in the stands is incredible. You should head to the stadium a day or two before to pick up tickets, which are pretty cheap by tourist standards. A good seat in a safe area of the stadium won't cost you more than $12. This is definitely one of the coolest things to do in Medellin!
Most locals will recommend that you don't stay in the south area (Popular Sur) as that is where the crazy fans are and it can get a bit wild. We stayed in the Oriental Alta section and it was close to the loud fans, but far enough away that we could still enjoy the game without getting stomped by loco locals.
Read More: Canadians in Colombia – Experiencing our First Football Match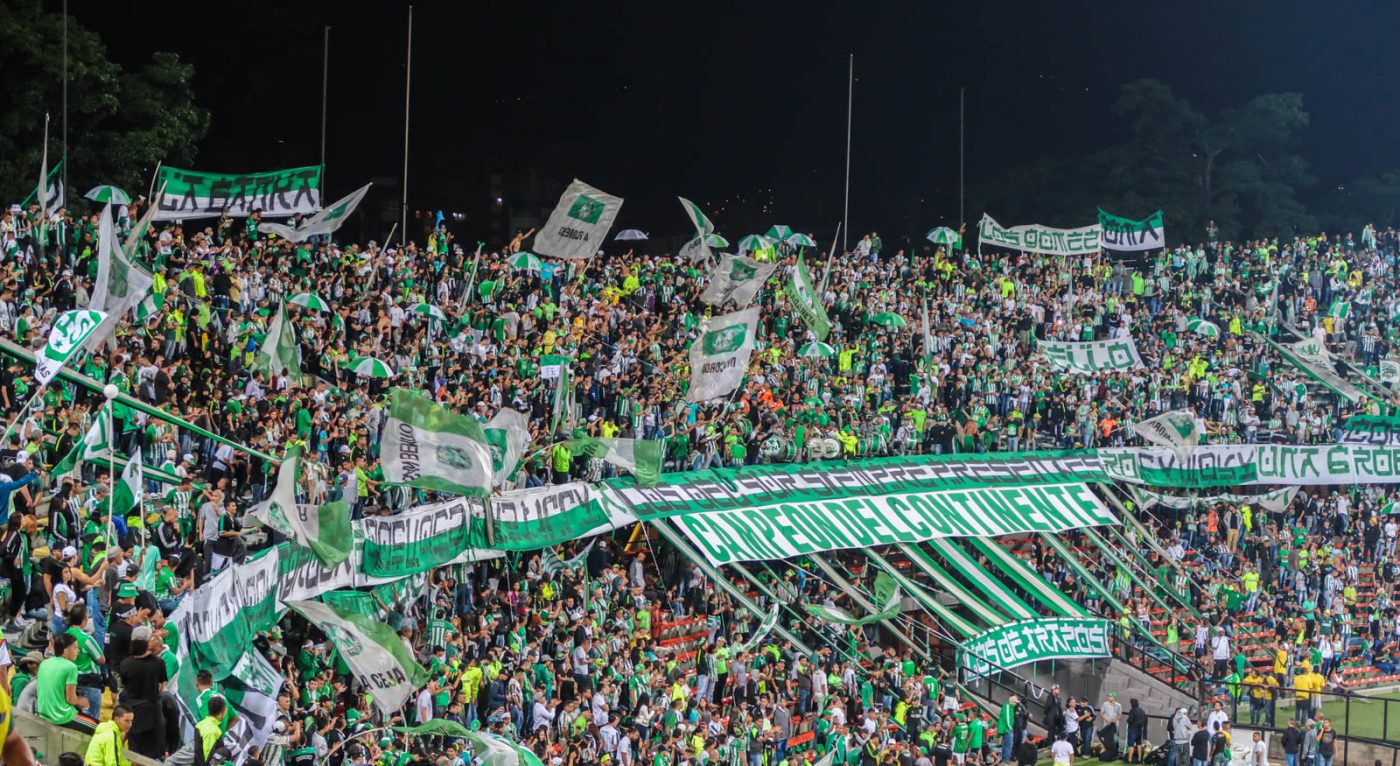 When you enter the stadium, you'll get searched. This slows down the lines considerably (especially for women) so it's best to arrive at the stadium an hour or two early.
There is no alcohol served in the stadium, but after the game, you can stay for a beer at one of the surrounding bars. If the home team looses, it may be a better idea to get out of dodge because there have been known to be fights, riots and even stabbings after competitive matches.
Getting There:
Hop on the metro at Poblado Station and take the A-Line north to San Antonio. Switch to the B-Line heading west towards San Javier. Get off at Estadio Station and walk with the crowd to the stadium. Alternatively, a taxi from Poblado area won't cost you more than 20,000 COP ($6.66).
Planning a trip to Medellin? Don't forget to purchase travel insurance – it's the one thing you should always pack. World Nomads is a popular choice for backpackers and travellers. Enter your information below and get a free quote.
9. Learn Salsa
There are countless places to Learn Salsa in Medellín, but one of the most popular is DanceFree in El Poblado. Here you can enjoy private or group classes weekly. On the weekends, this turns into a bit of a bar with awesome dancing.
If you want to simply go out and watch, or try to practice what you've learned, Laureles, Estadio and Suramericana are modern, middle class neighbourhoods where you'll find some of the best salsa dancing bars in the city.
10. Learn Spanish
Something that we DEFINITELY should have done here. Medellín is home to one of the most highly recommended Spanish schools in Latin America called Toucan Spanish School. We've heard nothing but good things about this place from bloggers, The Lonely Planet and travellers as well.
If we ever go back to Medellín, we'll definitely take the "Quick & Dirty" class which helps you learn the essentials fast, without having to focus too much on confusing grammar.
Extra: Day Trip To Guatape
The beautiful colonial town of Guatape shouldn't be missed. It's a pretty easy day trip from Medellín as well. All you have to do is take a 2 hour bus ride out of the city and get dropped off at the massive granite rock, Piedra del Peñol.
Climb the 700 or so stairs up the rock monolith for fantastic views over the surrounding manmade lake country before descending back down into the valley and taking a taxi into Guatape. This tiny town is super colorful and is worth at least 3 or 4 hours of lazily walking around before heading back to Medellín.
Getting There:
Take a taxi (15,000 COP / $5) or the metro to Caribe Station and buy a direct ticket (2 hours) at the Flota Occidental counter for 12,000 COP ($4). For a more in-depth guide to day-tripping to Guatape, click here.
Check out our video of Guatape here:
In Conclusion
We've compiled this list of 10 things to do in Medellín and we could have listed many more, but the fact is that Medellín is not really a city of "sights". There aren't many historical buildings left because most have been torn down to make room for skyscrapers, gyms, and office buildings.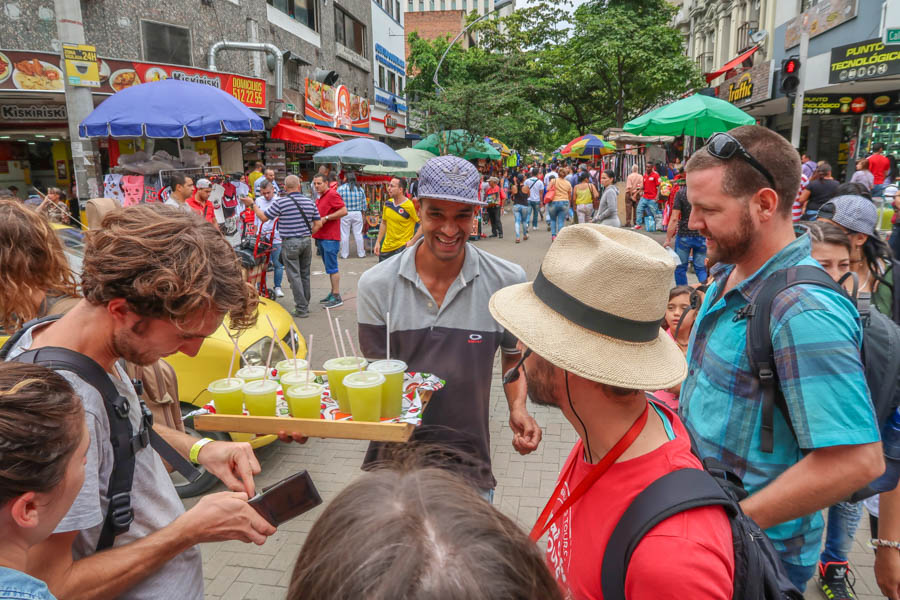 It's not a place for sightseeing, it's more a place for exploring, feeling and enjoying the vibe. Travellers and expats love the amenities, friendly locals and the glorious year-round springtime climate.
The city might not immediately seduce you with romantic plazas, colourful balconies and colonial architecture, but Medellín has a vibe that is undeniable. The city is alive, bustling and in the middle of a miraculous transformation. Come and see for yourself. With so many things to do in Medellin, you may never want to leave…
Check out our video of our time spent in Medellín!
Read more about Medellín:
Backpacking Medellín Colombia, a Beginner's Guide
Travelling to Medellín Colombia: Our First Impressions and Experiences
Why You Shouldn't Miss The Medellín Walking Tour
Canadians in Colombia: Experiencing our First Football Game in Medellín
Digital Nomad Guide to Living in Medellin
Like This Article? Pin it!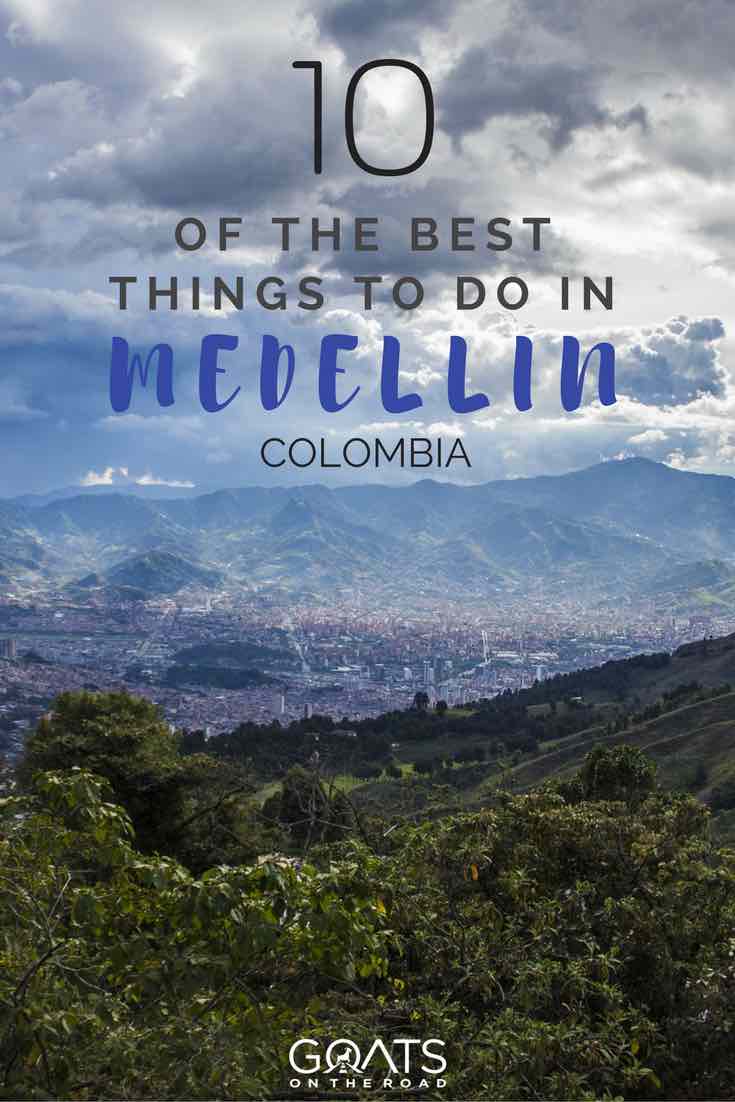 Disclaimer: Some links in this article are affiliate links, which means that if you purchase through them, we receive a small commission. This will never cost you extra and in many cases you receive a special discount. We appreciate your support!