Ask any Canadian about football (soccer), and most likely, they won't know the rules of the sport, nor will they follow any of the leagues. For most of us, it's hockey or nothing! When living in Canada, we never watched football, but since travelling the world and living abroad in many different countries, we've met so many people who absolutely love this game. It's their religion, it's in their blood.
When planning our trip to South America, we knew that we had to see at least one football match in this part of the world, a place where it's football, or nothing. Colombia was our first stop on the continent, and it seemed like a great place to attend our first match. There are so many things to do in Medellin, and this was by far the most fun we had!
I have to give a huge thanks to fellow backpacker and Goats On The Road follower, Yoon from Australia. He messaged us when we were in Medellín and invited us to see a football game that he had heard about. When we asked our hostel, they didn't even know that here was a game that night! Thankfully, Yoon was on the ball and he even went to the stadium early that morning to get tickets for us all.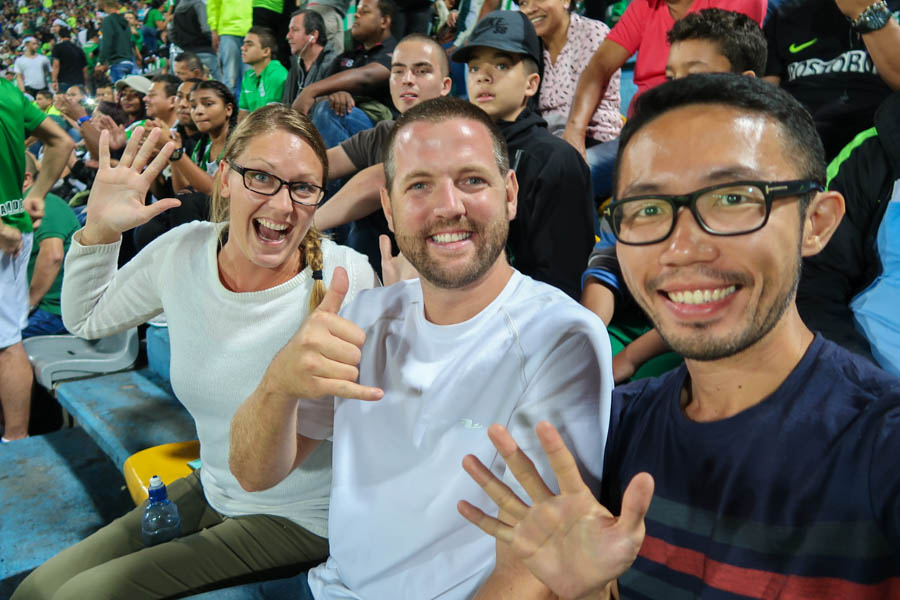 We were staying at Maloka Hostel in El Poblado, and the Stadium is located in Suramericana area. We hopped in a taxi ($4) and 20 minutes later we arrived at the Estadio Atanasio Girardot, a stadium that can hold 40,943 people.
Hoards of fans dressed in green and white were drinking copious amounts of beer outside of the gates, while waving green and white flags. They were rooting for the Atlético Nacional team, while the opposing Junior team from Barranquilla didn't seem to have a single fan.
We scoured the massive stadium to find Entrance 24, where we were meeting Yoon. The stadium is huge, so finding the entrance was no small task. Luckily, we were dropped off around gate 13 by the taxi, and only had to walk a short bit.
We greeted Yoon and got our tickets. We were in the Oriental Alta area, which was an upper area next to the hardcore fans, yet far enough away to not get trampled on.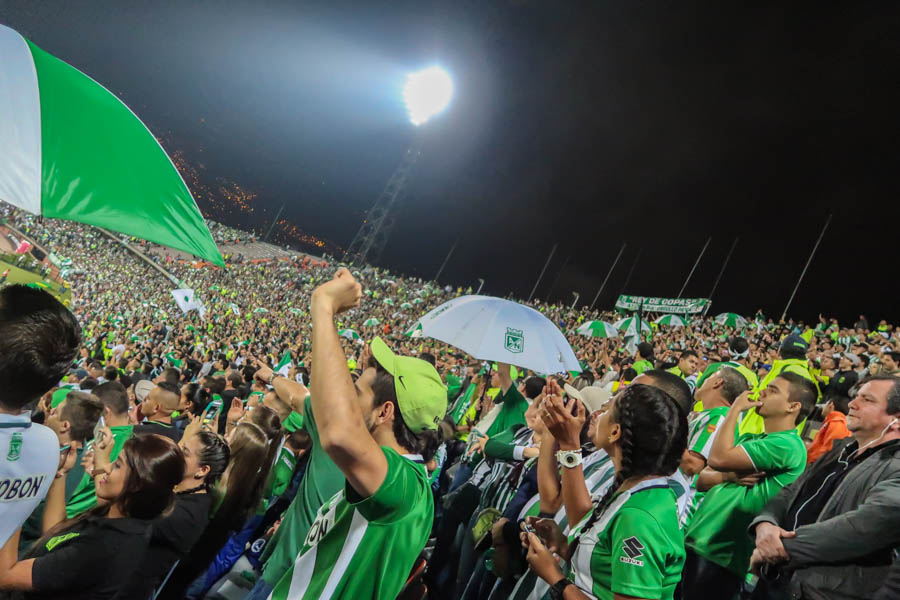 The line up to get into the stadium was massive. And in fact, a policeman came over and told all of the women to switch to another line-up. So, there I was, miles behind Yoon and Nick whose line was moving very fast. It's always like that with women, line-ups for the bathroom are always horrendous, and because every woman was carrying a purse, it took extra time to search them at the stadium.
Police dogs sniffed everyone in line, 5 police on horses trotted up and down the line to keep the peace, and vendors ran up and down selling football paraphernalia, ponchos and "other" items.
After quite the "feel up" from the female guard, I reunited with the guys and we made our way into the stadium. There was a sense of excitement in the air! We eventually found our section and began looking for our seat numbers, before being told that there aren't any numbers, it's first come, first served.
Thankfully we arrived early and were able to choose excellent seats with fantastic views over the field.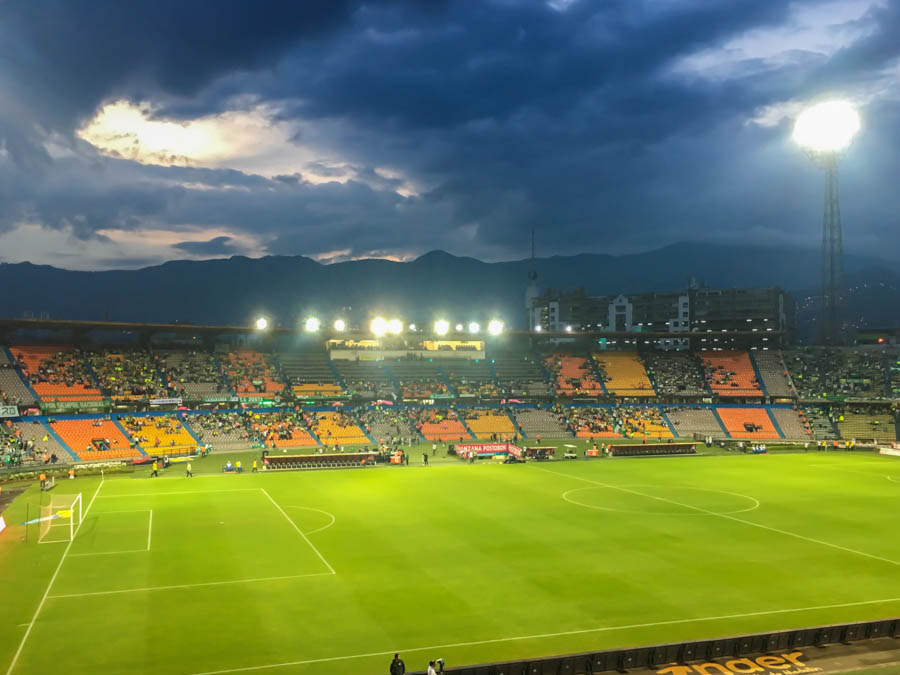 It was pouring rain earlier in the day and ominous clouds hung over the open air arena. We wiped off our seats with the towels we brought and eagerly waited for the match to commence. As hockey fans, a game isn't a game without having plastic cups of mediocre draft beer in hand. So when the vendors came around yelling out "cerveza!!!", we ordered up some drinks.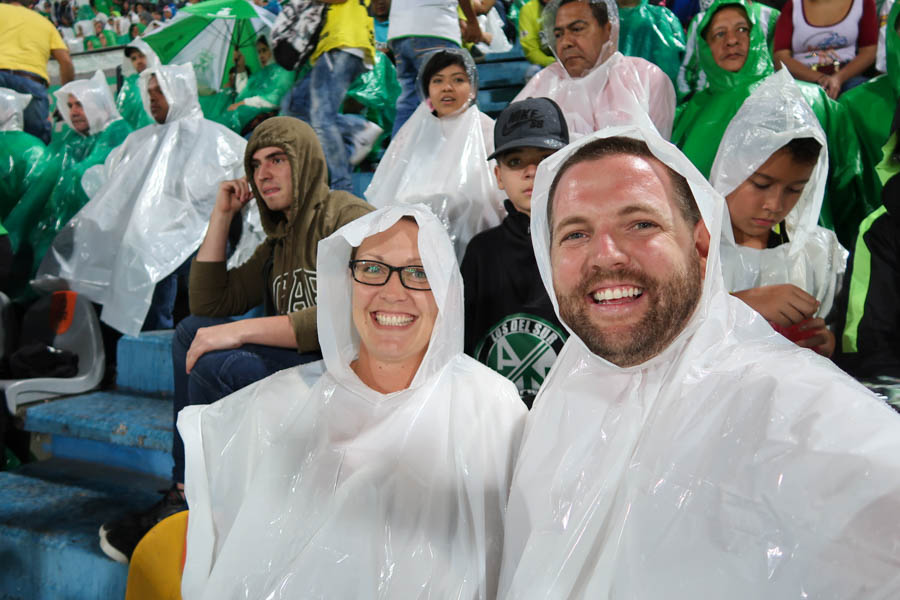 We've had some less than ideal draft beers at Calgary Flames games in Canada, but these beers took it to a whole new level. After sipping on the flavourless beverage and not feeling any effects except having to pee, we found out that there was no alcohol in the drinks! This seemed extremely strange to us, but as the game started, we soon realized that there was a reason for this.
Directly to our left on the south side of the stadium is where all of the hardcore, intense fans "sit". Although, not a single person in that entire area sat at any point in the match. This is the section to be in if you want to jump, charge, scream, sing, smoke, fight and generally have an epic time.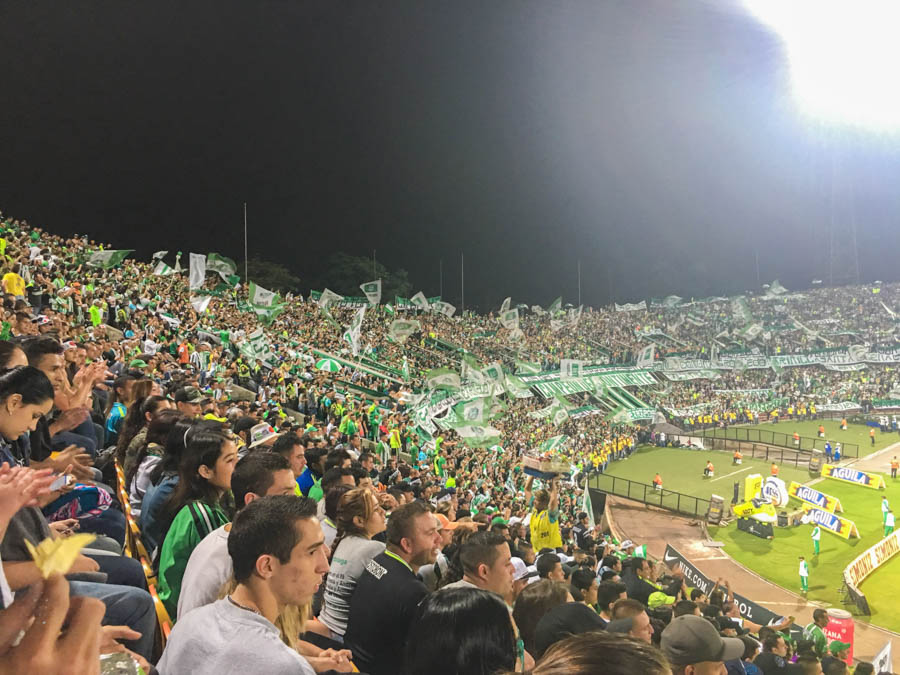 As this was our first football experience, we were advised to sit near to this action, but not directly in it.
The game hadn't even started and the entire south section was chanting and being very rowdy. Flags were waved and drums were beat – this didn't stop for the whole match.
What really blew my mind was the fact that there was a very low railing, and yet, all of the screaming fans were leaning waaaay over while holding onto a green sash that was tied to the top of the bleachers. This fabric was the only thing stopping them from toppling down to the lower level.
It was mayhem, and we loved it! Check out our live video from before the game even started – the energy from the crowd was incredible.
Once the match started the intensity of the fans never let up. Now, we don't know if these teams were good in terms of their skills, but in our opinion, it was a great match. It was upbeat, there were 3 goals, and lots of flags on the field.
We actually ended up really getting into the game as well – it's impossible not to when you're surrounded by such passionate Colombian fans!
At one point, we all had to pick up a piece of plastic that was under our seat and hold it up above our heads, this made the entire stadium striped with white on top and green on the bottom – the colours of the Atlético Nacional team.
We sang along with some of the Spanish chants, we cheered and high-fived when the Atlético Nacional team scored and we cursed and boo'd the Junior team. We didn't see any other foreigners there, but I'm sure there were a few among the crowd.
At the end of 2'ish hours, the Atlético Nacional team from Medellín came out on top, which is a good thing otherwise there most likely would have been brawls and fights (even if the home team wins, there can be altercations). Our Colombian friend advised us to leave the stadium as soon as the match was over to avoid being in the middle of a fight. And actually, recently a fan was thrown off the top bleacher! Oh ya, things can get a bit crazy here.
Which brings me back to the fact that non-alcoholic beer is sold. Can you imagine these emotional fans being drunk out of their minds?! It would be anarchy. Lots of people try to sneak in booze and drugs, and I'm sure many are successful in doing so, but the search at the entrance is pretty thorough which is probably a good thing.
As we exited the stadium with the happy fans, we stopped off at one of the little bars outside with plastic chairs and tables and enjoyed a real beer to celebrate the victory.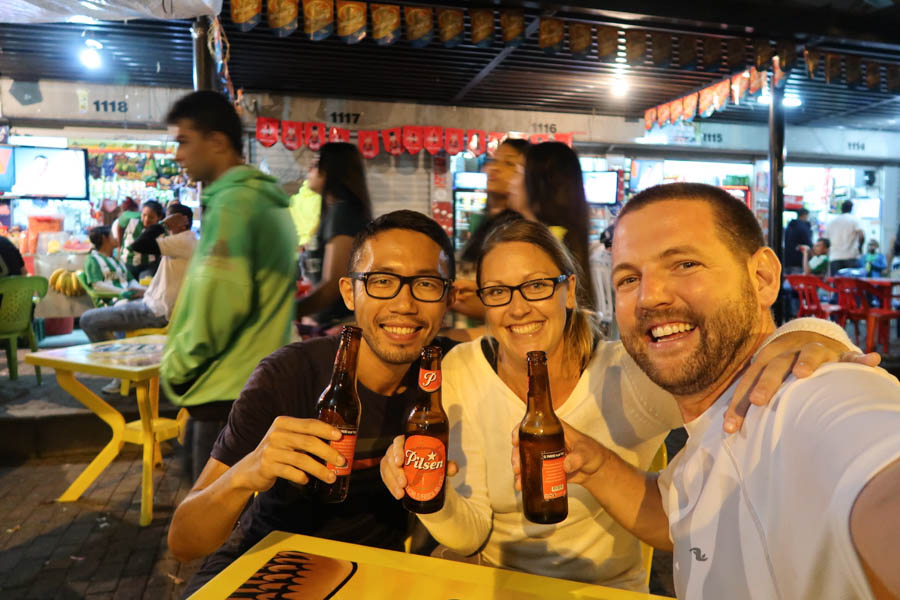 This football match was our first, and I can assure you it won't be our last. This was a highlight of our trip to Medellín. If you have a chance to watch a football match in Colombia, buy a ticket, it'll be an experience you won't forget.
Want more Medellín?! Check out our Beginner's Guide to Backpacking Medellín.
Traveller Tips & Notes:
Tickets range in price depending on where you sit. Prices range from 11,000 – 100,000 pesos ($3.50 – $31.60). In Oriental Alta, we spent 34,000 pesos ($10.75) per ticket.
Buy your tickets in the morning at the stadium.
To get to the stadium, you can take a taxi, or the metroline. Get off at the Estadio stop. Tickets for the metro cost 2,150 pesos ($0.68) each. Where we stayed in El Poblado, it was a 15 minute walk to the metroline, and we would have to switch lines, then walk a little bit to the entrance. A taxi for $4 for 2 people was a great deal. If you have 4 people, it's an even better deal!
Arrive 2 hours early for the match due to the searches.
At the stadium, non-alcoholic beer is served, as well as chips, popcorn, hotdogs, sandwiches and plastic ponchos for when it rains (and it did for us).
Like this Post? Pin It!