If you're looking to work from a tropical paradise that isn't Bali (or Thailand), then this guide containing everything you need to know about living in Sri Lanka as a digital nomad is for you.
Earlier this year I spent 4 months living in Sri Lanka and really fell in love with the place. It's a gorgeous country with so much to see and do.
As well as exploring as much of the country as I could, I also spent time working from several of Sri Lanka's best coworking hotspots. I'm happy to be sharing my thoughts and findings with you today.
About Sri Lanka
Sri Lanka (formerly known as Ceylon) is an island nation in South Asia, just off the coast of southern India. It has a population of approximately 22 million people, the majority of whom are Sinhala Buddhists.
The Sinhalese are the largest ethnic group, followed by the Tamils, who are mostly Hindus or Muslims and mainly live in the northern and eastern parts of the country.
Despite its relatively small size, Sri Lanka has an incredibly diverse range of landscapes. From white sandy beaches and palm trees on the coast to lush rain forests, tea plantations, rugged mountains, and rolling hills found inland.
Living in Sri Lanka As a Digital Nomad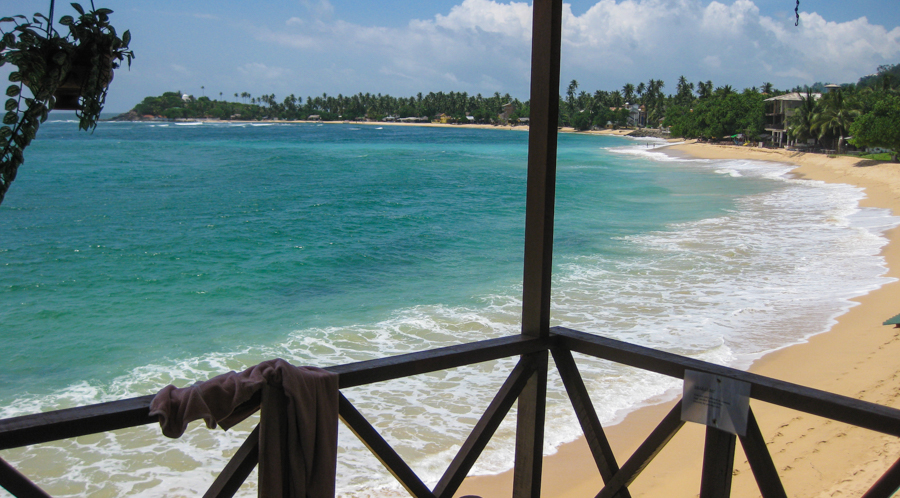 Before we go any further, it's important to note that Sri Lanka's digital nomad scene isn't anywhere near as developed or established as in places like Bali, Thailand, or Portugal.
There are, however, a few coworking spaces here, and I'll discuss some of the best ones below. But don't expect the same range of choices or facilities as you'd see in more popular remote working hotspots.
The fact that Sri Lanka is still somewhat undiscovered as a remote working destination is one of the reasons I loved being there. It's much less crowded than some of the more popular destinations. And, despite its popularity with tourists and holidaymakers, it's easy to get off the beaten path and away from commonly visited spots.
The cost of living in Sri Lanka is also very low, as long as you avoid the most popular touristy areas. It's a great place to base yourself if you're looking to make your money go further than it would in places like Europe or North America.
Is Sri Lanka Safe?
Overall, Sri Lanka is a very safe country. In my experience, there are way fewer scams and insecurities here than in many other destinations I've visited, and the people of Sri Lanka are welcoming and kind.
As with anywhere, petty crime can be an issue in some places. However, as long as you keep an eye on your belongings at all times, and take the other usual precautions, you should be totally fine. Violent crime against foreigners is very rare.
During my 4 months in Sri Lanka, I didn't feel unsafe at any point. Other than occasionally on the roads – Sri Lankan bus drivers have a (well-earned) reputation for recklessness and dangerous driving!
Best Places to Live in Sri Lanka
When it comes to the best places to live in Sri Lanka, the two most important things to consider are whether you prefer being based in a big city or a small town, and what time of year you'll be visiting (more on this below). Here are my top 5 recommended places to live in Sri Lanka for digital nomads:
1. Colombo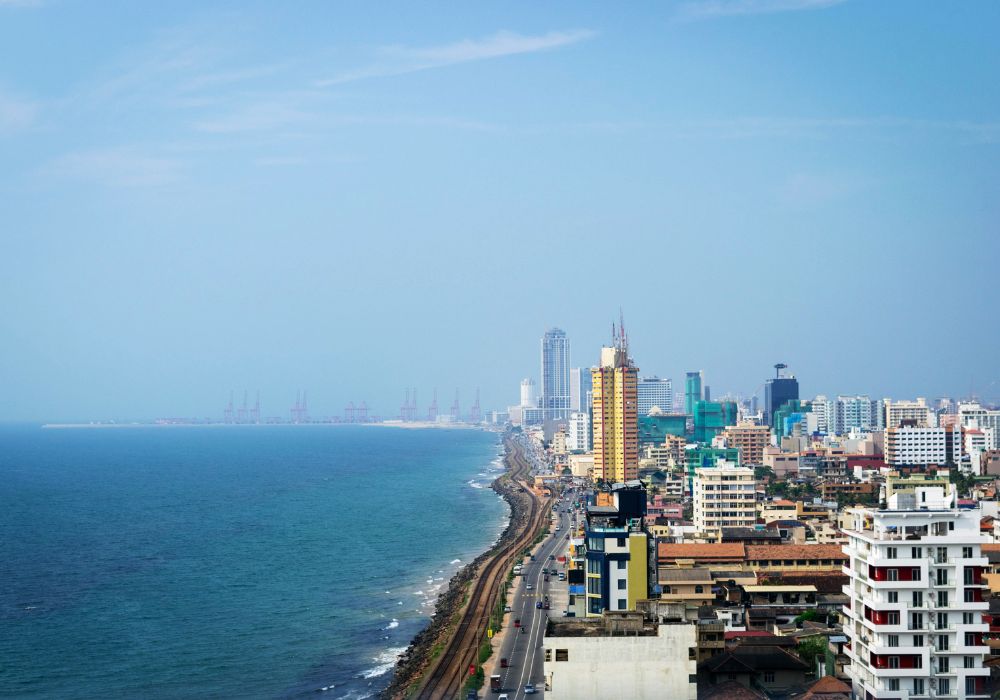 Sri Lanka has two capitals, with Colombo being the commercial capital city, whereas Sri Jayawardenepura Kotte is the legislative capital.
Colombo is a modern metropolis on the west coast of the island. It's home to some of the country's best restaurants, shops, bars, cafes, and coworking spaces.
Because Colombo isn't really much of a tourist destination, prices here tend to be considerably lower than in many other coastal areas, making it a good option for those on a tight budget.
I wouldn't describe Colombo as beautiful, and the air quality isn't amazing. However, if you want all of the amenities of a big city while within close proximity to some great beaches, Colombo might be a good option for you.
Best Areas to Live in Colombo
Kollupitiya, also known as Colpetty, is one of the best areas to stay in Colombo for digital nomads. Its central location gives you easy access to a range of excellent restaurants, bars, and shops.
Cinnamon Gardens is an affluent residential neighborhood with leafy streets, attractive colonial-era architecture, and several beautiful parks. It's a good place to base yourself if you're looking for a more peaceful and serene environment within the big city.
I stayed in Bambalapitiya during my time in Colombo. It's located just south of Kollupitiya and offers a good balance between being relatively peaceful and well-connected, and is conveniently close to a range of amenities.
Coworking Spaces in Colombo
Things To Do in Colombo
2. Weligama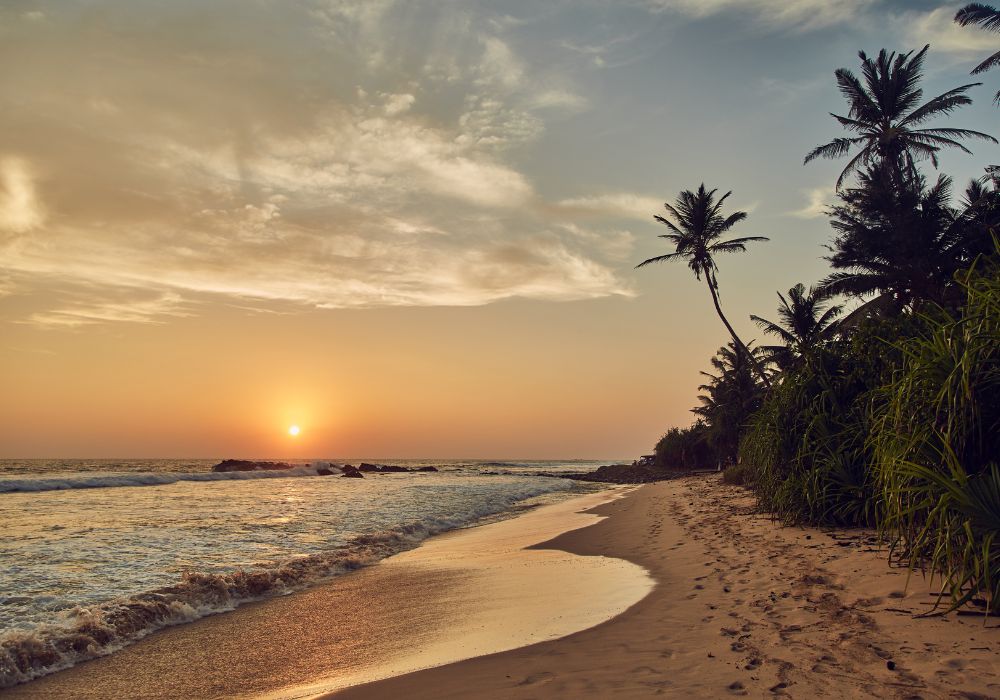 Weligama is one of the larger cities in the south of Sri Lanka. Located on a huge sweeping bay, it's an ideal mid-way compromise between the hustle and bustle of the big city (Colombo) and the sleepier little towns and villages on the south coast (Hiriketiya, below).
Weligama has loads of excellent restaurants, shops, cafes, and bars to check out. It's also one of the best places in Sri Lanka to learn how to surf – its gentle beach break provides an ideal spot for beginners learning how to find their feet on the water.
Best Areas to Live in Weligama
If you want to be close to the main surfing beach and as many of the best restaurants, bars, cafes, and shops as possible, try and find somewhere as close to the center of the city as you can (search this area on Google Maps).
In general, you'll get more for your money by being a couple of blocks back from the main beachfront. There are lots of excellent budget options if you don't mind being further out still, such as around here (Weligama doesn't seem to have names for its different neighborhoods).
The neighboring town of Mirissa, on the eastern edge of the bay, is home to many fancy hotels and luxury apartments. This is a good place to live if you're looking for somewhere a little smarter and more upmarket.
Coworking Spaces in Weligama
Things To Do in Weligama
3. Ahangama
Ahangama is a small town on the southwest coast of Sri Lanka. Long since popular with surfers, hippies, and beach bums, in recent years it's also started gaining something of a reputation among digital nomads in the know.
Despite its size, there are plenty of excellent places to eat, drink, and have fun in Ahangama. It's the kind of place that's easy to make friends, and you'll catch yourself frequently waving hello to people you recently met. There are a couple of excellent coworking spaces here too.
Best Areas to Live in Ahangama
Ahangama really isn't very big. It's a town built along one main street, and this is where most of the action happens.
If possible, I'd recommend trying to find a place on one of the side streets off the main road. That way, you'll avoid the worst of the traffic noise, but will still be close to everything you need.
Coworking Spaces in Ahangama
Things To Do in Ahangama
Surfing (intermediates and up) at one of the various surf points (e.g. Marshmallows, Sticks, or Midigama)
See the iconic stilt fishermen
Eat some of the best falafel in the world at East Falafel (I stand by this claim)
Enjoy the incredible southwest coast sunsets
4. Hiriketiya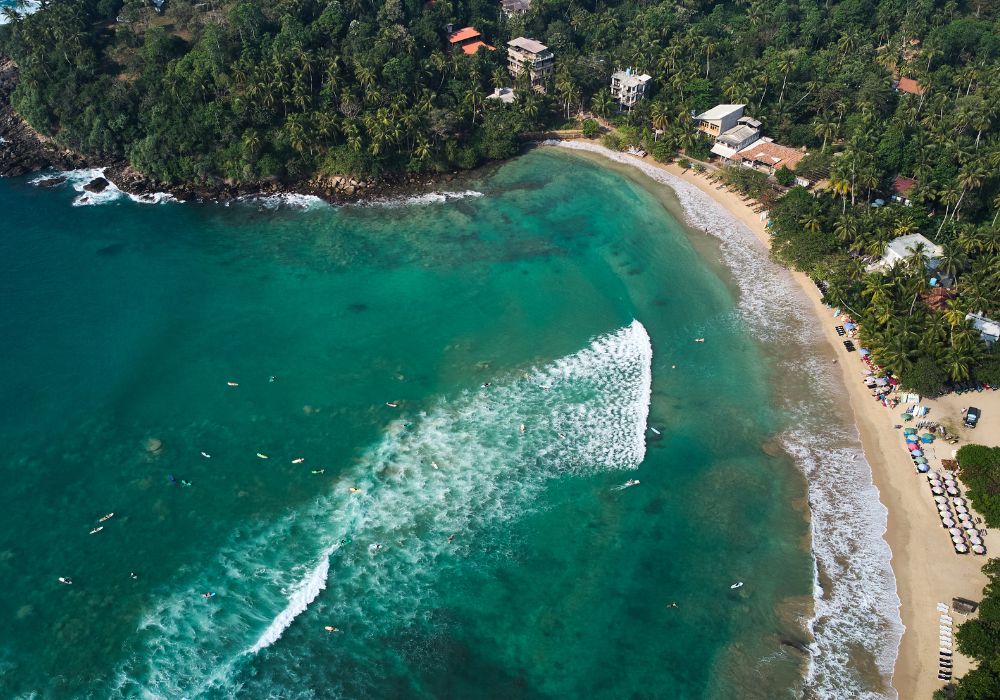 Hiriketiya is a gorgeous crescent-shaped bay on the central south coast of Sri Lanka. This is one of my absolute favorite places in the country and I loved every day of the month I spent living here.
It's sleepy and chilled but still has lots of great places to eat and drink, regular live music, and other events throughout the week. Everything is within easy walking distance, and people recognize and say hello to you on the street.
What's more, you can swim with turtles every morning in the crystal clear, warm waters of the bay – it's pretty amazing.
Best Areas to Live in Hiriketiya
The most beautiful area to live in Hiriketiya is along the main Hiriketiya Bay itself. Unsurprisingly, this is also the most expensive place to base yourself but, if you can afford it, that's where I'd recommend staying.
If you're looking for somewhere cheaper, check out some places either in, or closer to, the neighboring town of Dikwella. You could also consider staying in Nilwella, which is much quieter and more residential.
Coworking Spaces in Hiriketiya
Things To Do in Hiriketiya
5. Arugam Bay
Located on the wild east coast, Arugam Bay is one of Asia's most famous surfing destinations. This is mainly due to its Main Point, an epic 500-meter-long right-hand point break.
However, even if you're not a surfer, Arugam Bay and its surrounding area are incredibly beautiful and well worth visiting.
It's home to several beautiful beaches, framed by palm trees, dunes, and colorful fishing boats. There's a great range of accommodation options, several excellent restaurants, cafes, and a small but friendly community of digital nomads.
Best Areas to Live in Arugam Bay
It doesn't really matter where you choose to live in Arugam Bay. It's not a big place and, as long as you stay central, you'll rarely be more than a 5-minute walk from anywhere you want to go.
Coworking Spaces in Arugam Bay
Nomads (currently the only coworking space in town)
Things To Do in Arugam Bay
Surfing (of course) – for intermediates and up, check out Main Point, Whiskey Point, and Pottuvil Point. Beginners, head to Baby Point or Peanut Farm
Enjoy some of the best coffee in Sri Lanka at Kaffi cafe
Take a long walk on one of the many beautiful beaches in the area
Keep an eye out for wild elephants on the edge of town (they're everywhere!)
Have brunch at Karma Garden (which is owned by my friend Matt – he's a legend, say hi for me)
How to Find Accommodation in Sri Lanka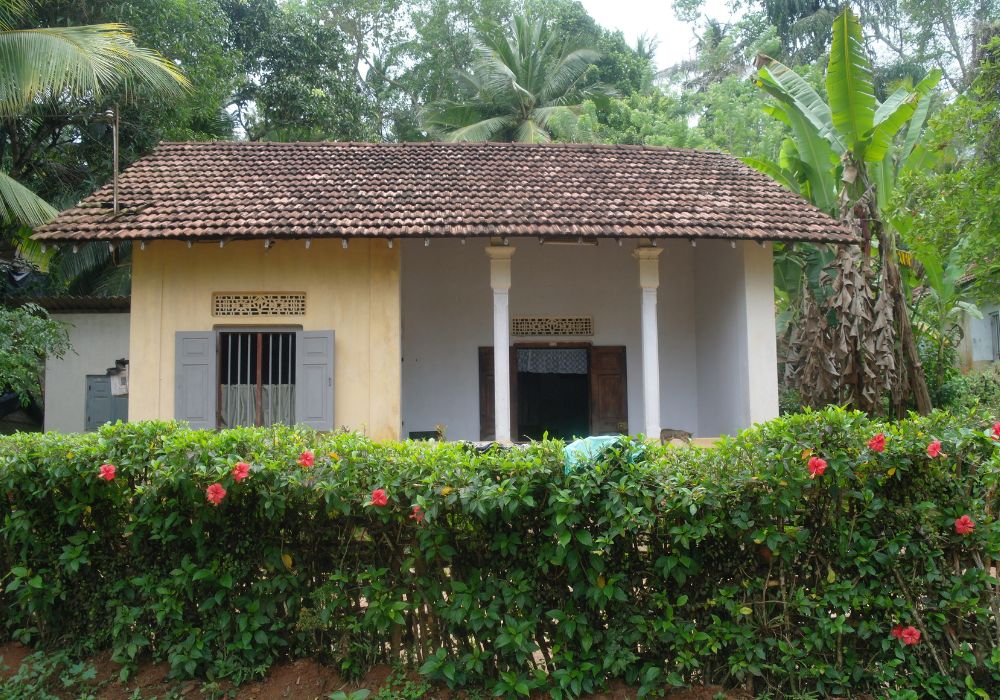 There are a few different ways to find accommodation in Sri Lanka. Here are the methods I recommend:
Booking.com: Although this platform is usually associated with hotels and short-term holiday rentals, I found some real gems when searching for places to stay in Sri Lanka this way. Many also offer discounts for longer-term trips. I'd always start your search here. Click here to view the website.
Airbnb: Good old Airbnb. I've used it several times in Sri Lanka and, although places tend to be more expensive on here than on Booking.com, their customer service is first-rate. I had an issue with one of the places I'd booked to stay at, but Airbnb Support resolved it quickly and efficiently. Top marks. Click here to browse.
Google Maps: One thing I've started doing recently is looking for accommodation on Google Maps. You can filter by customer reviews, and because there isn't an intermediate booking platform, you can often find places to stay that are very cheap. Click here to view maps.
Ask locals: If you're looking to rent somewhere long-term, try booking the first few nights in advance using one of the methods above. Then, once you've arrived and settled, go about asking as many locals as you can whether they know of anywhere that you can rent long-term. There are no guarantees, but you can save a ton of money this way if it works out.
Cost of Living in Sri Lanka
The cost of living in Sri Lanka is very low overall, comparable to other Asian destinations like India and the Philippines, making it a great place for nomads on a tight budget. For example, see this comparison of the cost of living in Sri Lanka versus the US.
As you'd expect, prices are higher in touristy areas. You can easily spend lots of money if you only ever eat in tourist restaurants, travel everywhere by taxi, and stay in fancy hotels, (although it must be said, it is possible to do all this for much less in Sri Lanka than it would cost in most other parts of the world).
However, it's not difficult to make your money go a long way here, especially if you opt for longer-term rentals (see above), use public transport, and eat in local restaurants. Here's a breakdown of some of the living costs in Sri Lanka:
Restaurants and Groceries
In general, unless you buy ingredients in bulk, it's actually more cost-effective to eat out in cheap local places than to cook for yourself.
You can get a huge plate of dal and vegetable rotis for $1–2 if you avoid the tourist places. In mid-range restaurants that cater to tourists, expect to pay $5–10 per head.
A large bottle of local Lion beer usually costs around $1.50, and you can get a bottle of premium arrack (a local rum-like spirit made from coconut) for about $10 in liquor stores.
Accommodation Costs
I met an American woman who lives in Sri Lanka full-time and pays $80 USD per month in rent. As a more short-term visitor, you're unlikely to find anything anywhere near as cheap as that, although there are definitely deals to be had.
Prices are highest on the south and west coasts. In these areas, you can expect to pay around $600 USD per month for a room with a private bathroom and AC in a guesthouse with shared kitchen facilities.
Expect to pay more like $400 USD if you don't need AC – although I'd say the extra $200 is definitely worth spending…
In many places inland and away from the touristy areas, it's not difficult to find guesthouses with a private bathroom and AC for as little as $200–$300 USD per month.
As a general rule, you'll pay a little under double the cost of a private room for a simple 1-bedroom apartment. So, on the south and west coast, you're looking at $800 USD -$900 USD per month, and inland around $300 USD – $400 USD.
Transportation Costs in Sri Lanka
Public transport is extremely cheap in Sri Lanka. The train from Colombo down to the south coast takes more than 4 hours and costs a little over $1 USD. Taking the public bus is even cheaper still.
You can get virtually everywhere in Sri Lanka by bus. Trains also connect several of the country's major cities including Colombo, Kandy, Anuradhapura, Trincomalee, Jaffna, and the south coast.
If you have a larger budget, you can also hire taxis and/or tuk-tuks to get around. Always agree on a price in advance.
I'd also recommend asking a trusted local what a certain journey should cost first too. This way, you have a vague idea of whether the price you're quoted is reasonable or not.
Renting a car is quite expensive and a bit of an administrative headache. Although it's usually cheap and easy to rent mopeds from your accommodation host, you'll additionally need to get a temporary Sri Lankan driving permit in order to drive legally here.
I rented my own tuk-tuk from Tuk-Tuk Ceylon Ride for $13 USD per day. It was awesome. If you're a confident driver, this is definitely the most fun and flexible way to explore Sri Lanka, and the company sorts out all of the temporary driving permit admin and bureaucracy for you.
SIM Cards and Data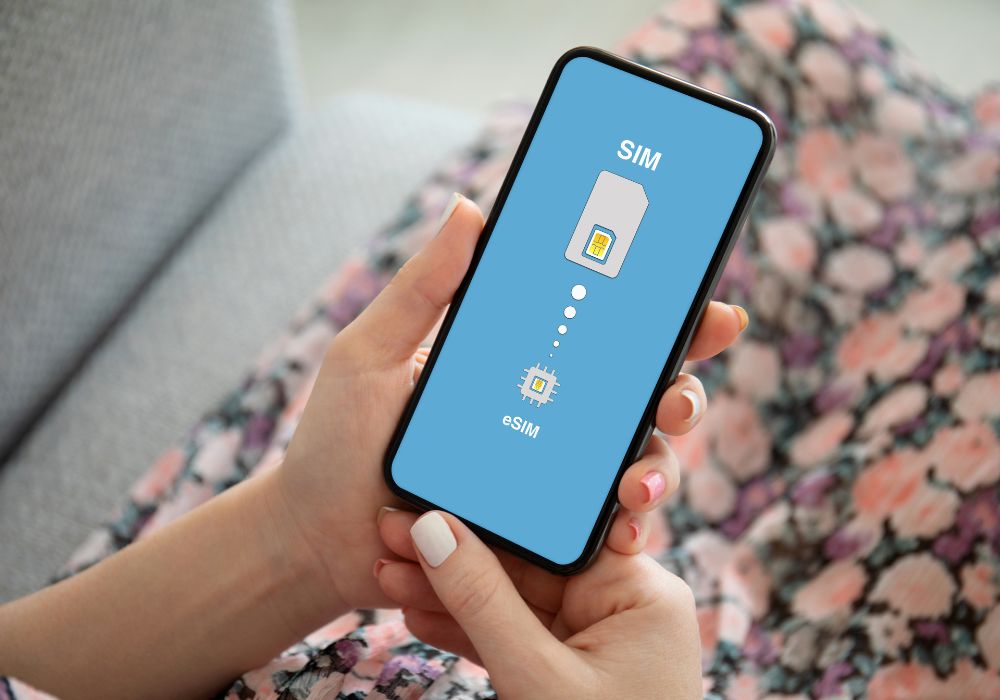 As noted below, WiFi in Sri Lanka can be a bit patchy and unreliable in places. So, I'd definitely recommend picking up a local SIM card to guarantee an uninterrupted internet connection while working remotely in Sri Lanka.
Dialog is the best company to buy a local Sri Lankan SIM card from. They have offices in most major cities, they offer e-SIMs, and it costs less than $10 for 50 GB of data, valid for a month.
You'll need to visit one of their branches in person and bring your passport with you to get everything set up. However, the whole process is very straightforward and only takes around 15 minutes. There are many ways to get internet while traveling, local SIMs are great for longer stays, but eSIMs are easier to sort out.
Money Saving Tips for Sri Lanka
Sri Lanka is a great destination for budget travelers. Here are some tips on how to make your money go even further:
Opt for longer stays: Most accommodation providers offer discounts for monthly stays. It's always worth asking your host if it's possible to negotiate a long-term rate.
Use public transport: Traveling by bus or train is massively cheaper than taking taxis or tuk-tuks.
Eat where the locals eat: When eating out, opt for local restaurants over touristy ones.
Shop around: Try to shop around when booking activities or excursions – they often vary in price depending on the provider.
Haggle: Don't be afraid to negotiate on the price of items in markets, taxi fares, and even accommodation.
Coworking Spaces in Sri Lanka and WiFi Speed
WiFi speeds vary throughout the country. It's usually the fastest and most stable in Colombo and other big cities.
In Colombo, I was averaging speeds of around 50 Mbps download and 30Mbps upload. Outside of major towns and cities, the speed tends to be much slower and can go in and out at times. Generally, the smaller the town, the worse the internet.
However, given that local SIMs are so cheap (see above), and that Sri Lanka's 4G coverage is generally excellent (and fast), you shouldn't struggle to find adequate internet in most places.
Here are a few of my favorite coworking spaces in Sri Lanka:
Activities and Things To Do in Sri Lanka
There are so many incredible things to do in Sri Lanka. Here are 5 of my favorites to get you started:
1. Learn to Surf
I was first introduced to surfing in Sri Lanka. It's widely considered to be one of the best surfing destinations in the world.
The water is warm (no wetsuits needed) and there are waves for all abilities. Some of the country's top surfing hotspots include Arugam Bay, Hikkaduwa, Midigama, and Ahangama. Check out this highly-reviewed beginners surf lesson.
2. Climb Sigiriya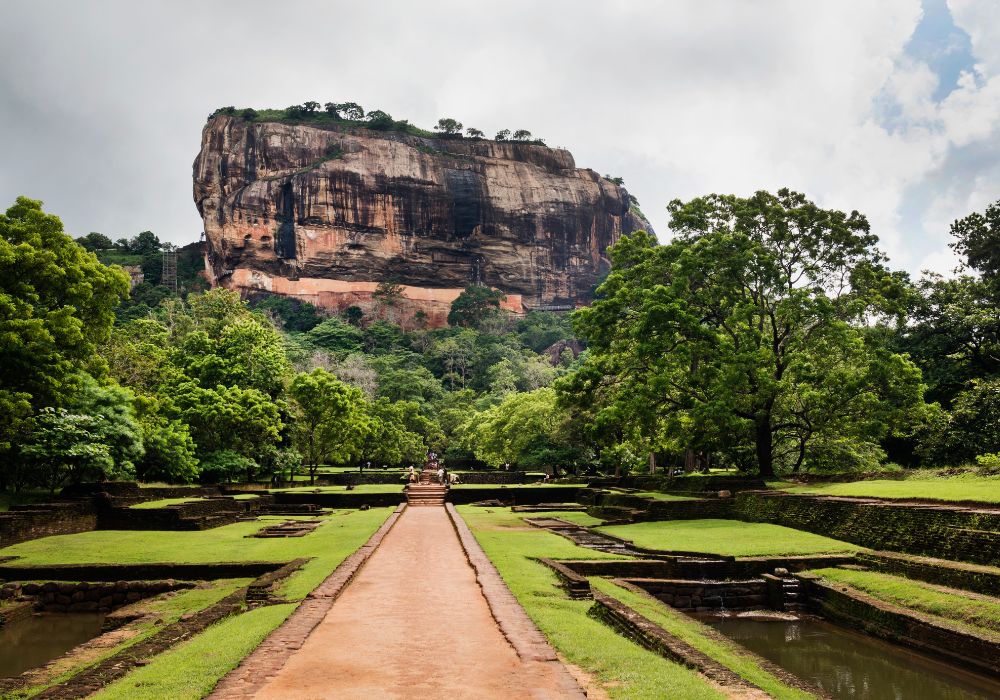 The towering Sigiriya (or Lion's Rock) is one of Sri Lanka's most iconic landmarks. This huge 5th-century palace fortress is perched on top of an enormous boulder and is one of the most impressive ancient sites I've ever visited.
Climb the 1,200 steps to the summit, where you'll be rewarded with spectacular views over the surrounding area. It's worth spending at least a couple of hours exploring all of the various terraces, ponds, caves, and water gardens. Check out this great day trip from Colombo.
3. Take the Scenic Mountain Train
The mountain train that runs between Kandy and Ella is without a doubt one of the most scenic in the world, passing through lush tea plantations and beautiful forested valleys.
Most tourists take the train from Kandy to Ella, but my number one tip is to take it the other way (from Ella to Kandy). The trains are far less crowded in this direction, so you don't have to compete with hordes of other tourists taking photos of themselves hanging out of the open doors – they really do!
It's important to book tickets as far in advance as possible as they tend to sell out. Click here to book. See the Sri Lanka Railways website for up-to-date train timetables.
4. Feast in Jaffna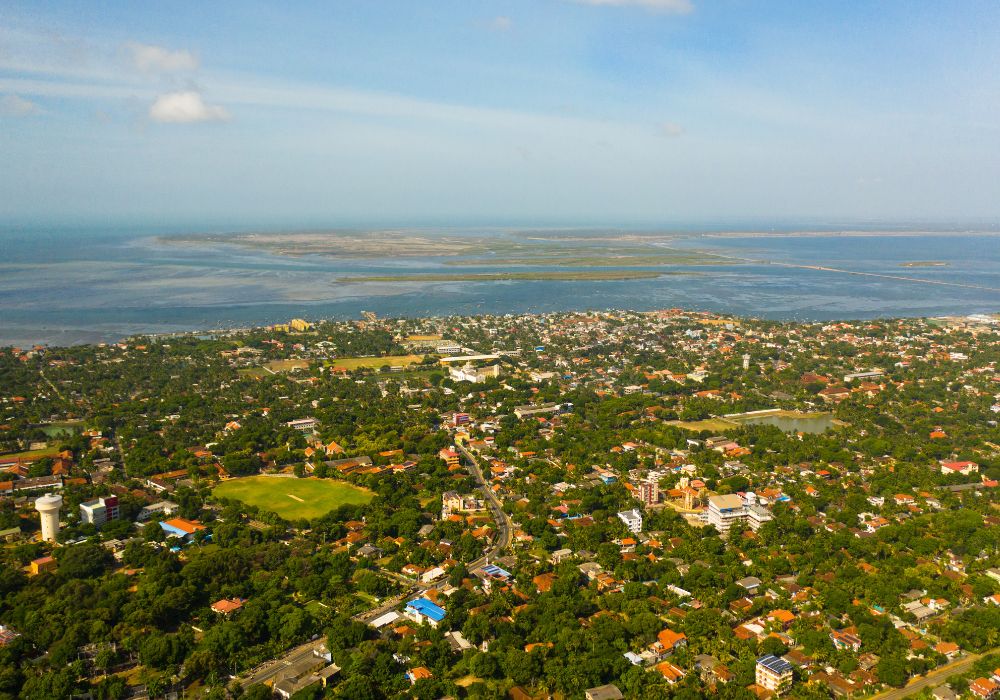 Jaffna is the capital of the Tamil-majority Northern Province. It was extensively damaged during the civil war that ran between 1983–2009 but is undergoing something of a revival nowadays.
As well as being a fascinating place to visit in its own right, the food in Jaffna is reason enough to visit. Jaffna cuisine is heavily influenced by southern Indian cooking; it's spicy, rich, and utterly delicious.
My favorite restaurant in Jaffna is Lavin's. Go here, and order the cashew curry with the masala paneer dosa – I promise you won't be disappointed.
5. Visit Anuradhapura
Anuradhapura is an ancient city, and a UNESCO World Heritage Site, that's home to many of Sri Lanka's most sacred Buddhist sites. These include several giant stupas, ancient temples, rock monasteries, and a sacred bodhi tree that supposedly derives from the original tree which Buddha gained enlightenment under.
You need to spend at least a few full days in Anuradhapura to properly experience the place. I'd also recommend taking a guided tour to learn about the history and significance of the various sites.
Weather in Sri Lanka
Given its location near the equator, Sri Lanka has a hot and humid tropical climate year-round. On the coast, the average temperature usually hovers around 30 degrees during the day and rarely falls below 26 at night.
In the mountains and upland areas in the center of the island, temperatures tend to be several degrees cooler, and it's usually much less humid.
One unusual thing about Sri Lanka is that it experiences two separate monsoon seasons.
The Northeast Monsoon usually begins in October and ends around late March or early April, bringing heavy rainfall to the northern and eastern sides of the island. The Southwest Monsoon runs from May until September and affects the southern and western areas.
If you want to avoid the rains, the best time to be in the south and west of Sri Lanka is between November–April. And for the north and east, it's April–September.
Pros and Cons of Living in Sri Lanka
As with anywhere in the world, there are both pros and cons of living in Sri Lanka. I've listed some to consider below:
Pros of Living in Sri Lanka
Cheap: The cost of living in Sri Lanka is much lower than in Europe or North America.
Safe: Overall, Sri Lanka is a very safe country to visit and live in. See the above section on safety for more info.
Chilled vibes: I love the slower pace of life in Sri Lanka – it's a true tropical paradise.
Friendly locals: Sri Lankans are rightfully known for their warm hospitality and welcoming nature. I was always made to feel accepted.
Delicious food: Sri Lankan cuisine is a delicious blend of flavors and spices. From comforting dal and pumpkin curries to coconut pancakes, fresh tropical fruit, and grilled seafood, you can eat extremely well here.
Beautiful landscapes: Sri Lanka has more than its fair share of stunning natural beauty, from pristine white sand beaches to lush tea plantations, rugged mountains, and breathtaking national parks.
Warm and sunny year-round: See the above section on climate and the two monsoon seasons.
Long visa: Sri Lanka doesn't currently have a digital nomad visa. However, many nationalities can get a 180-day tourist e-visa online before arrival.
Cons of Living in Sri Lanka
Lack of food variety: I love Sri Lankan food. But, after a while, I started craving other cuisines, which aren't always easy to find outside of Colombo.
Can be hard to find imported products/brands: Sri Lanka has very restrictive import tariffs, meaning that you can't always get hold of imported products and foods.
Limited coworking options outside Colombo: While Colombo has a good selection of coworking spaces, there aren't many in other parts of the country.
Power outages: Sri Lanka experiences power outages from time to time, especially in rural areas. Always keep your laptop fully charged.
Congested roads: This is only really a problem in the southwest corner of the island.
Crazy bus drivers: They drive so aggressively, I was nearly forced off the road several times. Have your wits about you.
Corrupt police: It's not uncommon for traffic police to stop drivers on the road and ask for a bribe. Always say no, politely but firmly.
It's not a good idea to drink unfiltered tap water: It's not as bad as in places like India, but I'd still recommend filtering water before drinking it if possible. Don't buy single-use plastic if you can help it.
Digital Nomad Visa for Sri Lanka
Sri Lanka doesn't currently have a digital nomad visa. However, citizens of the USA, Canada, the UK, and many other countries, can apply for a 180-day tourist e-visa online before arrival. It's called an ETA and costs about $36 USD. Apply for one here.
Technically, you're supposed to be able to show proof of an onward ticket (i.e. a return flight) when you arrive at immigration. I wasn't asked for this, but I'd still recommend having one just to avoid unnecessary complications.
Digital Nomad in Sri Lanka: FAQs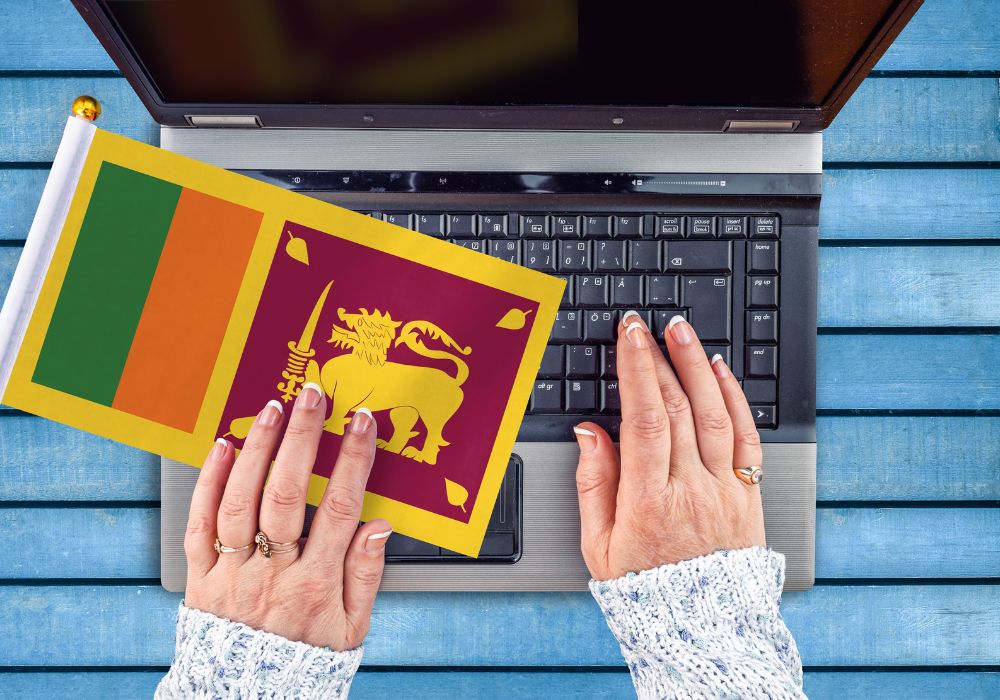 Here are some answers to frequently asked questions on Digital Nomad life in Sri Lanka:
Is Sri Lanka good for digital nomads?
Sri Lanka is an emerging digital nomad destination. It doesn't have anywhere near the same range of coworking spaces and related facilities as places like Thailand or Bali. But, if you're looking for somewhere a little different, it's definitely worth considering.
Where to stay in Sri Lanka as a digital nomad?
Colombo is the city with the best coworking spaces. However, if you're looking for more of a chilled-out beach town vibe,
I'd recommend either Ahangama, Hiriketiya, or Arugam Bay, depending on the time of year you'll be there.
How much does it cost to live as a digital nomad in Sri Lanka?
The cost of living in Sri Lanka varies a lot depending on where you base yourself, what kind of accommodation you want, how you travel around, and where you choose to eat and drink. I'd say $1,000 USD per month is a comfortable mid-range budget.
☞ SEE ALSO: Best Cities for Digital Nomads
In Conclusion
Chilled-out vibes, friendly people, incredible scenery, lush tropical landscapes, delicious food, pounding surf, and epic Indian Ocean sunsets – Sri Lanka is an absolutely amazing place.
If you're looking for somewhere a bit different from the standard digital nomad hotspots, this beautiful country is definitely worth considering. I hope this digital nomad guide to Sri Lanka has been useful. I absolutely loved my time there and can't wait to return.