In this budget guide to backpacking Sri Lanka, you will learn everything you need to know about backpacking this beautiful country on a budget, including things that you'll never find in your Lonely Planet Guide Book.
Sri Lanka is possibly the most underrated country in the world. For such a tiny island, it packs in some of the best sites in the entire region.
How Much Will Backpacking Sri Lanka Cost?
$50/day For Two People
This budget will be pretty comfortable for 2 people backpacking Sri Lanka with a close eye on their personal finances. It will afford transport, clean double rooms or bungalows on the beach, food and the entrance fees to most of the country's sites. Expect to spend a bit more if you plan on flying around the country, and a little bit less if you stay in dorms. Backpacking Sri Lanka is delightfully affordable.
Budget Accommodation: ($10-$30/night)
There are some stunning rooms in Sri Lanka and most can be paid for on a backpacker's budget. Despite the tragic events of the 2004 tsunami, builders have still opted to build the hotels so close to the water that during high tide, the sea laps right up into the restaurants. Although this construction strategy seems to lack foresight, it makes for amazing candlelit dinners at sunset with the warm Indian ocean tickling your toes.
☞ Click here to check out the best hostels in Sri Lanka on HostelWorld
☞ Click here to compare prices on the best hotels in Sri Lanka on Booking.com  
If you would rather book an apartment or stay with a host on Airbnb in Sri Lanka, why not get an Airbnb discount while you're at it? Make sure you use our special $25 Airbnb Coupon Code and save money!
Eating: ($1-$3/meal)
The food in Sri Lanka is delicious. Sri Lankans seldom eat at restaurants (in our experience), so keep in mind that you may have to order your meal hours in advance. While backpacking Sri Lanka, you'll notice that the food is a bit more expensive, and a bit more spicy than the cuisine of their large neighbour to the north, but it's every bit as delicious.
Entrance Fees: (Average $25/person)
Here's where Sri Lanka will get you. If you've travelled a lot, you may be used to "tourist pricing" for sites and temples. Well, Sri Lanka puts this term on a whole new level. Locals pay 35 cents for many sites, while tourists will pay upwards of $40. The government loves to pull in extraordinary amounts of money from the amazing ruins and temples in the country. Keep in mind that they are outstanding, and you only live once.
Alcohol: ($2 Beer, $4 Cocktails)
The local beer, Lion, is an interesting mix of heavy hops and barley. It's not to our taste personally, but beer is beer and we had a few while we were backpacking Sri Lanka.
You can also find King Fisher and other imported beers around most touristy areas. Beers in restaurants will cost you around $2 and about half of that at the liquor store. Cocktails will be between $4-$6.
Tipping:
Just like in India, tipping is commonplace in Sri Lanka. A 10% service charge will automatically be added to your food and hotel bills, but this almost always goes straight into the pocket of the hotel owner. An additional 10% is expected for waiters, drivers and tour guides, while bell boys and the guy who watches your shoes at temples will expect about 50 rupees.
Visa Regulations For Sri Lanka
As of January 2012, new visa regulations in Sri Lanka state that you must apply for an online "ETA Tourist Visa" before entering the country. If you hold a passport from The Seychelles, Maldives or Singapore, you are exempt from needing an ETA and can get a visa for free on arrival.
Visa extensions for up to 90 days are still quite easy to obtain. Extensions can be made at the Department of Immigration (011-532 9300; www.immigration.gov.lk; 41 Ananda Rajakaruna Mw, Col 10; 9am-4.30pm Mon-Fri), in Punchi Borella, Colombo. The last payments are received at 3.30pm. The department sets the cost in US dollars, but you pay in rupees. A visa extension gives you a full three months in the country and you can apply for your extension almost as soon as you arrive (the 30-day visa given upon entry is included in the three months). You can extend for an additional 3 months after your first extension if needed.
If you prefer to get a little help with the complexities of the visas in Sri Lanka, check out e-visums.co.uk.  They process nearly 12,000 visas per month and can often offer same day delivery of your visa. The applications can be filled out online at the link above and their prices are very good considering the fast turnaround.
They also offer visas and ETAs for many other countries in Asia and around the world, making the visa research and application process a lot easier for travellers. You'll pay a bit extra for the service, but you can save yourself a considerable amount of time and headache trying to figure out what paperwork, flights, photos and documentation you need for your visas.
Travel Insurance for Backpacking Sri Lanka
As with anywhere in the world, you'll want to make sure you're covered in case of an emergency during your Sri Lanka backpacking trip. World Nomads is a popular choice for backpackers and adventure travellers. Enter your details below and get a free quote:
Must-See Places While Backpacking Sri Lanka
Sri Lanka has numerous places that tempt the adventurous backpacker. There are amazing temples, ruins and old towns, beaches, coves, waterfalls and a long, interesting history. We could never list all of the must see places here, but we will list a few definite highlights that will make for a great backpacking trip to Sri Lanka.
Ella
Ella is a beautiful mountain town where you can spend your mornings sipping coffee from the patio of one of the hilltop guesthouses overlooking the hills. Your days can be spent hiking to memorizing waterfalls and through the many stunning, green tea plantations. Not too many tourists come out this way so you'll usually have the trails to yourself.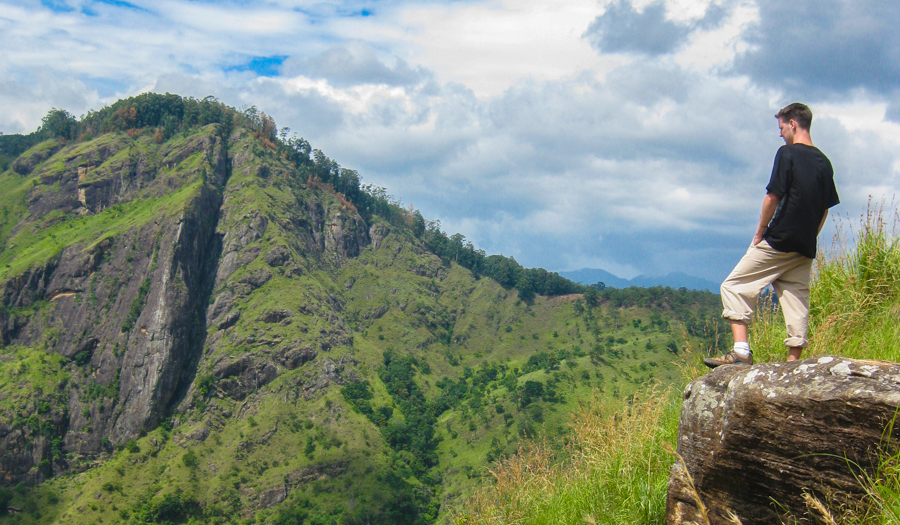 ☞ Click here to compare costs of hotels, guesthouses & hostels in Ella on Booking.com
Unawatuna
This is by far our favorite beach in Sri Lanka. Quiet, romantic and absolutely stunning, this beach stretches on for kilometers. There are hotels and restaurants right on the water (although many of them were demolished in 2011 for being illegally built too close to the sea). This is the funkiest, most relaxed beach in Sri Lanka.
☞ Click here to compare prices on the hotels & guesthouses in Unawatuna on Booking.com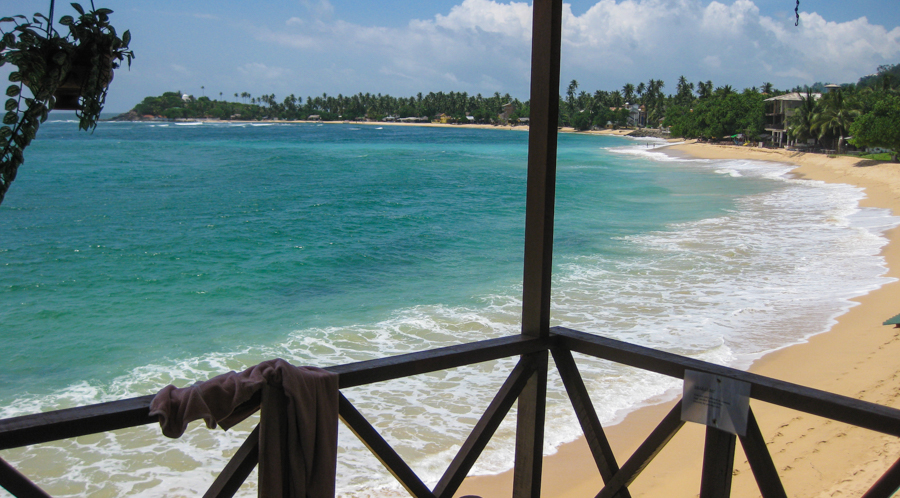 Kandy
Kandy is another cool little town which houses one of the most religiously important Buddhist relics in the world, Buddha's tooth. It is said to have been stolen from the cremation fires of Buddha's funeral pyre and brought to Sri Lanka for safe keeping. The tooth lies inside a stunning Buddhist temple and is guarded religiously. During the Kandy Esala Perahera Festival in July and August you may get a chance to catch a glimpse of this sacred relic.
☞ Click here to compare prices on hotels & guesthouses in Kandy on Booking.com
Singiriya
Sigiriya (Lion's rock, Sinhalese – සීගිරිය) is an ancient stone and rock fortress and palace ruin in the central Matale District. Surrounded by the remains of an extensive network of gardens, reservoirs, and other structures, this is the most awe-inspiring site in all of Sri Lanka.
The massive carved rock shoots up from the surrounding farmland and appears out-of-place. It is thought to have once been a mountain fortress monastery but still no one is sure of its historical purpose. There are massive animal effigies cut out of the rock including a remarkable Lion that guards the entrance to the tip of the palace entrance.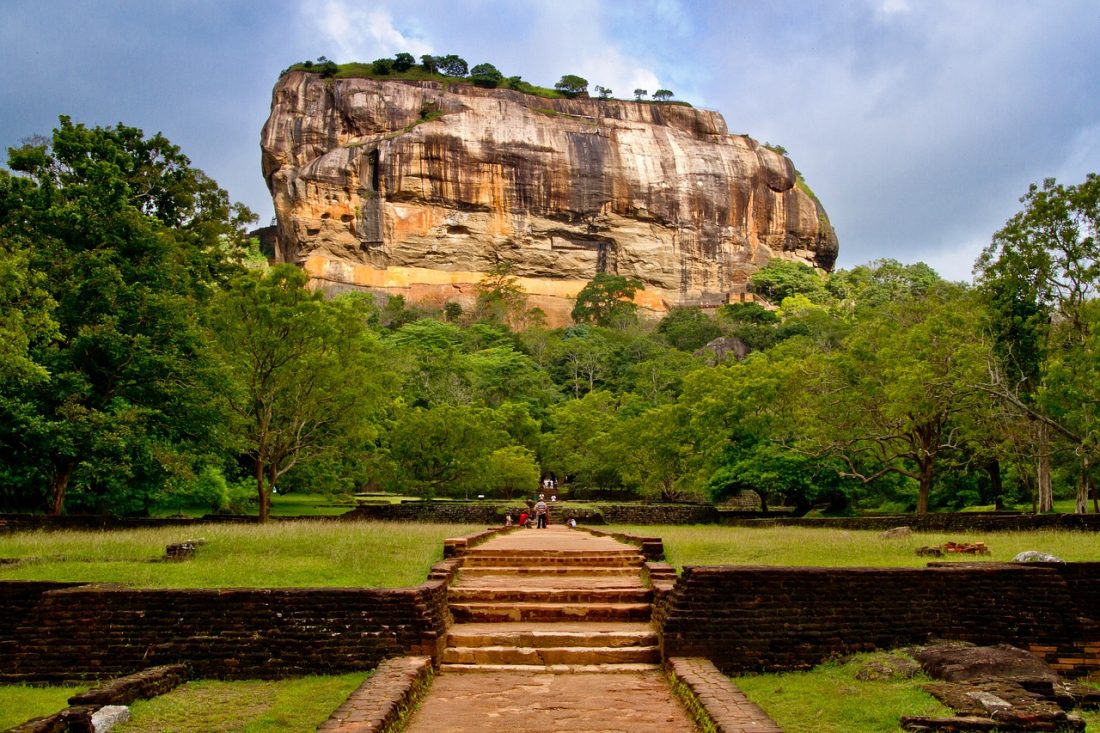 Dambulla
Just outside of Dambulla town is the largest and best-preserved cave temple complex in Sri Lanka. Carved from a rock that towers 160 m over the surrounding plains, there are more than 80 documented caves in the surrounding area. Major attractions are spread over 5 caves, which contain statues and pagodas. These paintings and statues are related to Buddha and his life. There are a total of 153 Buddha statues, 3 statues of Sri Lankan kings and 4 statues of gods and goddesses.
Adam's Peak (Sri Pada):
This is a 2,243 metre (7,359 ft) tall mountain located in central Sri Lanka. It is well-known for the Sri Pada, i.e., "sacred footprint", a 1.8 metre (5 ft 11 in) rock formation near the summit, in Buddhist tradition it is thought to be the footprint of the Buddha.
Access to the mountain is possible via 6 trails (Ratnapura-Palabaddala, Hatton-Nallathanni, Kuruwita-Erathna, Murraywatte, Mookuwatte & Malimboda). Out of these the Nallathanni & Palabaddala routes are the most popular.
Kuruwita-Erathna road is somewhat popular as well. The ascent is considered a holy pilgrimage by many, so be respectful and do as the locals do. During the pilgrimage season (December until Vesak festival in May) candles light the way and it is best climbed in the dark of pre-dawn. The busiest period is January and February.
At other times the temple on the summit is unused, and between May and October the peak  is obscured by clouds for much of the time.

Must-have Experiences When Backpacking Sri Lanka
Enjoying A Sunset
When the sun begins to dip into the sea and illuminate the sky with pinks, reds and oranges, you'll be drawn to the shores. Many of the beachside restaurants in Sri Lanka are built so close to the water, that you can have candle lit cocktails while the warm Indian ocean soaks your toes. Backpacking Sri Lanka can be very romantic!
Play Cricket With Locals
If you're like us and cricket makes absolutely no sense to you, don't worry, the Sri Lankans don't care. Ask to join one of their games or just stand on the sidelines and wait to be invited in. It's a great way to make some friends and learn a bit about this confusing sport. No matter how long they explain it, you probably won't get it (depending on where you're from), but just swing the paddle and try to hit the bouncing ball… it's a blast!
Take Local Transport
The old rickety buses and trains (donated by Canada) are an exciting and scenic way to see the countryside. Many locals speak English in Sri Lanka, so enjoy good conversations with new friends over a hot cup of chai (tea) along the way. Backpacking Sri Lanka by bus and train is definitely the best way to get around!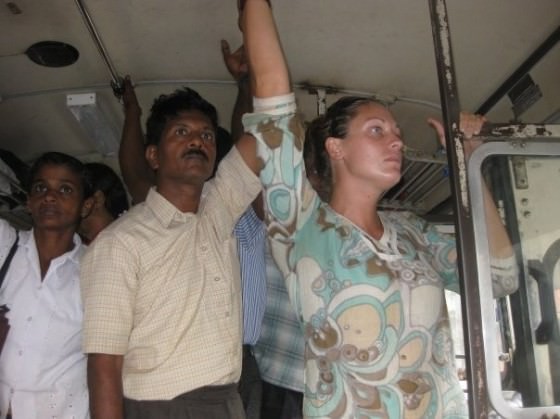 Go Snorkelling
There are some beautiful reefs off of the shores of southern Sri Lanka where you will see an abundance of healthy coral and fish life. Don a mask and fins and head out on your own and spot rays, eels, cuddle fish, puffers and maybe even turtles!
Rent A Motorbike
By far the best way to get around in Sri Lanka is on a motorbike or moped. They can be rented just about everywhere for as little as $8/day and they will give you a lot of freedom that buses and trains lack. If you've never rode a motorbike before, don't worry, it's like riding a bike.
Just take a spin around some quiet roads a couple of times to get used to it and you'll be fine. Many people rent motorbikes in Colombo and tour them around the entire country. For this we'd recommend a real bike and not a moped because the hills in central Sri Lanka are very hard to climb, even for tuk-tuks!

Visit The Ruins and Temples
There are loads of ruins and temples in just about every town in Sri Lanka. In fact, Sri Lanka boasts more Unesco World Heritage Sites per kilometer than just about anywhere on Earth! Some of them are free to enter, but most will be expensive outings due to tourist pricing. Ask locals about little hidden gems that will likely be free and authentic.
Do a Sri Lankan Cooking Class
The spicy, delicious food in Sri Lanka is actually quite fun to make! Ask around and find yourself a cooking class and you can learn how to create these tasty delicacies so you can cook them upon your return home. Make sure to ask other travellers about their experiences with the teacher, as some will just cook everything while you watch, rather than actually teach you anything.
Off The Beaten Path In Sri Lanka
Sri Lanka itself is already a fairly off the beaten path destination, so by just coming here you're bound to find places to yourself. But if you're really adventurous, you're going to want to find somewhere that few other people go.
For this, you'll probably want to head north or east.
Jaffna
Jaffna is one of the oldest inhabited cities in lower south Asia. Due to its past isolation to western influence, it remains a very authentic and intriguing place to visit for the few travellers who make it this far north.
Its old colonial suburbs and war-torn central infrastructure can make for interesting city walks, but this place is more about people watching and mingling with the friendly Tamil population. They will likely be very surprised and excited to see you.
The East
Most people in Sri Lanka head to the hilly central region and then directly south, meaning that the eastern region is left virtually untouristed. The main attraction here is the surfing beach of Arugam Bay, but other beaches around Batticoloa and Trincomalee, offer some good swimming and sunbathing in a relaxed atmosphere. If you're here in the dry season, consider spotting elephants at Ampara.
Pros of Backpacking Sri Lanka
Sri Laka is just starting to appear on the backpacker's radar so now is the perfect time to visit! There are a lot of reasons to travel to this teardrop shaped island.
Sri Lanka has been called the best island of its size in the world, and for good reason. Pound for pound, acre for acre and beach for beach, Sri Lanka is one of the most amazing places we've ever visited and always appears on our lists of favorite islands. Here are some of the pros of backpacking Sri Lanka.
Being Off The Beaten Path… Everywhere
There's just something special about being somewhere that few other tourists venture and Sri Lanka still has that allure. It's so blissfully untravelled that you can easily find your way off the beaten path and really get into some authentic culture.
The People
Just like in India, mingling with the local people and making friends in Sri Lanka is easy. The laid back local communities are always willing to let you into their circles and are delightfully curious about foreign visitors. If you know anything about cricket, then you'll probably have plenty to talk about with the local men.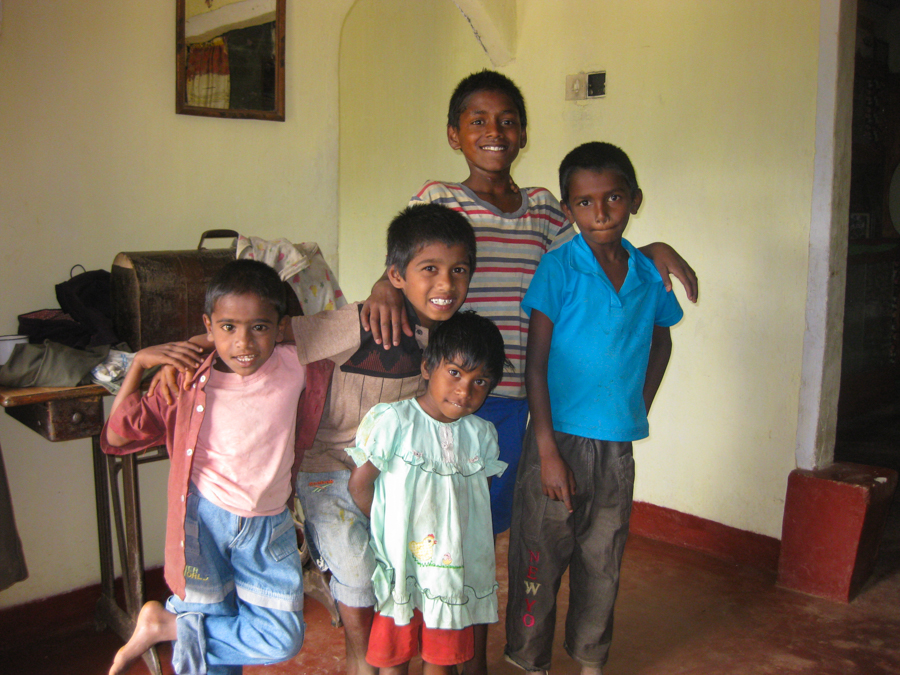 The Costs
Prices are increasing in Sri Lanka, but it's still a very affordable place to visit. It's much more expensive than its northern neighbour (but where isn't?). Tourist pricing to sites will be your biggest expense, but hotels, buses and food are still of great value.
The Food
Although it can be a bit difficult to eat when your hungry (order 2 hours in advance) the food is delicious in Sri Lanka. Depending on where in the country you are, and which time of year it is, it can take a long time to order, but that's because the curries are fresh and made to order. It's like having a home cooked meal every time you eat in a restaurant!
Cons of Backpacking Sri Lanka
To be honest, there really aren't that many cons to backpacking Sri Lanka. Despite the small list of negatives we've listed in our Budget Guide To Backpacking India, Sri Lanka is a different country with different people and really can't be compared. The men here are more respectful of foreign women and although you should still cover up, you probably wont experience the relentless sexual attention that you get while sunbathing in India. Here are a couple of cons to backpacking Sri Lanka:
Waiting For Food
We're really reaching for cons here! Although waiting for your meal isn't a big deal, it does get annoying when your really hungry. If you have the foresight, consider ordering breakfast, lunch and dinner all in the morning and just return at a predetermined time for each meal. It's a good idea to drop in for a reminder, just in case the cook falls asleep.
Tourist Pricing
Perhaps nowhere else do foreigners pay so much more than locals for sites and temples. It can be frustrating to see such a discrepancy between fees for locals and foreign visitors, but keep in mind that it's official and there's not much you can do about it.

The People In Sri Lanka
The people you encounter while backpacking through a country can have a profound impact on the way you view a destination. Not only the local people, but the types of other travellers as well.
Types Of Other Travellers
More and more people are making their way to Sri Lanka each year, and although more people are realizing the island's beauty, they are often a more mature, well-travelled crowd. Many people rent holiday homes just off the water along the southern shores and they sometimes have a great understanding of local culture and customs.
It's good to meet these types of expats and travellers as they can teach you a thing or two about the country (and maybe even invite you back for dinner!). There's not really the Southeast Asian budget backpacking crew here, and those that make their way to Sri Lanka are generally more laid back, intrepid and older than the bucket swilling full-mooners of Thailand and Laos.
In 2016, the top 10 countries arriving for tourism in Sri Lanka were:
India, China, UK, Germany, France, Maldives, Australia, Russia, USA and Canada.
The Locals
Sri Lankans are friendly, kind and genuine. They're always curious and interested in their foreign guests and love to include travellers in their conversations.
They are aware of the potential that tourism has in the country and they see visitors as proof that Sri Lanka is a great place. This is reflected in the pride that they have for their country, its history and its culture.
When backpacking Sri Lanka, it's easy to make friends!
Communication in Sri Lanka
The official local languages are Singhalese and Tamil. Sri Lankans may not speak English as well as Indians, but there will rarely be a time when you can't communicate. English is widely spoken (10% of the population is completely fluent) and street signs and menus (at touristy restaurants) are always bilingual.
Getting Around in Sri Lanka
Sri Lanka is pretty well-connected by old rickety buses and hand-me-down Canadian trains that make for fun transport around the country. Buses and trains are cheaper than anywhere else we've been, and despite destinations often written on the bus in Singhalese or Tamil, you can usually find a driver who speaks English and can direct you to the right bus.
Tuk-tuks and taxis are also a good way to get between towns but they will be considerably more expensive than buses. A taxi from Ella to the southern coast will be around $50 while a bus will be less than $5.
Entry Requirements To Sri Lanka
You will need to have at least one blank page in your passport which must be valid for at least six months from the date of entry.
Sri Lanka is a very easy place to visit and there aren't too many regulations to follow before arrival. The new visa situation isn't ideal, but it's still very easy, especially compared to recent bureaucracy procedures in India.
There are no required vaccinations and no hassles entering the borders by land or by air.
Health In Sri Lanka
The biggest health risk in Sri Lanka is probably food poisoning and traveller's diarrhea. There is a risk of Dengue Fever. Sleep under a mosquito net and wear repellent. As of 2016, Sri Lanka has been listed as malaria free.
We would suggest packing a medical kit that includes some antibiotics for traveller's diarrhea, Peptol Bismol for upset stomachs and Paracetamol for hangover headaches, and fever. Be sure that all medications are in their original marked containers to avoid problems with immigration officials.
Phone & Internet In Sri Lanka
Many tourist restaurants and hotels offer free wi-fi in Sri Lanka. The internet can be slow in rural areas, but it should be sufficient to check emails.
Make sure your smartphone is "unlocked" before coming to Sri Lanka, and purchase a local SIM card when you arrive. A popular company is Mobitel which has good coverage and reasonable rates. You can pick up a SIM card at the Colombo airport and at many shops around the country.
When Is The Best Time To Visit Sri Lanka?
The best time to visit Sri Lanka is during the dry seasons from December to March for the west coast, the south coast and the Hill Country, and from April to September for the ancient cities region and the east coast. December through March is also the peak tourist season and although accommodation prices do go up a bit, the crowds won't ruin your trip.
July/August is the time of the Kandy Esala Perahera, the 10-day festival honouring the sacred tooth relic of the Buddha, and also the time for the Kataragama Festival in the South. During these times, you'll want to book your rooms well in advance.
Overall Rating
Sri Lanka is well deserving of this 9 star rating. It's a truly amazing place that will stay in your mind and in your heart for long after your return home. The people are friendly, the food spicy, the sights intriguing and the beaches long and white. What more could a backpacker ask for?
☞ Click here for more FREE travel guides
Like This Article? Pin it!