Finding a good place to work can be one of the biggest challenges for digital nomads and other remote workers. To make things a little easier, I've put together this selection of 15 of the best coworking spaces in the world.
Each spot is unique, and this post contains plenty of useful information to help you decide which one is likely to be good for you, including location, membership information, costs, amenities on offer, and the key pros and cons of each.
I've been a digital nomad since 2021. During this time, I've worked remotely from several different countries and a number of unique coworking spaces. Some were really great. Others, not so much.
From personal experience, I'm happy to be able to share with you my pick of the best places to co-work around the world. So grab your remote work visa and create your own digital nomad adventure!
15 Best Coworking Spaces
There are thousands of coworking places out there. And with the rise of remote working, more are being opened all the time.
To make this guide as helpful as possible, I've included top coworking spaces in some of the most popular cities for digital nomads, and have tried to include a wide range of different locations around the world.
Factors that I took into consideration when deciding on which coworking spaces to pick for this list included cost, location, facilities, user reviews, my own personal experience, and the experience of other people that I know.
What is Coworking?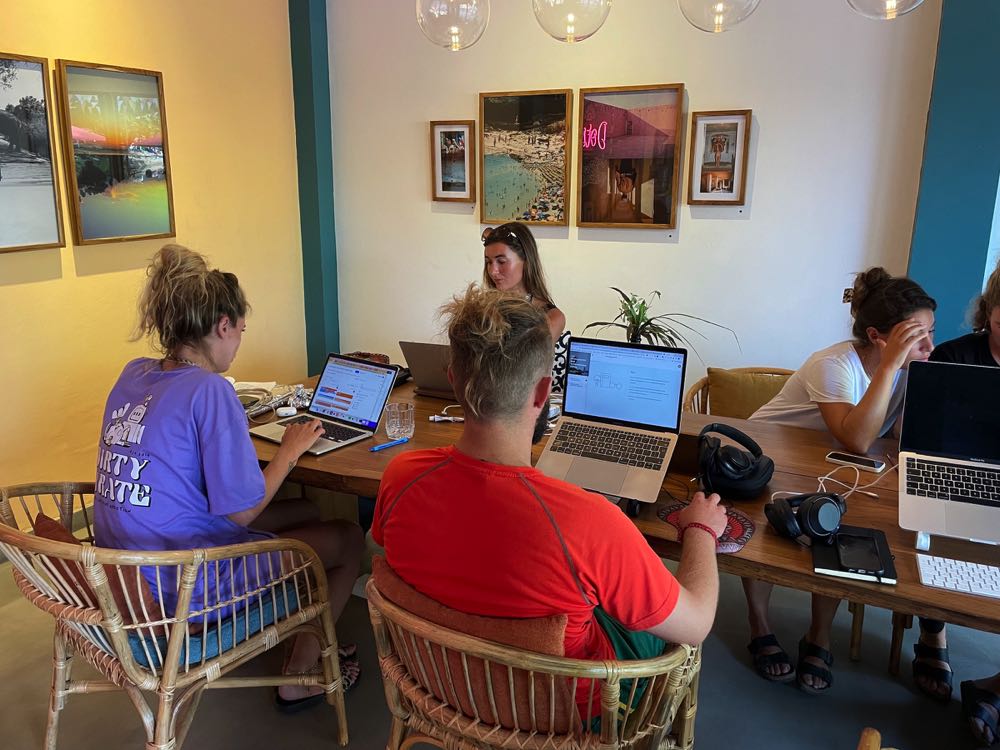 Coworking essentially involves sharing a workspace with people that you don't work with. These people typically don't work for the same organization as you, and often they might work in completely different industries.
I've shared coworking spaces with people doing a wide range of different jobs, including bloggers, freelance writers, social media managers, graphic designers, online tutors, journalists, PR consultants, proofreaders, and even lawyers.
Many people who use coworking spaces are self-employed, although not all are. Today, a growing number of companies are allowing their employees to work remotely at least part-time, meaning that coworking spaces are becoming increasingly popular.
The sort of things I look for in a good coworking space include location, the facilities on offer (comfortable chairs and fast WiFi are a must!), and the types of people who work there.
1. Outpost (Canggu, Bali, Indonesia)
If you're looking for the best coworking spaces in Bali, check out Outpost – a network of coworking and coliving spaces with branches in Bali and Sri Lanka. The first one opened in Ubud, Bali in 2016.
I spent several weeks working from their branch in Weligama, Sri Lanka earlier this year, and it was one of the best coworking spots I found in the country. However, Outpost Canggu is their most famous and popular location.
It's located close to some of Bali's best beaches and surfing spots and offers a relaxed and tropical setting. There's a pool, several different areas to work from (both with and without AC), quiet areas, and a buzzing lounge space.
One of my favorite things about Outpost is that they put on regular social activities (lunches, drinks, live music evenings, etc.) for their members. These are great ways to get to know other people in the coworking space and can be perfect opportunities for networking (both personal and professional). Living in Canggu as a digital nomad is a lot of fun!
Address: Jl. Raya Semat, Tibubeneng, Kec. Kuta Utara, Kabupaten Badung, Bali 80361, Indonesia. Click here for directions.
Membership Options and Costs
There are several different membership options to choose from. You can buy a day pass for $15 USD, a 1-month unlimited pass for $195 USD, or a 2-month unlimited pass for $340 USD.
Alternatively, you can buy hourly pass packages ($54 USD for 25 hrs, $77 USD for 50 hrs, or $135 USD for 100 hours), which are valid for one month. They also have a dedicated fixed desk option, which costs $232 for 1 month or $420 for 2 months.
Amenities at Outpost Canggu
High ceilings and lots of natural light
Different work areas (AC, non-AC, quiet areas, private meeting rooms, communal lounges, etc.)
Fast and reliable WiFi
Community lunches every Thursday
Pros of Outpost Canggu
Well-designed space with a minimalist aesthetic
Productive and creative environment
Friendly and helpful staff
Diverse community
Regular social activities
Convenient location
Easy access to cafes, restaurants, and other amenities
Cons of Outpost Canggu
Not the cheapest coworking space in Bali
A few people have complained that the height of the chairs and desks can be uncomfortable after long periods
Limited private office options for small meetings
2. Punspace Tha Phae Gate (Chiang Mai, Thailand)
Chiang Mai is one of the most digital-nomad-friendly cities in Asia and is home to plenty of great coworking spaces, and endless things to do. Punspace Tha Phae Gate, located in the heart of the Old City, is one of the best coworking sites in the city.
It's a popular spot with digital nomads, freelancers, and other remote workers and hosts regular events and workshops. It has fast, reliable internet, comfortable seating, and bookable, dedicated meeting rooms.
Punspace is known for its quiet and focused atmosphere, making it ideal if you need to get work done without distractions. There's also a coffee shop on the premises to help keep you caffeinated and productive throughout the day. Learn more in our guide to living in Chiang Mai as a digital nomad.
Address: 7 2 Rachadamnoen Rd Soi 4, Tambon Si Phum, Mueang Chiang Mai District, Chiang Mai 50200, Thailand. Click here for directions.
Membership Options and Costs
Day passes cost $8 USD (9 am–6 pm), or you can buy a week pass for $49 USD (24/7 access). Monthly hot desking costs $95 USD and a monthly reserved desk space costs $159 USD.
You can also rent a small private office for $262 USD per month, and the cost per month goes down if you commit to several months at a time. For example, the annual cost for a small private office is $2,621 USD.
Amenities at Punspace Tha Phae Gate
Free filtered water, tea & coffee
Quiet and spacious work areas
Bookable meeting rooms
High-speed WiFi
Air conditioning
Flexible seating arrangements (including standing desks and ergonomic chairs)
Lounge & chill-out areas
Outdoor terrace
Fully-equipped kitchen
Pros of Punspace Tha Phae Gate
24/7 access with certain membership plans
Great location in the heart of the Old City
Close to many of Chiang Mai's most important, cultural, and historical landmarks, and its best bars and restaurants
Regular events and workshops for members
Cons of Punspace Tha Phae Gate
Can become crowded during peak times
The quiet and focused atmosphere may not be ideal for those looking for a more social coworking experience
Limited availability of staff outside of regular office hours (which is to be expected, in fairness)
3. Heden Santa Apolónia (Lisbon, Portugal)
One of the top digital nomad cities in Europe, Lisbon is a creative hub as well as a beautiful (and relatively affordable) city to live in. Heden Santa Apolónia is one of the coolest coworking spaces in Lisbon.
This waterfront building has enormous floor-to-ceiling windows, giving it a light, airy, and inspiring feel, and a great view of the Tagus River.
Inside, the decor is minimalist and beautiful; offering a relaxed and modern work environment with various seating options. It also has a convenient central location, right next to Santa Apolónia. Read more in our guide to living in Lisbon as a digital nomad.
Address: Doca Jardim do Tabaco, Terminal de Cruzeiros de Lisboa – Edifício NE 1st floor, 1100-651 Lisboa, Portugal. Click here for directions.
Membership Options and Costs
You can either sign up for flexible hot desking or a dedicated/fixed desk membership plan. Hot desking costs $280 USD per month, while fixed desk memberships cost $370 USD per month.
Private offices start from $741 USD per month (depending on size).
Amenities at Heden Santa Apolónia
High-speed Wi-Fi
Free tea & coffee
Yoga and massages available on site
Bike storage facilities
Showers
Free printing
Regular events, workshops, and lunches
Monitors available for hire
Pros of Heden Santa Apolónia
Modern, comfortable, and relaxed work environment
Convenient location next to Santa Apolónia train station
Amazing outdoor balcony and sun terrace
Beautiful views of the city and river
24/7 member access
Cons of Heden Santa Apolónia
Meeting rooms are quite expensive to book ($45 USD per hour)
Some people have reported issues with desk reallocation without prior notice
Others have complained that invoices aren't always sent out on time
Ongoing construction work in the area can be distracting at times
4. HUBSY Arts et Métiers (Paris, France)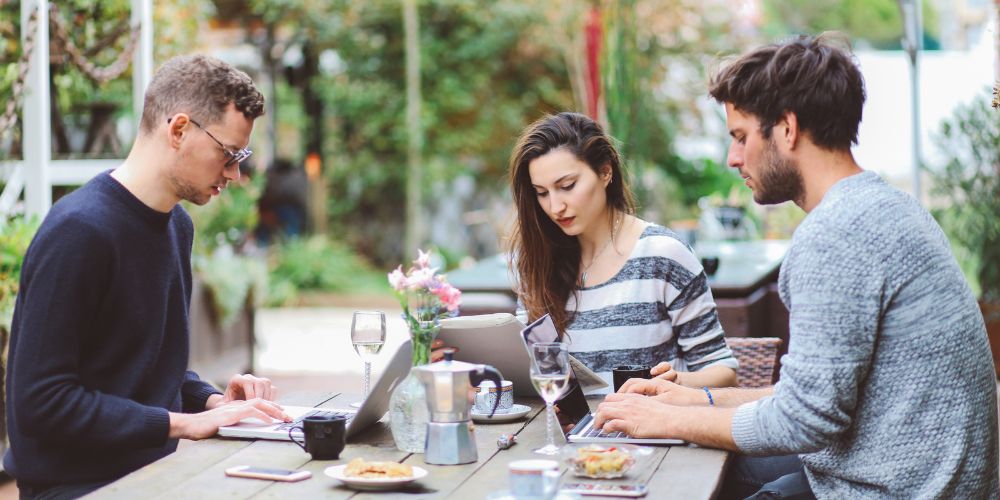 HUBSY Arts et Métiers is a super trendy and well-equipped coworking space in Paris.
Unlike many other coworking spaces, you don't pay extra for meeting rooms, phone booths, or even food and drink. Everything is included in your price – and you can even pay in half-hour increments (see below).
HUBSY's location is unbeatable. It's just a 5-minute walk from the fashionable Marais district and is close to several Metro stations, making it easy to get to and from. If HUBSY doesn't appeal, plenty of other coworking spaces exist in Paris.
Address: 41 Rue Réaumur, 75003 Paris, France. Click here for directions.
Membership Options and Costs
At HUBSY, you only need to pay for the time that you're actually there. It's $7 USD for the first hour, then $3 USD for each half-hour you need after that.
Alternatively, you can pay $28 USD for a whole day, $118 USD for a week, or $370 USD for a month.
Amenities at HUBSY Arts et Métiers
Delicious specialty coffee (plus a great selection of non-dairy milk – not always a given in France!)
Free hot and cold drinks, fruits, biscuits, and snacks
Comfortable and flexible seating options, including booths, open tables, and couches
Phone booths
Dedicated meeting rooms
High-speed internet
Free printing
Pros of HUBSY Arts et Métiers
Quiet, productive working atmosphere
Everything's included in the cost once you're there (including the use of meeting rooms, call booths, drinks, and snacks)
Very good coffee
Friendly and supportive staff, fluent in English (also not always a given in France)
Various seating options to suit different work preferences
Amazing central location
Close to several Metro stations
Cons of HUBSY Arts et Métiers
Fairly expensive day pass ($28 USD)
Limited space, especially during the most popular times of day, can make it challenging to find a spot
Some people have commented that the WiFi speeds can slow down during peak times
5. Workie Workie (Kuala Lumpur, Malaysia)
As well as having an awesome name, Workie Workie is also one of the best coworking spaces in Malaysia.
It's been around since 2019 and offers a great range of amenities and facilities; including meeting rooms, printing and scanning services, complete equipment, and free tea and coffee throughout the day.
This coworking spot is located in the Kuchai Lama district and has 10,000 square feet of flexible office space, including hot desk and fixed desk areas, private suites, meeting rooms, and event spaces.
However, for me, the standout features of this option are that it offers members free access to a nearby gym and sauna, as well as a free onsite nap room (which I think every coworking space should offer frankly!).
For more information about living in Malaysia, have a look at our digital nomad guide to Penang.
Address: LG1-2, Seri Gembira Avenue. 6, Jalan Senang Ria Happy Garden, Kuchai Lama, 58200 Kuala Lumpur, Malaysia. Click here for directions.
Membership Options and Costs
Hot desking costs $7 USD per day, $30 USD per week, or $75 USD per month.
Alternatively, it's $110 USD per month for a dedicated desk, and $199 USD per month for a small (1-person) private office.
Amenities at Workie Workie
Kitchen facilities, including free tea and coffee
Free printing, scanning, and basic stationery
Meeting rooms
Dedicated "live room" for live streaming, complete with green screen and fancy lighting
Members get free access to a nearby gym and sauna
Free onsite "hotel nap room"
Personal lockers for valuables
Library corner with over 1,000 books
Pros of Workie Workie
Free gym and sauna access
Located next to a secure covered car park
In a building with various other useful businesses, including restaurants, a convenience store, salons, a yoga studio, and a bar
Comfortable and spacious environment
Very clean and tidy
Friendly and helpful staff
Cons of Workie Workie
It's a little way out of the center of the city
Not particularly easy to reach using public transport
6. Betahaus (Barcelona, Spain)
Betahaus is an amazing coworking space located in the vibrant Gràcia neighborhood of Barcelona. With so many fun things to do in Barcelona during your free time, many digital nomads are choosing this vibrant city.
It has a beautiful and inspiring design, with plenty of natural wood and plants to help you feel zen while working. There are several terraces, which are great places to relax or network with your fellow coworkers.
Betahaus is relatively affordable (at least by Western European standards), making it a great option for freelancers and solopreneurs. This place is also known for encouraging a strong sense of community and hosts various events and workshops from time to time.
Address: Carrer de Vilafranca, 7, 08024 Barcelona, Spain. Click here for directions.
Membership Options and Costs
Day passes cost $19 USD, or you can buy a monthly hot desk pass for $246 USD, or a monthly fixed desk for $302 USD.
Betahaus also offers hourly passes, where you can buy 40 hours ($89 USD) or 60 hours ($111 USD) that can be used over 30 days. Alternatively, you can get 100 hours ($201 USD) or 150 hours ($280 USD) that can be used over 90 days.
Amenities at Betahaus
Ergonomic workstations
Meeting rooms
Call booths
Onsite cafe
Free tea & coffee
Fast internet
Pros of Betahaus
Beautiful design
Friendly, inspiring, and creative environment
Several balconies and sun terraces
Great views of the Barcelona skyline
Reasonable pricing
Fun, vibrant neighborhood
Regular community events and networking opportunities
Cons of Betahaus
Can sometimes get a little crowded during peak times
Hot deskers may occasionally struggle to find a suitable workspace when it's busy
7. CoWork Me (Melbourne, Australia)
CoWork Me is one of the best coworking spaces in the vibrant St Kilda neighborhood of Melbourne. It's been around since 2017 and is known for its excellent facilities and its strong sense of community.
The space offers a range of amenities, including modern ergonomic workspaces, meeting rooms, a fully equipped kitchen, and a cafe. They put on regular social and professional events; offering great opportunities for networking and meeting your fellow coworkers.
It's conveniently located a stone's throw from the 67 tram too and is on several bus routes, so getting here is a breeze from most parts of the city.
Address: 245 St Kilda Rd, St Kilda VIC 3182, Australia. Click here for directions.
Membership Options and Costs
Hot desking from $67 USD per month, or dedicated desks from $366 USD per month.
Amenities at CoWork Me
Modern and well-maintained workspaces
Super-fast WiFi (400Mbps)
Meeting rooms with video conferencing facilities
Quiet spaces for silent working or studying
Fully equipped kitchen
Great cafe
Regular events and networking opportunities
Secure, off-street parking and bike storage
Pros of CoWork Me
Affordable membership, especially for hot desking
Well-maintained professional facilities and amenities
Convenient location with easy access to public transport and parking
Diverse range of workspaces
Vibrant and professional environment
Friendly and welcoming community
Strong focus on building connections and collaborations
Cons of CoWork Me
Limited soundproofing – some people have reported issues with noise distractions
Occasional issues with printer functionality
Apparently, the free coffee isn't as good as it once was (but this is Melbourne, so it's still acceptable)
8. Uncommon Borough (London, UK)
I previously lived in London for almost 8 years and, while I've never actually used any of the coworking spaces there, I know plenty of people who have.
With 5 beautifully designed locations throughout the city, Uncommon holds some of the best coworking spaces in London. Their Borough branch in trendy south London is one of the most popular and highly reviewed.
Uncommon Borough stands out for its amazing rooftop terrace with views over the London skyline. There's a cafe/bar on the ground floor, and a great range of other facilities including showers, a social members' lounge, wellness areas, quiet focus zones, and bike storage.
It's also conveniently located right next to a Tube station and is very close to Borough Market (one of my favorite places for street food in London).
Address: 1 Long Ln, London SE1 4PG. Click here for directions.
Membership Options and Costs
This is a premium coworking space (with a fairly premium price tag), although the facilities are second-to-none.
Day passes cost $52 USD, although you can get a weekend pass for $46 USD (total, for both Saturday and Sunday) if you'd prefer. Hot desking starts from $391 USD per month and you can opt for a dedicated desk from $522 USD.
Amenities at Uncommon Borough
Open-plan office spaces and private booths
Silent focus zones
Members' lounge
Complimentary fitness classes (including yoga and HIIT classes)
Showers (with hair dryers)
Bike storage
Pros of Uncommon Borough
Excellent range of flexible workspaces
Fully equipped modern meeting rooms
Aesthetically beautiful space with huge windows and lots of natural light
Amazing rooftop terrace
Regular events such as breakfast, drinks, and yoga classes
Professional, highly-competent management team
Convenient location
Easy to access via public transport
Close to some great food places
Dog-friendly
Cons of Uncommon Borough
It's quite expensive
Fixed desks area can be a little dim
Limited availability of desks at peak times
Sometimes there's a waiting list for fixed desks
9. The Great Room (Singapore)
The Great Room is a network of luxurious coworking spaces known for their elegantly designed workspaces and high-end amenities. Their One George St branch is one of the best coworking spaces in Singapore.
It has plush (and soundproof) meeting rooms, beautiful lounge areas, and a range of workspaces that are functional, comfortable, and very aesthetically pleasing – whoever designed this place did an incredible job.
It's inside a 23-story building with amazing views of the city and is located within easy walking distance of several downtown MRT stations (including Chinatown, Clarke Quay, and Raffles Place).
Address: 1 George St, Level 10, Singapore 049145. Click here for directions.
Membership Options and Costs
You can get a day pass for $53 USD. Monthly hotdesking starts from $567 USD and allows you to access and work from any of their locations in the Asia-Pacific region, including branches in Sydney, Bangkok, and Hong Kong.
Amenities at The Great Room
Beautiful and well-maintained workspaces
Comfortable and functional workstations
High-end ergonomic furniture
Soundproof meeting rooms available for rent
Pantry with free coffee
Pros of The Great Room
Luxurious atmosphere
24/7 access
Friendly and helpful concierge team
Plenty of natural light
Amazing views
Hot desking membership allows you to work from any of their locations in the Asia-Pacific
Opportunities for networking and business relationships
Regular networking events
Cons of The Great Room
Quite expensive
Can become crowded at popular times
10. Selina Medellín (Medellín, Colombia)
Selina is a network of coworking and coliving spaces that started in Latin America and has since expanded to a large number of destinations worldwide.
Selina Medellín is a unique coworking space in the vibrant Colombian city of Medellín, which is rapidly becoming one of the most popular digital nomad hotspots in South America.
This great coworking space is located in the vibrant Provenza neighborhood, close to some of the city's best food spots, bars, and cafes.
They have super facilities, including a cafe, bar, movie room, rooftop music studio, and a wellness area that offers yoga classes. It's a really creative space, filled with murals and artwork, and also offers a range of accommodation options at the on-site hostel.
Address: Cra. 32d #9 – 17, El Poblado, Medellín, El Poblado, Medellín, Antioquia, Colombia. Click here for directions.
Membership Options and Costs
Daily hot desking costs $11.50 USD. Alternatively, you can get a dedicated desk for $56 USD per week, or $183 USD per month.
Amenities at Selina Medellín
High-speed internet
Comfortable work areas
Meeting rooms
Friendly communal spaces
On-site restaurant, cafe, and bar
Movie room
Wellness area with yoga classes
Various other classes on everything from photography to meditation
Pros of Selina Medellín
Spacious and well-equipped coworking space
A very arty and creative space
Lots of social events, workshops, and wellness activities
It's a great place to meet other travelers and digital nomads
Lots of greenery and plants everywhere
Safe location
Quite affordable, especially if you sign up for longer periods
Cons of Selina Medellín
Lots of negative reviews of the onsite hostel (although people speak very highly of the coworking space itself)
A few people have had difficulties with the front desk staff
11. NEST Coworking (Playa del Carmen, Mexico)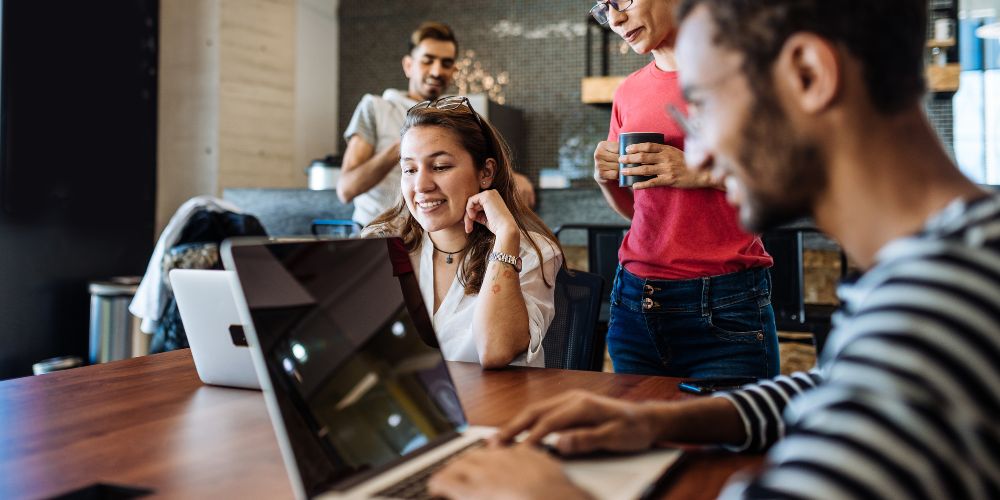 Located a 5-minute walk from a tropical Caribbean beach, NEST Coworking is a vibrant and welcoming coworking space with great vibes and a strong community feel.
They offer fast and reliable WiFi, friendly bilingual staff, free coffee and snacks, and a range of working areas. These include open-plan spaces with seated and standing desks, meeting rooms, silent zones, and a "creative wing" for collaborative work.
There's also a chillout area with hammocks, a terrace with tables and chairs, a garden, and a kitchen. Playa del Carmen is a great place for digital nomads, and is one of the top cities in Mexico for remote workers.
Address: Calle Avenida 10 entre calle 12 y 14, Gonzalo Guerrero, 77710 Playa del Carmen, Q.R., Mexico. Click here for directions.
Membership Options and Costs
Day passes cost $15 USD. You can buy a weekly hotdesking plan for $70 USD, or pay $200 USD for a month. They don't currently offer any dedicated desk memberships.
Amenities at NEST Coworking
Kitchen with free breakfast, coffee, and snacks
Bike storage
Hammocks
Pros of NEST Coworking
Great location near the beach
Professional environment
Good range of social and quiet work areas
Friendly community with lots of opportunities for networking
Various organized social events
Commitment to sustainability (more than 50% of their electricity is solar, plus various other environmental initiatives)
Pet friendly
Cons of NEST Coworking
Internet speed slows during busy times
A few customers have reported occasional issues with cleanliness and maintenance
12. East Room (Toronto, Canada)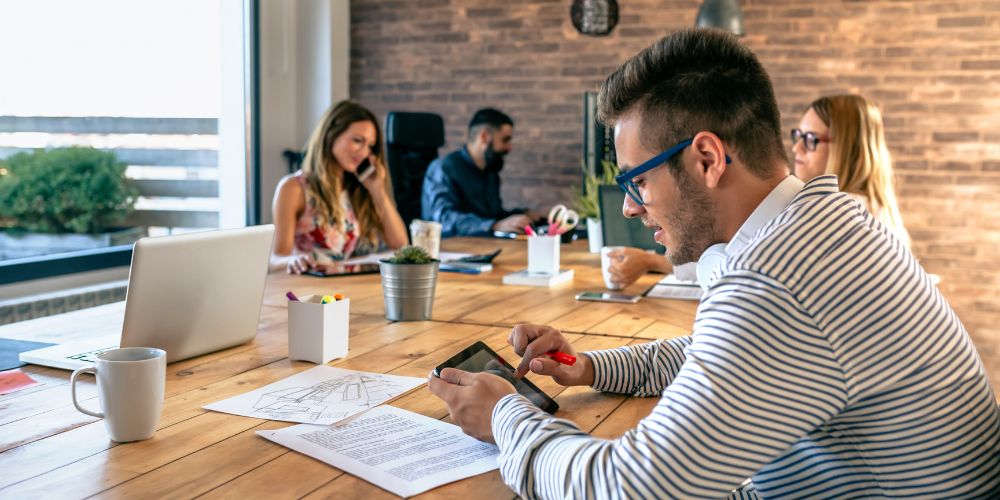 East Room in Toronto offers a beautiful and creative space in the heart of the city's Riverside district.
Housed inside a historical manufacturing warehouse from the early 1900s, the building was converted in the 1980s into a range of "live-work lofts", including this coworking space and studios for artists and musicians.
It features several stylish lounge areas for relaxation and collaboration and a range of different workspaces with open-plan hotdesking areas, dedicated desks, and private offices.
You'll also find boardrooms for hire, phone booths, a kitchen, and several patio areas. There are lots of cafes and great lunch spots in the area too.
Address: 50 Carroll St, Toronto, ON M4M 3G3, Canada. Click here for directions.
Membership Options and Costs
This is more of a medium-to-long-term coworking space and doesn't currently offer any short-term memberships.
Hot-desking costs $227 USD per month (minimum 3-month commitment), or you can hire a fixed desk for $492 USD per month (1-year commitment).
Amenities at East Room
Comfortable and stylish workspaces
Conference rooms
Phone booths
Lounge areas
Event space
On-site coffee bar
Bike storage
Pros of East Room
24/7 access
Artwork and high-quality furniture give the place a classy high-end vibe
Various different styles of workspace to suit different preferences
Attentive and friendly staff
Active community with networking opportunities
Convenient location
Lots of cafes and lunch spots within walking distance
Cons of East Room
No short-term membership options
Limited guest parking spots (and can be difficult to find parking in the area)
WiFi speeds are decent but not the fastest in the city
Can get crowded
13. Impact Hub (Tbilisi, Georgia)
Impact Hub is a global network of coworking spaces, and its Tbilisi branch is one of the best coworking spaces in the city.
It's located within the Fabrika complex – a former Soviet-era sewing factory that's been converted into a vibrant multi-functional creative space. This is now one of the trendiest spots in Tbilisi, with loads of great food places and a lively atmosphere most evenings.
Impact Hub Tbilisi offers a flexible, inspiring, and social place to work, whether you're a freelancer, an entrepreneur, or a remote-only employee. Learn more about living in Tbilisi as a digital nomad.
Address: 8 Egnate Ninoshvili St, Tbilisi, Georgia. Click here for directions.
Membership Options and Costs
Impact Hub's "Passport" membership allows you to access all of the branches in their network.
You can obtain a one-week-per-month hotdesking pass for $54 USD, a 3-days-per-week pass for $117 USD/month, or an unlimited pass for $159 USD/month. If you want a fixed desk, this costs $204 USD/month.
Amenities at Impact Hub Tbilisi
Hotdesking and fixed desks
24/7 access for members
Phone booths
Free tea and coffee
Lots of nearby food places
Pros of Impact Hub Tbilisi
Affordable pricing
Membership allows access to all of their branches worldwide
Friendly and helpful staff
Vibrant atmosphere
Strong sense of community
Convenient location near Marjanishvili metro station
Proximity to Fabrika's restaurants and bars
Cons of Impact Hub Tbilisi
Limited silent space for focused work
Occasional internet connectivity issues
14. Workshop17 Watershed (Cape Town, South Africa)
Workshop17 Watershed is located in a converted warehouse in Cape Town's vibrant V&A Waterfront district.
It's home to a range of flexible workspaces and meeting rooms in a spacious, light, and airy building that's buzzing with creative energy. This place also stands out for its stunning views of Table Mountain and the harbor.
Workshop17 Watershed is close to a wide range of shops, restaurants, bars, museums, and entertainment options so you'll never be short of something fun to do when you're done with your work for the day.
Address: Watershed, 17 Dock Rd, Victoria & Alfred Waterfront, Cape Town, 8002, South Africa. Click here for directions.
Membership Options and Costs
Hot-desking starts from $120 USD for 60 hours per month, or $168 USD/month for unlimited access. You can hire a dedicated desk for $280 USD/month.
Amenities at Workshop17 Watershed
Well-designed and comfortable workspaces
Onsite cafe
Conference rooms and meeting spaces
Networking events
IT support helpdesk
Pros of Workshop17 Watershed
Vibrant and energetic atmosphere
Professional and accommodating staff
Great location on the V&A Waterfront
Variety of shops, cafes, and restaurants nearby
Beautiful views of Table Mountain and the harbor
Cons of Workshop17 Watershed
Occasional noise and soundproofing issues
Slower internet speeds at peak times
Some users have complained that the bathrooms aren't cleaned frequently enough
15. CENTRL Office Downtown (Los Angeles, California, USA)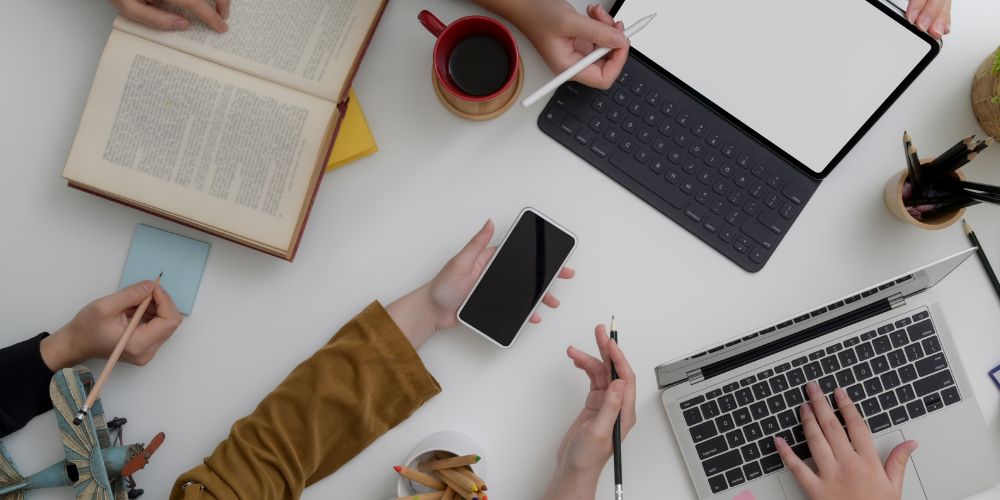 CENTRL Office Downtown is a superb coworking space located in the heart of Little Tokyo in downtown Los Angeles.
The space has a modern and stylish interior with views of the downtown LA skyline. It provides a variety of amenities and facilities including adjustable-height desks, meeting rooms, a patio, and free tea and coffee.
The location is super convenient, and you're sure to meet a diverse range of people from many different industries and backgrounds working here. See Also: 10 Best Coworking Spaces in Denver
Address: 360 E 2nd St Suite 800, Los Angeles, CA 90012, United States. Click here for directions.
Membership Options and Costs
Memberships allow you to work from all CENTRL Office locations (there are currently 7 across California and Oregon).
You can either buy a "Flex" pass (allowing access for 4 days per month) for $95 USD/month, or an unlimited "Flex-Plus" pass for $195 USD.
Amenities at CENTRL Office Downtown
Adjustable-height desks
Meeting rooms
Printing & scanning facilities
Outdoor patio
Free tea and coffee
Craft beer and kombucha on tap
Happy hour on Thursdays and Fridays
Pros of CENTRL Office Downtown
Modern and stylish workspace
Beautiful interior with lots of polished wood
Great views of downtown LA
Convenient central location
Close to loads of excellent food places
Regular networking and social events
Cons of CENTRL Office Downtown
Limited parking
Can get noisy during busy hours
Pros and Cons of Coworking Spaces
Here are some of the main advantages and disadvantages of coworking spaces in general:
Pros of Coworking Spaces
Coworking spaces can be great places to network with people working in a wide range of various fields
Provide a professional environment to work in
More social than working from home
Good coworking places have comfortable workspaces with ergonomic chairs
Office supplies and facilities that you might not have at home (e.g. meeting rooms, printers, etc.)
They can help separate your work from your personal life (versus working/living in the same space 24/7)
Being surrounded by other motivated individuals can inspire and push you to excel in your own work
Typically more cost-effective and flexible than renting a traditional office space
Coworking memberships often include access to additional benefits and facilities (e.g. free coffee, swimming pool, hangout spaces, etc.)
Cons of Coworking Spaces
Memberships can be expensive in some places (especially in North America and Europe)
Lack of privacy can be an issue for some people. It's often possible to rent private rooms, although this normally costs a lot more
Busy open-plan workspaces can be distracting. Some people thrive in bustling environments, but for others, it can interfere with concentration and focus
In popular coworking spaces, you can sometimes find yourself competing with others for resources such as meeting rooms, printers, and other shared equipment, which may be in high demand
You have limited control over things like temperature, lighting, and seating arrangements
Best Coworking Spaces in the World: FAQs
Here are some answers to frequently asked questions on the best coworking spaces in the world:
Are there any free coworking spaces?
Yes, there are a few free coworking spaces, although these tend to be connected to hotels, bars, or cafes and you're usually expected to buy something in order to work there.

My favorite free coworking space is the one at Dots Bay House, which is one of the best places to stay in Hiriketiya, in southern Sri Lanka. I've spent a lot of time here and have always found it easy to remain productive.
What is the top coworking space in the world?
It's difficult to name one top coworking space in the world. But the 15 spots mentioned in this post are some of the best coworking spaces in each of their respective countries.
Is coworking the future?
Coworking is likely to be the future for many remote workers, although it's not for everybody. If you're a freelancer, a solopreneur, if you work in tech, or for a start-up, coworking may be a good option for you.
Why is coworking a good idea?
Coworking can be a good idea because it offers a comfortable, professional working environment, access to office-style facilities, can be great for networking, and is more social than working from home.
Who uses coworking spaces?
Coworking spaces are used by a wide range of people including freelancers, remote workers, solopreneurs, startup founders, small business owners, and even employees of some larger companies.
Are coworking spaces popular?
Yes, coworking spaces have become increasingly popular over the last few years. This is mainly due to the increase in the number of people who now work remotely.
In Closing
Of course, this is only a tiny selection of the best coworking spaces out there. There are great coworking spaces in most major cities all over the world. And new ones are opening up all the time.
My number-one piece of advice is to try a few out first before committing to any long-term memberships. Most places offer day passes, so you can see whether you like the space before parting with any significant amount of money.
Like This Article? Pin It!