For digital nomads, living in Puerto Vallarta checks all the boxes. It's home to an international airport, plenty of coworking spaces and cafes, furnished apartments, a unique culinary scene, and superb nightlife. This is one of the best places in Mexico for Digital Nomads.
Living in Puerto Vallarta, you have to pinch yourself constantly. The Sierra Madre mountains and the Bay of Banderas combine to create postcard-worthy scenery that often results in those "Is this real life?" moments. This is one of the top places for digital nomads.
When I first spent time in PV several years ago, it was mostly a town for tourists, snowbirds, and retirees. Back then, I often got confused looks when I told people I was working online in Puerto Vallarta for half the year.
These days, the nomad community is thriving. I've seen the transformation over the years, and while growing pains come with this growth, I've thoroughly enjoyed being a digital nomad living in Puerto Vallarta.
No matter where the road takes me, all signs always point back to PV. It's just a special place, plain and simple, and I'm excited to tell you all about it.
About Puerto Vallarta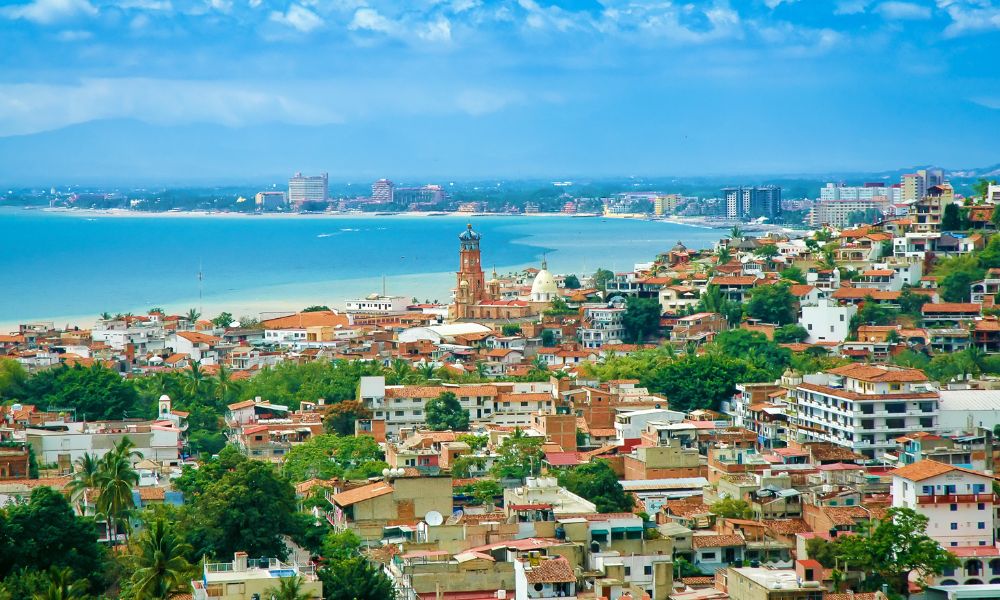 On the Pacific Coast of Mexico, in the state of Jalisco, you'll find Puerto Vallarta. The city is home to around 225,000 people, and that number doubles if you count the whole metro area.
With the ocean in front and the mountains behind, the central neighborhoods in PV extend up into the hills. It can be quite the workout getting home if you live up there, (but it helps walk off all the street tacos!).
Long a favorite of cruise ship passengers and a well-known LGBTQ+ destination, the city has also wooed digital nomads. This is one of the best places to visit in Mexico, and it seems everyone is working remotely in Puerto Vallarta these days, so why not? It's a direct flight from many cities in the US and Canada and is a downright incredible place to live.
Digital Nomad in Puerto Vallarta: Personal Experience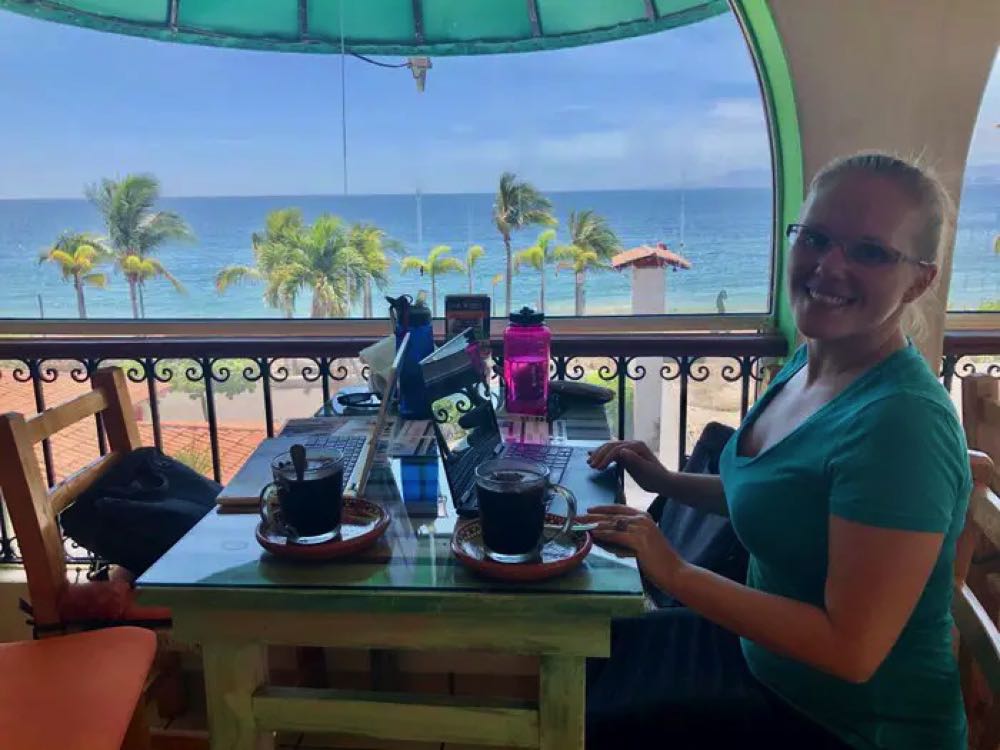 Since my wife and I first visited PV in early 2017, the nomad scene has grown exponentially. Back then, I rarely met anyone my age who was there working and not just on a quick vacation. There were no coworking spaces in sight.
Fast forward to 2023 and there are several options for coworking and Puerto Vallarta is one of the best cities in Mexico for digital nomads. Plenty of cafes and restaurants are quite used to nomads typing away for a while (as long as you buy something, of course). In addition to more remote working locations, more and more areas are getting fiber optic internet, which is ideal for those who prefer to work from home.
A huge Facebook group is very active and has regular meetups. Being a digital nomad in Puerto Vallarta is quite the social experience. Whatever you're into, chances are you'll find friends here who like the same thing, whether hiking, live music, or just hanging on the beach.
One thing I love about PV is that it offers most of the amenities of a big city without most of the headaches. You can fly directly to the US or Canada, shop at Costco, and catch a new release in the cinema. Sure, there's some traffic and construction noise, but it's nothing compared to the likes of living in Mexico City.
Is Puerto Vallarta Safe?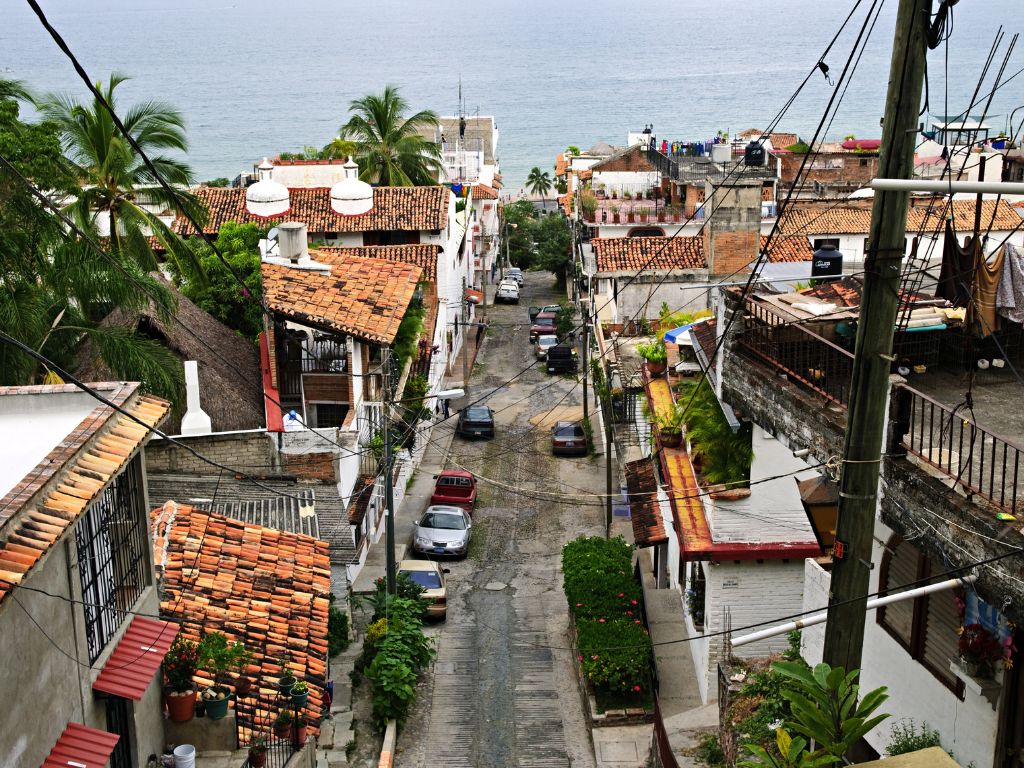 This question comes up when talking about living in Puerto Vallarta. Generally speaking, this is a very safe place to live. Of course, you need to have your wits about you and take certain precautions, just like you'd do when in any foreign country.
As my grandma always says, "Nothing good happens after midnight." While I tend to disagree and am a night owl through and through, the middle of the night is when the bad stuff tends to happen…
If you're wandering the streets of the Romantic Zone drunk at 2 AM, you're most likely making yourself a target. Speaking of drinking, keep an eye on yours at the bar, and don't let strangers give you one.
The cartel is present in PV, but they won't bother you if you don't bother them. Reassuringly, there's a substantial police existence here, as it's a tourist town that brings in a lot of money.
For the aspiring Puerto Vallarta digital nomad, you'll also want to be careful with your electronics. Never leave your expensive laptop and phone unattended when out in a cafe or coworking space that seems safe. Click here for more information about safety in Puerto Vallarta.
Best Areas to Live in Puerto Vallarta
To keep this a digital nomad guide to Puerto Vallarta, I'm sticking with the neighborhoods that are in the city. Some nomads love the vibe of the smaller beach towns up and down the coast, but these are the best 'hoods' in PV:
1. Versalles
In the last few years, the small local neighborhood of Versalles has blown up as a nomad and foodie hot spot. It's an unassuming place on the other side of the highway from the beach, but it packs a serious punch.
For those working remotely in Puerto Vallarta, Versalles has a great coworking space and several cafes where you can set up shop for the day. Just a friendly reminder to not make other digital nomads look bad – buy something other than just a coffee if you plan to stay a few hours.
You've got easy access to the beach by living here. It's only a bus ride or a quick trip in a cab if you want to head down to the Romantic Zone or up to the airport.
The best part about Versalles, though, is the food. There are so many incredible places to eat here, and there is always more opening up. You will eat very well if you call this neighborhood home.
2. 5 de Diciembre
I'll admit I'm a bit biased here, as I called 5D home for several years, but this is the quintessential PV base. Here, you'll find cobblestone streets, taco stands galore, a chilled-out beach, and some of the best bars in town.
The local pride is strong here in Cinco, and you'll feel like you're living in Mexico and not some Disney version of it.
Find a place on one of the hilly 5D streets and settle in for a while, and you'll fall in love with it just like I did. It's a place I will always consider "home," wherever I may roam.
3. El Centro
Heading south from Cinco, you'll find yourself in the center of it all. If you want to feel the pulse of the place while living in Puerto Vallarta, it takes a lot of work to top El Centro.
This neighborhood has all the crown jewels of PV – the Malecon, the cathedral, and the cross on the hill. There's never a dull moment here in the central part of town.
One of the biggest draws for a nomad is Vallarta Cowork. This is the OG for PV coworking spaces; it's a splendid place to get the laptop out, be productive, and make some friends.
4. Romantic Zone
Somebody once told me that digital nomads like to party. I wouldn't know, of course (winky face)… for all you night owls out there, the Romantic Zone is the place to be in PV.
If you can stay focused and not get distracted by the never-ending party around you, this is a superb area to base yourself in. You've got many cafes, gyms, and restaurants to choose from when it comes to being productive.
Living in Zona also means being a stone's throw away from Los Muertos Beach. Nothing is more reaffirming why you live the nomad life than dipping your toes in the sand while sipping a Pacifico and watching a mariachi band.
5. Conchas Chinas
For those who prefer being adjacent to the party, Conchas Chinas could very well be calling your name. It's just up the hill (or over the rocks) from the Romantic Zone, so you won't hear the thumping beats of the nightclubs if you rest your head here.
If you're planning on spending a lot of time south of town, this is a solid address. Things like the Boca to Las Animas hike or taking the boat to Yelapa are easy peasy from here.
There's not much of a "scene" in Conchas Chinas, so to speak, so this is a great choice for the more introverted digital nomad. And by that I mean it's not the neighborhood for me, but maybe it is for you.
How to Find Accommodation in Puerto Vallarta
Living in Puerto Vallarta is great, but finding an abode can be a little overwhelming. This is a pretty important aspect of the digital nomad life, so to help you out, I've listed some of the easiest ways to find accommodation.
I'm of the "different strokes for different folks" mentality, so let me give you a few options that should work for most of you:
1. Facebook Groups: There are several active FB groups for rentals in PV. It takes time to navigate all the posts and contact people, but it can pay off if you find the perfect spot for a year.
2. Hit the Pavement: There's no replacement for walking around and looking for "se renta" signs. Of course, for this option, you'll need some patience and a decent level of Spanish. This is how you find the local deals though, that's for sure.
3. Airbnb/VRBO: While these aren't always a great option for nomads, vacation rental sites are still a solid option for a test drive. Find a place for a couple of weeks or a month while you pursue Airbnb and VRBO. On the flip side, sometimes you can find a good deal if you commit to longer periods. Consider asking the host if they're open to longer-term stays.
4. Agents: For a digital nomad living in Puerto Vallarta, using an agent is also a viable option. There are a lot of hardworking people in the real estate business here and the referral fee usually falls on the owner, not the renter. Plus, they speak the local language.
For more, check out our detailed guide on how to find quality long-term rentals in PV.
Cost of Living in Puerto Vallarta
By this point, I'm sure you're wondering how much it costs to live in paradise. Well, there's good and bad news. Puerto Vallarta is still affordable, but it's gotten more expensive in recent years (hasn't everywhere, though?).
The recent rise of the peso against the dollar is great for locals, but not so good for digital nomads. It hovered around $20 MXN to $1 USD for a while, but now it's around $17. You need to be a bit more strategic these days, but it's still possible to live on a budget.
Accommodation Costs
Here's where you can really wreck your budget. Accommodation in Puerto Vallarta has grown more expensive, and the influx of digital nomads certainly doesn't help.
You really need to put in some work and sign at least a 6-month deal if you want to find something decent for 15,000 pesos ($850) a month or less. If you want a nice place with a pool and an ocean view, you'll do well to find it for less than 25,000 pesos ($1,400).
Rentals are typically furnished here and most utilities are included in the rent. You'll likely be on the hook for electricity if your place has A/C, which can rack up a huge bill in the hot summer months.
Restaurants and Groceries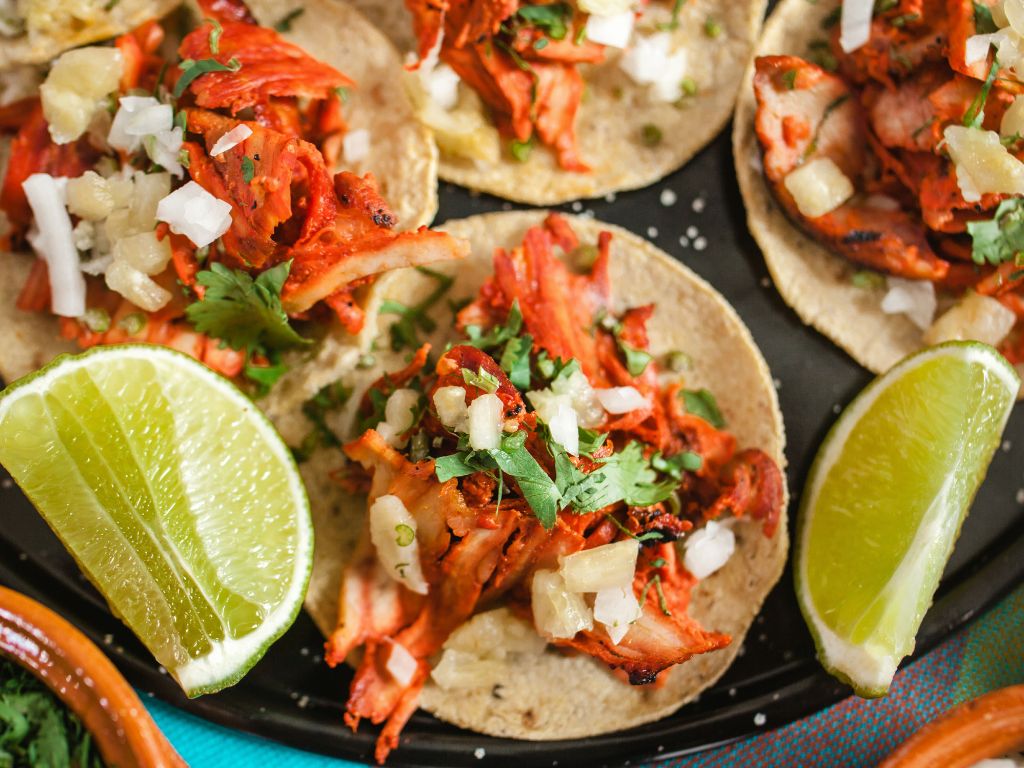 If you shop in local markets and stick to local food, PV is still affordable. I can come home with a nice haul from the corner tienda for under 200 pesos ($11). This typically includes a bunch of fruit and veggies, eggs, tortillas, yogurt, beans, and rice.
For bigger shops, I head to places like Ley in 5D or up to La Comer in Fluvial. The former is more of a local supermarket with a decent selection, while the latter is more high-end and has lots of imported items. I rarely spend more than 1,000 pesos ($56) at Ley but it's more like 2,000 pesos ($110) if I do a big shop at La Comer.
Street food is everywhere in PV and it's super affordable. You can still get tacos and tostadas for 20 pesos a piece (around $1). There are also plenty of local restaurants that have a meal of the day for under 100 pesos ($5.70), which includes a drink and dessert.
Going out to fancy restaurants costs significantly more, but still way less than up north. I usually swipe one of my credit cards to get points and the bill is usually around $50-$70 for two of us, with drinks.
Transportation Costs in Puerto Vallarta
Here's some good news for your budget! You can take the bus anywhere in town for just 10 pesos ($0.60). The bus that goes down to Mismaloya and Boca is an additional 10 pesos.
If you're staying in 5D, Centro, or Zona, it's pretty easy to just walk around. I prefer walking on the Malecon to go to town and then taking a bus or a taxi back home – you get some exercise in and take in that awesome PV vibe along the way.
Local taxis are honest for the most part. It's always a good idea to ask how much the trip will be in advance, however, as some are unscrupulous. A ride in town usually costs $50-$60 pesos ($2.80 – $3.50).
Uber works here but inDrive is the preferred rideshare app. You put in a price and drivers can accept your offer or counter. It's a bit silly but you get used to it.
SIM Cards and Data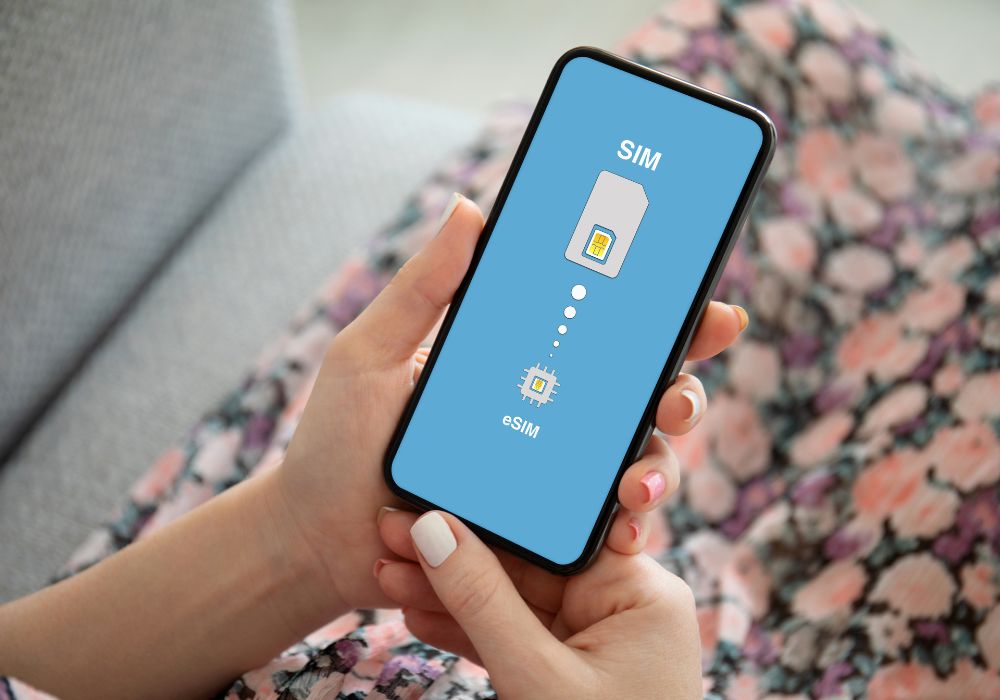 It's easy to get a local SIM in Puerto Vallarta. You can pop into an OXXO and take care of it there. Telcel is the leading company, and you can get a card for around 200 pesos ($11.40) and then load it up. It also costs about 200 pesos a month for a basic plan, and you can always top up if you run out of data.
You don't need your passport to get a SIM, but you might need a basic level of Spanish. Another option is an eSIM, which you can conveniently set up prior to your arrival. Goats On The Road readers receive 5% off HolaFly eSIMs using this link.
Most phone companies in the US include coverage in Mexico, so you may not even need a local SIM. When I stayed in PV for a while, I simply paused my T-Mobile service and used a Telcel SIM as it worked out way cheaper. See More: 7 Easy Ways to Stay Connected Abroad.
Money Saving Tips for Puerto Vallarta
I'm quite the frugal guy (a nicer way of saying I'm cheap!) and I always try to watch my budget. Here are some of my best money-saving tips for life in Puerto Vallarta:
Find a place in September or October: This is the end of the low season and you can get a better deal. Wait until November and you're going to have a hard time finding decent prices.
Walk and take the bus: One is free and the other only costs $10 pesos per trip.
Eat like a local: Street tacos and menu-of-the-day joints are your friends – make use of them.
Stick to Mexican booze: It's cheap to drink Pacifico and tequila; not so much for imported beers and spirits.
Live on the hill and/or have a pool: Both of these will cut down on your need to run the A/C and will save you money.
Coworking Spaces in Puerto Vallarta and WiFi Speed
Working remotely from Puerto Vallarta is a breeze. There's fiber optic internet all over town now, and a solid selection of places that you can work from. Some of the best coworking spaces around are found in Puerto Vallarta.
Whether you're on video calls, uploading content, coding, or teaching online, the bandwidth has got your back. The only concern is the rainy season, which results in some power outages from time to time. Best be prepared with a backup power and WiFi source.
That being said, here are some of the best coworking spaces in Puerto Vallarta:
1. Vallarta Cowork
There wouldn't be a digital nomad scene in PV without Vallarta Cowork, plain and simple. This was the first and it remains the best coworking space in town.
They have a variety of options here, from a weekly hot desk (1,160 pesos/$66) to a monthly dedicated space (3,944 pesos/$225). It's a comfortable space to work in and it's right by the Malecon and the ocean for when you need a quick break. Click here for directions.
2. Joint
The new kid in town, Joint is back after they suffered some serious damage in a big storm a few years ago. It's a coworking space and a hotel right in the heart of the Romantic Zone and it has a great vibe.
I like how they offer a half-day pass for just 100 pesos ($5.70), as I don't enjoy sitting anywhere for a full day. If you want to take that route, it's only 200 pesos ($12). If you want to make your visits a regular thing, a monthly pass is 1,750 pesos ($99.50). Click here for directions.
3. Natureza
For those living in 5D or Versalles, Natureza is a solid option. I've never used the coworking space but I've worked from the cafe downstairs and the restaurant down the street several times. The WiFi is fast, the coffee is great, and they have some really good food.
Their website is under construction so I'm not able to find the current prices. However, a quick search turned up $200 pesos for a day or $1,900 pesos for the month, which sounds about right. It isn't the biggest space, so if you need to be on calls you should look elsewhere. Click here for directions.
Best Cafes to Work From in PV
Not everyone is cut out for the office environment, myself included. Thankfully, there are plenty of excellent cafes in PV where you can set up shop. Here are a few of my top picks:
The Green Place: I'm biased toward this place as it's right down the street from my old apartment, but it really is a great choice. It's open-air so it doesn't feel all stuffy. They have amazing vegan food and really good coffee here too.
Miscelanea: This spot used to be in Centro but they moved up to Versalles. The coffee options here are fantastic, including Chemex. There's a full menu as well if you need to stay for a while and are in need of fuel.
Choco Museo: Located right on the Malecon, this place is a tourist attraction where you can take chocolate-making workshops. You can also just bring your laptop and sit upstairs, enjoying the amazing view while working. Hot chocolate is the drink of choice but they have coffee as well.
Activities and Things To Do in Puerto Vallarta
Being a digital nomad in Puerto Vallarta is about more than sitting on your computer. The real fun here starts when you power down and get out there to enjoy yourself. Here are a few suggestions for the best things to do in Puerto Vallarta:
1. Fun on the Water
This is a beach town, so a big perk for nomads is being able to enjoy some sun and sand. It's great being able to pop down to la playa for sunset and a drink on weekdays, and there's plenty more to do once the weekend hits.
How does an all-inclusive yacht trip to Yelapa sound? Or perhaps you'd prefer snorkeling and stand-up paddleboarding in a national marine park. Or, if it's the season, join a whale-watching trip. The world is your oyster – in fact, you can even enjoy some fresh oysters on the beach when you get back.
2. Day Trips
PV is great and all, but even when you live in paradise you may want a change of scenery once in a while. Thankfully, there are plenty of options for fun day trips at your fingertips here.
One of the most popular options is cruising up the coast to visit the towns of Sayulita and San Pancho. You can go surfing at the beach, or just kick back and chill in these fun bohemian towns.
If you'd prefer to head to the mountains, a day trip to San Sebastian del Oeste is a fun option. You'll get to enjoy the amazing scenery and visit a tequila distillery to learn all about the famous spirit that comes from right there, in Jalisco.
3. Hike to Las Animas
This is one of my all-time favorite things to do in PV. Start by heading down to Boca de Tomatlan. You can get there via the orange bus from the Romantic Zone for just $10 pesos. Another option is to join this highly-rated tour.
Once you get there, you can walk over the bridge and hop on the trail. It hugs the coast and goes up and down in the hills a bit, but isn't too strenuous – a basic level of fitness is enough.
Along the way, you'll walk across hidden beaches where you can stop to chill or swim. Eventually, you end up at Las Animas Beach where you can take your pick from the dozen or so restaurants there. I usually walk to the quieter end of the beach to Pancho's Paradise.
A water taxi will take you back to Boca or back to PV when you're ready.
4. Adventures
For those who need to get the adrenaline flowing, you've got plenty of options. For example, you can go horseback riding in the mountains and then jump on an ATV.
Another fun way to spend a day off is flying across ziplines before cooling off with waterslides into natural pools. Or perhaps you'd like to rip across the longest suspension bridge in Latin America on an ATV. There are plenty of options for the adventurers among you.
5. Eat All the Things
Puerto Vallarta truly is a foodie's paradise. There are lots of food tours that make for a fun weekend activity with nomad friends. I'm a big fan of the "Mexology Tacos & Tequila" tour as it combines two of my favorite things.
There's also this 3-hour tour of authentic local cuisine that's a whirlwind for your tastebuds. My mouth is watering just thinking about it – I highly recommend giving this a go.
Weather in Puerto Vallarta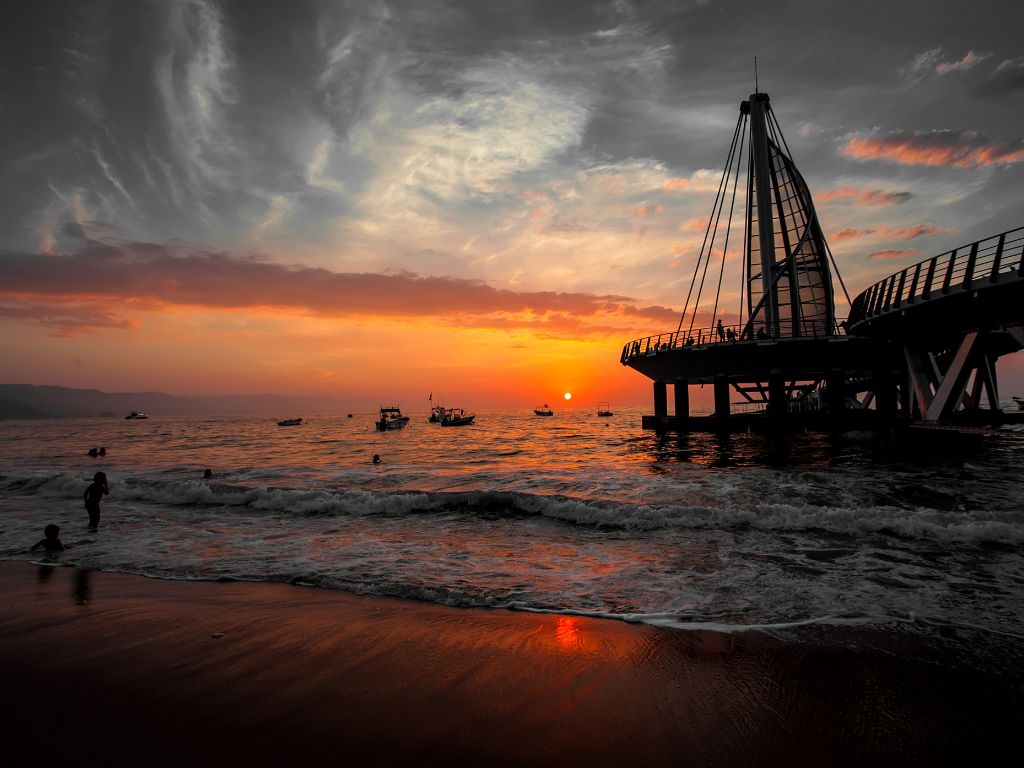 Many digital nomads look to PV to escape the cold winter months up north. From December to April, the weather in Puerto Vallarta is downright perfect.
In these months, you can wear shorts, T-shirts, and flip-flops on the regular. You might want a light long sleeve for the evenings, but that's about it.
That's not exactly the case for the rest of the year, though. Once June hits, the heat, humidity, and rain start to increase day by day. The "low season" can feature some gnarly storms, although PV is mostly protected from hurricanes thanks to its location in the bay.
If you ask me, September and October are the worst months to be here. By this time, you're just ready for the break in the intense heat and humidity and to stop getting stuck in torrential downpours. Until November comes, and all is right in the world again.
Pros and Cons of Living in Puerto Vallarta
As with anywhere in the world, there are both pros and cons of living in Puerto Vallarta (and Mexico as a whole). I've experienced them all, so here's my take as a seasoned PV digital nomad:
Pros of Living in Puerto Vallarta
The people: Locals in PV are known as Pata Salada (Salty Feet) and they are the biggest pro to living here. People are friendly and welcoming, and make you feel at home even as a wandering digital nomad.
The scenery: It really doesn't get much better than having the mountains on one side and the beach on the other.
The food: Besides all the mouth-watering local food, you can find just about any cuisine imaginable here.
The nightlife: If you like to go out and have a good time after dark, this town is definitely your kind of place. The nightlife in Puerto Vallarta is excellent.
Cons of Living in Puerto Vallarta
The construction: As PV gets more and more popular, there's construction going on night and day all over town.
The noise: For those of you who like peace & quiet, you may want to look elsewhere. This is a noisy place, plain and simple.
The weather: It's great for a few months of the year, but the stretch from June to October can be pretty rough.
The rising cost: This isn't exactly a budget destination anymore. Sure, it's still cheaper than San Francisco or London, but many places in Latin America are less expensive.
Digital Nomad Visa for Puerto Vallarta
Mexico does not have a digital nomad visa yet. Most people here just fly in and hope to get the 180-day stamp on their passport. This isn't a guarantee anymore, though, and border agents have started asking more questions, including proof of your accommodation and return flight.
If you meet the requirements, you might want to apply for temporary residency before traveling to Mexico. I've never taken that route but here's a helpful guide.
Living in Puerto Vallarta: FAQ's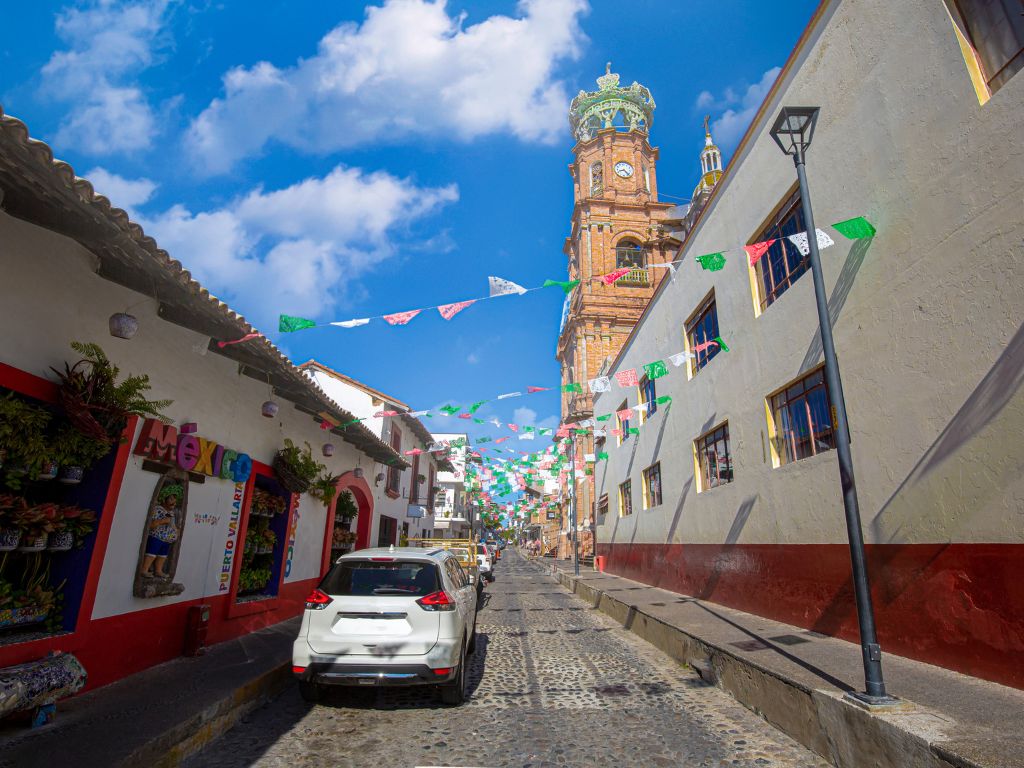 Is Puerto Vallarta Expensive?
Puerto Vallarta is expensive compared to other, lesser-known cities in Mexico and cities away from the coast. Costs have increased over the years, but it's still much more affordable than places in the USA and Canada. These days, a 2-bedroom apartment can be had for around $1,500 per month (on a long-term basis), while local food can be had for a few dollars. Buses are very affordable as is local booze.
Is Puerto Vallarta a good place to live as a digital nomad?
Puerto Vallarta is an excellent place for digital nomads and remote workers to live. The climate is perfect outside of the very hot summers, there are numerous accommodation options, local food and transportation are very affordable, and there are excellent coworking spaces and cafes to work from. Plus, the wifi is super fast.
What are the cons of living in Puerto Vallarta?
There are some downsides to living in Puerto Vallarta. There's lots of construction and new builds happening, which means more noise. Apart from that noise, it can be a party city depending on where you stay. Costs are rising here as well which can be a con, and (as with many places in Mexico), the cartel is present here.
Do you need to speak Spanish in Puerto Vallarta?
You don't need to speak Spanish to live in Puerto Vallarta as most locals speak English. It will, however, make your stay much more enjoyable and immersive if you pick up a few Spanish phrases.
What is the best place to live in Puerto Vallarta?
There are many great places to live in Puerto Vallarta for digital nomads, expats and remote workers. The popular neighborhoods include the Marina, Versalles, 5 de Diciembre, Romantic Zone, and El Centro.
In Conclusion
If you've made it this far, chances are you're really interested in calling PV home, at least for a while. I've been a digital nomad for over seven years now and fortunately, have lots of options for where to spend my time (and money). Puerto Vallarta is a place I've returned to again and again and will continue to do so.
It has its downsides just like any place, but the pros far outweigh the cons here. The digital nomad scene is vibrant, there's tons to do with your downtime, and the food and nightlife are both impeccable.
Should you end up choosing to be a Puerto Vallarta digital nomad, chances are I'll bump into you at some point. When that time comes, let's grab some street tacos and a couple of beers from OXXO, and we'll sit in the sand and watch the sunset. See you there, amigo.