As former budget-friendly European cities grow increasingly expensive (we're looking at you, Prague), prices in Budapest, Hungary remain relatively inviting to the international travel crowd. Often referred to as "the Paris of the East," Hungary's capital city provides a unique adventure for travelers looking to explore a city which is quietly charming by day and bursting with life by night.
Activities (that won't break the bank)
Budget travelers will find a wealth of things to do in Budapest that don't cost a single dime. To first get acclimated to the city, choose the free, self-guided tour itinerary that sparks your interest and take yourself on a fascinating stroll through some of Europe's most well-preserved historical sites.
For incredible, panoramic views, meander across Chain Bridge or hike to the summit of Gellért Hill. Plan to spend a few hours exploring Castle Hill, the vehicle-free, UNESCO World Heritage site that sits along the Danube River. Here you'll find the Buda Castle, the underground Castle Labyrinth, Fisherman's Bastion, Matthias Church, and many more captivating medieval landmarks.
Art and history buffs should visit during the annual "Night of the Museums" in June, when a single ticket gets you into dozens of participating galleries. And if you're into music, theatre, or architecture, then a visit to the Hungarian State Opera House is definitely in order. Established in 1884, this breathtaking, neo-Renaissance-style music hall allows visitors to explore its grounds for free.
St. Stephen's Basilica is the largest church in Budapest, and it's also free to visit! Other spots worth checking out include Károlyi Gardens, Szabadság Square, Heroes Square, Millenáris Park, and Lake Balaton (also known as the Hungarian Sea).
PRO TIP: Get the complete resource for all things international travel; download the FREE Ultimate Guide to Budget Travel today!
Getting Around on a Budget
We recommend walking as your best bet for getting around—especially if you're staying near the city center or its historic districts. However, Budapest offers plenty of public transportation options, including four metro lines, major tram lines, bus and trolley services, and even a boat service that operates summer through fall.
If you purchase a single ticket from a ticket vending machine prior to your ride, expect to pay about 350 HUF, or about $1USD. Single-ride tickets purchased aboard typically cost about 450 HUF, or just over $1.50USD.
And if you're likely to use public transit multiple times in a day, you may want to consider purchasing a 24-hour travel card for 1,650 HUF, or about $5.75USD. These cards are valid on all modes of public transportation for an unlimited number of trips, and you decide your starting time.
PRO TIP: The Hungarian ticket system is one of Budapest's top tourist complaints. To avoid frustration (and a possible fine), be sure to always validate your ticket when starting your trip. Note that transfer tickets must be validated at the start of your trip and at the point of transfer.
Affordable Accommodations
For the best and most affordable accommodations, your best bet is to book a hostel in the city center or green belt. Check out Animation City Hostel, which offers great value in the downtown area (a single bed in a 2-person room runs about $20-25USD per night).
For an even cheaper stay, check out some of the quieter side streets or forgo the 2-person room in favor of a dormitory. Hostelworld.com lists a number of highly rated hostels that offer dorms starting at $5USD per night.
Some of the site's top-rated and top-reviewed options include:
Treestyle Hostel—Offers free Wi-Fi and dorms starting at just $5.37USD
Fifth Hostel—Offers free Wi-Fi and dorms starting at just $9.33USD
GoodMo House—Offers free Wi-Fi & breakfast and dorms starting at just $9.66USD
If you prefer comfort and solitude over the close quarters and unpredictability of a dorm, consider booking a private apartment, bed and breakfast, or guest house. There are often discounts for booking online, but be sure to note whether or not taxes are included and pay attention to additional hidden fees.
PRO TIP: For the best prices, avoid traveling in Budapest's peak season, which lasts from May to September. And unless you're going specifically for the event, do not book a trip during the F1 Hungarian Grand Prix (which typically falls in the last week of July).
Low-cost Eats
There are endless places to eat in Budapest where you can experience traditional Hungarian food at a reasonable price. Keep in mind that the food in Hungary is quite heavy (goulash and stropachka for example!), and the meals here will keep you full for hours – meaning you might be able to skip a meal or two, which will definitely help the budget.
Having said that, make sure you don't miss out on sampling the authentic foods of Hungary, and Budapest has some great places for you to dig in.
Have a look at the Great Market Hall (AKA Central Market Hall), Budapest's oldest and largest indoor market. Located at the Pest end of the Szabadság Bridge, this 3-story, neo-Gothic bazaar is frequented by locals and tourists alike.
On the main level, you'll find seasonal, affordable produce, pickled vegetables, meats, and spices. Try the creamy duck or goose liver – a Hungarian specialty!
PRO TIP: You'll likely get more bang for your buck from the more modest stalls, which may be off the beaten path.
If you want to avoid the market's heavy crowds, grab a table at a self-service restaurant. These diners typically offer a main dish and a soup for around 700 HUF, or about $2.50USD. For unbeatable prices, air conditioning, and an open terrace, try Metropolitan Café!
And remember, no Hungarian experience is complete until you've indulged in Budapest's street food. One cheap, must-try option is kolbice, a grilled sausage similar to a hot dog. Served inside cone-shaped bread (and often with tasty toppings), this delicious meal can be found in shops and stalls and at festivals.
Another Hungarian specialty to try is lángos, "Hungary's most beloved anti-health food." The deep-fried dough, often topped with ingredients like sour cream and shredded cheese, is the perfect blend of soft, crisp, and crumbly.
A Final Word of Advice
For the global traveler looking to explore the ancient cities of Eastern Europe on a budget, a stop in Budapest is a no-brainer. But before you set sail on your international adventure, be sure to download the FREE Ultimate Guide to Budget Travel—your complete international travel resource!
Like it? Pin it! 🙂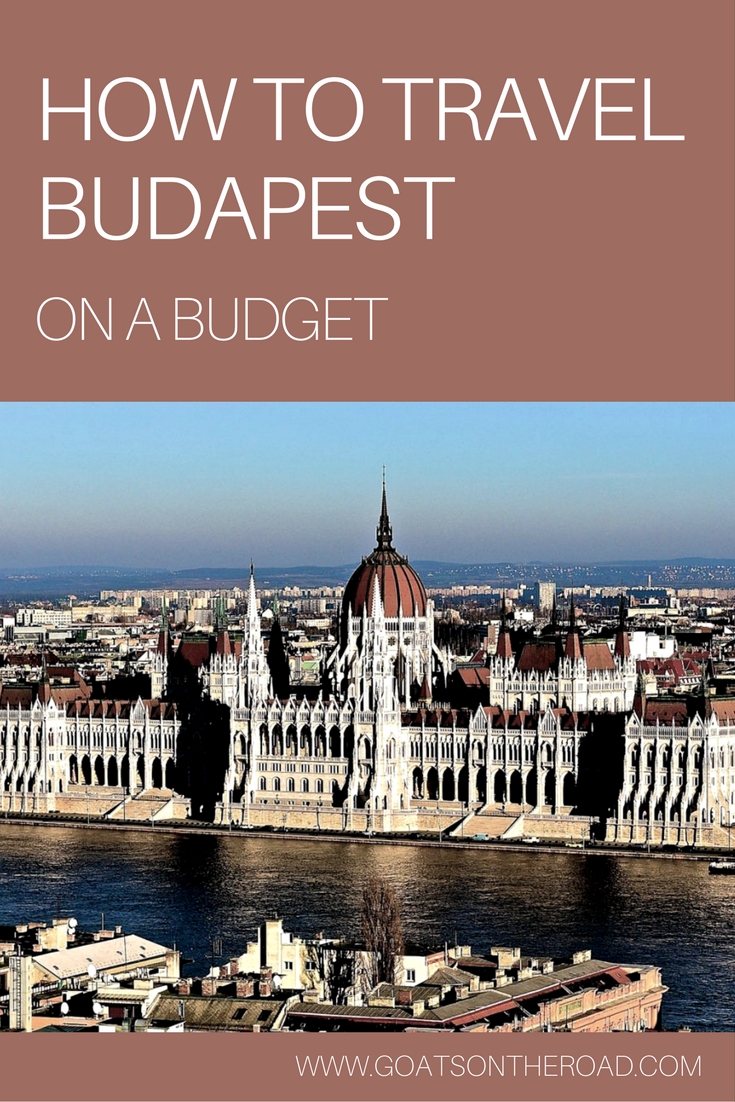 Disclaimer: Some links in this article are affiliate links, which means that if you purchase through them, we receive a small commission. This will never cost you extra and in many cases you receive a special discount. We appreciate your support!