When we planned our 5 month trip around South America, we had only really considered Colombia, Argentina and Chile as our destinations of choice. But when we found out that Uruguay was just a quick 2 hour ferry ride over from Buenos Aires, we jumped at the opportunity to spontaneously visit another country.
We first disembarked in Colonia and spent a few days exploring the famous but touristy seaside town, before hopping on a 3 hour bus ride to come to Uruguay's capital, Montevideo.
Don't miss the video at the end!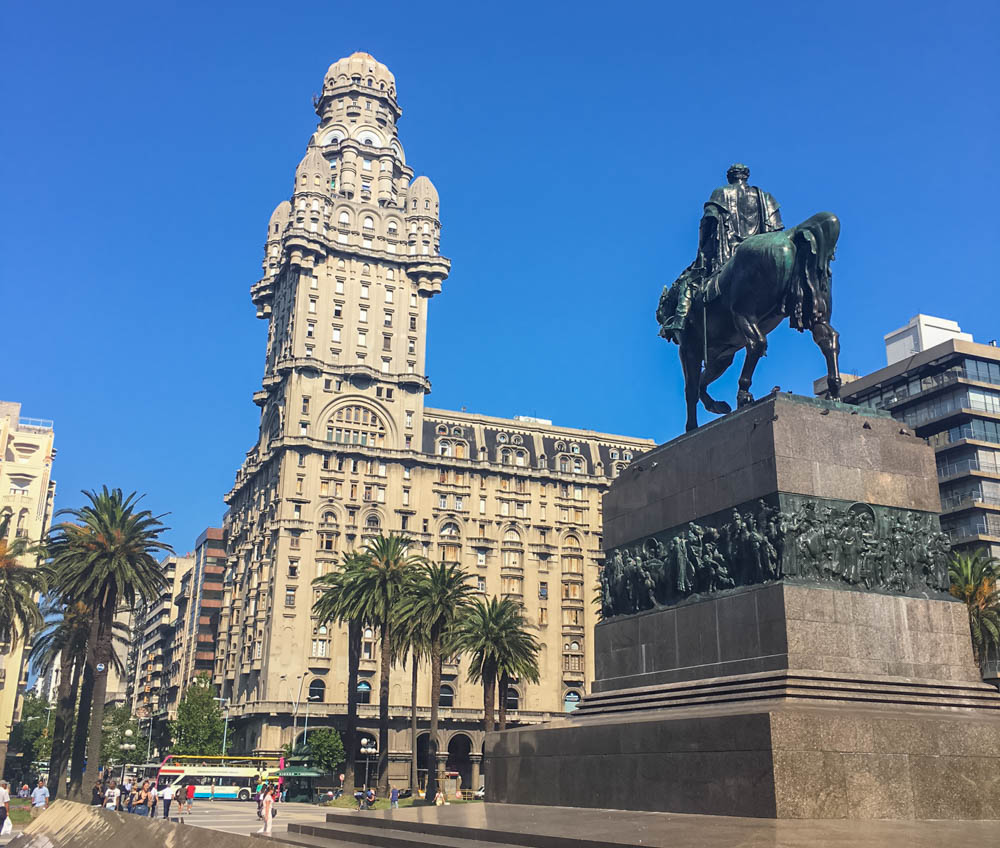 We didn't really know what to expect. We knew that the city was right on the water at the point where the Rio de la Plata (Silver River) met with the Atlantic Ocean. We knew that it had a massive ocean side promenade (the rambla), a lovely old town and some grand plazas, but aside from that we really didn't know much about Montevideo or about Uruguay as a whole.
The Free Walking Tour
We always try to do free walking tours when they're available, so that we can educate ourselves about new places that we know little about, and luckily the one in Montevideo came highly recommended. We met up with our fast talking, mate swilling guide Valentín and began the 3 hour tour with 20 other travellers.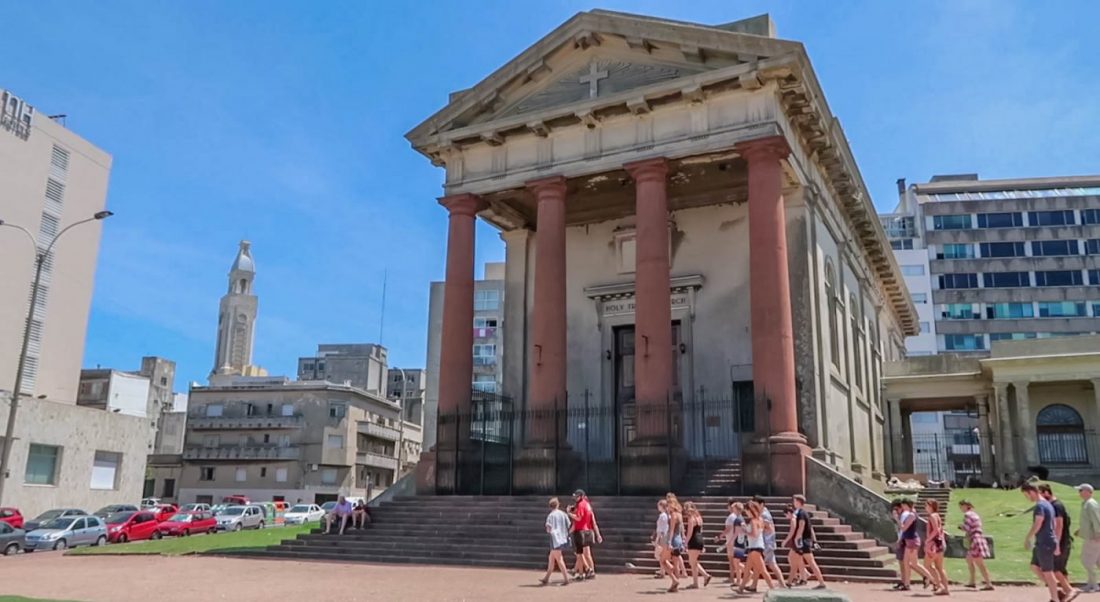 We've done some free walking tours in the past that were heavy on history and forgettable dates, but we were happy that Valentín centered his tour more on the people of Uruguay, their life philosophy and their traditions.
Instead of reeling off a hundred different historical dates, he mixed his history lectures with fascinating facts about the Uruguayan people – like the fact that they can legally grow, buy and sell marijuana, they were one of the first countries to legalize same-sex marriage and they are mostly atheist.
We visited quite a few churches on the walking tour, but all seemed to be abandoned; completely devoid of ministers, masses or marriage ceremonies. He explained that Uruguayans are just to free-spirited to conform to one religion.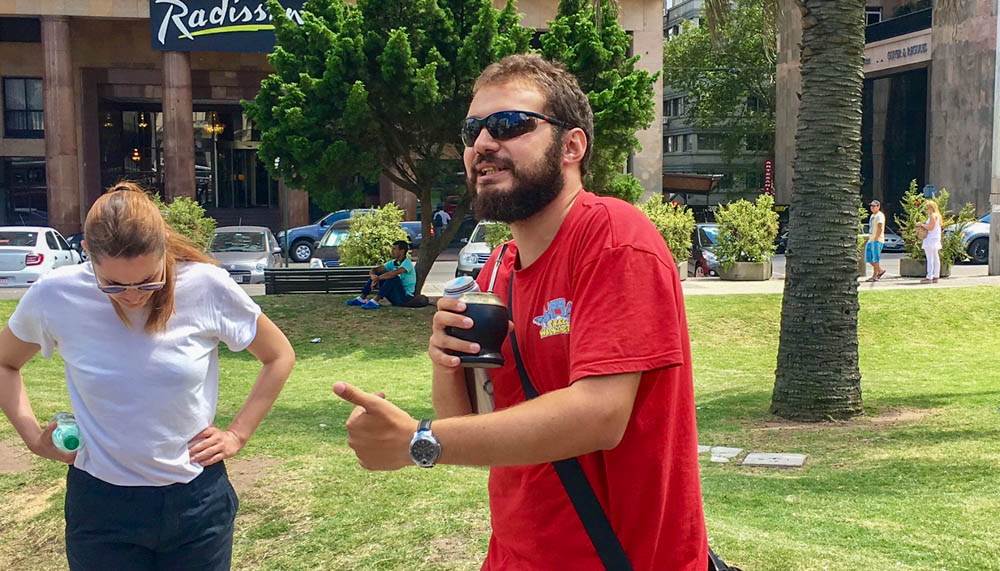 He shared his mate (Uruguayan / Argentinian herbal tea) with us and made us laugh every few minutes. The tour was great and of course free, so we highly recommend checking it out if you're ever in Montevideo.
You can check out their website or just show up in Independence Square at 11 am, Monday – Friday (2 pm on Saturdays). A small gratuity is expected and deserved at the end of the tour.
After the walking tour, we had a much better understanding not just of the layout of the city, but of the people and of the country itself. It's amazing how much information you can jam into your brain in a 3 hour tour.
Touring The Old Town
We spent the rest of the time in Montevideo just exploring on our own and finding new corners and quiet areas. When we first started walking around the old town, we were amazed at how beautiful it was. The predictable grid of cobblestone streets was lined with grand modernist and neo-colonial facades.
The cracked sidewalks were shaded by towering Jacaranda trees and balconies that loomed over head, some of their wrought iron railings completely consumed by flowering Bougainvillea vines.
But as we continued to explore the old town, we started to realize that half of the shops were closed – their entrances boarded up or locked shut with bars. We went blocks without seeing a single person and the entire place started to feel like a ghost town.
During some hours of the day, many shops in Montevideo do close up for siesta, but this wasn't just at siesta time. Even in the late evening and at peak dinner hours, many of the streets in the old town are deserted.
Outside of the historical quarter however, the city was buzzing. We found some great restaurants and bars along San José street (particularly Fogón Restaurant), and we also spent one afternoon at Ramírez Beach about 1 kilometer south of our hostel on The Rambla.
Strolling The Rambla
The Rambla is a massive 22 kilometer-long ocean side promenade that is perfect for a late afternoon stroll and we took advantage of it a few times. It offers beautiful views of the cityscape as well as some little parks and free outdoor exercise areas. It does follow a heavily-trafficked thoroughfare however, so it's not the quietest place to walk.
The setting of the city makes it the perfect city to watch sunset. As the sky changes colours, many Montevideans head to the north end of The Rambla with beers and snacks to watch the solar spectacle take place.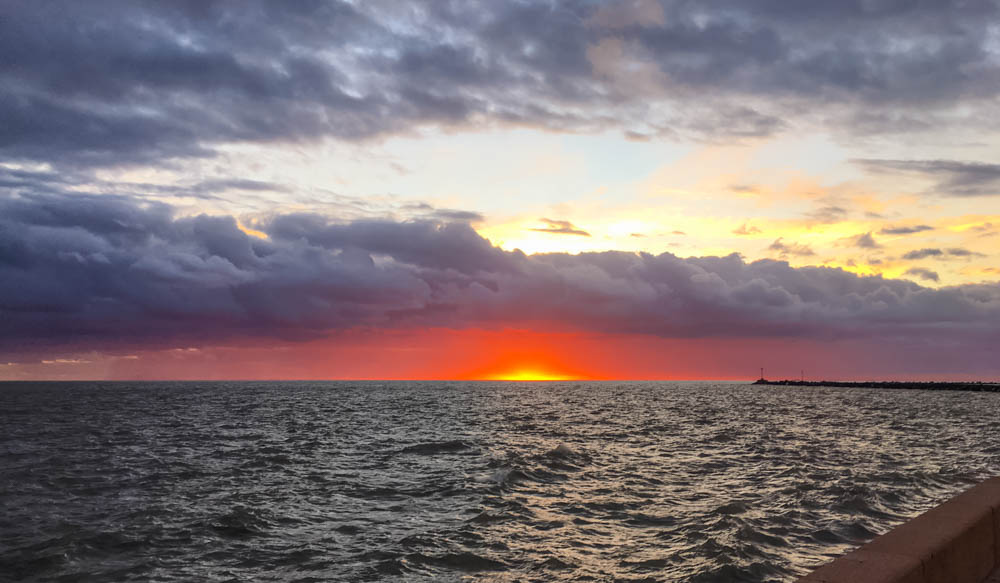 We decided to join them and picked up a couple of beers and sat on a small bench overlooking the ocean. The sky was blanketed by thick grey clouds so we figured we had missed out, but just as we were about to leave, the sun peaked below the dark mass and lit up the entire sky. It was a incredible site and we were glad that we didn't give up on it too early.
Tempted By Tango
On the way back from watching sunset, we passed by a restaurant and bar that said "Tango Show & Live Music" in Spanish. We asked the guy out front about the cost and time and decided it was worth checking out.
We're so glad that we decided to go, because this show ended up being a real highlight of our visit to Montevideo. The performance started at 9:00 at night and there was a 250 ($9) cover charge to get in, but it was definitely worth it.
We thought that it would be a touristy affair, but as we sat down we realized that we were the only gringos in the place. Perfect!
It all started with a couple of talented Montevidean guitarists who serenaded us while we ordered drinks and appetizers. Then the main event started…
It's arguable where tango originated and although Argentina is almost always credited with the invention and perfection of the dance, many historians believe that it originated in both Buenos Aires and Montevideo. We did watch a couple of shows in Argentina, but none of them compared to this phenomenal performance we were about to witness in Uruguay's capital.
The man tossed, twisted and twirled the beautiful Uruguayan woman as the intensely dramatic tango music played in the background. The crowd reacted with gasps, oohs & ahhs and applause as each heart-pounding performance came to an end.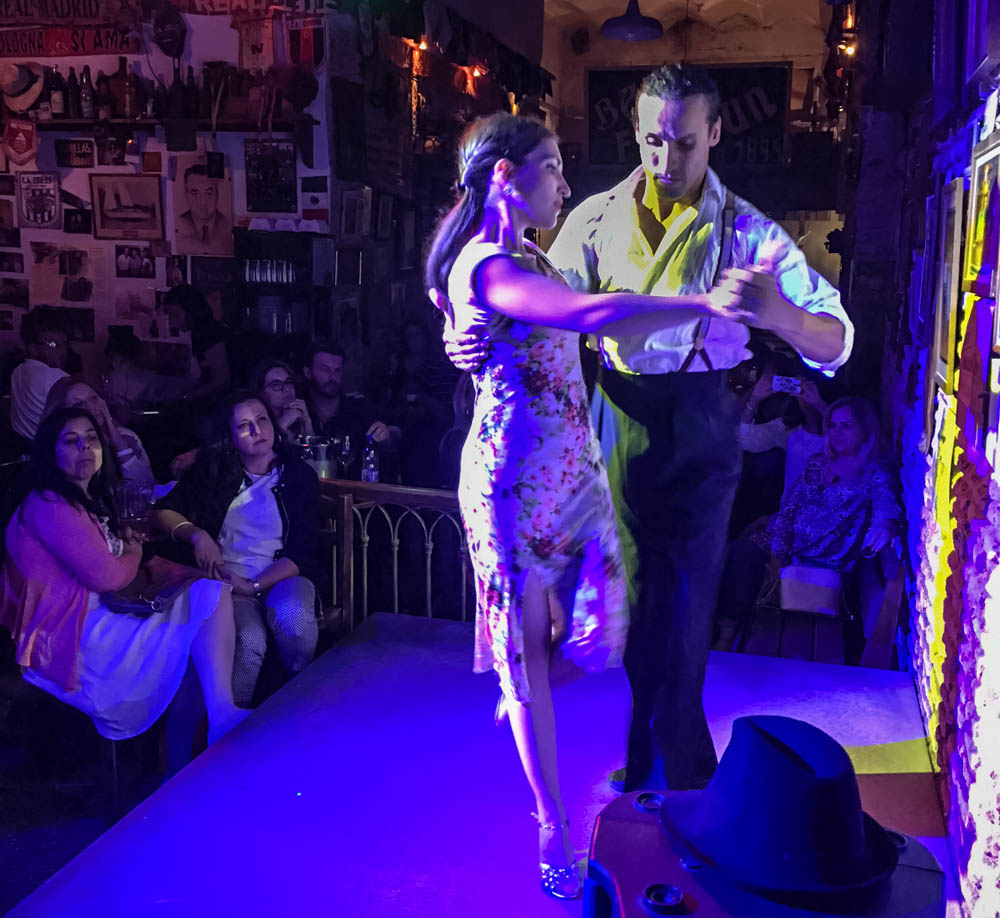 We're not tango experts at all, but I would assume that these two were some of the best in the country. Their movements were so synchronized, it was as if they had been born attached at the hip.
I couldn't understand how they were able to complete such acrobatic feats while confined to such a tiny stage. The dance was mesmerizing and we would definitely go back to the same place if we ever return to Montevideo.
Our Overall Impressions
We really enjoyed our 5 nights in Montevideo and although we found the old town to be a bit dead, we loved The Rambla, the many parks filled with mate-sipping Montevideans, the nearby beach and the overall vibe of the city.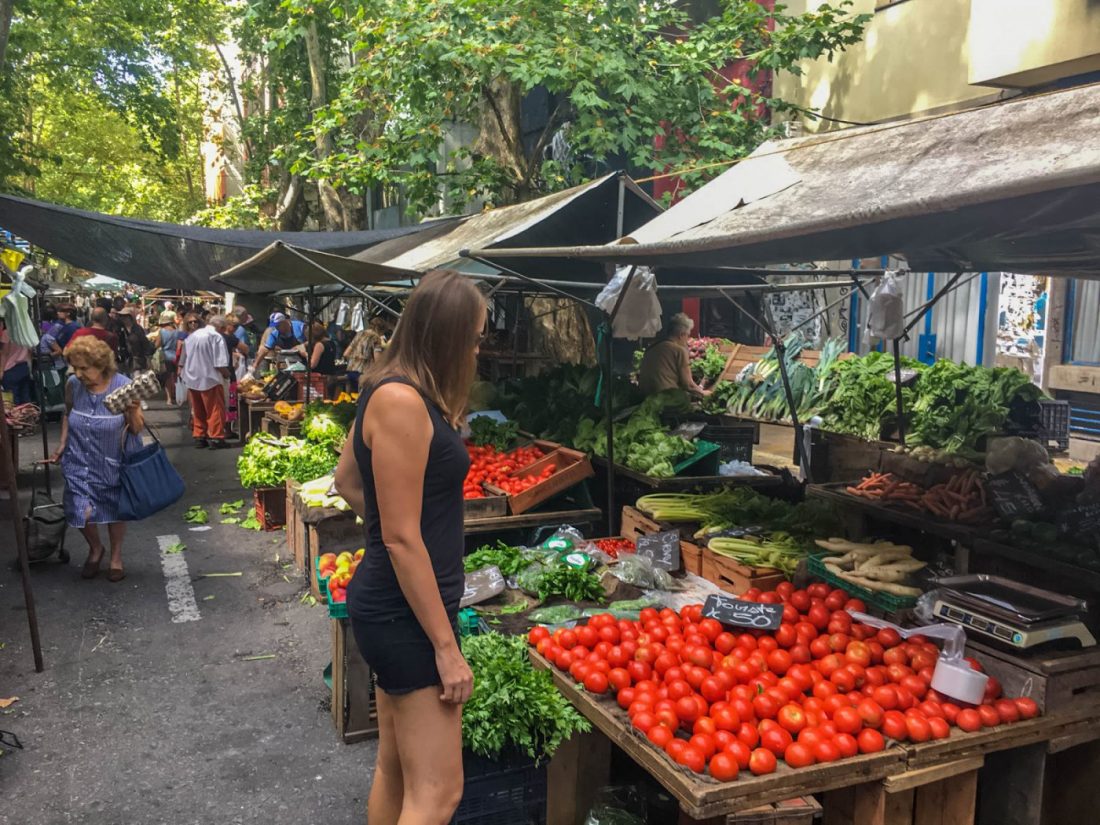 We learned so many interesting facts about Montevideo and Uruguayan people and we felt like the city was one of the most liberal and free-feeling places we've ever visited. It's no wonder it was listed as one of the most livable cities in the world.
We personally couldn't see ourselves living there, but we are really glad that we made the visit and we'd now love to explore more of Uruguay. Perhaps on another trip to South America…
Check out our Montevideo video 😀 
Like it? Pin it! 🙂