Prague is one of those cities in Europe that is really starting to gain popularity with backpackers, tourists and bloggers. We had heard about Prague a few years back when we were considering places to travel to as a digital nomad. We typed "Prague" into the search bar and up popped numerous images of colourful buildings, ornate architecture and green parks – we were immediately inspired to visit.
Travelling to Prague took us a bit longer than anticipated, but it was worth the wait!
From Berlin, we took the bus to Prague and spent 6 days in the city – gawking at stunning buildings, learning about the history on a walking tour, hanging out in beer gardens with friends, chilling out in parks and checking out markets and festivals.
Here is our mini-guide to travelling Prague, a city that we hope to return to sometime soon!
Where to Stay in Prague
There are endless accommodation options in the city. You can choose from Airbnb, hostels or hotels, and all ratings and styles.
If you don't mind the noise and want to be right in the action, you can opt for the center of the city (Prague 1), but if you would like to be in quieter areas, within tram distance from the center, check out the neighbourhoods of Prague 2, Prague 4, Prague 7, and Prague 10.
According to our friends over at JustAPack.com, who have spent over a year in Prague, the area of Vinohrady (Prague 2) is their favourite, while Žižkov (Prague 3), is the coolest area in the city.
In the Letna area (Prague 7), you are within walking distance to the city center, but Airbnb apartments go from just $20 + / night (depending on the season). Whereas in the center of the city (Prague 1), an apartment will go for around $45 + / night.
By staying just a little bit outside of the city center, you'll be able to save a lot of money on accommodation, and will enjoy a quieter stay.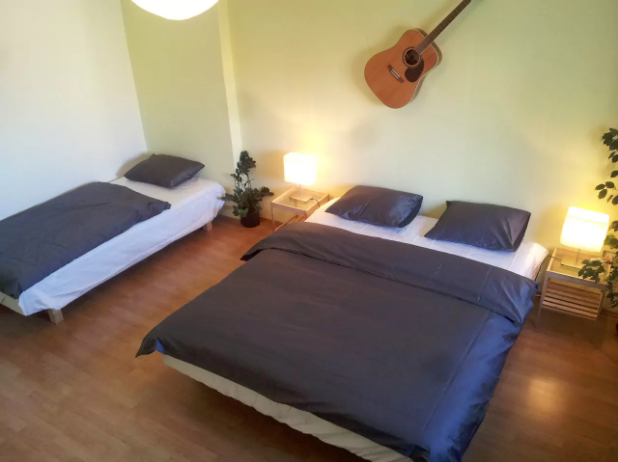 Click here to search for apartments in Prague on Airbnb.
There are numerous hostels in Prague, just take your pick. But, be warned that not all hostels are created equal. We stayed at the Orange Hostel (which is a top rated hostel), but we found that the rooms were very small, and it was difficult to get any shower / toilet time as there was only 1 bathroom shared between 10 (or more) people!
However, the saving grace was the staff who were excellent and if you're looking for a central place, it would be a good spot for you.
According to HostelWorld, there are 187 hostels in Prague! Dorm beds are extremely affordable starting at around $6 / bed for the night. For a private room with a double bed, you're going to have to pay much more: $50 and up / night.
Here are some examples of the costs of the top rated hostels on HostelWorld:

Click here to learn more about Sir Toby's Hostel and to book a room.
Click here to learn more about Post Hostel Prague and to book a room.
Click here to learn more about Czech Inn and to book a room.
To see all of the hostels available on HostelWorld in Prague, click here.
If you would rather stay in a hotel as opposed to a hostel or an apartment, you will definitely pay more for your room. However, there are some stunning boutique hotels in Prague that we would love to stay at!
Here are a few highly recommended options on Booking.com: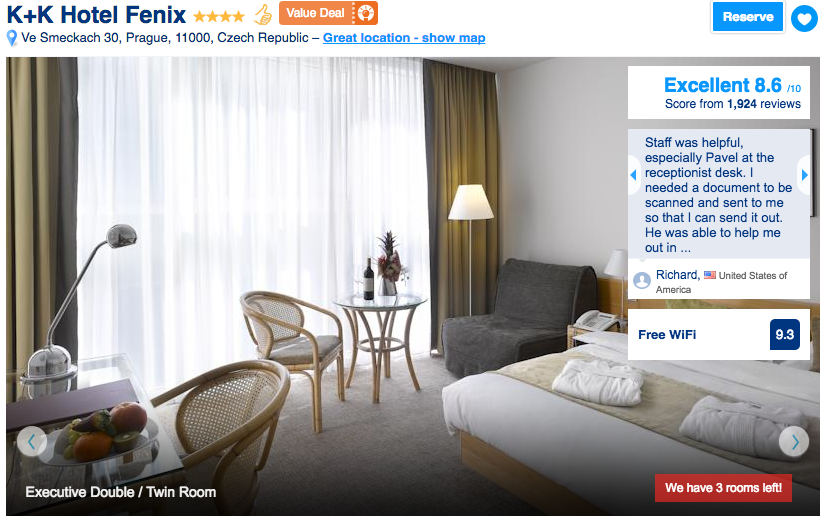 Click here to learn more and to book a room.
Click here to learn more and to book a room.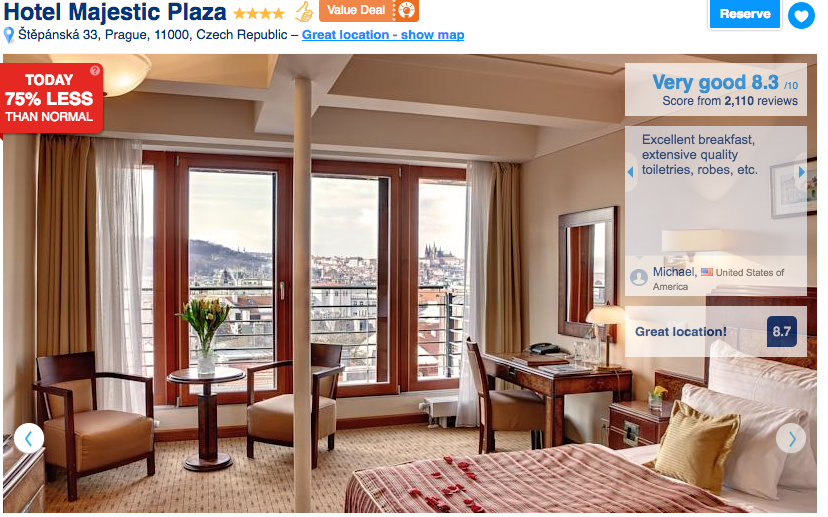 Click here to learn more and to book a room.
As you can see, there is a wide variety of accommodation options in Prague. Keep in mind that the weekends are busy with English tourists coming down for their "stag-do's" and "hen-do's" (bachelor / bachelorette parties). This is due to the fact that beer is so cheap in the Czech Republic, as are the flights to get here from the UK.
Where to Eat in Prague
There are numerous traditional meals and drinks to sample in Prague. Although, be warned, if you're a vegetarian most of the traditional meals contain meat. For vegan and vegetarian options, you'll have to eat international food.
Lokál Dlouhááá: This is a lively restaurant / pub serving up simple Czech meals at affordable prices. The beer menu is larger than the food menu. The service is awful and if you have a question, you'll receive an eye-rolling from the staff. However, it's always busy with locals, expats and tourists, plus it's cheap and tasty. Click here for directions.
Sausage Stands: Czechs love sausage! You can find these meat stands all around the city, and although they aren't the healthiest option, it's an easy lunch (or a late night snack). You can also find more upscale sausage meals when you order a plate at a restaurant.
Markets & Festivals: If you are travelling to Prague during the summer months, there are numerous outdoor festivals that you can attend. At these festivals, you'll find loads of food stands serving up some (not so healthy) snacks. Boiled potatoes smothered in melted cheese, sausages in a bun, and fried potato patties are some of the snacks on offer at the beer festivals.
We found a wine festival and the food there was much healthier – cold salads, meats and cheeses, olives, breads, pastas and soups were on offer. Keep your eyes peeled for markets and festivals!
Madame Lyn Restaurant: This Vietnamese / Thai restaurant is located in Prague 2 and is a great choice if you're craving something other than meat and potatoes. The menu offers tofu dishes, grilled meats, pho soup, and seafood dishes. Click here for details.
Dhaba Beas: This is an Indian restaurant serving up vegetarian food from the north of India. The restaurant is buffet style, so you just point at the various curries, rice, salads and vegetables on offer and you pay by weight. Click here for details.
Must Try Dishes: There are many traditional dishes you should attempt to sample before leaving Prague, here are some of them: česneková polévka (garlic soup), Zelná polévka s klobásou (cabbage soup with sausage), Vepřo knedlo zelo (roast pork with potato dumplings and saurkraut), smažený sýr (breaded and fried cheese), Skvělý hovězí guláš (beef goulash). And of course, street sausages!
For dessert, look out for trdelnik, a Bohemian specialty. Basically, sugared dough is wrapped around a stick and cooked rotisserie style. Once cooked, it's removed from the stick and covered in chocolate or filled with ice cream. Delicious!
Top Things To See and Do in Prague
There are endless amounts of things to do in Prague. Depending on which time of year you travel here, you'll find Christmas markets, beer festivals, music festivals and much more. There's something going on year-round in Prague.
Go on a Free Walking Tour: Each day there are many companies offering tours of Prague's old town and the Jewish Quarter. The tours are at 11:30am and 3:00pm, and they last for 2 – 3 hours. Click here for a company offering free tours.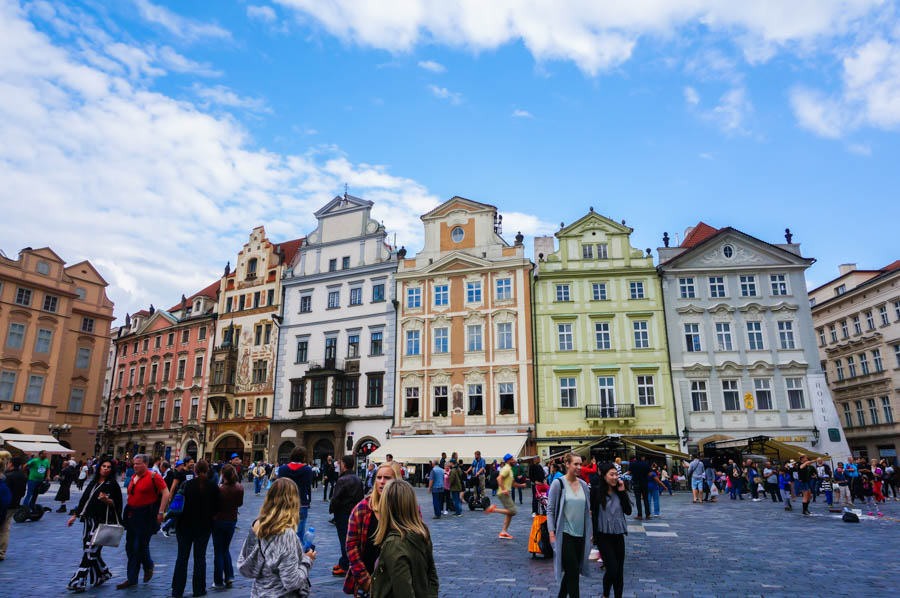 Wander the Old Town: Sure, this is something that everyone does, but that's because the old town is so beautiful! Check out the Astronomical Clock, town square, visit the Church of Our Lady before Týn, and of course, gawk at the colourful architecture.
Prague Castle: Yes, there is literally a castle in Prague! This only adds to the city's fairytale feel. The castle dates from the 9th century, and is the official residence of the President of the Czech Republic. You could spend a whole day here exploring the complex. However, the pièce de résistance is the Saint Vitus Cathedral.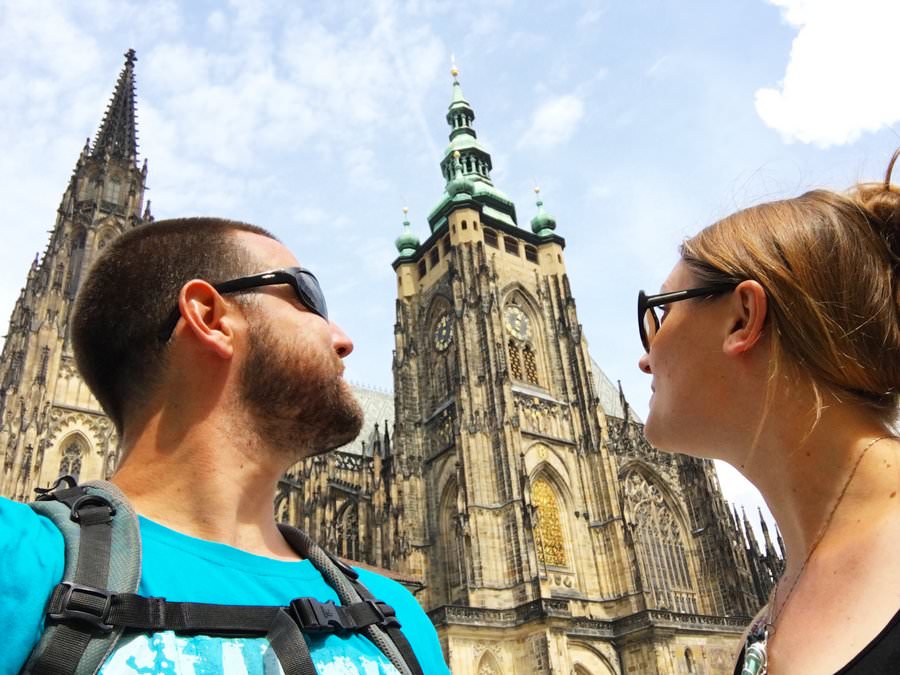 Letna Park: This park is beautiful. With views of the Vltava River and the old town, this is a great place to chill out. There's also a beer garden, a little bar, a restaurant and lots of green spaces for laying out a blanket.
Lennon Wall: In the 1980's this wall was filled with John Lennon quotes and images. These days, anyone can grab a spray can or paint brush and add something to the wall.
Prague Beer Museum: There are 2 of these pubs around the city serving up Czech beers. You can order a sample platter of a wide variety of delicious craft beer, and there are 30 on tap. The people of the Czech Republic drink more beer per capita than anywhere in the world. Cheers!
Charles Bridge: There is always something happening on this bridge. Construction started in the 1300's, and finished in the 15th century. This pedestrian-only bridge is a great place to stroll – you'll find vendors and live music here as well.
Check out a Beer / Music Festival: If you're in Prague during the spring / summer months, you'll find many festivals going on. Check out Parukářka Park and Letenská pláň (the same park as the Letna Beer Gardens), and click here for a list of events in the city.
Riegrovy Sady Beer Garden: In keeping with the beer theme, make sure to check out this popular outdoor beer garden. Here you can not only drink copious amounts of beer, but you can also watch sports on the big screen.
Getting Around in Prague
Prague is an excellent city for walking. There are numerous pedestrian only areas and unlike many parts of the world, there are sidewalks! If your legs get tired from all of the walking, hop on the bus, tram or metro. Driving isn't recommended as the parking situation is a bit difficult and the center has become quite congested over the past decade.
The transportation system in Prague is excellent. The metro (subway) system is the most popular mode of transport in the city. Descend deep underground and start your journey around the city! Click here to learn more about the subway, including the various lines and maps.
Another option is the tram, which runs from 4:30am until 12:00 midnight, in 8-10 minute intervals. Night trams run from 12:30am until 4:30am, but this time in 40 minute intervals. Click here to learn more about the trams in Prague.
Buses are a good option if you're heading to the outskirts of the city, or if you're going to the airport. Bus #119 connects the Ruzyně airport with the Dejvická metro station, while bus #100 connects the airport with the Zličín station. This is a cheap and easy way to get from downtown to the airport. Click here to learn more about getting to and from the airport.
Have you travelled to Prague before? What are your thoughts on the city? Share in the comments!
Like This Article? Pin it!