Coming up with online teaching background ideas that keep your students interested can be a challenge. In this post, I'll give you some great ideas that I've used over the years as an ESL teacher online.
When I started teaching, one of the most difficult things was coming up with a good backdrop for the interview process. I wanted to make sure that I had prepared enough to stand out in my interview, without spending a lot of time and money in case I didn't get hired.
But, it doesn't have to be complicated. Some of the best online teaching background ideas are very quick and super cheap.
It's also important to remember that your virtual teaching background is not set in stone. You can always change it up and make more permanent choices after you get hired and start teaching.
Let's jump in! Here are 10 interesting and unique virtual teaching backgrounds to try.
Why Are Online Teaching Backgrounds Important?
The backdrop sets the tone for your class. It creates a warm and productive environment for the student to feel comfortable.
It also establishes a sense of professionalism. Having a good online teaching background shows your clients and the school that you are prepared to teach, and you have gone the extra mile to provide a friendly learning environment for your students.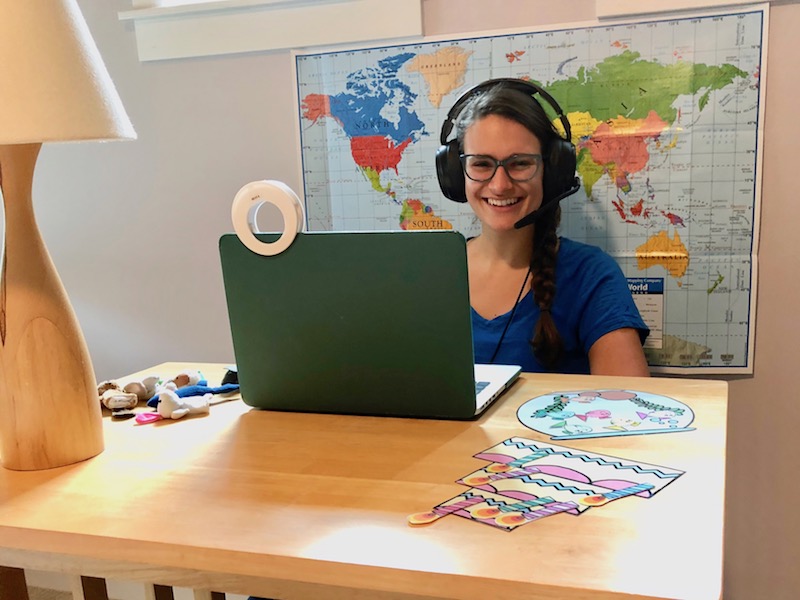 A good background can set you apart from other online teachers as well. This is your chance to be creative. Your online teaching background can be as simple or extravagant as you'd like.
10 Best Online Teaching Background Ideas
These are 10 tried and tested virtual classroom backdrops that your students will love!
1. World Map (the go-to online teaching background)
You can't go wrong using a world map as your online classroom background. You can use a colourful one with animals or other graphics for children or a more muted one for adults.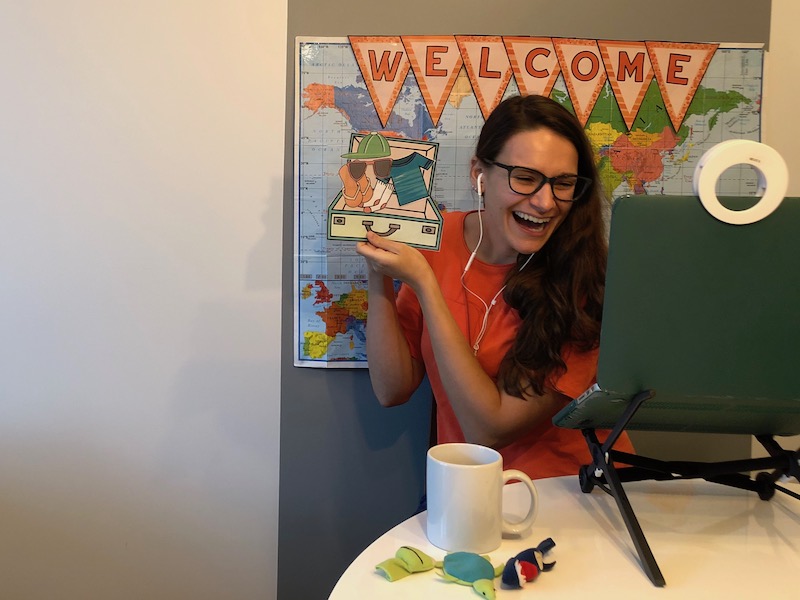 It can be interactive, too, if you use the map to show your students where you live and to ask about their country. It's a good conversation starter and warm-up as well — simple ask where they live and where they've travelled.
It helps you get to know your student a little bit while also teaching some other concepts like geography in an English context. Win-win!
You can expand on the map to show other countries that use English as an official language. You may be actually teaching your students things about other countries, so it comes in handy for that as well.
Be mindful about wrinkles and glare when selecting the map you want to use. Wrinkles will cause shadows which will be noticeable, and laminated maps may have too much glare to see depending on your lighting system.
This is one of the most popular online teaching background ideas. It won't necessarily help you stand out, but it is tried and true.
2. Traditional Classroom
You can go for a more traditional classroom tone. Think back to how your grade school teachers decorated your classrooms.
ABC's, numbers, colours, and shapes are all staples of any classroom for young learners. Dollar Stores are going to be your best friend for this background idea.
See what your local store has for you to work with. It's cheap, easy, looks professional, and you can mix it up from time to time.
3. Save The Date
You could go for a date theme. Use calendars, month and days of the week flashcards to decorate.
You can just search online and print items for this one, instead of buying supplies. Just print in colour or use coloured paper.
If you teach Chinese children, in particular, months and days of the week can be kind of difficult concepts for them. It's especially tricky for young learners.
In Chinese, they just use the numbers 1-12 and the character for month, like "one month" for January. They do something similar for the days of the weeks.
Using this theme as your background can help repeatedly expose them to the concept making it easier for them to remember.
4. Celebrate The Holidays
If you're the festive sort, incorporate seasons and holidays into your backgrounds. Eastern and Western countries celebrate very different holidays.
Decorating your online background with the holidays you celebrate is a great way to share a little extra language and culture with your students. This works well for both children and adults.
Just be respectful of cultural difference. It's best to stick to secular holidays, and not the religious ones.
5. Country Flags
Flags are great things to use for your background. Like maps, this one is quick, easy, and offers tons of opportunities for extra learning.
Flags are very colourful and visually interesting by nature, so that's two boxes checked already. Plus, flags give you an opportunity to practice colours and shapes as well.
You definitely want to include your country's flag, as well as your student's country flag. You can also include other flags where English is widely spoken.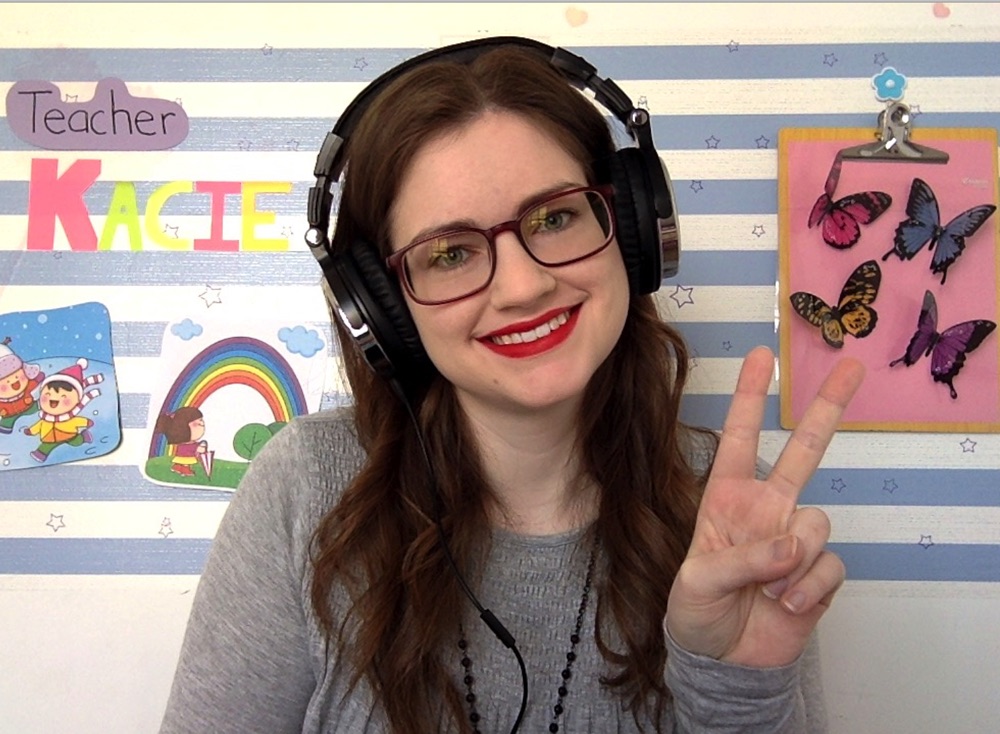 6. Company Spirit
For online ESL companies that provide a curriculum (such as GoGoKid), they will have their own cast of characters speckled throughout the lessons. Most companies offer printable PDFs that you can use in your background.
Use this to your advantage! Using this in your background helps connect you to the lesson so your students will feel connected and engaged during class.
It also helps your clients connect you with the online TEFL brand. When they come to that company to book a lesson, they'll remember you! It's good marketing for both you and the company.
This is also an easy way to stand out during the interview process.
7. Simple Scarf
If you are looking for a quick way to add some colour to your classroom, you can use a scarf as your background. You can find some fun patterns, and you probably won't need much else to set your background.
Just be careful about how you attach it to the wall. Straight pins or sticky tac will probably be the best way to go.
This is a great one for people on the move. It's lightweight, packable, and can still be used as part of your wardrobe!
8. Tri-Folds And Posters
If you need to save space, tri-fold cardboard posters can be an excellent choice. Decorate it however you like and tuck it behind your desk or under your bed when you aren't teaching.
You can also design an online classroom backdrop and have a print shop make it as a banner or poster. If you do this, you probably won't be able to use company characters do to copyright issues, but otherwise, you're just limited by your creativity.
This is an easy way to be able to quickly switch your backgrounds if you have both children and adult students. Instead of compromising on a background, you can have the best of both worlds.
This is another great online teaching background idea for teachers on the go. Just make sure you can safely pack it without crumpling or damaging it.
9. Use a Magnetic Wall for Your Virtual Classroom Backdrop
If you have a more permanent teaching space, you can use chalkboard paint or magnetic paint to make your background more interactive. If you use a secondary reward system in your classes, you'll love this.
For a semi-permanent version, you can hang a small marker board or a cookie sheet on the wall behind you.
10. The Minimalist
If you like to use a lot of props in class, you may not need much of a background at all. I know some teachers who like to use wigs, costumes, and lots of different props to bring their classes to life.
If you do this, a more subtle background will probably be enough. You don't want so much going on that it's distracting for your students.
If you choose this route, you should still avoid a white wall at all costs! Opt for a bright solid colour and make sure you sit close enough to the camera that you take up most of the screen.
Bonus: Green Screen
There are services like ManyCam and others, that will allow you to use virtual teaching backgrounds. These are third-party companies that you can pay to use digital backgrounds for your classroom.
These backgrounds work best when you use a green screen as your online classroom backdrop. However, it's not always mandatory.
Some teachers love this option and it can be really fun for the students. Just be mindful that you will probably need faster internet to run them.
Some companies also have issues when teachers use virtual teaching backgrounds with their platforms. Do your research before you pay for a virtual background option.
VIEW BACKGROUND IDEAS ON AMAZON
Backdrops When Teaching Children vs Teaching Adults
The majority of jobs in the online ESL world are teaching children. Most of the online teaching background ideas are geared toward teaching children. But make sure you know your audience.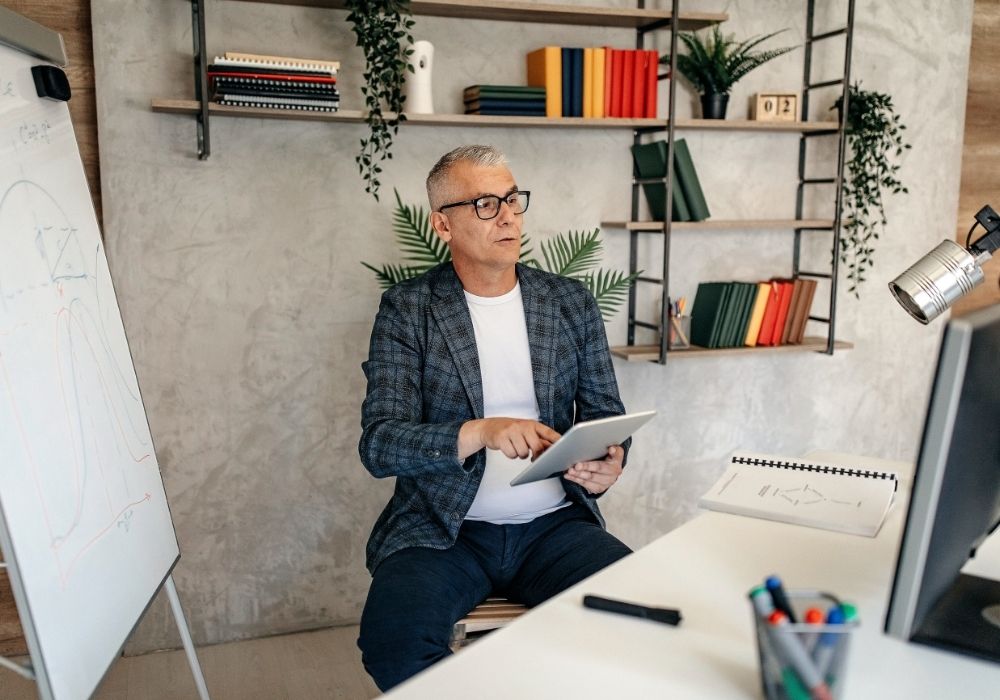 Backdrops For Children's ESL Classes Online
If you are teaching children, you'll want to use a lot of bright colours and interesting features in your classroom to show that you are a fun and friendly teacher.
Children need a background that is fun and welcoming so that they stay engaged. Your background is one of the absolute best ways to make a great first impression for those younger learners!
Backdrops For Adult ESL Classes Online
If you're working with adults you will probably want to opt for something a little more business professional. Adult learners are going to be less concerned with what your online classroom looks like and more concerned with the quality of your lessons.
However, that doesn't mean you have to teach in front of a white wall. You can still use a lot of the same online teaching ideas for children and adapt them for your adult learners.
Bright colours are still a great way to make your background interesting and welcoming. You can also use plants or books on a small table behind you to create a more professional feel. Click here for a cheap and easy idea on Amazon.
If you teach both students and adults, finding a happy medium might be a bit challenging. Choose a background theme that's more suited for children, because your adult students will be more forgiving.
3 Tips For Choosing an Online Classroom Background
Here are some great tips for a simple and easy background.
1. Keep It Interesting, But Free From Distractions
This is key to having a great online background. You don't want your students to pay so much attention to what's going on behind you that they aren't focused on you.
Think of it as setting a stage for your online teaching. You want your background to compliment your teaching style, but not overshadow it.
2. Tailor Your Background To Your Personality
Use colours that you love and incorporate elements that you love too. For example, if you love mythology, use unicorns and dragons in your background.
Not only will this give you a working space that you enjoy being in, but it will help you attract students with similar interests.
3. Lighting and Camera Are Key
The last tip to making sure your online classroom background stands out, is making sure it's visible on the other side of the camera. The most important way to make sure that happens is to have good lighting.
There are a lot of different ways to make this work. Some people have good luck with a ring light attachment, but if you wear glasses, you'll probably need two different light sources to avoid shadows and minimize glare. Desk lamps usually do the trick!
You can also test your equipment. Sometimes the built-in cameras in laptops aren't very good quality. If you plan on teaching online for a while, investing in a nice external webcam might help give your students the best possible experience.
Online Teaching Background Ideas On The Road
Online teaching can be a great source of income for people on the go. All you really need is your laptop, headset, and decent internet.
So how do you plan a background on the go? Well, there are a lot of online teaching background ideas that can be adapted for teachers on the move.
First, it depends on where you will be staying. If you're going to be in hotels, you may find it difficult to find a quiet enough space with fast enough internet. Make sure you make arrangements with the hotel first so you know that you can make it work.
A better option would be to stay in an Airbnb or some sort of apartment so that you have fast wifi and a quiet space to teach.
I would also caution against teaching from vans or campers. Some companies even forbid it.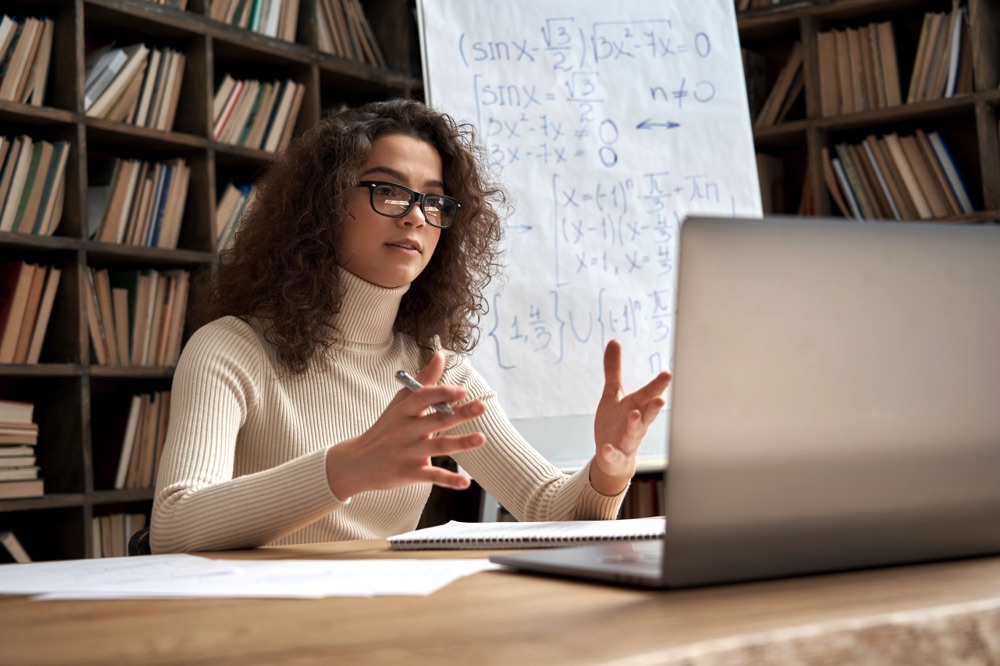 I think it's just too challenging to carve out a good teaching space when living out of van or camper. I have heard of some teachers doing this, though.
If you need to teach on the road, just make sure you have a quiet space, with a fast internet connection. Then you can tackle your background on the go.
1. Keep It 2 Dimensional
Things that are flat fit better in suitcases! They don't weigh very much and it's easy to put them up and take them down.
Use tape or sticky tac to hang up your background anywhere. Just make sure that you're using an adhesive that won't hurt the paint or wall. You don't want to pay for room damages.
2. Less Is More
If you're usually on the go, stick to one or two larger items for your background. You don't want to spend a lot of time setting up your online classroom every time you travel.
Just spend a little bit more time planning your background if you're going to keep it super simple like this. You can still have a great online teaching classroom if you make those few items special and versatile.
3. Use What You Have
Be creative! If you're staying in a lot of different places, you can incorporate that into your background.
Different rentals may have different accent walls or decorated spaces that you can use to teach. You might not have to pack anything.
I've even heard of some teachers just sitting outside and using nature as their background. This can be a great way to share your travels with your students.
Your students will want to get to know you. You can use this as an opportunity to teach some additional language along the way.
What Every Online Background Should Have
No matter which idea you choose, there are a few things that every background for online classes should have. Keep these points in mind and you'll have a great backdrop:
Be sure to use a lot of colour and interesting features.
Remember to think of it as a frame.
As an online ESL teacher, you are the most important part of your online classroom. Don't over decorate.
Leave a relatively blank space in the middle where you'll be sitting. The last thing you want is your students trying to see what's behind you.
You should include your name somewhere on your background. This will help your students remember you and be able to rebook with you more easily.
Some companies will assign you a show name or a nickname to protect your privacy. This gives you an individual name or ID that's specific to that company. If you have something like this, use it on your background.
Include an "I appreciate your feedback" message. Many online ESL companies incentivize good reviews. If you add a small message somewhere on your background thanking the client for their feedback, they may be more likely to leave a positive review.
In Conclusion
Feel free to take these online teaching background ideas and adapt them to fit your situation. It's OK to mix and match — the combinations are limitless.
Don't be afraid to mix it up once in a while either. Redoing your background can also be a great way to shake things up and recapture your students' attention in class. Happy teaching!
Like This Article? Pin it!