We arrived in Aqaba, Jordan after a nice hour long ferry ride. We didn't realize it was Easter holidays/Spring Break (we've lost all sense of time-all we knew is that it was April!) so it was very hard to find a room. The room the first night was good – comfy beds, clean white tiled floor, fridge and nice bathroom inside the room. The second night we weren't so lucky!
We had to switch hotels completely (the first room was reserved for the second night) and ended up in a room with stains on the walls, no fridge, a ceiling fan that was dangerously wobbly and a toilet inside the room that was 'musky' smelling the whole night!
However, on that second night a group of giggling girls stopped by the room, knocked and asked me to "come here please". So I did as I was told and stepped out of the room. They all stared at me giggling and talking amongst themselves. They were trying to figure out what to say to me in English. They got the words together and we had a conversation.
They were on holidays from school, were 16 years old, not married but Insha'Allah (God willing) by the age of 24 they will be married and they live in North Jordan. I love being the only foreigners in a hotel and having opportunities to talk to the locals, especially girls/women. In Aqaba we did a lot of walking around down by the ocean, some shopping and some planning for the rest of our time in Jordan.
From Aqaba we made our way North to Petra, a Wonder of the World…and what a wonder it was. It is the ancient red-rose coloured City of the Nabataeans (Arabs who controlled the frankincense trade routes in pre-Roman times) who carved palaces, temples, tombs, storerooms and stables from the sandstone cliffs.
The City of Petra was built in the 3rd century, B.C. and discovered in 1812. Indiana Jones was also filmed here! We spent 2 full days there exploring the old ruins of the massive City but could've spent a week. There was so much to see and everything was so spread out. First we walked for about 2kms down a rocky road to reach the "siq" area. It's like a massive narrow canyon with very high rocky walls. We walked along that for 1.5kms until reaching the Treasury of Petra. We came around the corner and bang! there it was, one of the most impressive and famous sites of Petra.
The Treasury is carved out of the mountainside and served as a tomb. It's amazing to think how people that long ago could build such impressive monuments without any sort of modern day tools. From the Treasury we continued walking and gazing in aw at the huge cliffs and carvings along the way. We hiked up steep steps and over boulders to reach the "High Place of Sacrifice", a hilltop alter, for some great views of a portion of Petra down below.
That was it for day one, back to the hotel. The place we stayed was great, amazing room and the best part was the communal dinners. The staff cooked up a massive buffet dinner consisting of traditional Bedouin food and all the other backpackers/travellers staying there would all eat together. After dinner the staff played Bedouin music (traditional drums and guitar) and people would drink and dance, great times….much better than the musky place in Aqaba!
Day 2 in Petra was even better than the first. We started with the same 3.5km walk and then instead of going towards the High Place of Sacrifice, we went the other way. Saw the 7000 seat theatre, climbed up some more steps to the Royal Tombs that were cut deep into the cliff face and saw some more temples cut out of the rock. Next we headed to the Monastery, another of the very impressive sites at Petra.
We hiked up 850 rock cut steps to the top in the blazing heat. People were riding donkeys to the top but they looked a bit ratty and quite stumbly (there were huge drop offs) so we passed on that and decided to rely on our own legs to get us safely to the top! The Monastery was beautiful, again, perfect carvings out of the rock face. It was built in 86 B.C. and used as a church.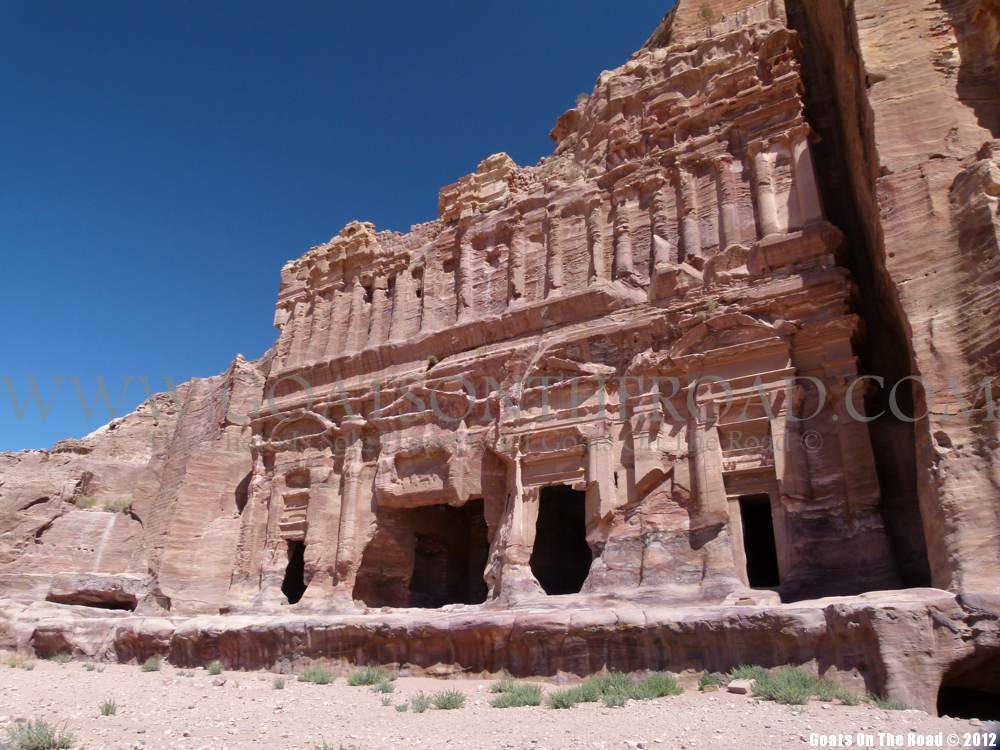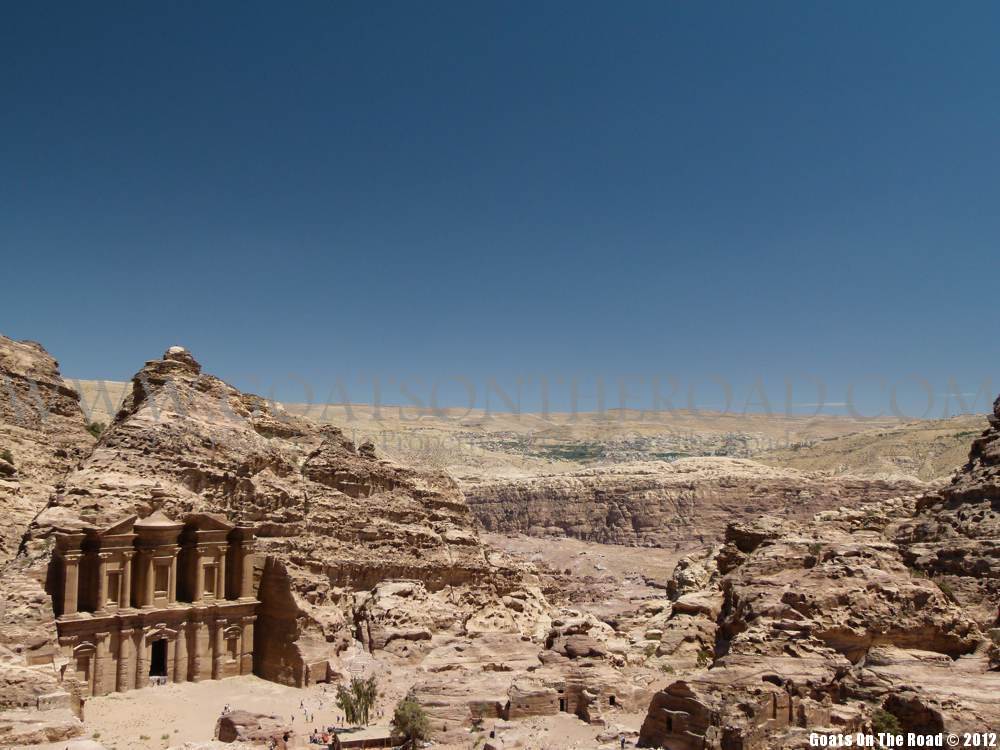 Around the Monastery were some breathtaking view points. We stopped there for a nice picnic lunch – tuna salad with loads of veggies and hard boiled egg too, strawberries and bananas for dessert! There was a local Bedouin man precariously sitting on the edge of a cliff hundreds of feet high at one of the view points. He was playing his guitar-like instrument and singing. We sat down with him and gazed out over the mountains. It was just the 3 of us there enjoying the scenery, another surreal moment in travel.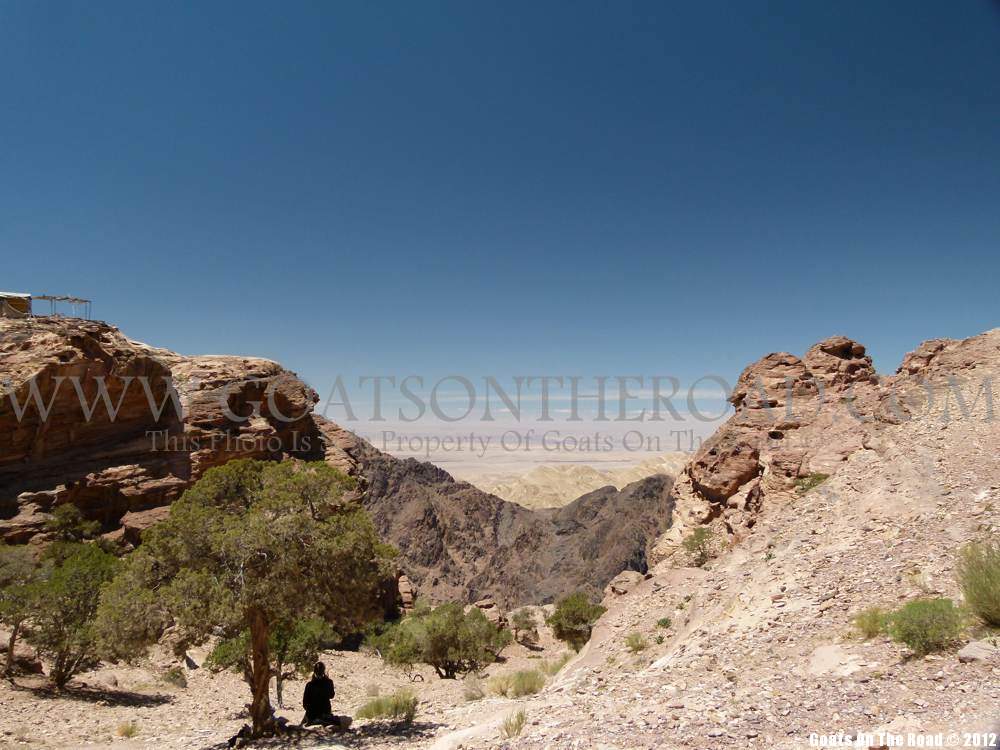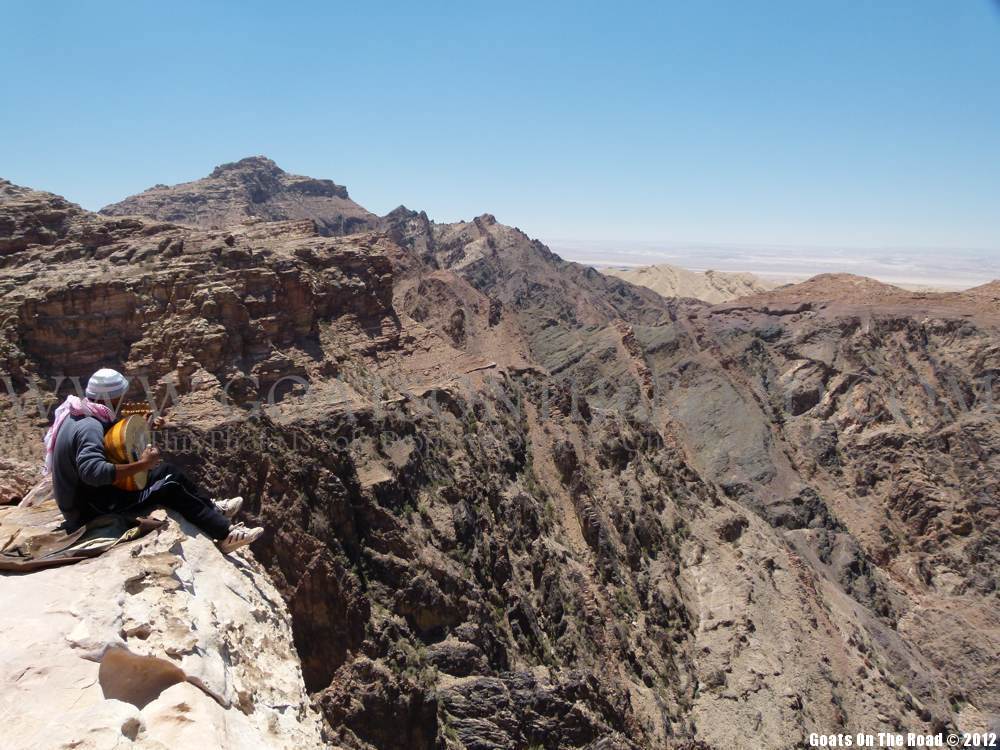 After spending a few hours there, we descended down the 850 steps, much easier than going up, and made our way back towards the entrance. We didn't see everything at Petra but we saw all of the main sites, it's such a massive area and there was just too much to see in 2 days.
Like this Post? Pin it!
Disclaimer: Goats On The Road is an Amazon Associate and also an affiliate for some other retailers. This means we earn commissions if you click links on our blog and purchase from those retailers.