Teaching online is a remote work option that gets more popular by the day. With flexible scheduling and the ability to work from home (in your pajama pants!), it's no wonder so many people rave about online English teaching.
If you're totally new to the teaching world, it can be hard to find a company that will let you start tutoring without experience or a degree.
It seems like many companies want you to have special certifications and teaching experience just to apply, which can be frustrating for new educators.
That's where SkimaTalk comes in.
In this SkimaTalk review, we will cover exactly how the SkimaTalk online teaching platform works and what qualifications you'll need to sign up.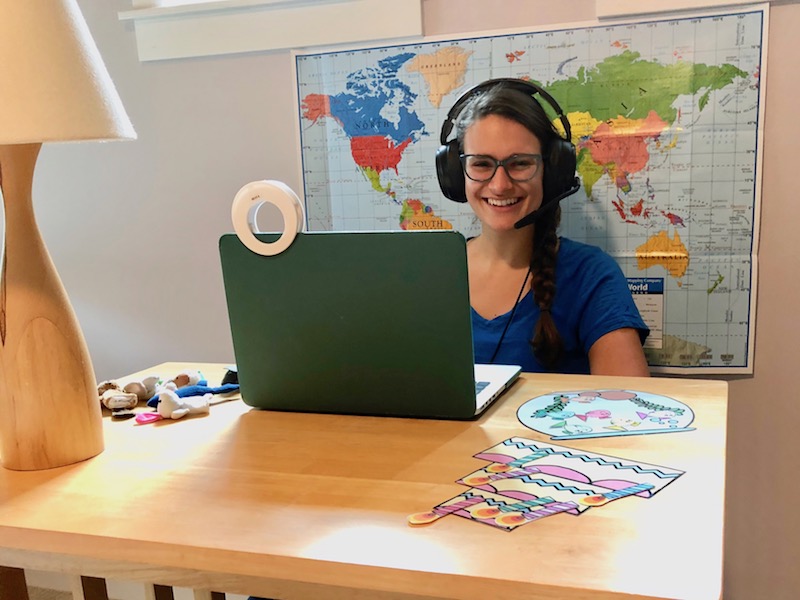 I've been an online teacher for around 3 years now, and taking my classroom with me on the road has been one of the best things I ever did. I'm grateful for the financial freedom and location independence that working online provides me.
If you don't have a university degree but are a native English speaker, SkimaTalk might be a great platform for you. Find out more in this SkimaTalk teacher review.
About SkimaTalk
SkimaTalk is a popular online English company that offers one-on-one lessons to thousands of students all over the world. Students can browse through the large network of SkimaTalk tutors and book 25-minute sessions with teachers that interest them.
One of the big selling points of the SkimaTalk platform is that all tutors are native English speakers. Students are mostly adult learners and because they come from all over the world, there is a demand for classes 24/7.
Students on SkimaTalk can choose what kind of lesson they want to take. They can either sign up for structured courses created by SkimaTalk about a variety of topics or they can sign up for free-flowing conversation sessions.
Ultimately, SkimaTalk helps connect passionate teachers with eager English learners (of all ages) around the world.
Why Become a SkimaTalk Teacher
With SkimaTalk, you have flexibility with location, hours, and schedule.
There are no minimum or maximum teaching hours and you can work from anywhere as long as you have a good internet connection.
SkimaTalk is an English language marketplace. Native speakers who are excited to teach can be hired even if they don't have traditional teaching credentials or qualifications.
After joining the platform, you're responsible for creating a profile and video that attracts students.
Because SkimaTalk is geared toward adult students from all over the world, you'll get to learn about other cultures and lifestyles.
Many other companies (such as the one I work for) are geared to Chinese children, but since SkimaTalk teachers are able to interact with adults, the personal connections made with students are a highlight of the job.
SkimaTalk Teacher Requirements
This is where SkimaTalk differs from the more popular platforms like VIPKID and EF Education First.
Teacher Qualifications
1. To apply with SkimaTalk, you must be 18 years of age or older.
2. You must be native English speakers from the United States, the United Kingdom, Canada, Australia, New Zealand, South Africa, or Ireland.
3. You do not need a BA degree, a TEFL certification, or teaching experience to teach with SkimaTalk. However, if you do have those qualifications, it will make you seem more attractive to potential students.
At the very least, having your TEFL will give you a leg up on the competition and prepare you for teaching. MyTEFL is one of the cheapest and best courses available, find out more here. Use promo code GOATS35 to receive 35% off at checkout.
Once you're hired to teach with SkimaTalk, you'll need to maintain a 4.5/5 rating score from your student reviews. Your teacher no-show ratio must be below 5% and your cancellation ratio must be below 10%.
Technical Requirements
To teach with SkimaTalk, you'll need a desktop or laptop with a webcam and a reliable internet connection. You'll also need a headset with a microphone for good audio quality.
Finally, you'll need to download Skype on your computer since lessons are conducted via the Skype platform.
How To Get Hired With SkimaTalk
To get hired by SkimaTalk, the first thing you'll do is create a teaching profile on their website. You'll upload a video introduction and take a test about how SkimaTalk works and the company policies.
It's important to put some effort into your SkimaTalk video introduction because this is what students will see when they decide to book you. Remember to speak slowly and clearly so potential students can understand you well.
If you're unsure of what to put in your introductory video, you can go to "Search" and click "By Ranking" on the SkimaTalk website. This will show you some of the highest-rated tutors.
Visit their profiles and watch their introductory videos to get a good idea of what attracts clients (students).
You should record your video in a quiet environment with good lighting and use a quality microphone so students get a better sense of what classes will be like with you.
If you pass the test and have an acceptable video, you'll be notified of your acceptance within 10 business days.
How Do SkimaTalk Lessons Work?
First, you open up times that you're available to teach on the SkimaTalk platform.
You can either wait for students on SkimaTalk to book your sessions, or you can send students from outside of the SkimaTalk platform an invitation link to join and book you.
Potential students on the SkimaTalk platform can filter tutors by rating, availability, or types of courses offered.
To have the best chance of getting booked, SkimaTalk recommends opening as many time spots as possible and offering a wide range of lessons.
When a student books your class, they can choose a pre-set SkimaTalk lesson or a free talk lesson. SkimaTalk course topics include English news, English exam preparation, and business English case studies, among others.
Courses can also be offered as beginner, intermediate, or advanced sessions depending on the needs of the student.
You have access to SkimaTalk lessons and materials that you can use, or you can create your own materials.
When it's time for class, you'll call the student via Skype. Lessons last for 25 minutes. After teaching the lesson, you then have 24 hours to submit feedback for the student.
In this feedback, you will assess the student's language skills. This written feedback is a mandatory part of teaching for SkimaTalk.
SkimaTalk Schedule and Bookings
Here's a breakdown of the scheduling and how students will book you.
Scheduling
Scheduling lessons with SkimaTalk is simple!
Once your account is approved, you'll go to the "My Page" section of the SkimaTalk website. Then you'll click the "Open Sessions" button to add available sessions to your calendar.
There are no minimum or maximum teaching hours with SkimaTalk so you're free to work when it's best for you. Remember that not every open spot will get booked so it's better to open as many as you can.
Will I See The Same Students Every Class?
No, you will probably see a variety of students on SkimaTalk. Because students book you on a class by class basis, you likely will not have a consistent schedule of students.
That being said, if a student really likes your lessons, they might book you many times in the future.
Student No Shows And Cancellations
Students on SkimaTalk must abide by the following cancellation fee schedule:
If a student cancels class more than 24 hours in advance, there is no cancellation fee issued to the teacher.
The student will pay a 20% cancellation fee if they cancel a class between 1-24 hours in advance.
If they cancel between 0-1 hours in advance, they must pay a 50% cancellation fee.
Finally, if the student doesn't show up and provides no notice, they must pay a 100% cancellation fee.
Teacher No Shows And Cancellations
Likewise, teachers must abide by the following cancellation fee schedule:
There is no cancellation fee if you cancel a lesson more than 24 hours in advance
If you cancel a lesson between 1-24 hours in advance, you pay a $3 fee to SkimaTalk.
If you don't show up or provide any notice, you pay a $9 fee.
Teachers must call their students on Skype within 30 seconds of the scheduled lesson start time. If you're more than five minutes late to a session, it will be counted as a teacher no show.
If you have too many no shows and cancellations, Skimatalk might deactivate your account.
Also, avoid any no shows or cancellations during your first ten lessons on the platform, or else you'll risk your account being closed altogether.
Basically, just show up for class and you'll be fine!
How Much Does SkimaTalk Pay?
SkimaTalk teachers get to set their own pay rates.
When you first sign up for SkimaTalk, you'll be required to teach three free sessions to make sure you're a good fit for the platform. This is also a great way to get your first teacher reviews, so make sure you give it your best effort!
If you successfully teach your first three classes, your rate will automatically be set to $8 USD per 25-minute class. You are able to change your price as you wish after you've taught your three free lessons.
SkimaTalk will keep 20% of the lesson fee for all lessons as commission, so make sure to keep that in mind when setting your pay rate.
Most of the highly-rated tutors charge $10 – $15 USD per 25-minute session (get your TEFL so you are qualified and can charge more!). Newer tutors without many reviews typically charged between $7 – $10 USD per 25-minute session.
Teachers are paid once per month via Paypal.
Tips For Being a Successful SkimaTalk Teacher
SkimaTalk provides suggestions to help their teachers get great reviews and recruit more students — the emphasis is on being punctual and professional.
Since lessons are conducted over Skype, you're urged to use the Skype chatbox feature frequently and give students feedback throughout the lesson.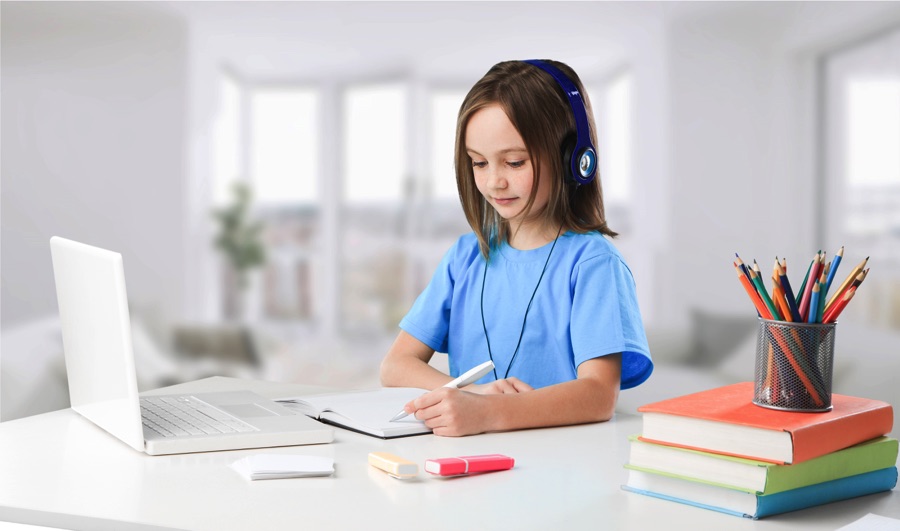 Remember to smile, be friendly and encouraging, and speak slowly and clearly that your student can understand you.
Top teachers prepare lessons in advance but are also able to adjust the lesson pacing and material to suit the needs of the student.
Finally, teachers are also required to leave detailed assessment feedback for the student after each meeting.
After each lesson, the student is able to leave feedback and a rating for their teacher. It's important to provide an excellent classroom experience for your student because these reviews play a big role in future bookings!
Teachers with better reviews show up higher in the SkimaTalk search results. They can also charge more for their lessons if desired.
SkimaTalk Teacher Reviews
Overall, SkimaTalk's teacher reviews are positive. Teachers generally enjoy the platform and feel it is a great place to start teaching online. In this section, we'll look at some of the common pros and cons of being a SkimaTalk teacher.
Pros Of Teaching With SkimaTalk
As a SkimaTalk teacher, you have full control over when you work. This scheduling flexibility is a nice perk and there are no minimum or maximum teaching hours.
Since students come from all over the world, you could be booked during daytime hours in North America. This is not possible to do with some of the Japan or China-based companies.
SkimaTalk teachers also get to set their own pay rates. If you have a strong resume and a lot of experience, you could end up earning much more than you would with a company that pays a standard hourly rate.
Finally, you have flexibility in what you want to teach. While a student may inform you of their learning objectives and goals, you retain creative freedom with how the lesson looks.
SkimaTalk provides some materials teachers can use, or you can create their own. Most teachers communicate with their students before the lesson to learn about what they need. Then, teachers use a combination of SkimaTalk materials and outside materials to create the session.
Cons Of Teaching With SkimaTalk
The biggest con of SkimaTalk is that you have to teach your first three lessons on the platform for free. Each lesson is 25-minutes, so you're essentially working for an hour and a half without pay.
The other con is that it can be difficult for newer teachers to compete with established teachers.
Teachers with higher student reviews will get booked more often. And when you're first starting out, it can take a while before you amass several high reviews in the system.
Many SkimaTalk teachers report that it can take a few weeks before you get consistent student bookings, so keep that in mind as you go through the hiring process.
Who is SkimaTalk Best For?
SkimaTalk is best for native English speakers from the United States, Canada, United Kingdom, Australia, New Zealand, South Africa and Ireland who want to work with adults.
It's also a great fit if you don't have a degree or TEFL certification and want to be in charge of creating your own lessons.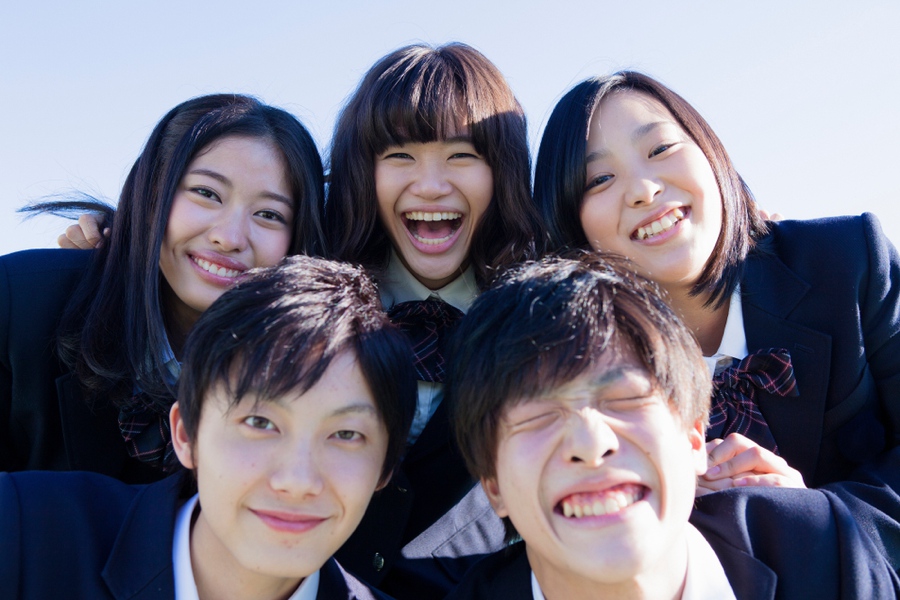 Because teachers can set their own pay rates and don't have any minimum or maximum teaching hours they must fulfill, this is one of the most flexible online ESL teaching platforms out there.
If you're looking to start your online teaching career on a platform that has minimal hiring restrictions, SkimaTalk might be a good fit for you!
SkimaTalk is one of many companies you can teach English online with. For a list of our top 10 recommended online English teaching companies, click here for our in-depth article. And, to be better prepared and appeal to more students, it's recommended to take a TEFL course. Find out more about the best courses out there in our article, here.
Like This Article? Pin it!