One of the best parts about travelling is experiencing new foods from different parts of the world. Chinese food is amazing, in fact, it's one of our favourite countries for food, even the stranger street foods, and so are the seasonal fruits! It's summertime here and the temperature is soaring to 35 degrees, with extreme humidity. There's no better way to cool down than with some refreshing fruits.
Some of the fruit here is the same as we have back in the Okanagan in Canada, but we're also able to enjoy some of our favourite fruits that aren't locally grown in North America. I love walking to our favourite markets and buying the fresh produce right from the vendors.
Here are some photos and descriptions of my favourite summer fruits of China, enjoy!
The large cantaloupes here come from the Xinjiang Uygur Province (typically Muslim part of China). They're much bigger than the melons I'm used to eating back in Canada, but still taste just as good, or better!
Before coming to Asia, I had never eaten a mango. Since being introduced to them, we've been having quite the love affair! They're my new favourite. So sweet, so juicy and oh so delicious. China is already one of the most affordable countries to visit, but fruit here is of particularly great value.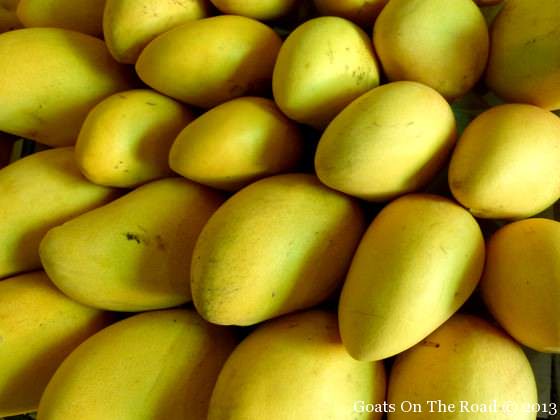 Lychees have become my new summertime snack. They're sweet and are so refreshing when eaten cold. The only thing that's weird about this fruit is its texture, it feels a bit like an eyeball!
If you were to walk down the streets of Yangzhou right now, you would see lots of pick up trucks with the box full of watermelons! They're for sale everywhere. On the street, in baskets, in the supermarket..all over the place. Who doesn't love watermelon in the summer?
The red and green grapes here are massive and sweet. We don't buy them all that often, but they're the perfect fruit for snacking on and I love the colour and shape of them.
We've been buying cherries over the last couple of weeks. They're really good, but I have to admit, they're not as sweet as the ones in the Okanagan!
Dragonfruit is so colourful uniquely shaped! The flesh on the inside is soft and white and is fairly bland. It's nice when dipped in honey, mixed with other fruits or with a bit of lemon squeezed on it. I mainly just like how it looks!
Mangosteens and Longans are 2 types of fruits found all around SE Asia and in China. Mangosteens are sooo good, their white flesh inside tastes a bit like a raspberry. Longans have a similar consistency to grapes and lychees and are really delicious.
Last but not least, peaches! China is the world's largest producer of these amazing fruits…I can't get enough.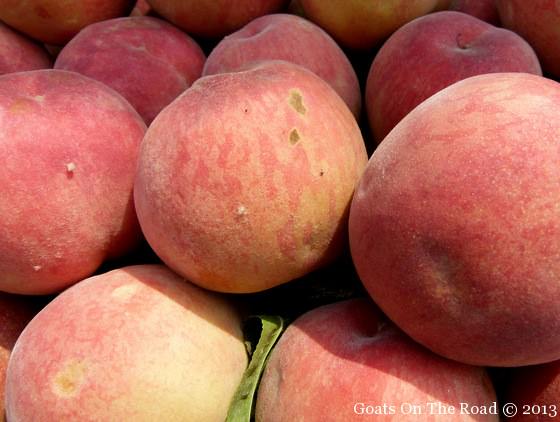 So there you have it, some sweet and delicious fruits from our home here in China. When it's so hot outside, there's nothing better than eating a massive chunk of watermelon or peeling cool lychees and munching on them. I'm getting my fill of fruit while I can. Soon we'll be trekking and travelling through Mongolia, a country known for basically eating only meat and dairy!
What are your favourite summertime fruits? Leave a comment below!
COUNTING DOWN THE DAYS UNTIL DEPARTURE
Like this Post? Pin it!