Arriving in the ancient town of Tunxi was a breath of fresh air, literally! Backpacking in China can trying at times. Beijing and Shanghai are massive, polluted cities with populations of around 20 million people.  Tunxi is much smaller and has less than 100,000 people living there…it really felt like there was no one around.
Located at the junction of the Heng and Xin'an Rivers, we had decided to come to this delightful town first before making our way to the Historical Village of Hongcun, which is a World Heritage Site. What a great budget backpacker destination! The old town of Tunxi is absolutely stunning.  It has a very ancient Chinese feel with beautiful architecture and cobblestoned streets.  Even though many of the streets are lined with souvenirs and Chinese day-tripping tours stop in for a few hours, we still managed to slip into some side alleyways away from the commotion to see locals going about their day.  We ate amazing Hui cuisine, wandered the streets, bought some souvenirs for family back home and walked along the river.  It was nice to have some down time.
During our 3.5 weeks in China, we had lots to think about.  Our 1.5 year trip was (sadly) coming to an end.  We had to start thinking about what we should do with our lives.  We knew what we wanted to do (travel) but weren't sure exactly how to sustain that dream.  Our minds were swirling with thoughts and ideas:
Should we just go to Canada, make a good salary and save for another trip?  Should we dip into our savings and continue travelling?  Should we buy a guesthouse and if so, where?  Or, should we do what society suggests we do at our age:  have a good career, buy a house, get married and have children…which doesn't sound nearly as appealing!
After volunteering in Hsipaw, Myanmar, we had been seriously considering becoming ESL teachers.  We had seen an "English Teacher Wanted" ad in one of the hostels and decided to give it a call.  Even though we don't have a CELTA or a TESOL, or a university degree in anything, the school that had posted the ad was still very interested in us and offered us the job.  This gave us the motivation to start sending out our resumes to other potential schools.
We sent our details out on a Saturday and by Monday, the email box was full and the cell phone was ringing off the hook.  Although the details of these contracts weren't exactly what we were looking for, it just goes to show how easy it is to get an English teaching job in China.
Our time in China was winding down and it was looking like we may have to go back to Canada and work some 9-5 job.  But alas, after 2 days in Tunxi, we got a phone call from an agent who was really interested in us, and us interested in the contract he was offering!  We were very, very skeptical (of course) but after doing some much-needed due diligence, it looked like it was a legitimate offer, and we accepted it.
Our lives went from travelling in Tunxi and possibly returning home in a week to start work, to going home in a week for a visit and moving to China for a year.  It was a huge relief to know what the near future held for us.  Even though we were loving the time spent travelling through China, there were always some worries, stresses and uncertainties lingering in the back of our minds.  But now we could both breathe a sigh of relief and look forward to the future.  We were both excited about the visit home, but definitely wouldn't have been looking forward to spending another year or more working in Canada.  We need to be travelling, it's what we love!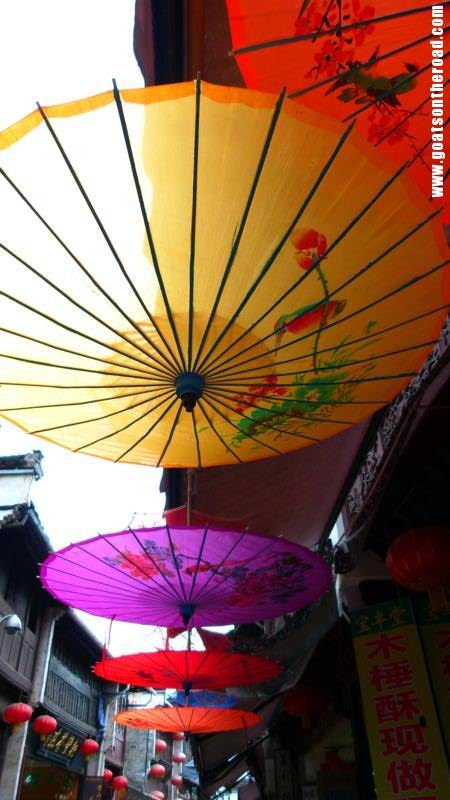 The night we signed the contract, we went out for celebratory beers and a nice meal.  Since we were back and forth with the agent and the school, we needed to be near a computer/printer/scanner in order to sign everything and send it off.  We didn't end up making it to Hongcun, which is ok, we had lots on our minds.  Plus, now that we would be living in China, we could go there any time.  After 5 life-altering days in Tunxi, we packed up our backpacks and made our way to the bus station.  We were on our way back to Shanghai.
 Like this Post? Pin it!