Manila is split into a bunch of different areas: business & finance, malls & offices , Chinatown and the old town. We were staying in the old town, where all the budget accommodation, restaurants, go-go bars, gay clubs and prostitution takes place. Going out for the night requires doing some research to make sure you don't end up in the wrong kind of bar! Getting around is easy as we soon found out, because of the amazing array of transportation. The more usual being the LRT, MRT, buses, taxis and cars. The unusual being jeepneys and tricycles.
Jeepneys are used everywhere here, it's like a minibus but less comfortable. People use them to get from point a to b and to transport everything and anything; the original versions of these vehicles were made from vehicles left behind by the Americans at the end of WWII. They've changed quite a bit since then and are now mass produced machines. These contraptions are hilarious, they spit and spew dark clouds of smoke as they bounce down the streets. I don't think any of them have a muffler so you can hear them coming a mile away and they are always decked out – crucifixes on the dashboard, lights, some have a small fan taped to the ceiling, some have chrome on them, pictures of celebrities and of course, they are all painted in different colours.
Tricycles are either a bicycle or a motorbike with a little side-cart welded on! It's possible to fit 2 people in the cart and 2 other people on the back of the motorbike. Again, no muffler whatsoever.
Manila wasn't our favourite big city, to put it nicely. There was no real center of town, too many people, it was so hot and lots of pollution. We did, however, have a nice time wandering around the old town with all of the cobblestone streets and seeing the oldest church in the Philippines.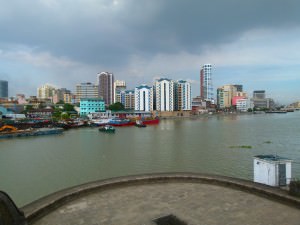 We ended up having to stay in Manila for 5 days to get our visas extended. We had a night out at a funky streetside pub, had a bucket of 6 very cold San Miguels for 80 cents a piece! Beer is very affordable in this country.
We figured out the crazy transportation system, walked in the old town, strolled through the markets and found some good places to eat. One day we took a two hour bus ride outside of the city to Tagaytay where we had a picnic and saw the beautiful Lake Taal and the Taal Volcano, which is an active volcano right in the middle of the lake! Even though it is one of the smaller volcanoes in the Philippines, it was still awesome to see.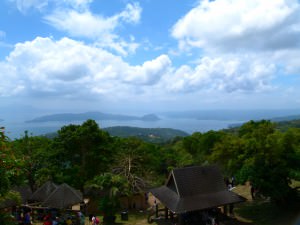 After 5 days, we were dying to get out of the big city. Once we got our visas back, we were on a bus to Vigan, one of the oldest towns in the Philippines with a very Spanish, colonial feel.