If you enjoy hiking, beach hopping, and eating delicious local cuisine when you travel, Da Nang just might be the place for you. There are plenty of fun things to do in Da Nang to keep you busy.
With a population of over a million, Da Nang is the 3rd largest city in Vietnam. Despite its recent growth and the wealth of Da Nang attractions, it still very much lives in the shadows of Hanoi and Ho Chi Minh City.
Actually, Da Nang is often overlooked entirely by travelers who simply use it as a travel hub for visiting nearby Hoi An. While it's true that Hoi An is one of best places to visit in Vietnam, Da Nang is pretty awesome as well! It's definitely worth adding at least a few days here to your Vietnam itinerary.
First of all, Da Nang is surrounded by mountains and beaches. You can spend your mornings up in the hills enjoying some incredible views before heading to the beach to chill out.
If you need even more excitement than that, there are plenty of excellent day trips on tap from Da Nang. The city is the perfect base for visiting ancient ruins, taking a scenic motorbike ride, and snorkeling around tropical islands. If you're wondering where to go in Vietnam, add Da Nang to your itinerary.
For more on what to do in Da Nang, read on for my detailed look at the best this bustling Vietnamese city has to offer.
1. Hit the Beach
Topping my list of things to do in Da Nang is visiting the city's many beaches. Whether you're looking to take part in some water sports or just kick back and relax, you're sure to have a good time on the beaches of Da Nang.
The most popular beaches to visit here are just east of downtown. This long stretch of pristine beaches goes for about 30 km from the hilly Son Tra peninsula all the way down to Hoi An. In order from north to south, the beaches in Da Nang are: Pham Van Dong, My Khe, and Non Nuoc.
If you head to the beach during the day, you may be surprised to find it totally deserted. You see, Da Nang is a popular destination primarily for travelers from other parts of Asia. Most tourists who visit the city prefer to stay out of the sun during the day. That means the beaches are usually totally empty until around 3-4 in the afternoon!
Unless you want to cook in the hot afternoon sun, you'll need some shade. There are parasols and beach chairs up and down the beach that you can rent for about $2. Those who need some more adventure can go jet skiing, parasailing, surfing, and much more.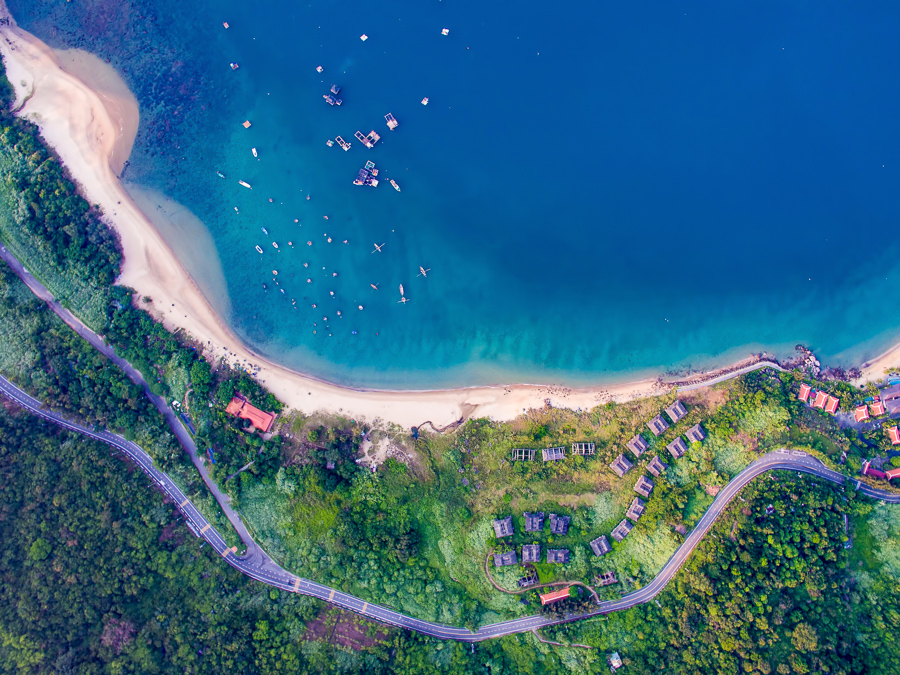 2. Explore Monkey Mountain
Back in 1965, Da Nang beach was the first landing point for American soldiers at the start of the war. Over the next decade, the city was a popular place for soldiers to retreat to for some R&R. They called the Son Tra peninsula Monkey Mountain for the red-shanked duoc langurs that call the area home, and the name stuck.
These days, exploring Monkey Mountain is one of the best things to do in Danang for visitors. The best way to take in the sights is with your own two wheels. There are plenty of places that rent motorbikes in Da Nang, but if you're not comfortable riding you can always sign up for a tour of Son Tra instead.
There's enough to see and do on Monkey Mountain to spend the entire day here. You can stop at scenic overlooks to enjoy panoramic views, head out on hiking trails, or just kick back on some secluded beaches. Just be aware that some of the beaches are private for the fancy resorts over here. The best public beach to visit on Son Tra is Tien Sa (click here for directions).
While cruising around Monkey Mountain, you're sure to notice a large smiling figure poking up above the treeline. This is the 67-meter tall statue of the Lady Buddha, which is a part of the Linh Ung Pagoda.
This impressive Buddhist temple is one of the top Da Nang attractions and should definitely be on your list of places to visit. It's free to enter and is well worth a stop on your trip around the peninsula. Click here to get directions.
3. See the Many Bridges
In addition to its beaches and mountains, Da Nang is also famous for its many bridges. Some even refer to it as the City of Bridges for these impressive and rather unique structures.
The Han River Bridge is an important part of the skyline of Da Nang. It's a swing bridge, meaning that in the middle of the night it swings around on its axis to allow ships to pass through. Be sure to check it out at night when it's all lit up, making for great photos.
Moving south along the river, you find one of the most popular Da Nang attractions – the Dragon Bridge. This 666-meter long bridge not only looks like a dragon, but it actually breathes fire! Head down to the bridge before 9PM on Saturday and Sunday to see the show.
There are several other important bridges in the city, such as the sail-shaped Tran Thi Ly and Thuan Phuoc, which is the longest suspension bridge in Vietnam. You'll definitely want to add checking out out the many bridges to your list of things to do in Danang.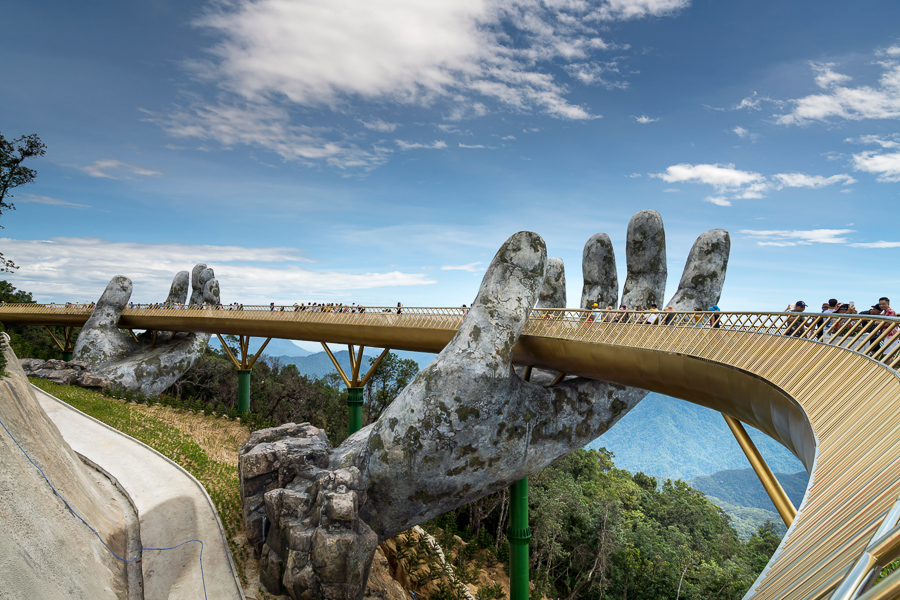 4. Visit the Marble Mountains (one of the best things to do in Da Nang!)
Not far from the city center, you'll find the Marble Mountains. This cluster of limestone hills is a beautiful area to visit on a half-day trip out of the city. Here you can hike to stunning viewpoints, explore tunnels and caves, and check out Buddhist shrines.
In Vietnamese, the names of the mountains actually come from the five elements — water, wood, fire, metal, and earth. It was French geologists who began calling them the Marble Mountains when they discovered what they're comprised of.
Sadly, these beautiful mountains almost met their demise due to quarrying of the valuable marble. There are still plenty of marble carvings and statues for sale in the nearby villages, but they now import it from China instead of chipping away at the mountains themselves.
Of the five mountains, only Mt. Thuy is open to visitors. You can hike up to the summit or catch the glass elevator to the top if you're feeling lazy. Tickets cost about $1.75 and it's open daily from 7 AM-5:30 PM.
You can get to the Marble Mountains on your own with a scooter in just 10-15 minutes from downtown Da Nang. There are plenty of options for tours of the mountains as well if you'd prefer to go with a guide. However, you get there, be sure to include the Marble Mountains on your list of what to do in Da Nang.
5. Hang Out at Sun World Ba Na Hills
By far one of the coolest things to do in Da Nang is heading out to the nearby Sun World Ba Na Hills for an epic adventure. Located on a mountaintop west of the city, this is a massive resort complex with tons to see and do.
Here you'll find a replica French village, a variety of thrill rides, and a wax museum, among other things. This just might be the strangest theme park in the world, and that's part of the allure!
For many, the highlight of visiting Sun World Ba Na Hills is the Golden Bridge. It features two giant stone hands that appear to be holding it up and makes for a very popular photo opp.
Entrance tickets cost about $32 for adults and $25 for children and include the cable car plus all rides and games. You'll have to pay extra to visit attractions like the wine cellar and the wax museum. Click here to get directions to Sun World Ba Na Hills, and click here to look at tours from Hoi An.
6. Go Museum Hopping
If you're interested in learning a bit more about the history of the region, there are a few museums you can visit in town. Start off at the Da Nang Museum, which covers the history, culture, and people of the area.
The Da Nang Museum is spread out across three floors. The first floor provides a good overview of Da Nang, the second has exhibits on the French and American invasions, and the third is all about the indigenous people of the region. It's not the nicest museum in the world, but for a few bucks it's worth a quick visit.
Another interesting place to check out is the Zone 5 Military Museum. Here you'll find an impressive collection of military equipment along with a replica of Ho Chi Minh's home in Hanoi. There's another section of the museum dedicated to Uncle Ho himself, which is full of random artifacts like a used toothbrush. Entrance to the museum costs about $3.
Finally, there's the Museum of Cham Sculpture. This museum has been around for 100 years and has an impressive collection of terracotta and stonework. If you're only going to hit one museum in Da Nang, make it this one. Tickets cost just $2 and it's a great warm-up for the next item on our list of things to do in Danang.
7. Day Trip to My Son (one of the most popular things to do in Danang)
Just an hour drive from downtown Da Nang, you'll find the ruins of My Son. This cluster of ancient Hindu temples dates back to the kingdom of Champa, which you already learned a bit about if you visited the museum.
Following the decline of the Champa, My Son fell into disuse and was mostly reclaimed by the jungle. The French rediscovered it in 1885 and began excavation and restoration efforts. Unfortunately, much of the site was destroyed by bombing during the Vietnam/American War. It's now a UNESCO World Heritage Site and a fascinating place to visit.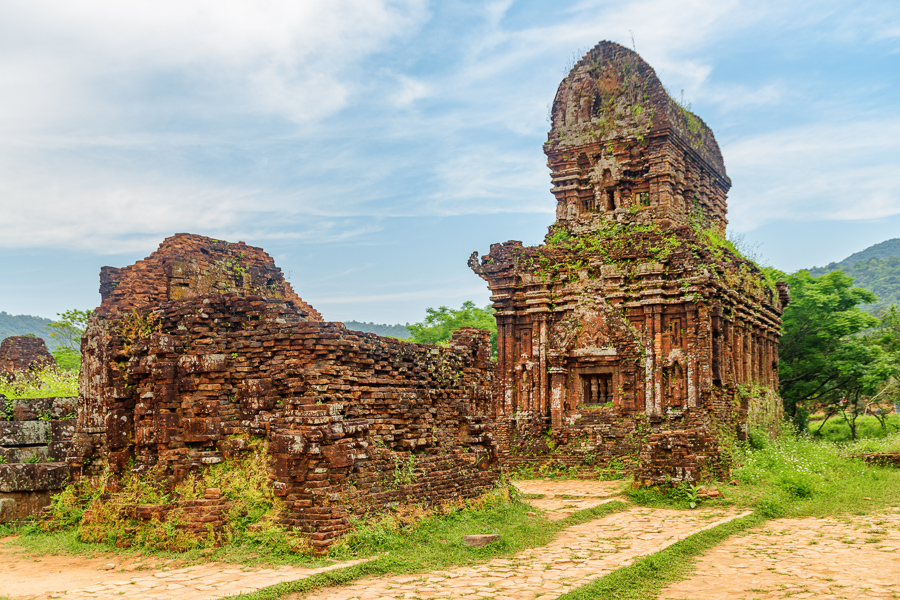 To get out to the ruins, you can rent a motorbike and get yourself there, hire a cab, or jump on a tour.
My Son is open daily from 6 AM-5 PM. Tickets to the ruins cost about $7 and you can hire a guide to walk you around for $5. You can get directions and check the location on the map here.
8. Dig Into Vietnamese Cuisine
Eating is one of the best things to do in Vietnam, and Da Nang is no exception. While you'll find all the Vietnamese standards like pho and bahn mi, you'll want to make sure you try some Da Nang specialties as well.
The most popular local dish is definitely mi quang. This tasty dish is made with rice noodles, and it usually contains shrimp, roast pork, and quail eggs. Of course, there's a wide variety of seasonings and garnishes mixed in as well. A bowl of this only costs about $1.50 and it will fill you up!
It being on the coast, Da Nang has plenty of delicious seafood options as well. One interesting local dish you can try is chao tom, which consists of shrimp and garlic paste wrapped around sugarcane. You take it off the sugarcane, dip it in some yummy sauce, and wrap it up in lettuce leaves for an awesome snack.
People in Da Nang also love eating bun cha ca, a fishcake noodle soup that's rich and hearty. There are plenty of great BBQ restaurants here as well where you can order up all kinds of meat and fish and cook it up right at your table. You definitely won't go hungry in Da Nang!
9. Go On a River Cruise
If you're looking for a unique dining experience in Da Nang, why not go on a dinner cruise along the Han River? This is the perfect way to take in the views of the city's many bridges as they light up at night.
Along the way you'll get to enjoy a delicious meal and some live entertainment as well, making for a fun start to your night. There are a few different options for cruises on the river. You can hop on the Dragon Boat from 6-7:30 or 8-9:30, which has a restaurant, cafe, and bar. Tickets only cost about $5 if you just want to enjoy the views, or you can sit down if you'd like to have drinks and/or dinner.
Another option is to join a day tour and finish with a cruise along the river. Click here for details.
10. Ride the Hai Van Pass
One of the most fun things to do in Da Nang is taking a drive along the Hai Van Pass. The name means "Sea of Clouds" thanks to the mist that rises up here from the sea.
This 20-km strip of road sits at 500 meters above sea level, making for some absolutely epic views. It rose to fame thanks to its appearance on the popular British TV show Top Gear, which declared it "one of the best coastal roads in the world."
Traveling along the Hai Van Pass became much safer and more enjoyable thanks to the completion of a tunnel. A vast majority of the larger vehicles now use the tunnel, making the Hai Van Pass more of a scenic alternative route.
You have several options for cruising along this scenic road in Central Vietnam. In my humble opinion the best way to do it is riding your own motorbike, but only for more experienced riders. If you're not comfortable on a bike, you can sign up to ride pillion with a guide or go on a jeep tour. These range from $60-90 depending on which option you choose.
Click here to learn about motorbike tours of the Hai Van Pass, or click here to learn more about tours in a van.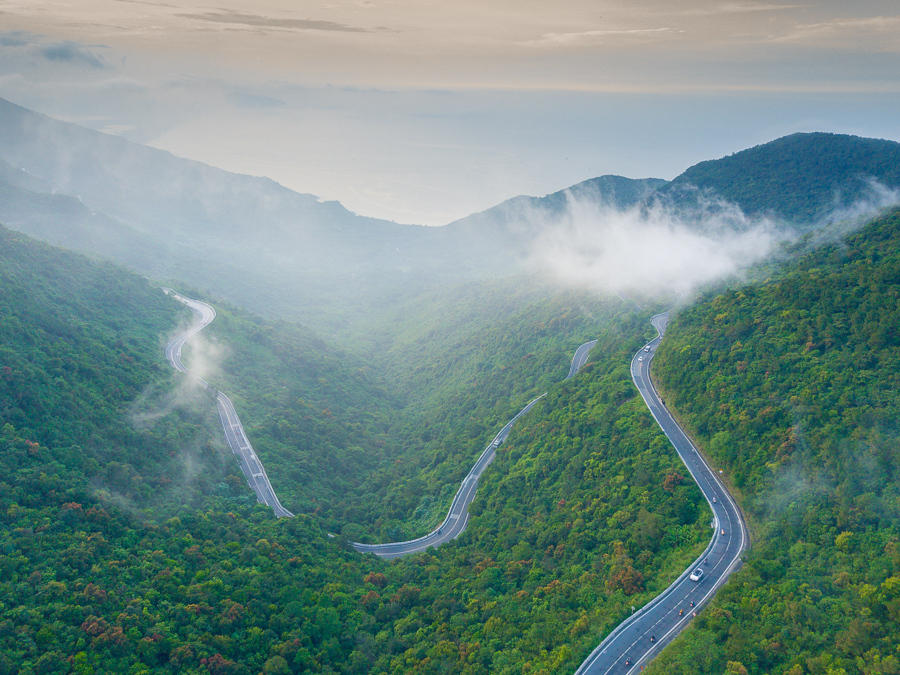 11. Hit the Links
This may surprise you, but Da Nang is home to several excellent golf courses. Golfers will definitely want to add a round or two to their list of things to do in Danang. No worries if you didn't pack your clubs, as you can just rent a set.
You don't have to travel far from downtown Da Nang to hit the links. There are two courses just a short drive away, starting with the BRG Da Nang Golf Resort. The course was designed by golf legend Greg Norman and it has won several awards since it opened in 2010
For visitors, the green fee for 18 holes is about $140 during the week or $190 on the weekend. Head to their website to see all the rates as well as a hole-by-hole description of the course.
Just south of BRG, you'll find Montgomerie Links. Forbes called this "one of Asia's top ten elite courses," and you'll see why as soon as you step up to the first tee box.
To play this world-class course, it costs $125 for 18 holes during the week and $175 on the weekend. If you don't feel like walking and carrying your bag, you can hire either a golf cart or a caddy for an additional fee. Read all about the course and all your options on their website.
12. Enjoy Cafe Culture
We can't talk about what to do in Da Nang (or any Vietnamese city, for that matter) without mentioning the coffee. In between all the adventures in and around the city, it's nice to just sit down and enjoy a coffee once in a while.
A classic Vietnamese ca phe da is made with coarse ground dark coffee using a small metal drip filter. Watch the strong coffee slowly drip into your cup and then add a bit of condensed milk to sweeten it up. They're small, but they pack a serious punch! Best of all, Vietnamese coffee rarely costs more than $1.
There are plenty of awesome cafes in Da Nang where you can try some creative coffee drinks. Head to H Coffee to try a delicious coconut coffee or drop by Coffee Trinh to try a funky avocado variety.
13. Visit Cham Islands
One of the most fun things to do in Da Nang is taking a boat trip over to the Cham Islands. This cluster of eight islands makes for the perfect day trip out of the city.
These islands are home to the Cu Lao Cham Marine Park, which is a great place for some snorkeling or scuba diving. That's not all there is to do, though. You can also visit fishing villages, traditional pagodas, and pristine beaches.
The best time to visit the islands is between March and September. Dive shops actually stop running trips in mid-October and don't start again until February due to poor weather conditions.
To get out to the Cham Islands, most people just sign up for a tour in Da Nang. These range from $50-100 a day depending on whether you're snorkeling or diving. One company that comes recommended is Cham Island Diving, and they even have an overnight trip.
One thing to note is that many tour operators feed the fish and aren't eco-conscious. Goats On The Road doesn't condone any tour operator who provides those types of services. Always ask what is on the tour itinerary before booking.
14. Sun World Da Nang Wonders
If you're traveling with kids – or are just a big kid yourself – one of the best things to do in Da Nang is visiting Sun World Da Nang Wonders. This amusement and cultural park is fun for the whole family, with plenty of rides, games, performances, and more.
The highlight of the park is definitely the Sun Wheel – a 115-meter tall Ferris wheel that provides some spectacular views of the city. The best time to go for a spin is at night when the wheel and the city are both illuminated in a sea of colorful lights.
Sun World is open from 3-9 from Monday-Thursday and it stays open an hour later on the weekend. Tickets only cost $6.50 for adults and around $4 for kids. It's located just west of the Han River and is very easy to get to.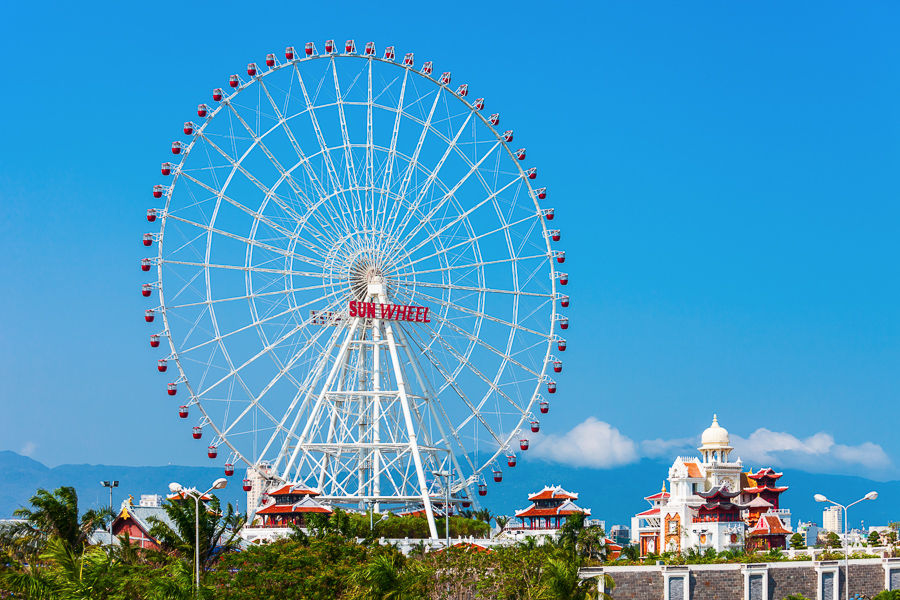 15. Drinks With a View
Winding down our list of things to do in Danang is enjoying drinks with a view. From beers down by the river or fancy cocktails on a rooftop, you've got plenty of options to choose from!
Beer lovers will want to head to 7 Bridges Brewing. It's located on the east bank of the Han River just north of the Dragon Bridge, so they've got the perfect spot to watch the fire show. Order up a flight of their tasty craft beers and head to their terrace to take in the views.
For a more elevated experience, head to Sky36 Bar. This is the highest rooftop bar in Vietnam, providing some incredible panoramic views of the city. It's located on the top of the Novotel and is open from 6 PM-2 AM every night. In addition to a fantastic terrace, they also have a trendy nightclub with DJs spinning tunes every night.
Ready for Da Nang?
After reading this guide, you should have no trouble figuring out what to do in Da Nang. As you can clearly see, Vietnam's third-largest city is much more than a transit hub!
With just a few days here, you can do some scuba diving, hiking, and beach bumming, all while enjoying tasty Vietnamese food and coffee. Hop on a motorbike and cruise for an hour, and you'll find yourself at ancient ruins or on one of the most scenic roads in the world. Da Nang really has tons to offer travelers, and chances are you'll want to stay a while!
Have you been to Da Nang and have some tips on what to do there? Leave a comment and let us hear about it!
Note: The images in this article are courtesy of Shutterstock.
Like This Article? Pin it!