Falmouth is a pleasant university town in Southwest Cornwall on the estuary of the River Fal and is famed for having the third deepest natural harbor in the world.
There are lots of great things to do in Falmouth from visiting the famous Pendennis Castle to exploring nearby beaches, museums, and shops.
I've been visiting Cornwall almost every year since I was born and I love spending time exploring its ancient fishing towns like Falmouth. There's so much to do both in and out of the water from clifftop walks to kayaking, and sampling some of the area's famous foods.
There are lots of cool day trips from Falmouth too so it makes a great base for your Cornwall holiday. Read on and discover the best places to visit in Falmouth!
Best Things To Do in Falmouth
Below, you'll find a wide range of things to do in Falmouth UK from wildlife cruises to top museums, breweries, theme parks, and more.
1. Orientate Yourself on a Falmouth Walking Tour
One of the first things I do in any new city is to take a walking tour to acquaint myself and get a feel for the place and my new surroundings.
Walking tours are also a great way to learn a little about the history of a place, and this one will have you exploring the streets and alleys of Falmouth while learning about the town's maritime history.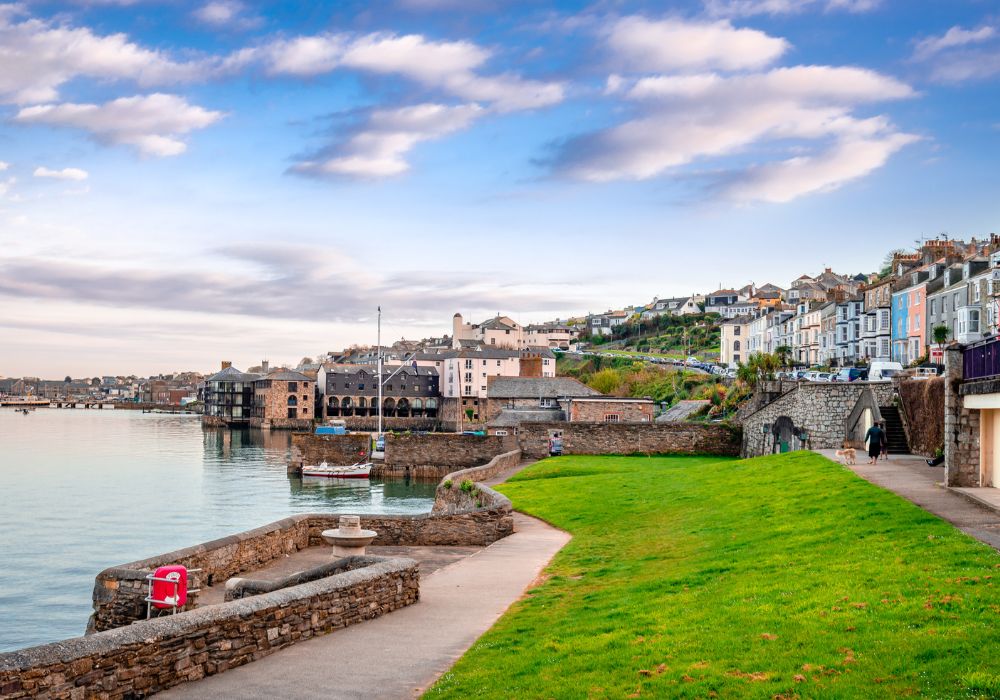 You'll be whisked off on a fun and imaginative adventure through the ages and learn all about the secrets and characters that have left their imprint on the town. The tour lasts for 90 minutes and sets off at 2:00 pm on Sundays and Wednesdays.
2. Explore Pendennis Castle
Pendennis Castle is a 16th-century fortification built by King Henry VIII. The castle sits on a rocky peninsula a few miles east of town and is remarkably well-preserved for its age.
The castle was constructed between 1540 and 1542 to protect England against an invasion from soldiers of France and the Holy Roman Empire. Pendennis is one of the best places to visit in Falmouth for the whole family and the castle is set within acres of lush green land on the clifftop.
The castle and grounds are open daily from 10:00 am until 5:00 pm, and tickets cost £11.60 for adults and £6.90 for children. Booking online is advised to guarantee a place and the best prices.
3. Visit the National Maritime Museum
Visiting the National Maritime Museum is one of the best things to do in Falmouth Cornwall to gain an understanding of the town's long-running connection with the ocean. The museum has a treasure trove of interesting exhibits, displays, a boat-building yard, and more.
The National Maritime Museum is located on Falmouth's famous deepwater harbor (the third largest in the world after Sydney and Milford Haven) and is one of the top Falmouth attractions for the whole family.
The museum is open daily from 10:00 am to 5:00 pm, and tickets cost £15.50 for adults and £7.75 for children. The ticket is valid for multiple entries for an entire year.
4. Have a Day at the Beach
There are a few great beaches around Falmouth with the closest and largest being Gyllyngvase just a ten-minute walk from the center of town. Gyllyngvase was one of only eight beaches in Cornwall to receive the prestigious Blue Flag award in 2022 for cleanliness and water quality.
Known locally as Gylly beach, this crescent-shaped stretch of golden sand makes for great family days out in Falmouth. There are plenty of facilities for visitors including beach chairs, public toilets, cafes, shops, gardens, and lifeguards (from May to September).
Other great Falmouth beaches include Castle Beach (which is more shingle than sand) and Swanpool Beach (another beautiful crescent-shaped stretch of sand). A day out at the beach is for sure one of the best free things to do in Falmouth.
5. Go on a Cave and Shipwreck Kayak Adventure
Kayaking is one of my favorite things to do in Cornwall and one of the more fun things to do in Falmouth. This two-hour sea kayak adventure sets off from the above-mentioned Gylly beach and takes you on a journey through sea caves, gullies, along submerged reefs, and past ancient shipwrecks.
As well as seeing this stretch of the Cornish coastline from a unique perspective, if you're lucky, you might even get to spot marine wildlife such as seals and dolphins too.
This experience is suitable for all levels including beginners as full training and safety equipment are provided. The cost is £55.00 per person and there are daily departures from 9:30 am at Gyllyngvase beach.
6. Visit the Falmouth Lifeboat Station
Falmouth's lifeboat station is the busiest in Cornwall with the brave volunteers of the RNLI ready to launch at a moment's notice in any weather condition. I love exploring the different lifeboat stations around the Cornish coast, and Falmouth's is one of the most impressive with free tours available.
The lifeboat station tours run from 11:00 am to 3:00 pm Tuesday to Friday. To book a place visit the lifeboat shop next to the station which is open Monday to Friday 10:00 am to 4:00 pm and Saturdays 10:00 am to 1:00 pm.
If the timing's right you might be able to witness a launch, but regardless, the lifeboat station is definitely one of the best places to visit in Falmouth (and one of the best free things to do in Falmouth too).
7. Take a Wildlife Cruise
AK Wildlife Cruises offer the chance to spot some of Cornwall's most impressive marine life from whales and dolphins to sea lions, porpoises, and basking sharks. They offer a range of wildlife tours from 3 hours to 7 hours on the boat Free Spirit.
The most popular tour is the 4-hour wildlife cruise which runs almost daily throughout the year (weather permitting). Prices start from £55.00 per person for adults and £40.00 for children. To see full details of the different tours available and to book visit the website.
8. Have Fun at Flambards Theme Park
Hitting Cornwall's oldest and most famous theme park Flambards is one of the best things to do near Falmouth for the whole family. Flambards is located in Helston, just 13 miles from Falmouth, and makes a great day trip from the town.
Enjoy a thrilling series of rides and attractions such as the Skyraker, Hornet Rollercoaster, and Thunderbolt. There's a log flume, sky swinger, mini golf, an amusement arcade, and much more.
Tickets cost £19.95 for adults and £14.95 for children, however, you can save 10% on these prices if you book online. The theme park is open daily from 10:00 am to 5:00 pm (last admission is at 3:00 pm).
9. Explore Trebah Gardens
The Trebah Gardens is a lush, sub-tropical garden valley that covers 26 acres of land located 7 miles south of Falmouth. With over 4 miles of trail running through this beautiful valley, you'll get to experience a burst of color amid canopies of beautiful plants.
At the bottom of the gardens is a secluded beach perfect for cooling off and sunbathing. At the Boathouse Beach Cafe, you can find refreshments and snacks and at the Trebah Kitchen, you can sample some of the area's fresh, local produce.
This is one of the best things to do in the Falmouth area for couples, families, and those looking for a little slice of paradise and tranquility. The gardens are open Saturday to Wednesday from 10:00 am until 4:30 pm, and tickets cost £13.00 for adults and £6.50 for children.
10. Hit the Shops
Falmouth is one of Cornwall's larger towns, and as such, is a great destination for shopping. From big High Street names to independent and artisan sellers, shopping is one of the great things to do in Falmouth UK.
One of my favorite places to visit in Falmouth is Beerwolf Books which combines two of my passions in life, beer, and books! Beerwolf (a play on Beowulf, the famous English poem) is a pub where you can browse a great selection of books and then retire to your table to read with a pint of ale, Cornish cider, or a coffee.
The Falmouth Markets on the Moor is open on Thursdays and Saturdays every week from March to December, and the Farmers Market is on Tuesdays. This is the perfect place if you're looking for fresh flowers, locally produced meats, cheeses, drinks, or handicrafts.
Don't miss these other Cornwall articles:
11. RazeVR
If you're looking for fun activities to do in Falmouth, then head along to Raze VR for some virtual reality gaming. This state-of-the-art game zone is in Penryn, just 4 miles from central Falmouth, and is a great option for kids – both big and small.
There's a wealth of games to choose from, from laser tag to space battles, ghost mansions, and more. There's also an onsite bar and restaurant selling soft drinks, beers, wines, and freshly prepared food.
Raze is open 24 hours from Monday to Thursday (a great option for some late-night entertainment) and from 10:00 until 6:00 pm Friday to Sunday. Prices start from £7.50 per session. Check the website for more info and to book online.
12. See What's on Display at the Falmouth Art Gallery
Checking out the art scene is one of the best things to see and do in Falmouth. The university has a separate school of art and the town itself has an artsy feeling to it. The Falmouth Art Gallery is a great place to dive in with over 2,000 pieces on display.
You'll find everything from Pre-Raphaelite and impressionist to contemporary pieces here. The collection has a strong Cornwall focus but includes artworks from around the world.
The gallery is open from 10:00 am until 5:00 pm Monday to Saturday (closed Sunday) and there's no charge for entry which makes this one of the best free things to do in Falmouth.
13. Take the Flushing Ferry
Flushing is a small village across the estuary from Falmouth, and the Flushing Ferry runs year-round taking day trippers across the water. The journey takes just 10 minutes and the ferry operates 7 days a week.
The small fishing village is in an area of outstanding natural beauty and is well worth the trip from Falmouth. Explore the small harbor and narrow lanes of this charming village which was founded by the Dutch in 1661 (the village is named after a town in the Netherlands).
The ferry runs between 10:00 am and 4:00 pm with slight variations for summer and winter and based on the tides. Check the official website before your trip for exact times. Tickets cost $4.00 for adults and £1.50 for children. Bikes can also be taken for an extra £1.50.
14. Venture into the Rainforest at the Eden Project
The Eden Project is one of the best days out near Falmouth. This massive botanic garden and conservation project is housed in a series of biomes (or biodomes). Walk through a lush rainforest or the Mediterranean zone, explore invisible worlds, and feel some adrenaline as you shoot through the air on a zipline.
This is one of the best things to do near Falmouth Cornwall for nature lovers, families, and those wanting to experience something a little different. This is one of my favorite Cornwall attractions for the rich biodiversity on display.
Tickets can be booked online and cost £32.50 for adults and £11.00 for children. The project is open daily from 9:15 am until 6:00 pm (depending on the season, check the website to see times for your visit).
15. Visit Land's End
Land's End is the westernmost point of the mainland British Isles and is located just over an hour's drive from Falmouth. This rocky outcrop is famed for its dramatic clifftop views and the famous signpost depicting destinations around the globe.
There's plenty in the form of entertainment at Land's End including coastal walks, a 4D cinema, shops, restaurants, and more. There's an open-top tourist bus that departs from Penzance and is one of the best ways to experience Land's End.
The bus departs Penzance Bus Station hourly during the summer and costs $5.00.
Quick Travel Itineraries For Falmouth
Take the hassle out of your visit to Falmouth with these quick itineraries. They include all the top places to visit in Falmouth and the best attractions, so you won't miss out on a thing.
1 Day in Falmouth Itinerary
With one day to spend in Falmouth start off with a walk around the iconic harbor. Visit the National Maritime Museum to learn about the town's history before heading to the Harbour View for lunch.
In the afternoon walk to Pendennis Castle and explore this impressive fortification built by King Henry VIII. Walk around the clifftop for views of the estuary and out to sea.
Return to the town center for dinner and drinks. The Boathouse Pub and Restaurant is a great option.
2-3 Days in Falmouth Itinerary
Follow the itinerary for day 1 above and on day two head to beautiful Gyllyngvase Beach for a relaxing day of sun and sand.
On the third day hit the shops and markets of Falmouth in the morning before taking the Flushing Ferry across the water in the afternoon. Return to central Falmouth for dinner at Restaurant MINE.
1 Week in Falmouth Itinerary
Follow the above itineraries for three days in Falmouth and include kayaking and a wildlife cruise. Take a day to explore the stunning Trebah Gardens and another to visit the world-renowned Eden Project.
If you have time left over visit Flambards Theme Park for some thrills and pay a visit to Land's End, the westernmost part of mainland Great Britain.
Where to Stay in Falmouth
Falmouth is a small town, so wherever you choose to stay you won't be far from all the main attractions, shops, and restaurants. These are a few of the best neighborhoods in Falmouth for tourists.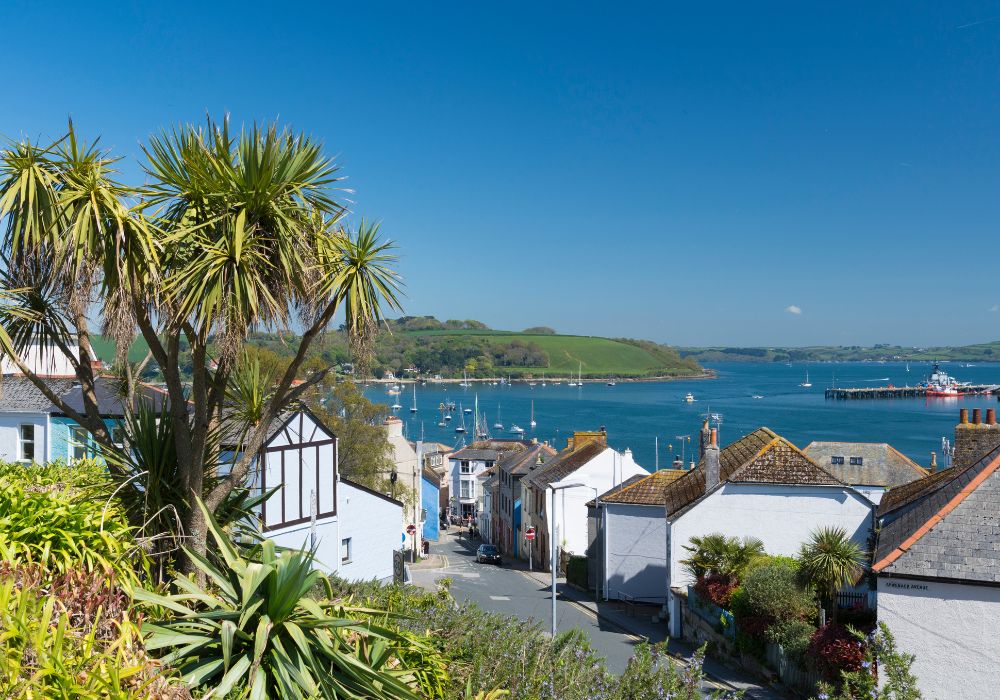 Waterfront and Harbor Area – Best for First-Time Visitors
This one-bedroom apartment right on the harbor is perfect for first-time visitors to Falmouth. With all the major shops, restaurants and bars on the doorstep, and stunning harbor views.
The modern, open-plan property sleeps two and includes a kitchen, living area, an outside seating area, and direct access to the pier (perfect for kayakers).
Gyllyngvase Beach – Best for Families
This stunning two-bedroom apartment is located right on the beachfront and so is perfect for families or those looking for a beach holiday.
The property sleeps up to four guests and benefits from two bathrooms, a living room, a dining room, a kitchen, and a balcony.
Town Center – Best for Shopping and Nightlife
This one-bedroom cottage in the heart of Falmouth is the perfect place for those looking for easy access to shops, restaurants, and Falmouth's great nightlife.
The cottage sleeps two with a large, double bed, bathroom with shower, small kitchen, and living area. A great option for couples.
Best Restaurants in Falmouth
Don't miss these great places to eat in Falmouth.
Seafood Bar
The Seafood Bar is run by the Verdant Brewing Co and offers only the freshest seafood available that day (so the menu is constantly changing).
All this washed down with a choice of 8 lines of Verdant beer makes it the perfect place to spend an evening in Falmouth. Walk-in and card payment only (no bookings or cash).
Restaurant MINE
Restaurant MINE is a quaint eatery next to the harbor with a beautiful cobblestone courtyard. The restaurant specializes in locally sourced produce and seafood and is very reasonably priced for its quality and excellent location.
The Boathouse Pub and Restaurant
The Boathouse is a rustic pub with harborside views serving fresh, local fish, pub classics, and a great selection of ales. The Boathouse was voted Pub of the year 2021/2022 in the Cornwall and Southwest England Tourism Awards.
Things To Do in Falmouth: FAQs
Here are some answers to commonly asked questions about visiting Falmouth.
What is Falmouth known for?
Falmouth is known for its deepwater port (the third deepest in the world), its maritime history, and Pendennis Castle built by King Henry VIII.
When is the best time to visit Falmouth?
Summer (June to August) is the best time to visit Falmouth to enjoy the many beaches and watersports available. May and September can also be pleasant months to visit Falmouth with fewer crowds.
Is Falmouth worth visiting?
Falmouth is definitely worth visiting for its history, great pubs, stunning coastline, and beaches. The town also makes a great base for exploring more of Cornwall from nearby Truro and Penzance to further afield places such as Newquay and Padstow.
Is Falmouth Lively?
Falmouth is a university town and therefore can become quite lively in the evenings and at weekends. The town center and area around the harbor is full of bars and popular with students, holidaymakers, and locals alike.
Is Falmouth pretty?
Falmouth is a very pleasant-looking town with a spectacular harbor, though pretty and quaint would best describe Cornwall's smaller fishing villages.
How safe is Falmouth Cornwall?
Falmouth is a very safe place and is in the top 10 safest towns in Cornwall. Cornwall itself is one of the safest parts of the UK with low levels of violent crime.
In Closing
Now you know what to do in Falmouth, Cornwall's charming university town with its magnificent harbor and beaches.
Whether you're interested in the town's maritime history, and connections to Henry VIII or are looking for some great pubs and restaurants, Falmouth is the perfect destination for your Cornwall holiday.
If you're looking for more things to do in Cornwall then check out this guide.
Like This Article? Pin it!