If you're wondering what to do in Nova Scotia, this list has you covered. For such a small province, Nova Scotia really has something for everyone. Whether you're interested in experiencing nature, getting active, eating fresh seafood, sipping on tasty drinks, or wandering around cities, there are numerous things to do in Nova Scotia to keep you busy.
We spent 15 days road tripping around this east coast province and even though we felt like we saw and did a lot during that time, there are many things that we missed. I recommend renting a car when travelling here as it'll give you the freedom to explore and make pit-stops whenever you feel like.
Once you've finished up with all the fun things to do in Halifax, it's time to move on to see the rest of the province.
Here's my list of the best 10 things to do in Nova Scotia:
(Don't miss the videos at the end of this article!)
1. Experience Tidal Bore Rafting
If you're an adventurous person, tidal bore rafting should be firmly placed on your list of things to do in Nova Scotia!
Two times a day, the tides in the Bay of Fundy rise and fall (between 3.5 meters (11ft) and 16 meters (53ft)). When this massive influx of water meets the Shubenacadie River, the two collide to create rapids, waves and a whole lot of swells.
Of course, rather than just watch this natural phenomenon, it's far more exciting to hop on a zodiac and launch over the waves! Tidal bore rafting tops my list of Nova Scotia activities for sure. Hang on tight and enjoy the ride.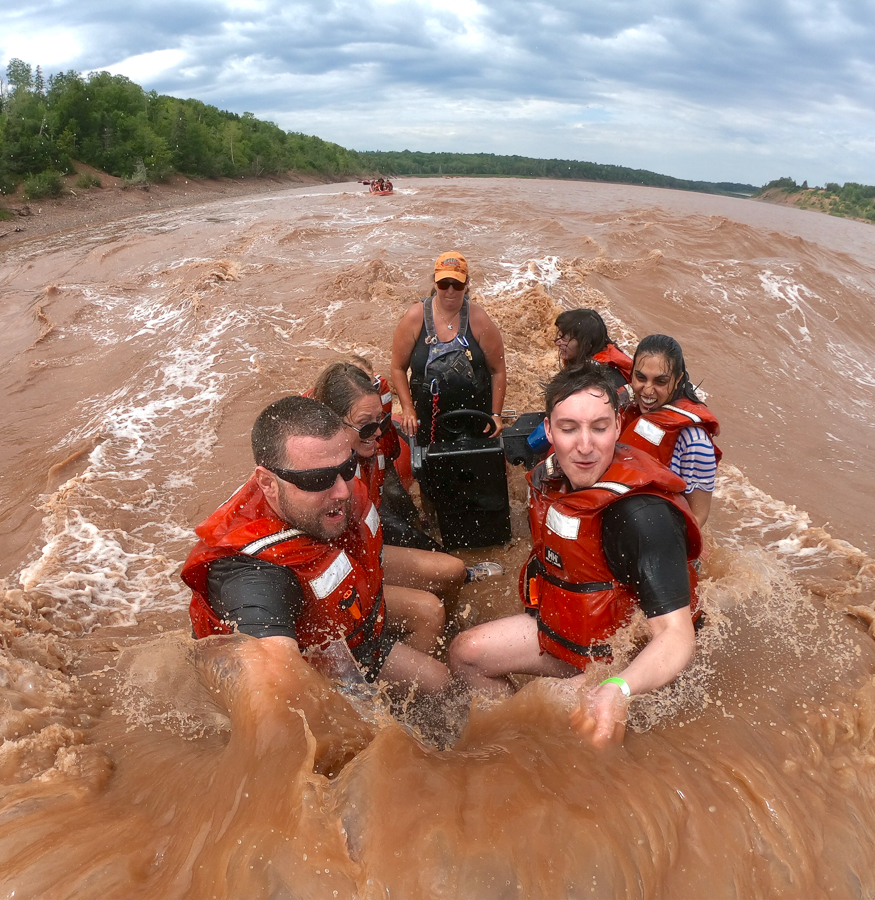 But, it's not all about the crazy adventure on the river, you'll also enjoy a quiet boat ride before the tide comes in, while spotting bald eagles high in the trees. After a few rounds of flying over rapids, release your inner child and do some mud sliding on the banks of the river.
There are numerous companies to choose from, but we went with Tidal Bore Rafting Resort out of Urbania who have been in business since 1985.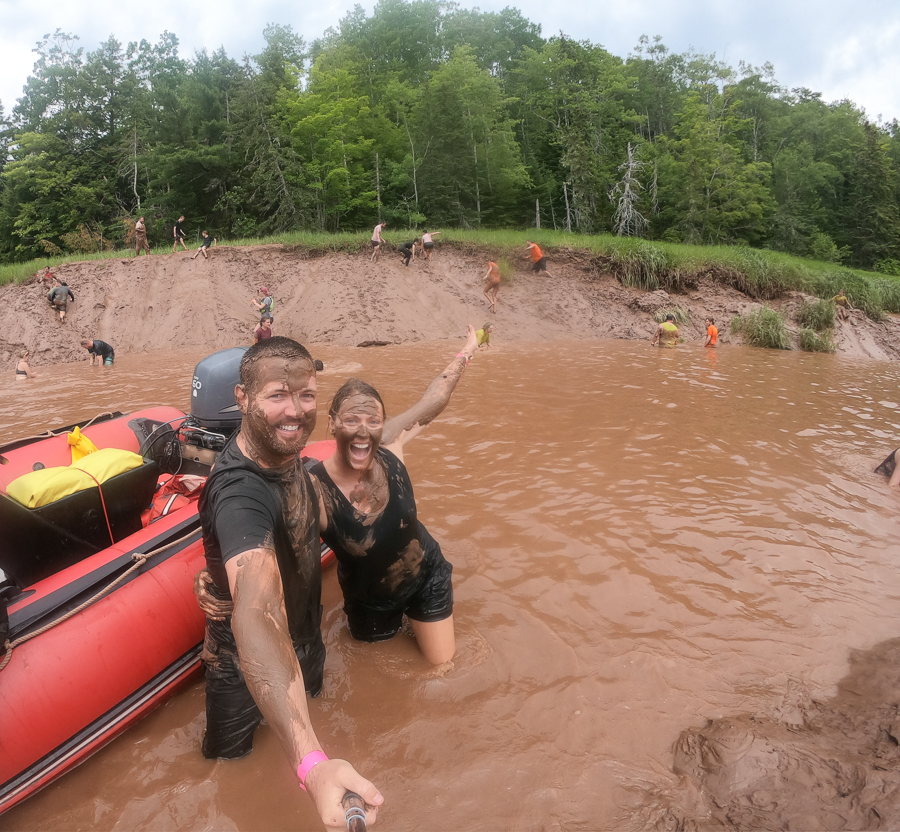 Tips: Make sure to wear clothing that you don't mind throwing out afterward, or wear black (the titanium in the mud will stain your clothes). Leave your sunglasses and hat behind, and wear water shoes. Bring a change of clothing and towel — there are basic, hot showers available.
2. Drive the Cabot Trail
Touted as one of the most scenic drives in North America, this 297 km (185 mile) route offers a stunning journey. Located on Cape Breton Island (which is an island connected to the mainland by a 2 km causeway), the Cabot Trail is one of the most beautiful places to visit in Nova Scotia. It's a great place to drive, cycle or experience the curvy road by motorbike.
I recommend taking Route 19 (Ceilidh Trail) as you cross the causeway to Cape Breton Island. This is a picturesque route with nice places to stop along the way — Mabou, Glenora Distillery, Celtic Music Interpretive Center, Inverness, and Margaree Forks.
At Margaree Forks, the route splits and you start the Cabot Trail.
Depending on your travel plans, you can choose to drive clockwise, or counterclockwise. The whole trail could be done in a day, but a more enjoyable way to experience it is to drive for a little bit, hop out of your vehicle and go for a hike, a swim, and a meal before spending the night somewhere along the trail.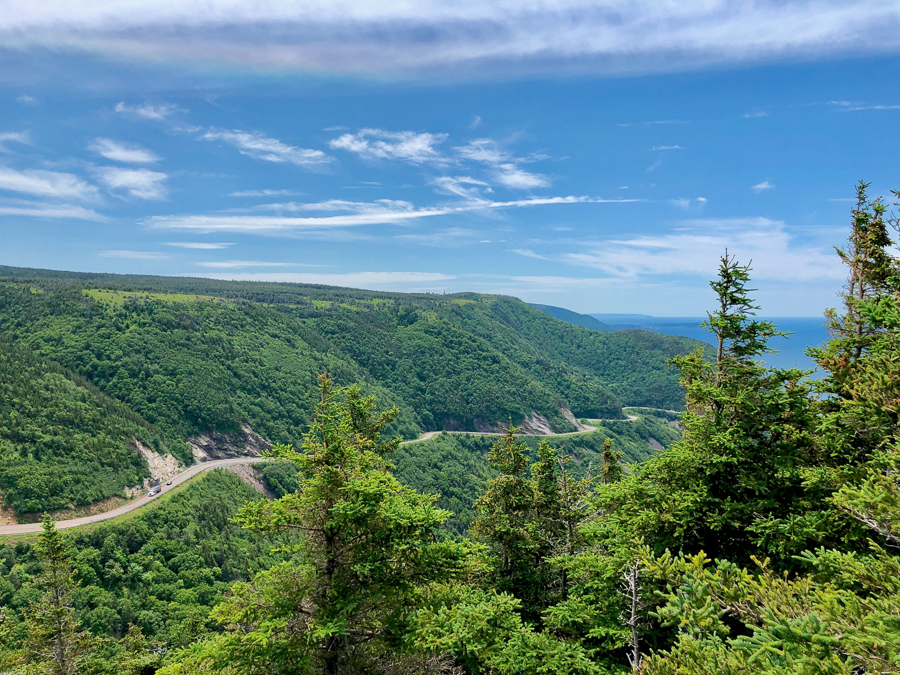 3. Hike in National Parks
There are some great trails in the province and after driving, it's always nice to get out and stretch your legs. Nova Scotia is home to two National Parks, one National Park Reserve, and numerous Provincial and Historic Parks.
When you're travelling along the Cabot Trail, it cuts through the Cape Breton Highlands National Park ($7.80 CAD park fee), which is home to a 26 hiking trails.
The most popular is the Skyline Trail, but if you enjoy hiking by yourself, this trail isn't for you (at least not in the summer months). However, it's popular for good reason! At the end of the loop, you're rewarded with vast views out to the Gulf of St. Lawrence, and many people encounter moose on this trail (sadly, we didn't).
*Tip: While the hike to the end of the Skyline Trail was busy with other hikers, it seemed as though many people didn't complete the 8.2 km (5.1mile) loop, but instead, backtracked on the same path making the hike shorter (6.5 km / 4 miles). If you want to enjoy some quiet on this beautiful trail, I recommend doing the loop — we pretty much had the way back to ourselves.
Another great hiking opportunity is the Middle Head Trail which starts at the stunning Keltic Lodge at Ingonish. This 1.5-hour peninsula hike is more rugged than the Skyline Trail and offers incredible views on both sides of the peninsula. Look for woodpeckers, squirrels, and seabirds.
Nearby, you'll find the Franey Mountain Trail, which is more challenging than Middle Head. It's about 3 hours long, with a 300m ascent. Bring adequate food, water, and clothing for the hike.
Nova Scotia's other National Park is Kejimkujik, which is home to some great hikes as well. If you have the time (and the ability), you can embark on one of the backcountry trails (4 days long), or if you're looking for a day hike, there are plenty of those as well ranging from 0.2 km to 5 km in length.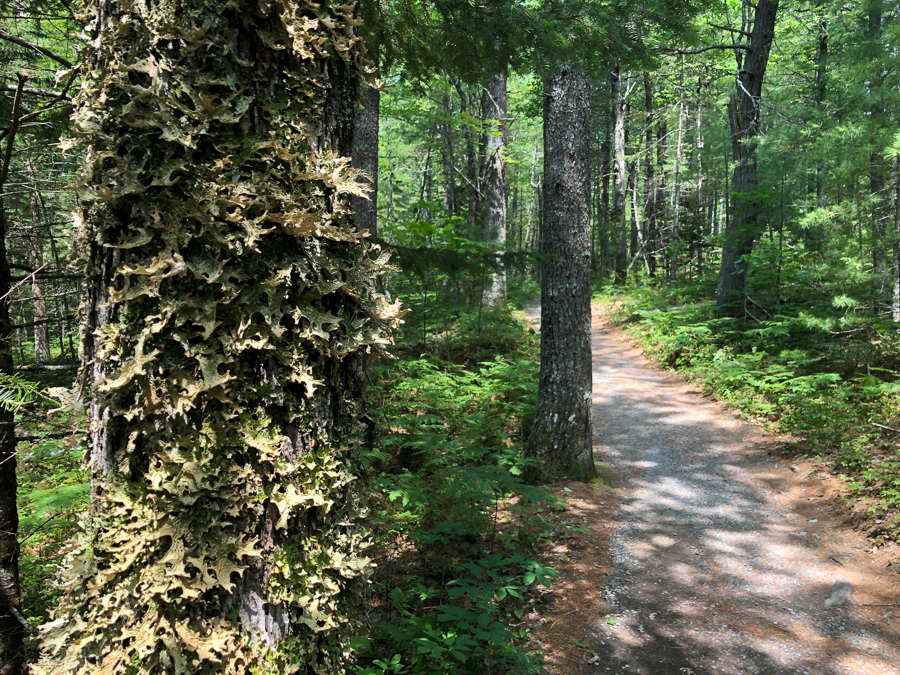 We chose the longest of the day hikes, Hemlocks and Hardwoods, and basically had the trail to ourselves.
Outside of the national parks, you'll also find some great hiking. Check out the Celtic Shores Hiking Trail, the Bay to Bay Trail, and Polly Cove trail — to name a few.
*Tip: Make sure to wear bug spray and thoroughly check yourself for ticks when you leave the park, as they carry Lyme disease.
4. Take in a Festival
If you're looking for things to do in Nova Scotia year-round, take in one of the many festivals! Whether you're into music, food, crafts, art, history or sports, there will be a fun festival that interests you.
While you'll definitely find events happening year-round, the vast majority happen during the summer months when the weather is warmer and you can enjoy the outdoor venues.
Don't miss the TD Halifax Jazz Festival, Royal Nova Scotia International Tattoo, Pride Parade, Lobster Crawl, Ribfest, Wild Blueberry Festival, Busker Festival…and more!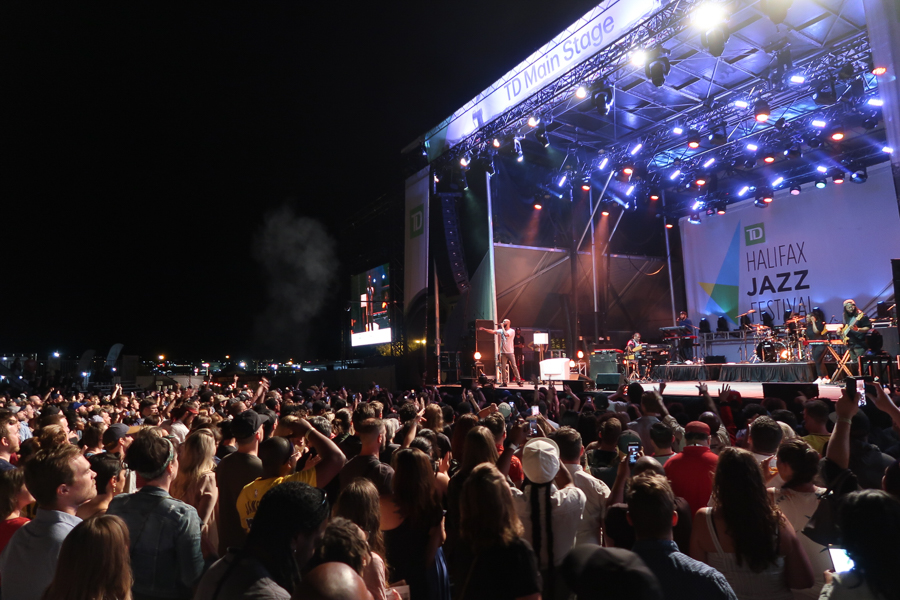 5. Eat Seafood
Known for its abundance of seafood, eating freshly caught shellfish is one of the things to do in Nova Scotia you don't want to miss.
Each part of the province has a different lobster season, but you can find lobster practically any time of year. Don't miss a lobster boil, dining on 1.5 pounds of lobster at a nice restaurant (Five Fishermen's in Halifax), sampling a lobster roll (Capt. Kat's Lobster Shack, or The Bicycle Thief), or simply enjoying bits of lobster in a chowder or a pasta dish.
Once you've had your fill of lobster, head to Digby which is known for its world-class scallops! Choose your preparation (grilled, pan-fried, deep-fried, bacon-wrapped, ceviche, raw, etc.) and dig in.
If lobster and scallops aren't your thing, you can always find mussels, Atlantic salmon, halibut, haddock, and oysters readily available on most menus. If you're wondering what to do in Nova Scotia on a rainy day, eating excellent seafood is my recommendation!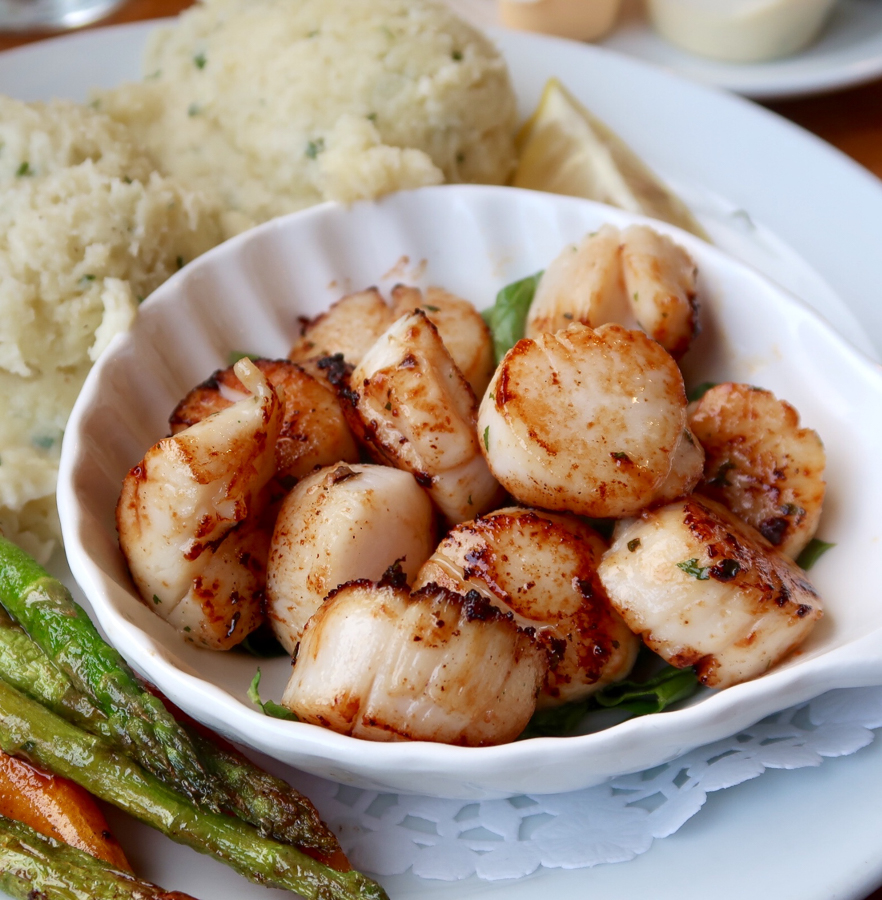 6. Follow One Of The "Trails"
A really cool thing to do in Nova Scotia that I haven't seen anywhere else is to follow one of the food and drink trails around the province.
Basically, you pick up a "passport" from a participating vendor, or you can register online for a digital passport. In this passport, you'll find a list of tasty restaurants, bars and distilleries to sample the best food and drinks in Nova Scotia.
Once you've visited one of the stops, you get a stamp in your passport and once you have 3 stamps, you can enter to win prizes.
There are 3 trails:
With so many amazing restaurants and bars to enjoy, trying to figure out where to eat and drink is the hard part!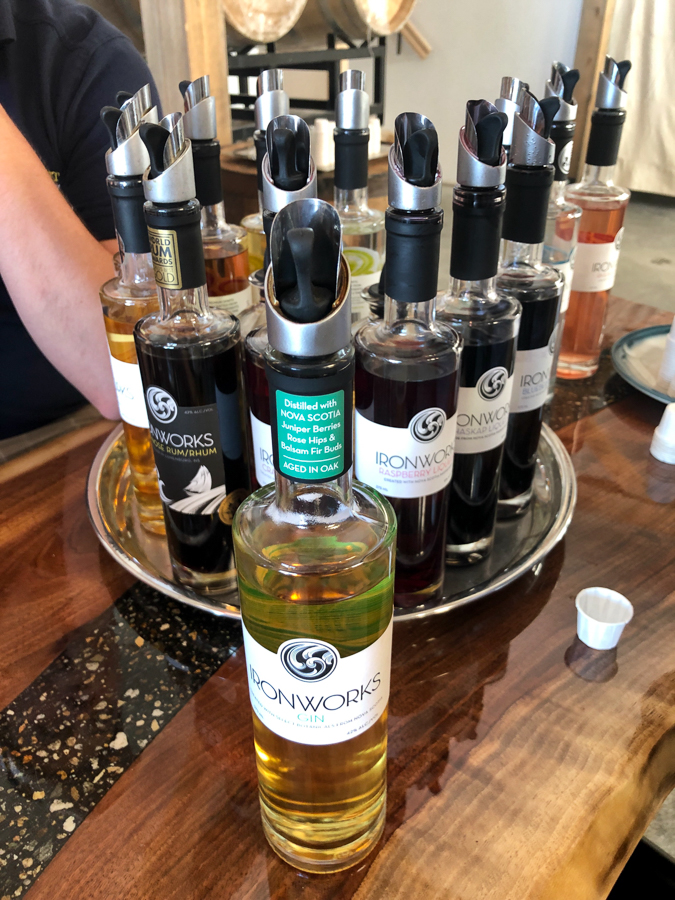 7. Go Camping
Since this post is about a Canadian province, it's no surprise that camping makes it on this list of things to do in Nova Scotia. Blessed with nature, and almost completely surrounded by water, this is a great place to do some camping.
Either pitch a tent in one of the many campsites or spend the night in a unique oTENTik. If you're pulling a trailer or driving an RV, there are lots of spots you can stop that have adequate amenities.
Cape Breton Island has numerous campsites available around Ingonish, Meat Cove, Broad Cove, Inverness, and more.
For other camping opportunities, check out Ovens Natural Park campground, Thomas Raddall Provincial Park, Kejimkujik National Park, Murphy's Camping on the Ocean…to name a few. For a full list of campgrounds in Nova Scotia, click here.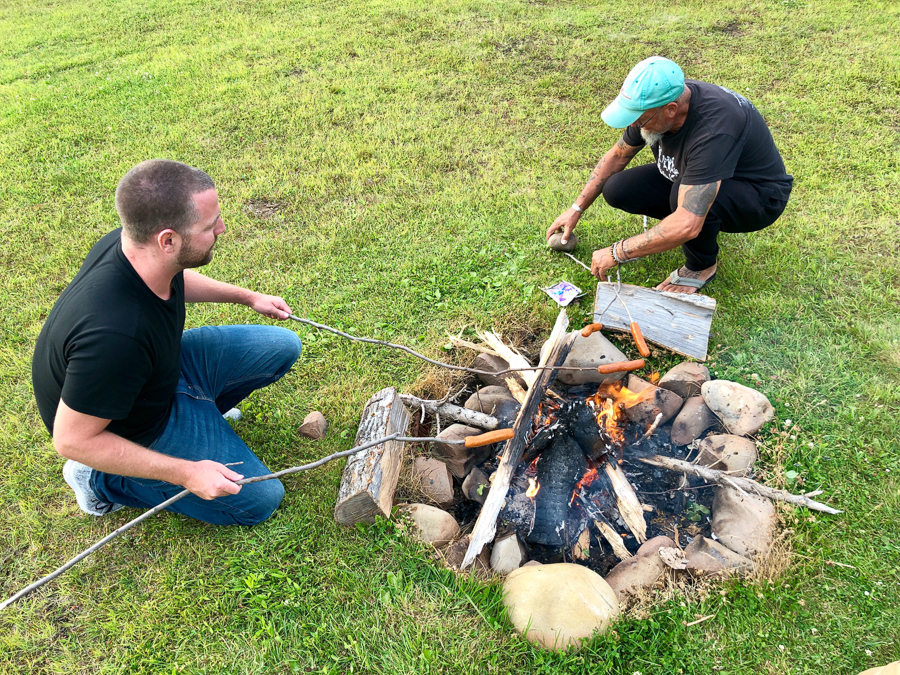 8. Tour Vineyards
Although the provinces of British Columbia and Ontario produce the most amount of wine in the country, little Nova Scotia has some vineyards worth visiting and unique grapes varietals worth sampling — especially if you like white and sparkling wines.
Nova Scotia is known for its Tidal Bay wine — the first wine appellation given in the province. Since the province is known for its seafood, ties with the ocean and cool weather, the winemakers wanted to create a wine that reflects that — something cool and crisp.
In order to get the stamp of approval for a Tidal Bay wine, all grapes must be grown in Nova Scotia, be no more than 11% alcohol, and have a certain flavour profile (minerals, acidity, and green fruit).
While grapes are grown in many areas of the province, The Annapolis Valley is known for being wine country and with stunning views of the Bay of Fundy and 11 wineries to visit, it's a place you'll want to spend some time.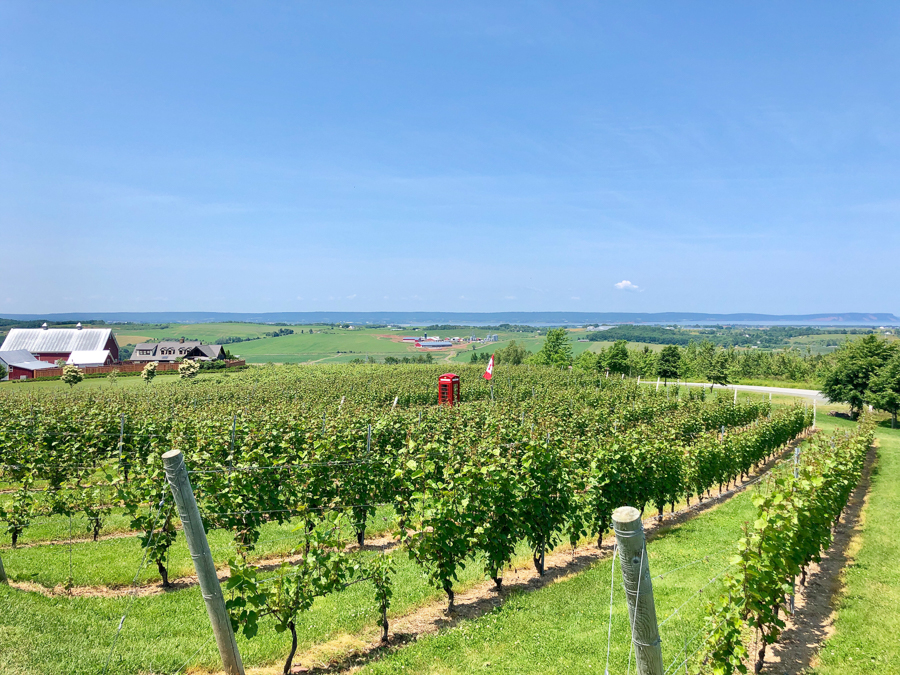 Base yourself in Wolfville (we stayed at Blomidon Inn), or out in the valley, and hire a driver (or join a tour) for the trip so that you can fully enjoy the wine tastings! While there are many vineyards to visit, I recommend Benjamin Bridge, Luckett and Gaspereau. All three have gorgeous surroundings and tasty wines.
Make sure to have lunch at Luckett Vineyards, the food is fabulous. Oh, and don't forget to make a call from the red phone box 😉
9. Do Some Kayaking
Being surrounded almost completely by water, and home to numerous coves, bays, and islands, kayaking is one of the top activities in Nova Scotia. There are lots of places you can go paddling, but I recommend Blue Rocks, which is a community just outside of Lunenburg.
Many people come here to photograph the pretty blue shale rocks, or to stroll around the quiet community, but the best way to see the natural beauty of the area is to hop in a kayak. We paddled through narrow passageways, and alongside rock islands, all while enjoying the calm water.
Even though the Atlantic Ocean can be incredibly rough and wild, the rock islands here provide protection for kayakers. To learn more about kayaking at Blue Rocks, click here.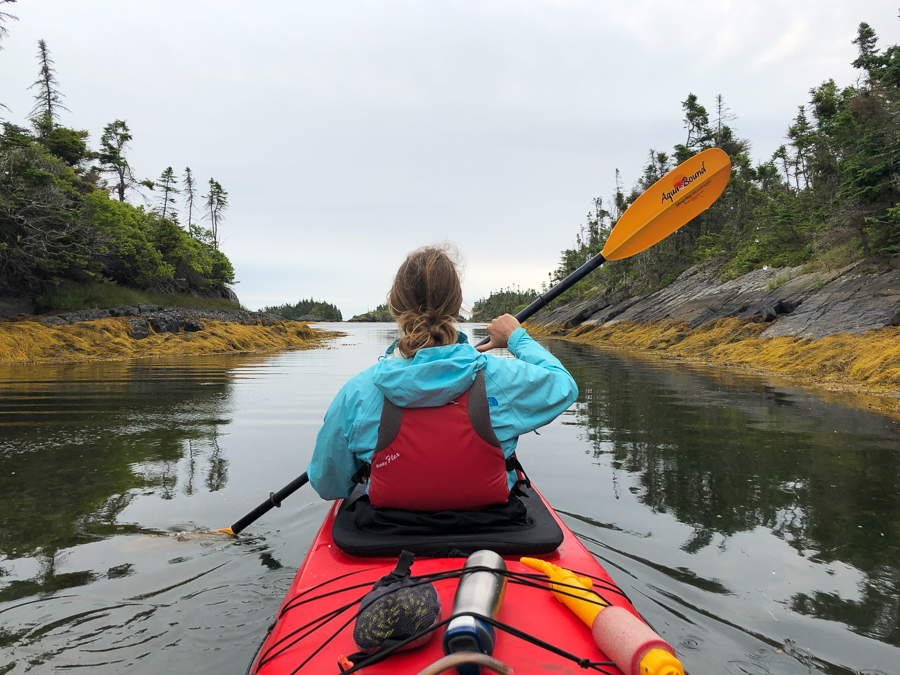 10. Go Whale Watching
You'll find excellent whale watching opportunities in the Bay of Fundy just outside of Digby on the Digby Neck (peninsula) and off of Cape Breton Island. The whales start arriving in early spring and stay until fall, but typically, the humpbacks don't show up until mid-June.
Having said that, we went whale watching in the Bay Of Fundy in mid-July and only spotted 1 humpback whale. The crew said that this year the whales were late arriving. So, it's the luck of the draw!
Both whale watching spots in Nova Scotia offer the chance to see humpback, fin, and minke whales. The Bay Of Fundy also has Northern right whales, while Cape Breton offers the largest of them all, the blue whale, as well as pilot whales.
Our trip took us around the Digby Neck, past Brier and Long Island and into the Bay Of Fundy. Even though we only spotted 1 humpback whale, we ended up seeing 2 fin whales (which are the second largest whale in the world!). There's something magical about seeing wildlife in its natural habitat.
To learn more about whale watching in the Bay of Fundy, click here.
*Tip: Even if it's a sunny day, make sure to bring some warm clothing. The weather can change in an instant, and it's always chilly out on the water. Also, bring a hat, sunscreen, water and of course, your camera.
Enjoy The Things To Do in Nova Scotia!
Even though this list could've been more than 10, I think these things to do in Nova Scotia offer a good mix of adventure, cuisine and nature. As I said, there's something for everyone in this east coast province. Give yourself some time to explore — even though it's small, there are endless things to see and do in Nova Scotia. Enjoy your trip!
A special thanks to Visit Nova Scotia for making our trip to the province possible. 10 days were spent in partnership with the tourism board, while 5 days were spent on our own. There's so much more to see, and we can't wait to return!
Like This Article? Pin it!
Disclaimer: Some links in this article are affiliate links, which means that if you purchase through them, we receive a small commission. This will never cost you extra and in many cases you receive a special discount. We appreciate your support!