How much of your home country have you seen? As Canadians who have been travelling abroad for around 11 years, we've explored very little of our home country — and I mean very little. Prior to our recent Nova Scotia travels, Nick had only been as far east as Edmonton, and I went to Montreal once when I was young!
We were overdue to experience more of Canada, and what better place to start with than one of the furthest eastern points in the country?
Our 15-day journey through the second smallest province in Canada gave us a taste of the Maritimes and left us wanting more. Each of the seven main areas of Nova Scotia offered a different feel — in terms of landscapes, cuisine, and heritage. There are numerous interesting and scenic places to visit in Nova Scotia, give yourself some time to explore here.

Check out this article and video below to find out more about Nova Scotia travel, including our top highlights and travel tips.
The Invitation to Nova Scotia
It had been a while since we'd been on a press trip. In fact, the last one was when we were invited to visit Chicago — in 2018. Earlier this year we had backpacked around Ecuador and Peru, and enjoyed a digital detox along the way, free of work and campaigns.
We were ready for another partnership that suited our interests, and the Nova Scotia tourism board was the perfect match.
Once we received the proposed itinerary, we asked to make a couple of changes to better fit our travel style, and they were happy to accommodate our requests.
We knew right away that the tourism board was going to be great to work with. They understood the value of online media and the importance of matching tours and excursions with our interests (and the interests of our readers). The trip was a great fit!
Our Nova Scotia travels were 15 days, but only 10 days were planned with the tourism board, the rest of the time we were on our own — so, we had lots of time to see the in-between bits of the province (Although, we could've stayed double that time).
Nova Scotia Travel: The Road Trip Route
"Don't forget to drive on the righthand side of the road!"
Those were my first words to Nick when we picked up our car at the Halifax airport. Living in Grenada, we drive on the left. Plus, it's practically impossible to drive more than 65 kilometers/hour as our windy roads have obstacles to dodge like people, goats, dogs, and potholes (to name a few).
Driving in Nova Scotia with its paved roads, lane dividers and traffic lights was going to be a breeze…provided Nick remembered to stay on the correct side of the road.
After loading Google Maps on our phone, we set off to downtown Halifax. The sun was shining, our Dodge Charger was purring, and we were so excited for the start of the journey!
With so many epic viewpoints, tasty restaurants, and offtrack spots to explore, having your own wheels in Nova Scotia is essential. Not only that, but since it's such a compact province, driving around here is pretty straightforward — it's basically impossible to get lost.
The only thing you need to decide is where you want to go, and which scenic route you want to take.
If you look at a map of Nova Scotia, you'll see a very jagged coastline with a bunch of "fingers", numerous bays and coves, and an uncountable amount of lakes (well, over 3,000), rivers, and streams. Needless to say, the drives here are stunning.
Our road trip route in Nova Scotia looked like this:
Halifax ⇢ Peggy's Cove ⇢ Mahone Bay ⇢ Lunenburg ⇢ Blue Rocks ⇢ Liverpool ⇢ White Point ⇢ Shelburne ⇢ Barrington ⇢ Yarmouth ⇢ White Point ⇢ Kejimkujik National Park ⇢ Digby ⇢ Annapolis Royal ⇢ Wolfville ⇢ Urbania ⇢ Pictou.
We then crossed the Canso Causeway to Cape Breton Island.
Pictou ⇢ Mabou ⇢ Ingonish ⇢ Baddeck ⇢ Margaree Forks ⇢ Inverness ⇢ Halifax
Travel Nova Scotia: History & Culture
We travel the world to learn about other cultures, customs and ways of life. By simply visiting the eastern coast of Canada, we found ourselves in our home country, but with new cultures and cuisines to experience.
With just 15 days to travel around Nova Scotia, it was a bit difficult to learn everything about the history and people here (and to visit all the historical sites, and sample all of the traditional cuisines). But, we did our best and had nothing but positive experiences with the welcoming people of the province.
From the Mi'kmaq, the French Acadians, and the Africans, to the English, Irish and Scottish — as well as the many who have immigrated here more recently, Nova Scotia is a melting pot of cultures and people.
The Mi'kmaq have called Nova Scotia home for over 13,000 years. During our trip, we visited the Kejimikujik National park which is home to ancient petroglyphs, and the waterways here were used by the Mi'kmaq as travel routes to move them between the Bay Of Fundy and the Atlantic Ocean — by means of a dugout, wooden canoe.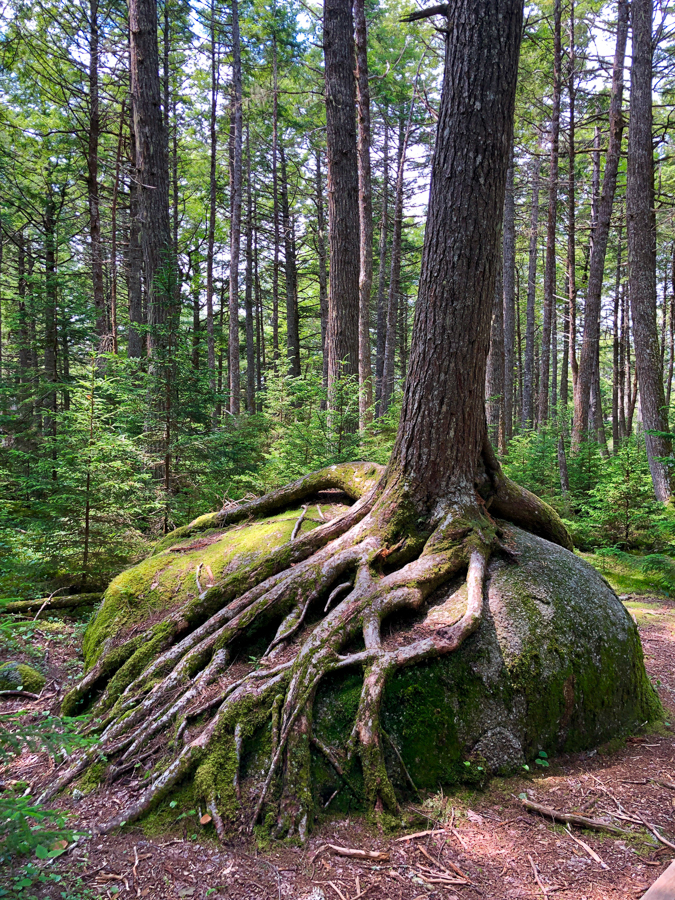 In Latin, Nova Scotia translates to "New Scotland", and there's still a strong Scottish influence in the province, especially on Cape Breton Island and the town of Pictou. From Ceilidhs (get-togethers) and fiddle music to their accent and cuisine, the Scottish roots are prominent here.
We spent some time in the town of Pictou, which is where the first Scottish settlers arrived aboard the Hector ship in 1773. Here, lamp posts are decorated with Scottish tartans, a replica of the Hector sits in the bay, and there's a yearly Festival Of The Tartans (in Pictou County) which celebrates all things Scottish — bagpipes, traditional games, food, highland dancing, and more.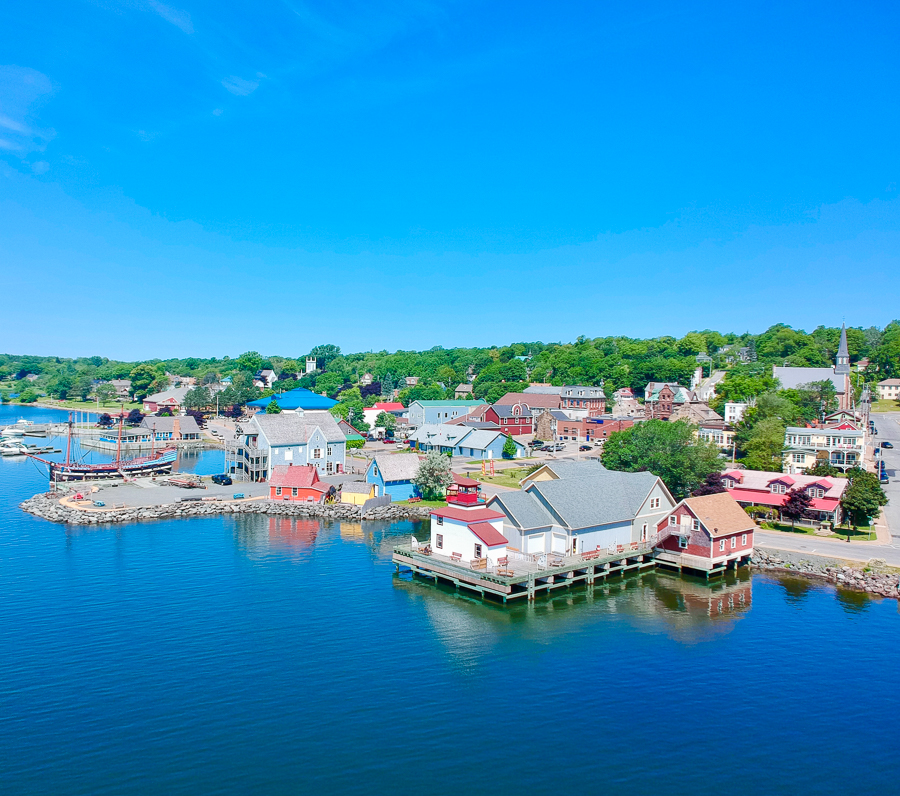 We also visited some of the Acadian communities in the southwest part of the province, as well as Cheticamp on Cape Breton Island. The French were the first Europeans to arrive in Nova Scotia in the 1600s, and they set up their base in Annapolis Royal — a lovely little community that we stopped in on our way to Wolfville. From there, the Acadians spread out around the province.
During our road trip, we saw Acadian flags with signs informing us that we've arrived in an Acadian community. The Acadian influence is prominent in Nova Scotia and it reveals itself in the food, language, and architecture.
No matter which town or community we were in, it seemed each had some sort of historical significance. The next time we travel Nova Scotia, we want to immerse ourselves further in the culture and learn more about the Acadians, Africans, and Mi'kmaq people and perhaps give more time to camping, national parks and the outdoors.
Highlights From Our Nova Scotia Travels
Many of the places we visited, and the things we did stick out in our minds as highlights from our journey. During our brief visit, we were able to get a taste of what each area of Nova Scotia has to offer. Here are just a few of our highlights:
Halifax
This city of around 430,000 people is set on the second-largest natural harbour in the world… as you can imagine, it's an incredibly picturesque place. Not to mention, there are endless things to do in Halifax.
We wandered up and down the Waterfront (a pedestrian-only walkway) while stopping in for poutine, beaver tails, and craft beers along the way. We popped into the Atlantic Maritime Museum, wandered through the Farmer's Market, and rode an amphibious vehicle (Harbour Hopper) through the streets of Halifax…and directly into the Ocean.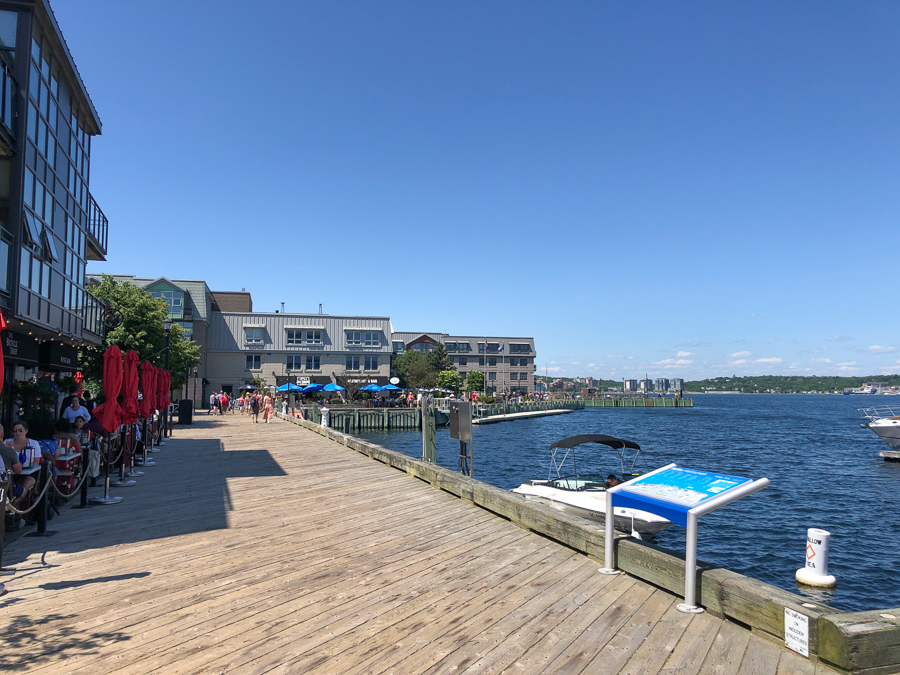 Across the bay, just a 5-minute ferry ride away, is the community of Dartmouth. Colourful buildings, street art, little cafes and a great walking path are all reasons to visit here. Plus, you'll get a great view of Halifax from across the water.
With numerous international cuisines to dine on, historical sites to visit, endless events to attend (we were there for the annual Halifax Jazz Festival!), and a chilled-out vibe, Halifax was a great first stop on our Nova Scotia trip.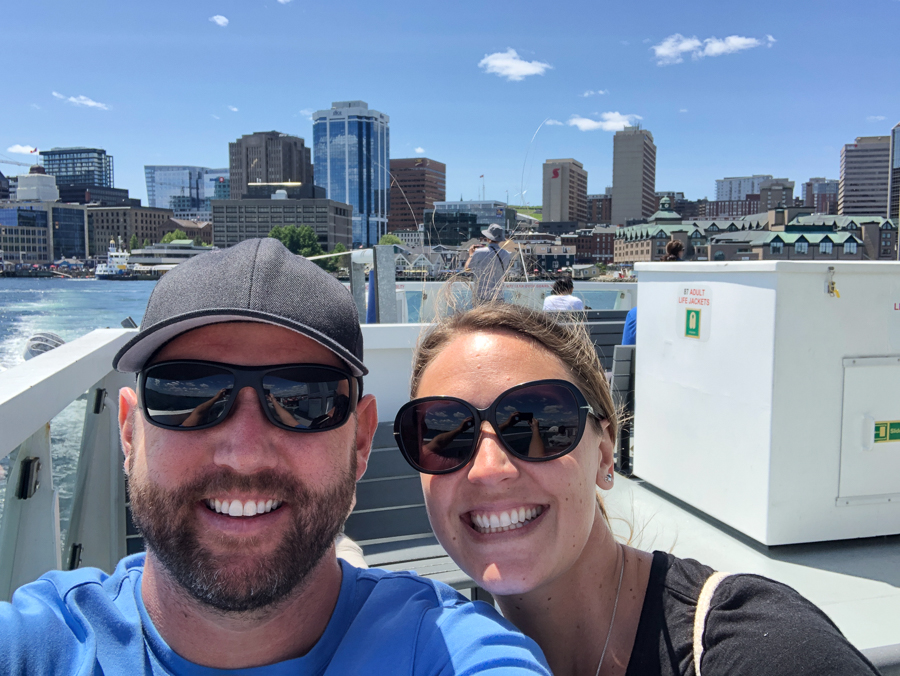 Where To Stay
We stayed at two different places in Halifax.
Don't forget to grab your Airbnb coupon to receive up to $55 off your booking.
Where To Eat:
There are numerous options for local and international cuisine. Some of our favourites include: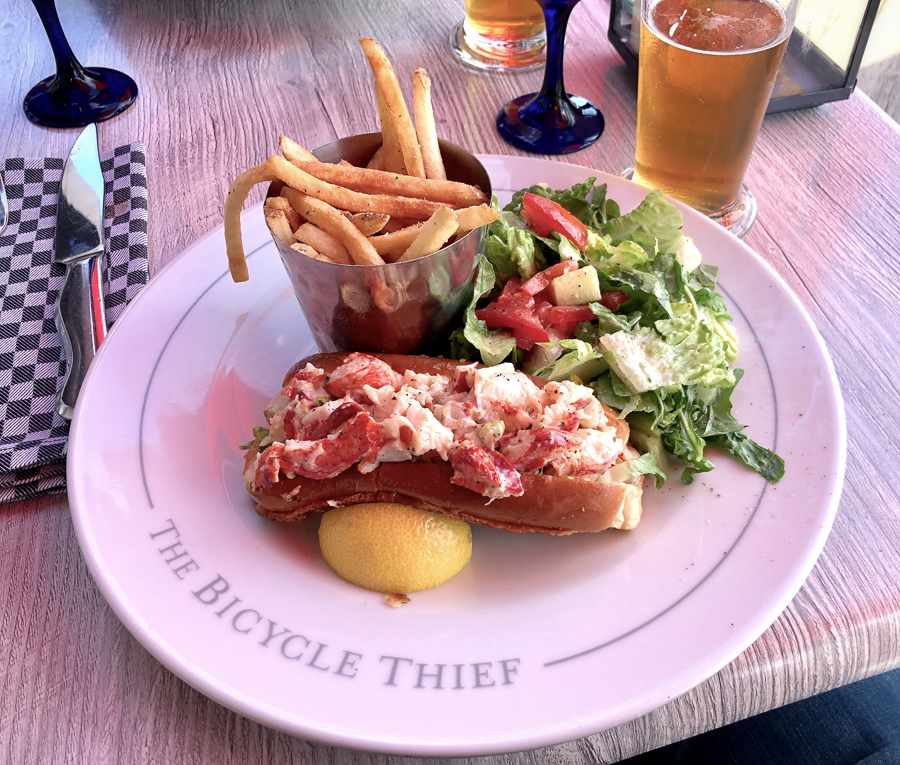 Lunenburg
Located on the South Shore is the UNESCO listed (fish obsessed) town of Lunenburg. The town revolves around fishing and is evident as soon as you arrive — fishing boats in port, fish ornaments on shops and churches, shipbuilding and fisheries museum, and fish on the restaurant menus!
We were told by our walking tour guide that the people of Lunenburg lived and died by the sea — as in the past, fishing was the major source of income for the residents, but numerous fishermen sadly lost their lives while enduring treacherous ocean conditions.
With its location right on the water, and the Georgian, Victorian and Colonial-style homes, this is a very picturesque place. Apart from wandering around and enjoying the port town, don't miss the Ironworks Distillery which produces dangerously delicious fruit liqueurs, plus harder booze such as rum, vodka, and gin. Even if you're not a drinker, the building it's set in is worth a visit.
Where to Stay: We stayed at the Bagintine Inn, which had a great view of the water. Even though there's a bar and restaurant down below, we didn't have any issues with it being too loud. The location is excellent.
Where to Eat: The Savvy Sailor has tasty (filling) breakfast, with a great view. For dinner, we ate at the Salt Shaker, and while the food was good, it didn't blow us away. Staff were great and the location was excellent. We heard good things about the Grand Banker Bar and Grill…but didn't have a chance to try the food, only the beers.
Kayaking at Blue Rocks
The community of Blue Rocks is a quick drive from Lunenburg and is a popular place for photographers. But, we weren't there to photograph the blue shale rocks, we were there to do some kayaking!
As we pulled in, the Atlantic Ocean was rough and the white caps were pretty big. I was nervous and thought the water was too choppy to kayak. Nick (with his common sense) assured me that the guide wouldn't take us somewhere dangerous.
And, he was right.
As soon as I voiced my concerns to the guide, he said there was no way he'd take clients out in that water. Where we were going was protected by little islands and rocks. The company was called Pleasant Paddling, and it was definitely pleasant.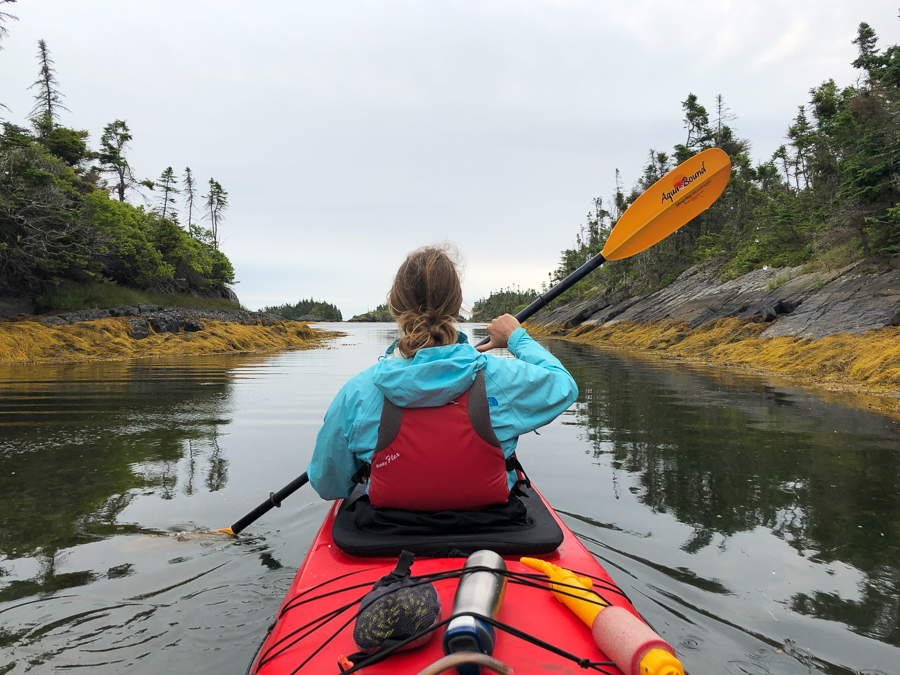 We paddled through narrow channels while spotting bald eagles, numerous black ducks, and other sea birds. We even had some curious seals swim towards us. Getting on the water and learning about Blue Rocks (and the province as a whole), while burning off some of the food we had been eating, was a great way to spend the morning.
Pleasant Paddling offers 3 different tours, starting from $60 per person. Click here to learn more.
Whale Watching at Digby
Located just outside of Digby is the Digby Neck. This peninsula is an excellent place to embark on a whale-watching trip out into the Bay of Fundy. The sun was shining as our boat passed Long Island and circled the bottom of the peninsula at Brier Island, before heading out into the open Bay of Fundy.
We all had our eyes peeled, hoping to spot a humpback whale.
Thankfully, even though we were a little bit early in the season, we spotted one! The crew knew this whale and had named him "Rooftop". We spotted him a few times during the day, as he showed off by putting his fluke in the air.
As the day was coming to an end, we were extremely fortunate to spot a Finback Whale. This is the second largest whale in the world, and they move very fast in the water. For whatever reason, this whale decided to hang out with us and allowed us to "ooo and ahh" and take some pictures and videos, before descending down into the depths.
There's just something special about seeing wildlife in its natural habitat.
Where To Stay: We stayed in Digby itself and enjoyed checking out the town the day before. We stayed at the Digby Pines Golf Resort and Spa, which was set on a gorgeous property.
Where To Eat: I recommend the Shoreline Restaurant in Digby. The town is known for having the best scallops in the world, and the bacon-wrapped scallops and pan-fried scallops with garlic and butter are delicious.
Whale Watching: The company we went with was Petit Passage Whale Watching, and we had a great experience. Make sure to bring warm clothing, even in the summer months. It's $85 for adults and $30 for kids. Click here to learn more.
Tidal Bore Rafting
Have you heard of this?! It's an experience you can only have in Nova Scotia — nowhere else in the world offers it.
Here's what happens…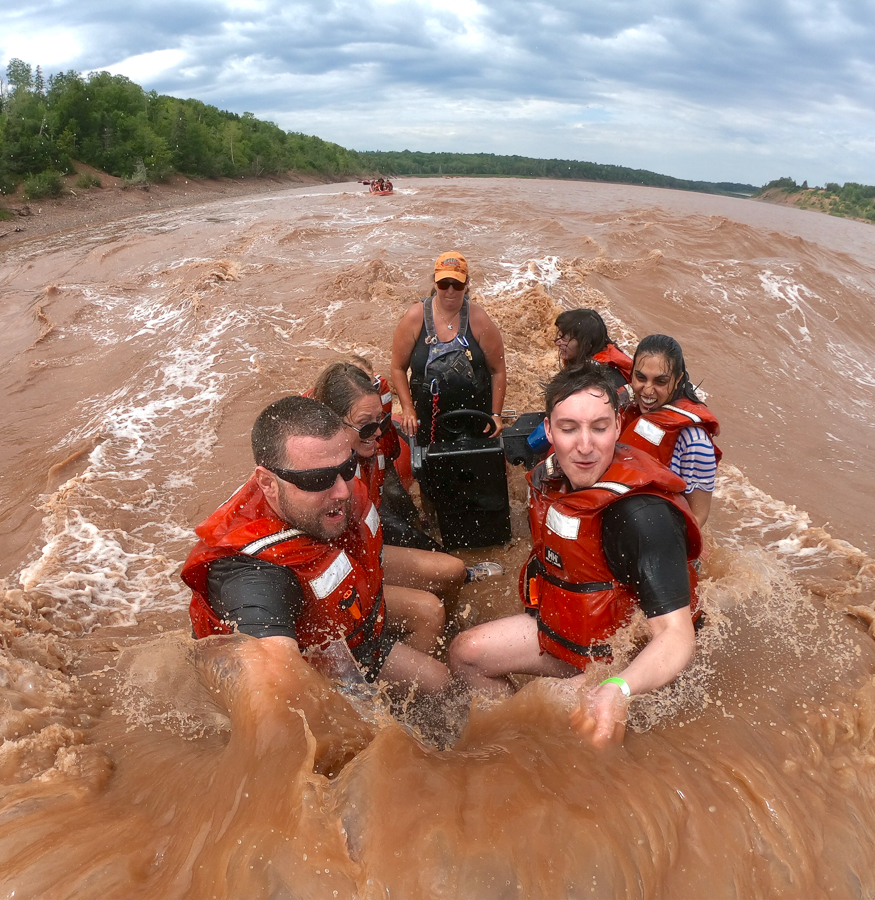 The tides in the Bay of Fundy are the highest in the world, fluctuating between 3.5 meters (11ft) and 16 meters (53ft). When the rush of the incoming tide meets with the outgoing Shubenacadie River, it creates swells, waves, and rapids.
We hopped on a zodiac and headed out on the river to ride these waves!
Even though we were gulping down mud and water (due to laughing so hard), we had such a great time. The boat launched over the waves while we held on tight. Once we completed our rapids, we headed to the banks of the river to do some mud sliding.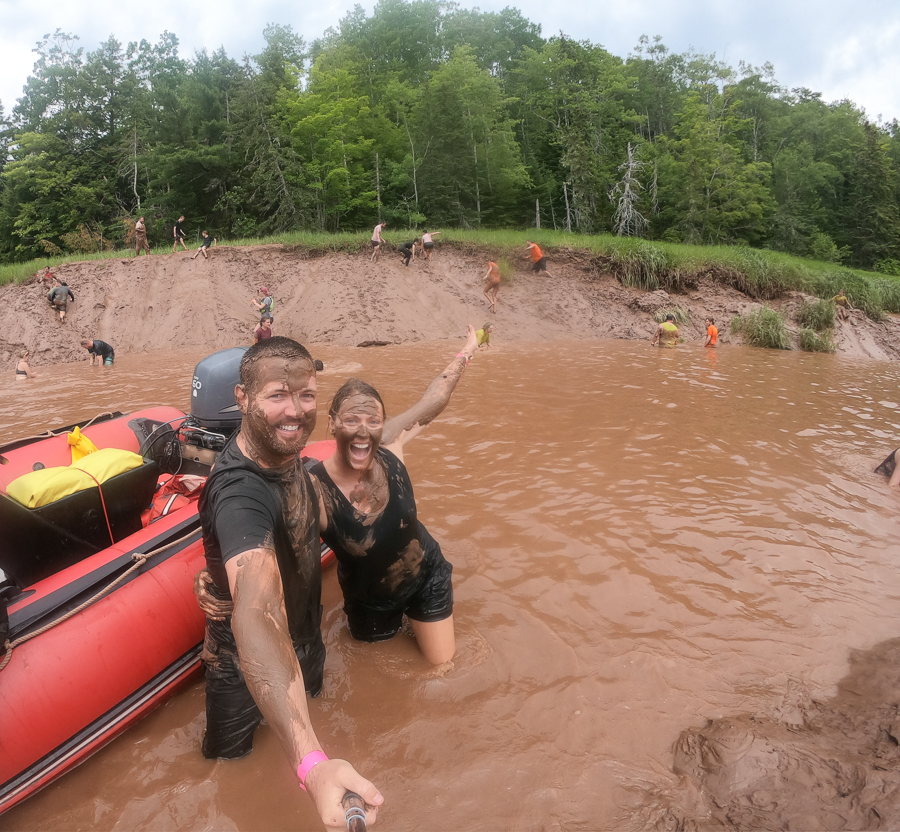 This trip really brought out our inner child and we had such a blast. Highly recommended! To learn more about tidal bore rafting, click here.
Cape Breton Island
I'm listing the whole island as a highlight, as there are just too many things that stood out for us here! The famous Cabot Trail drive is a must, but I recommend not rushing it. Drive a little bit, then stay the night somewhere and explore around that area, before continuing on the Cabot Trail the following day.
Inverness town has a beautiful oceanfront boardwalk, excellent golfing, craft beer brewery, and camping opportunities. The Glenora Inn and Distillery is the longest-running producer of single malt whiskey in North America (there are only 2), plus, the accommodation and restaurant there are excellent.
The Margaree River offers fantastic fly fishing opportunities. Even though Nick didn't catch a fish (the weather wasn't in his favour), there were 40-pound salmon jumping out of the river there! If you're interested, pick up a salmon fishing license for around $62. You can buy flies and a license at the Tying Scotsman.
The Cape Breton Highlands National Park has numerous hiking trails and scenic pull-outs. Definitely make sure to get out of the car and do some walking. We walked The Skyline Trail and while it has stunning views, it was quite busy. If you're looking for a quieter, more natural hike, then I'd recommend giving yourself a bit of extra time to enjoy a less popular trail.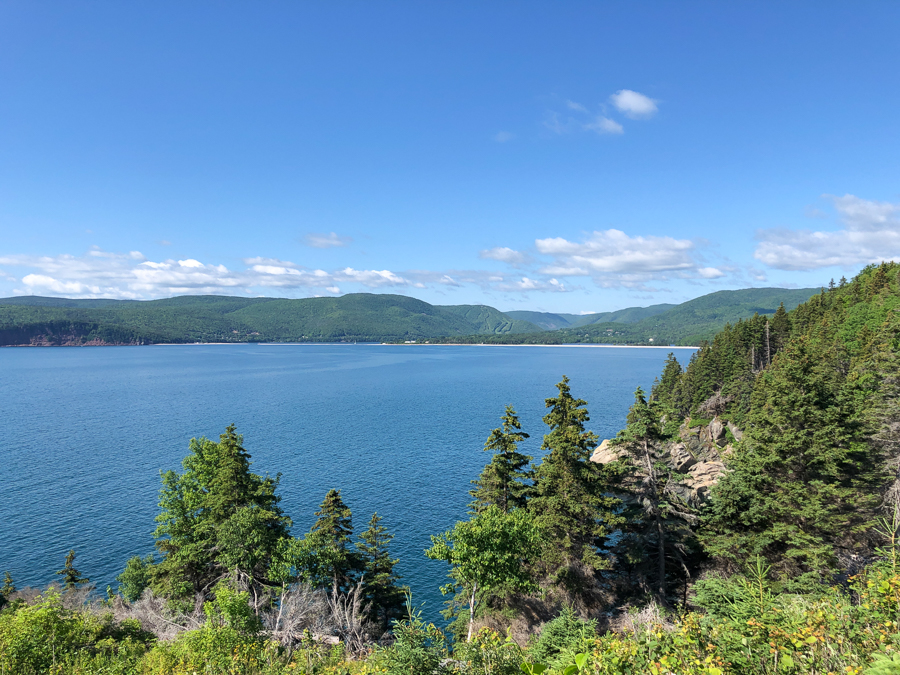 Ingonish Beach has a sandy or rocky beach, depending on the tides. There's a freshwater lake here, camping opportunities, and the stunning Keltic Lodge. The lodge was the most scenic accommodation we had during our trip, and conveniently, it's the starting point for a great short hike — Middle Head Trail.
To sum up, don't miss Cape Breton Island!
Where to Stay:
Where to Eat:
What's Next?
Now that we've returned to Grenada, we're just letting our Nova Scotia trip sink in. While we were in the province, we took lots of video and photos and will be creating 3-4 videos showcasing the best places to visit in Nova Scotia, the best things to do, and a list of things you won't want to miss in Halifax (update: these are all now available on our website and YouTube!).
Like This Article? Pin it!