It has been a while since we've written a post like this on the blog. Just a good old-fashioned recap of one of our trips. Recently we headed off to explore Ecuador and Peru for almost three months and we had a blast. But why did we choose the countries? Where did we go? What were our favourite places? Did we feel safe?

Our travels through Ecuador and Peru were actually some of our favourite of all time. Hiking the Inca Trail to Machu Picchu, tripping over sea lions and swimming with hammerhead sharks in the Galapagos Islands, trekking for days to reach a high altitude lake that's set inside a volcano crater, and enjoying the friendly local people and immense nature that these two countries have to offer.
There's no doubt in my mind that we'll be back.
Of course, we'll be writing plenty of blog posts about this region, places to see, things to avoid, what not to miss etc., but in this article, I'm going to give you a run-down of what this trip was like for us, so that if you ever plan a trip to this fascinating part of South America, our experiences may help you understand what to expect.
Going Offline
One of the best parts about this trip was that Dariece and I decided to turn it into a holiday. Even though it's hard to call our jobs work (I'm currently writing this from my outdoor office looking out over the sea here in the Caribbean), we decided that we needed a digital detox again.
Before we left on this trip, we launched our SEO Course and scheduled enough blog posts and social media posts to cover the entire duration of the trip. We hired more writers and had our SEO team and our Pinterest manager keeping everything running smoothly in the background.
It was going to be nearly two and a half months of being completely offline (aside from answering emails and posting new photos on Instagram and Facebook once per week) and we were so excited about it!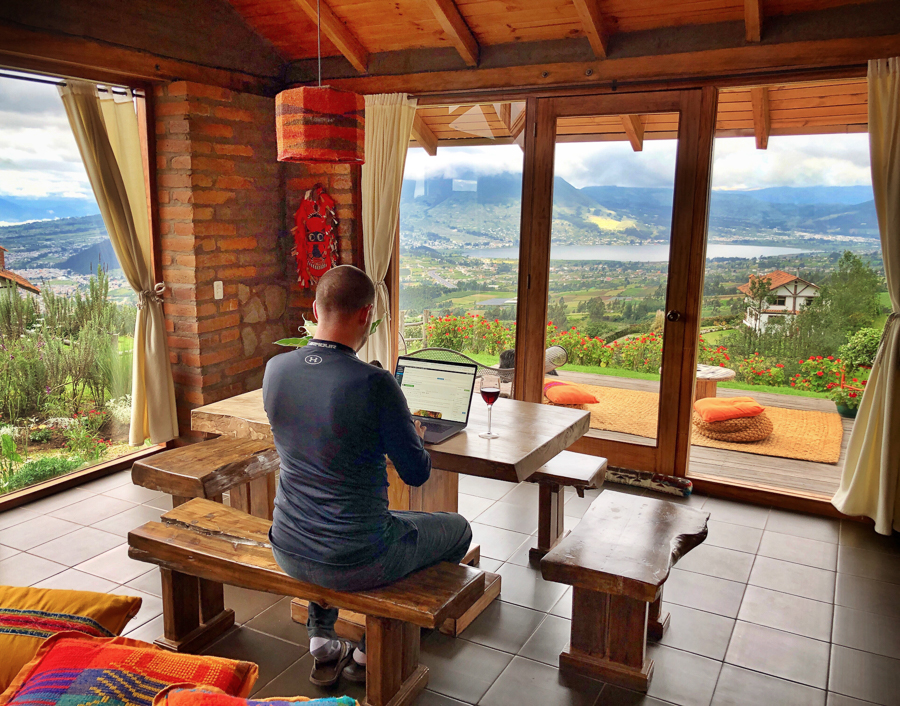 Being offline also meant not working with any companies along the way.
One of the perks about running a successful travel blog is that you get paid to travel and can often land all-inclusive trips for free. However, the downside of this is that you blur the lines between travel and work and while this is a good thing for the most part (because it means that you're passionate about what you do), it also means that you never get a true vacation.
This was the first time since our 1 month trip to Colombia in 2016 that we were truly offline and not working with anyone during our travels and it was great. Being offline is a good way to get back to the basics, switch off and enjoy the nuances of travel.
Looking back now, we're both so happy that we decided to do the trip this way and we encourage more people to give a digital travel detox a shot. Even if you don't work in the digital world, simply putting your phone on airplane mode, deleting distracting apps and trying to enjoy the moment (rather than getting that perfect photo) can be a truly exhilarating experience.
It's a throwback to how we used to travel. Engaging with people, enjoying the view, smelling the roses… and we were happy to have it back.
Why Ecuador & Peru?
In 2018 we decided to base ourselves in Grenada and while we had done a couple of quick trips to Canada, Barbados and Chicago, we mostly stayed put and worked on our blog and SEO. In 2019 we knew that we wanted to do some more travelling, but we hadn't decided where.
In this case, we picked these destinations because we still weren't ready for ridiculously long flights to Europe or Asia, and we still wanted to see more of South America, having loved our previous travels to Argentina, Colombia, Uruguay and Chile.
While proximity definitely played a major role, when we started researching Ecuador and Peru we were totally inspired and knew that we'd love these adventure-packed, nature-filled, and archaeologically blessed countries. After reading our Lonely Planet books (yes we still love them) and checking out blogs, our flights were booked and we were ready to go.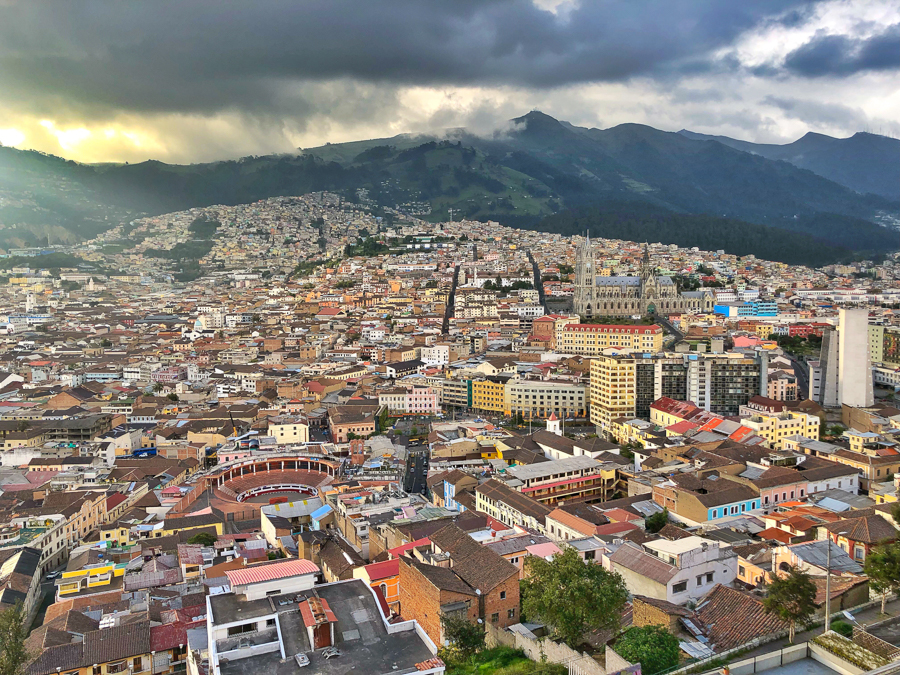 Ecuador
Straddling the equator on the west coast of South America and blessed with picture perfect colonial cities, volcano lakes, waterfalls, cloud forests, glacier crusted mountain peaks and an incredible diversity of language, culture and tradition, Ecuador has long been a country we've both wanted to visit.
We always thought of it as an easier, safer version of South America for some reason. It may be because it was such a booming retirement spot for North Americans, particularly in the late 90s, or maybe it's because it has few government travel advisories around the world. I'm not sure if Ecuador can be entirely classed as "safe", but we definitely felt safe while we were in the country.
Adding to that feeling were the welcoming people who truly treated us like we were friends, rather than tourists. We didn't have to bargain much and were told the real price for tours, taxis and goods. We had some great conversations with the locals — from politics and religion, to family life and immigration.
The people were a huge "pro" of our visit to Ecuador.
Quito
Although we spent 2 nights in Miami on the way to South America from Grenada, we didn't really count this as the start of the trip. The trip truly started when we reached Quito, Ecuador and it was the perfect place to kick-off this South American adventure.
We stayed in an amazing 300-year-old colonial house on the edge of the Old Town. It was quiet at night, but was in a safe neighbourhood and was close enough to all of the major sites. Quito has Uber, which made it easy to get around without having to bargain with the taxi drivers.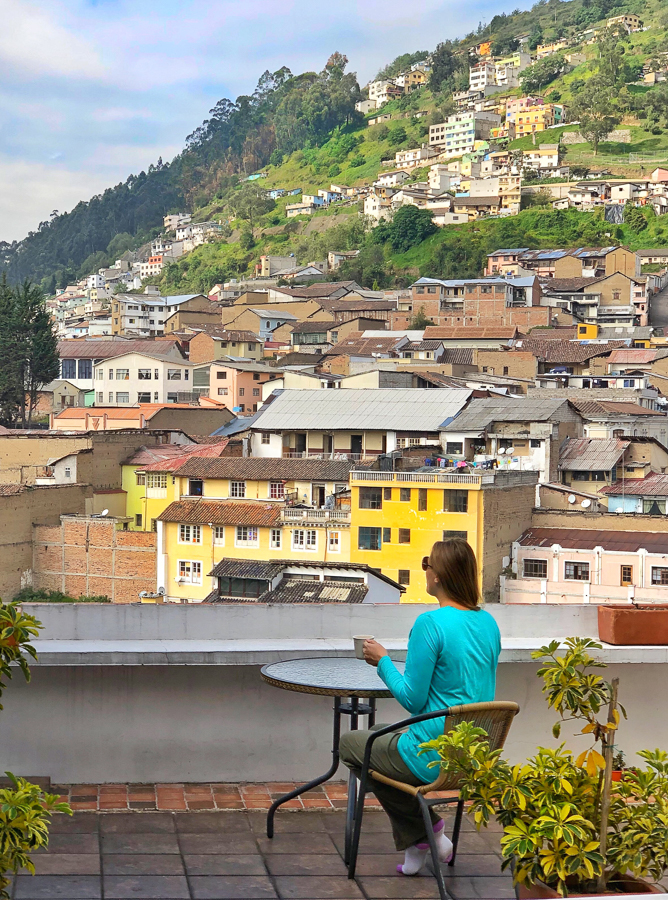 There were a lot of sites to see in Quito, so even though we spent 5 nights, we still have plenty left to see. We did a free walking tour, a night food tour, and a trip to the equator. We spent the rest of the time just wandering around the narrow cobble stone streets in awe of the Baroque and Spanish Colonial-style architecture that's found all over the UNESCO Listed World Heritage old town.
For more on Quito, check out our article for all the fun things to do in the city, plus tips for travelling in Quito.
Mindo
Mindo is a small village set inside a breathtaking Unesco-Protected Biosphere cloud forest known as the Mindo-Nambillo Reserve. This 700,000 acre area boasts the highest variety of bird species in the world.
Before researching Ecuador, we had never heard of this place, but we were both so excited to experience one of the most pristine natural environments in South America.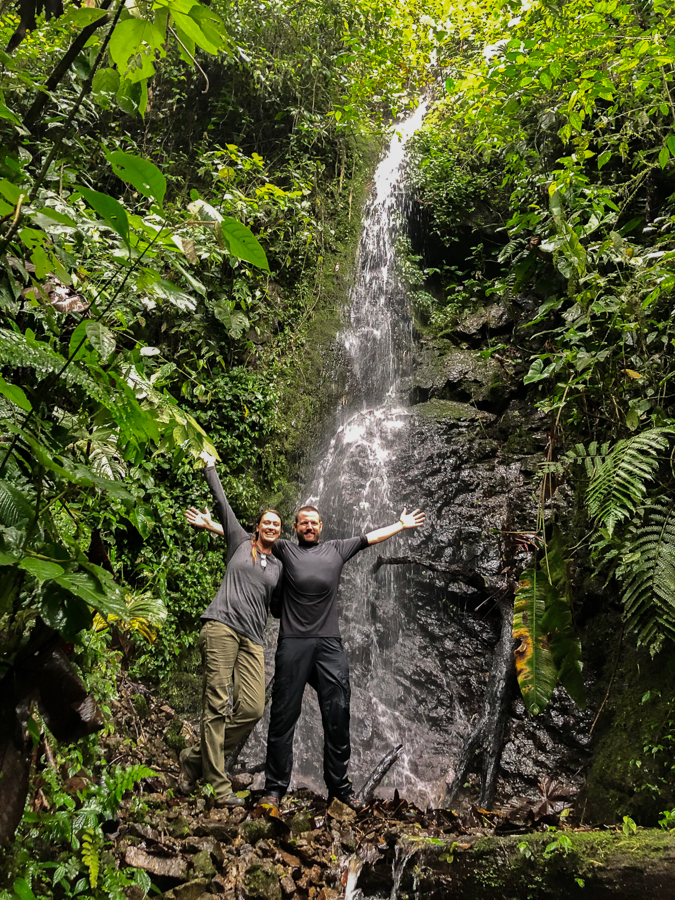 We stayed in an incredible 3 story treehouse which we found on Airbnb. This place was amazing! There was a sitting area on the bottom floor as well as the showers and a hammock, on the second floor was another bathroom and our bedroom, complete with a king sized bed and a couple of chairs for sitting. And on the top floor was a kitchen, living area and a deck looking out through the forest canopy.
We spent our mornings drinking coffee and watching countless birds fly by and eat fruit on nearby trees (there are over 600 species found in Mindo). Our afternoons were spent hiking to waterfalls, taking cable cars above the cloud forest, exploring the small nearby village of Mindo and spotting monkeys and lizards in the trees.
And our evenings were spent sipping wine and listening to the deafening and fascinating sounds of the forest's nocturnal creatures.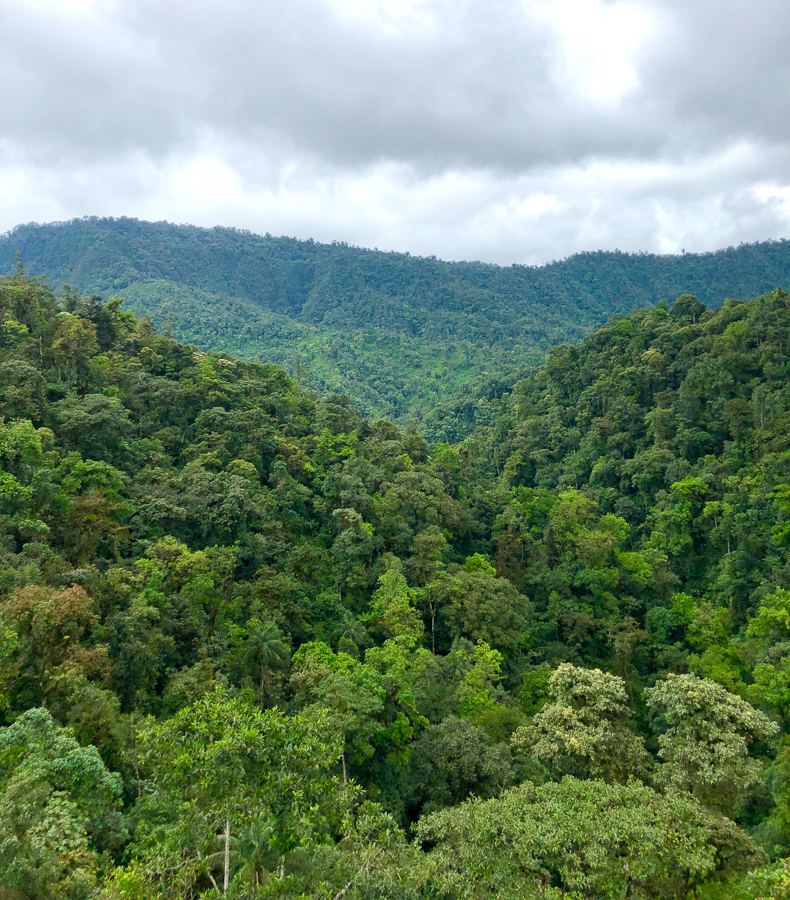 Mindo was one of the most unique and pristine natural areas we've ever seen in our travels and being the first place we visited outside of Quito, we felt like the trip was off to an awesome start. For more on travelling to this beautiful part of Ecuador, check out our complete guide to Mindo.
Otavalo
This small village in northern Ecuador — roughly 2 hours from Quito — was another place we hadn't heard of before planning this trip, but which turned out to be one of the highlights of our two month adventure in South America. While the town itself was interesting enough, with a fantastic weekend market, a few nice churches and a couple of nice open plazas, what made Otavalo for us was the surrounding area.
This is why we were happy that we booked a breathtaking farm cottage about a 20 minute drive from town. The house had floor to ceiling windows on 2 sides, giving us magnificent views over the village below, as well as two lakes and two massive volcanos. The house and view were so astonishing that we honestly had a hard time peeling ourselves away from it to go out and explore.
Thank you Airbnb!
When we did head out, we rarely went into the town of Otavalo itself. Instead we hired a taxi who we met through the owner of our Airbnb. His name was Juan and he became our friend by the end of our four night stay.
Juan took us to lakes, waterfalls and volcanos and we had a great time chatting with him and practicing our Spanish. As his first language is Quechua, he was patient with our Spanish speaking abilities. There are numerous things to see and do in Otavalo, check out our complete guide to the town here.
The Quilotoa Loop
This was definitely another highlight of our time in Ecuador. The Quilotoa Loop is a bit hard to describe, as it's rarely actually completed as an entire loop. When we were researching it online, we couldn't really find any information that fully explained it.
Basically it's a beautiful walk and you can choose your own adventure here. You can pick which town to start in, and where you start on the "loop" will determine how long you walk for to get to the climax of the trek, a lovely lake set in a volcano crater at 3,800 meters known as Laguna Quilotoa.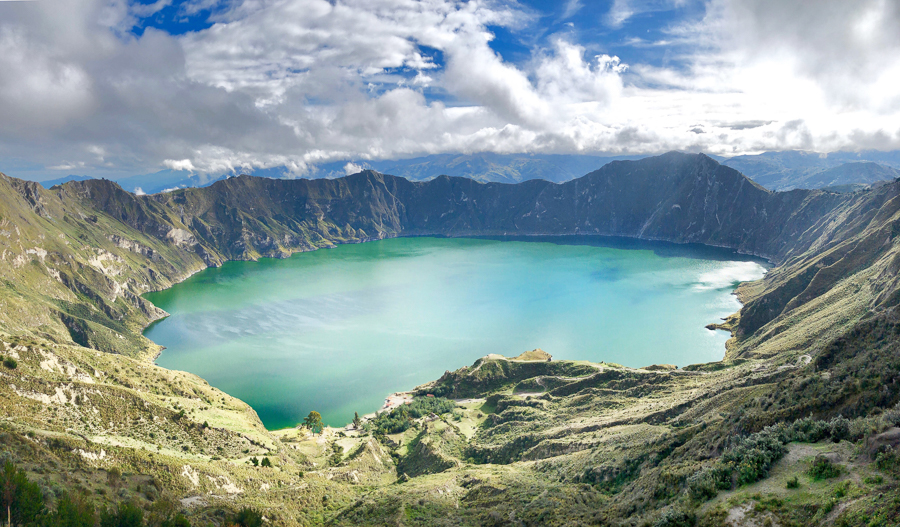 We opted for a 3 day trek which took us from Isinlivi to Chugchilan and then onwards and upwards to the Quilotoa crater lake. We slept in hostels and guesthouses along the way, which is where we ate our dinners and breakfasts and met other trekkers. We purchased pack lunches from each guest house as well which we ate on the trail, picnic-style.
We finished the journey off in the city of Latacunga and the nearby Saquisili live animal and produce market — which was a very authentic weekly market in the mountains.
It had been a while since Dariece and I had done this kind of intense exercise (especially at altitude), so the trek wasn't easy, but we were amazed at the stunning beauty of this part of Ecuador and the friendly local people we met along the way, all dressed in their traditional clothing. This journey was a huge highlight for us.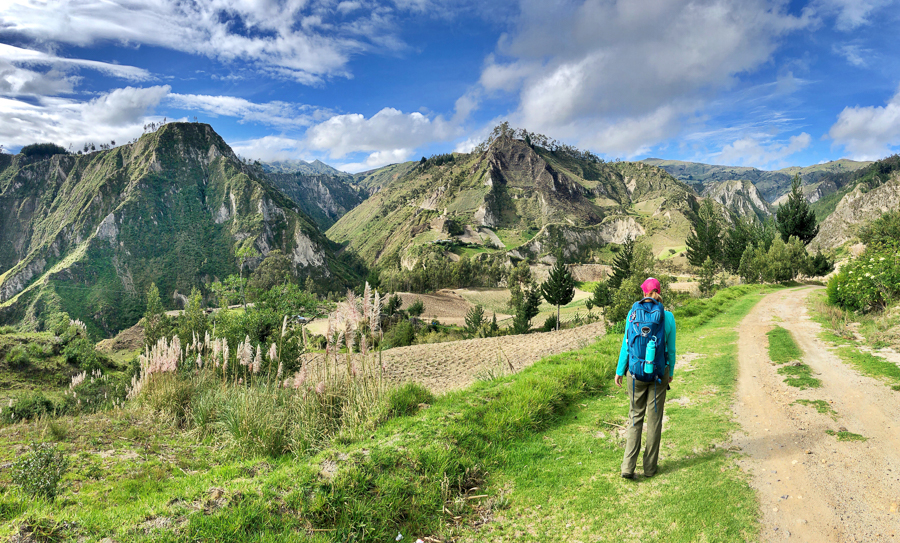 Baños Del Santa Agua
Baños was one of the most over-hyped places we visited while we were in Ecuador. Maybe it was the fact that so many people had told us how great it was, or maybe it was because I fell ill during our seven-night stay here, or maybe seven nights is just too long. Whatever the case, we were slightly underwhelmed by Baños.
Don't get me wrong, we still enjoyed it here.
The 80-meter high Devil's Cauldron waterfall is probably the most impressive falls we've ever seen. The hot springs that cling to a cliff overlooking the town are amazing and the town itself is set in a lovely valley with steep cliffs on either side. There are so many (too many) bars and restaurants to choose from and there's a bustling tourism and backpacker vibe to the town.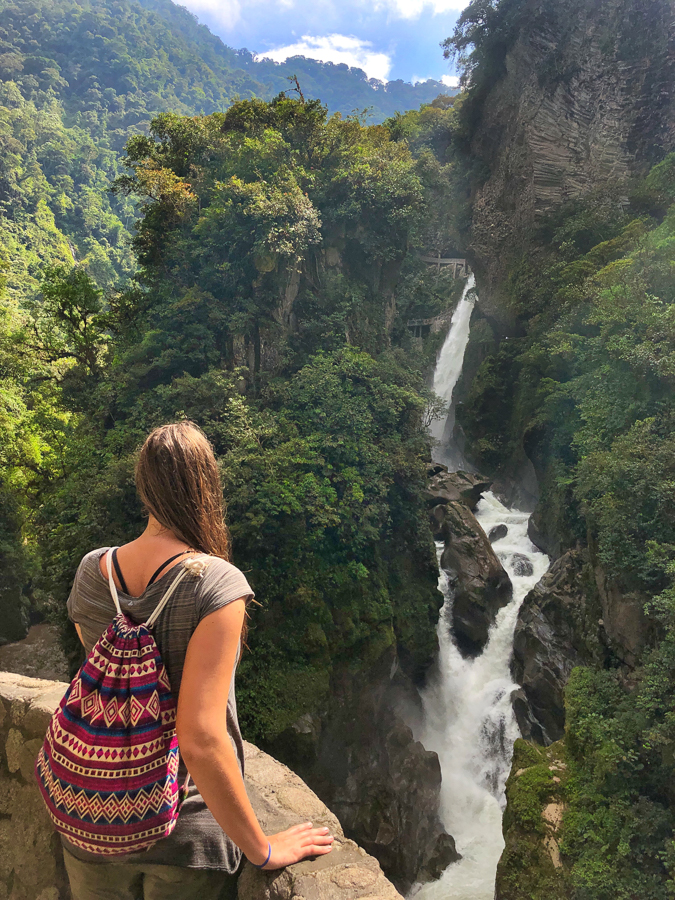 We hadn't really seen another tourist for most of our time in Mindo and Otavalo, and just a couple of trekkers on the Quilotoa Loop, so we were probably just overwhelmed by the number of shops, night clubs, bars and other gringos walking the streets.
Nevertheless, we enjoyed Baños and would definitely recommend it on a trip to Ecuador, but in hindsight, we probably would've spent only 3 nights here and instead added the nights to the northern towns or to Cuenca.
Cuenca
Once in a while, we get to a city where we think to ourselves "we could live here one day". Cuenca was one of those places. It didn't have the choking smog and deafening traffic found in Quito, yet it seemed to have as many quaint cobblestoned streets, ornate churches and impressive architecture in a smaller space.
Split in half by the beautiful Tomebamba River, which has broad pedestrian-only walkways on both of its banks, Cuenca pretty much has it all. You can escape the city by walking along the river or relaxing in one of the many green spaces, or you can get lost in a labyrinth of back lanes and alleyways, all flanked by colorful colonial buildings, stone banister balconies and Bougainvillea.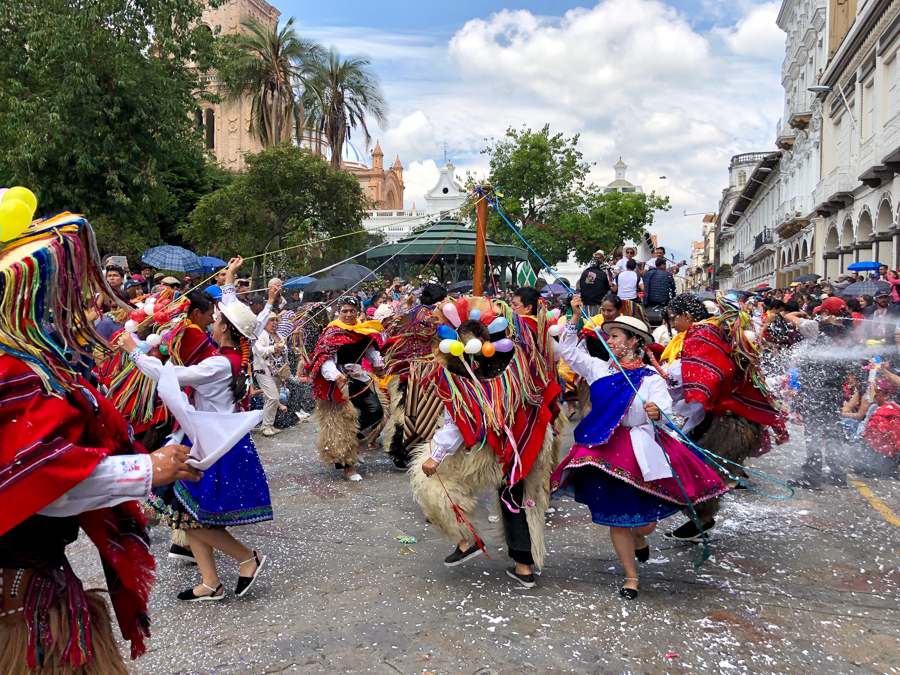 We spent our days walking along the river, tasting regional foods at the many restaurants, people watching, joining free walking tours, taking a cooking class, and celebrating Carnival! There was enough to keep us busy here, for far longer than we stayed.
We spent 5 nights in Cuenca and we could definitely see ourselves returning here one day (especially since we didn't have a chance to hike in El Cajas National Park!). Perhaps for a month or two we could set up shop here, get some work done from an Airbnb and enjoy the quiet, friendly nature of this Unesco-listed city.
Galapagos
Wow. What else can you say when you're explaining a place like Galapagos. The thing is, there is no other place like Galapagos and that's what makes it so special.
For years we've wanted to come here, but we figured it would be too expensive and we thought that we probably had to board a super-pricey cruise in order to properly see it. I'm glad we didn't put it off any longer. We opted to experience the Galapagos independently — the more affordable way, and the way we typically prefer to travel.
We based ourselves on two of the islands (San Cristobal and Santa Cruz) and did some day trips around the islands, as well as some diving to nearby islands.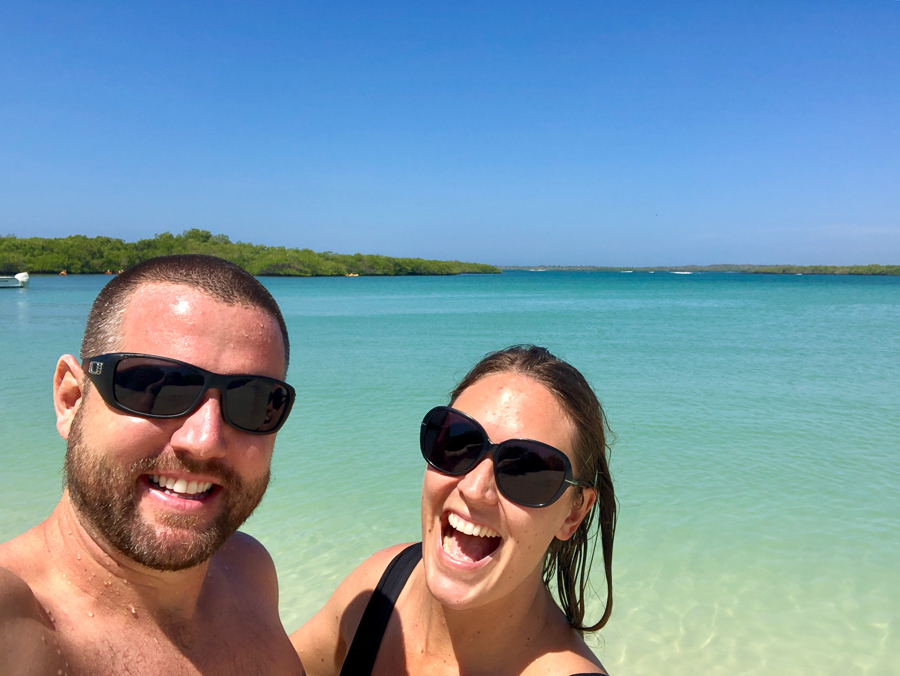 Being in the Galapagos is like heading into a zoo, but instead of the animals being in cages and aquariums, they're wild and free. There are animals everywhere and they're so unafraid of humans that they often walked right up to us. There are rules on the islands that state you must keep a 2 meter distance from the wildlife, so we often found ourselves moving out-of-the-way of the animals.
If our towels were on the beach when a sea-lion decided that we were in the most direct path to the water, we'd have to get up and scurry away so it could trudge by. If we were walking on a pathway along the water and a marine iguana decided he'd had enough sun for the day, we'd have to stop in our tracks and let him pass to jump in the sea. It was hilarious.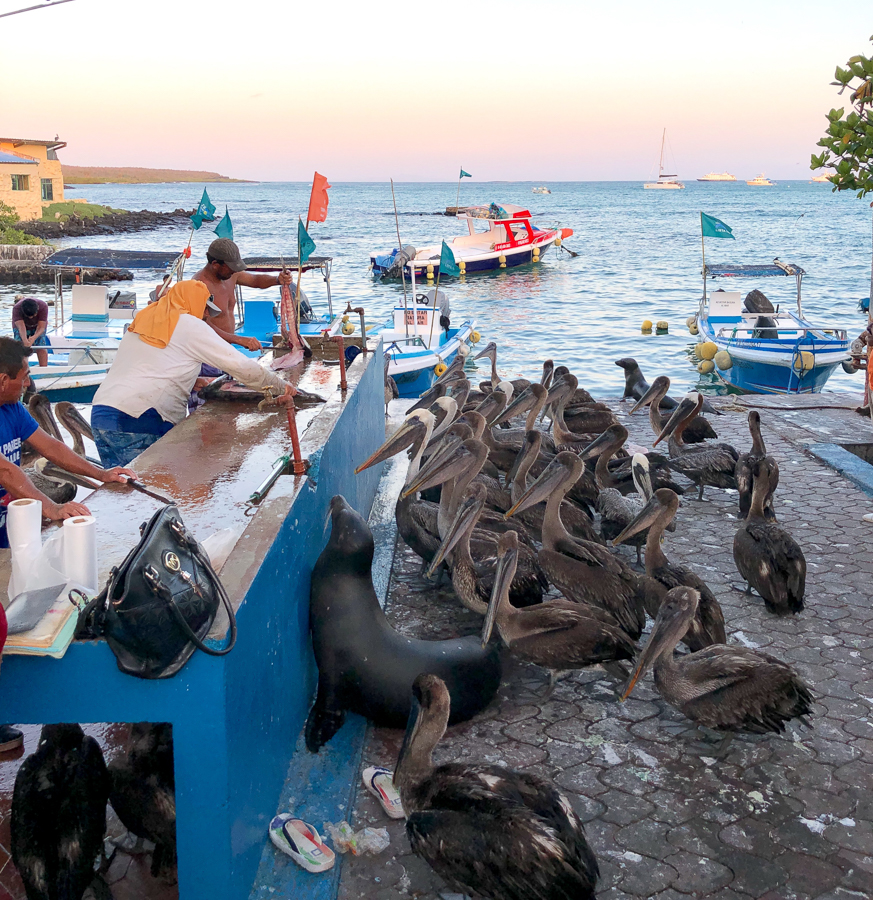 We rented snorkel gear for $5 each and jumped into the sea — from the land, not by boat — and immediately were surrounded by gigantic turtles, swimming marine iguanas, huge schools of fish and a sea lion. Incredible.
I also did a couple of dives on each of the islands and they were unforgettable.
While the visibility wasn't great on Kicker Rock just off of San Cristobal, my dives at Gordon Rock near Santa Cruz were some of my best ever. At one point we were at around 18 meters depth when the divemaster motioned us to stop swimming. Instead, we clung on to the jagged rocks off the western part of the seamount.
As the currents pulled us to and fro, we gazed out at the deep blue to see massive schools of hammerheads, Galapagos sharks, reef sharks, turtles, manta rays, eagle rays and even a 10 foot Mola-Mola swim past. There was almost too much large pelagic to see all in one frame of vision and at one point, I think my mouth was so wide in astonishment that my regulator almost fell out of my mouth.
Yes, Galapagos over-delivered on all of the promises and hype that we had heard before visiting. Learn how to make the most of your trip to the Galapagos Islands here.
Peru
Just as the bucket-list, travel-temptation of Galapagos brought us to Ecuador, so too did Machu Picchu lure us to Peru. This is a country that we've wanted to visit for years, but for some reason we hadn't yet gotten around to it.
2019 was the year we finally made it to the land of the Incas, and we are so happy that we decided to finally visit Peru and conquer Machu Picchu. We were equally happy to learn that this country has so much more to offer than the postcard (and Instagram) cliché of these Inca ruins.
Cusco
The jumping-off point for Machu Picchu and one of the best-preserved Inca / Spanish Colonial cities in Latin America, Cusco could have never disappointed us. Set nearly 3,400 meters in elevation, high in the Andes, Cusco is blessed with Baroque and Gothic churches that are built atop the remains of perfectly placed Inca stones.
There are sprawling plazas, charming narrow alleyways, amazing restaurants, fun bars and dozens of trekking and outdoor shops that add to the adventurous buzz around town. Everyone is here to go trekking and to explore the plethora of Inca Ruins scattered around the Sacred Valley and to bear witness to the king of all ruins, Machu Picchu.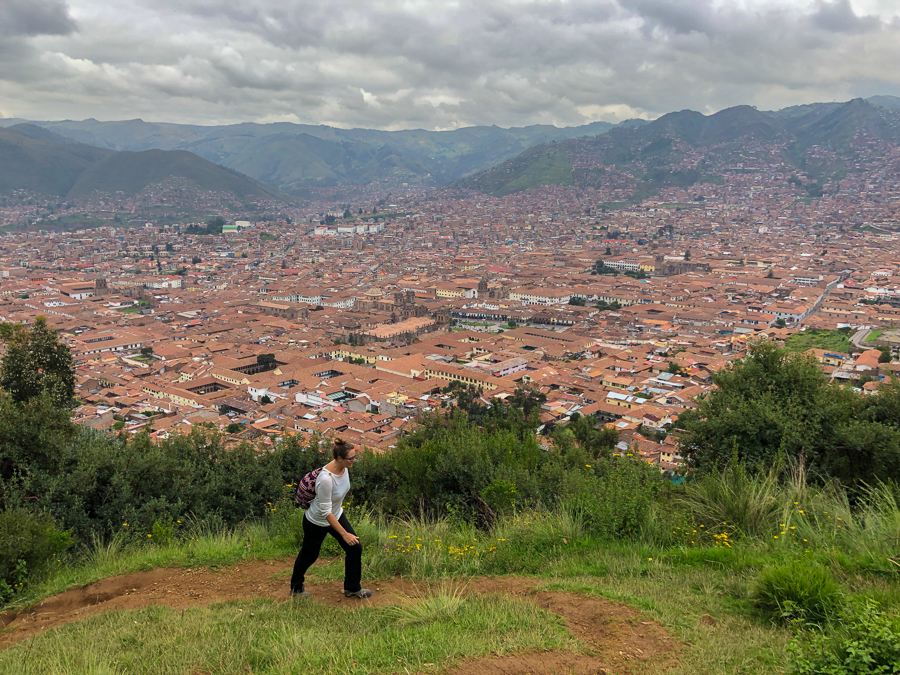 In total, we spent more than 10 nights in Cusco and we don't regret giving it this much time. We did day trips out to the Sacred Valley where we saw ancient ruins, working salt mines and Inca Agricultural amphitheaters.
We got lost in the maze of the old town where we enjoyed world-class coffee, sampled local Andean cuisine, and dodged touts in the main plaza. We joined a free walking tour, a food tour and we hiked from town to the nearby ruins of Saqsaywaman.
Cusco was another one of those places that we felt like we could've put down some temporary roots and live the digital nomad lifestyle for a while. Even though the main plaza and the town center are quite busy with lots of tourists and people trying to sell their wares and services, we found the quiet back streets of San Blas to be relaxing and peaceful and the perfect place to get away from it all.
The Inca Trail & Machu Picchu
This was something that took us a lot of planning. Anyone who has booked an Inca Trail Tour (regulations now state that you must go with a tour), knows that there are literally hundreds of companies that take travellers on this route and they are not all equal in itinerary, service and gear quality.
After much research, we ended up going with Explorandes and we're so happy we did. This is the first official company that ever took tourists on the Inca Trail and they remain today as one of the best-reviewed and most trusted companies on the trail (we're not sponsored by them or any other company on this trip).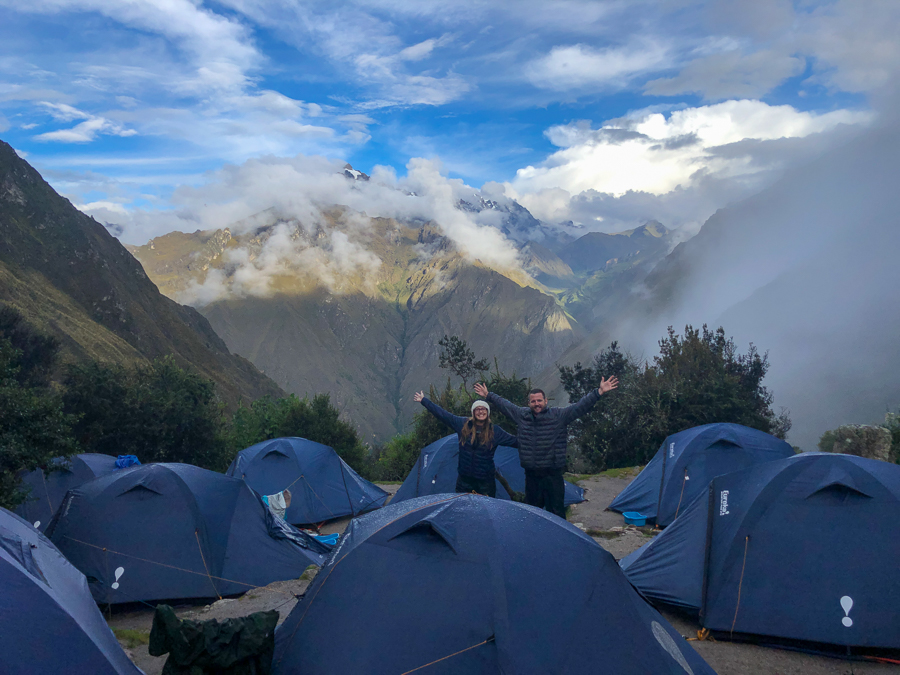 Because this company is a bit more expensive and offer a more upscale experience, we were worried that perhaps many of our fellow-hikers in our group would be out of our age bracket, and our interests wouldn't align. This, of course, wouldn't have been a deal-breaker, but it's nice to have a group of people around the same age when you're going to be hiking a super-difficult trek for 5 days together.
We met up with our group in Cusco two nights before the trek officially started and we were amazed that somehow everyone was pretty much the same age as us… in fact, Dariece was the eldest woman in the group. We're old goats now!
We got along really well with our group and our guides (Harry and Gonzalo) were awesome. They were professional and safety-oriented, but fun and friendly as well. For the 12 of us hikers, there were 20 porters including a chef (complete with a chef hat and outfit), a sous-chef, 2 waiters, a clean-up crew and a toilet man (yes, they carried sit down toilets for us!).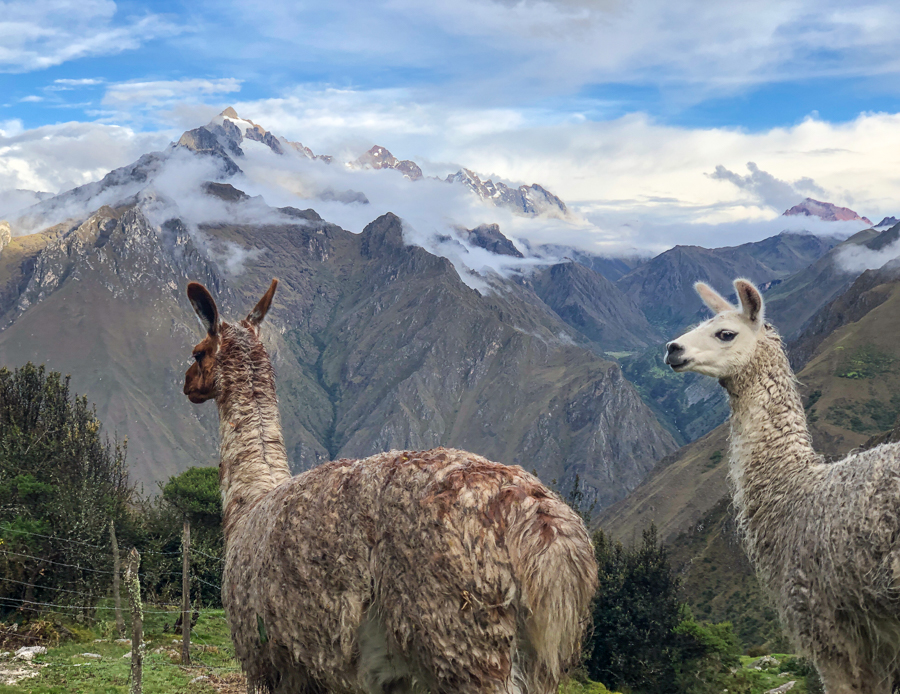 The crew cooked us 3 meals per day and I have to say the food was amazing. Every morning we were woken up in our tents (at around 5:00am) with hot cocoa, warm water and a towel to wash up with.
This is my kind of trekking!
Dariece and I are used to carrying all of our own gear (including food) and having to cook for ourselves. This time, when we arrived at camp exhausted, our tents were set up and waiting for us, and so was a nice meal.
Usually, after a 5-day trek we'd smell horrible and our shoulders would feel like they're going to fall off of our bodies. Not this time! All we carried was our drinking water and we were treated like royalty for the entire trek.
I really can't recommend Explorandes enough. To read our in-depth post about the Machu Picchu hike, including why we chose Explorandes, what the itinerary is like, our top tips, answers to your FAQ's, and more, check out our post: Machu Picchu Hike – An Expert's Guide to The Inca Trail.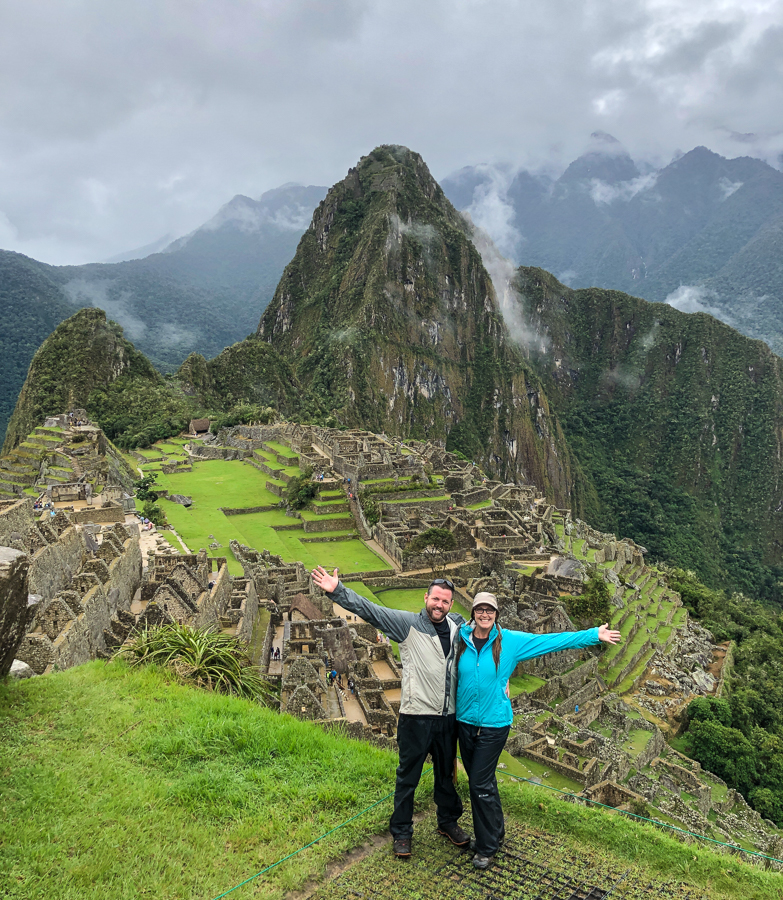 Lima
When we were first planning this trip, we had decided to skip Lima. But as our trip came to a close and we started researching flights, we realized that most flights from Cusco back to Miami (where we needed to catch another flight back home to Grenada) have long layovers in Lima anyways.
So we thought, instead of hanging out in the airport for 5 hours, let's spend a couple of nights and explore the fun things to do in Lima.
Lima turned out to be one of the most pleasant surprises on this trip. I really thought it was going to be a dirty, dangerous, chaotic capital with no charm. Everything I had read prior to arriving had confirmed this in my head and to top it all off, pretty much every Peruvian we met told us to "be careful" if we ever visit the capital.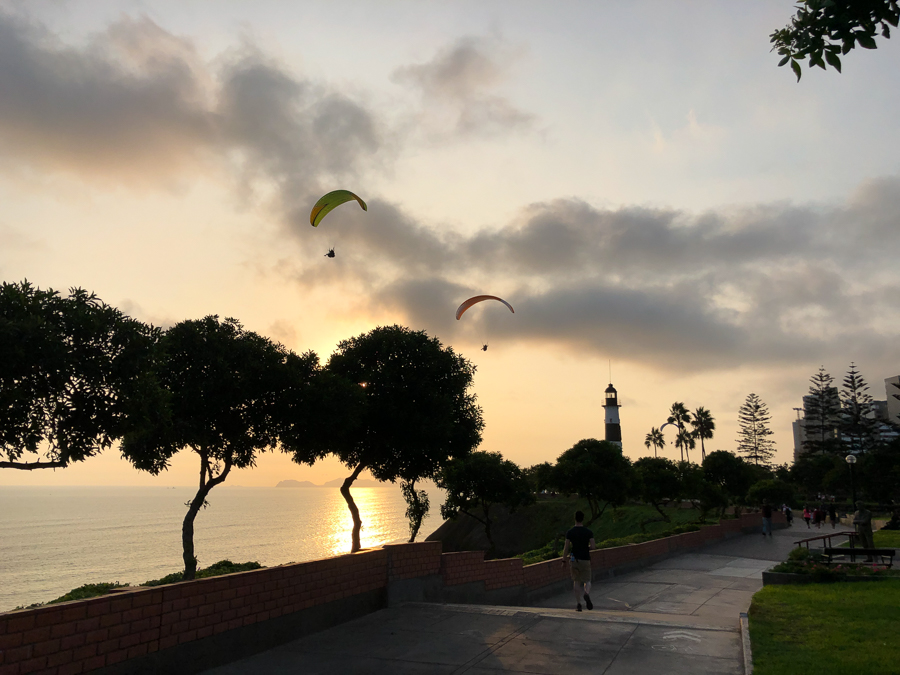 While there are still areas of Lima that are very dangerous, they're mostly in neighbourhoods where tourists don't need to go. We spent our time in Miraflores and Barranco and we were blown away by how charming those areas were. Outside of those areas (especially during rush hour), it was pretty evident that we were in a city of 10 million+ people.
There's a long, beautiful malecon which hugs the coast for nearly 10 kilometers. The Miraflores portion of the pedestrian walkway is perched high above the sea on a cliff, with the highway below. Broken up by cafes, parks, plazas and an excellent open-air mall, the tree-filled promenade is the perfect place for a late afternoon stroll or a relaxing picnic.
We ended up doing a free walking tour in Barranco and from the minute we got off the bus to start the tour, we couldn't believe that we were still in a city of 10 million. The streets were quiet, the traffic was nearly non-existent and the air was fresh. Somehow this bohemian enclave has retained a small-town feel, despite its placement in the fifth-largest city in the continent.
It turned out that Lima was a great end to our South American adventures. We had a quick 4 day stop in Miami for some much-needed shopping (there's not much in the stores in Grenada), before returning home to our Caribbean paradise.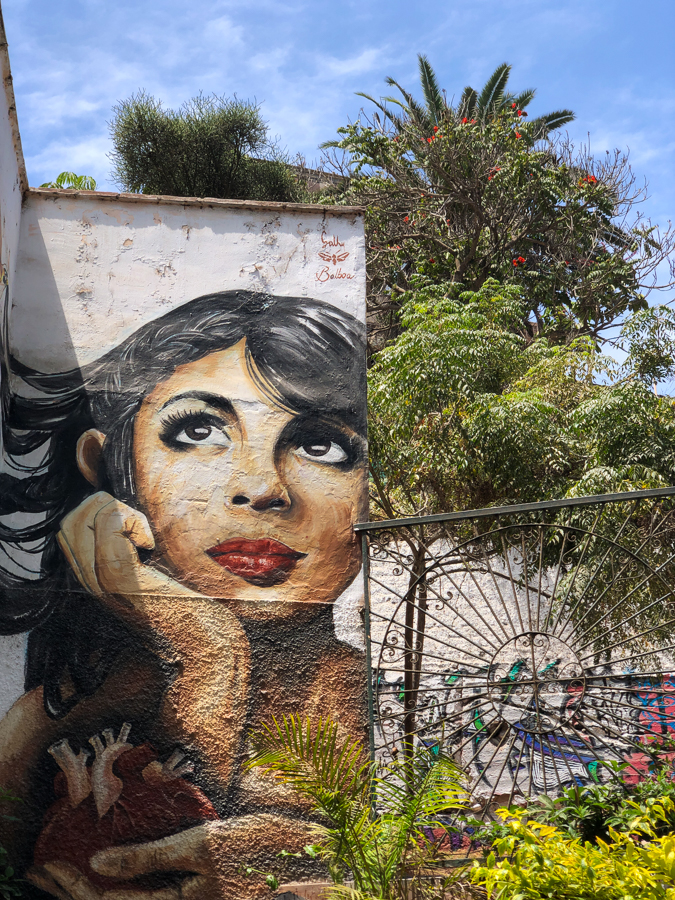 Looking Back…
For some reason this trip just felt different to us.
Perhaps it was partially to do with the fact that we weren't working with any hotels or tourism boards during the trip, or maybe it was because we booked some of our most luxurious and unique accommodation using Airbnb. But I think the main difference is that this was truly a "trip".
We were returning "home" after these travels for the first time in over 10 years, and it felt great.
As our trip was coming to an end, we started to feel a pull to get back to Grenada. Grenada is the first place we've called home since we first left Canada in 2008, and it felt great to have somewhere to miss while we were away.
It was also nice to be able to leave most of our belongings and only travel with what we needed for this particular trip. Normally if we were on an adventure, we'd be lugging around 10 pounds of trekking gear even if we decided to move on to a beach destination.
This trip re-energized us, made us feel like travellers again and gave us even more appreciation for what South America has to offer. While we were away, we spent no more than 1 hour per week on our computers checking emails and getting caught up on social media, and the rest of our time was spent exploring.
Despite hardly being online, our blog traffic and income continued on its upward trend, making it easier to enjoy the road rather than worrying about the business.
All in all, this was one of the best trips we've ever done and we absolutely loved our time in Ecuador and Peru. The people were friendly and welcoming, we felt safe, we found great value for money, and we ticked off a couple of bucket-list items in Machu Picchu and The Galapagos Islands. Thank-you South America for continuing to astonish us every time we visit! We can't wait to go back.
Where should we go next time? We already know we want to explore more of South America, but don't know where yet. We've now been to Colombia, Argentina, Uruguay, Chile, Ecuador and Peru. What's your favourite place in South America and why?
Like This Article? Pin it!