During our recent 9 week trip to Ecuador and Peru, we finally ticked a major item off of our bucket list, Galapagos Islands travel! We've wanted to visit these islands for years and finally, we had the opportunity to do it. I have to say that this place was well worth the wait.
Never before have we seen such awe-inspiring biodiversity. On San Cristobal island, you can barely walk a few meters without tripping over a sea lion. At dive sites like Kicker Rock and Gordon Rock, hammerhead sharks, turtles and manta rays flock like birds around massive rock pinnacles.
Throughout the archipelago, tourists seem to be little more than an annoyance to the animals, like paparazzi that get in the way of their day-to-day lives — but basically, the wildlife just seems curious and doesn't care too much about travellers.
On the islands, you can explore lakes, lava tunnels, secluded beaches, tortoise sanctuaries, sinkholes and more — all independently. If you're planning a trip to the Galapagos Islands, one thing is for sure… you won't be disappointed!
In this article, I'm going to share with you all of our best tips for Galapagos Islands travel so that you can visit these pristine oceanic enclaves independently, without breaking the bank.
Galapagos Islands Travel Information
To help you make the most of your trip to the Galapagos, it's important that you understand a few things about this part of the world. There is so much information online about Galapagos Islands travel that it can feel overwhelming to do any productive research.

Don't worry, we're going to clear things up for you.
Where Are The Galapagos Islands?
The Galapagos Islands are situated roughly 900 km (560 mi) off the Pacific coast of Ecuador. The volcanic archipelago straddles the equator and spreads out over an area of more than 45,000 km² (17,000 mi²). Most visitors arrive via a 2-hour direct flight from Quito or Guayaquil, or as part of a cruise from other parts of the Pacific.
Galapagos Islands Travel Requirements
Before visiting the Galapagos Islands, you'll need to pay a $100 park entrance fee as well as a $20 immigration control card fee. Both of these must be paid for in USD cash only to INGALA at either Guayaquil or Quito airport before boarding the flight to the Galapagos.

There is a booth set up to pay for these and have your bag searched for contraband (there are strict rules on what can be brought into the national park), you can't miss it. Just look for a massive line-up of travellers and make sure you arrive at the airport early to ensure you have time to navigate the queue.
Marine Protected Area Regulations
The Galapagos Islands have been protected by the Galapagos Marine Reserve since 1998, which is a large part of the reason there is still such biodiversity here. Populations of many species are still in decline and tourism is having a massive impact on the fragile ecosystems here, so it's important to adhere to the rules of the park.
Park Rules:
You are only permitted to visit protected areas when accompanied by a GNPD Authorized Naturalist Guide
Stay on the Trails
Stay at least 6 feet (2m) away from the wildlife at all times (try your best, even if they approach you).
Never feed the wildlife
Don't introduce any new food, animals, plants or seeds to the Galapagos Islands. You will be searched for these at the airport before boarding your flight to the islands.
Don't use a flash when photographing wildlife
Camping is limited to a few authorized areas and must be approved by the GNPD at least 2 days in advance.
Don't take anything out of the environment including shells, sand, leaves, flowers etc.
No campfires
Fishing only permitted from GNPD licensed fishing vessels
No motorized aquatic sports or aerial tourism in the Marine Reserve or National Park
Leave no trace. Take out with you what you bring in and avoid purchasing single-use plastics including bottles and bags.
Each of these rules are in place for a reason and they help to keep the Galapagos the paradise that it is.
Independent Galapagos Islands Travel
The best way to see the more remote areas in the archipelago and to see the more undisturbed wildlife is to join a multi-day cruise around the Islands, but these cruises are expensive – often costing upwards of $500 per night per person – so many travellers opt to visit the islands independently instead.
Independent Travel Budget
We visited the islands independently and we were surprised at how affordable it was. We flew from Guayaquil to San Cristobal Island, and then from Santa Cruz to Quito. It's around $220 – $400 return from Quito, and $200 – $400 return from Guayaquil.
We opted for a bit more expensive accommodation on Airbnb, but we calculated that a couple could easily enjoy Galapagos Islands travel on as little as $100 / day.
Some Airbnbs and hostel private rooms are just $50 / night, while dorms are around $20 per bed, and there are plenty of cheap local restaurants to eat at.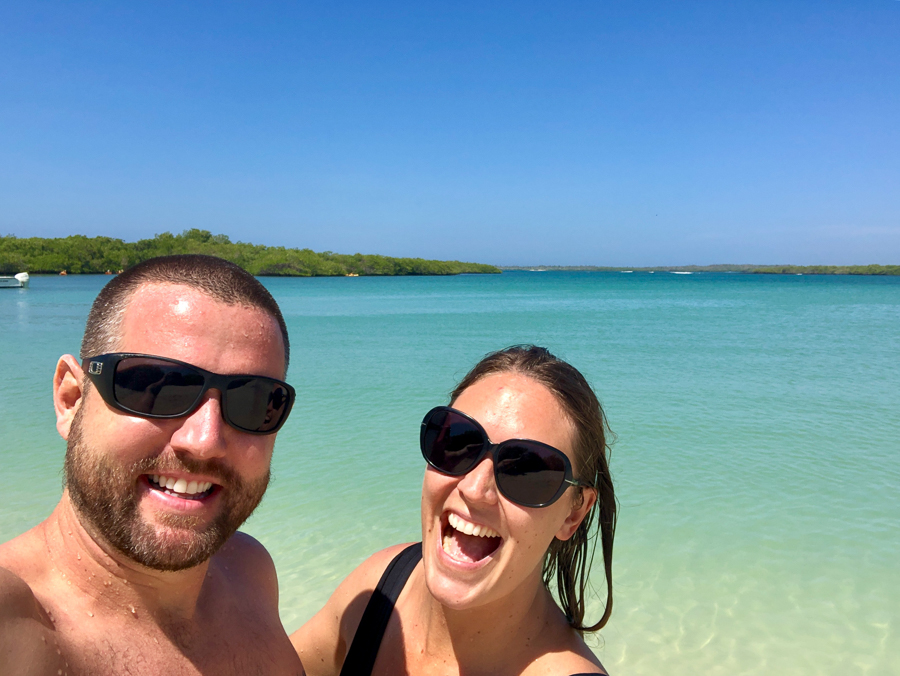 If you want to save money here, make sure to venture back off the main roads in San Cristobal and Santa Cruz. Find nice local spots like Lucky Restaurant and Iguana Point where you can pick up an almuerzo (set lunch), or set dinner for under $5 USD including soup, main course, and a drink.
The big expenses will be on tours. A day of diving will likely cost at least $220, while a taxi to take you inland on the island for 4-5 hours usually costs around $40 – $75 depending on where you go and how long you have the driver for.
There are plenty of restaurants, bars and small supermarkets on Santa Cruz, Isabela, and San Cristobal, making it quite easy to travel here independently.

Ferries between the islands cost around $50 and tickets can easily be purchased a day or two in advance from one of the tour operators on the main roads in town. We paid $25 each for a ferry ticket from San Cristobal to Santa Cruz aboard the Osprey.
*Note, we had calm seas, but this depends on which time of year you visit the Galapagos Islands.
Where To Stay in The Galapagos Islands
We opted to stay in hostels during our time in Galapagos and it was perfect. We booked this lovely little hostel in San Cristobal for $60 / night. You could also step it up a notch a bit in Santa Cruz by staying in this beautiful hotel for $200 / night.
Both of these places were perfect for us and we highly recommend them, however, there are plenty of other hotels, hostels, and apartments available on Airbnb and other accommodation booking sites like Booking.com.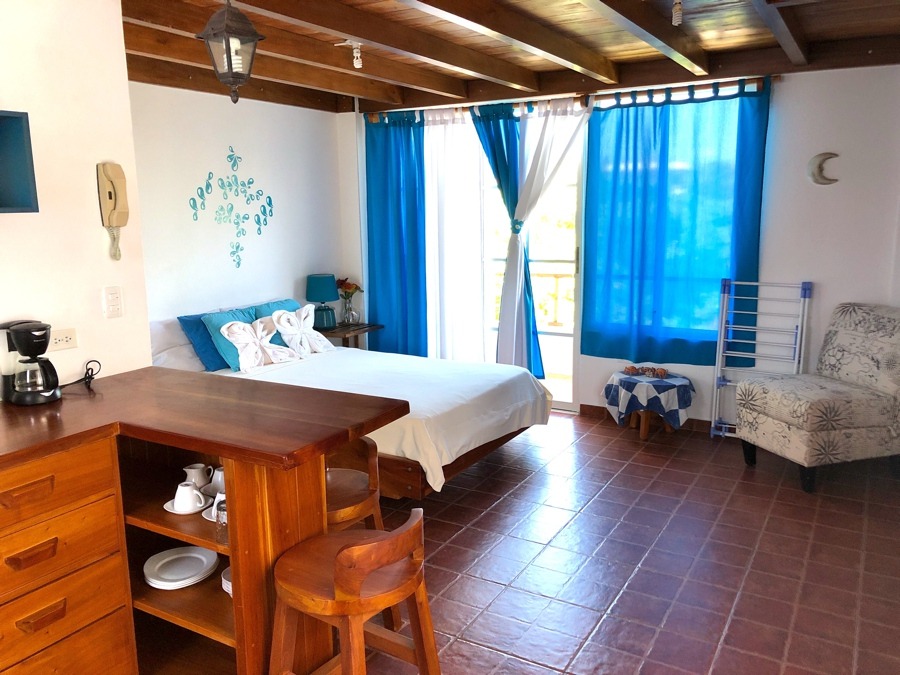 If you're planning on booking with Airbnb, be sure to use our Airbnb Coupon to save up to $55 off your first booking.
Where To Eat in The Galapagos Islands
If you're planning Galapagos Islands travel independently, then I'll assume that you're going to do what most people do and visit the three main islands, San Cristobal, Santa Cruz and Isla Isabela.
Here are our favourite and most recommended places to eat in each. We didn't end up visiting Isla Isabela, so we're instead listing those that were recommended to us and come highly rated online.
San Cristobal
The Seafood Stands at Playa De Oro Beach: People say that the middle shack here serves up the best food and you can tell because it's always the busiest. Be careful though, the owner here can be very rude and tries to give tourists a 2x upsell on the cost of food. Ask for the almuerzo set lunch and agree on a price before ordering.
Midori Sushi: We ate at this little sushi bar that looks over the harbour and was amazed at how delicious it was. It's definitely a more Americanized version of sushi, but it still satisfied my cravings. If you're lucky enough to come here on the first Thursday of the month you can get all-you-can-eat sushi for just $30! Dariece's meal was cheap at around $5 for a chicken breast and salad.
Restaurant Lucky: This was our favourite place to eat affordable local food on San Cristobal. Come here for set lunch or set dinner and get soup and a main course with a drink for $3 (lunch) or $4 (dinner).
Guiseppes: This place serves up the best pizza in the Galapagos and it's actually surprisingly affordable when compared to other restaurants on the Malecon. The pizza here is massive and a large ($15 for a pepperoni) can definitely be shared by two people.
Muyu: An upscale restaurant / lounge with stunning outdoor seating and bar area — overlooking the sea lions, a pier and some boats. the food here is locally sourced, however, we only stopped here for sundowner drinks.
Fresco Cafe: A good option for breakfast and for vegetarian meals. There are hammocks for chilling in, good music and affordable food. The avocado on toast with a poached egg is tasty and around $4.
Nativo: Another excellent place to watch the sun go down…with a side of playful sea lions! This is a great spot for happy hour drinks, but they also serve up seafood, salads, pasta, hamburgers and more.
Santa Cruz
Kioskos: This hectic night food market on the street is a great place to sample the local seafood. The fish is out on display so make sure you check the one you'll be served to make sure it is still clear-eyed and fresh.
There's not much point separating these kiosks into different restaurants as they all serve up pretty much the same thing, but we personally enjoyed the Italian stand that's on the left when you first walk in from town. Click here for directions.
Coffee Lab 1835: This won't be the cheapest coffee you've ever had, but it may just be the most delicious. This funky little stop-and-go coffee shop serves up great lattes (locally sourced beans), cold brew, baked snacks and more. Click here for directions.
Almar: This restaurant is #1 on Trip Advisor (at the time of our trip and at the time of writing) and for good reason. It's set on a dock overlooking the bay and despite its incredible location, the food and drinks here are surprisingly affordable. We found that the prices here were comparable to some places on the back roads in Puerto Ayora, so we often opted to spend the same amount of money and have better food and a better view at Almar. Click here for directions.
Kale: This was the best locally owned and operated restaurant we found on Santa Cruz. The almuerzo lunches here are $5 and are huge. There are also empanadas for sale and a BBQ night. Click here for directions.
Il Giardino: This multi-level bar and restaurant was the hot-spot during our Galapagos island travels. It was always packed with tourists — foreign and local. Prices are good, and so is the food. Click here to find it on the map.
Isla Isabela
Booby Trap: This place is number one on Trip Advisor and has a mix of local cuisine, seafood, American classics and some vegetarian options.
Shwarma Hot: A popular place with cheap Middle Eastern food like shwarmas and some fish dishes as well as a decent almuerzo (set lunch) option.

Iguana Point Bar: Probably the best almuerzo option on the island, this is a great little place with nice views and comes highly recommended by other travellers.
Galapagos Islands Travel: Things To Do
Each island is very different and has many things to do. Most people base themselves in the main town on each island: Puerto Baquerizo Moreno in San Cristobal, Puerto Ayora in Santa Cruz and Puerto Villamil in Isabela. From those towns, you can organize pretty much any excursion or day trip as well as ferries between the islands.
Take A Multi-Day Cruise
Many people organize multi-day Galapagos cruises before they even arrive on the islands, but there are also some last-minute deals to be had. When you're walking around the main towns on each island, you'll see signs posted for these discounts, often offering up to 35% off.
A multi-day cruise is the only way to see the more remote areas and endemic species of the Galapagos. You likely won't see Galapagos Penguins unless you hop on a 2 or 3-day cruise, so many travellers to the Galapagos Islands travel the archipelago this way.
The cost of these cruises range from $200 per night per person, all the way up to $500 per night per person and the services and quality of boats vary greatly between companies.
As we opted for independent Galapagos islands travel, we don't have direct experience with any of these companies, but good friends of ours went with Ecoventura and were happy with their experience.
Hire a Taxi To Drive Around The Island
You can hire taxi trucks from the main town on each of the islands. This is the best way to get into the interior and see the islands. We did this on both San Cristobal and Santa Cruz. Our itineraries were as follows:
San Cristobal: From Puerto Baquerizo Moreno we hired a taxi driver for 4 hours and the cost was $65 USD. He took us to Laguna El Junco, a crater lake and the highest place on the island. Then we went to the San Cristobal Galapaguera where we spotted tortoises roaming around freely. There was also a breeding center where they had some eggs and baby tortoises on display. The trip ended with beautiful Puerto Chino beach where we swam, spotted some blue-footed boobies and enjoyed the sun.
Santa Cruz: We booked the taxi driver here through our Airbnb and the cost was $40 for around 3 hours. He took us to Los Gemelos (The Twins) which are a pair of collapsed volcano craters. After walking around the designated paths by the craters, we hopped back in the truck and went to Chato Reserve where we walked through some beautiful lava tunnel caves and also explored the farm to find more wild giant tortoises.
While on Santa Cruz, another great day trip is to take the wooden walking path over the headland to Tortuga Bay. One side of the peninsula is a stunning white sand beach, while on the other side the water is calmer and is set amongst the mangroves, which means there's plenty of shade.
While we were here we spotted aquatic lizards, large schools of fish and even sharks swimming amongst the unwitting tourists in the shallow waters. The walk here can be quite hot and there isn't anything for sale, so make sure you have ample amounts of water, sunscreen, some food, a hat and an umbrella for the hot walk (if you want).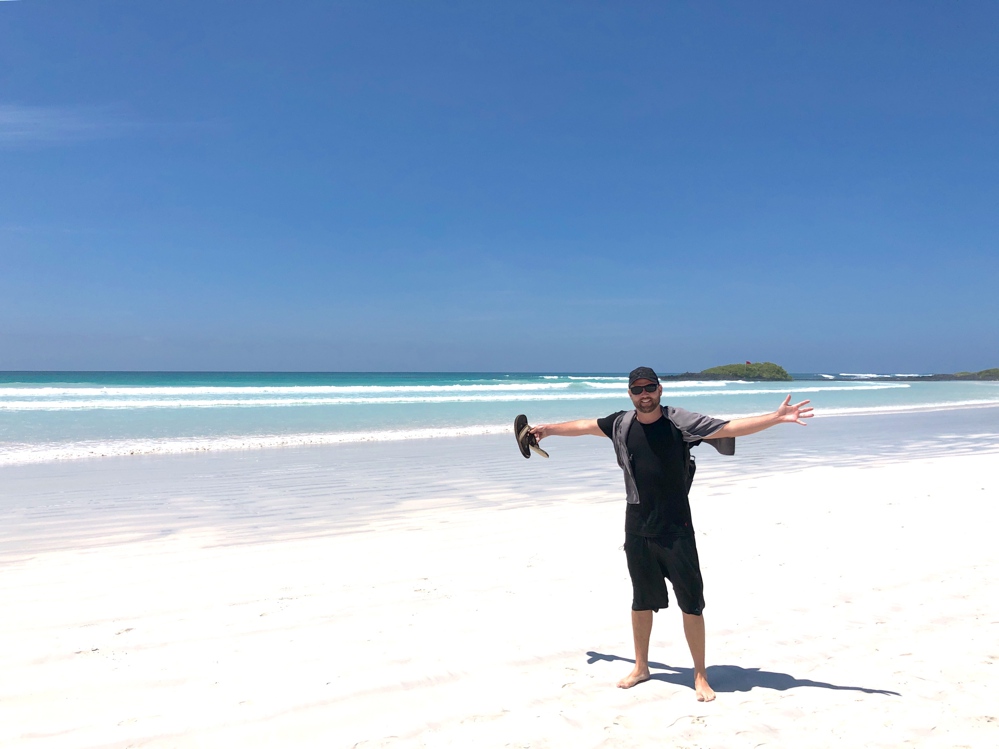 Isla Isabela: One of the most popular tours from Isla Isabela is the Las Tintoreras Tour where you head out snorkelling with turtles and other marine life for the day. You can easily book this in town. Another popular tour on Isabela is a visit to The Wall of Tears (or El Muro in Spanish). This is one of the most important historic sites in the Galapagos Islands. The best way to get here is to hire a bike from town and take the 1-hour ride each way. There are also some taxis that will take you, but it's best to get a truck rather than a car as the roads are quite bumpy.
Diving in The Galapagos Islands
If you've come all the way to the Galapagos Islands with a Diving Certificate in your pocket, then you're in for a treat. Never have I seen such a wide variety of large pelagic on a dive in my life. The best dive sites on each island are well-documented. Make sure to book your dives well in advance.
My recommendations are:
Kicker Rock on San Cristobal: This is without a doubt the most sought after dive site reached from San Cristobal Island. Kicker Rock is a massive granite pinnacle in the middle of the equatorial Pacific Ocean. Hammerheads, Galapagos Sharks, Manta Rays, Turtles and all sorts of other large marine creatures frequently swarm around the enormous rock outcropping. Kicker Rock looks almost as impressive above water as it does below. Strong currents and low visibility mean that this dive site is for advanced divers only.
I recommend Wreck Bay Dive Center. They were professional, the dive equipment was in good condition, and I had a great experience with them.
Gordon Rock on Santa Cruz: This was my favourite dive site that I did in the Galapagos, mostly because the visibility was so good and we were able to spot dozens of hammerhead sharks swimming all around us. Gordon Rock is another oceanic seamount and although it's not as beautiful above as Kicker, below the surface it is far more impressive. This dive was difficult, with surging currents and spots of very cold water, but it was probably one of the best dives I've ever done in my life.
I recommend Eagleray Tours. They were professional, the boat was great and the dive equipment was in good condition.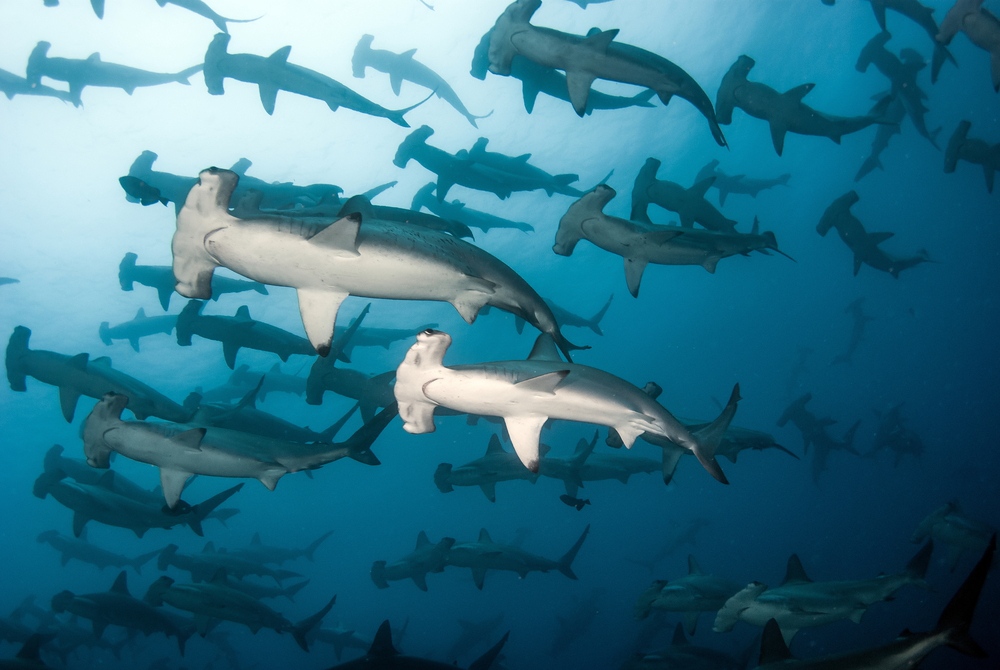 Cape Marshall on Isabela: Scuba divers flock from all over the world to come and experience this dramatic sub-oceanic geological formation. Cape Marshall is a vertical wall of porous volcanic rock that plunges 40 meters into the deep blue Pacific. Here you can spot sunfish, mobula rays, marble rays, huge schools of fish and – because it's the Galapagos – hammerhead sharks.
Snorkelling in The Galapagos Islands
While you can easily organize snorkel tours from any of the main towns on the islands, you really don't have to. Simply rent snorkel equipment ($5 / day) from your Airbnb, hotel or hostel and head out to nearby beaches on your own.

The best snorkelling is on San Cristobal. Don't miss the snorkelling at Playa Punta Corola where you can spot aquatic lizards and loads of turtles, as well as Playa Mann, right off of the main town of Puerto Baquerizo Moreno where you can swim with sealions. $5 well spent!
Galapagos Islands Travel Conclusion
The Galapagos Islands were without a doubt one of our favourite travel destinations of all time. While we opted to do them independently this time, we both said that next time we would probably mix it up a bit and spend a couple of nights on a cruise, with the rest of the time on the main islands of San Cristobal, Santa Cruz and Isla Isabela.
While we did find the islands about 50% more expensive than mainland Ecuador, we didn't find them to be prohibitively expensive. We splurged on quite a few meals and on decent accommodation, but there are ways for the budget traveller to reach this part of Ecuador without breaking the bank.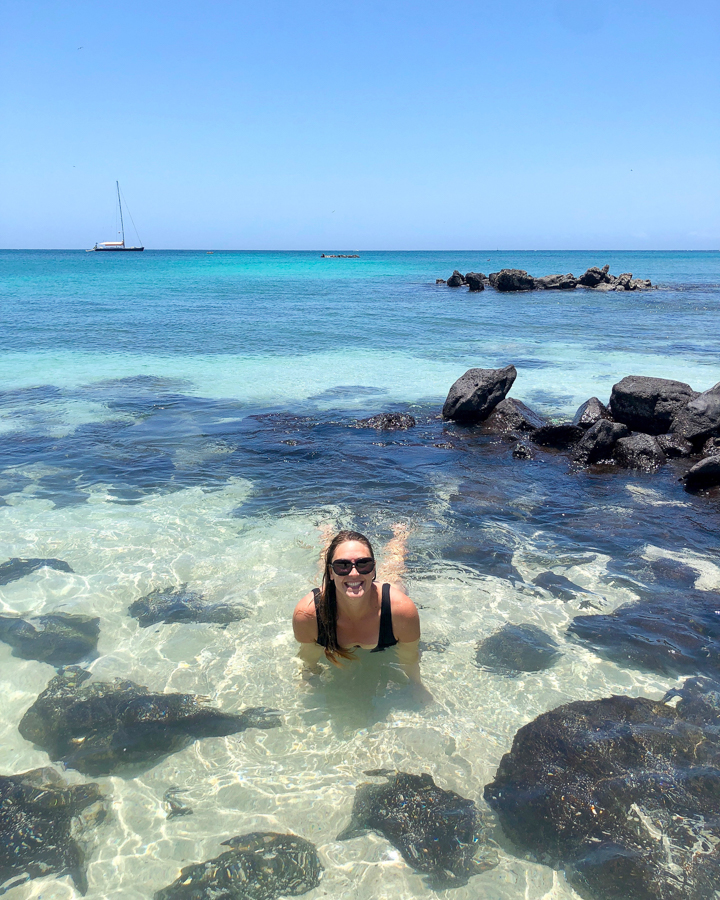 If you're in Ecuador, I think it's worth every penny to treat yourself to a trip to the Galapagos Islands. Whether you visit independently or as part of a multi-day cruise, make sure that you do your best to have as little of an ecological footprint as possible. Don't purchase plastic bottles, give the animals a 6-foot berth and try to take out whatever you bring into the national park.
If we can all do our part to keep this pristine nature as healthy as possible, then it will could here for generations to come.
Like This Article? Pin it!