Many people come to Ecuador for the Mitad Del Mundo (the Equatorial line), the volcanoes, or the world-famous Amazon jungle, but not many know of Ecuador's best-kept secret: El Cajas National Park.
Located a mere 30km (18.5 miles) from the beautiful city of Cuenca, this southwestern national park is a fantastically unique place for so many reasons. Those of you who have been traveling South America for a while may recognize the bone-dry altiplano or the chilly glacial Andes Mountainscape, but El Cajas National Park is unlike anything you've seen yet.
Formed thousands of years ago from tectonic activity and glacial erosion, El Cajas National Park is comprised of miles upon miles of sloping beige hills, deep blue lagoons, and a genuinely stunning array of plant life that showcases the regions unique altitude.
The word "Cajas" in fact comes from the word "cassa," which is Quechua for "Gateway to the Snowy Mountains," likely because El Cajas is located right at the base of the Andes, separating the imposing mountains from the surrounding lowlands.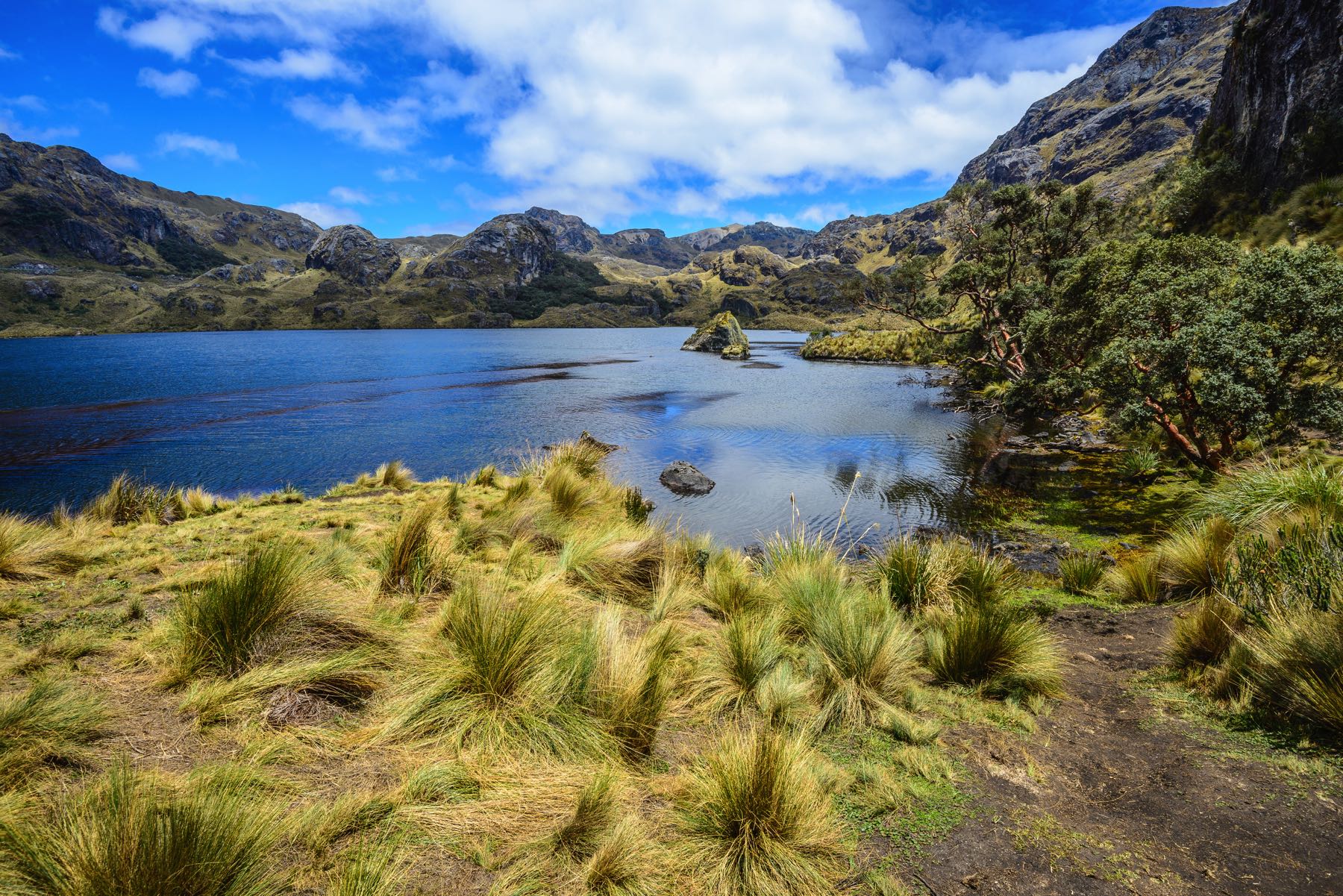 I went to El Cajas National Park on a whim with some travel buddies, and needless to say, what began as an unplanned excursion quickly turned into a major highlight of my entire South American trip.
Quinoa forests, misty mountains, and spectacular views studded the path every step of the way, one giving way to the other along the trail. El Cajas National Park is a genuine must-see to all you nature nerds out there. In this guide, I'll share how to get there, what to expect, what to pack and more.
How to Get to Cajas National Park
You have several options when it comes to transportation to and from Cajas National Park, all of which are doable, and all of which are cheap. All modes of transport take anywhere from 30 minutes to an hour, making the trip really simple and quite fast.
Bus
Getting to Cajas National Park by bus is quite simple and arguably the cheapest option. All you need to do is head to Cuenca's Terrestre Bus Terminal and hop on the Occidental bus toward Guayanquil via Cajas.
Be sure to ask an information desk for the bus to Cajas National Park, though, as there will be some buses that won't stop there on their way to Guayaquil, and the last thing you want to do is overshoot and end up in an entirely different city.
Buses run in the mornings at 7:00, 8:00 and 9:15, and tickets should cost you $2 each, with a measly platform fee of $0.10. Buses run back to Cuenca from Cajas National Park visitor center and you just need to flag one down. Since times change frequently, it's best to ask at the bus station when you purchase your ticket and plan your hike around the bus schedule.
☞ SEE ALSO: 12 Things To Do in Quito, Ecuador — a Guide For Travellers
Taxi or Car Hire
This is the option I opted for, and I'd say it's the most convenient one as you don't have to work around a bus schedule. Simply talk to the front desk at your hostel or hotel and mention you're looking for a taxi or car hire for Cajas National Park.
They'll contact a driver and you'll agree on a price beforehand. You can easily just opt for a taxi, but a car hire provides you with much more security to know that you have a ride home. You'll just have to pay more since the driver will be spending the whole day waiting for you while you're hiking.
A one-way trip cost me $20 USD, which is pricey, but not so much when split with four other travelers who are keen on going as well. This is definitely a comfortable, yet more expensive option.
Hitchhike
This is obviously the most cost-effective option.
Being from New York, I was always told growing up to never, ever, under any circumstances, hitchhike. But hitchhiking in Ecuador is actually quite common and usually very safe.
Many people who are passing through Cajas National Park on their way elsewhere really don't mind driving you or having you sit in the back of their pickup. If you're feeling brave or have a small group to travel with, this is a budget transportation option.
Note: There are dangers associated with hitchhiking anywhere in the world. Do so at your own risk.
Hiking El Cajas National Park
You have several options when it comes to actually hiking Cajas National Park — you can either book a tour with a company or go it on your own. I personally grabbed a few travel buddies and a map and set out on my own, but I fully understand the comfort of going with a group.
Using a Tour Company
If you decide to book a tour, you can do so in Cuenca, or online. Talk to your hostel or hotel information desk to find out the best and cheapest local tour companies, or check online to see which ones have good reviews.
You could also check around town for tour companies or information centers that may have cheaper prices or amenities that others don't. In all likelihood, a tour would include transport to and from the park, a skilled guide, and lunch provided, but it varies among companies.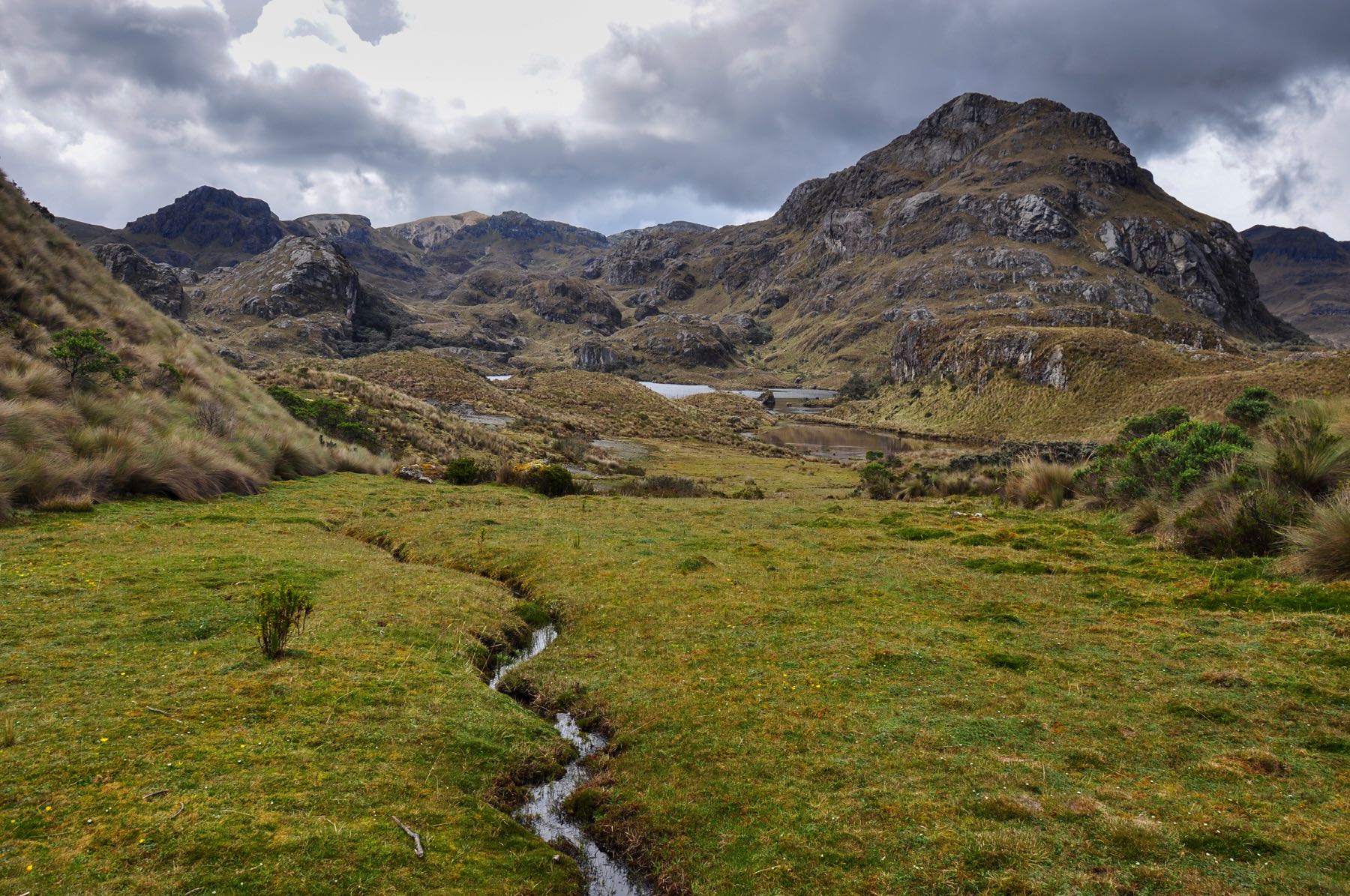 Going it Alone
If you decide to go it alone, you shouldn't have any problems at all. Just make sure you have a map, plenty of water, a fully charged phone with GPS, warm clothing and a decent sense of direction.
Luckily, the park's hiking paths are clearly marked and easy to find, but there are a few different trail options to choose from ranging from an hour to several days, so you'll want to plan accordingly and stay on track. I personally much preferred going on my own because it gave me a comfortable timeframe to explore at my own pace without having to keep up with a hasty tour group.
☞ Planning to do some other hiking in Ecuador? The Quilotoa Loop is an exciting adventure you don't want to miss! Learn more about that trek, here.
El Cajas National Park Visitor Center
Regardless of your mode of transport, you'll likely be dropped off at the Cajas National Park Visitor Center. The Park has no entrance fee unless you want to camp out (foreigners pay $4 USD and locals pay $2 USD). It's open from 8:00AM to 4:00 PM, and you'll have to register with them before setting off.
Registering at the visitor center is not only a way to get your bearings and an extra map, but it's a way for the park staff to account for all the daily hikers, ensuring no one goes missing or ends up stranded when they close in the evening.
The Landscape of El Cajas National Park
What made El Cajas National Park so unique to me was its landscape. Barren and open in some parts, and densely vegetated in others, this place has all sorts of ecosystems wrapped up in one region.
The reason for Cajas' storybook landscape is its unique altitude. Because it was shaped from glacial activity, Cajas has an interesting blend of both lower and higher altitudes, with marshes and lakes in the dips between them.
Below the 3,500m mark, the park is comprised of evergreens and vibrant trees, usually taller in stature than those higher up.
At 3,500m and above, however, the landscape is known as a páramo, or a high-altitude grassland. This area consists of short, durable plants and grasses, and makes up the more expansive, open portions of the park. They're known for a more prickly, firm and stubby structure, as they've evolved ways to sap the moisture from the mist at an otherwise moistureless altitude.
What I personally found awesome about Cajas National Park was that the views look so incredibly different up close and far away.
☞ SEE ALSO: Mindo, Ecuador – The Complete Travel Guide
From the tops of the hills and viewpoints, the landscape looks beige, soft and pillowy, with dark wells dotting the ground where the lakes and marshes are. But from up close, the plants are sharp, brittle and almost-dry looking.
It's really quite fascinating to see the individual plants that make up the páramo landscape of Cajas. I've never seen anything like them in my life.
It's also worth noting that the water that comprises the lakes and marshes is freshwater, and is so fresh in fact that it makes up the majority of the drinking water that supplies the city of Cuenca.
This is the major reason that tap water in Cuenca is generally safe to drink — because it comes from El Cajas. Would I recommend filling up your bottle with marsh water? Not exactly…but it is nice to be able to drink from the tap for a change!
Flora & Fauna
This park has a wide array of plants and animals, only adding to the already stunning landscapes here.
Flora
If there's any plant that El Cajas National Park is famous for it's the Polylepis tree, or "Paper Tree." This sort of tree is tall, evergreen, and very dense. You'll recognize it right away from it's short and stubby leaves and what looks like dead branches (I don't believe they actually are). Be careful because you can get a nasty scrape from these guys if you get too close.
Another major highlight of Cajas National Park's flora is the Quinoa Forest. These beautifully weird trees have largely barren branches but are known for their warped and windy tree trunks. They swoop and contort in really cool ways. Walking through them felt like being in a Lord of the Rings novel, and was easily my favorite part of trekking through Cajas.
Other than these two iconic plants, there are tons of shrubs, ferns and almost cactus-looking plants to be seen in the páramo. Keep a sharp eye out, as well, as many of these smaller plants will have beautiful and colorful mushrooms growing on them.
Fauna
I was actually so stunned by the variety of plant life in Cajas National Park that I hardly paid any attention to the local wildlife.
I'm told that there are some beautiful bird species that live in the park, especially the critically endangered condor. In general, it seems that El Cajas National Park is widely known for its bird watching, but it is also known to have some mammals like weasels, pumas, and rabbits, most of which I wouldn't think you'd see on a hike.
I did bump into some handsome llamas on my way back to the visitor's center, but I don't think they're endemic to the region. Regardless, llamas are always fun to see.
☞ SEE ALSO: Otavalo, Ecuador – The Ultimate Guide for Travellers
The Climate
Because of the altitude in Cajas National Park, you'd be hard-pressed to find a truly dry day to visit, but there are seasons to work around.
August through January is typically the drier and sunnier season, while February through July is wetter. The temperature averages around 13° C (55° F), with a low of -10° C (14° F) at night, and up to 20° C (68° F) during sunny days.
Having said that, the weather here is very variable and can change on a dime, so it's best to just accept that you'll likely get wet. When I started my hike around 10:00AM it was sunny and warm, but by 11:00 the clouds rolled in and everything was draped in mist.
The next thing I knew, I was cold and wet. In short, rain and fog are much more common here than sunshine is.
Altitude at Cajas National Park
As with most other places in Ecuador and the Andes, altitude is a huge factor at Cajas National Park. The visitor's center and starting point begin at 3,979m above sea level, and can go up to 4,450m at the park's highest point.
For those of you who have been traveling South America for a while, that's comparable to the altitude of La Paz, and higher than that of Cusco.
I personally didn't have any major issues with the altitude, other than shortness of breath and getting winded easily. However, whenever you're dealing with altitude it's always important to take it easy and see how your body adjusts to the lack of oxygen. Altitude sickness begins at 2,500m above sea level, so this is well within that range.
If you have altitude sickness pills, this would be a good place to utilize them. Make sure to drink plenty of water and don't overexert yourself. Be in tune with your body — if it's saying you need a break, you probably do. Take it easy up there, there are no heroes when it comes to altitude.
What to Pack for a Day of Hiking
If you're making El Cajas National Park a day trip, then packing should be fairly straightforward. I'd suggest dressing warmly, but with the ability to remove layers and stow them in your daypack as easily as possible.
The day will start out cold and will likely heat up around noon, not to mention you'll start warming up as you hike. But as soon as you sit down and take a break, the cold can sink right back in.
I recommend packing an extra T-shirt — if you sweat through your shirt and the weather changes, you will be very uncomfortable and cold. Keeping warm is a delicate balancing act, so it's best to prepare yourself as much as possible.
You will almost definitely get wet at Cajas National Park, even if you go on a sunny day. Why? Because there are many creeks, rivers, and marshes along the path that could swallow up an ankle or a foot along the way (I'm speaking from very, very muddy experience).
Pack extra socks and wear your most waterproof hiking shoes to avoid this as best you can. No one likes sloshing around in wet shoes, especially when you have hours of hiking to do. It'll likely rain or get misty, so you'll want to stay dry with a light raincoat or poncho as well.
Depending on how long of a hike you're planning, you may want to pack lunch. There are definitely no stands to buy food out in the park, so if you think you'll get hungry during your hike, it's best to bring it with you. Two full water bottles, a snack and a sandwich is a solid bet if you plan on doing a 4-hour hike. Any longer and I'd consider more water and snacks.
Final Thoughts
El Cajas National Park is genuinely an undiscovered gem in an under-discovered part of Ecuador. Whether you check it out for a few hours or decide to go camping, I can guarantee that you'll find some genuinely thrilling viewpoints, plants, and animals in this conveniently located park.
In fact, I visited El Cajas National Park on the same trip as I visited Machu Picchu, the Uyuni Salt Flats and the Amazon, and even with those iconic sights, this stood out as a major highlight of the trip. So grab a travel buddy, a few water bottles, and a raincoat, and make a day of it!
Nick and Dariece, founders of Goats On The Road, spent 2 months travelling around Ecuador and Peru. Check out their thoughts, reflections, and highlights on travelling in this part of the world, here, and have a look at the video:
Images in this article are courtesy of Shutterstock.com.
Like This Article? Pin it!