Our travelling and digital nomad lifestyle gives us the opportunity to live and work from anywhere in the world. Because of this, we've found ourselves renting stunning accommodations around the globe. From villas in Canggu Bali and Koh Samui Thailand, to apartments in Argentina, Mexico and beyond.
We love working online, and the freedom that it provides us is something we don't take for granted.
But, as much as we love our work, it's still that – a job. And as much as we relish in the freedom of being able to live abroad, we still need to return to Canada to update our passports, deal with some banking stuff and purchase some gear, which is precisely what we did on our recent trip to the homeland – digital nomad errands.
Since we don't have a conventional 9-5 type of job, we find ourselves not actually taking holidays.
Sure, we've had days, and sometimes weeks, where we've just written a couple of articles, but we were still answering all emails, marketing ourselves, dealing with back-end website stuff, and working on social media.
We decided that a "digital detox" was well overdue and spent the last month visiting with friends and family in our home country of Canada, without working on our computers.
That's right, an entire 30 days without getting up in the morning and plugging away at the laptops for a few hours!
If you work on the computer, you'll know that a break is important not only for the mind, but for the physical body as well. We soaked up the nature and the family time and felt like we were truly "in the moment".
The Trip Around British Columbia
Something we've realized this past year is that we actually don't like flying. For me, it's the actual act of it – the dry air in the plane, the cramped seating, having to constantly ask the person next to me to move so I can get up and go to the bathroom… you know?!
For Nick, he worries about us missing the flight or being denied entry to the country we're landing in (ever since we were turned away in South Africa when boarding our flight to India).
We're always at the airport at least 3 hours before every flight to ensure all of our papers are legit, and we have plenty of time to get through security and to our gate. Numerous border & airport issues over the years have made us a bit flight-shy.
Luckily, our flight from Grenada to Canada (although long) was fairly direct and straight forward, and after a good night's sleep we awoke in Vancouver, picked up our rental car and made our way northeast to start our road trip through the province.
Having our own wheels is the ultimate travel freedom. Being able to be on our own schedule and pull over for photos or interesting sights is the best.
Nick hadn't been back home in over 2 years, and neither of us had been to our city of birth (Vernon) in over 5 years. Seeing the place we grew up was a trip down memory lane.
We're both from the small city of Vernon, yet we didn't meet until we moved to Calgary, Alberta. Without knowing it, we both moved to the big city in February of 2003. We met a couple of years later through mutual friends and the rest is history. It truly is a small world.
We drove through the familiar back roads that I used to always drive (speed) through on my way to high school. We stopped in at a restaurant that I always celebrated each birthday at. We checked out Nick's high school, which (surprisingly) had been renovated. We wandered through parks and into shops that we used to frequent.
But, what we noticed most was that not much had changed…except us.
Between Vernon, Penticton and Kamloops, we visited with numerous family members and some of our best friends – many we hadn't seen in years – over BBQs, beers and games.
We hiked through National Parks, lazed by the beach, wandered down artsy streets and dined lakeside. It was great to see everyone, and there was no shortage of laughter and love.
From the Okanagan and Thompson Valleys, we headed southwest over to Vancouver Island – a place we hadn't visited in years, yet is one of the most stunning destinations in all of Canada. We started off in the capital of Victoria with its bustling harbours and English flare.
We spent numerous days catching up with friends and celebrating a wedding, but we also found many things to do in Victoria that we'd never done before — which is surprising as we both have spent quite a bit of time in the city.
We were excited to head out and see what we could see!
Fisherman's Wharf is a small community of colourful, floating residential homes. It's also a hub for kayak and whale watching tours. Seals poke their heads up in hopes of receiving some seafood, while tourists wander around devouring fresh shellfish and fish n' chips from surrounding kiosks. Lucky for us, we arrived during "buck a shuck" hour – $1 per fresh oyster.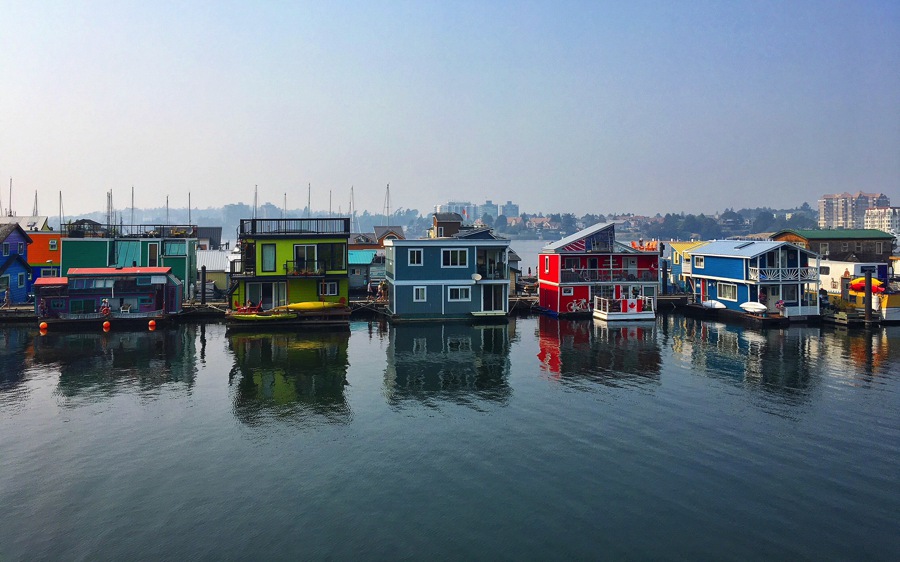 Sipping on a local craft beer, while dining on freshly caught seafood and gazing out at the harbour was a great way to spend a lazy afternoon. However, the journey across the water back to our Airbnb in the Upper Harbour in a little yellow taxi boat was the best part – how cute is this boat?!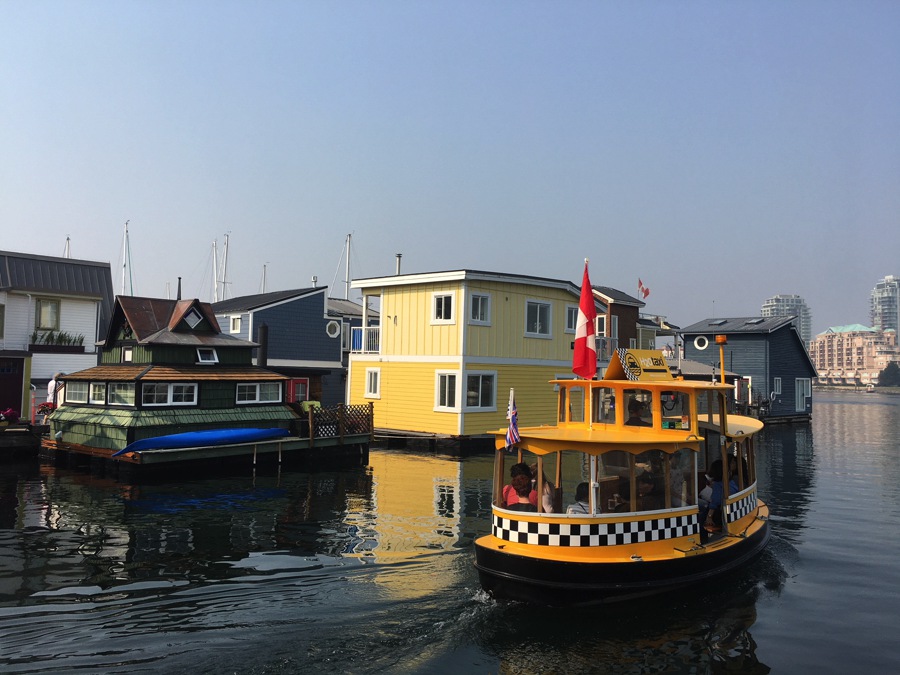 We walked all over the city of Victoria, hiked the 10 kilometer trail around Elk / Beaver Lake Regional Park, went on a 25 km bike trip with Trek Bicycles, headed out to Church and State Winery, partied at many restaurants and bars, and of course, attended my friend's wedding at the gorgeous Bear Mountain Resort.
There's no shortage of things to see and do in Victoria.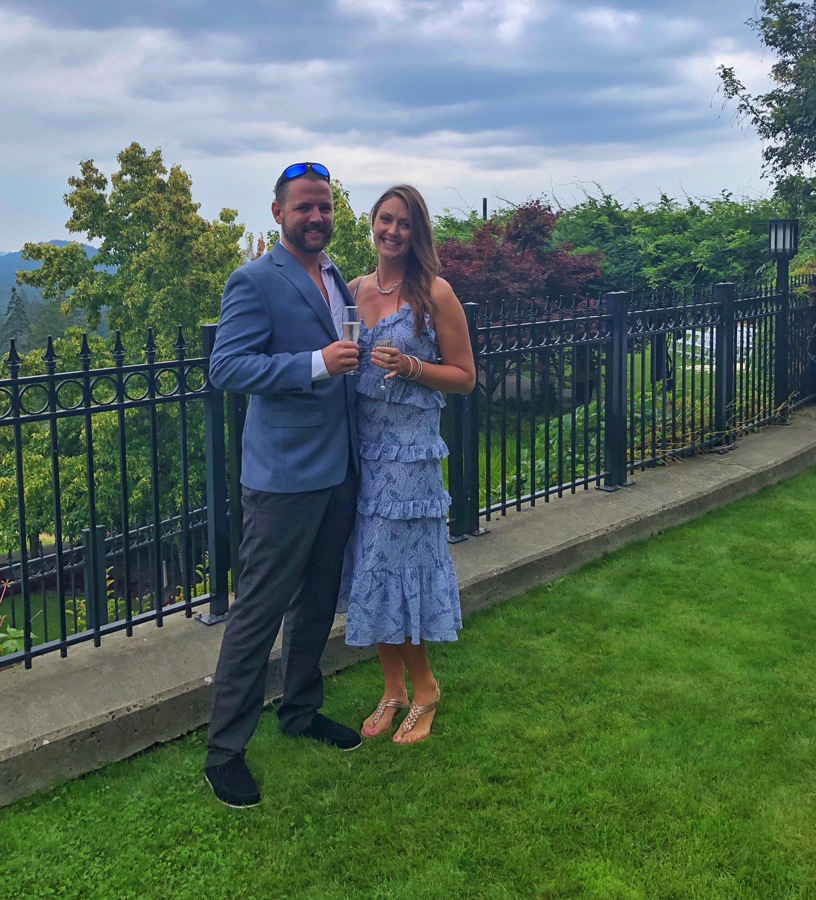 After 10 days in and around Victoria, we were on the move again. Heading north, we made our way to the coastal city of Campbell River, followed by Nanaimo, Parksville and Courtenay. The natural beauty on the island is unbelievable. We spent our days visiting with family and friends, eating at our friend Darryl's cafe, and enjoying all that these destinations had to offer.
From seeing "Goats On The Roof" in Coombs and the protected Douglas Fir Trees of Cathedral Grove, to witnessing traditional Tyee Fishing in Campbell River and hiking around the Little Qualicum Falls National Park near Parksville, it really was an amazing time.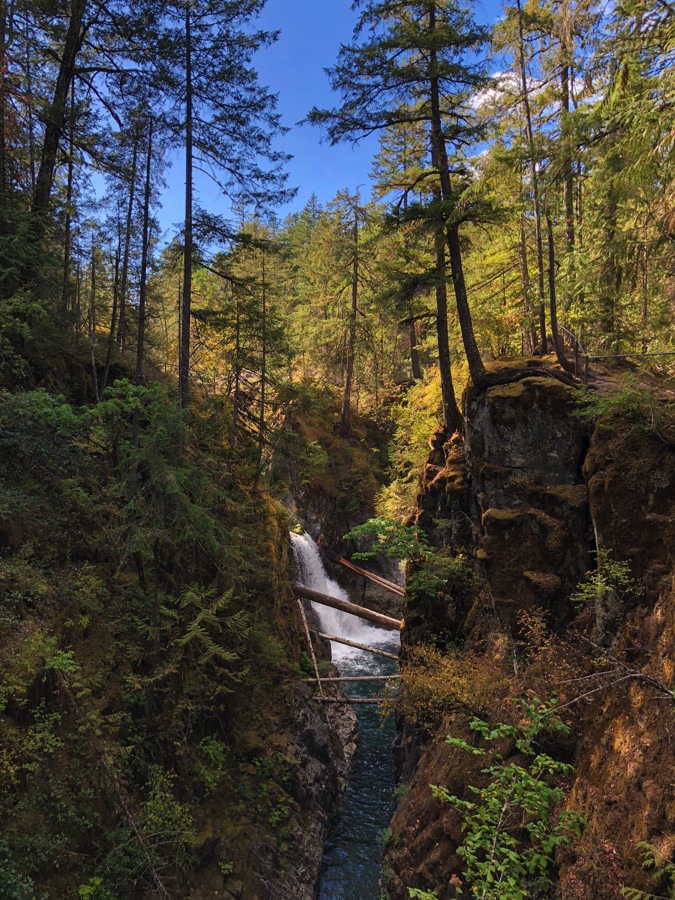 We finished up our travels with a couple of days to ourselves, to catch our breath, back in Victoria. It was wonderful to see everyone – and I mean everyone. I can't even count the number of people we were able to visit with. It was amazing and we're so fortunate to have such a great friends and family.
We drove our rental car to the ferry, and crossed the strait back to the mainland (we even saw Orcas from the ferry!). We then drove from the terminal to downtown Vancouver, dropped off the rental car, took the metro line to the airport, and flew on a red-eye, 12 hour flight back to our paradisical home in Grenada.
Now that was a travel day.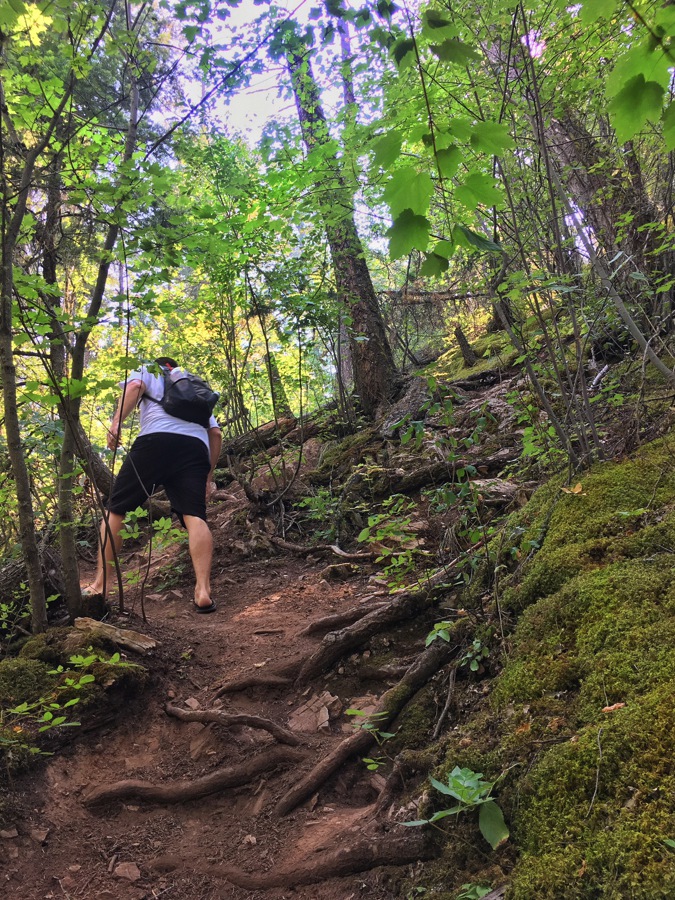 How Can We Afford to Be Offline for a Month?
Taking this much time for ourselves wouldn't have been possible a few years ago. When we were first starting out, we were only earning a few hundred dollars a month from our website. Of course, this was supplemented with free accommodation from our house sitting jobs, but still, complimentary accommodation doesn't pay the bills.
Over the years (and thanks to you, our readers!), this website is now visited by over 220,000 people each month. The more followers a blog has, the more income can be generated in the form of advertising and affiliates.
Since our followers are lovers of travel, and living and working abroad, we offer products on our website that you might be interested in – ones that we personally recommend. If you purchase travel insurance, book a hotel, buy an item on Amazon, rent a car through Expedia.com, join Trusted Housesitters, etc., we receive a small commission from your booking – at no extra cost to you.
This is called "Affiliate Marketing".
The commission is paid by the various companies, and is an incentive for us to advertise them on our website. Because of our awesome followers, we were able to get paid to be offline last month while in Canada – something we are incredibly grateful for. In fact, financially it was one of our best months to date.
Our content creation and social media management was also running in the background while we were offline, as we have our amazing assistants handling all of that, as well as a few writers helping to create great content for the site while we're away.
It had been a long time since we took a holiday, and even though we love what we do, it felt good to have that downtime!
Some Reflections & Realizations
We had a fantastic time exploring British Columbia and visiting with our loved ones, but for me, this trip solidified the fact that while I might be a Canadian citizen, and was born in Canada, the country doesn't feel like home to me anymore.
When we returned to Canada after our first backpacking trip to SE Asia and the Subcontinent, we were met with "reverse culture shock". For the 13 months prior we had been out of the system, with no responsibilities, completely away from all news and propaganda, and not a care in the world.
We were living out of a backpack and could do what we wanted when we wanted – and dress how we wanted. We were surrounded by free spirits on the road and those with the same mindset as us.
This time around, we didn't experience that sort of reverse culture shock, as we have been back to Canada numerous times now, but there was still that lingering feeling that we don't quite fit in. Our mentality has shifted and we no longer care about what part of town we live in, what jobs we have or how many possessions we have. Particularly, I don't like worrying about how I look.
Was what I wearing ok? What should I do with my hair? I don't remember the last pedicure or manicure I had. I hadn't used a curling iron in 8 years, and didn't have any hair product to help the curls hold. None of my shoes matched my outfits, and I didn't have anything to wear that would be appropriate.
…can't I just wear a sarong and flip-flops, throw my hair on top of my head and be done with it?!
Thanks to our trip to Chicago, we were able to get some acceptable wedding attire from Macy's, otherwise, we would've had to spend a lot of time shopping in Canada.
We're more than happy to return and explore, and our family and friends really made this trip memorable for us. Everything aside, Canada is an absolutely stunning country to visit and we'll be back, that's for sure.
When the wheels touched down and we deplaned in Grenada, the salty, humid air hit my face, followed by a huge smile. The Immigration Officer stamped us in and said "welcome back". Yes, it was good to be back…to be home. This is where we're meant to be – well, for now anyways.
So, What's Next?
Work-wise, Nick is putting together the continuation of his Blogging Course, with a focus on SEO and how to grow website traffic. His first course was a huge success and it continues to be with more and more people joining.
We're at over 1,000 students at the moment, and have created an engaging Facebook community for everyone to discuss, help and encourage one another on their blogging journey. Nick has found it extremely rewarding to be able to help out and communicate with new bloggers.
As happy as we are to be back in Grenada, we have a few travel plans in the works actually. We've been invited on 4 different press trips in the coming months with Japan, Taiwan, Indonesia and Turkey.
Oftentimes however, these trips come up, we spend hours going back and forth about the logistics of it all, and then the organizing parties just sort of fade away into oblivion – never to be heard from again.
In November we plan to take a trip to a nearby Caribbean island, and we have started to plan an adventure for two to three months in February, March and April.
We spent about 5 months travelling around South America last year visiting Colombia, Argentina, Uruguay and Chile, but there are still many countries on the continent that we have yet to see. This time around, we're considering a backpacking trip through Ecuador, Peru and Bolivia. We'll see what happens!
Make sure to subscribe to our newsletter for the latest updates and articles, plus, you'll receive our free ebook: 101 Ways To Make Money While Travelling. As always, thank you for reading and have a great week ahead.
Like This Article? Pin it!