There are so many things to do in Shanghai! We've been to this massive city 10 times over the last 14 months of living and travelling in China. We love this big, bustling metropolis and all it has to offer. There are over 23 million people in Shanghai, from all walks of life. It's a very interesting city with a mix of modernity and ancient ways.
Here's our list of the Top 10 Things To Do In Shanghai:
1. Walk The Bund. This promenade runs along the Huangpu River and is the perfect spot to see the famous Shanghai skyline across the river. On the Bund side of the water are all of the old buildings from years ago when the French and British occupied this port. Walking along the Bund is a must do…especially at night.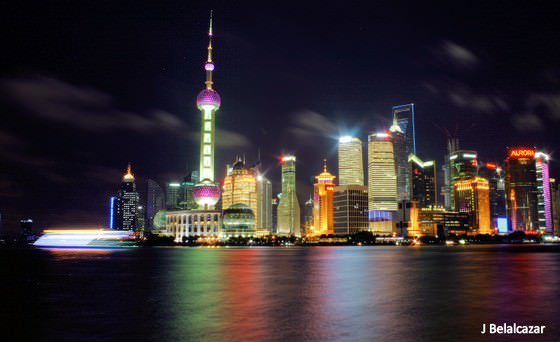 2. Visiting Jing'an Temple. This Buddhist Temple is on West Nanjing Road. Surrounded by modern highrises sits this old, beautiful temple. The entrance is 30 rmb and once you step through the doors, you'll feel instant peace and serenity from the craziness of the outside world.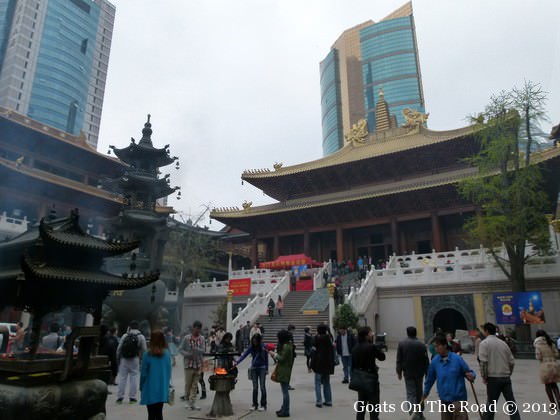 3. Wander Around The Old Town. Many cities in China have an old town. An area with crumbling buildings, stunning Chinese architecture and local people living their traditional day-to-day lives. The area around Remin & Zhonghua streets, a few blocks away from the Bund is a great place to wander around, chat with some friendly people and get some great photos. Of all the things to do in Shanghai, this is our favourite!
4. Go Up The Oriental Pearl Tower. This tower is 468 m high! The best time to go up to the top is at night when the views back at the old buildings on the Bund are spectacular. The entrance fee is 100 rmb.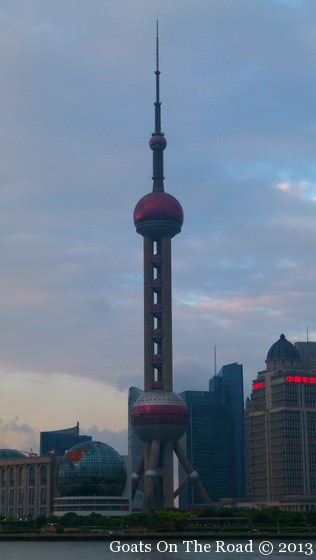 5. Laocheng (Old Town) Huang Miao Area. This is a touristy part of town, but for good reason. The artwork, sculptures and woodwork sold here are unique to China. Enjoy the day wandering around the pond and the Yuyuan Garden (Garden of Contentment) to escape the heat of the day. Entrance to the Garden is 40 rmb
6. Eat Dumplings. Shanghai is known for its xiaolongbao dumplings. This type has meat and a bit of soupy broth inside! Since we absolutely love dumplings, we always make sure to eat them when we go to Shanghai. Some are steamed and some are fried on the bottom and sprinkled with sesame seeds. Check out Yang's Dumplings located at #97 Huanghe Road (People's Square) and the ones right across from there, #99. Yum!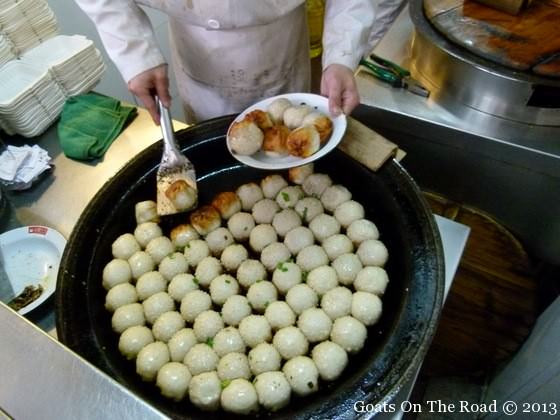 7. Party In The French Concession. This part of town is more upscale than the rest. Here you'll see streets lined with beautiful trees, Gucci and Prada shops and really good restaurants and bars. Your wallet may not thank you, but you'll have a great time here.
8. Visit the Pedestrian Walking Street. This street is fairly quiet during the day but comes to life at night! Come here around 8:00pm when the most people are out and about. Enjoy the street performers, dancers and buildings lit up with neon lights. Follow this road all the way down to the Bund and end the night walking along that famous strip.
9. Take A Boat Ride. Hop on one of the many boats that crosses the Huangpu river daily. It's more interesting than taking the metro to get from one side of the river to the other.
10. Dance On The Street. When the sun goes down, the dancers come out! Big groups of people will get together all over the city and learn choreography. Typically there will be one woman in charge who teaches the steps and everyone follows along to Chinese music blasting out of large speakers. Good times.
Visiting this famous city should be on everyone's China travel itinerary. There are so many things to do in Shanghai that this list could have gone on and on. Basically, get a map and set off to explore this massive metropolis. Finding a piece of Shanghai for yourself and getting lost in the back streets is a great way to spend the day.
Have you ever been to Shanghai? What are your favourite things to do here? Leave a comment below! 
BUDGET GUIDE TO BACKPACKING CHINA
Like this Post? Pin it!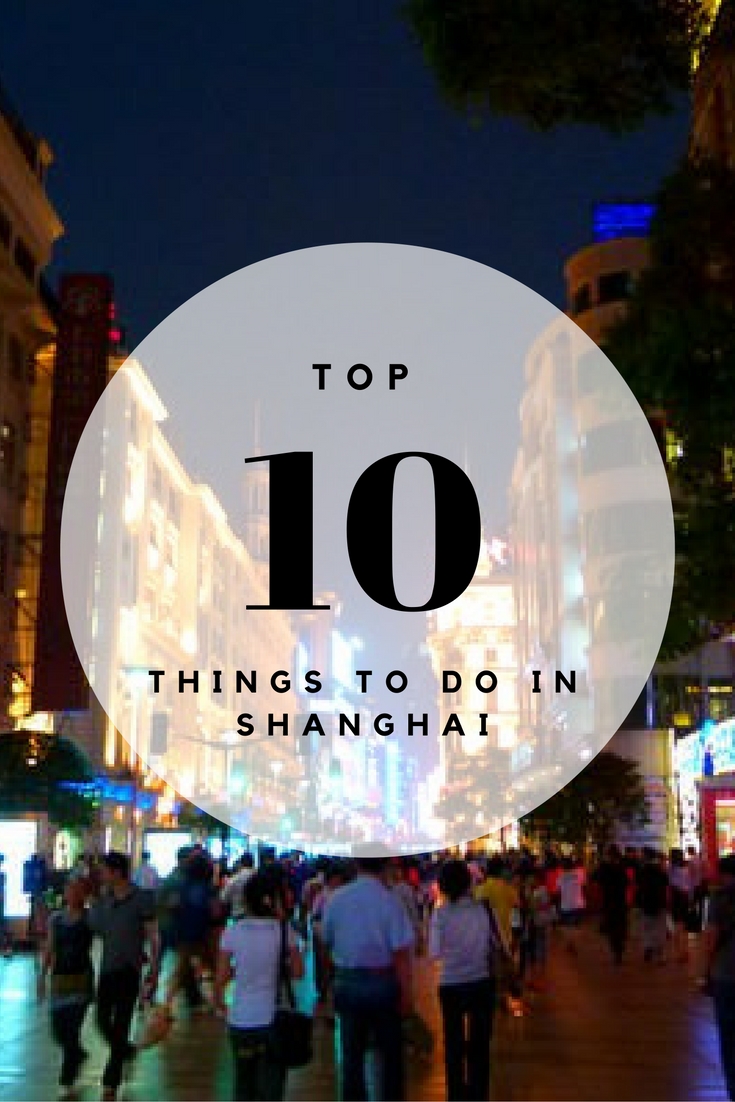 Disclaimer: Some links in this article are affiliate links, which means that if you purchase through them, we receive a small commission. This will never cost you extra and in many cases you receive a special discount. We appreciate your support!