After a wonderful 30 days of traveling Mongolia, we were on the move! We had already been on part of the Trans-Mongolian portion of the train journey, but now it was time to check out what the rest of it had to offer. We were on the train line from Ulan Bator to Moscow, but we decided to break up the journey in Irkutsk, Russia.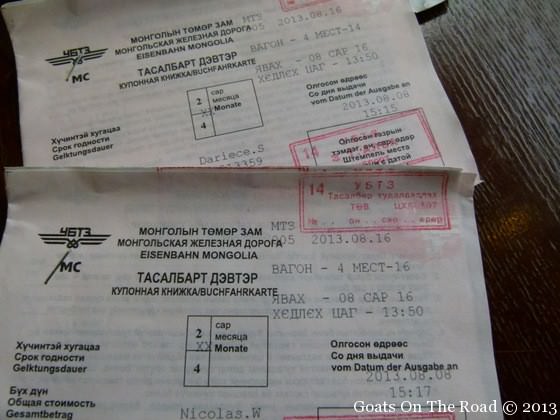 About 2 minutes after boarding our train and finding our compartment, we were offered a shot of vodka. Since it was barely noon, I declined, Nick on the other hand was eager to join in and do as the locals do. We shared a cabin with a friendly, boisterous woman from Kazakhstan. We didn't actually meet any Russians on our train journey to Russia, we were chatting with people from the countries we will be visiting in the near future – Uzbekistan, Kyrgyzstan and Kazakhstan…and of course, other western travellers.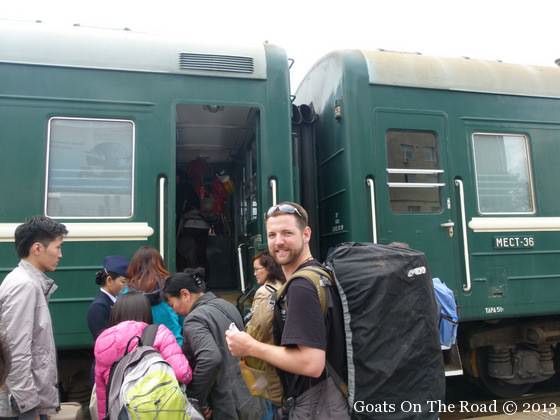 At around 1:00, our train chugged away from the platform, we were off! Our 26 hour journey from Ulan Bator in Mongolia to Irkutsk in Russia (Siberia) had commenced. We stored away our bags, got settled in and enjoyed the views of the rolling, green steppe from our window.
Visions of people drinking, chatting and eating in the dining car floated through our minds and we decided to check it out, to no avail. We went through each and every car on the train before asking one of the (grumpy) Mongolian women who worked on the train. There was no dining car and there wouldn't be until we reached the border with Russia at midnight.
Luckily, we figured the food would be expensive in the restaurant car anyways, so we brought food of our own. Sausage sandwiches, instant noodles and chocolate bars for lunch and dinner, and oatmeal for breakfast.
When we first got on the train, we noticed lots of Mongolian people walking up and down the train with massive amounts of different products. Which seemed really weird to us – this was the Trans-Siberian Train, there shouldn't be any vendors like that on board! What was actually happening was that they were trying to get other travellers to help hide their undeclared, illegal merchandise. Everything you can imagine was getting smuggled across: jeans, backpacks, horse riding boots, tea, blankets and more. Most of the products were purchased in China and were then going to be sold in Russia and Central Asia.
We watched as most people (and ourselves) turned down this ridiculous proposal. The vendors then had no choice but to cram the loot under the floorboards in the train and behind secret compartments where luggage is stored.
Once we reached the border with Russia around midnight, the real fun began. Police, border security and drug detection dogs came on board and did a THOROUGH search of the train. It became clear to us that this train is frequently used to smuggle products across the border. Western tourists are usually left alone (which is why the smugglers hope we'll help them out). The guards just did a quick, half-assed scan of our bags, but not with the Mongolians, Russians, Chinese and other people from Central Asia. They tore apart their bags, searched high and low around where they were sitting and even gave the innocent people a pretty hard time.
The poor woman from Kazakhstan that we were sharing a compartment with was sweating and so stressed out as she showed all of her products to the security (all of which she had declared and were legal). The whole ordeal of searching the train from top to bottom and busting the culprits took about 4 hours and we didn't leave the border until 2:30am.
On the Trans-Siberian/Trans-Mongolian trains, 30 minutes before the train arrives at a stop, during the wait, and 30 minutes after, the bathroom doors are locked. Around 12:30 I realized that I wasn't going to be able to hold in my bathroom needs any longer. I asked every member of the train staff to open the door, but they were all so grumpy and rude that they basically just brushed me off and went back to drinking tea.
Hm! Not impressed. I marched back to my seat, got Nick, and together we used his multi-tool knife to jimmy the lock and get me in there. The train was silent and the door to the bathroom was not. It creaked and groaned at every inch it moved. Nick was on the lookout for grumpy ladies while I relieved myself. Is there anything a Leatherman can't do?!
I could finally go to sleep. We both shut our eyes around 3:00 am and awoke to the sun beating down on us. It was a gorgeous day on the train. The scenery on our 2nd day was stunning. We went through dense forest and around beautiful Lake Baikal. The views were great and during all of the commotion at the border, they had attached a Russian food car.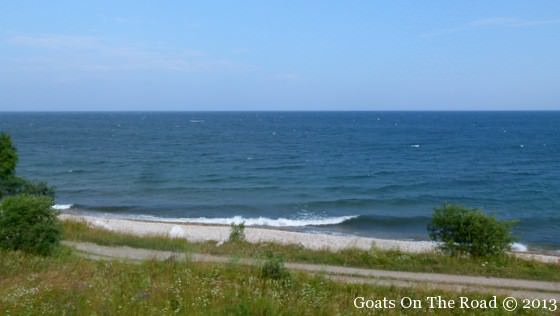 We enjoyed coffees, fresh oranges and some fried potatoes…and then the bill came. Apparently the prices on the menu weren't right and the cost of the orange was actually $3, instead of $1. Seems reasonable for one orange (?!)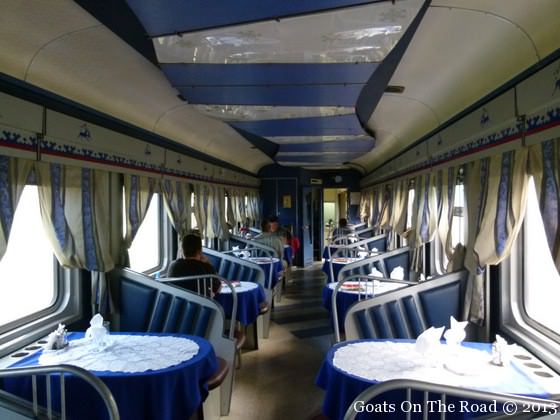 Even though there were some crazy events on the train (which actually made for some good entertainment) and there wasn't a restaurant car until the 2nd day, and the restaurant car was way overpriced, we still had a great time on this portion of the Trans-Siberian/Trans-Mongolian Train. The beds were comfy, the company was really good and the views were marvelous!
Two legs of our famous train journey complete…one more to go!
For more information on travelling to Mongolia, check out our Guide to Backpacking Mongolia.
Have you ever seen any of smuggling of merchandise on trains before?! Tell us about it below.
THE TRANS-MONGOLIAN TRAIN: ALL YOU NEED TO KNOW
TRANS-MONGOLIAN TRAIN JOURNEY: BEIJING TO ULAN BATOR
VIDEO: TRANS-MONGOLIAN TRAIN JOURNEY
 Like it? Pin it! 🙂