If you're heading up to Karakol, Kyrgyzstan and you're planning on trekking to Ala-Kol & Altyn Arashan without a guide, you'll need a few pointers. This article will help you explore the stunning Karakol Valley without a guide.
UPDATE 2018: This trek is now available on the Maps.me app for your smart device. Download the app, search "Atlyn Arashan Trek" and save it for offline use. It's very accurate.
Should I Get a Guide For Trekking To Ala-Kol & Altyn Arashan?
Local guides are often very knowledgable and can show you shortcuts, viewpoints, flaura and fauna while teaching you about local culture along the way. Paying guides to show you the way isn't always a submission to safety. The money helps to support the local tourism economy and gives a much needed bridge between the Kyrgyz culture and foreign travellers.
If you do want a guide or even just a few pointers, head straight to the Tourist Information Office In Karakol and also the new Destination Karakol office (CBT & Eco-Tours are less helpful).
How Much Do Guides Cost?
If you go through CBT (Community Based Tourism), the Tourist Information Office or any other company based in Karakol, you can expect to pay about $30 / day for your guide including all food for him or her along the way.
How Much Will The Trek Cost Without A Guide?
The only costs for trekking to Ala-Kol and Altyn Arashan without a guide are food and entrance fees. You will have to pay 250 som / person at the gates, and later a ranger will come around and collect an additional 100 som / tent. If you decide to camp near a guesthouse in Altyn Arashan, expect to pay about 100 / tent and your own private hot spring cabin will only set you back 200 som. The taxi back from Ak-Suu will cost 400 som for the whole taxi (not per person).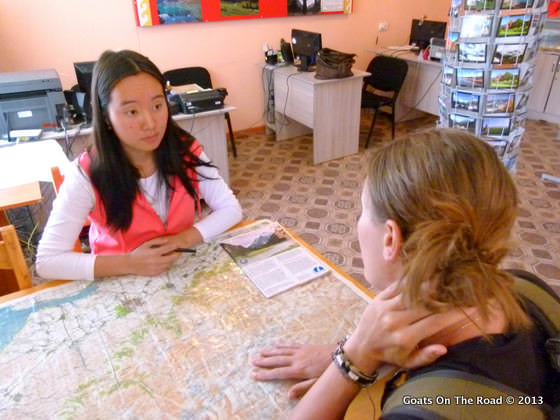 Do I Need A Guide To Trek To Ala-Kol & Altyn Arashan?
Although a guide can be useful, as noted above, you certainly don't need one to trek to Ala-Kol and Altyn Arashan if you read this post and keep your wits about you. In the peak season (July-August) there will be so many other tourists that you can just follow in their footsteps, but even in late September and early October you can do the trek without a guide.
If there is snow on the pass however, it's a good idea to take a guide to show you the way just in case.
Looking For a More Offtrack Trekking Spot?
In June, 2017, we helped to mark out and plot a new trekking route in the Jyrgalan Valley, which is just a 45 minute ride from Karakol. The whole valley is incredibly stunning! Trekking on foot or by horse is available and this area is very pristine. To read more about Jyrgalan and the Keskenkija Trail that we just marked out, check out our two posts:
Planning For Your Trek:
So now you've decided to do the trek on your own. We recommend you buy a map from any of the agencies in town for 150 som. Make sure you have enough food supplies, a tent, a torch (flashlight) and a warm sleeping bag (even in the summer).
There are plenty of markets in town to buy instant soup and mashed potatoes (if you have a stove), sausage, cheese, breads and just about everything you'd need for the 3 day trek. There are also 2 outdoor stores in town with a surprising variety of trekking equipment including stoves, gas canisters and warm gear.
We recommend that you do the trek from the entrance to the park just south of Karakol. That way you can enjoy the hot springs of Altyn Arashan after the arduous hike over the pass, rather than starting with them before you're even sore!
NOTE: Rather than setting off into the hills right away, spend some time in Karakol and enjoy all of things to do in and around the city! Check out our latest post 10 Things To Do in Karakol (That Don't Involve Trekking).
Transport To The Trail Head
Marshrutka #101 will take you directly to the trailhead for 8 som (20 mins). You can catch it almost anywhere along Toktogol St. which is where most of the guest houses are. You'll want to take it to the last stop which is near the gates to the park, the Marshrutka will turn around and the driver will probably shoo you out.
Day 1 (6-7 hours with stops):
Today will be very easy and you really don't need a map at all. After about an hour of walking you will come to a small village and a couple of yurts. For the first couple of hours the river will always be close on your right (don't veer away from it on other paths). Then you'll cross a nice little bridge where the road ends and the trail begins (although you may still see the odd jeep or motorbike).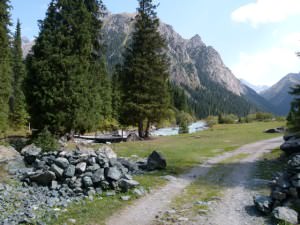 From here the trail stays along the right side of the river and slowly meanders it's way past a wide summer pasture and up to a beautiful waterfall. Near the top of this waterfall the trail will swing around and reveal a bridge over the river to your left. You really can't miss the bridge, there are huge pine trees on either side of it.
Then cross the bridge and head up (straight up). There are a few paths around here but just make sure you're heading east and into the valley and you should be fine. You may come to a bunch of fallen trees over a scarce looking trail, climb over the trees and rejoin the trail on the other side.
Keep your eye out for trail markers in the form of red-painted rocks or rock towers. Always stay to the most obvious trail and you'll be fine.
This bit will take you about 2 hours. It's a hard slog up the mountain side and the markers are often placed in the obvious places instead of where you may really need them. After about 1-1.5 hours (depending on your speed) you'll come to a small river. Follow the river bed up until you see a wooden cabin on the left side of the valley. This is where most people camp the first night.
Day 2 (8-9 hours With Stops):
Today will be a long one so some people opt to break the journey at the lake and make this a 3 night trek. Most people do it in 2 nights so we'll assume you will too. Wake up early and start heading up the hill along the trail with the river to your right. There are plenty of markers here and you are heading for the big waterfall at the top of the valley between two small peaks.
Keep following the piles of rocks until you come over a final summit which will reveal the beautiful Ala-Kol lake. There is a trail about 30 meters from the north shore of the lake that is clearly visible.
Go down and fill up your water in the lake (no more water for 4 hours) then follow the north shore trail. It's best to follow the path and not the shoreline directly as it will give you better access to the pass later on.
After about 30 mins of following the trail with the shore below you, you will see 2 peaks to your left with a somewhat steep looking trail leading up. If you bought a map, you'll know that the pass is between two peaks on the northern side of the lake,  these are not the correct peaks.
Follow the trail downward from here (not up) and swing around to the far northeast part of the lake. Shortly after this point you will see, high on a gravel slope, a faint path that meanders up to a more obvious looking pass. This is where you're heading.
The climb up to the pass is very difficult but definitely doable for anybody who's reasonably fit. The steep slope down the other side into the Odeke Valley is a bit sketchy. You have a choice between a normal trail thats rocky at first, or a steep shale ski down a slippery slope to the right of the pile of rocks that marks the pass. We recommend the former as we we're going dangerously fast down the latter.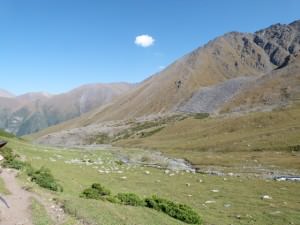 From the top of the pass you'll see an obvious path down the valley heading exactly where you want to go. From here on it's all downhill. You'll be heading northeast for most of the way. You'll then come around a bit of a left corner that will reveal an alpine forest below. Follow the main river from here all the way to Altyn Arashan staying on the LEFT side of the river.
If you follow the river (and a few trail markers) you'll eventually arrive in Altyn Arashan. You should always be within a few meters of the river, if you veer away too far (like us) then you'll take a lot longer to get to Altyn Arashan.
For the last hour of the hike to Altyn Arashan, you should be heading northwest with a massive snowy peak (Pik Palatka) behind you. There will be a small bridge to cross and a sign with a map of guest houses just as you enter the village. Here you can camp near a guest house (100 som) or just hike further away and camp for free. The guest houses can cook up good food and here is where you can rent a hot spring cabin (200 som / person) all to yourself.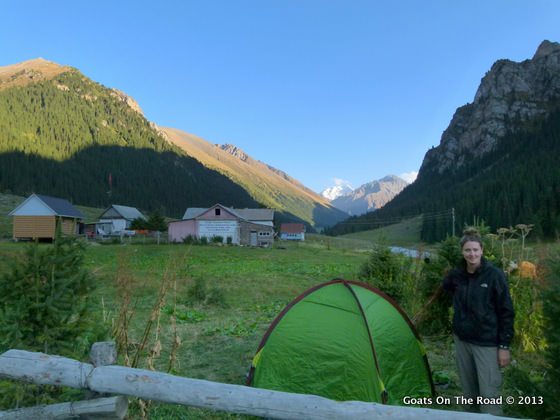 Day 3 (3 hours):
Today is more downhill. There is one obvious road that you can follow all the way to Ak-Suu with a few shortcuts that will save you zigging and zagging down switchbacks. This part is very obvious and there are enough locals around that you can just say "Ak-Suu" and they'll point you in the right direction. From Ak-Suu you can hire a taxi back to Karakol for 400 som or take a Marshrutka.
And that's it, now you know exactly how you can trek to Ala-Kol and Altyn Arashan without a guide. You don't need to be a mountaineer or a pro-trekker to be able to do this hike on your own. So get your trekking stuff packed and ready, you're in for a great hike!
Quick Tips For Trekking To Ala-Kol & Altyn Arashan:
In Karakol, we stayed at in Madanur Hotel (500som/person/nt)
Take marshrutka number 101 from in front of Neofit Guest House in Karakol (20 mins/8som go to last stop)
Pay 250 som entrance fee at the park gate where the marshrutka stops
Pay 100 som / tent to ranger on the trek
First day to wooden cabin 16kms 6-7 hours
Second day to Altyn Arashan 17kms 7-9 hours
Camping At Arashan Travel Hotel 100 som / tent (dorms not worth it)
Private Hot Spring Cabin 200 som / person
Third day trek 3 hours to Asku
Taxi from Asku to Karakol (25 mins – 400 som/car)
Check Out Our Trekking Ala-Kol & Altyn Arashan Video!
Did we not answer all of your questions? Shame on us! Please leave a comment or question below…
Like This Article? Pin it!