One of the many great things about living in Yangzhou, China is that there are some beautiful ancient towns nearby. All we have to do is hop on one of the frequent local buses or make our way to the efficient bullet trains and within an hour or so we are in a new and stunning town. The Jiangsu Province is located on the east coast of China and therefore is surrounded by waterways and canals. We have been to the nearby metropolis of Shanghai many times so during the Autumn Festival, we decided to see what the Town of Suzhou had to offer. Suzhou has been dubbed the "Venice Of The East" so we were definitely looking forward to seeing if it lived up to its name.
Apart from the hoards of Chinese tourists, it was definitely a beautiful place! We stayed at the Mingtown Suzhou International Hostel right in the heart of the Old Town along one of the many canals. It was a stunning spot. The hostel was set in a very old building and all of the furniture in the room was Chinese style. The staff spoke just enough English to tell us which buses to catch and they understood when I asked for another blanket…although they didn't agree that I needed one!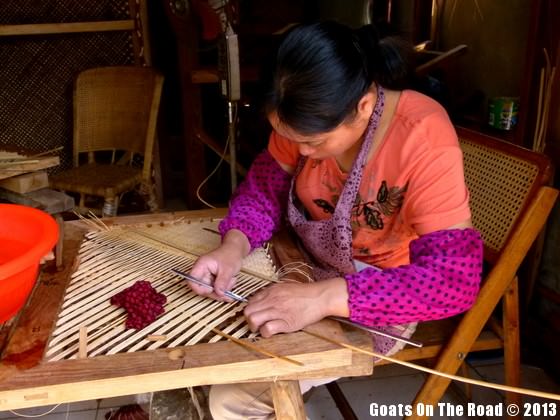 We meandered down different alleyways and zigged and zagged through tourists. We tried to get as off the beaten path as possible. We did end up finding some really quiet streets with locals going about their day-to-day life. Women were hanging up their laundry on bamboo made clothing lines, men were fishing in the canal and chilis, tea and noodles were drying out in the hot sun.
We walked further away from the old town and found ourselves at one of the quieter Gardens in Suzhou, The Couple's Retreat Garden. The name seemed fitting as we were both looking for some peace and quiet away from the crowds. Suzhou is known for its beautiful, classical gardens which have been added to the Unesco World Heritage List. The more popular ones were very busy during the Autumn Festival but this one was nice and quiet for us. We sat and enjoyed the scenery and serenity for a while before heading back out into the crowds.
During the evenings we sat on the edge of the main canal and people watched with a bottle of wine. This drew more attention than the main sights of Suzhou! Chinese people were congregating around to see the wàiguóréns (foreigners) drinking wine. We're already a sight just by being foreign but the fact that we were drinking wine (out of proper wine glasses I might add) made us look like quite the spectacle. People were taking our photo, giving us the 'thumbs up' and laughing at the crazy tourists. It was all in good fun and as we said before, one of the many joys of living or travelling in China is that you feel like famous. There were only a handful of foreign tourists in Suzhou that weekend so the stares were all directed our way!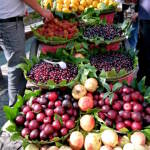 We enjoyed our 3 nights in Suzhou and will definitely go back there one day, preferably when it's not a National Holiday. We walked and walked and walked and saw many corners of the town. We ate some delicious Indian food, chatted with some friendly locals and relaxed. It was a different feeling for us to be travelling somewhere as a holiday from work rather than just backpacking around and moving on. There wasn't that "where should we go next" question or figuring out transportation from point 'a' to point 'b'. This time we knew where we were going and our holiday had an expiry date. After 4 days away, we were back to our normal lives teaching English and living in Yangzhou.
Like this Post? Pin it!