Home is where our backpacks are. That's just the way it's been for us for almost 5 years now. We refer to our hostels, hotels, apartments and house/pet sitting jobs as "home". And although we've enjoyed all of our temporary homes over the years, there's just something extra special about the island of Grenada.
We first came to this southern Caribbean paradise in April of 2014. We had just joined Trusted Housesitters that year and landed our very first international job, pet-sitting an adorable dog named Spare and living in a cute cottage on a gorgeous property, set right on the beach. We spent almost 7 months in Grenada last year and the island really got under our skin… in a good way.
There's just something about this country!
We knew we would come back one day, but we just didn't think it would be so soon. However, over the years we've learned to go with the flow and follow the opportunities…and all signs pointed to us returning this year.
Spare Dog's owners invited us to come back to look after him again (how could we say no?!) and there was another house/pet sit on the island which lined up perfectly with the dates that we were needed with Spare dog.
☞ See Also: Mount Cinnamon Grenada – Review of This Luxury Boutique Hotel
The journey from our pet-sitting job in Costa Rica, back "home", was fairly straight forward. We packed up our backpacks, said goodbye to Jack the puppy, rented a car and navigated our way from Platanillo to San Jose, Costa Rica. Although we were only in this Central American country for two weeks, we still enjoyed the lushness of the rainforest and the beautiful ocean. We even saw our first toucan!
Our flight to Grenada via Miami left the following morning at 6:30am, which meant either sleeping in the airport, which we're quite accustomed to, or, spending the night in a hotel nearby. We opted for the latter this time around and enjoyed a comfortable night's stay at Adventure Inn.
The room was huge, and ours had a jacuzzi! I hadn't had an actual bath in about two years (to clarify, I had showered, just not bathed). I basically spent the whole night soaking in the tub and went to sleep with wrinkled (but softened) skin.
A bonus of the hotel was its close proximity to the airport, and it included a free shuttle in the early morning for us to catch our flight. The room also included a huge breakfast spread, but since we had to be at the airport at the ridiculous hour of 4:30 am, we missed out, but were instead given a small take-away box.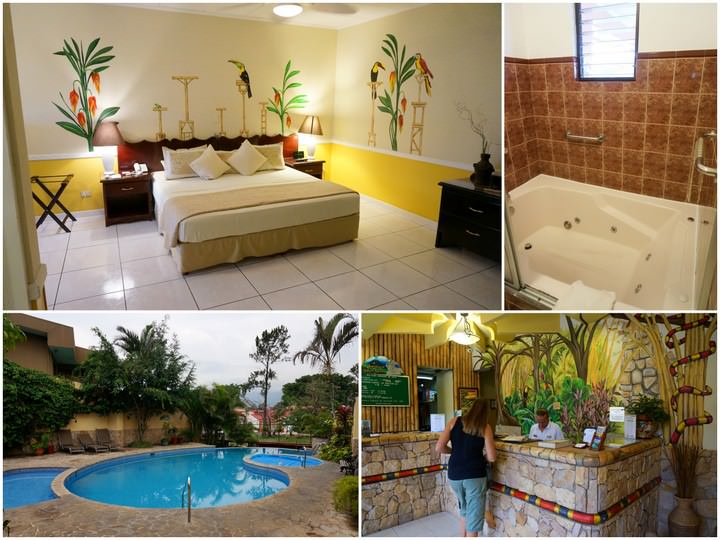 After a total of 12 hours, including our Miami layover, we arrived in Grenada!
Driving in from the airport was like a trip down memory lane. Even though it was nighttime by this point, every roundabout we took, every street we turned down and ever little shop we passed by, we were reminded of our life here and we excitedly reminisced about our past adventures.
We loved hearing the familiar (yet, difficult to decipher) Caribbean accent from the airport attendants, and we gave the all-important customary greeting "Evening, evening". We welcomed the sound of the screeching tree frogs as we drove through the jungle – they only sing at night, which makes it difficult for some to sleep, but I find it quite soothing. The usual trade winds were blowing and the evening air was warm and humid.
We received an incredibly warm and generous welcome from the owner of the first two dogs that we are taking care of, and couldn't be happier with the home we're staying in for the next two months.
Our office is located on a massive patio overlooking the ocean and we're able to take breaks to cool off in the pool. We are looking after two beautiful dogs, Macy: a 13-year-old shepherd mix, and Pumpkin: a 7-year-old terrier mix, each with their own unique personality and character. After Macy and Pumpkin's owner is back on the island, we'll be moving homes and taking care of Spare Dog once again, for three months this time.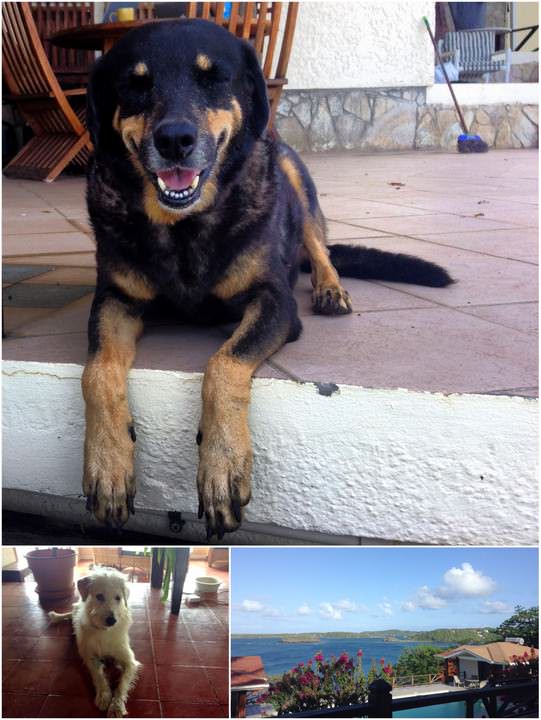 Since being back, we've been reuniting with our old friends from the island, and have been making new friends as well. We can't wait to get out and explore more of the hidden gems that we missed during our last stay. Although small in size, there are so many things to do in Grenada. We've been here for almost two months now and truly feel like we're home.
In case you missed it, check out our video below of our current temporary home and pets 🙂
For more information on Grenada, click here to see some of our previous posts…and stay tuned for new ones!
A special thanks to Adventure Inn for hosting us for one night, and for driving us to the airport far too early in the morning 🙂 As always, all thoughts, opinions and reviews remain our own, despite any complimentary services received.
Like it? Pin it! 🙂