Are you wondering how to stay motivated working from home? You're in the right place. With more people working at home now more than ever, staying motivated is becoming a very important topic of discussion.
When you don't have your boss or co-workers keeping you in check, it can be hard to stay on top of tasks and productivity can easily slip.
I officially started my full-time freelance work from home journey a year ago after graduating from university with a degree in Graphic Design, Media Arts, and English.
I've tried many different tactics for staying motivated while working from home, and I've finally found all of the best methods that work for me.
This post will list strictly the ways that work for most people. By the end of this article, you'll have everything you need to have a more productive day working at home.
Here are my 10 tried and tested ways to stay motivated working from home.
1. Take breaks when needed
To keep interested and motivated with what you're working on, you need to give your eyes and mind a break throughout the day. It's important to take the time to step away from the computer every once in a while.
Now, the key to this is not to take breaks so often that you don't get any work done, but try to get through at least one task before you take a break. Then, do what you'd like for up to thirty minutes or so.
For a break to be successful, you have to focus on not doing anything work-related the whole time. This includes not checking your phone for new emails from clients — they can wait.
Taking breaks also includes having a proper lunch break, which a lot of freelancers and remote workers forget to do.
Often, they will decide that it's okay to take their lunch while they still work in front of their computer, making it harder to relax during their break, which only heightens their stress.
After taking a break and not focusing on any work for a little bit, you'll be able to return to your desk ready to get through the rest of your tasks for the day.
This has been one of the best practices I've implemented into my daily routine, which I wish I had started doing a lot sooner.
2. Exercise at least once per day
As a remote worker, it can be very challenging to remember to get up and stretch your legs at least a few times throughout the day, which is rather unfortunate.
In order to boost motivation while working at home, remember to move your body throughout the day. Exercise reduces stress, boosts self-esteem, and improves sleep, which is why it's so important to get your blood pumping!
One of the easiest ways to do this is to just go for a walk in your neighbourhood. Even if it just means taking your dogs for a walk or going for a walk around your block for twenty minutes. Whatever it is, it helps!
If you live in a city and would rather not spend time walking outside, you could also consider investing in some sort of exercise equipment to help yourself move at least a little bit every day.
I recently invested in a stationary bike which has helped me exercise between tasks during the day.
3. Make yourself a schedule and stick to it
If you don't schedule out your day, you will never master how to keep motivated working from home. Whether you're a freelancer working for yourself, or a remote worker employed by a company.
As a freelancer, you will probably have a bit more control over your schedule versus if you're employed by a remote company. So, take advantage of that and schedule your day to when you are most productive.
For instance, I know that I'm most productive for a few hours in the early morning and then late at night. So, I schedule my day to include most of my work during those times, with other tasks throughout the day.
One of the best tools to schedule your day is simply Google Calendar. Utilize the time blocking method to make the most of your day without feeling overwhelmed.
Time blocking essentially means that you should plan out how much time you need for each of your tasks and then block it off on your calendar.
This shows you if you really have enough time in the day for all of your tasks and will make you better at planning ahead.
If time blocking is difficult for you to do, you could also consider batching your work. This could mean that if you're a freelance writer and you have five articles due in the coming week, you sit and do them all at once because of the nature of the work.
4. Be aware of how much work you have on your plate
For staying motivated working from home, you have to be aware of how much work you're taking on at a time. It can be difficult to stay excited if you let work pile up, as it will only stress you out more.
I've been there before. That's why, especially if you're a freelancer, you need to make sure that you don't say yes to too many clients at a time, or you're going to risk burnout, which will completely deplete any chance of productivity in your business.
The same goes if you work for a remote company as an employee.
If you find that you are starting to have too much on your plate, then you need to let your boss know. They'd rather know ahead of time before you get behind on everything that's been assigned to you.
The key to being aware of your work is to keep a task list. This could be on a tool like Asana or with a simple planner or sticky note that you keep near your desk.
5. Create an office space in your home
This is one of the best ways to stay motivated working from home that there is. It may seem super simple, but I promise you that it will make a massive difference in your productivity every day.
Create a particular area in your home that will serve as a work-from-home space. Set up a desk here or a table with a chair, and keep your laptop, desktop, and all other work-from-home equipment that you have here.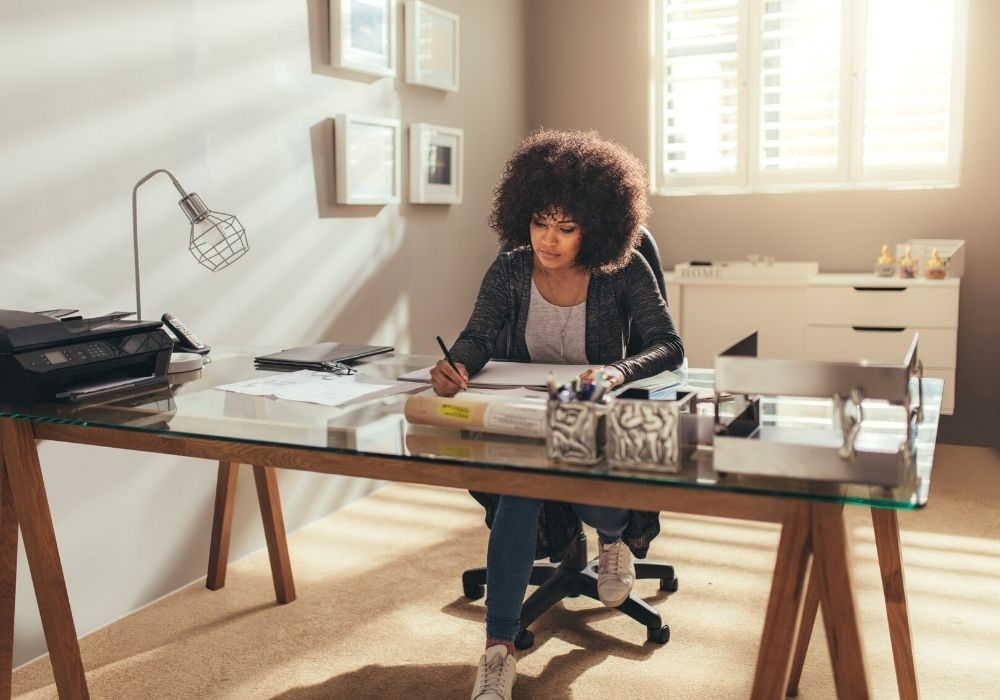 By having a specific spot in your home for work, you will start to train your brain to flip into work mode whenever you're in that spot.
It will also begin to feel like you're at least heading to an office every time you go to work because you'll have to walk through your house or apartment to get there.
The key to success with this trick is to only work in that designated position. Don't try to work from your bed, your couch, or your dining room table because then your productivity will start to diminish, which can mess up your entire schedule for the day.
It also helps if other people are working from home that live with you. Consider both setting up your desks near each other so that it feels even more like an office space when you go to work.
6. Consider hiring an assistant
Delegate tasks that you don't enjoy doing, aren't good at doing, or if your time is simply better spent doing something else. When you're working on jobs that you enjoy, you'll be more motivated to work while at home.
This can be as simple as hiring a virtual assistant to help you out for a few hours every week, which is especially possible if you are a freelancer with your own business.
You can find virtual assistants almost everywhere online nowadays. Some of the most popular places to look include Upwork and Facebook groups. You could also consider asking business friends that you might have who have an assistant they recommend.
Virtual assistants can help out with various tasks, which is why they help with how to stay focused working from home. Some of their most common tasks include social media management and email marketing.
VAs can also help you send invoices to your clients and manage your schedule to help you stay focused. Depending on what you're looking for help with, you can usually find a virtual assistant specializing in that skill set.
To keep your virtual assistant and tasks on the same page, you'll want to start using a task management system like Samepage, ClickUp, Trello, or Asana.
7. Reward yourself and set goals
Rewarding yourself when you can is a great way to keep motivated working from home.
Give yourself a challenge to get through specific tasks throughout the day, and if (when) completed, you have a reward to look forward to at the end of the day.
I often do this since my roommates and I work from home. We'll make rewards for the end of the week where we get to go out and eat at our favourite restaurant, or we'll go on a weekend trip away to a nearby town or city we've been meaning to visit.
Having something to work towards can genuinely help boost productivity and motivate you to get to work each day — it changes your mindset and makes work fun!
This is even more true if you love competition, which is one of the best ways to start working harder.
You could even turn it into a competition with some of your other friends who also works from home. Maybe whoever finishes their tasks lasts has to pay for the fun activity for the group!
Other forms of reward could be as simple as being able to watch your favourite tv show at night, enjoying a "sleep in" morning, opening a bottle of wine if you, etc. Honestly, the possibilities are endless.
8. Take a mental health day when needed
Staying motivated working from home can be as easy as taking a mental health day or a day off when you need to.
Sometimes, work can just start to feel like too much, and there is no reason that you should feel bad about taking a day off to rejuvenate and be ready for another day ahead.
This may sound strange, but I decide to take a Friday off every once in a while.
Something about a three-day weekend makes me so motivated to start the day on Monday, and I always get through my entire task list and then some because of how much time I gave myself to relax.
Working from home is a lot more complicated than most people think, and taking care of yourself and putting yourself first is something that remote workers don't do enough. Taking a day off is one of the best ways to stay motivated working from home.
If you're a remote worker for a company, you will have to call ahead of time to let your supervisor know that you're taking the day off.
If you're a freelance worker, though, as long as you are still on top of your deadlines, then you can easily take the day off without a whole lot of thought.
9. Get an accountability partner or coach
Joining a mentorship or a coaching program is a great way to stay motivated and focused working from home if you have a bit more money to spend.
Having someone else who can hold you accountable and help you stay motivated is a super-easy way to boost productivity, but it can be costly if you are looking for a top-notch coach.
I've been lucky enough to work with a few different mentors since beginning my freelancing journey, and it's helped me so much.
I genuinely believe that you will not start seeing growth and progress in your freelance business until you invest in it by finding a coach or mentorship group to help guide you.
There are so many different people who offer coaching programs now, so it shouldn't be too hard to find one that can help you out. Just take a look through Instagram, Facebook groups, or ask some of your other business friends if they have any recommendations.
If you're not looking to spend money on an accountability partner, reach out to a friend or co-worker who is in the same position as you, or join a particular group on Facebook. Just make sure it's someone who will hold you accountable for not completing goals!
10. Consider working in a co-working space.
Last but not least, working in a co-working space is another great way to stay motivated working from home. Almost every city in the world has some sort of co-working space now, which you can usually pay a monthly membership fee for.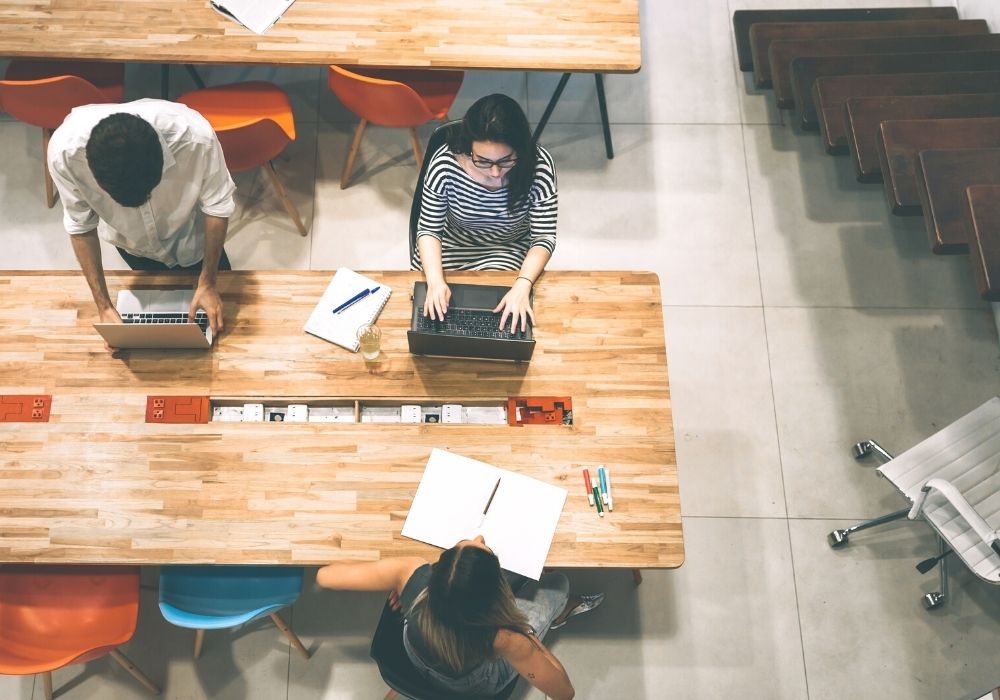 Do a quick search online to find some of the best coworking spaces in your area. More often than not, if you're a new customer, you can even snag a deal for your first month, getting the first month's subscription for next to nothing.
Working around other people who are remote workers can help to motivate you and make you feel like you're actually part of an office.
Plus, you might even make some friends in your coworking space who can motivate you to get your work done even, and push you to be more productive.
Most co-working spaces also have a lot of great amenities too, which can make the monthly fee worth it. For instance, many of them have free gym memberships, kitchens with coffee machines, and even wellness activities throughout the day with networking opportunities.
Conclusion
Now you know how to stay motivated working from home! While there are a lot of different methods, keep in mind that you may have to try out a few different tactics until you find what works best for you.
Just because one method works for your friend doesn't mean that it will work for you. Be okay with the fact that you may have to spend the next month or two trying to figure out what is easiest for your personality type and work ethic.
I wish you the best of luck with boosting your productivity! Once you figure out how to do it for you, it truly can make your work from home experience so much better.
Like This Article? Pin it!