Productivity apps have long been some of the most downloaded and used applications from the app store, and for good reason. Everyone (particularly entrepreneurs, digital nomads, and business owners) are trying to shave a few precious minutes off of their daily tasks so they have more time to spend doing things they enjoy.
Productivity apps help us to make time spent on our computers (and at work) more productive and while there's no single productivity app that will make you ten times more efficient, when you combine a few of them together you can quickly save hours off of your day.
I've been using productivity apps for years and I'm confident that they're a big part of the reason I'm able to work just 3 hours per day while making a full-time income blogging.
In this post, I'm going to break down the 10 best productivity apps that have truly changed the way I work and travel.
1. aText (One of My Favourite Productivity Apps)
This has to be one of my biggest time savers and I'm so amazed when I tell people about it and they've never even heard of it. This productivity app is an absolute life-saver and time-saver for those who spend a lot of time on their computers.
So what does it do? Basically aText allows you to create codewords that will automatically paste text for you.
If you find that you get a lot of emails that require basically the same response, then you can simply create a codeword, then create the text you'd like the codeword to represent and voila, you've made your first aText.
For example, we get a lot of emails from advertisers looking to pay us to place in-content ads on our blog. Pretty much every single one of these emails requires the same reply from me.
About 4 paragraphs explaining how much traffic we have, what our domain authority is and how much we charge for advertising. Instead of writing this out every time, or having to go into a text document and copy and paste my response every time, I simply created an aText codeword: "replytoadvertisers".
When I type that keyword, aText automatically pastes the long lines of text that I added into the app for the keyword. Simple. The best part is that you can create as many codewords as you want and aText doesn't just work in emails. You can use it in WordPress, in your word documents, your calendars, anywhere.
I have a keyword for dozens of different affiliates on this blog so that I can simply paste my affiliate links without having to go and find them. For example, if I type "keysearchlink" anywhere on my laptop, it automatically pastes "https://goatsontheroad.com/keysearch/". And if I type the words "Our Travel Blogging Section", it automatically links those words to appear: "Our Travel Blogging Section".
Amazing!
There are lots of different things you can do with aText and the more you play around with it, the more versatility you'll get out of it and the more time it will save you every day. I would guess that this productivity app saves me a few hours every single week, which is incredible. All of those times I'd have to write out an entire email, search for the proper affiliate link or send people to sections on our blog really add up. Thank you aText.
2. Google Keep
This is the productivity app I use most to keep my tasks and notes in order. You can easily sync it across all of your devices and it makes it easy to create to-do lists, notes, and reminders. The app makes it easy to add photos and screenshots into your notes and the interface for finding past entries is easier than all of the other note-taking apps that I've tried.
Unfortunately for iOS users, Apple wants you to use their own, proprietary note-taking software so you can't call on Siri to take notes in Google Keep for you, but if you're an Android user, you can take notes with your voice and save even more time.
3. Google Drive
This one of the productivity apps that I really couldn't live without. We communicate with our writers through Google Drive, we keep our budgets and income reports in Google Sheets, we back up our photos with Google One, we conduct surveys with Google Forms, and more.
The suite of products in Google Drive are some of the most useful productivity apps for those who work online.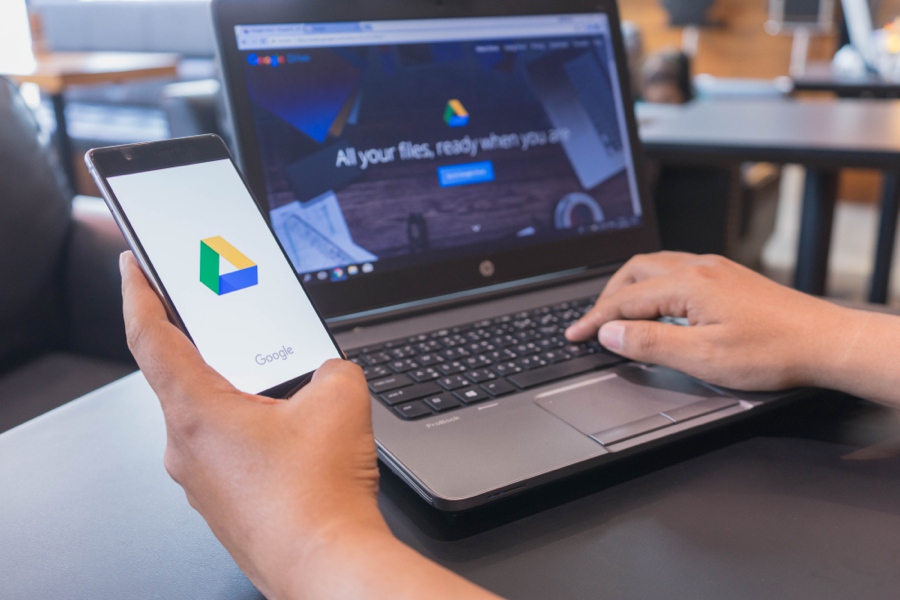 The best part is that it's free (up to 100GB of storage). If you only use Google for forms, spreadsheets, and documents, you'll never fill that up, but if you start uploading photos and videos to the drive, you'll have to upgrade your storage. Still, Google Drive has completely changed the way we interact with our team and how we store and organize our files in the cloud.
4. Hootsuite
To the creators of Hootsuite, I say THANK YOU! You've managed to create one of the most useful, intuitive and easy-to-use productivity apps for social media on the market. I use Hootsuite to pre-schedule dozens of posts on Facebook, both in my groups and on our page.
This productivity app has not only saved me time, but it's saved me from forgetting to post important updates to my followers. The user-friendly calendar interface means that you can quickly create and schedule posts on Facebook, Twitter, and Instagram quickly.
After the posts are scheduled, you can drag-and-drop them around the calendar and decide how you want them to be published in a very visual way.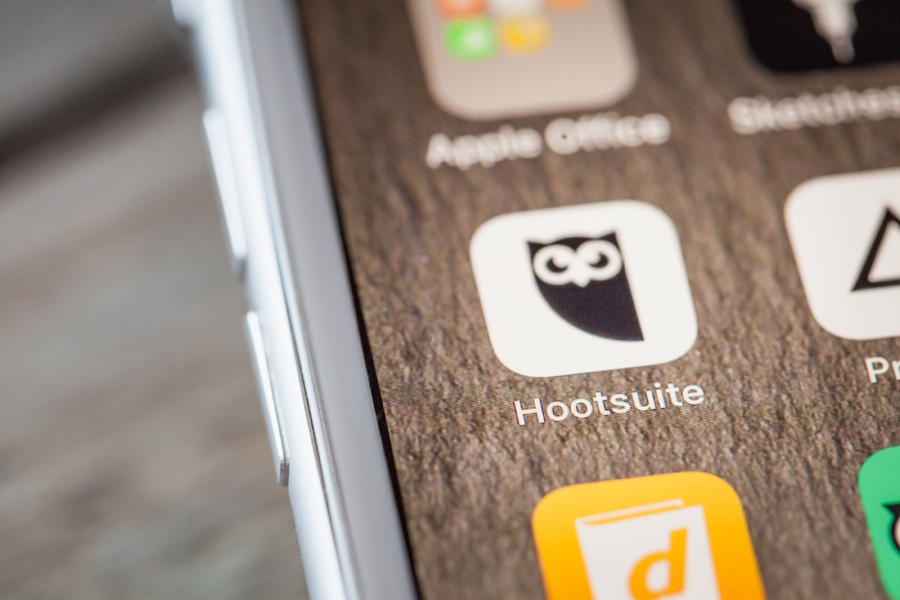 Hootsuite also tracks engagement analytics across different platforms, making it easy to see what works with your audience and what doesn't. Their free plan is actually pretty good as well, giving you 1 user access, 3 platforms and 30 scheduled messages per month. I upgraded to the Pro Plan because I schedule far more than 30 posts per month, but for new bloggers and business owners who aren't on social too much, the free plan should work just fine.
5. BTT (Better Touch Tool)
This is another one of those productivity apps that I'm surprised nobody knows about. Better touch tool (only for Mac), allows you to program gestures on your trackpad to complete certain actions. I currently have nearly a dozen programmed gestures that I've memorized and use all the time including minimizing windows, splitting the screen between applications, going full-screen, opening the Finder and more.
When I'm editing videos, I use BTT to quickly access my Finder window to find new video clips to drag and drop into the screen. During my everyday workflow, I probably use the gestures hundreds of times and they save fractions of a second each time I use them. It doesn't sound like much, but when you add them all up it saves a lot of time.
Now, when I use my friends' computers who don't have Better Touch Tool, I feel almost lost and I can't believe I used to have to move my mouse to the minimize button at the top of the screen and actually drag windows around to fit the screen. Once you go BTT, you'll never go back!
6. LastPass
We've been using LastPass for years and it helps us to not only have all of our passwords in one secure place, but also to share passwords to certain platforms with our team in a vault, without actually allowing them to see the password.
LastPass can be a major time saver if you're constantly forgetting your password, you can't think of highly-secure passwords (with symbols, capital letters, numbers etc.) or if you share passwords with your team and you find yourself constantly setting up temporary passwords to give them access.
Once you set up LastPass, turn on the browser extension so that you can easily access all of your saved passwords while you're filling out forms online. Whether you're signing into your bank or to your Amazon account, LastPass will pop up and allow you to use your secure password through their system.
7. Grammarly
I really can't believe that we didn't use Grammarly sooner. Using Grammarly as both a browser extension and an app means that you can easily check the spelling and grammar of whatever you're typing on your computer. Whether you're writing an email, a to-do list or a new blog post, Grammarly will underline mistakes while you're typing and give you detailed explanations as to why it is right or wrong.
For the longest time, we had a plugin on our WordPress blog that checked our spelling for us. For years our developer told us to get rid of it because it was slowing down the site, but we just found it so useful that we kept it. Now we have the Grammarly browser extension for Chrome and it's changed everything.
It has more accurate grammar and spelling checks and it doesn't require us to have any unnecessary plugins on our blog. Not only that, but with the Grammarly app installed on our computer, we're able to check out spelling and grammar when writing emails, creating titles for our videos in Final Cut Pro and much more.
8. Google Calendar
Google Calendar isn't just great for digital nomads and business owners, this organization app can help save time when planning for big trips, booking accommodation and tours, and scheduling your life in general. Dariece and I use this app all of the time and we share it across our devices so that her calendar matches mine and vice versa.
We can access Google Calendar from all of our devices, so no matter where we're working (phone, tablet or laptop) we can organize our days and schedule our tasks.
9. Siri (Or Google Assistant)
Funnily enough, Siri (I'm an iPhone user) saves me a ton of time. When I'm working at my computer, I have my phone sitting next to me at all times. While I'm writing blog posts, I often ask Siri things like "Hey Siri, what is the population of New Dehli?". Siri will quickly give me the answers I need, keeping me focused on the task at hand.
I also use Siri to set reminders so while I'm answering my emails if I have an appointment that I can't miss or a podcast that I need to be present for, I'll ask Siri to remind me the day before and on the day.
I have to say that while I do enjoy using Siri, I find that Google Assistant is even more productive. Google seems to have better AI and can understand me better, but without the easy microphone activation on iPhone (iOS doesn't allow you to activate Google Assistant by voice), I find myself using Siri all of the time.
Whether you have an Android or an iOS device, turn on voice activation while you're working and instead of opening a new tab and Googling answers, or opening your reminders app to set alarms, simply call on your assistant to give you the answers while you continue working. This can save a lot of time and will keep you in the flow.
10. Tile
Admittedly, this isn't exactly a productivity app, so it's a bit strange to add it to a list of productivity apps, but I use this thing so often and it saves me so much time that I just had to include it here. Tile is an app that goes along with a little ringing keychain. Basically, when you lose your keys, you simply pick up your phone, open the app and ring them. The tile keychain will play a loud tune, making it easy to find your keys if they're nearby.
The best part of the Tile App is that you can have multiple keychains attached to a single app, and you can attach the tiles to anything you want. Currently, I have a tile in my wallet and on my key ring, so if I lose either, it's a simple call from the phone and I can follow the tone to locate my lost items.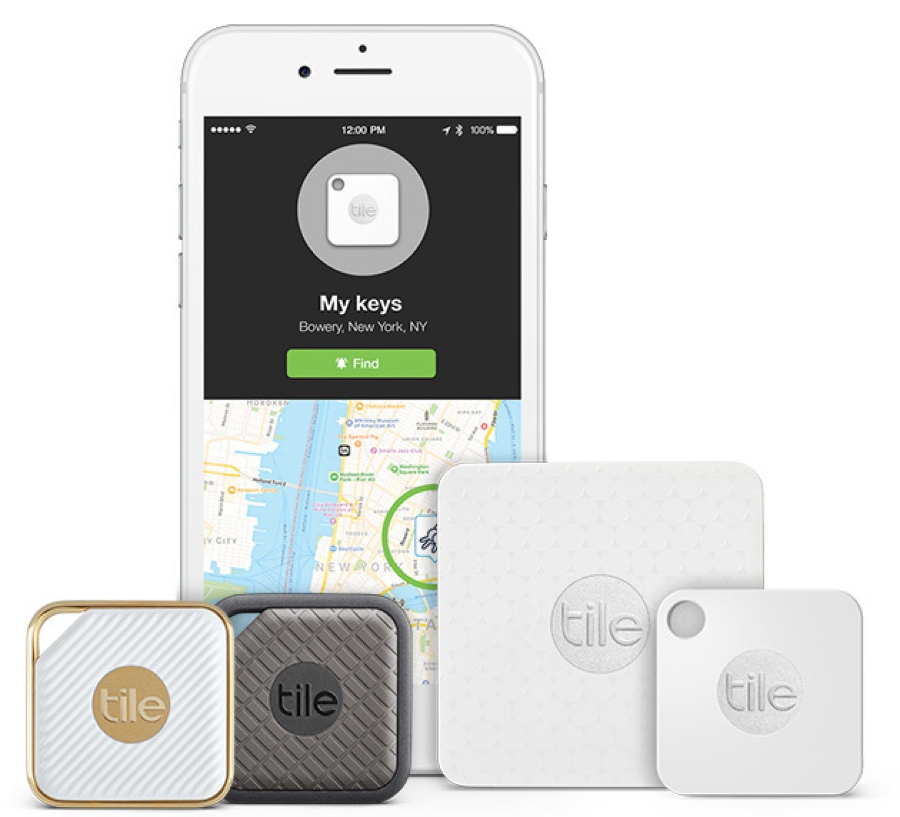 Not only can you call the tiles with your phone, but the tiles can call your phone too. So if you have lost your phone, you can go to your keys, double tap the button on the tile and your phone will ring loudly (even if you have the ringer turned off).
The Tile app doesn't just work if you're nearby either. The Tile itself will ping off of other tiles in the area so if you left your keys somewhere out of range of Bluetooth, you can see the last pinged map location inside the app on your phone.
For someone who, for some reason, misplaces a few essentials around the house all of the time, this little app and device have saved me a lot of time searching for my phone, keys and wallet.
Productivity Apps in Conclusion
If you're a digital nomad, then you're already probably familiar with how important apps and technology can be. You run your business online, you likely need numerous devices and apps to keep it going, and you probably spend the majority of your waking day looking at some sort of screen.
But what if you could cut off a few hours every day and instead spend that time travelling, meeting new people, tasting new foods and seeing a new place?
By utilizing these 10 productivity apps in your day-to-day workflow, you can shave hours off of your work week and start spending your time doing the things you love instead. I don't know what I did before these apps existed, but I'm happy they do now.
Hopefully, you found a few new productivity apps that you can use in this post. Do you have one that you use that I failed to list? Tell us about it in the comments below!
Like This Article? Pin it!