Perranporth is a small town on the north coast of Cornwall famed for its huge beach. There are lots of amazing things to do in Perranporth such as surfing, swimming and snorkeling to coastal hikes, and much more.
There are lots of wonderful places to visit in Perranporth like attractive gardens, museums, local breweries, and cider farms. This stretch of the Atlantic coastline is one of my favorite places in Cornwall and I've been visiting since childhood.
Surfing is one of the number one things to do around Perranporth as it offers some fantastic waves, and there are plenty of places to rent everything you need.
It's also a wonderful destination for families due to the fact that there's so much space, it rarely feels crowded.
Best Things To Do in Perranporth
Below you'll find a wide variety of fun things to do in Perranporth both in and out of the water. Whether you want to learn to surf, explore the beautiful coastline or treat yourself to local food and drink, there's something for everyone.
1. Spend a Day at Perran Beach
Perran beach is over two miles of perfectly golden sand backed by rolling dunes that stretch up a mile inland. It's one of the best places to visit in Perranporth for lovers of the outdoors and is a popular spot with surfers and paddleboarders.
The beach is just a few steps from the center of town and has plenty of cafes, bars, and bistros that overlook the bay (see below for my favorite beach bar the Watering Hole). There's lifeguard cover from April to October.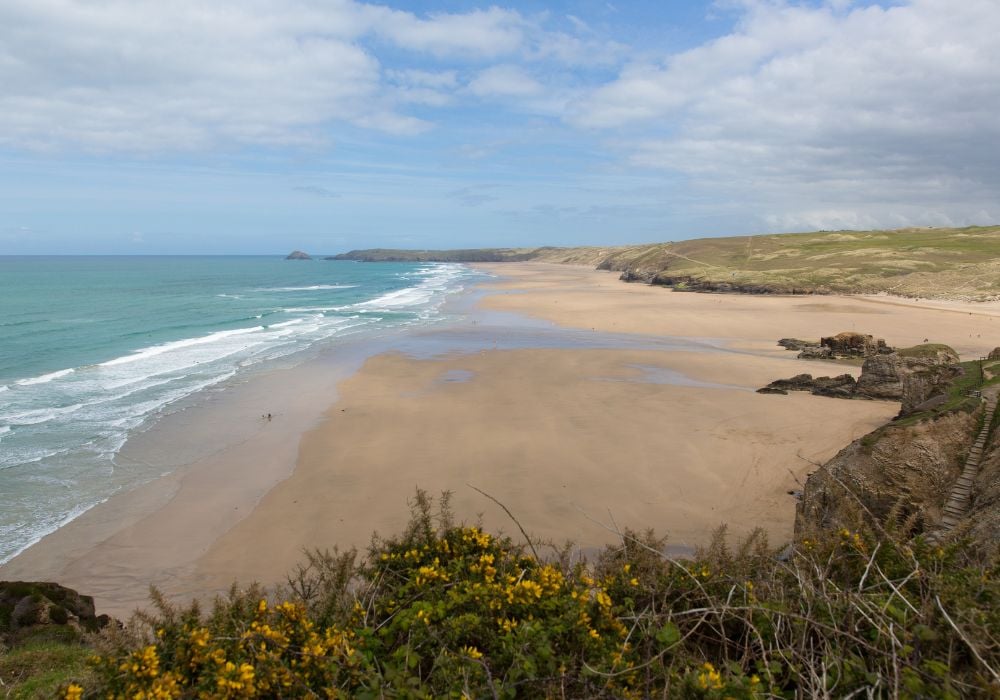 Perran beach is also one of the best things to do in Perranporth with dogs as there isn't a summer ban here like there is on other Cornwall beaches.
2. Learn to Surf
Perranporth is just eight miles from the UK's surfing capital of Newquay. So, what better place to learn to surf before putting your skills to the test at Perran beach (another of the UK's top surf spots)?
This two-and-a-half-hour beginners' surf experience is the perfect way to get to grips with a surfboard and learn how to start catching some waves.
This is one of my favorite things to do in Cornwall and both Newquay and Perranporth offer some of the best surfing in the UK. Surfing is definitely one of the best things to do around Perranporth.
3. Have a Drink at the Watering Hole
The Watering Hole is billed as the UK's only beach bar (it's actually on the beach). This quirky pub serves up inexpensive and hearty meals, a selection of Cornish brews from St Austell brewery, and has live music year-round.
I love nothing more than sitting on the outside terrace after a day at the beach and sipping a beer with fantastic views out to sea (so good in fact that there is a webcam on the roof with hundreds of daily views).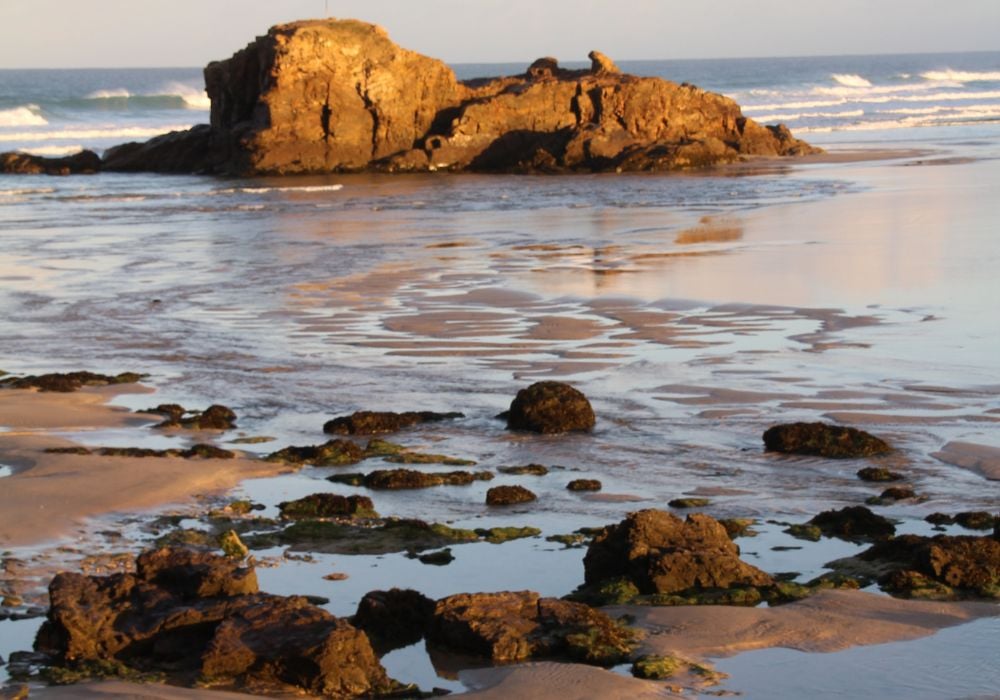 The Watering Hole is open from 9:00 am until late every day, including the winter months. The menu offers vegetarian options and mains cost from as little as £10.00 ($12.00). I recommend the grilled salmon.
4. Take an Art Class
Resin Ocean Art is a 90-minute art class where you can create your own beautiful piece of oceanic art. After getting to know your instructor and the other participants, you'll start mixing your own resin and adding different elements.
You'll learn all you need to know about resin art and at the end have your own piece to take away with you (a great gift idea).
Tea, coffee, cakes, and light background music complete the experience. This is one of the best activities near Perranporth to unleash your creative side.
5. Visit Penhale Sands
The sand dunes of Penhale Sands are a protected special area of conservation behind Perranporth beach. The southwest coast path runs through the dunes, and there's also the archaeological site of St Piran's Oratory to explore.
The remains of the 6th Century St Piran's chapel are one of the oldest Christian sites in Britain. Penhale is a great place to walk and is also dog-friendly.
Penhale Sands is one of the best Perranporth attractions if you're looking to get out into nature.
6. Explore the St Agnes Heritage Coastline
The St Agnes Heritage Coastline stretches from Perranporth to the sleepy village of St Agnes on the north Cornish coast. It forms part of the southwest coast path and offers panoramic views of the Atlantic and surrounding cliffs, beaches, coves, and caves.
Hiking the southwest coast path is one of my favorite pastimes when in north Cornwall – it's one of the most stunning parts of the country. This is an excellent way to spot lots of wildlife from birdlife to seals, and even basking sharks.
The route from Perranporth to St Agnes is 3.6 miles and is quite easygoing. This is also one of the best things to do in Perranporth with dogs as there are some dog-friendly pubs along the route such as the Driftwood Spars which has its own brewery and shop – the perfect pitstop!
7. Have a Cream Tea at the Cornish Lavender Farm
There's nothing better than a cream tea with Cornish clotted cream, freshly baked scones, and strawberry jam – a favorite treat of mine when in Cornwall. A great place to enjoy this traditional snack is the Cornish Lavender Farm between Perranporth and St Agnes.
The tea room is situated in the middle of a lavender field amongst a sea of purple and a pleasant fragrance in the air.
There's also a shop selling lavender products from essential oils to different types of food. Visiting the farm is one of the best days out near Perranporth.
The farm, shop, and tea room is open from Tuesday to Sunday from 10:00 am to 5:00 pm. The lavender cream tea costs just £7.50 per person. Visiting the Lavender Farm is definitely one of the best things to do near Perranporth; I'd be sure to add it to your list!
8. Visit the Perranzabuloe Museum
This interesting museum explores the region's history and its ties to fishing, farming, and mining (you can see evidence of the tin mines on the walk to St Agnes mentioned above). Perranporth was also home to a Royal Air Force base during the Second World War.
Inside you'll find displays and photographs and learn all about the past of the place. The museum is open Monday to Friday from 10:30 am until 4:30 pm, between Easter and the end of October.
This is one of the best free things to do in Perranporth as there's no entrance fee.
9. Relax in the Beautiful Trelissick Garden
One of the places of interest near Perranporth is Trelissick Garden. The house and gardens are run by the National Trust and make an excellent excursion for the whole family.
The area offers stunning views out to the coast with lots of woodland trails to walk. As well as the 17th Century manor house, you can discover exotic plants, ancient woodland, manicured lawns, and orchards.
There's a second-hand bookshop and also a cafe serving hot snacks, cream teas, and light meals. Tickets cost £13.50 for adults and £6.50 for children. Open daily from 10:00 am to 4:30 pm.
10. Go Beer Tasting at Black Flag Brewery
If you fancy something a little stronger than tea, then visiting the taproom at Black Flag Brewery is one of the best things to do in Perranporth for adults. Using only the finest organic grains, Black Flag has a fantastic selection of craft beers from IPAs to Saison and Stout.
I like nothing more than enjoying a Cornish beer when visiting, and Black Flag is one of the best, especially given its location a short walk from the beach.
The taproom is open on Fridays from 5:00 pm to 10:00 pm (pizza is served from 5:00 pm to 9:00 pm), Saturdays from 2:00 pm to 10:00 pm (pizza from 4:00 pm to 9:00 pm), and Sundays from 2:00 pm to 7:00 pm.
11. Eat Cornish Ice Cream at Callestick Farm
If you have a sweet tooth, then the Callestick Farm ice cream parlor is one of the best places to visit near Perranporth for its tasty dairy ice cream made with milk from the farm's herd.
Tuck into honeycomb, clotted cream and strawberries, choc fudge, and other mouthwatering choices.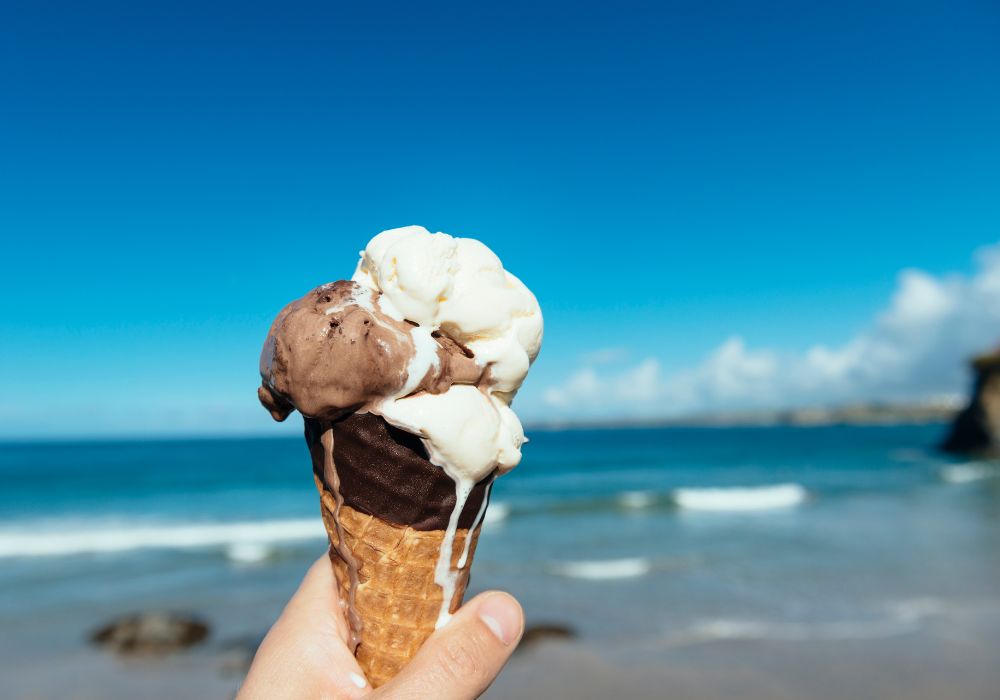 The farm is set within a beautiful valley four miles south of Perranporth and has been run by the Parker family for generations. Callesrtick's ice cream has been served at Royal Ascot racecourse, the opening ceremony to the 2012 London Olympics, and Cornwall's very own Eden Project.
The ice cream parlor is open from Thursday to Sunday from 10:00 am to 4:00 pm. In addition to the ice creams, the menu includes hot sandwiches and jacket potatoes so it's a great spot for lunch too. It's one of the best things to do with kids near Perranporth.
12. Have a Round of Golf
The golf club is one of the best places to go in Perranporth for lovers of the game thanks to its Top 100 Links course with stunning coastal views. Visitors can use the club every day of the week between 10:00 am and 5:30 pm (4:30 pm in winter).
The price for putting nine holes costs from £25.00 and 18 holes starts at £45.00. Clubs are available for hire from the onsite shop. There's also an onsite bar and kitchen that serves a great selection of hot meals and drinks.
13. Throw a Pot
If you've ever wanted to have a go at pottery, this 2.5-hour masterclass is one of the best things to do near Perranporth, Cornwall to get those creative juices flowing. You'll learn all you need to know about "throwing a pot" and using the potter's wheel.
The class takes place in a pottery studio on the Gannel Estuary just outside of Newquay. The Estuary itself is one of the best places to go near Perranporth.
All tools are provided and you will be able to take home whatever creation you make (I'd make a new coffee cup to replace the ones I keep breaking).
There's also the option to have your pot glazed and have it posted to your address (within a week or two of the class).
14. Check Out a Festival
Hitting one of the town's many annual festivals is one of the best things to do in Perranporth, Cornwall in summer.
The biggest of these is the three-day Tunes in the Dunes music festival with performances from a diverse range of artists (previous lineups have included Paul Weller, UB40, Shaggy, and the Proclaimers).
Every July sees the Perranporth carnival and the whole town takes part and gets into fancy dress. In April, the town hosts the Perranporth Sea Songs and Shanty Festival which take place across the local pubs. Check this useful guide to see what's happening during your stay.
15. Go Coasteering
Coasteering is an adrenalin-fuelled adventure where you'll get to go surfing, wild swimming, and clamber over rocks and gullies just up the coast from Perranporth in Newquay.
This fun-packed 2.5-hour coasteering experience is something I'm desperate to have a go at when I return to Cornwall.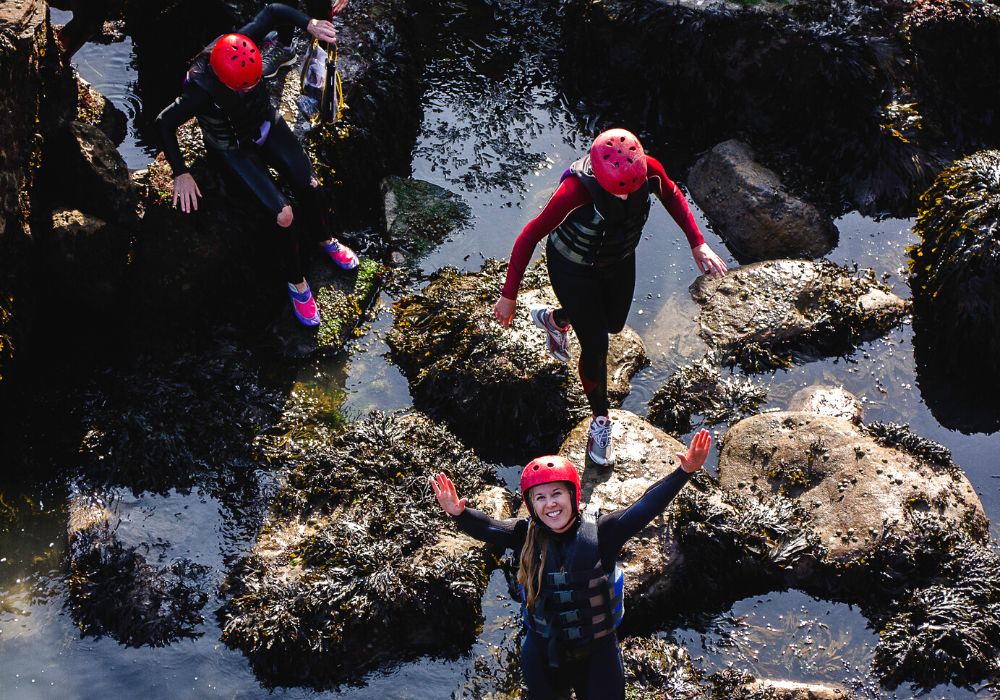 All safety gear is provided and you'll be looked after by trained professionals from Cornish Wave, however, you'll need to be a proficient swimmer to enjoy this activity. One thing's for sure, if you're looking for adventure, you'll find it coasteering.
Quick Travel Itineraries For Perranporth
Perranporth is a small town so the beaches and major attractions can all be seen within a few days. Below you'll find some useful itineraries for both short and long stays.
1 Day in Perranporth Itinerary
One of Perranporth's top attractions is its beach, so what better way to spend a day? Go surfing, swimming or paddleboarding, read a book and sunbathe, or while away an afternoon in the beachfront Watering Hole.
2-3 Days in Perranporth Itinerary
On your second day, visit the Perranzabuloe Museum in the morning before heading to the Waterfront for lunch. In the afternoon, head to the beach and finish off the day with a pizza and one of Cornwall's best craft beers at the Black Flag Brewery Taproom.
Use your third day to explore the stunning St Agnes Heritage Coastline; hiking between Perranporth and the picturesque village of St Agnes further down the coast.
1 Week in Perranporth Itinerary
For a week in beautiful Perranporth follow the above itineraries for three days and include trips to Penhale Sands. Make sure you sample the excellent ice cream from Callestick Farm.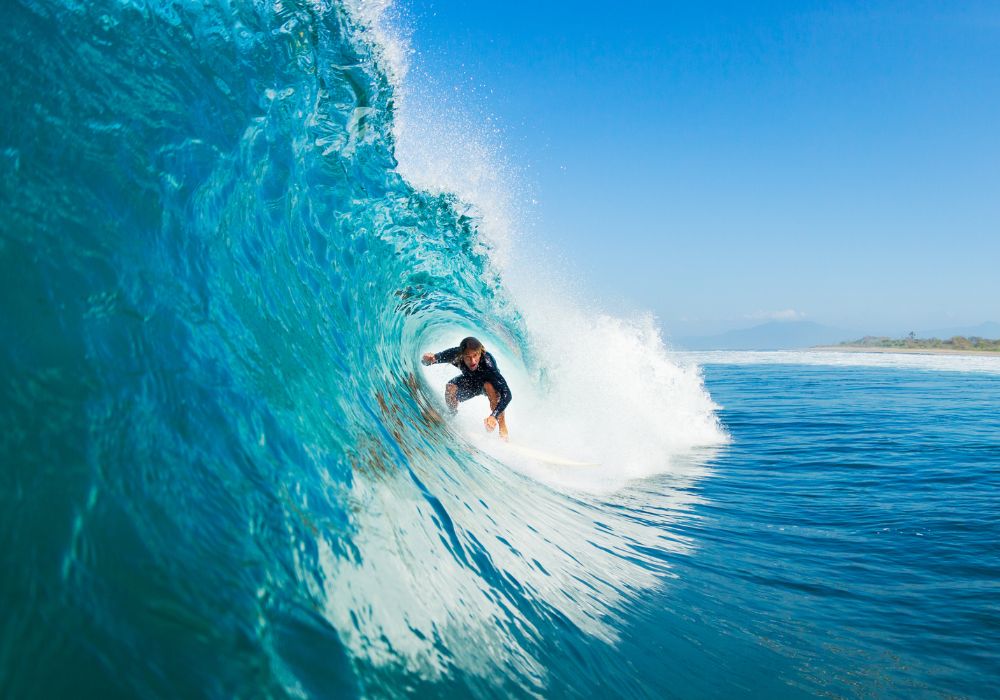 You could also make a short hop up the coast to Newquay where you can indulge in plenty of adrenaline-fuelled activities from surfing one of the best surf spots in Cornwall to coasteering.
Where to Stay in Perranporth
As Perranporth is a small town (and the size of a village), wherever you choose to stay will be within walking distance of the beach, shops, bars, and restaurants. Below is a handpicked selection of the best places to stay.
Private Room: Best for First-time Visitors
This comfortable private double room with ensuite sleeps up to two guests in a clean and friendly home. Perranporth's beaches, shops, bars, and restaurants are all just a short walk from the apartment.
The room comes with everything you need for a comfortable stay including a kettle, microwave, Sky TV, WiFi, and more. Click here to book.
Droskyn Corner: Best for Couples
This self-contained one-bedroom rental unit is a five-minute walk from the beach and all the amenities of the town. It's in a quiet location and features a garden. It's also dog and baby friendly.
The space has been recently refurbished and comes with a kingsize bed, a fully equipped kitchen, a washing machine, a shower room, and free parking. Click here to find out more.
Top Floor Apartment: Best for Families
This three-bedroom apartment is perfect for large families or groups of friends. The space can sleep up to seven people and comes with everything you need for the perfect beach holiday.
The beach and all the shops, bars, and restaurants of the town are just a short walk from this amazing property. Click here to book.
Best Restaurants in Perranporth
Don't miss these great places to eat in Perranporth.
The Waterfront
The Waterfront has a menu that specializes in burgers, hot dogs, and salads, so if you're looking for simple, filling food with stunning beach views, this is the place. There's both indoor and outdoor dining and the prices are very reasonable for the location.
No 4 Breakfast and Bistro
This excellent little bistro does more than just breakfasts (their steaks are some of the best in Cornwall) and is just a few steps from the beach. They have indoor and outdoor dining, and they also offer a takeaway service. Recommended.
Summer House
This pleasant restaurant overlooks Perran beach and the nearby dunes. The freshest local seafood is served here, alongside British contemporary and classic dishes. There is both inside and outside seating, and well-behaved dogs are welcome in both areas.
Getting To Perranporth
Perranporth is easily reachable from the rest of the UK and Europe. Newquay International Airport is just 15 miles from the town. From the airport, you can either take a taxi (around £40.00) or take a bus to Newquay and then change to the number 87 to Perranporth.
There are multiple daily trains to Newquay from London Paddington and the journey time is just five hours (including a change at Par). Tickets cost from £85.00. From Newquay, take the 87 bus to Perranporth.
If you plan on staying in Perranporth for your trip (there's certainly enough to do) then you won't need your own transport as all the major beaches and attractions are within walking distance. If you plan on exploring a little more of Cornwall then you could benefit from hiring a car.
Things To Do in Perranporth: FAQs
Here are some answers to commonly asked questions about visiting Perranporth.
What is Perranporth known for?
Perranporth is known for its gorgeous stretch of golden sandy beach, large sand dunes, and clifftop coast path. The town is also famed for its surfing, alongside nearby Newquay.
When is the best time to visit Perranporth?
The summer months of June to September are the best time to visit Perranporth. The beach can be surfed year-round, but you'll need a wetsuit if visiting outside of summer.
Is Perranporth worth visiting?
Perranporth is definitely worth visiting for its wonderful beaches, coast path, excellent pubs, and restaurants.
Can you swim at Perranporth beach?
You can definitely swim at Perranporth beach. You can also surf, paddleboard, and kayak.
Is Perranporth nice?
Perranporth is a very nice place and makes a great alternative to busy Newquay if you're looking for a more relaxed time by the sea.
In Closing
Now you know what to do in Perranporth, which of these great activities and attractions would you like to try first? The town is first and foremost a beach destination popular with swimmers and surfers, but there's so much more to Perranporth than its stunning beaches.
There are so many things to do in and around Perranporth that you won't be bored for a second. Whether you want to sample the local treats, splash around in the water, or take in the beautiful coast path and sand dunes, there is something for everyone.
Like This Article? Pin it!