Singapore is known for its high-end hotels, delicious cuisines and modern styled buildings. During our trip to Southeast Asia and the Sub-Continent in 2008/2009, we visited this tiny island country. Since it's quite small, we allotted ourselves 3 nights to explore the area. At the time, we were on a budget, so we didn't stay in a 5 star luxury hotel, we opted for a hostel located downtown right where all of the action was.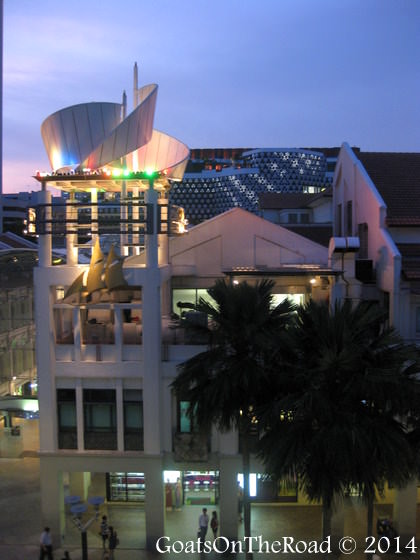 Singapore is a very multicultural nation with a fabulous mix of cultures, languages, people and foods. The dominant ethnic groups are Chinese, Indian, Malay and European. English is the first language, but Malay, Mandarin and Tamil are spoken. They have also adopted a unique language called "Singlish", which is a mix between English and the local Malay language. They tend to add "lah" to the end of almost every sentence, which can make it a bit hard to understand them at times!
This may be a small country, but it's jam-packed with things to see and do. Since we only had a few days, we hit the streets as soon as we arrived to wander around and enjoy the atmosphere.
We sauntered through the colourful narrow alleyways of Little India, enjoying the pungent smells of sandalwood incense, the hustle and bustle of street-side vendors, and the brightly coloured jasmine garlands. We could've spent longer in this flavourful area, but we wanted to see what Chinatown had to offer.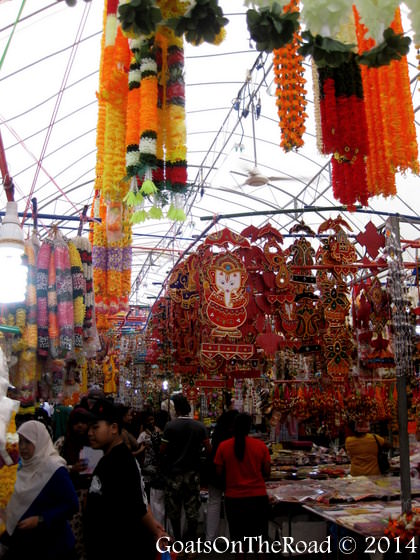 65% of the population of Singapore are Chinese, so it came as no surprise that Chinatown was alive and thriving! After living in China for a year, we now know the best time to visit would have been during the New Year Festival, but it was still exciting to stroll down the streets and enjoy the Chinese architecture, local beer and of course, the food!
As our first day wound down in Singapore, we started to hear (what sounded like) racecars ripping around a track. The sound was deafening and echoed across all of the highrise buildings. We decided we should follow the noise and see what we find. Low and behold, we had travelled to Singapore during the Grand Prix Formula-1 Racing! We couldn't believe it. This race was especially interesting because it was a street course and took place at night. We didn't have seats to the event, but it didn't matter, we were still able to peek over the fences and snap a few shots and take a few quick videos. The streets were alive an there was definitely excitement in the air!
The next day was adventurous as well. We made our way to one of the most popular attractions in Singapore, Sentosa Island…also known as Asia's Playground. There are numerous things to do on this resort island, but we chose to laze around on the white sand beach, enjoy the cuisine and a luge ride! We hopped on the cable car and enjoyed the views of Sentosa Island before arriving at the top of the hill.
We had never been in a 'gravity assisted go-kart' or luge before, but it looked like something we couldn't leave Singapore without trying. We sat in the vehicle and on the count of three, we both raced down the 1.5 km steep hill. We passed each other, swerved around the corners and in the end, I was the winner! Nick likes to think he lost because he was taking my photo, but really, I was just faster.
Our day on Sentosa Island came to an end and so did our time in Singapore. We enjoyed our three days there, but it was time to move on. This is one country that we suggest you travel to with a higher budget so that you can enjoy everything it has to offer. Some of the best hotels in the world can be found here, the nightlife here is spectacular and there are numerous nature parks, zoos and gardens as well. The gastronomic side of Singapore is very diverse, showcasing everything from steamed dumplings on the street to 5 star dining at high-rise restaurants. This tiny, first world country in Southeast Asia should be on every traveller's radar, from budget to high-end, there's something for everyone.
Have you ever been to Singapore? Did you think it was expensive? Share with us below!
Like this Post? Pin it!