Cafe culture is thriving throughout Cyprus and there's no shortage of amazing choices for cafes in Limassol. From upmarket cafes serving pâtisserie to relaxed beachfront cafes, there's something for everyone.
I spent nearly 4 months working as a digital nomad in Cyprus and based myself in Limassol for the majority of the time. One of my favorite things to do in Limassol was to sip on iced coffee in the best coffee shops in Limassol.
Not only are the cafes beautiful and fabulous places to hang out, but you'll find some of Cyprus' best coffee in Limassol. It's absolutely delicious. My favorite has to be a medium-sugar, freddo cappuccino (an iced coffee with a foamy consistency).
15 Best Cafes in Limassol
During my 4 months in Limassol, I spent time in cafes socializing with friends, working, eating, and relaxing. There's a different cafe to suit every mood in Limassol.
It's hard to narrow it down to 15, and you'll undoubtedly find other places for coffee in Limassol which aren't on this list that you'll love.
But for now, I've based my list on the quality and price of coffee, the food served, and the location. It's largely based on my personal opinion, but I've also checked reviews to make sure these correlate with my own glowing reviews.
If you're looking for a cafe for lunch, for a quick coffee pit stop, or for recommendations of the best cafes for working from in Limassol, read on.
1. Uluwatu Speciality Coffees (Best Cafe in Limassol Overall)
Uluwatu boasts some of the best coffee in Limassol, and that's saying something for an island and a city that embraces cafe culture as much as Cyprus does.
It's located just off the beach road and behind Molos. It's famous for its excellent specialty coffee and its delicious ice creams.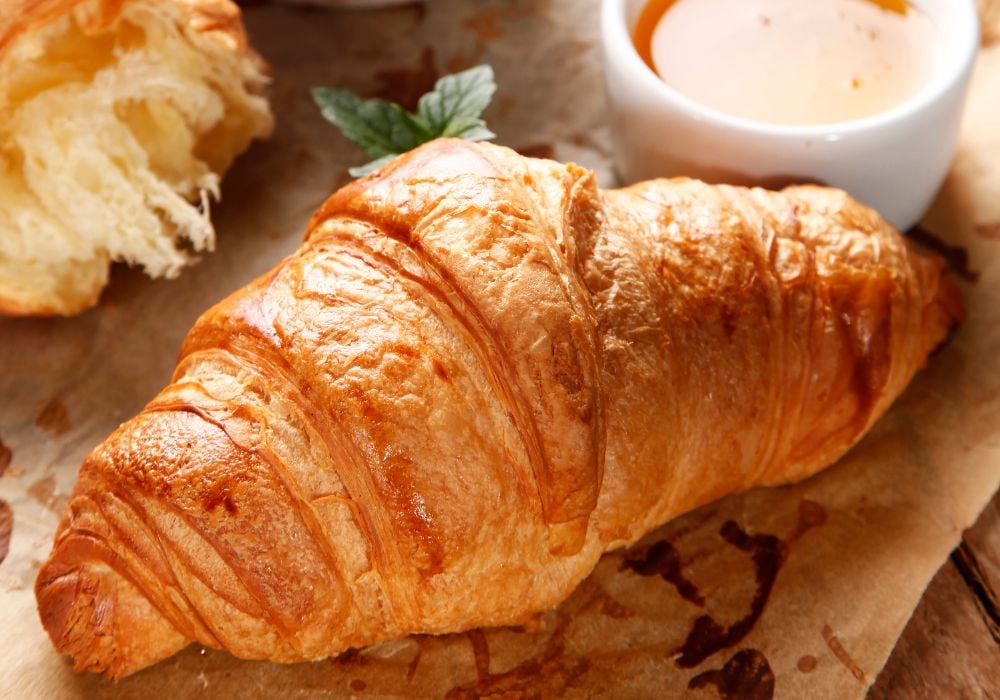 The interior is very cool, with a trendy cafe bar where you can choose your preferred beans for your coffee. There's also cozy and retro seating, so it's a fun place to go with friends.
Take your coffee with a freshly baked croissant (everything from the bakery is amazing) for the perfect start to the day.
There isn't any WiFi at Uluwatu currently, so it's not a co-working option at the moment. However, that shouldn't put you off trying one of the coolest cafes in Limassol.
Uluwatu Info
Address: Anexartisias 10, Limassol 3036, Cyprus
Phone: +357 25 222 191
Operating Hours: 7:30am-7:30pm, Mon-Sun
Must-Try Items: Handmade Ice Cream, Croissants,
Average Cost: €2-€5 per latte, €2-7 for a juice or smoothie, €3-€4 for a pastry
Website: wolt.com
2. Nomad Bread and Coffee (Best for Coffee and Pastry Combos)
This little cafe and bakery is one of my favorite coffee shops in Limassol and it's also a big hit with the locals.
There are two cafes; one in the center away from the beaches, and one in the Germasogeia neighborhood.
The one in the center is generally a takeaway place, although there are a few seats to the front for you to sit and people-watch while your purchase is being prepared. The Germasogeia cafe has more seating, so you can sit and enjoy your order.
Their range of coffee is excellent, and they stock The Underdog, which is the number one most-awarded coffee roaster in Greece.
Pair your coffee with any number of delicious snacks from their extensive bakery and pâtisserie range. They serve everything from freshly baked croissants to sandwiches made with their own sourdough bread. Check out the full menu on their website.
You can also get your order delivered via Wolt if you prefer your coffee sent.
Nomad Bread and Coffee Info
Address: Gladstonos 120, Street 3032
Phone: +357 2525 4520
Operating Hours: 7am – 8pm, 7 days a week
Must-Try Items: BB Detox Tea, Country Sourdough Bread, Macadamia & Blueberry Jam New York Cookie
Average Cost: $2.50-$3.50 for a coffee or a pastry, sandwiches under $5, desserts around $4
Website: nomadbread.com
3. Caffè Nero Dasoudi (Best Cafe in Limassol for Working)
Yes, it may be a worldwide chain, but Caffè Nero in Cyprus generally is, for me, much better than anywhere else in Europe. This particular Caffè Nero may be the pick of the bunch in Cyprus.
The coffee is good and not too bitter, which I like. As you would expect from a chain, they have a large range of hot and cold coffees at a reasonable price.
The best thing about this cafe is its location. It's located on the beach road, just across from Dasoudi Beach. It's huge, with plenty of seating in the cool air-con indoors, or on the covered and uncovered terraces to the front.
Caffè Nero Dasoudi is an excellent place to work with long bench tables, lots of sockets, and good WiFi.
While the salads and sandwiches can be a bit hit-and-miss, Nero is a perfect place to grab a coffee and get through a few hours of work. It's hands down one of the best cafes for working in Limassol.
Caffè Nero Info
Address: 45 Promaxon Eleftherias, Agios Athanasios, Limassol 4103
Phone: +357 2502 0092
Operating Hours: 8am – 11.30pm, 7 days a week
Must-Try Items: Cappuccino or Latte, Freddo Cappuccino
Average Cost: €2-€4 per coffee, $5-€6 for a salad or sandwich
Website: Dasoudi Menu at Wolt.com
4. Thalassaki (Best for Coffee on the Beach)
Maybe one of the best cafes in Limassol for coffee that's set right on the beach. It's a popular meeting place for locals and tourists alike, but you'll see the locals playing Tavli (Greek Backgammon) while sipping an iced coffee.
Thalassaki offers a beautiful view of the beach, and it stays open late so you can enjoy a coffee under the fairy lights while listening to the waves break on the sand.
It's not a cafe for working, but it's a wonderful place to relax, enjoy the sunshine, have a quick swim, and sip on a coffee or juice.
Thalassaki Info
Address: Pedestrian & Bicycle Path, Limassol
Phone: +357 25 343459
Operating Hours: 6am-11pm, 7 days a week
Must-Try Items: Freddo Cappuccino or Espresso, Juices
Average Cost: €2-€4 per coffee
Website: Thalassaki on Trip Advisor
5. Colombia Beach Bar (Best for a Beach Bar Atmosphere)
Colombia is renowned for being the fanciest beach bar along the beach road. It hosts parties at the weekend with live DJs, and it's located right on the sand. The interior is spectacular with a pool right in the middle.
It's a fantastic place for brunch and a coffee with a view of the sea. You can sit in the covered area by the bar, or if the weather isn't too hot, you can sit on tables in the sun under an umbrella.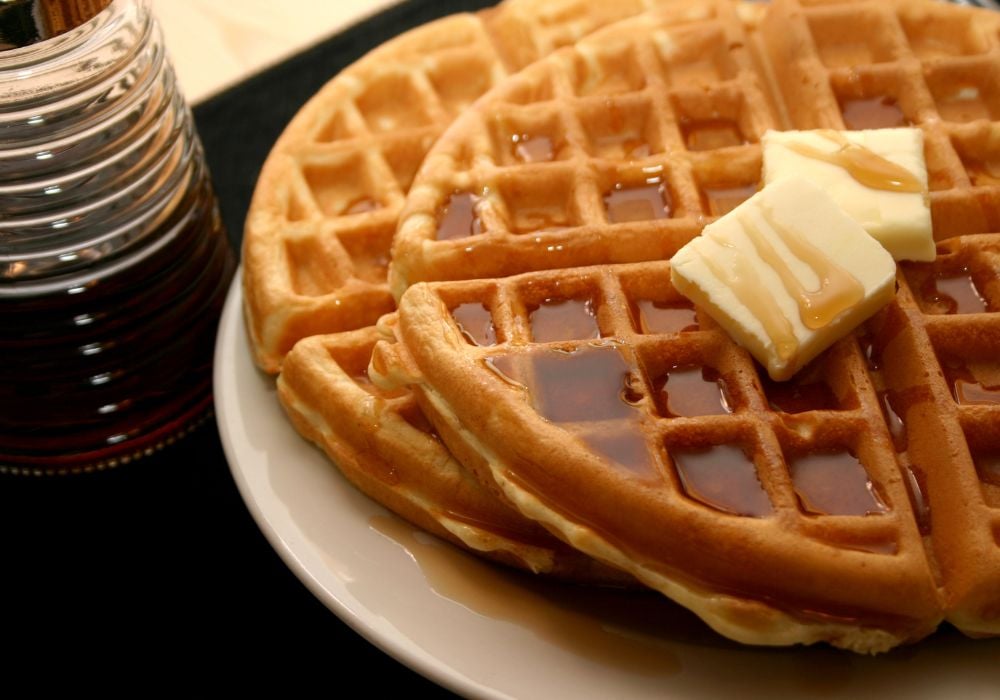 The food is a little more expensive than other places on the list, but the fantastic ambiance and the tasty food make it worth the cost.
Not a cafe for working, but one of the best coffee shops in Limassol to visit with friends on the weekend.
Colombia Info
Address: 6, Προμαχών Ελευθερίας, Agios Athanasios, Cyprus
Phone: +357 25 321500
Operating Hours: 9am-2am, Mon-Sun
Must-Try Items: Eggs with Koulouri and Manouri, PB&J Overnight Healthy Bowl, Waffles
Average Cost: $3-$6 for a coffee, €12-€17 for brunch dishes
Website: columbia-beach.com
6. Stretto Café Lounge (Best for Coffee with Lunch)
Tucked away in Limassol Old Town, right next to Limassol castle, is this excellent cafe bar.
It features a spacious and colorful interior with plenty of chairs and tables and it's open all day. It offers an extensive menu, so it's the perfect place to stop for a coffee and something to eat after exploring the Old Town.
Breakfast, lunch, and dinner all come highly recommended here, and you'll even find sushi on the menu, which is delicious. You'll be equally welcome if you just want a hot or cold coffee to enjoy as you watch the world go by too.
It has WiFi and plenty of seating, so it's possible to work here. However, given its proximity to the castle and Old Town, it may be a little busy if you need to concentrate. I prefer it for people-watching and taking a long lunch.
Stretto Info
Address: Vasilissis Street, Limassol 3042, Cyprus
Phone: +357 25 820465
Operating Hours: 10am -11pm (Sun-Thurs) 10am-12am (Fri & Sat)
Must-Try Items: Cappuccino Milkshake, Sushi, Desserts
Average Cost: $2-$4 per coffee, $8-15 per main, $4 for desserts
Website: carobmill-restaurants.com
7. Clock Café by the Sea (Best for Grab-and-Go Coffees)
Clock Café is a local range of coffee shops in Limassol and I love them. Every cafe is clean and modern, and together they are my favorite cafes in the city.
My favorite though, if I had to pick, is Clock Café by the Sea. It's located on the beach road, and it's the perfect spot to grab a coffee and head for a walk along Molos.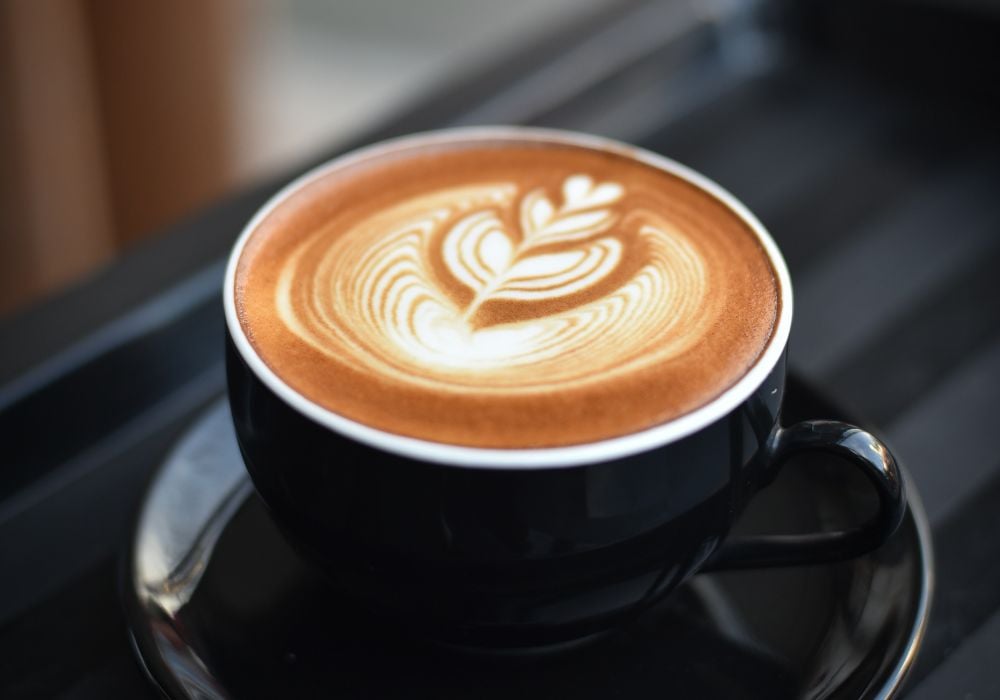 Alternatively, you can sit inside in any of the cafes which all have excellent working facilities. From the square tables and comfy seating to the strong WiFi and plenty of plugs, it's a brilliant place to work for a few hours with a coffee or two.
I particularly like the cold coffees here, which are much needed on a hot day in Limassol. The frappés are a local specialty or try a freddo espresso if you want a higher caffeine hit.
Clock Café by the Sea Info
Address: 28 October Ave 295, Limassol 3035, Cyprus
Phone: +357 2537 5700
Operating Hours: 6am – 12pm, 7 days a week
Must-Try Items: Freddo Espresso, Superfood salad, Crème Brûlée Cheesecake
Average Cost: $2-$3 per coffee, $4 per sandwich, $2-$3 per dessert
Website: clockcafe.com.cy
8. Angel's Cup (Best for a Variety of Coffees)
Angel's Cup is a local, trendy and artisanal coffee house in Limassol. Located behind the beach road and in the Old Town, it's well worth a detour for its excellent choice of coffees and some delicious desserts to try alongside.
It's a small cafe with a limited amount of seats inside, but it does have some outdoor seating to watch the world go by as well. Alternatively, grab a coffee to go and wander through Old Town as you sip.
They have an excellent range of coffees available, both hot and cold, together with freshly baked pastries and desserts. The trendy interior design makes it a great find, hidden away slightly out of the main tourist spots.
Given its size, it's not one of the Limassol cafes that I recommend heading to for work, but for me, it's one of my favorite Limassol coffee shops and certainly worth a detour to get your daily cup.
Angel's Cup Info
Address: Kanari, Old Town, Limassol
Phone: +357 2522 2987
Operating Hours: 8am – 5.30pm, Monday to Saturday. Closed on Sundays.
Must-Try Items: Breakfast Pastries, Hot Chocolate, Iced Latte
Average Cost: $2-$4 per coffee, $2 per pastry, less than $5 for a dessert
Website: facebook.com/angelscup
9. Red Café on Molos (Best for People-Watching on Molos)
Molos is a beautiful promenade near the old marina in Limassol which comes alive at night. The locals and tourists alike flock to Molos to stroll up and down, drinking coffee and eating ice creams.
Dotted along the promenade are several cafes and right in the middle is one of my favorite cafes in Limassol, Red Café. It gets its name from being…red! Elsewhere, on Molos you'll also find a blue cafe (actually a Caffè Nero), and a yellow cafe.
Red café is my favorite for lots of reasons. Firstly, it's centrally located, making it an excellent meeting point or place to enjoy the various activities around you.
Secondly, they serve delicious food, including some mouthwatering pizzas, and thirdly, they leave out bowls of water for dogs (I'm a sucker for anyone who looks after animals!).
All that aside, Red Café is an excellent all-rounder. They serve food all day, with plenty of indoor and outdoor seating, so you'll always find a spot. They have an extensive menu that's reasonably priced and they serve both alcoholic and non-alcoholic drinks.
It's a great place to cool off during the day or head in the evening when the sun goes down. It's one of my favorites and the staff is always super friendly.
Red Café at Molos Info
Address: Christodoulou Chatzipavlou, Limassol, Cyprus
Phone: +357 9988 8441
Operating Hours: 9am – 10.30pm, 7 days a week
Must-Try Items: Red Café Pizza, Seafood Platter, Frozen Daiquiri
Average Cost: $3-$4 for a coffee, $8-$10 for a cocktail, $12-$15 for a pizza
Website: facebook.com/redcafe.pizzaromana
10. Coffee Island (Best for Dark Roast Coffee)
There are a few Coffee Island Cafes all over Limassol, and Cyprus generally. They're some of the best cafes for Digital Nomads in Limassol because they have lots of big tables and usually a few power outlets to plug into.
The coffee is good, the place is clean and the drinks and snacks are reasonably priced, so you can stay here for a few hours and really get stuck in. It's also a great place to grab a takeaway coffee.
My favorite is the Coffee Island in Agios Tychonas as it has a lovely, covered area right under a huge tree, and it's usually pretty quiet too.
Coffee Island Info
Address: Lordos Kantara Village, 1 Block A1, Onisilou Street 4, Ayios Tychonas Limassol, 4532
Phone: +357 70 002530
Operating Hours: 6am-12am (Mon-Sun)
Must-Try Items: Iced Latte, Doughnuts
Average Cost: €2-€4 per coffee, €6-€10 per main, €2-€4 for snacks
Website: www.coffeeisland.cy/en
11. Colors at The Four Seasons (Best for Pâtisserie)
This cafe is incredible, which isn't surprising as it's part of one of Limassol's best hotels: The Four Seasons.
It's gorgeous inside and outside. You can sit on a patio with palm trees and the sound of the sea beyond and if you go during the day, you'll enjoy the amazing view over the pool and facilities of the hotel.
The coffee is good, but it's not what you go for. You go to Colors for the incredible pâtisserie and delicious homemade ice cream. I honestly couldn't pick a favorite, it's so hard to choose. You'll have to visit a couple of times.
You can also get lunch here, but it's a little pricey. That said, if you're going for a special occasion, the setting is spectacular and the service is really friendly. I like to go at night for coffee and dessert.
Colors Info
Address: Four Seasons Residences, Ground Floor, Avenue, Ag. Tychonas, 4532, Amathountos 67/69, Limassol
Phone: +357 25 858000
Operating Hours: 9am-1am (9am-1am) and 9am-12am (Sun-Thurs)
Must-Try Items: Any Homemade Ice Cream, any Pastry, or Cake.
Average Cost: €3-€6 per coffee, $15-25 per lunch main, €3-€8 for a cake or pastry
Website: https://www.fourseasons.com.cy/colors-cafe
12. La Croissanterie (For the Best Croissants!)
La Croissanterie is one of the best chains of coffee shops in Limassol to take your laptop and get some work done. The service is friendly, and the coffee is excellent. They have a large selection of different hot and cold coffees, and it's one of the most affordable places to grab a coffee in Limassol.
It's probably my favorite cafe in Limassol to take my laptop to and they serve tasty sandwiches too which are reasonably priced and generous on the fillings. My go-to is the lountza and halloumi sandwich.
One thing you have to try in La Croissanterie, which is unsurprising given its same, is a croissant. If you get there before 9-9.30 am, they'll still be warm. If you get a chocolate one, it'll be all melted and delicious inside – seriously, my mouth is watering just thinking about it.
La Croissanterie Info
Address: Vasileos Georgiou, 95 Germasogeia, 4048, Cyprus
Phone: +357 95 183700
Operating Hours: 6am-12am (Mon-Sat) 7am-12am (Sun)
Must-Try Items: Croissants, Frappé, Fresh Orange Juice
Average Cost: $2-$4 per coffee €4-€6 for lunch, €1-€3 for pastries
Website: La Croissanterie Facebook
13. Guest Café Bar (Best in the Old Town)
This is both a cafe and a bar, a perfect day-to-night choice, nestled on a cobbled side street in the middle of Old Town.
Its decor is gorgeous, and it's got a lovely colorful outdoor area that has a really cheery feeling. The staff there are also really friendly.
Visit Guest for a coffee in the afternoon and stay for beers or cocktails in the evening. It's a superb spot and a great option for the weekend.
Guest Café Bar Info
Address: Ζικ Ζακ 24, Limassol 3036, Cyprus
Phone: +357 99 370055
Operating Hours: Closed on Mondays. 8am-2am (Tues-Sun)
Must-Try Items: Pancakes, Milkshakes
Average Cost: €3-€5 per coffee, €10-€18 per main
Website: Guest Café Bar on Facebook
14. The Melting Pot Concept (Best for a Relaxing Atmosphere)
This is definitely one of the coolest cafes in Limassol. It's a minimal cafe in terms of appearance, but it feels very calm with quiet music playing in the background. It's a superb option for working remotely, and the WiFi is reliable.
I love the coffee here. It's quite mild, so it's a good option for those who don't like dark roasts. They have an amazing selection of cakes, and they also offer a limited brunch and lunch menu with some light and healthy options.
The Melting Pot Concept Info
Address: Eleftherias 133, Limassol 3042, Cyprus
Phone: +357 25 109725
Operating Hours: Monday (Closed) 8am-10:30pm (Tues-Thurs) 8am-11pm (Fri) 9am-11pm (Sat)
Must-Try Items: Espresso Macchiato, Iced Flat White, Sweet Pies
Average Cost: €2-€5 per coffee, €6-€7 for desserts
Website: themeltingpotconcept.com
15. Armonia By The Sea (Best Seaside Cafe for Beach Days)
While I don't recommend eating at Armonia, (there are better places for food), I certainly recommend grabbing a coffee here. The seating is under a huge tree right on the beach path, so you have an amazing view of the beach from most seats.
One of my favorite things is to go for a swim and then dry off while sipping on a coffee at Armonia. You'll see a lot of locals doing this too.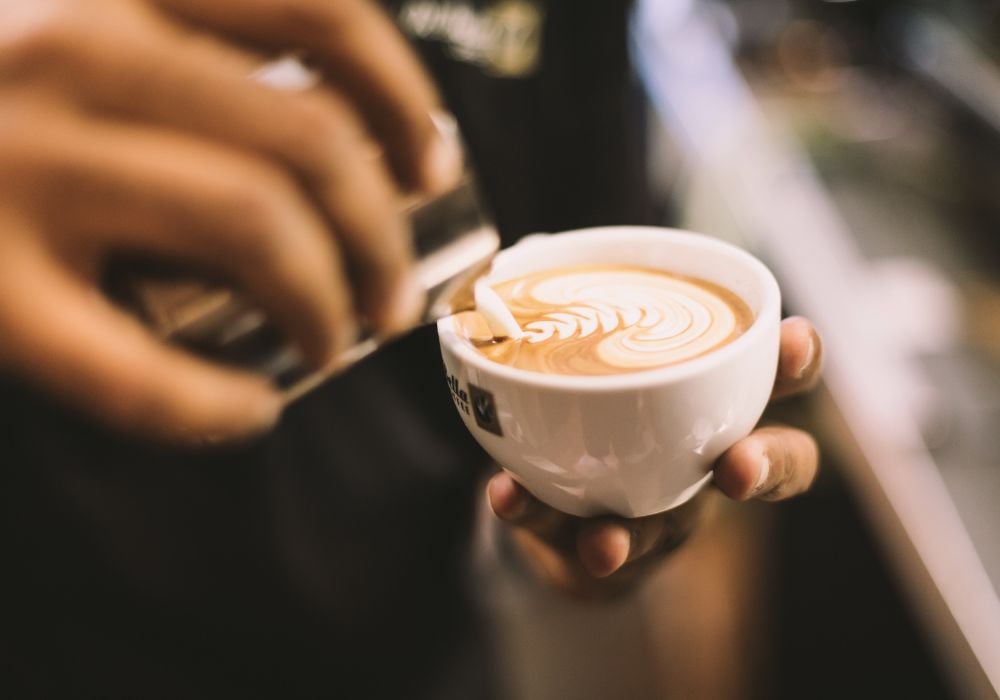 It's super relaxed, the staff are all really friendly. It's a great place to soak up the sun.
Armonia By The Sea Info
Address: Αμαθουντος, Limassol 4527, Cyprus
Phone: +357 25 328083
Operating Hours: 8am-12am (Mon – Sat), 8am-11:30pm (Sunday)
Must-Try Items: Frappé, Freddo Cappuccino
Average Cost: €3-€5 a coffee, €10-€15 per main
Website: Armonia on Facebook
Limassol Cafes and Coffee Shops FAQs
Here are answers to popular questions about the best cafés in Limassol.
What are the best cafes in Limassol?
There are so many great cafes in Limassol, it's hard to choose the best. It also depends on your budget and what you're looking for. Rest assured, there's so much choice, you'll definitely find somewhere that suits your needs.
Do you tip in Limassol?
It's not obligatory, but it's common. I'd usually give 10%. Many cafés are self-service, so you won't be required to tip in these instances. If you've sat down and received good service, then you might want to give a little extra.
What neighborhood has the best cafes in Limassol?
All of them. No matter where you're staying in Limassol, you'll have a few coffee shops to choose from – they're on every corner. However, Molos and Old Town have some great ones.
Does Limassol have good coffee?
Yes, Cypriot coffee is unique and is brewed in small copper pots called brikia and served in a little espresso-sized cup. It's much like Greek coffee. It also makes more contemporary coffees using Brazilian coffee beans.
How much is an average coffee in Limassol?
An average coffee will cost around €4 but can be cheaper or more expensive than this depending on where you go.
Is coffee popular in Limassol?
Yes, Cypriots love their coffee. It's part of the lifestyle in Cyprus, and it's one of the most popular drinks on the island. They'll order a coffee and sit talking with friends for hours!
What is the best cafe for studying in Limassol?
I recommend The Melting Pot Concept, or if you're a student, go for Coffee Island or La Croissanterie as they have big tables, plugs, and more affordable coffee and snacks.
To Summarize
One of my favorite things about Cyprus is the cafe culture and the siga siga (slowly, slowly) lifestyle which is embedded into the island.
There's a fantastic selection of cafes in Limassol; there are places to go for your everyday coffee with amazing views, and for working or studying. Despite Cyprus being relatively expensive, there are still places where you can get a decent coffee that won't break the bank.
I hope this blog post helps you find somewhere perfect to get your caffeine fix for the day.
Like This Article? Pin it!