February 11 – 18 / 2011
There's not too much to write about our time spent in Spain. We had an incredible resort thanks to Tom, Kathy and Interval timeshares! A beautiful Marriott Resort that is far more luxurious than any regular resort you can imagine because it can't even really be classified as a resort.
It's more like a 2 bedroom 1200 sq ft condo complete with in suite laundry and a full kitchen. It was truly beautiful and the complex was set right on the ocean. So, true to our plan, we didn't do much more than relax in Spain.
We spent one day going into the city of Estepona, which had a nice old Spanish-style town with white washed buildings and narrow cobblestone lanes.
We stopped in a little restaurant far off the tourist maps and had an authentic Spanish tapas lunch with beer. As with the GBP, the Canadian dollar is currently strong against the Euro giving us very affordable prices for food and everyday needs in Spain.
Quite a bit better than the prices in Canada given that the Euro was once double our dollar and now is only 1.3 times and the cost of living still hasn't quite caught up to this fluctuation.
We also did a day trip to a beautiful town called Ronda. Ronda, Spain, is a stunning old village set on a massive gorge that descends hundreds of feet downward at the town's edge. We really enjoyed Ronda, we hiked up and down the cliffs surrounding the city and came across some nice Arab architecture, and a waterfall and dam.
We stopped for a romantic picnic on the edge of the cliff and ate a delicious lunch of chicken caesar salad that we had prepared the night before in our resort. A perfect place for Valentine's Day. For sheer natural beauty and setting, this town is one of the prettiest we've seen.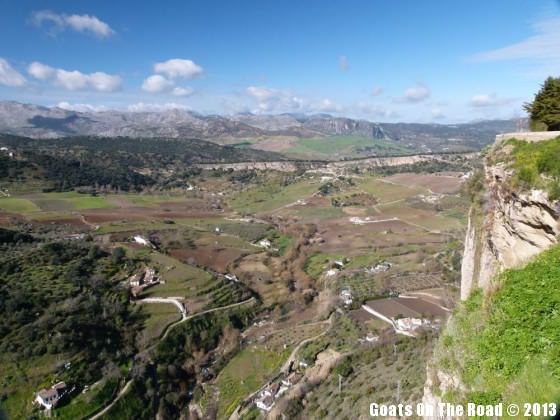 Other than that we didn't do too much in Spain.
As much as we loved the resort in Spain, we couldn't help but notice how much more we appreciated the one in Thailand. Yes the one in Thailand was far more beautiful than this one, but what made the last one so amazing is that we had been travelling on a shoestring for so long, that jumping head first into our own private pool, was more than just a refreshing splash in chlorinated water.
And bedding down in a king-size Posturepedic with down pillows and duvet with the breeze coming in the massive villa window was more than just a good night's sleep. And cooking our own food in the kitchen and watching the big 52 inch screen was so amazing, not only because we were doing it in an exotic place, but because we had craved it for so long. It was so great to just relax and have a place to call home for a week.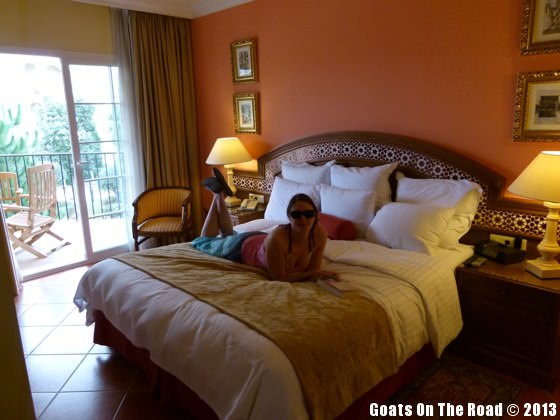 But this time, in this Marriott, it was the opposite. We were craving to be on the road, to eat every meal in a hole-in-the-wall cafe, to bargain for accommodation costs, and even to sleep on a basic mattress.
So the regular allure that we would normally associate with a 5-star resort just wasn't there, because we were craving something else. As ridiculous as that may sound, I don't think that we will ever vacation the same again.
A vacation from the routine and monotony of home life will probably always be into the havoc and pandemonium of budget travel, and only a vacation from backpacking will ever be a 5-star resort with the regular comforts of home.
Like it? Pin it! 🙂