We spent 3 nights in the city of Kerman and had a very memorable time with the local people, while experiencing the religious ceremony of Ashura first hand. As we've said before, it's the little things in travel that really bring us joy and our time in Kerman was a prime example.
Initially, we decided to come to Kerman to visit the surrounding desert, villages and the amazing Kaluts (sand formations in the desert). Since tensions are currently high with the neighbouring country of Pakistan, we decided it was best to not venture as far east as we wanted and spend more time with the Akhavan family at our hotel.
Immediately upon checking into the Akhavan Hotel, we knew we were going to like it there. The brothers who own the hotel were friendly, there were only 4 other tourists there, the room was immaculate, the on-site restaurant served up fantastic food and the all around vibe was friendly and warm.
We ditched our bags in the room and set off to check out the 1200m long "end-to-end" covered bazaar. We were given free samples of nuts, dried fruit, fresh pomegranate and hookah pipe! We spoke to many local people and wandered around enjoying the atmosphere.
Back at the hotel we had a delicious dinner of beef stew, fried fish, rice, salad, yogurt, grilled potatoes and bread. It was quite the feast, complete with "beer" that the hilarious waiter, Mohammad, insisted we drink. Let me tell you, it was definitely not beer.
The following day, we set off to see the small nearby town of Mahan and the famous Kaluts with our driver for the day, Ali. He spoke no English, but was a great driver and always stopped whenever we asked and even made us tea throughout the day.
Mahan was a great town but since it was the holiday time (Ashura), many things were closed. We were, however, able to see the shrine of the Sufi dervish and poet, Shah Ne'mattolah Valie, who died at the age of 100. The Mausoleum is also very old, it dates back to 1436!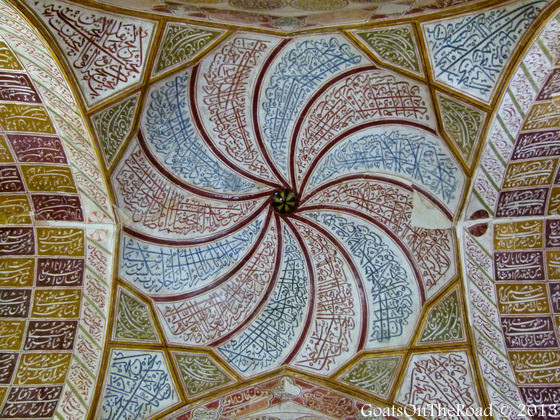 From Mahan, we made our way out into the desert. After about 2 hours of driving, the landscape started to change. As if out of nowhere, small mounds started to form all around us.
As we made our way further into the Kaluts, towering sand formations stood before us. The "sand castles" have been sculpted over a millenia from the change in wind, which causes the desert sand to pile up and form different shaped formations.
We stayed until the sun set and enjoyed yet another cup of tea with our new friend, Ali.
That evening, we were invited into the bustling kitchen by the owners. Mr. Akhavan's family, friends and staff were all busy preparing 3 massive cauldrons of food to give away the next day. During Ashura, if you are able to, it's customary to prepare food or drinks for the community. The hotel was making lamb stew as their contribution and had sacrificed 6 sheep in the process.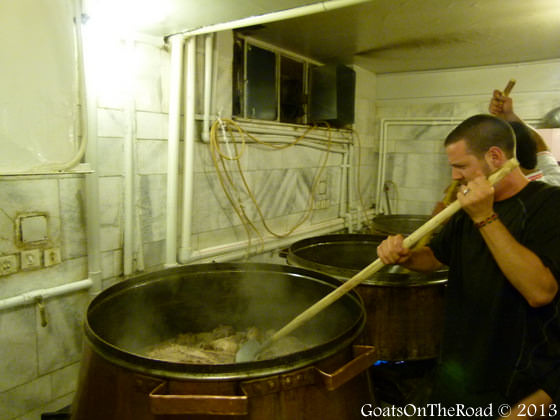 Nick and I helped a little bit by stirring the huge vats of deliciousness. I also met the owner's three daughters who shared some information about Ashura with me.
The next morning people were lined up outside the gates to the hotel. Each carrying a bucket, pot or some form of container to receive the offerings. Nick and I were put to work and helped relay the food to the locals. We collected the buckets from the gates, went to the kitchen, filled it up with stew and brought it back to the eagerly waiting families. It was such a cool experience! Everyone was in good spirits and we were offered a meal as well.
After our busy morning, Mr. Akhavan explained that now everyone would be gathering downtown to sing, chant, pray and (for the men) self flagellate. So, Nick and I set off downtown. Since this is a mourning period for the Shia Muslims, everyone wears black. There were hundreds of people. Men, women and children were all out to mourn the loss of the Imam Hussein who died 1,333 years ago.
Although it was a very interesting sight for us, we started to feel claustrophobic and after about an hour and figured it was time for us to leave. As we made our way back home, we were offered free hot chocolate and warm milk! Delicious.
Our time spent in Kerman was about the sights, but it was also very much about seeing the religious ceremony and meeting the wonderful Akhavan family. We enjoyed our time there, but after 3 nights, it was time to move on.
Stay tuned to hear about Nick's Birthday in Shiraz!
Like it? Pin it! 🙂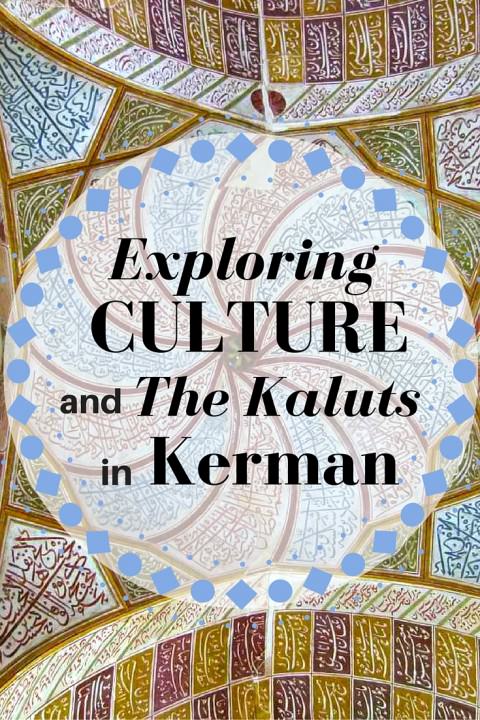 Disclaimer: Some links in this article are affiliate links, which means that if you purchase through them, we receive a small commission. This will never cost you extra and in many cases you receive a special discount. We appreciate your support!