So far on our Press Trip with Riviera Maya Tourism, we had experienced some fantastic cave exploration and watched an authentic Maya theatre performance. These were two excursions that would definitely be hard to beat during our next few days in the area!
We awoke from our comfortable bed at Hacienda Tres Rios, grabbed a coffee to-go and were picked up by a driver from AllTourNative, a culture minded tour operator based in Playa del Carmen. After reading about the sustainable, eco-conscious work that AllTourNative has done, we were very excited to spend the day learning about Maya culture & history.
Laguna Chabela
We made our way to Laguna Chabela, a small village set in the jungle which is home to just a handful of Maya families. We were a bit surprised that we didn't go to the ruins of Coba first, when there were fewer crowds, but on this day the itinerary was already set.
On the way the driver stopped and picked up our friendly and informative guide who took us into the village where we met the Cahum family. The Cahum's have lived on this land for generations and they are completely self-sustaining. They harvest crops, weave hammocks and farm turkeys. Before tourists started coming here, one of the households would not have had enough money to send their children to school. But thanks to the efforts of AllTourNative, these families are able to afford education and live quite comfortably, despite the lack of electricity!
During our time at Laguna Chabela, we were able to watch a traditional Mayan ritual where we were blessed by a Shaman and granted permission to visit this enchanted place. Our guide showed us around the village and explained everything from the plants and animals to the daily goings on of the family. We entered one of the families homes and watched as one of the siblings worked on a hammock.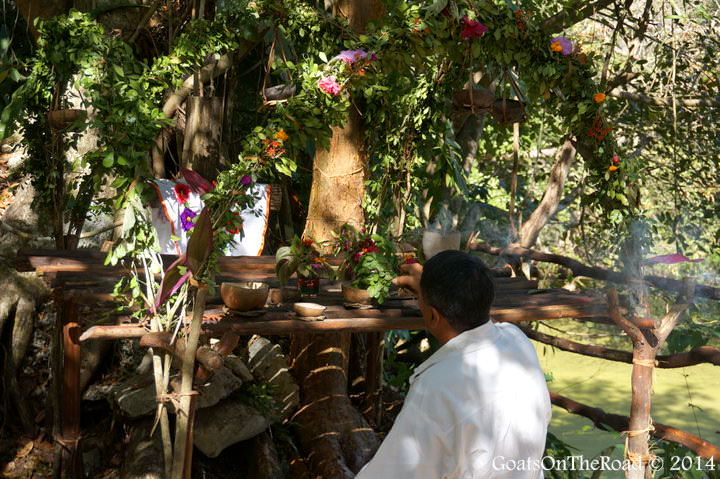 The village gets its name from a beautiful lagoon at its center. The thick jungle was cool in the morning sun and the village cenote looked very inviting, though it was a bit chilly for a swim!
In total we spent about 2 hours at the village and we found it very informative and interesting. The family was friendly and we felt honoured to be allowed into their homes. Parts of the tour through the village felt a little bit "put on" for tourists but overall we had a good experience.
After Laguna Chabela, we headed to a local restaurant for lunch which was really a highlight of the trip! We feasted on delicious tamales, chicken stew, fresh tortillas and spicy rice. We washed it all down with a tasty sweet hibiscus juice and soon we were on our way to Coba.
Coba Ruins:
By the time we reached the ancient Maya village of Coba, so had the rest of the tourists in the Yucatan Peninsula. The parking lot and street outside were packed and the sun was beaming on us in full force. Even the Mexicans were sweating!
We were so excited to visit these ruins that no amount of heat could ruin our moods. We veered away from the crowds and the big groups and even though we were supposed to be on a tour, we decided to explore Coba independently.
The design of this settlement is unique from other Maya cities. There is a network of roads leading out from the main city and connecting with nearby Maya cities. Sort of like an ancient highway! We were able to walk down these roads while enjoying the cooling shadow from the towering trees.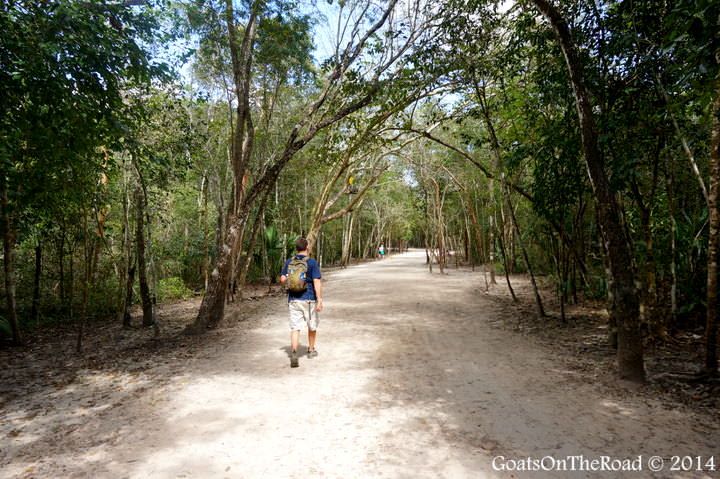 Although there were many impressive structures at Coba, Nohoch Mul, was the most astonishing. Not only is it the tallest pyramid in the Yucatan Peninsula, but it's the second tallest in the Maya World. For now, tourists are still able to climb the 130 uneven steps to the top for lovely views over the city. It was a bit of a hike up to the top, but it was well worth the effort!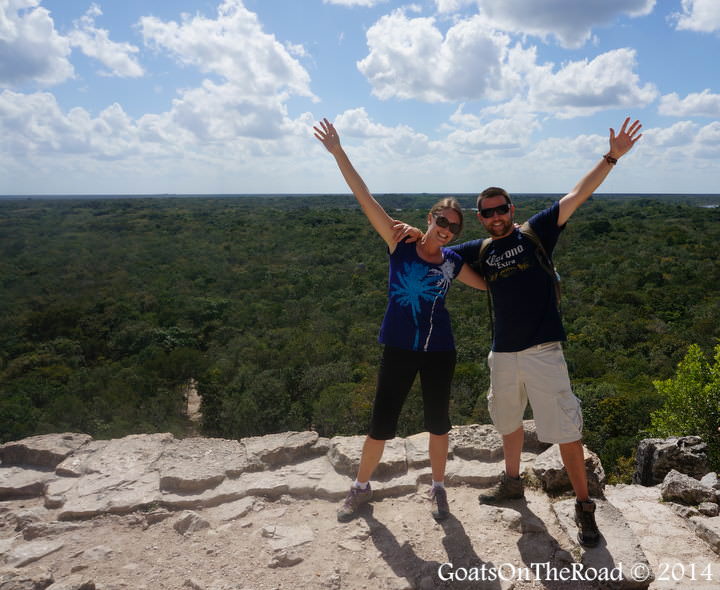 Coba is a must-see site for anyone coming to the Yucatan Peninsula! Here are some tips that might help you out on your trip to this fascinating ruin.
Quick Tips:
You can book a tour through companies like AllTourNative, or travel here independently by local bus from any of the nearby cities (3 hrs. from Cancun, 2 hrs. from Playa del Carmen and 1 hr. from Tulum).
The entrance fee to Coba is $10USD.
Since the site is so spread out, bicycles are available for hire for 40 pesos (about $3.50) each, or, you can hire a cycle taxi with a driver to shuttle you around for 120 pesos/hour (about $10). The cycle taxi can carry 2 people).
Make sure to wear good shoes if you plan to climb up the main pyramid.
Even though the majority of the site is in the shade, bring lots of water! The humidity is high here and once inside the entrance, the only place water is available is where you rent the bicycles.
Final Thoughts
All-in-all we had a great day with AllTourNative and we would recommend using them for a culture-conscious alternative to other similar tour operators. What really sets them apart is the way they give back to the community with such a constructive use of the already flourishing tourism industry in the Yucatan.
Were we to take the tour again, we would request that the itinerary be reversed so it's not so hot at the ruins. We later learned that this is a request that AllTourNative is happy to cater to. No matter how you get there, we highly recommend visiting Coba Ruins in the Yucatan Peninsula.
 Like it? Pin it! 🙂

Have you seen any Maya Ruins? If so, were you able to climb up to the top?
Disclaimer: Goats On The Road is an Amazon Associate and also an affiliate for some other retailers. This means we earn commissions if you click links on our blog and purchase from those retailers.