There are so many great day trips from Tirana; making it one of the best bases in Albania to get out and explore the country.
Not only will you experience Albanian culture in the city, and some of the best food and history to be found in Albania, but you can enjoy the beautiful coastline or visit the more quaint and historical towns and cities that are nearby when taking one of the many day trips from Tirana.
I spent 2 months in Albania and was based in Tirana for 1 month. During that time, I enjoyed all the fun things to do in the city, but I also visited the coast and saw some of the most stunning scenery by venturing out on day tours from Tirana. Read on for my top day trips from Tirana.
Best Day Trips from Tirana
There are some incredible day trips from Tirana. As the capital city and home to the busiest international airport in the country, it's the perfect place to base yourself and explore the rest of this beautiful country.
Here are some of the best day trips from Tirana.
1. Berat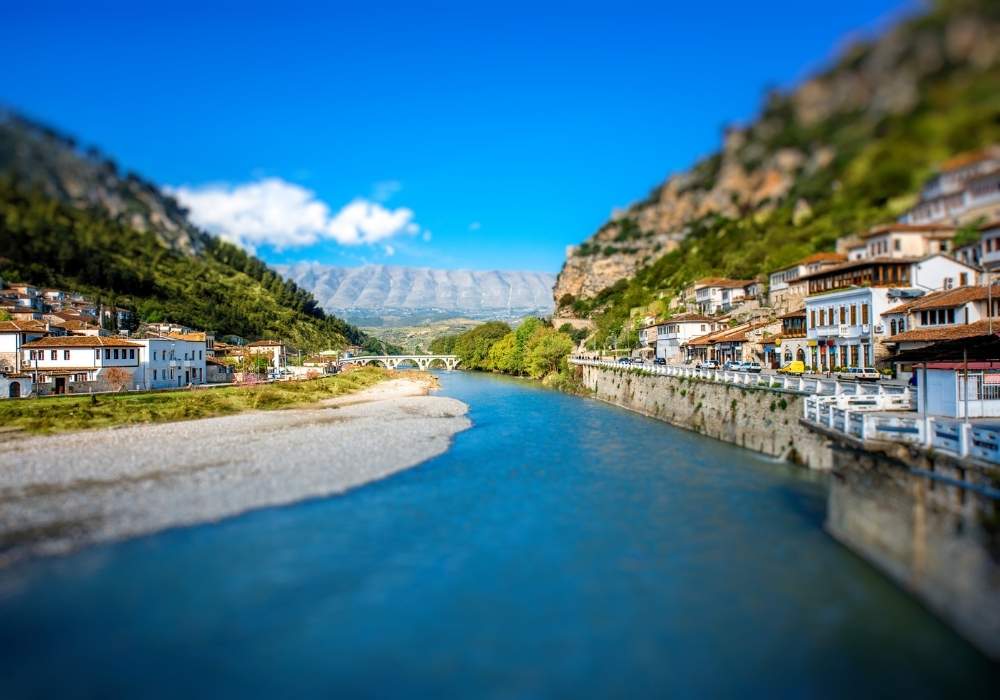 A visit to the incredible city of 1,000 windows is one of my favorite day trips from Tirana. The city is built on a hillside, and its stone houses look like they're stacked on top of each other. The windows in the houses are all the same uniform square shape, giving the city its famous nickname.
Berat is a UNESCO World Heritage Site and so you can expect to find plenty of beautifully preserved historical buildings which offer a fascinating insight into life through the ages in Albania. This is one of the top places to visit in Albania.
The castle in Berat is a must-visit. It's really impressive and offers incredible views over the city. Equally, take a stroll down the beautiful Bulevardi Republika which is filled with cafes perfect for a little people-watching.
The city is framed by the Tomorr Mountains at one end and the Citadel at the other making it a really impressive place to take a break.
The best way to visit Berat from Tirana is with a tour, and this full-day guided tour really helps make the most of your time in this great city. You'll be picked up in Tirana and set off for some of the highlights of Berat, including the castle, the Red Mosque, and St Trinity Church.
Berat is one of my favorite day tours from Tirana and visiting is an amazing way to spend a day getting to know the heart of Albania.
Getting There: There are regular buses from Tirana bus station to Berat leaving approximately every 30 minutes, so it's one of the best day trips from Tirana by bus. The journey will take around 2 hours and 45 minutes each way. Alternatively, you can take this day trip that I mentioned above.
2. Mount Gamti and Lake Bovilla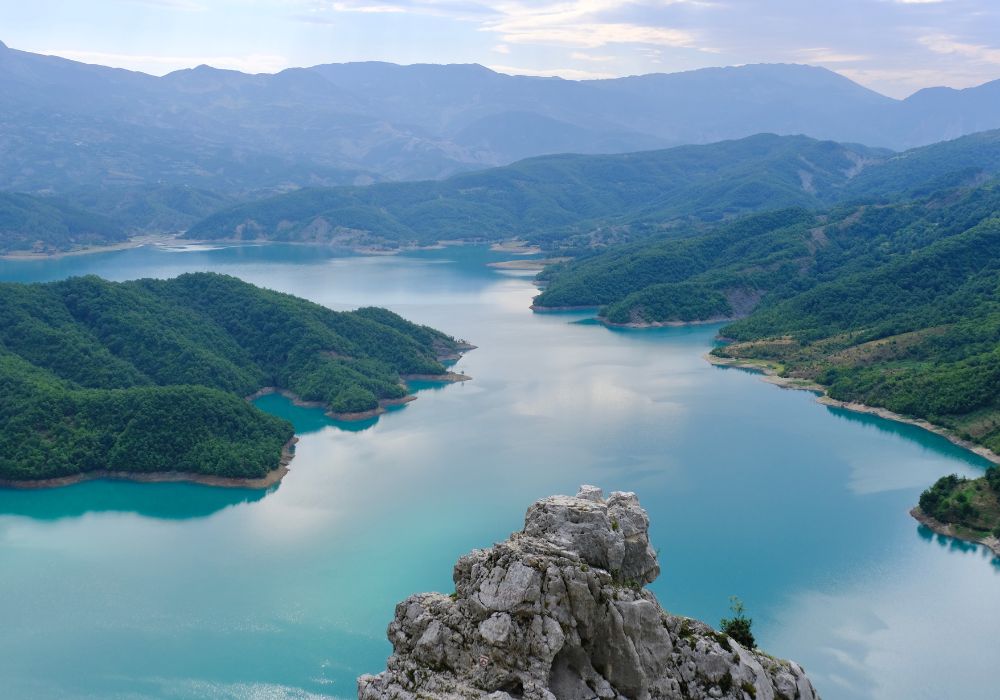 For those looking for active day trips around Tirana, you should be sure to add a visit to nearby Mount Gamti and Lake Bovilla to your list of things to see.
Located around 20 kilometers north of Tirana, Lake Bovilla is stunning. It's blue and turquoise in color and is surrounded by peaks and mountains on all sides, making it look like something out of a movie. It's unsurprising that the surrounding Gamti Mountains are hugely popular with hikers and climbers in Albania.
If you love exploring nature, then head into the mountains on one of the marked trails. From the peaks, you'll have uninterrupted, breathtaking views over Lake Bovilla and beyond.
This 1-day hiking tour of Lake Bovilla and Mount Gamti includes a private transfer from Tirana to the dam which crosses the lake. From here, your guide will take you on a relatively easy hike into the Gamti Mountains. The hike lasts around 40 minutes and takes you to an incredible viewpoint over the lake.
After the hike, you can take a refreshing dip in the lake to cool off and enjoy the perspective of the mountains from below. You'll then be driven back to your accommodation for a well-deserved rest.
Albania has some incredible nature waiting to be explored just outside its capital city and this is one of the most fun day trips from Tirana.
Getting There: The starting point for hikes into the mountains is generally the dam at Lake Bovilla which is around 20 kilometers north of Tirana. The best way to get here is by hire car, private taxi or by taking a day tour. A tour will include a guide to help you navigate the mountains for the best views.
3. Kruja and Durrës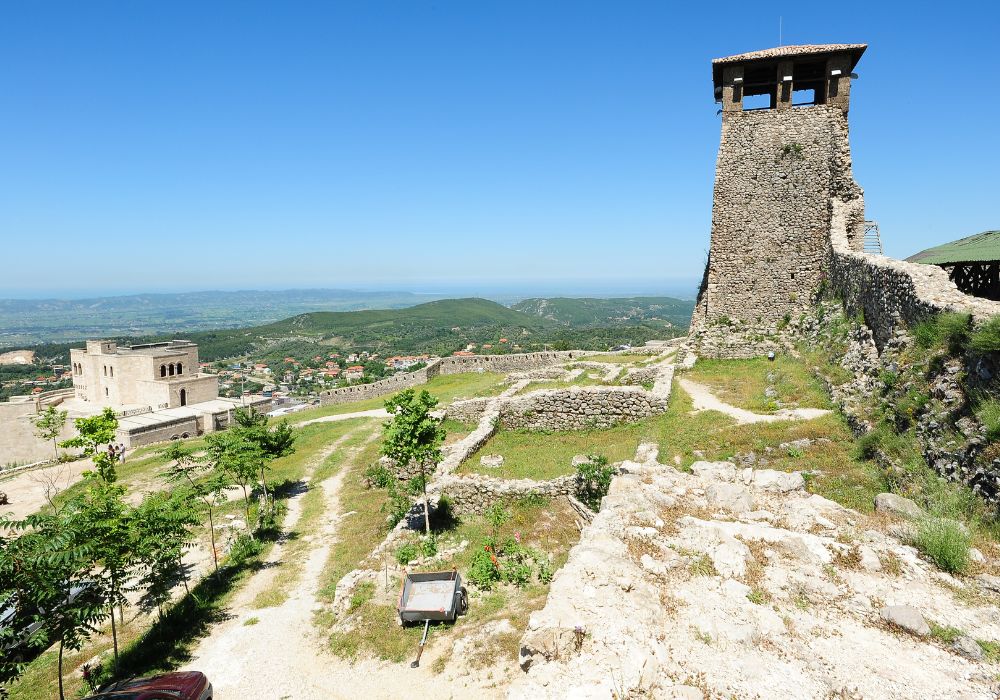 Durrës is Albania's second city, and it's most ancient at over 3,000 years old. Its location on the coast, to the west of Tirana, presents a magical blend of ancient history with beaches and the ocean.
One of the most impressive historical attractions in Durrës is its Roman Amphitheater which is nestled amongst high-rise buildings and other modern contrasts.
Another of Albania's most ancient cities is Kruja, which is famous as the center of the resistance against the Ottoman Empire, led by the hero of Albania, Skanderbeg, as well as for being home to a popular bazaar selling all kinds of handicrafts.
If you want to learn more about both the ancient and modern history of Albania, this is one of the best Tirana day trips in which you'll get to see a huge amount in one day.
Getting There: Both Durrës and Kruja can be reached by bus. The buses depart from the Tirana Bus Station. The bus to Durrës takes around 45 minutes, with regular departures throughout the day. A ticket will cost you around 130 lek/€1.
The bus to Kruja will take around 55 minutes and will cost around 100 lek/€0.80. There are 15 departures a day making these easy day trips from Tirana. Or, combine both with this epic private day tour.
4. Blue Eye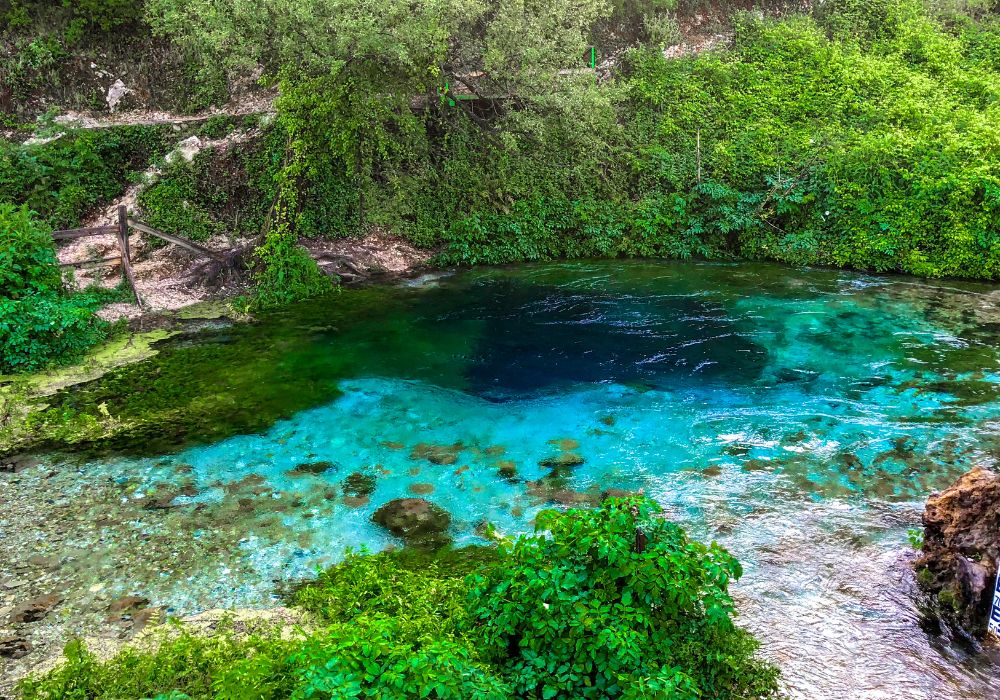 One of the most incredible sights in Albania, the Blue Eye (located in the south of the country) is one of the best day trips from Tirana by car.
The 'eye' is a freshwater spring that rises from a depth of at least 50 meters – it's so deep that divers have been unable to battle the pressure of the rising water to get any deeper than this so far.
The result is a stunning blue lake in the middle of a national park. The spring brings cold, fresh water from deep underground and feeds a beautiful lake and stream. It's set in the heart of the forest and creates a magical and beautiful natural wonder.
There's a viewing platform that people often jump from into the Blue Eye and once you've finished exploring, there's a great little restaurant next door serving food and drinks to help you cool off further.
It's quite a distance from Tirana to the Blue Eye, but absolutely worth the trip. I recommend combining a day trip from Tirana to the Blue Eye with a stop at Sarandë and Ksamil. These two are known as the highlights of the Albanian Riviera and are home to some of the best beaches in Albania.
Getting There: There are no direct buses from Tirana to the Blue Eye national park. If you wish to travel by public transport, you need to take a bus to Sarandë and then from Sarandë to the Blue Eye. The bus to Sarandë leaves from the main bus station and takes around 5 hours. A private taxi is an option, but I recommend combining the taxi with this excellent guided tour.
5. Gjirokastër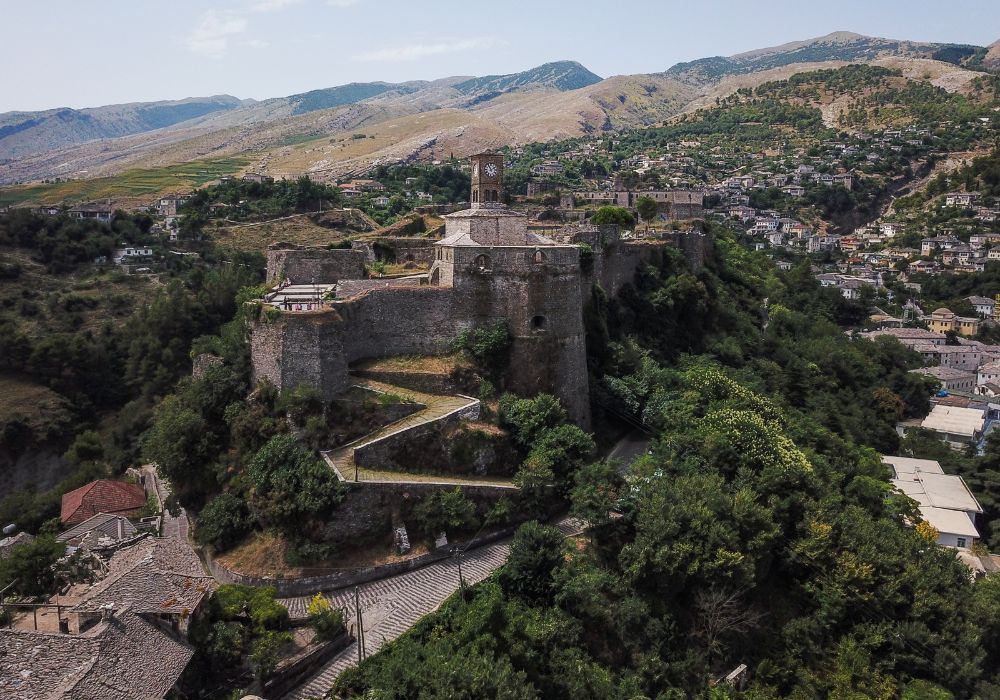 Another gem in the south of the country is the staggeringly beautiful UNESCO World Heritage Site of Gjirokastër. This hilltop town is known as the City of Stone and offers an almost fairy tale look with cobbled streets, stone city walls, and a beautiful castle and fortress looking over the town.
Gjirokaster is one of the best places to visit near Tirana. It's also located in the middle of the mountains and so has stunning 360-degree views across the farmland and peaks beyond.
Exploring the cobbled streets packed full of cafes, local restaurants, and boutique stores is one of the best things to do here but the castle is one of the main attractions in Gjirokastër. From inside, you get to explore the depths of the castle, and enjoy the incredible views over Gjirokastër and beyond.
For the ultimate experience in Gjirokastër, this brilliant full-day trip from Tirana comes highly recommended. You get to tour the town, visit its castle and bazaar, visit the family home of Enver Hoxha and take a traditional Albanian lunch at one of the beautiful family restaurants in town.
There's something magical about Gjirokastër and it's absolutely worth a visit. It's definitely one of my favorite Tirana day trips, and somewhere I would return to again and again.
Getting There: There's a bus from Tirana Bus Station to Gjirokastër, which takes around 4 hours depending on traffic. Alternatively, you can hire a car in Tirana for around €20. The easiest way to visit is definitely to take this highly-recommended one-day private tour from Tirana to Gjirokastër.
6. Visit Montenegro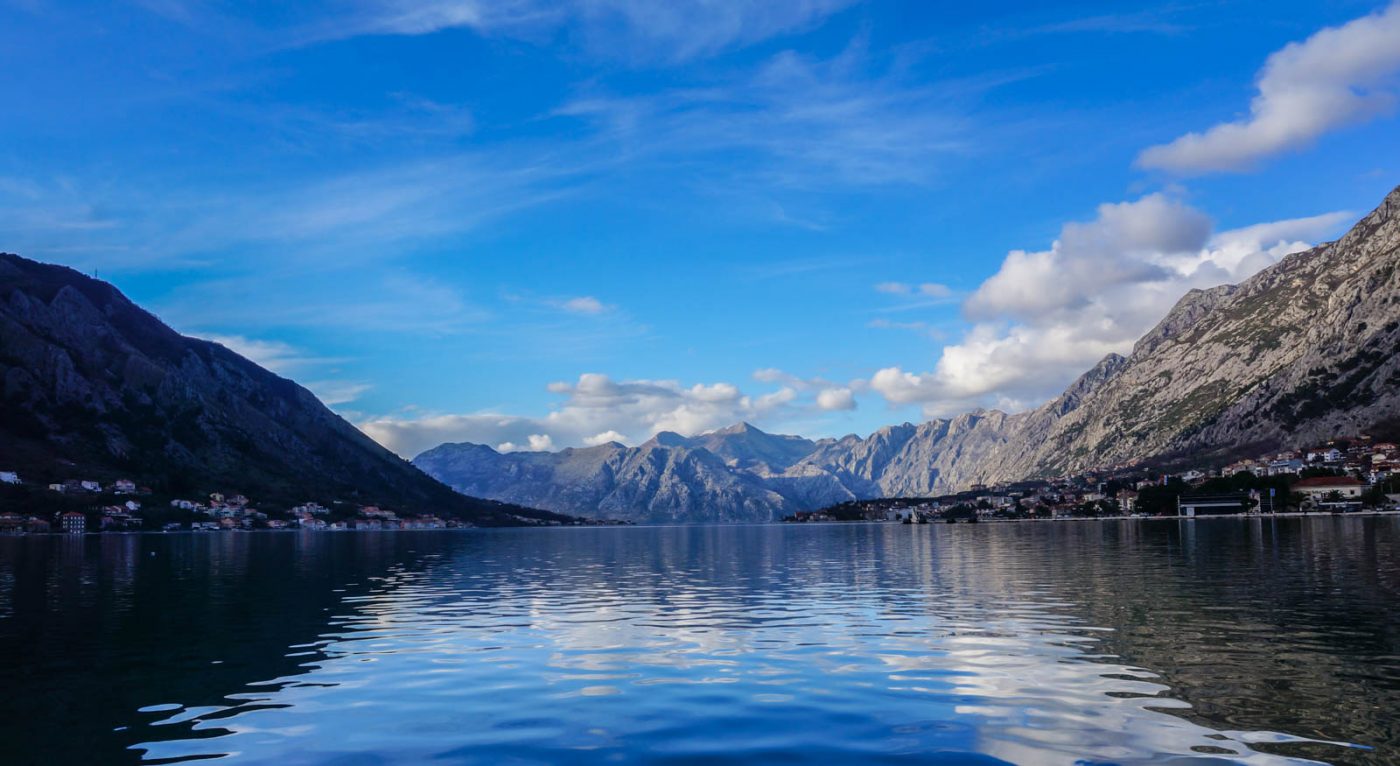 Tirana is not only a great base for exploring Albania, but it's pretty close to the country of Montenegro too.
If you like exploring, I recommend a day trip from Tirana to Budva or Kotor. These are two walled cities on the south coast, close to the Albanian border.
Kotor is one of the prettiest places in Montenegro, full of history and Montenegrin culture. It's based on the beautiful bay of Kotor which affords the town incredible views over the water and surrounding mountains. The bay is beautiful and is perfect for paddleboarding or kayaking.
I recommend taking a walking tour of the Kotor Old City as you'll see the main attractions whilst having the chance to learn a lot along the way. Points of interest in the city include the Bay of Kotor, the Kotor Fortress, and the scenic view over the 'Mediterranean Fjords'.
Budva is a little different – it's more of a tourist resort, but also has a large walled city to explore and some beautiful beaches and fun beach bars. I recommend Mogren 2 beach.
Getting There: To make the most of the day, I recommend taking this brilliant tour. The guide is super knowledgeable, and you'll travel in comfort in the private bus. You can get a bus from Tirana to both Kotor and Budva. However, it takes a long time, and I recommend an overnight stay. You can view the timetables and prices here.
7. Ksamil Beach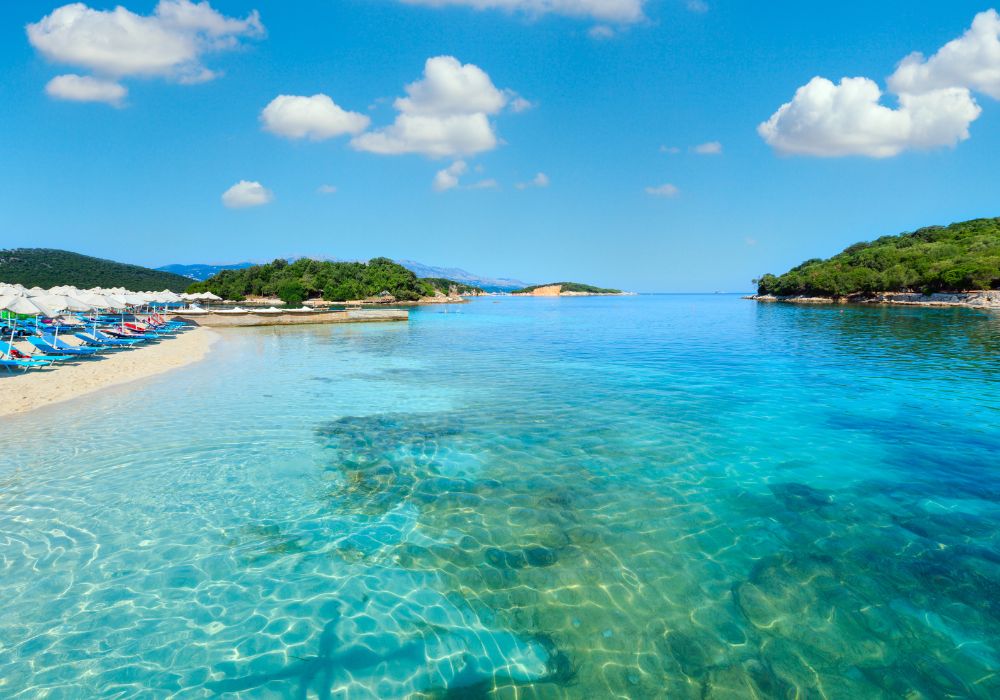 You must take a day trip from Tirana to see Ksamil if you're traveling in the warmer months (May-September). The beaches in Ksamil are some of the best in the country – I often felt like I was in Asia rather than Europe.
The sand is white, the water is the most beautiful turquoise color, and it's warm and crystal clear. It's definitely one of the best places in the country to experience the 'Albanian Riviera' at its best.
There are also some other fantastic attractions close to Ksamil which are definitely worth a visit if you're traveling here. Butrint National Park, Albania's first UNESCO World Heritage Site, is just 10-15 minutes from Ksamil.
If you want to visit Ksamil, I recommend taking this 1-day private day trip from Tirana. You'll relax on the best Ksamil beaches and visit beautiful Gjirokaster, the Blue Eye, and Lekuresi Castle in Sarande – all amazing destinations in the south of Albania.
Getting There: To visit the Ksamil Beaches, you'll need to get a bus to Sarande (there aren't any direct buses to Ksamil). It takes around 4.5 hours and from Sarande you'll need to get a taxi to Ksamil. The easiest way to visit Ksamil beach on a day trip from Tirana is to take a private tour.
8. Komani Lake
This is without a doubt one of the best day trips from Tirana for outdoor lovers. Komani Lake is only accessible by boat, so you reach it by sailing the Shala River, which traverses through beautiful gorges and valleys.
The water of the river is crystal clear, and it's described as the pearl of Lake Komani – it's absolutely stunning. If you're feeling brave, take a dip in paradise, but be warned, the water is very fresh!
There are also hiking opportunities in the mountains. If you're feeling active, hike to the viewpoint for the most spectacular views. It takes around 45 minutes and is medium difficulty, but the sights you'll be rewarded with are so worth it.
Getting There: This day trip from Tirana is only really doable if you join a tour. It's around a 4-hour drive and is only accessible by boat, so you need somebody who knows the area, and the Shala river well. I recommend booking a guided tour to make the most of this incredible day trip from Tirana by boat.
9. Lake Ohrid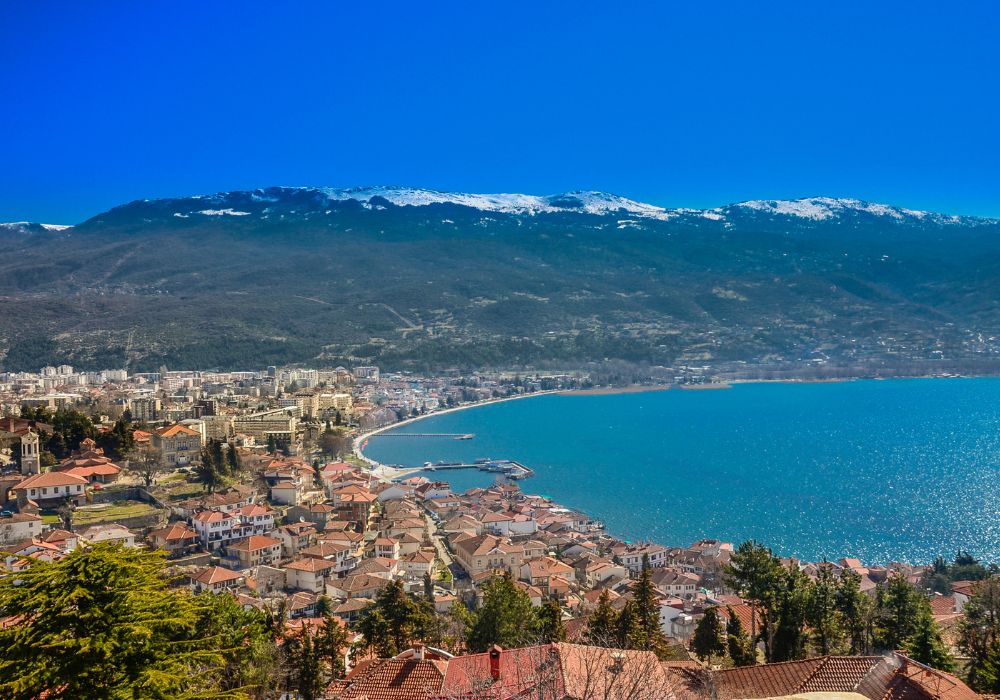 Tirana is in fact super close to the border with North Macedonia. Located here lies the most beautiful lake that the border actually runs straight through, meaning that half is Albanian and half is Macedonian.
Ohrid as a town is absolutely charming. It's home to 365 churches, one for each day of the year, that you can find squeezed in between buildings, hidden in backstreets, and even right on the water. The Lake is crystal clear and the scenery is incredible.
It's also a place with lots of different influences, with Turkish being an obvious one. Sip Turkish tea and try out the local food in the town, or take a dip in the water. A day trip from Tirana into North Macedonia is something I definitely recommend.
Getting There: There are direct buses that run from Tirana International Bus Station to Ohrid and cost €15 each way. If you're traveling in the off-season, you'll need to get the bus to Struga, then onto Ohrid from there. You can book online here. The best way to explore Ohrid from Tirana is by a guided tour to make the most of the day.
10. Shkoder
The Albanian people think of Shkoder as the 'traditional' capital of Albania for its arts, culture, and religious diversity.
However, the main reason people visit Shkoder is that it's the access point to the Albanian Alps. If you love hiking and being out and about in nature, it's an essential day trip from Tirana.
One of my favorite things to do in Shkoder is to rent a bike and go pedaling around the lake, stop for a swim, and enjoy looking at the beautiful scenery. Have a look at this fun tour from Tirana to Shkoder.
Getting There: You can get a direct bus from Tirana to Shkoder from the Regional Bus Station. The journey takes around 1 hour 45 minutes and costs 400LEK (around €3). As the main attractions in Shkoder are quite a distance from the bus station, for convenience and ease, I recommend booking a guided tour.
Best Day Trip Tours from Tirana
There are some incredible day trips from Tirana. Here are some of my favorites.
Group Tour of Ohrid from Tirana: See the most famous church in Ohrid, St John at Kaneo, with its stunning views over the water, take a dip in the glassy lake, and eat traditional Macedonian food. This excellent tour includes transportation and begins at 8 am to make the most of this fun day trip from Tirana to North Macedonia.
Day Trip from Tirana to Berat: This fun day tour to Berat takes you to one of the most beautiful cities in Albania. From the outside, it looks magical with its 1000s of windows looking out across the river. Inside, you're transported back in time where you can discover many of Albania's traditions.
Shkoder Day Trip from Tirana: Discover Shkoder on this brilliant 7-hour tour from Tirana. The tour includes pick-up and drop-off from your hotel in Tirana, and you'll see the best of the city with a knowledgeable guide. The view over the city from Rozafa Castle is incredible.
Blue Eye and Ksamil: This is an incredible day tour that takes you to the south of Albania and into the Albanian Riviera. You'll get to see the best beaches in Albania when in Ksamil. In addition, you'll visit the Blue Eye, which is a phenomenal, natural wonder in the heart of a national park.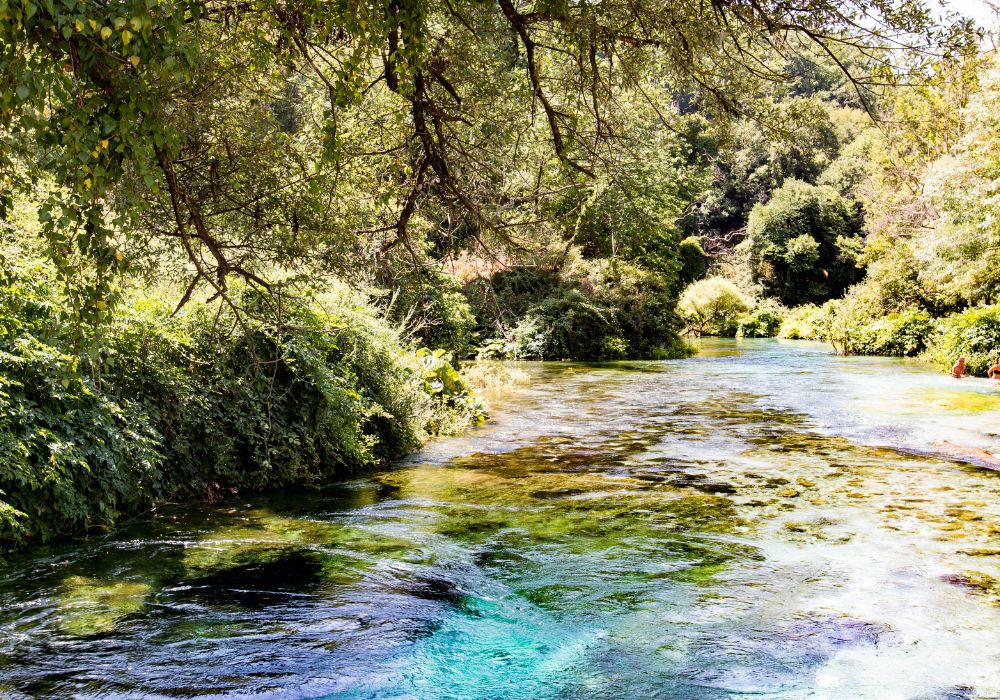 Durres and Kruja: To maximize your time in Albania and see these two incredible and historically-significant Albanian spots, I recommend this excellent private day tour from Tirana. The tour will pick you up from your accommodation before taking you on a guided trip through both towns.
You'll visit the Preza Castle, Skanderbeg Museum, and the famous bazaar in Kruja and the Amphitheater, the Roman Forum, and its Venetian Tower in Durres before being taken back to your accommodation in Tirana.
Day Trips Around Tirana: FAQs
Here are some answers to commonly asked questions about day trips from Tirana.
What is the most popular day trip from Tirana?
Gjirokaster and Berat are very popular day trips from Tirana. Both are beautiful, historic cities with pretty streets, historic castles, and almost endless cobbled streets to explore.
How many days do you need in Tirana?
You'll be able to do and see a lot of Tirana's attractions and learn about its culture over a weekend, but I recommend around 3–4 days for a trip to Tirana. If you want to include a few day trips from Tirana, a week is a good amount of time to explore.
What are the best day trips from Tirana with a car?
If you have a car, one of the best day trips is to Shkoder. The bus station isn't close to the main attractions, so access to a car is a real bonus.
What are the best day trips from Tirana by train?
There are very few trains in operation in Tirana. If you want to go on a day trip from Tirana, you'll need to go by bus, taxi, or private transfer. The buses are regular and reliable.
What is the most beautiful place near Tirana?
There's some stunning nature close to Tirana. Lake Bovilla is very close to Tirana and is a great place to visit to hike and see the beautiful landscapes of Albania without traveling too far.
In Conclusion
Tirana is a fantastic place in its own right to explore. It's one of my favorite cities in Europe and one of the reasons for this is that it's so well-connected and close to many of the other main attractions in Albania.
Tirana is the perfect base for exploring and experiencing the culture and beauty of Albania. The buses run regularly and are reliable, and there are lots of brilliant tours which will transport you comfortably, and teach you all about different places in Albania.
I hope this blog post helps you plan some exciting day trips from Tirana!
Like This Article? Pin it!